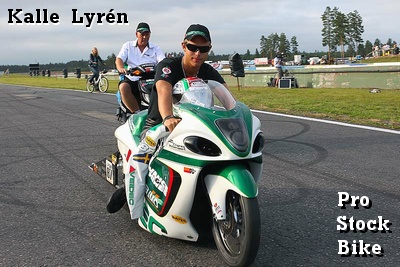 As told to

Monday 24th June: Sweden International 2013.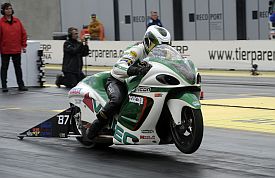 It has been very long time since I have written anything on the blog and there are many reasons for that. The biggest thing was after the European Finals 2012 and the disappointing weekend we had there I was so tired of racing and problems. I was so disappointed about how the weekend and the whole season ended so when we arrived at home I put the bike in the corner of our workshop and put a blanket on top of it so I couldn't see it. I didn't want to look at it for months.
We had a very hard winter with a lot of snow here in Sweden and we were crazy busy with our new business we started last year so the bike was standing in the workshop for a long time without me even lifting the blanket. But after new year I actually started to evaluate the 2012 season and what actually happened and found out that we could not have done anything more to prevent it. We did everything we could to try to fix the problems we got but we kept getting more and more problems and bad luck. It was just not our year.
After a time I was starting to get the motivation back and we looked over the bike completely and now we really had to check everything. We stripped the bike completely. We made a complete new wiring system and replaced some components. We remade the shifter assembly completely to be sure it would work well after all the shifter problems we had last year. We sent over our no.1 engine and our spare engine head to Vance & Hines for update and service and repair and we ordered a new crank and pistons for our spare engine which we built together ourselves. We were really looking forward to see the new cranks from V&H which were reported to be much better than the old ones. Since we had broken three crankshafts in two seasons which has lost us a lot of money and also points in the standings, we really wanted it to work from now on. When the season started in the US in March, we saw directly that the Suzukis were fast and the crank seemed to work well. That gave me some hope and I was really eager to get our engine back so we could test it. We were supposed to do the first testing in Malmö at the end of April but we had so much work to do that we didn't manage to get the bike ready in time for it.
Now we were aiming for the season premiere in Tierp in their spring race. We did some test runs at that event but couldn't really get the bike to work properly. We still had some sensor errors and were missing some power at the top end so after that event we started to look at some more things on the bike and really went through everything so it could be ready for the first FIM race in Tierp.
The first qualifying in Tierp was ok but still not very good. We did some changes for the next round but unfortunately the rain came in and the round was canceled. I would say that was good for us since we started to think again about our settings on the bike. We sat down after the dinner late on Friday evening and discussed some things we wanted to try. We all agreed on doing a drastic change on some points to give it a try. That was our best decision that weekend because finally we started to find our base tune-up. The run was a 7.12 with full throttle only for about 6.3seconds because one coil wire vibrated off the coil, so the engine only worked on 2 cylinders. The Racepak graph looked about how we wanted it to be and we finally had a base tune-up for the bike.
In the last qualifying session we tried some minor changes and we ran a new personal best again with 7.09 and 304.4km/h. That was the fastest and quickest I have ever been and still the 7.12 run had been much better than this one since we underestimated the track. But we were no.1 qualifier on the tightest and fastest Pro Stock Bike field ever in European drag racing history and the bike finally started to work as it should. We were super happy and very eager to keep working on the bike to find an even better tune-up.
Unfortunately we underestimated the track in the semi and the bike responded differently and much quicker off the line than we expected, which also made me redlight against Ögge. At first I was pretty disappointed but when I started to think about what we had accomplished this weekend I was more than happy that we finally could get the bike to work and now we finally can start tuning it. Now I really want to go to Finland for some more racing and get the bike to be faster! But first we have to work a lot with our business but without business there is no pleasure, so we must just keep up the good work and never give up!
Picture courtesy and © Remco Scheelings
Tuesday 10th July: Alastaro struggles.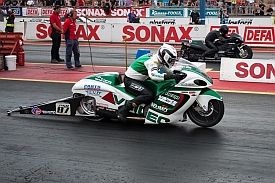 It has been a long week in Finland and we have tested a lot of new things to try to get the bike from struggling. Now we have changed almost everything on the bike and we still have some issues with it. The bike just won't produce the horsepower we actually have in the engine, so it is pretty frustrating to know that we have the parts to be fast but we can not use it at the time.
The only thing left now to change is the main wiring harness, so maybe that is the next step. We have checked all the wiring 3-4 times and all cables and connections look good. We are still thinking about replacing the harness anyway, since we have heard of others with the same issues and in those cases the harness was the problem. We will also try to put an extra battery to make sure we get enough amps to the ignition since we had that problem last year. It should not be a problem since we are running a battery with more amps than before but we will do this anyway, to make sure it is not just a power supply issue. The strange thing is that it worked perfectly in the pre-season testing but ever since the season started it has got worse and worse. We had a good base setup in the pre-season testing but that setting is not working anymore, since the engines are not producing the power they should. We have two good engines that we know are producing the power, but not when we put them in the bike, so some are pretty sure it has something to do with the electrics.
We tried a lot of different setups during the weekend, but we were running constant 7.2s all weekend but not quicker. We are missing about one tenth in ET and about 5-6 km/h in speed. I was facing Ulf Ögge in the semi and he blew his best engine in the qualifying so he was running about the same times as me. I took him on the tree and the run was pretty good but the bike was not fast enough to beat him. It was only 0.008 over the line so it was a very tight race. You can't imagine how frustrating it feels to know you have the power somewhere, but you can't just find it. But the only thing we can do is to keep searching for problems. The bad thing is that we can only know whether we have found the problem when we run the bike on the track, since the bike runs good on idle and so on.
I have a great team that is not giving up and also are putting every effort they can to help solve the problem and we are so lucky to have all these wonderful people around us. A BIG thanks to all my team members for making our weekends at the races fun, even though we have some problems with the bike.
Sunday 24th June: Tierp problems.
Roger and I arrived at Tierp with the bus on Wednesday evening to get everything up and ready in time. It takes a lot of time to put everything in place and always longer than you think. Since it was an event at our "home track", we had a lot of VIPs and friends coming to watch us. The most of the crew arrived on Thursday evening but we had some people coming on Friday evening also. There were a lot of people helping us and we counted 19 people in total.
We were very excited to race again after the Main Event and my first ever event win, and we knew the track would be good so we could run some good numbers. Unfortunatley we had trouble with the bike in every qualifying run. In the first two qualifying runs, we only had five gears, the same problem as we had in Santa Pod, and we thought we had solved it but unfortunately not.
We got some help from Eddie Krawiec from Vance & Hines who was there and supporting people that use their products, so he helped us and checked if anything was wrong, but as before we could not find anything. Eddie also tried to help us with the tuning but none of the changes worked, so we started to think that something was wrong with the bike. Together with Eddie, we went through all the log files and we found some strange things. The bike was not producing the power it should, and we thought it was because of the engine, since this engine has always struggled, so we decided to change the engine before the first round of eliminations.
I managed to qualify as no.3 on only five gears, so I had a little bit of an advantage in time to my opponent, but as we put in an engine we had never ran before it was a big gamble. We set the bike up very soft just to get it to leave the line smoothly and it did, but it was very very soft, so the E.T. was not so good and the speed was still bad. I have never run good speeds on this bike and we always thought it was the engine but now it was the same even after the change.
We knew we had something strange going on with the bike, but we could not do anything about it right now in the elimination so we just did what we could. I won the first round of eliminations with five gears. The next elimination round was a bye run since the other guy had a ferry to catch as by this time it was very late in the evening. The bike left pretty ok and I did not rev it very high but it was still a pretty ok run, but the numbers were very bad.
So to the final round against Ulf Ögge who was very fast this weekend. I knew I had to take him on the tree, since his bike was much faster than mine so I chanced it, but unfortunately it was too quick and I redlighted. He was very late on the tree but it did not matter if I had not redlighted since his E.T was so much better. It didn't feel good to know that we had the engine in th bike to be fastest of all in the field but something on the bike was taking away the power.
But thinking about it later on, we have still been in two finals of two races so it could not be much better. We have started to investigate the bike and have gone through the wiring and all electrics and double checked everything. We think we have found the problem, but the only way to know if we are right is to take the bike out on the track and see. So we have decided to go to Finland one week earlier for some testing the weekend before Nitro Nats. Hopefully we can find what is going on and I promise you that if the problem is sorted out after this weekend we will be very fast at the race.
I just have to say thanks to our crew for this amazing weekend in Tierp. They did a fantastic job as always and we are so proud and thankful to have these people in our team. Also a big thanks to my family and friends who visited us at the race. Too bad the weather was not so good so you could see more racing, but then you have a reason to come again!
Friday 8th June: First win.
We are sitting at Stansted airport and waiting for the plane to go back home to Sweden and thinking about the weekend at Santa Pod. We got there on Tuesday evening to set everything up and to have the bike 100% ready for the test day on Thursday. Unfortunately we had some small problems on Thursday morning which caused us to be a bit late out for the first test session and when we were finally ready for some action, the rain stopped us. I was a little bit frustrated not to do any test runs but we got the opportunity to run on Friday evening also.
Our first test run on Friday was pretty ok and we had changed our clutch set up completely, so this was the first test with the new setup. Not the best 60foot, and it was spinning a lot after about 330ft all the way up and that does it very hard to get in the gears. I could not get into 6th gear and had to shut off early and rolled through the finish line, still on a 7.19. We did another test run and made some changes in the setup and improved the 60foot a bit, but had the same problem about not getting into 6th gear. We started to think that something was wrong with the gearbox so we checked everything and it seemed to work in the pits but not on the track.
In the first qualifying session we did some more changes to the clutch to find our base and we improved it a little bit, but we got the same issue again with the gearbox, the 6th gear wouldn't go in. Still I ran a 7.24 to get my first no.1 qualifying spot. We did some more adjusting and went through the gearbox in the pits but we could not find any problems! So we tried another run to see if it would work, but it was very late in the evening and the track was very cold so the tyre just spun all the way and we got the same problem on both 4th and 6th gear. After all these things happening we decided to take the engine apart and go through everything completely.
We got the bike back together late on Saturday evening and ready for some more qualifying rounds on Sunday but when we woke up in the morning it was raining big time and it didn't stop either. But we got the bike ready and just before we were about to do the warm up, we checked all the gears and it worked perfectly on upshift but we could not get in the 4th gear when I tried to shift downwards. Since it was still raining a lot we decided to take the engine out again and see what was causing this. We found out that the shift drum and pin have been hurt because of the spinning tyre. So we changed this and put everything together again and everything now worked as it should.
We started the bike and warmed it up and the went through the gearbox with the airshifter to see that everything was ok and just the second before we were finished, our vacuum pump broke. I could not believe this, since we have never had any issuses with the pump before. So we took the pump apart and found out that a pin was broken and we did not have any spares like this. We were running around trying to find some spares or material to fix it but we could not find anything. But we were very lucky since we use the same vacuum pump as Pro Stock car and Michael Callin had one complete pump as a spare he could lend us. So late on Sunday evening the bike was finally back together and we were very lucky that everything this happened in the pits and not at the track in the eliminations the next day.
The forecast was not very good for Monday but it was supposed to be better in the afternoon. It was very wet in the morning but it started to dry a little bit but as soon as the track was ready for racing it started to rain on and off. But finally we got to race our first round. Since I was no.1 qualifier I had to face the no.8 and the first elimination round is always the hardest one for me. But it went pretty ok and we started to get our clutch set up to work good. But we got the same issue with the gearbox this time so I had to shut off early again but since I had better reaction time and was along way before him it didn't matter.
Next round was against Fredlund and I know he has a fast bike so I had to take him on the tree. I had a great reaction time and he was a little bit slower so I was away first. Then the bike launched pretty ok but it was spinning like hell on the last gears and this time I finally got the last gear in. 7.17 and the win! I was so happy to beat him in the semi´s since I know he will be one of the hardest competitors for the championship this year.
I was supposed to meet Ögge in the final but unfortunately he broke his engine in the previous run so he could not make it. It would have been very nice to meet him but we did as we always do anyway, and did a solo run 7.16, a new personal best and my first ever European championship event win. It was so awesome and it could not have been a better start to the season. Now we have had to get a new vacuum pump sent express to us and hurt some more parts but that's racing. We thought we had all the spares we could need before the season started but we were wrong again...
Friday 18th May: Testing at Tierp and Main Event plans.
A little bit late, but here is a little report after the test weekend we did in Tierp. We arrived on Friday evening and the rain was pouring down. The forecast said it should rain all night and a little bit in the morning on Saturday, and this time the forecast was correct. We prepared the bike in time and were ready to do some test rounds as soon as the track was dry. We had the same set up as in Malmö but the track could not handle it and the tyre didn't get any traction at all, which made me to shut off early. Since we were unsure if the gearbox was hurt, we stripped the bike and opened up the engine just to be sure everything was ok - everything looked ok but we changed one clip in the gearbox just to be 100% sure.
We didn't have time for another round on Saturday so we focused to get the bike ready for Sunday instead. We softened the bike a lot from the line the first round on Sunday and it was pretty ok. 1.09 60ft but I shortshifted and shut off early since I wanted to make sure the new fork and brakes was working as it should. The fork worked perfectly and also the brakes, which were one of the things we wanted to test for real. The next round out, I planned to do a full pass and we had exactly the same set up as the run before but with a little bit more RPM just to see how it reacted. The bike launched very nice and smoothly with a 1.08 60ft and perfectly straight. It felt like a 7.20-30 run but when I got the time slip it said 7.14. A new personal best with a very soft run and far from perfect. It was a wonderful feeling to know that all the hard work we have done during the winter on the bike paid off and we could see the result directly.
The bike is now much more stable and the new Öhlins fork is wonderful to drive with. You don't think a fork on a dragbike could do so much difference, but on the tracks we have here in Europe it is a very big difference on the surface which is not as smooth as the tracks overseas. The new electric system with the new Ballistic batteries was working perfect except some small things we had to move, since it was too hot being near the exhaust. We did another test round later but the bike drifted a lot towards the wall and I shut off early but still did 7.27, so not a bad run, even though I shut off early.
Now we will do some service on the engine and get it ready for The Main Event in two weeks. We will be there on Wednesday and run the Peak Performance test day to get a baseline for tuning.
For those who want to follow everything that happens during the events we run, you can go and "like" our facebook page on www.facebook.com/veidecracing. We will post after every run and also do a small recap when the day is over.
Wednesday 3rd May: Testing, testing.
Last week we went to the south of Sweden and to the Veidec headquarters in Veberöd. We got some help from Magnus at Veidec Grafix to do the new design and wrapping of the bus. We wanted to do something new and even though we were there three days we didn't finish it all. We still have some wrapping to do but it will be great in the end. We want everything to look a little bit more professional.
On Friday evening we drove the bus to Malmö Raceway for some testing. The weather was perfect in the evening so we put up the tent and made everything ready for the testing on Saturday. Unfortunately the weather was bad in the morning so we decided to go to one of our customers at Parts Europe (Bike Line) for a visit to their big open house. We met Ulf Ögge there and he was very happy with his competition in USA. His bike is on its way home from USA right now and he will hopefully be at the test weekend in Tierp in two weeks. Ulf will be a very tough competitor this year and I am looking forward to racing him and all the others this year. 
The weather got better in the afternoon and we got the opportunity to do one test run. The track looked very good but we set the bike up very soft with low rpm. The bike pulled away so smoothly and I could really feel the power in the bike. I short shifted every gear and pulled the clutch in after about 150 metres since we only wanted to see that everything worked and we still did 1.07 sixty foot time and 2.91 at 330 feet. That is the best we have ever run! First round out for the season! It was almost to good to be true but we were so happy to see that all the work we had done during the winter was improving the bike. The weather conditions were awesome and also the track was unbelievably good! SRIF in Malmö has done a fantastic job with the track and we are so grateful for that!
We didn't have the time to do any more rounds on Saturday but we spent all evening watching the film from the run and also the data. We did some testing with the new Replay XD on-board camera and the result was very nice. Have a look yourself and see and hear the short shifting and how far away from the finish line I pulled in the clutch: www.youtube.com/watch?v=U1WSNJtylM8.
We decided not to make any more runs on Sunday since the weather was not that good and it was very windy. We decided to save the testing for next test weekend in Tierp. We have some small things to take care of before that but we are very eager to do some full passes on a good track! 
Thanks again to SRIF in Malmö for the great track and to Veidec for taking care of us last week. The support and help we got is so nice and we are very grateful of this. 
Unfortunately our camera broke during the weekend so we don't have so much pictures but there will be much more after our next test in Tierp. 
Tuesday 27th March: Kicking off.
I can't believe how fast time is flying right now. I remember sitting and thinking about how long it would be until the next time I sit on the bike. Now it is only one month until we go for our first test session and I am so excited about trying all the new stuff. I am currently working on the electrical system; since we have changed the place of almost everything else, I have had to reroute all the wiring. Roger is doing service on the engine so now it is almost ready for the season.
Last weekend we had a little "kick off" for all the crew and some friends. It was a way to start the season for real and also we went through some topics from last year that we want to improve for this year. I am looking forward to this season and we have the best team, one of the best bikes and I will make sure that I will do my job as a rider the best I can! This year we will have the opportunity to do a lot of testing before the first race and that feels really good. Then we can be 100% prepared and hopefully have a basic setup on the bike before first qualifying.
This year will be very competitive and we have a lot of good bikes and riders. But that is exactly how it is should be. I love tight racing and you have to be 100% focused on all rounds to have the chance to be on top after the Finals. But I promise that I and my team will do everything to be fast and win rounds. Then we will see at the end of the season who is the champion! But one thing I can promise you. WE WILL HAVE FUN! That is why we are doing this.
Friday 2nd March: Testing with George.
There have been some crazy weeks since my last update and a lot of work with my new job at Parts Europe. The bike is ready for assembling after all the changes we have made and I am very excited about getting started riding it. This week I was in the US to do some testing at Valdosta. We were supposed to get two days of testing but unfortunately it rained on Monday so we only got to test on Tuesday. But since we had hired George Bryce and his two school bikes and only three people were sharing them we could do a lot of runs anyway.
I have now been to George´s drag school three years in a row and it is the best way to learn how to ride Pro Stock Bikes. But this time we decided to rent him privately to get more out of it and to fine tune my riding skills. George found some things to change and to improve and it made so much difference. The school bikes are very basic and they never adjust or clean the clutch between runs but only adjusting your riding, you are able to cut so much time on the run without even having to touch the bike. After been here three years in a row you really understand the importance of riding the bike the right way and you really see the difference doing it. It is not only on the timeslip you can see the difference but also the feeling of riding it and you have so much better control.
I got seven rounds of testing done on Tuesday and those runs together with George is more useful than twenty runs during the season. To go there at this time of year is the best thing you can do. You have not been riding the bike for six months and it always takes a couple of runs to get used to it again. Now I am so excited about the start of the season and I want to continue to practice my riding but it feels good that we have had some time this year for testing before the first UEM round starts.
Now it is time to start assembling the bike again and to do the last changes so my bike can be ready in time for testing. We have done a lot of worl on the bus to get everything a little bit better and to make everything easier.
I have to thank George and Jackie at Star Racing again for taking care of us. Also Ken, Andrew and Greg for a great BBQ at Ken´s house. Hope to see you all again soon!
Monday 5th December: New job, new parts, new team member.
I have just realised it is a very long time since I wrote something in my blog. But after the last race, I have been so busy with my new job at Parts Europe and been travelling a lot. I am still travelling all the time but I thought it was time to write a little bit on what's going on. I have started as a Sales Agent for Parts Europe and am working with Roger as Manager for all Nordic countries and building up a dealer network in Sweden.
In racing, we actually started to plan the 2012 season on the way back home from Santa Pod and we have a lot of things coming. The bike is stripped and we are making some changes to make it more stable and fitting some new parts to make it lighter and quicker. We are switching the front fork to a GP125cc Öhlins fork to get the front suspension much better. Also we will use their new steering damper. We are about to rebuild the electric system with all new batteries and move everything more forward on the bike.
For 2012 Elvira Karlsson will join me in the team and will have the same paint job on her bike as me. It is really fun to have Elvira and her father as part of the Veidec Team and she is going to be fast for next year, I promise you.
When we have the new fork ready for assembly and some more work done on the bike, I will post some pictures. Those who like motorcycle parts, take a look at these catalogs from Parts Europe. Parts Europe has all you will ever need for your motorcycle, ATV, snowmobile, offroad bike etc. It is a real honour to be a part of this company and to sell their products.
Tuesday 13th September: Euro Finals: bronze medal in Championship.
We are home after a fantastic weekend at Santa Pod and the final round in the European championship. We arrived at the track on Tuesday evening and it was pretty windy and cold. We decided just to put up the tent and do the rest on wednesday morning, since it was dark and there was no electricity yet. We woke up early on wednesday to get the bike ready in time for testing and we were very excited to see if we had solved the problem that I mentioned last time.
We did our first pass really slowly with all the old setups on clutch and power just to get one run on the new crank. I had to shut of after a couple of gears, since it was going left. For the next test run we tried a different clutch setup that we had thought about for a while but had never tried. It launched very well and I did a 1.09 sixty foot. That was the best I have ever done, and I shifted very early just to break in the new crank. I also had trouble getting 6th gear in, so I closed the throttle after about six seconds and still did 7.32 over the line without any speed at all. That was a huge relief to see that we now had found the problem and we had the power we should have had in the engine. We tried another pass later but we still had problems with the last gear so did not record a good time.
We took the engine apart in the evening to make sure it was good, and we had to check the gearbox and, as we thought, it was hurt. We fixed the gearbox and the bike was ready to go on Friday morning. The first qualifying run I took a little easy just to give the crank some more break-in time, but still managed to do 7.26 in a huge headwind. The next session, I squeezed out a little more rpm and did 7.22. That is the best ever time on this engine, so it felt pretty good. We kept the great 60 feet times coming, and without the huge headwind it would have been very quick.
I had some problems in the third session and didn't get the shift light on last gear, so I didn't have 6th gear when I pulled the clutch which hurt the gear box again. So the only thing to do was to open it up again and fix it. All the crew did an amazing job and we managed to finish it in time for the last qualifying session. On the last qualifying run I had big trouble keeping the bike straight. It was going pretty well until I changed to 4th gear and then the wind took me away and I was very close to the wall. That was pretty scary since I could almost feel the wall with my elbow but I was lucky and got out of trouble before it was to late.
So I ended up in fourth place in qualifying and to keep my spot in the championship, I had to go at least one round more than Rasmus and Fredlund. I took the first round pretty easy and shifted very early since I knew Ray couldn't catch me. In the quarter-finals against Dave Beck, I was out a little late, but managed to take him anyway since I had a better bike this time.
I was up against Rasmus in the semifinal and that boy is fast! He has the quickest bike and is one of the best riders so I knew it was going to be tough to beat him. I had to take him on the tree to have a chance, and also knew that the bike had to go straight for me to win this round. He was fast on the tree but I was even faster and it was so tight all the way down, but when we crossed the finish line it felt like I won. When I then heard that I had won on a holeshot and with 7.19 as a new personal best in this wind, I was so happy. I couldn't believe that it was true that I had knocked him out and took his chance to be in the top three in the championship away. It felt that I had already won everything despite the fact I still had the final left.
It was me and Fredlund in the final so this would decide which one of us who would take the no.2 and no.3 spots, since Jesper was already the Champion. I took Fredrik on the tree and was ahead of him all the way until I hit the same bump in the left lane as I did last year in the final round. Then he got in front of me and I had no chance to catch up. I was a little sad that a thing like that had to ruin my chances, but that is the way it is, and I can do nothing about it. Anyway, I am very satisfied with the weekend and it feels so great that we now have a bike that works like it should.
We have learned so much this weekend and know what to do to get it even better. We have to work a little bit more with the aerodynamics since I had big problems at speed in steering it and the bike was floating over the finish line as we had almost no downforce at all. Before this season, I would never have thought I would be standing with the bronze medal in the Championship and a new bike that is this quick. Next year, we will be quick from the beginning and I will go for the championship now that we know we have the power for it.
I have the best crew and the best support from everyone, so next year will be fun! I would like to say thank you again to all the people that supported me, Roger, Stefan, Atle, Pål, Jessica, Malin, Eva, Lena, Mia, Annika and everyone else who cheered for me this weekend! You are the best and I would have never been in this position without everyone's hard work.
Sunday 4th September: Finals preview.
So now it is only the finals left for this season. We have been working hard in the last couple of days to repair our new 1755cc engine after the broken crank in Norway. Also, a lot of time has been spent on trying to figure out the problem with the bike and why it is eating cranks. We have talked a lot to Vance & Hines in the US and we think now that we have the solution for it.
Our thoughts are that we don't have enough power in our battery for the configuration we use. Since we can only log the voltage on our Racepak we have not thought about this before since it says it is ok. But some of the guys in the US had the same problem with the type of batteries we are using. We have always used this type of Li-ion screwdriver batteries before and they have worked great but it seems to not deliver enough Amps for our new configuration with the digital MSD ignition and 4 Lambda sensors. The bike is still working with the Li-ion batteries but it does not burn all the fuel on high RPM which makes a lot of vibration in the engine. So I have switched to a more powerful battery and have done some re-wiring to make it work so hopefully we can get the engine to all produce the power it has.
We have now changed the crank again after it was repaired and we did some work on the cylinder head to make sure we have full power for the Finals. We have started the bike and did some burnouts the other day to get the engine some break-in time and we will do the Pro Test at Santa Pod before the race so maybe two or three easy runs there before we can start revving it again. I am still second in the championship but less than one round ahead of both Fredlund and Rasmus so it is going to be tough. The engine has to make maximum power and I have to ride my best over the whole weekend if I want to keep my second position.
The only problem we think we will now have is that we will have to start from the beginning with all our tuning with the clutch and retard, since the bike will suddenly have a lot more power. That is actually not a problem, but we don't have so many runs to test and let's hope the weather will be good so we can get at least three test runs and four qualifying runs.
The bus leaves tonight with all the stuff and I will fly to Stansted on Tuesday so I can be at the track in good time before the test on Wednesday. We will do all we can to repeat last year's success, but this year I want to be the one standing on top of the podium and I know that if we now get this bike to work as it should do, I will be there for sure. I am very mentally strong and confident in my driving so now it is only the bike left that has to do its job.
Sunday 21st August: Norway and Hockenheim.
It has been a long time since I wrote anything during the last few weeks, but I will try to recap most of it now.
We start in Norway and we had our best hopes that the track would be good. The track looked very good and we hoped that we could start going fast. We struggled a lot to get a good base setup for the track but we still managed to go 7.26 so it was not that bad. Since we still don't have a good "base" setup for the engine and bike yet, we were trying some different things.
Unfortunately the weather wasn't that good on race day but I did win the first round. The problem was that it started to rain just after us so the last pair in PSB didn't get the chance to run and because of that I didn't get my points for the round win. In some ways I think it wasn't meant for me to race any more that day because we found out when we came home from Norway that the engine was hurt. Again! This time we had only made about fifteen passes on it and last time it broke we had only done three.
So we had no other choice than switch to our old smaller engine and hope that we could go fast with that one. I know it has some real potential since we ran 7.21 in Hungary with this engine and I was actually kind of glad that we got the chance to try it again in the new chassis. Luckily we found the issue before it got the chance to make a big hole in the engine because that is what was going to happen in Hockenheim if we hadn't checked this.
So we put in the other engine for the first round in Hockenheim. We took a wild guess on the setup for both clutch and launch retard and I did a new personal best with 7.21 right away. You can imagine the happiness we felt after all the troubles we have had with the new engine and this made us confident again. Unfortunately we broke a clip in the gearbox after that run so we had to take out the engine and replace the clip which made us miss the second run.
Since we had a pretty good base now we thought we should put a small amount of more power from the line but the track could not handle it and the bike almost went up in smoke so now we had to go back again and take out power. For the 4th and last qualifying we were back on the same setup as we had on the first run and the run felt pretty good but we could see on the graph that we lost a lot of power in the engine after the last round. So we started to check everything in the engine and we found out that the valve springs had lost a lot of stiffness so we had found the problem.
We replaced the valve springs on Saturday evening and later that night the bike was finished and ready for the first round. The first round I took it quite easy since I knew I had a better bike and didn't want to redlight, so the reaction was terrible but I won anyway. Next run was going to be tougher but I did a good run with a 7.25 and he had no chance to catch me.
I was up against Rasmus in the semifinal and I knew he had a faster bike so I had to take him on the tree. I was out before him but at the 1/8 mile, he was ahead of me and had no chance. But I was very happy anyway to make it to the semifinal and a new personal best with the old engine.
Now we will go through the big engine and try to find what the problem is. We know that this engine is supposed to be fast and it is also brand new so we have to find what's wrong and in one or another way we will have a fast bike for sure when we come to England and the finals.
The finals will be very exciting since I am currently in second place in the championship but both Fredlund and Rasmus are less than one round behind me. Hopefully we will get the bike to go fast so we can give those boys a match and keep second place in the championship. I know it will be tough since they right now have much quicker bikes than me but it is never impossible and anything can happen in dragracing.
Wednesday 6th July: Alastaro appreciation.
It has been a while now since my last update but we have had a lot of things to do and I had a wonderful holiday with my girlfriend also to charge the batteries. Now we are home after the race in Alastaro. It was a weekend to remember in a lot of aspects.
The weather was really strange because it was as hot as hell in the daytime and on both Friday and Saturday we had this tropical thunderstorm and I have never seen anything like it. We had about 10cm of water in the tent and everything came in under one hour. It was supposed to be the same on Sunday but we were very lucky on that day because the sky was dark all around us but nothing came on the track.
Our goal was to get as many runs in as possible so we could try to get a base setup on the new clutch and engine. We were way off in Tierp and we couldn't see what difference our adjustments made at first. We thought of a lot of things to try and after a lot of thinking we tried some new things.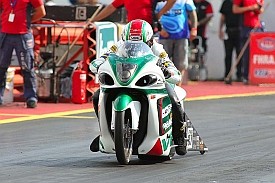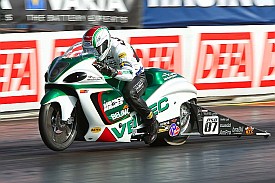 Finally we could see what a difference our adjustments made and we took one step at a time and every run got faster and faster. We still had some problems on the 60foot but it was slowly getting there. We have also made the chassis go straight now which is a big relief.
I qualified as no.4 with a 7.28 which was a new personal best on the new bike and I met Abrahamsson in the first round who was no.5, the same as in Tierp but we had just switched place in the ladder. I knew I had to be good at the tree and made a great light and was ahead of him all the way with a holeshot win! I was really happy to beat him because I know he can be fast, and he was, but since my reaction was better I won.
Up next was Rasmus Olesen who is a great rider and is running very well. I took him at the tree also and was ahead of him all the way for another round win, also with a new personal best of 7.26. I almost couldn't believe that I was in my second final this year and the first one with this bike.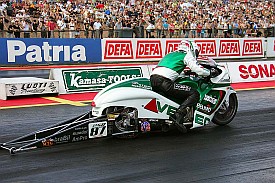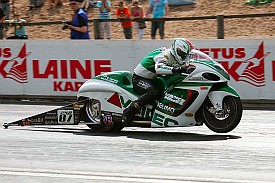 Jesper Thiel was, as always, very consistent and was the other finalist. Jesper had lane choice and unfortunately there was a big oildown in my lane in the pair just before us. We had a little bit too much power off the line which made the tyre spin right away and I lost some reaction from the bike and he got away first. He was ahead of me all the way; I felt it was fast up to about 200m but then it spun a lot in 4th, 5th, and 6th gear so I lost some speed and he got the win. I still ran a new personal best of 7.24 and the best 60foot we have had on this clutch, 1.120, so we know we are soon getting to our base setup.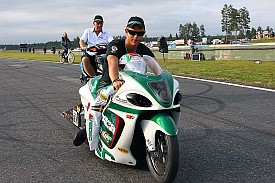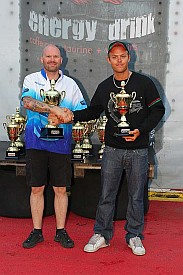 Now we can also see even more what a difference my new riding style is really making and I am also much more consistent in my riding now. Even though I lost in the final, I was very satisfied with the weekend. I have taken back the no.2 position in the championship and we are starting to get the bike to work as we want. A big thanks to all my crew who are doing a wonderful job with everything and without them I would never been close to where I am. Now we have some weeks before the next race and I promise that we will do everything to have the bike ready and, if the track is as good as it can be in Gardermoen, we will be fast for sure! Photos are taken by Ivan Sansom
Wednesday 15th June: Tierp thoughts.
The Tierp race did not exactly turn out the way we thought it would since we still have some problems with the bike. We did a lot of changes on the chassis after Santa Pod since it would not go straight and I had problems controlling the bike.
The first runs in Tierp felt pretty good but we were still breaking in the engine with a new crank after we broke the other one in England. We could only rev the engine to a maximum of 12,000 rpm in the first three sessions but that didn't matter so much, since we had a lot to think about with the clutch.
We set it up fairly basic at first and we did a 7.36 on a very soft run. We didn't make any changes to the clutch for the next three runs but the bike acted completely differently on every run.
On the last qualifying run when I released the clutch the bike didn't move at all at first. Finally we thought we had found the problem was the clutch cable. We had to re-route the cable in a much straighter way and we could feel the difference right away, just on the lever. With that problem solved, we knew had to start from the beginning again and we had to guess all of the settings.
In the first round of eliminations, I had a good reaction time and it felt pretty good until midtrack when the bike started pulling to the left again. I had to back off the throttle a little bit and that cost me the run since it was a very close race, but I did not have a chance after I backed off the throttle.
At first I was very disappointed that I had lost in the first round but I have to think that it is a new bike and this new engine is so strong. The Suzukis had the same problem in the US when they started to run the bigger engine. So we are solving the problems step by step and we think we know now what we have to do to make the bike go straight. We just need to get a lot of runs on the bike so we can get that basic tuning set-up right.
On Friday morning my girlfriend and I will go for a vacation in Greece just to relax and spend some quality time together. I feel that it is time to get some time off so I can come back in a week and have fresh energy so we can get everything 100% for Alastaro.
Wednesday 1st June: Home from Santa Pod
Home after a different race weekend in England at Santa Pod Raceway. The flights went as planned and we arrived at the track on Wednesday evening to start unpacking the bus. It was dark before we had time to prepare the bike 100% before the test day on Thursday but we got up early on thursday morning to prepare the bike but unfortunately it was raining the whole day so we couldn't get any runs.
We then took the opportunity to do things on the bike we hadn't had time for before and we got a lot of work done during Friday. It felt pretty good to have that time to check that everything was in order.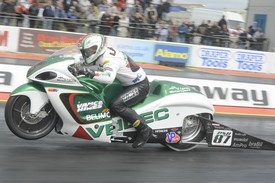 It was blowing like hell during qualifying and together with that we had some trouble finding a good base set-up, since we couldn't get a full run. In the first qualifying session I staged the bike way too much to the right since I was not used to the new body and it took a lot of thought before we found the problem. We also had some problems with the wheel adjusters again so when I released the clutch the rear wheel was not straight which made it very hard to ride straight down the track. Since the wind was blowing so much we didn't knew from the start that the adjusters were the problem, and we also foúnd some more small problems, so it wasn't until the last qualifying session that I tried to do a full run since I knew that I had to climb the qualifying ladder to have a chance in the race.
I managed to do 7.49 but didn't have full throttle all the way, but at least I was happy to see that the bike was going more straight.
Unfortunately the rain stopped the race day so there was no running on Monday.
So now we have some work to re-do on the bike but only some small changes. The bike looks really good and I think that we will be fast when we start to find our base tune. The new MTC GEN II clutch is working great! We have to work a little bit more with it but so far we are very satisfied. On my fourth run we did a 1.13 sixty foot time. Last year my best sixty foot ever was like 1.12 so the new clutch, together with my new riding style, will be the perfect combination to lower the sixty foot times even more.
Wednesday 25th May: Time for a Six?
So it is time for the Main Event at Santa Pod this weekend! The bus is already on its way and I will fly on Wednesday together with all the other team members. Let's hope that this volcano thing in Iceland doesn't get worse. We need to have some kind of back-up plan if they are cancelling all the flights to and from Great Britain. But let's just hope that we don't need to drive 2000 km in a car. In that case I will miss the Test Day on Thursday and I feel that it would be good to have a few test passes on the bike before the qualifying starts.
Since the axle adjusters broke in Tierp we have not did a proper full run on the bike yet. We had some time after Tierp to finish the bike 99%. We will finish the bike and make it 100% ready at the track. We noticed some small things at Tierp that we had to re-do but that is now taken care of. We have decided to start with the new clutch this weekend because we need to start some day. The faster we start using it the faster we will have it tuned up. As I said before we know it will take some time to get a base tuning on it and you have to think a little bit different from the regular multi-stage clutch. I think this weekend will be very interesting and maybe it is time for Europe's first six-second run in Pro Stock Bike. I hope we can get the clutch set up pretty fast so we also have the chance to hunt that six. But I know that both Dave Beck and Jesper Thiel will do everything to run that six first. Of course I also want to run the first six-second run in Europe and I know we have the bike and power to do it but we still have to take things step by step and not rush things too fast.
Another thing happening right now is that I have my last day at MotoSpeed today. I feel it is time for me to move on with my life and we will see what I am going to do in the future. Right now I want to focus on the racing and not think about work for a whil,e and after the season see what happens and what I want to work with.
Monday 16th May: New track, new bike.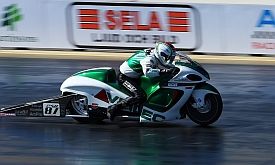 We had a really busy weekend at the new Tierp Arena. The bike was not 100% ready but we had to leave at Friday evening anyway to get there in time before the gates closed so we just packed up everything and planned to do the rest of the bike at the track since we hade more tools and parts in the bus than in the workshop.
The new Tierp Arena is just amazing! You have to pinch your arm when you see it just to believe it. It is a big dream come true to have this type of racetrack in Sweden and only two hours' drive from our home. Anyway, we arrived just in time on Friday night before they closed the main gates and just stopped for some sleep.
We woke up early on Saturday to start the build up of the tent and to continue the building of the bike. As always when you are building a bike, the small things that shouldn't take so long time to do took a very long time. Also, since everything was new and we had never even started the bike before, we wanted to make sure everything was good before we fired it up for the first time.
Our plan was to get the bike ready so we could make at least one run on Saturday, but the time ran away very quickly and suddenly it was almost eight in the evening. We managed to start the bike for the first time just in time before the paddock silence and everything worked perfectly, except I had swapped two coil wires, but we noticed that pretty quickly since it was only running on two cylinders.
I was very nervous before the start since I have done the complete electrical wiring myself for the first time and also this is the first time ever that we are using the MSD ignition system instead of Dynatek. So after we started the bike we sat down for the first time that day, after which I realised that all my work had been correct and that felt pretty good.
We spent some time in the evening mounting the rest of the body and side panels and I have to say that the bike became so beautiful! The paint job is just amazingly good and everything together with the leathers and helmet looks great! We managed to do one test session on Sunday but the right wheel adjuster got bent since we haven't got our correct wheel axle yet, so we had to use a temporary axle this weekend.
I took it real slow just to see that everything was working with the shifters and so on. Half throttle all the way and no revs but it still did 8.0. We had put the new motor in the bike so we could start adjusting the carburettors also and we noticed that it was pretty lean, so now we have to grind the needles for this engine.
The sound in this new Vance & Hines 1755 engine is just incredible. You can really hear the power in it so it will be pretty interesting to start running it at Santa Pod in two weeks. We will also try our new Gen2 clutch at the Main Event so we will have some work to do before we can expect to go fast.
So now we are working hard to get the bike 100% ready and are currently working on the airbox and some small other things, but we will be ready in time for Santa Pod and will try to be at the top just as we were in Hungary. As long as we just taking it step by step I think we will have a powerful bike that could win in the end, but we will just have to let it take some time.
Wednesday 4th May: What a weekend!
So we are home after a fantastic raceweekend in Hungary and the first UEM round.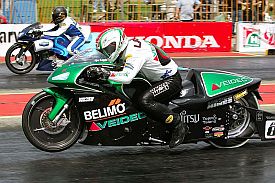 The bus and the crew left Friday the week before and took a little vacation during the trip down to Hungary. I flew to Budapest on Wednesday morning and we were at the track on Wednesday evening. It was great to come to a racetrack again and just feel the atmosphere. We unloaded the bus and started to prepare the bike for Thursdays practice day.
The track was not so good on the test day so we only got the opportunity to do one run. But it was nice anyway just to get the first run on the bike before the qualifying starts. As we still had the old engine and bike we had a quite good base setup and we went out very soft the first qualifying round just to see that everything worked as it should. The traction was very bad so as soon as I put the gears in it started to spin a lot.
For the next run we backed out some more power and did some adjustments on the carbs to see the reaction. Jesper Thiel was just before us and did a 7,17, a really good run and I don't think anyone could believe their eyes at first because the track was not so good yet. I also did a good run and it became a new personal best with 7.23 and almost 299km/h. (298.96 or something). I have never been so fast and now my new riding style is starting to show its effect. We could also see on the 60 ft times that it was a huge different from before. Also my new Bates Leathers is incredible nice to ride with. The quality is just amazing and I can really feel the difference in riding with these leathers instead of my old regular leathers.
On the first qualifying run on Saturday I could not get the 6th gear in. This has happened a few times before and we have never actually realised what caused it. Just before the next qualifying run it started to rain and there was no more racing that day. This made us take some time to go through the bike and check that everything was good. We found out that the gearbox was damaged even though it felt good but one of the circlips holding the gears was damaged. So we had to strip the bike and lift out the engine for service. Fortunately it was only the circlips that were damaged so we could fix that pretty easy and the bike was ready to go again on Saturday evening.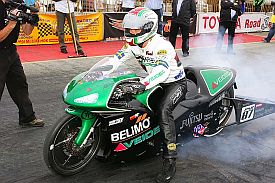 I ended up as no 2 qualifier behind Jesper Thiel and since there were 13 riders qualified it was going to be a 16 bike ladder. I was up against the no13 qualifier and I knew that the bike was not so good and they had a small engine. But this made me more nervous than I have never been before since I have almost never raced a bike that I know is much slower. Crazy as it may sound, that made me more nervous than if I was up against anyone else in the first round, and I was very afraid of the redlighting, but I managed to control myself and did a very good pass.
Next round I had a bye run and we got the opportunity to test some new things we had in mind and it turned out pretty ok and we did 7.21 a new personal best again. In the semifinal I was up against Martin Bishop but unfortunately he had some trouble with his carburettors and couldn't get any longer than the burnout. I did another great pass, 7.24 and I was now in the final on my first race of the year. That felt pretty good and the bike had worked really good the whole weekend.
Unfortunately we blew up the clutch pin bearing in the semi and it destroyed both the clutch pin and the preassure plate. Now we had to find all the pins that was in the engine and build together a new pressure plate and clutch pin in just one hour before the final. We managed to get the bike ready just in time and I could do the final and since Jesper had been very quick all day I had to take him on the tree to have a chance. He also had the lane choice with only two hundredths faster in the last round so he got the better lane. I took a chance and tried to get a good light but I was 11 thousandths too quick and did a redlight. The bike left pretty ok anyway, but when I shifted to 3rd gear, the wheel started to spin so much that I almost flew off the bike. So if I hadn't red lighted I would have had a tough task to win it since he did 7.09 anyway and he had a much better lane. But I am still very happy and congratulations to Jesper on his first win. Also big thank to my team that helps with everything. Without you people I would never do so good on the track. Now we are preparing to test the new bike this weekend at Tierp. It will be interesting to see the track and if we can get the bike ready in time.
Pictures courtesy and © Ivan Sansom.
Thursday 21st April: Here goes, then.
Only one week before the first race takes off in Hungary. The bus leaves this Friday and I am flying on Wednesday morning. We have worked really hard in the last weeks to get it all set and the bus is starting to look really good. Since I have been working a lot on the new bike I have not had time to do so much on the other bike. So yesterday I did a big overhaul on it and Roger has gone through the engine and replaced some parts so it will be perfect for the weekend. Tonight we will fire it up to make sure everything is OK and then we will start to pack the bus with everything from the beginning since we have taken everything out so that we could repair it and finish it. The time has gone so fast over the last months and it feels like it was yesterday that we came home from Santa Pod but it was a long time ago. But we have accomplished a lot during the winter and are really looking forward to start the season again. So now we will get everything ready for tomorrow so the bus can leave in time, and after that I will personally take a couple of days off racing and spend some quality time with my girlfriend and friends. Also get some rest so I can be 100% focused on the racing next week. I am really eager to see what difference it will make with my new riding style on my own bike.
I would like to thank all my team-members, family and friends for the huge help they have given us with everything this winter. Without them we would never have been here now.
I will try to get access to the internet so I can write some during next weekend but I cannot promise anything.
Tuesday 5th April: Putting it together.
We are working hard almost every day now to get everything finished before the season starts, but we have decided to use the "old" bike (not so old, since we built it last year) for the first race in Hungary. I am working right now on all the electrics and the only thing we are waiting for is the Racepak so I can mount that. We have got some small welding left to do that we hope to get done this week or in the beginning of next and, after that, we can put the bike together once and for all. Stefan and Roger are working on the bus to prepare it for the season and to finish everything that we didn't have time for last year and, since it has been in the workshop all winter, we have not had time to do anything on it before now.
I am really excited about starting racing again and to try the new bike out. We know that it will be a tough year for us, since there are a lot of great racers that want to battle for the championship and we will have a completely new bike with parts we have not used before. But we will take things step by step as we always try to do and won't expect to win everything immediately. It will take a lot of time to collect data and a lot of testing for me to get comfortable with the new body and so on. Only to sit on the bike and imagine how it will feel at 300km/h feels really great and I am sure that it will work in the end. I am updating the Veidec Racing Facebook page with some pictures of the bike and the work simultaneously so you can keep posted there.
Friday 18th March: A better fit.
The last weeks have been very busy, working on the workshop and the bike. The engine and bike room are done and we will put the bike in this weekend and start to mount everything. We are still waiting on some parts to get it all there, but we have at least got some of the parts.
We were at UCC and did some welding and got some mountings in their place last Thursday. We also started to mount the new body on the frame - it is such fun to work with good parts. The guys at UCC are a really great help to us and with the best parts and the best tools, the result will be amazing. The new body is so beautiful, and it is such fun to work with, since everything is nice and straight. I will start to plan were we want to mount all the boxes this weekend, since we will move some things and we will use a lot of new parts and manufacturers on this new bike that we could not do on the other bike. As I have said before, this bike is going to be so beautiful, both the chassis and the body and hopefully this one will fit me better than the TL. I will post some pictures of the bike later, but I don't want to reveal too much yet :-)
Monday 28th February: New body and parts.
A lot of things have happen since we came home from the US and time is running away, so now we have to keep working hard to get everything set for the season opener in Hungary.
This weekend I was at Bosön for some new tests with Top & Talent and since I have been sick a lot this winter, I have not been able to work out as much as I needed, so I wasn't really surprised that my test results weren't that much better than last time. I am starting to feel much better now, and the goal is to step up the training so I will be in top shape for the first race.
Our workshop will soon be finished and we have started to put a lot of parts and stuff in the bike room. There are only some small things left on the second floor, and then we can start focusing on building the new bike. We will get our bus from the workshop this week and I will start building the bike for real next week when we have everything on place.
We have started to put the body together and have measured that it will fit our frame, and so far it looks really good. The new body is so beautiful and it is a real masterpiece. I could just stand and look at it for hours. The quality is so good and the fitting together is amazing. I have never seen a body like this before. It is so much more fun and easier to mount a body that is straight and perfect and the result is a lot better also. The new bike is going to be so nice and we will do everything 100% perfectly.
The goal is to have the bike ready for the Hungary race, but maybe that is a bit too early, so at least we are planning to run the new bike at the Maint Event at Santa Pod. It is not just the body that is going to be new for us. We will run a completely new ignition system, clutch, and hopefully a new engine if everything goes as we want. That, together with a new riding style for me, is going to change everything and we cannot use much data from the old bike on the new application. But we feel that we have to take this step sometime and now is the time for us to do this.
It is going to be hard and a lot of work to get it working perfectly but in the long run we think it will pay off, especially the new body, since it is much better for a taller rider like me.
Wednesday 16th February: Florida: shopping and riding.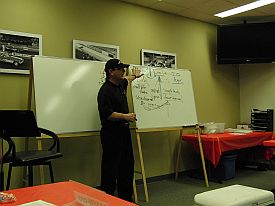 We are home again after a really nice week in the US. The weather was a little bit cold and the sun didn't shine as we hoped it would. The people that lived there said that it was unusually cold for this time of the year and it had been pretty good weather the week before. It seems like it is also good weather now, when we are home again. But I was not there to spend all the time in the sun, so it didn't matter so much. The only days I wanted to have without rain were the two days at Gainesville Raceway when we were supposed to ride the bikes.
We arrived to Orlando on Friday evening local time and the flight was quite good. This was the third time in a year to the US for me so I am starting to get used to the time on the plane. Since the school didn't start until Thursday the week after we arrived, we had some days to spend in Orlando before we moved northwards to Gainesville. Since my mother and sister were with us this time, we knew that we were going to be at the shopping malls some days, but I couldn't imagine that it would be as much as we actually did. But I have to say that it was quite good fun to go to the malls especially now when the US dollar is so low compared to the Swedish crown, so everything is so cheap compared to home. The prices weren't even half the price here at home for the same stuff.
We stayed at a hotel right next to a smaller mall, but they had my mother and my sister's favourite shops, which are Victoria's Secret and Bath & Body Works. I think the people in the shop working there must have thought we were crazy. My mother and sister bought so much stuff from those two stores that now they have supplies that will last for many years. Since it was pretty cheap and you cannot get hold of those two brands here in Sweden, even I bought a lot of things for my girlfriend from those two shops, so I shouldn't blame only my sister and mother for buying...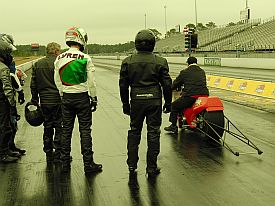 On one of the days we went to Disney's Epcot Center. That was a really cool experience and a thing that I can really recommend if you are in the neighbourhood.
I had some really bad luck on the third day we were in Orlando. When we were at the big outlet we had to eat something and we went to a nice Italian restaurant. I saw that they had swordfish with calamari as their special dish that day and I love that so I ordered it. Everything tasted really good and all was great. The same night I woke up and felt really bad. It turned out that I had got food poisoning and I couldn't sleep all night. Then it took a few days before I could start to eat again, so it wasn't exactly what I had planned but it was good that it happened in the first days and I had time to get better for the school. After a couple of days everything was good again but after the food didn't agree with me, I didn't eat anything but salad. So this was actually the first time I had been in the US without gaining weight.
On Wednesday morning we took our rental car and drove up to Gainesville to prepare for the school's start on Thursday. We ordered a new Bates leather suit when we were in California last November and it was just finished, so we had it shipped to the track. When we arrived at Gainesville we drove directly to the track to pick it up. We had no idea how it would look and the only thing we said to them was that we wanted it to be cool, and we sent them a picture of the new bike design. The leathers were so nice and soft. It sure looked very cool and the best thing about it was that it fitted like a glove and it didn't weigh anything, almost. It is a real piece of art and I think it will help my new riding style also.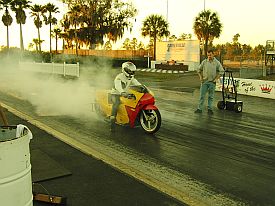 On Thursday morning, when we woke up it was raining a lot, but the forecast said that it would rain in the morning but should be fine in the afternoon. It stopped raining as the forecast said, and we were able to get one round in by lunchtime but unfortunately it started to rain again after that, so we spent the rest of the day listening to what Frank Hawley had to say. It was very cool and interesting to listen to his views about drag racing, how to handle everything mentally at the races and so on. He has a lot of experience and has helped all the best riders and drivers to gain performance and be a better racer.
The next day we started early with some more theoretical sessions so we could start ride the bikes as soon as the track was ready. It was a bit cloudy in the morning and quite cold, but the track was ready for action. I had taken the decision to change my riding style totally and it was really hard at the beginning. I knew from the last time I was there that it was really hard to ride the bike with that style and I could only focus on staying on the bike then. During the season, I didn't have time to start a different and harder riding style, and that was also one of the reasons I went to the school again. On the first run I had some trouble and it felt really weird but after a couple of rounds it started to feel more natural. I still have to practice a lot before it is perfect but it is a very good start and it feels really good coming to a new season with this.
Wednesday 2nd February: After the show.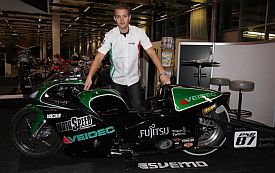 I have been really busy after the show, which had a lot of interest in all our products at MotoSpeed.
To do a long story short about the show, I can only say that is was a success both for MotoSpeed and for me and the bike. A lot of interest in the sport and the bike and a good opportunity to show people in real life what this is about.
We have had some time during the evenings to work in the workshop and things are really starting to happen now. We got the electricity connected yesterday (Tuesday) and we just got all the equipment and work benches for the bike room so we will start to build that up today.
It is only a couple of days now until we go to Florida and we heard there is a blizzard right now in Chicago, where we are supposed to land and change flight. I hope that we don't get so affected by it, but there is a slight chance that there could be some problems… If you check the forecast, though, it looks nice so we will see what happens.
Thursday 27th January: Show time.
It is time for the big motorcycle show this weekend and I have been working for the last two days building up our display for MotoSpeed. The show starts on Thursday and I will have my Pro Stock Bike standing in the SVEMO display to represent both Top&Talent and drag racing. I hope to get a lot of attention around the bike and also to get some more publicity for the sport. We did not had so much time to work in the workshop last week, but we are waiting for some benches and shelves for the bike room anyway, so hopefully we will get those next week and we can soon move the bike and all the other stuff into it.
The plans for the bike have changed a bit and we will probably keep the existing bike exactly as it is, but will start to build a new one as well. We started to count all the hours to rebuild the one we already have, and found that we can build a better bike, more suitable for the new body, in the same amount of time. The difference is that if we are not finished in time for the start of the season, we can still ride the "old" bike at the first races. We have not decided exactly what we will do but something like this plan should be good. As always, we have to cover all the costs of travelling for the championship and so on before we can build a new bike, but if we just keep working hard, then everything is possible.
It is less than two weeks until we fly to Florida for the school and I am starting to get really excited about it.
Friday 14th January: Getting ready for Florida. Things are moving forward in the workshop and we are almost ready with the "bike room". We will start to wire the electrics for lights and so on this weekend. Then we only need to build some work benches and we can move in all our parts. As I said before, we will update and lighten the bike a bit and we have maybe some things going on there that I really can't tell right now. It is going to be so cool, that's for sure. It can be a nice surprise. It will be something really new!
The bus-workshop just got our new motor this week and are working to mount it so it will hopefully be ready next week or so.
We have a big motorcycle show at the end of January in Stockholm and my bike will be displayed at SVEMO´s (Swedish Motorcycle Federation's) booth to represent the Top & Talent program that I am a part of. Since MotoSpeed also will be there to show all our products, it will be pretty hectical for me running between the booths.
Time is flying and after the show there is only about one week left until we fly to Florida and the Drag School. I am starting to get so excited, and hope that the weather will be better than last year. Then, we had to cancel the last two rounds because of the rain. The good thing is that those two rounds I still have left to use this time. So instead of four rounds with camera and studying, I have six. That is actually now a good thing, because I can work a lot more on my riding instead of just trying to keep myself on the bike. Now I have done about 30 passes on a Pro Stock Bike, so I think I will make much more use of the school now.
We are having conversations with some new partners that we hopefully will be ready to announce soon. Some of them are already set but others we are still dealing with.
Tuesday 4th January: New Year Resolutions.
We now have a new year ahead of us and we can put 2010 to rest. 2010 was a great year for me with a lot of things happening. My father and I built up something very big in a very short time and, if I look back one year, I would never have thought that we would be in the same situation as we are now. The 2010 race season was a success for me and I developed much as both a rider and as a human being. It was a great season and I met a lot of good racers and also made a lot of new friends.
Our team philosophy has always been that we should have fun at the races. If we don't have fun then it doesn't matter if you win. I believe that this is what made our team successful last year. Always to think positive and try to do the best in every situation. I have had the opportunity to have a lot of wonderful people around me in the team that helped us before and during the season. I can never thank them enough for all the effort and time they spent helping my Dad and I to build this team up. I have had some time thinking about this during the holidays. Roger and I have also talked a lot about the next season, and we have a lot of things going on at the same time and a lot of hopes and dreams also.
Time is going fast with only a couple of months left until the first race in Hungary. We are working hard in our new workshop to get it ready as soon as possible. The bus is still at the workshop for the engine change and it will probably be ready in a couple of weeks.
It looks like we will start the season with the same bike as we had 2010, but we will update and lighten it a bit. We have not decided yet what type of engine we will use and also the regulations are not 100% set.
We have taken the decision to go to Florida this February again for the Drag School. We feel that it is a good investment right now and with the low dollar it will not be so expensive. We have also found some cheap flights. My mother and my sister will join us this time so it will be a little family vacation at the same time.
I will do everything I can to be as prepared as I can be for the 2011 season. I know that I can be up there at the top and fight with the other fast guys.
I have launched my new website for Lyrén Motorsport where we will post some more info about our own products and so on. I will also write a similar blog as this, but in Swedish instead for local readers. The website will be only in Swedish at first, but my hope is to have a chance to change the language when you enter the website. This website will be easier for me to update and get information out on than the old site. You can find the new website on the same old address www.lyrenmotorsport.com
It looks like Pro Stock Bike is going to be a really good class this year also with a lot of riders and good bikes. Hopefully the competition will be at least as good as last year.
Friday 17th December: Season's Greetings.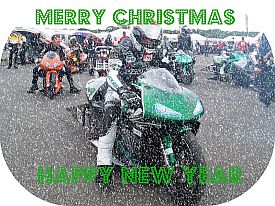 We are trying to work as hard as we can in the workshop and things are moving forward. Last week, we painted the walls and started to build the bike/engine room. This weekend, we will continue with the room and the goal is to have the walls up before Sunday. We have to finish everything as quickly as possible before we get the bus back from the workshop. We have ordered a new motor for the bus and we got a really good deal on both the motor and the fitting of it with the local workshop, so we are very happy about that, despite everything that has happened. That bus has cost us more than double what we expected this year even before this work, and now we have to change the engine on top of that. Soon we will have changed everything that can be changed on the bus, so hopefully it will work next year. We will just have to collect some more sponsors and money so that we can still afford to update the bike for next year.
We will only do some minor changes on the bike since we started to get things going well at the end of the season. We have a good baseline setup on the bike that we can use, so we can focus on fine tuning at the races. We have plans for a new bike and we already have a new carbon fibre 2008 Hayabusa body that we will use. We are the only team that actually have this body and we think it will fit my riding style more, since I am quite tall and our current TL body is better for smaller riders. We will build the new bike in small steps and hopefully have it ready for some testing at the end of the next season.
We are still working on trying to get to Florida in February for Frank Hawley's Drag Racing School and hopefully we will have the money for it. We are doing this both to get some more practice on the bike and also to have my NHRA license secured. Our dream is to go over there and do the last two races next year but we still have to finance the UEM season since it now seems to be up to eight races for the bikes. So this season will of course cost more in both travelling and maintenance of the bike.
I have bought myself a new motocross bike. I got a fantastic deal from Suzuki on a 2010 RMZ-250. I have a Yamaha already, but since we get a little help from Suzuki, they don't want me to drive a Yamaha, so they offered me a great deal on a Suzuki instead. I have not had so much time this year to ride in motocross but the plan is to have it and ride on the ice to get some motorcycle training during the winter and also to have some fun. During the season I don't want to ride so much motocross since you easily can get injured and I don't want to ruin my drag racing from that. So now during the winter I will try to ride as much as I can.
I want to take the opportunity to wish everyone a Merry Christmas and Happy New Year!
Monday 6th December: Västerås Awards and training.
I have been very busy over the last couple of days, first with the Sports-Gala on Thursday and then, on Friday, I went to Bosön for another meeting with Top & Talent. The Gala was really fun and I was very nervous during the whole evening. I was, as I have mentioned before, nominated for "rookie of the year" along wurg two other local athletes. At first, I was sure that I was not going to win this, since motorsport is not so popular here in Västerås and almost no-one knows what motorcycle drag racing is. During the evening, a lot of people told me that they had voted for me and I started to think that maybe it was possible for me to win, but unfortunately it wasn't enough. It was decided both by public voting and a jury, and I think that if it was just public voting, I would have had a better chance to win it. A lot of people voted for me, but I think the jury didn't think that my accompishments this year were good enough. The guy that won was a boxer, and had won the Swedish championship in boxing for youngsters this year. But I still think that it was a real honour just to be nominated and to get the chance to attend this Gala. Västerås as a town is just interested in ice-hockey, football and bandy (similar to ice-hockey, but with a ball on a large rink - blog ed) and local motorsport almost never gets any attention. The bike was on display in the VIP room where all the VIP people were before the event. There was a lot of interest in the bike and we had a lot of fun during the evening, even though I didn't win the prize. I went home quite early in the evening since I had to leave early on Friday morning for Stockholm and Bosön for some more tests with Top & Talent.
Since I had a cold last week, I couldn't do the running test since you have to be 100% fit some weeks before the tests. I did all my other physical tests on Saturday and I was pretty happy with the result. Even though I have lost about 6kg since February, I still did the same or better on all the tests. Even the strength tests, which I thought I would have lost some power in were good. We have the tests two times a year, firstly before the season starts, and then after the end of the season. So on the second meeting every year you are just supposed to maintain the test results from the first meeting. But the goal is to get better from the meeting after the season end until the meeting just before the next season starts. I have always managed to improve my results at every meeting and I will keep focused on it. I can really feel what a difference it has made on myself both physical and mentally.
This meeting we also had a "media seminar" and interview training with a very popular and good sports journalist. He taught us what to think and speak about in media and also how to behave in front of a camera. This was a great seminar and I learned a lot. Both what to say and how to say things. One good thing he said was that even if you don't win a race you can get the most attention if you are an interesting person to listen to. You will find it a lot easier to get partners and sponsors if you can behave professionally and if the media likes speaking with you.
This week we will do some more work in our workshop and paint the last spots on the floor. Then we can start building the walls and put them in place. We are also now starting to work hard to get some more partners that want to work with to help us out this year, since I really want to go to the Frank Hawley school in Gainesville again this February. We don't have the money right now, but are working hard to get it. I think it is a good thing to do, so we can be a little bit ahead of the other teams when the season really starts for us.
Wednesday 1st December: Awards time.
I have been quite busy since we came home from the US, with a lot of new energy for work. I have been nominated for the Rookie of the Year award at our local Sports-Gala that will take place tomorrow (Thursday) here in Västerås. I am one of three nominated in this category for my achievements this year in the European Pro Stock Bike Championship. All kinds of sports are nominated in different categories and we are very honoured and happy that motorsport and especially drag racing finally got some attention. This is a huge opportunity to market myself and, of course, the sport more locally. In this community no one even knows what drag racing is if you are not involved in it. Especially not motorcycle drag racing.
Last weekend they had a big presentation in one of our new build shopping malls in downtown Västerås. Right in the centre of the mall, they presented and interviewed some of the nominations in each category. I was on site with the bike and we got a lot of attention, both myself during the interview and the bike, which we had standing in the mall all day. The voting has been going on for about a week on the internet. You could also vote on site during the presentation and voting finished last Sunday. They will announce the winner tomorrow at the Gala. All three nominated in this category has of course been very good this year in their sport and motorsport is not so popular here as the other sports, so we will just have to wait and see if I have a chance to win. The prize is a scholarship for SEK15,000 and if I win this, I will go to Florida in February and attend the drag-school again. That is my dream and we are working hard to get the money to pay for it, but we still have to work on the race budget first, before we can think about paying money to the school. It doesn't cover all the cost but since I know that the school is good, and I will develop my skills as a rider, so it is totally worth every penny.
Yesterday (Tuesday) we did some work in the new workshop. We painted the whole floor last week and yesterday we painted the floor inside the "kitchen". We are very happy with the result and it is so nice to have everything looking new, and now we only have the walls left. But first we have to build the space for the bike. The plan is to start that next week and our goal is to have everything finished so we can move everything in before 1st January.
The bus is still at the workshop and we are negotiating with the workshop to get a good price on a new engine or to see if they can repair the one we have.
Wednesday 24th November: California trip, Part Two.
We arrived on Thursday to a sunny Pomona Raceway at lunchtime and were very excited to be on hand to watch the "big guys" race. The Pro classes had their first qualifying round starting around two o'clock. We got some good tickets from Vance & Hines so we could stand right beside the startline and watch everything really close-up. Of course, I had my camera with me and both filmed and took a lot of pictures of the race. It was mainly footage of Pro Stock bikes attending this race, and so cool to see that most of the bikes and riders were not as professional as I thought they would be. Most of the riders were not consistent in either their riding or tuning and could go quick in the first round but were way off in the next one. I would say only the top 10 were consistent in every qualifying round.
Andrew Hines was leading the championship by over two rounds of racing before the final event of the season at Pomona and the only way LE Tonglet could get the championship was if Andrew went out in the second round. It was amazing to see LE riding his bike. He is so small and young but still very consistent and experienced as a rider. I have been very impressed by his riding this year. LE struggled a bit in the first qualifying round with some technical problems with the bike (a carb fell off). Even the big guys make mistakes. Andrew and Eddie Krawiec did good jobs in the first round with a 6.87 for both riders. Eddie had a new paint job and leathers for the weekend to support the military and the soldiers fighting for the US. The NHRA held one qualifying round on Thursday and after that we took the opportunity to walk around the pit area, trying to gather so much information as we could and talk with some people we knew since a long time ago. We went to Karen Stoffer´s trailer and said hi. She went to the same class in Florida at the drag school last winter as me, and it was nice to meet her again.
Friday's schedule was about the same for us watching the qualifying round and then walking around the pits to get some new contacts and also trying to get as much information as we could. No-one really tells you or shows you everything but we could see some things and get to know others anyway, since we have good contacts with many of the people there. LE advanced a bit in qualifying and after four qualifying rounds he was no.4 with a 6.86 and Andrew was no.5 with a 6.87. That meant that Andrew and LE were going meet in the second round. Andrew just had to win two rounds to secure the championship BUT he redlit in the first round! And LE took an easy win in the first round. This opened the door totally for LE. Now he only had to win the next round to get the championship as the youngest rider in NHRA Pro Stock Motorcycle history. He was up against Steve Johnson but LE had a great light (0.007) and ran 6.86, and with that he became the 2010 champion. Andrew obviously wasn't very happy or satisfied with his work this day. But this proves that nothing is impossible and everything can happen in racing. LE redlit in the next round with a -0.001 light but it didn't matter since he was already the champ. Eddie, by the way, was fast all weekend and managed to win the race and set a new national ET record with a 6.811 at almost 197mph. Damn, that is fast!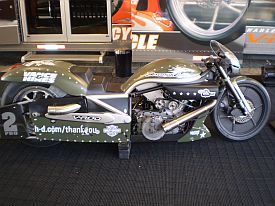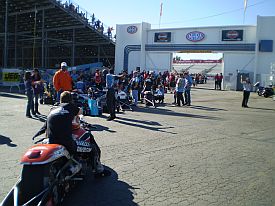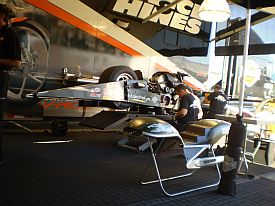 The funny car battle between John Force and Matt Hagan was also a real thriller. Almost the same scenario, with Hagan as the leader before the event and Bob Tasca took him out in the first round. That made it possible for Force to take his 15th NHRA championship.
After the race we went to the airport and took a hotel nearby since our flight home was supposed to go early Monday morning. We took the earlier flight from LA so we could have some extra time at Chicago airport before the next flight home to Sweden. Unfortunately the plane had a lot of trouble with one of the engines and couldn't get it to start. So they did some troubleshooting and we had to go back to the gate. After two hours in the plane waiting, they decided to change the plane and everyone had to leave the aircraft. That took another 40 minutes before we could get on board the new plane. We had about three hours planned at Chicago but in the end we would only have about 25 minutes from landing to our next flight. Chicago is the world's largest airport and since we were flying domestic at first we had to change terminal for the international flight home. We ran as fast as we could to the train to get to the new international terminal. The train just arrived when we got there and we were lucky that there weren't many people at the security check. Right after security they were waiting for us and had a small golf cart to pick us up and they drove us to our gate. This took in total about 20 minutes from the first plane until we were seated at our next flight and I can't even imagine how we did it. If we had been five or ten minutes later we would not have been able to get there in time and then we would have had to wait for the next flight the day after.
So we finally came home to a snowy and cold Sweden. It was nice to come home again and this trip was exactly what I needed to get a little bit more inspiration to work hard so we can be more than 100% ready when our season starts.
Friday 19th November: California trip, Part One.
We are now home after ten days in California, USA. It has been a lot of work, but also a lot of fun. I thought I would have time to write during some of the days over there, but the time just flew away. I will divide this trip into two separate updates, otherwise no one will read it all at one sitting. So I will start with the first half of the week, and next update will be about the NHRA Finals at Pomona. Since we have a lot of suppliers in the California area, we had a tough time to visit them all. The schedule was really packed.
We arrived to a quite warm Los Angeles on Saturday evening. We had booked a very nice rental car for these days, a Chevrolet Camaro SS. Oh damn, that car looks good. It was a really nice car and I was impressed by it. We had saved some money on the flight tickets and felt that we were worth having a nicer car for driving around Los Angeles. It wasn't actually that much of a price difference from a normal car. The only day we hadn't planned anything for was Sunday. So we took the opportunity to go to the mall and do some shopping, since the value of the dollar compared to the Swedish Krone is so cheap right now. We were supposed to go to see a NHL hockey game on Sunday night, but the time ran away at the mall so we decided to continue the shopping and see if we had time another day for the hockey game. We were spending our first few nights in Anaheim and we visited a lot of suppliers during Monday to Thursday. We visited Vance & Hines, APE, Performance Machine, Progressive Suspension, Roland Sands Design, JE Pistons, Carillo/CP Pistons, MAG, Racepak and Dynatek. I haven't been to most of these suppliers at any time before and I visited some of them on a previous trip to the US, but that was a lot of years ago.
The weather was fantastic the whole week. Just a little rain coming on Monday but the rest of the week was very warm and nice.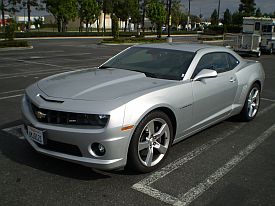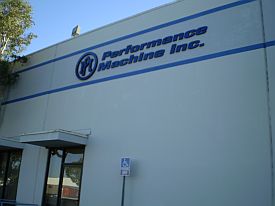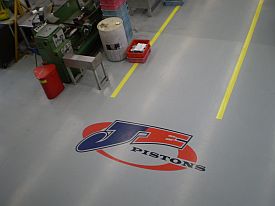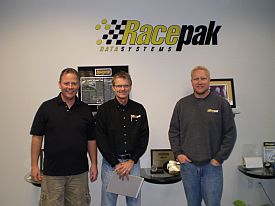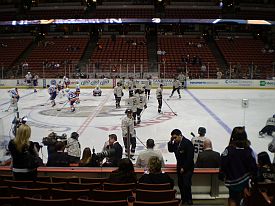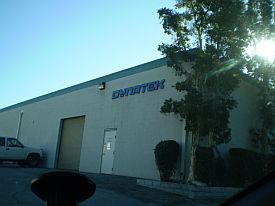 We did go to one NHL hockey game on Wednesday, and it was Ducks VS Rangers. I have been to a NHL game before when we was in LA a couple of years ago but had never been to a Ducks game and now when we stayed in Anaheim we just had to go there and watch a game. The game was ok to watch but just to be there and to watch NHL hockey is cool. The Americans really know how to entertain and to take care of the audience. The game ended 1-0 to Ducks and there were not so many shots on goal during the match, but it was still fun to be there. Of course we got to see a real NHL fight also. We had really good seats and we had a great time.
We left Anaheim on Thursday morning to go to Pomona and we stayed at another hotel near the track during the weekend. I will do a smaller recap from the race weekend in my next blog update.
This weekend, we will continue with the floor of our new workshop and hopefully we can start to paint the floor next week. Then we can soon start to build the new room for the bike and our engines.
Monday 1st November: A new workshop and US anticipation.
During last week we finalised a new lease on the building we had had the bus in last winter. The new lease has made it possible for us to build a new workshop and storage for all our parts. We also have the opportunity to have the bus there. We were really happy to get this lease, which makes it possible to have the bike, bus and all our parts in the same place instead of having them all spread out. So now we have started to clean and rebuild it so it fits our activity better. Right now we are grinding the floor and after that we will paint it so it will be fresh and new. We will also build another room in there so we can have the bike there with an engine room were we can do all our engine work. It is located near my parents' house, in the same town, and only 15 minutes from me so it is really perfect.
The bus is still in the workshop and it looks like it is going to be much more expensive to repair this time. The only positive thing with having the bus in the workshop is that in the future we will have the opportunity to work in the workshop without having the bus there. We are trying to work there at least twice a week and hopefully it will be ready to move in at the end of December. Our goal is to finish the grinding of the floor early this week so we can paint the floor before we go to the US. Then the paint can dry while we are away.
I am really looking forward to our trip to the US. It looks like the NHRA Finals is going to be a real thriller when you look at Pro Stock Motorcycle. LE Tonglet won the race this weekend in Vegas and it is now less than two rounds points gap between him and leader Andrew Hines. It is going to be a really big experience to be there joining the Vance & Hines Team that weekend. I will try to get as much info and help as I can from these riders and I will of course have the camera ready to both film and taking pictures to study over the whole winter. It will be a hectic week with a lot of visits to our suppliers and also to get a better social connection with the people we talk with most days but never see.
The only thing I am worried about is the food. I have been on a strict diet for a long time now and training a lot and the food in the US is not the healthiest. I will bring my running shoes and try to get out on a couple of runs. As I am going to do some more physical tests at the end of November I need to keep focus on my training and not to eat so much crap. Hopefully I will have some time in at least one evening during my trip to write a little bit about everything that is happening.
Wednesday 13th October: A change of pace.
It has been a while since the last race at Santa Pod and now I am starting to realize how good this season has been for me. I have said it so many times before that I couldn't even dream about getting this far in my first season ever in Pro Stock Bike. They showed the TV production from the Finals on local television here in Sweden and I have got a lot of good response and feedback from both family and friends who didn't really understood what I was doing during the Summer. Almost everyone knows that I am racing motorcycles but they couldn't have imagined how fast and big drag racing is in Europe. There couldn't have been a better end of the season for me.
We took some time off racing last week and tried to do some stuff at home that we hadn't had time for during the season. I focused a bit more on my training and starting to build my muscles up again. I haven't trained the muscles so much during the season, just to keep my weight down but we have a new meeting and physical tests with Top & Talent at the end of November so I have to build up all the strength I have lost during the season. I have managed to keep running at least a couple of days every week during the season so I think I will improve my results there. But I know that it will be tough to improve my strength, since I haven't trained those muscles in a while. Now I will also do some motocross riding to build up more bike-control. I haven't been doing that so much during the season, since I have been afraid of injuries and it is not so smart to crash and injure myself in the middle of the season. But now the season is over, I can relax a little bit more on that.
Roger and I have booked a trip to the US at the beginning of November for the NHRA Finals at Pomona. I have been there once before, but that was 2003 and I wasn´t as interested in the racing as I am now. We were very lucky to get some startline tickets through Vance & Hines so we will be joining their team for the whole weekend. Spending time with the best Pro Stock racers in the World at the track and receiving so much information is really big for me. We will also take the opportunity to visit some of our suppliers at MotoSpeed, get a little more social contact and learn more about their products.
It feels like it is a long time until the trip but it is just some weeks away and time is flying away.
Tuesday 28th September: After the Euro Finals.
After the race, we started to pack the motorhome and the mini-van so everything could be ready for the trip home. The prize ceremony for the Euro Finals was really fun and it was a great feeling to get up there as runner–up in such a big event. Later that night there was the dinner and the prize giving for the European Championship which we decided to attend. It was fun to see Ulf Ögge and his team being so happy and enjoying the evening. Big congratulations again for a fantastic season Ulf! Of course you get jealous on his win, but I know that it takes time to build up the knowledge and strength his team has. I know that I will be standing there as no.1 someday if we just work hard enough and have a long term goal for it. We have to let it take time and not put too much pressure on ourselves.
The long travel back home started without any big problems and we took it slowly and parked the car for some sleep when we were tired. I was driving the motorhome and Lasse drove the mini-van just behind. There were a lot of roadworks going on in Germany, so the lanes were not as wide as they should be and suddenly I felt a little bump, but didn't worry so much at first and didn't see anything strange in the mirrors.
After a while, a German guy drove up front of us and started to wave with his hands for us to stop. He blamed us for driving into him and wanted us to repair his car. I knew that I hadn't done that and his car got scratches and bumps on the whole left side but on our motorhome was almost nothing. The only thing we could find that maybe had touched us was his side mirror, but we fixed that one for him there and then. He still blamed us for damaging his whole car and threatened to call the police. We just said that it wasn't our fault and we will never pay for something that we didn't do so, we told him to call the police.
We noticed that he was the trying to avoid the police at first but finally he called them and they were really busy, but said they would come when they had time. So we had to stay on the next exit from the highway and wait for the police to come. While we were waiting, we started to look at his damage and the height didn't match the height of our motorhome at all. We realized pretty fast that this guy just wanted to blame some old damage on us, so when the police finally came, we explained everything and I think they also knew what he was trying to do. The guy said he had a witness that saw me driving into him, but since we had the minivan behind us they could also be a witness on our side to prove that it was not the case.
So the police wrote a report and asked some questions of all of us and they borrowed my driving licence to get my personal information, and I told them my address so they could get hold of me if needed. Now we finally could continue our trip home and after some minutes I looked at the police-report and found something really funny. They had written as my lastname: Körkort. That is the Swedish word for driving licence so from now on my name is Karl Körkort. I think there will be a little problem when they try to send me any mail, because no-one at my address has that last name :-)
The rest of the trip home went pretty well, but it could have ended in disaster. First at the border in Denmark, one of our crew wasn't at the car in time, so we had to stop before we went through customs and wait for her. When she finally came out and jumped in the car the police came (again) and wondered what the hell we were doing there. We tried to explain the awkward situation and after they had checked all our passports and the papers on the motorhome, we could leave. We continued our journey home and then, only 100km from home, we encountered a car and trailer with a lot of junk on it and suddenly a big container flew off his trailer and landed right beside us and missed the motorhome by about 2-3 foot or so. We were very lucky that it didn't hit us and now we started to get scared and worried that we might not get home at all if these sort of things continued to happen. But we finally we got home in one piece, and could relax again so now we will start to prepare everything for 2011. You have to start planning early, because everyone knows that when it is time to race again the following year, a lot of things that are planned to have been done are in fact not done.
Tuesday 21st September: Euro Finals.
I don't know where to start this update. So much has happened before and after the Euro Finals that I think I can write a whole book about it. So I think I have to take the days one by one and split it into at least two updates. Otherwise, no one will read this if it is too long.
We left Sweden on Monday evening and arrived at Santa Pod on Wednesday morning. The weather was a little cloudy and foggy and I was supposed to ride at the Pro Peak Test Day so we were hoping the weather would be better. We had the luck to have a tent already standing in the pits for us ready just to move into, since the bus broke down just the week before. The setup was a little different with the tent and trailer, but we were lucky to have Martin Bishop in the same tent so we could borrow some of the things we didn't have with us.
The weather was ok and we prepared the bike for some testing. On the first run I took it calmly just to see how the track was and it was really good, a 7.33 without holding full throttle over the finish line. It felt good to be back in the saddle again and next round out, I equalled my personal best with a 7.28. Unfortunately, when I came over the finish line and pulled the clutch lever, the bike didn't respond and I heard something wrong with the clutch. We took out the clutch and found that the needle bearing on the pressure plate had exploded. It was now needles in all of the engine, and we had some work to do to find and remove all of them. We took out everything on the clutch side and the oil pan, and we found 18.5 pieces right away. One of the needles had gone through the oil pump gear and damaged the sprockets. We counted the needles on a new bearing and found out that it should be 19 pieces so we replaced all the broken parts like the pressure plate, clutch pin, bearing and oil pump sprockets. We got some new parts on Thursday evening that one Swedish guy had brought on the plane for us. Since we put a new pressure plate in the clutch, we had to shim the lock up a little bit to get free play on the lever.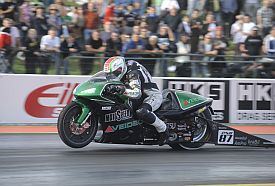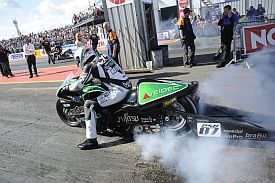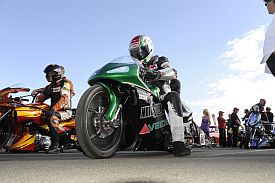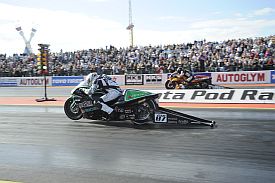 On Friday morning, it was raining but after we woke up, we started the bike for the warm-up and everything looked good until we opened the clutch-cover and the whole engine was full of aluminium. The shims on the clutch arms were touching the clutch cover since we moved it out about 1 mm, but that was enough to scratch the cover and fill the engine with aluminium. This was about an hour before we were supposed to do our first qualifying pass but it was still raining so we had go through the engine again and make sure everything was gone. We were finished in time and were able to do one qualifying pass that day and the bike worked well. A 7.39 wasn't my best number but no one really did good times. I was no.4 after the first round but the best thing was that the bike worked well. That was the only round on Friday we had time for, but we had two more qualifying sessions on Saturday. I did 7.34 and 7.39 in those two rounds, so I was pretty consistent but they were still not so fabulous times. I ended as no.5 in the qualifying and it felt pretty ok. My first round of eliminations was against Zoltan Toth, the new Hungarian guy on the Buell. I took a big lead on the tree and he had no chance to get me after that. Also I made a 7.28 run in that race which felt good and we were now starting to find the tuning window for the bike. Next was Dave Beck, a really experienced and fast rider. I was pretty good on the tree and he was also quick off the line but I managed to be a little quicker over the finish line with a 7.25, a new personal best. It was a really tight race and when I found out that I had won it, I was so surprised and happy. I had made it to my first UEM semi-final ever.
I was up against Gert-Jan Laseur in the semi and we had almost identical times in the round before (7.25) but he was one thousandth quicker so he had lane choice. I took him on the tree and was in front of him all the way. It was also a really tight and close race. It was a fantastic feeling when I heard I had won this one. I was now in the final for the first time, and in the last race of the season. It felt like I already had won the whole championship, but I had to start focusing on the next round against Ulf Ögge. He is so damn quick now, I had to take him on the tree to have any chance. I did that and was ahead of him at first but unfortunately I hit the bump in the left lane and he caught up with me. After the bump, I was catching him up a little, but not enough to get the win. Still, I ended the season with a personal best of 7.24 and in a final at Santa Pod. The feeling was fantastic and I was so happy. Still now, when I watch all the videos and pictures, I feel really good. It was fun to get all the feedback and greetings from the other racers and with many people saying they were impressed by me. That was really good for my self confidence.
So I will stop the update for now and I will proceed at the end of the week with all the things that happened on our way home and everything that has happened after we got home.
Thanks to Remco Scheelings for all the nice pictures!
Monday 6th September: A tale of two gearboxes.
We went to Malmö and Veidec Raceway last weekend to do some testing before the Finals and things didn't actually turn out the way we expected. Everything went fine on the way to Malmö but when we arrived at the track, the gearbox on the bus started to malfunction. Finally we managed at least to park the bus. We got the feeling that something wasn't as it should be but we left that and instead prepared the bike for some testing. The weather was ok and the track was super-good. They had just scraped the whole track so it was really nice. On the first run I took it real calm and easy just to see that everything was working well after the service and to get a feel a bit for the track. The track was a little bit too cold and the clutch switch was way off the "tuning window", so it spun the tyre a lot from the line. The most important thing with this run was for me to feel the bike and the launch again and it felt really good.
For the next run we did some adjustments and the bike launched much better. Unfortunately after third gear when the bike came down from the wheeliebars, the front tyre skidded on the ground and I almost laid the bike down. We think that the steering damper had something to do with this since it is not confident any more and probably needs some servicing. Because of this, I had to let go of the throttle and wasn't fast enough with the clutch. Since you can´t let go of the throttle in any gear but the sixth, the gearbox got damaged. When we came back from the run and we were going trough the gears manually, it didn't feel bad but we didn't want to take a chance, so we took the oil pan off and we found some pieces from the gearbox.
So now we were standing there with less than two weeks before the finals with two broken gearboxes. (At least we thought that was the problem on the bus). We had parts in the bus to fix the gearbox on the bike but, as we didn't have any proper tent or all the tools, we decided to fix it when we came home. We packed the bus up and then started it to see if the gearbox on the bus was working and suddenly it was good. So we thought that the problem only happened when the engine was hot, so we drove all the way home without stopping anywhere just to be sure. We had to stop once at a traffic light and then we got problems. The gears didn't work at first, but after a while we finally managed to get the bus in gear. We had to drive the rest of the way in high gear so everyone had to hold on to everything in the bus so nothing would break or fly out from the shelves. Then when we finally came home, the gearbox didn't work at all. A couple of days later we managed to get the bus into the workshop to see if they could find the problem. Finally they found what was wrong and it wasn't actually the gearbox that was damaged. It was some kind of axle for the fuel pump that was damaged and that made the gearbox work badly since it was supposed to give the gearbox a signal to make it shift gears. To fix this we have to disassemble the engine and maybe also we have to get a whole new engine if we are unlucky.
We fixed the bike pretty fast since the gearbox wasn't as bad as we thought. But now the bus was broken and we didn't have the time or money to fix it before we needed to leave for The Finals. We started to call everybody we know to see if anyone had a vehicle that we could borrow or hire. Finally we had real luck, with a lot of friends that wanted to help out, so we have borrowed a motorhome and a VW Transporter with a small trailer and we will have to rent a tent at the track. So it will be a little different set-up at Santa Pod this time but we had to make the best of the situation.
We are leaving tonight and will be at the Pro Peak test day on Wednesday. Now it is time for us to use the power we have in the bike's engine and give all the "old guys" a match.
Thursday 26th August: Maintenance and testing.
It has been almost three weeks since last race in Norway at Gardermoen. We knew in the last rounds in Norway that the bike had started to lose horsepower and speed. We took the week off after Norway and did almost nothing to the bike but then we removed the engine and did a total overhaul of it. In the last qualifying session in Gardermoen I couldn't get sixth gear in and unfortunately I was on the rev limiter for about 1.5 seconds. That is not so good for the valve springs, which we also found out when we tested them. We have made about 16 runs on this engine now, so we also changed the cam chain to be sure it will last the final races of the season. Of course anything can happen but as long as you do regular service and change the parts within the service intervals, you have done everything you can to prevent things from happening. But we were very surprised after we opened up the engine and even after these 16 runs on it, everything still looks like brand new. These Vance & Hines engines are so beautiful just to look at, and it is really fun to work with them. We have got so much support and help from Vance & Hines this year and we cannot express in words how grateful we are for this. It is so fun to work with all their products because you know that you always get good parts and good support with it.
So now we have changed the valves prings and the cam chain and looked at all the other stuff in the engine and put it together again. We installed the engine in the bike and started it a couple of days ago. It started right away and sounded great so we must have done something right when we put it together again. We have also started to lighten the bike as much as we can to tighten the weight up a bit. We were about 2kg too heavy in Gardermoen and I have lost about 1kg since then and we will lighten the bike about 1-2 kg more before Santa Pod. We are doing everything now to optimize the bike and myself so we can start to run fast. I still need some more experience on the bike to be really fast but I know that we have one of the best bikes here in Europe and the potential to be at the top at the finals.
This weekend we are off to Malmö and Veidec Raceway for some testing before the finals at Santa Pod. One thing is for me to get some more runs on the bike, since it is almost three weeks since last race, and also to get a little more data on the bike. The weather will hopefully be quite good so we can get some runs at least.
Thursday 12th August: Veidec Festival and Sunoco Drag Challenge.
It has been two hectic but enjoyable weeks with a lot of racing and fun. I thought I was going to have time to write something directly after Mantorp but the days just flew away and suddenly I was on my way to Gardermoen and I had not been written anything. So this will probably be a bit longer update than before to cover both events.
We left for Mantorp on Tuesday afternoon since we had to go there in time and put up the tent and so on. I was invited to be a part of the press conference and make a run on Wednesday so that's why we had to be there in time for that. The press conference went very well, even though it was my first time ever at something like this. We also got the opportunity to make a demo run on the track. We knew that the traction probably would be a bit bad since they just had put new asphalt on the first 150m and just some nostalgia racecars had been on it before us. We went out very soft and I had only full throttle for the first 1/8 mile because that's the most important part of the track for us to know how to tune the bike for later passes. Even though it spun the tyre a lot, I did 4.65 on the 1/8mile.
On Thursday we had a day without racing, since the qualifying started on Friday but that was good since it rained a lot for the whole day and none of the sportsman classes could get any chance to run. We had a quite calm day until a semi-trailer tried to pass our tent without seeing that there was not enough space. So the back of the trailer took the front of our tent and moved it more than 1 metre across. It bent the big front beam and stretched the tent canvas a lot. Now the trailer was really stuck in our tent and we didn't know how to solve this without breaking it any more. We tried to disassemble the tent and after a while we finally got the trailer loose from the tent. Now we were standing there with a half broken tent and we could feel rain was in the air. The front beam was totally broken and bent and we just had to try to fix it so it would last the weekend. It was around 6 o'clock in the evening that we started to see what we could do to fix it. The mounting on the bus was damaged and cracked so we had to make a new one of those. We also had to cut the big beam and we had the luck to have our Norwegian friends in the Super Twin teams to help us with some material and we borrowed their welder. Without their help we never could have repaired it. Around 11 o´clock the tent was up again and we could get something to eat. It wasn't exactly the start of the weekend we expected but we managed to repair it, even though we all got a little wet and dirty.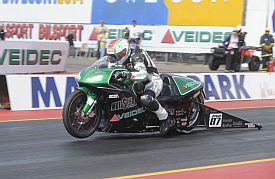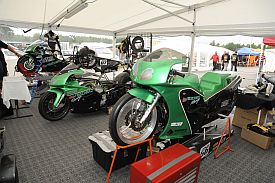 The first qualifying session on Friday went pretty well for me and I ran a 7.34 on my first round out, making me no.3 in the qualifying after the session. That was actually also my "official" personal best at an UEM round, so I was pretty satisfied with that. The next qualifying session was on Saturday morning and it started quite well but after the 60ft mark it spun so hard that I came out of the groove and started to go right. I tried to work the bike back to the center and it worked pretty well until a sudden blast of wind grabbed on to my helmet and I was almost off the bike for a moment. So I had to shut that run off after about 250m but still ran 7.77. The third and last qualifying session, later on Saturday was going to be a real thriller since Kenneth Vik was not qualified yet, because he had some real problems with his bike and also Ulf Ögge was in 7th place with a not so good a time. My run was pretty ok, despite me having big problems with spinning the tire and I ran 7.38. Only one of the other riders managed to do a better time than me, so I ended up as no.4 in the qualifying. Kenneth still had problems and didn't get any time, and Ögge had problems again and got towards the wall in the last session. So after this final session Ögge was no.9 in the qualifying which made this event historic as both no.1 and no.2 in the UEM Championship were not qualified for the race on Sunday. Unfortunately they both had very good luck when it started to rain like hell before our first elimination round. As a result of the rain, the event had to be cancelled and none of us had a chance to catch up in the points standings.
I want to thank all the people that helped me and the team this weekend with everything from food to support. It was also nice to meet some of Veidec´s staff that was on site. We had a little seminar on one of the evenings for them, explaining what we do and also how the bike works and so on. It was really fun to see the interest and support we got after our little seminar. We packed the bus and went home to have some days off racing to get re-energised but unfortunately a couple of riders had broken some parts so we had to work one of the days to try to help them with it so they could run in Gardermoen.
We left home on Wednesday evening for Gardermoen and we arrived around 11 o´clock. We had a nice calm day on Thursday to charge our batteries and do some small stuff we hadn't had time for before. When we woke up on Friday morning, it was really wet outside and there was a lot of rain. It rained the whole day until the afternoon and then the sun came and we could at least do one qualifying session in the evening. My first run was ok at the start, but after about 300m it spun the tyre so hard that the front wheel slipped to the left and I just felt the whole bike was going sideways. So I just shifted through the gearbox and passed the finish line with a 7.41 to start with. I was no.4 in the qualifying after the first session. The weather was much better on Saturday and we got three qualifying rounds in total that day. My runs were pretty consistent over the whole weekend but in the last qualifying session the bike left really good and I had quite good shift points, but when it was time for 6th gear, it didn't want to go in it. So unfortunately I was on the rev limiter for about one second and that is enough to damage the valve springs. We didn't know that it was as bad as it was, but I ended up as no.7 qualifier in the ladder. Since it was an 16 bike field this weekend I was up against no.8 and that was my team mate Kenneth Vik. It is never fun to meet your team mate in the first round but that is racing. I knew I had to be very good on the tree and do a good run because Kenneth is a very good rider and his bike is really fast. I took him on the tree and was out before him. The clocks stopped at 7.372 in both lanes but because I was first on the tree I had won my first UEM elimination round ever. I was really happy with this, but it didn't feel so good to beat Kenneth who was doing pretty well in the championship standings and now I had taken away his chance for second place in the championship. In the next round I was up against no.1 qualifier Jesper Thiel. He is also a very good rider and I had to take him on the tree, since we knew I hadn't that much power in the engine anymore. We were both a little bit too eager on the lights and both of us redlighted. Unfortunately I did it 0.008 seconds before him, which gave him the round victory.
At first I was a bit pissed off with the redlight, but when I started to think about all the things that have happened this year, I was quite satisfied with my achievements so far. I mean, it is my first year ever on a Pro Stock Bike and I have managed to qualify at all the races and set new personal best on almost every event. Now we will prepare the bike for the Finals at Santa Pod because that is where it's going to happen. I think that if the weather is good there, it is going to be a really fast track. It will be fun to see what our new engine can do on a good track since we have had a lot of problems with tyre spin in the last few races.
Thanks again to all the people that helped made these weekends happen and for all their support. I can never do this without you!
Tuesday 27th July: Veidec Festival preview.
It has been a quite busy time the last couple of weeks after Alastaro but we also got some time to relax and charge the batteries for Mantorp.
Last weekend we went to Malmö and Veidec Raceway for the annual Malmö Bike Open. We were invited to the event to get opportunity to test the bike before Veidec Festival. It was an all-bike event with about 70 bikes. The weather was pretty good but unfortunately it was a bit cloudy so the sun couldn't help warm up the track. So the track was a little bit cold and we had some trouble with the traction. Despite the bad traction we managed to run within four hundredths on all five runs and three of those were even better than in Alastaro on my 7.28 run. I also did my fastest time to 100 meters ever. The bike feels really good and I feel pretty confident in my riding. I was very consistent on every test run in Malmö so hopefully I have what it takes to qualify in Mantorp.
The Veidec Festival is going to be a real thriller in Pro Stock Bike, with 17 bikes trying to get into an 8-bike field. The Mantorp surface has recently been ground and new asphalt has been put on the track so no-one really knows how to tune their bike for it. If we look at the weather forecast it looks a little bit unstable at the moment so maybe we won't get all four qualifying runs in. That means we have to be as prepared as we can from the first run out.
We are leaving for Mantorp tonight because I am going to attend the press conference and photoshoot on Wednesday. If we are lucky we will get a chance to test the track and see how it feels. I have never driven a Pro Stock Bike there before and because the track is really short, it could be good to have one test round to see how much I have to brake after the finish line. We can not afford to do this in the qualifying and lose one important round.
It is going to be a tough weekend, but I am glad to have a lot of people helping and supporting me this weekend. I am really proud to be part of the Veidec family especially now, when everyone can watch me race. Of course I feel a little pressure to perform on this event but, as the plan was when we started this year, I am only focusing on getting experience and as many rounds as I can. The main thing is not to be no 1 this year (even if it would be nice). The most important thing is to have fun and with the team we are having right now we have a lot of fun both during the race and also in the evenings.
I am planning to do some small updates on the Veidec Racing Facebook site during the weekend so everyone can follow us. You will find us on www.facebook.com/veidecracing.
Thursday 8th July: FIA/UEM Nitro Nationals, Alastaro.
We are back home from Alastaro and the Finnish UEM championship round. We knew before we got there that it was going to be very tight qualifying and also the race was going to be really good. My goal this weekend was to qualify and, of course, to run a tenth faster than at Santa Pod. Since I ran 7.48 at the Pod I had to do a really good job in qualifying to beat that time. On my first run I had big trouble with my clutch hand. I released the clutch, but the lever stuck on my glove so I almost fell on the starting line. But I managed to pull in the clutch and fortunately I had not trigged the timing yet, so I made a new attempt to release the clutch and off I went on a 7.49 sec run. I was pretty satisfied with that, especially with the difficulty of releasing the clutch lever at first. In the second session, I made some changes on my way to holding the lever. Also I took some powder and put it on the clutch glove. That made the lever more slippery and a lot easier to release. Since the weather was so hot, the fingers on the glove stuck together and that made it harder to let go of the lever. This pass was much better but I was really eager to do a good run so I redlit big-time. I almost got away before the starter pushed the button but I had some luck this time and managed to 7.39 on that run.
After two rounds of qualifying I was no.6 and everything felt so good. I had already accomplished one of my goals this weekend, but now I wanted even more runs to get even quicker. Om the third session we spun the tyre quite a lot away from the line and had a bad 60 foot time. Despite that, I ran 7.37 and a new personal best. To the fourth round: I was really eager to run quick again. We had some mechanical problems with one of the carbs so we had to shut the bike off in the burnout. When we got back to the tent we found out what the problem was and fixed it. I was not the only one having trouble in the fourth round. I think it was 4 out of 12 bikes that actually left the line. No one did improve their times, so after the last qualifying I was no.6.
I was up against no.3 qualifier Fredrik Fredlund in the first round of eliminations. Fredrik had run a personal best this weekend also, with a 7.21, and I knew it was going to be tough to beat him. We did some small adjustments on the bike and knew that the bike had potential to run faster than 7.37. We had to wait in the line-up quite a long time and when we were starting the bike and I was supposed to do the burnout the bike just died on me. I tried a couple of times but, as soon as I released the clutch, the bike just had no power. So unfortunately I had to shut off the bike and leave the victory to Fredrik. I was really pissed off at first since I didn't get a chance to at least try to beat him. When we came back to the tent, we started to look for the problem but the bike worked perfectly now. We tested everything but it was perfect. The only solution we have is that since we had to wait a long time in the sun maybe the battery had lost some power. We didn't have the data logger on in the burnout so we don't know exactly what happened. So now we have learned to always put the logger on even in the burnout because then we can see if the volt is dropping on the battery.
So, without finding any problems, we made the bike ready again because we heard that we could get a chance to do one test round after the finals. This time the bike worked perfectly during the burnout but the mechanics didn't put the Shift Counter switch and that made us have full power from start because the retarder wasn't on. Normally we have to retard on first and second gear since otherwise it just spins the tire. So when I released the clutch, the tyre started to spin really hard and when I shifted to second gear it first started to fishtail but as soon as the rear tire got some grip the bike went really good and straight. I felt that the bike was fast on the other half of the track but I also knew that it spinned the tire a lot from the start. But despite this I managed to do 7.28 with a lousy 60 foot and 294km/h. It was really great to end the weekend with that run, especially since we had some problems on the bike, and now we know that it is working. And we also know that the bike is going to be really quick from now on as soon as we can get some more runs and collect some more data on the clutch. We still haven't adjusted much on the bike, just some minor adjustments to the power from the start.
I am really satisfied with the weekend overall. Now we are heading for some more testing in Malmö and Veidec Raceway the weekend before Mantorp. The competition is going to be even tougher in Mantorp since it looks like there will be about 15 bikes there and still just an eight bike ladder. So we are going to need all testing we can do lower the 60 foot time, and hopefully we can be in the top eight and qualify in Mantorp. Veidec Raceway is a perfect place for us to test since we only need a good startng line to find a good base set-up for the bike.
This weekend I am going to have some good times with my friends and since it is the Power Big Meet this weekend here in Västerås I hope to see some nice cars. Next week we will do some small things on the bike and also some more work on the bus but this weekend we will take some time off from racing.
Thanks to all the people last weekend in Finland that were helping and supporting me. Christian, my sister, my mother, Mia, Stefan, Lasse L, Lasse E, Magnus, Basse, Calpa, Pål, Atle, Kenneth, Stavros and of course my father/Team Manager. Without you people, none of this could be possible. It's always fun to spend a race-weekend with all of you!
Tuesday 29th June: Preparing for Alastaro.
The next UEM event is heading up real fast and we have a lot of things to do before we can go to the ferry and start relaxing a bit before the race. We are leaving on Wednesday evening and will be in Alastaro on Thursday morning. Fortunately we have a whole day without racing on Thursday so we can prepare the bike and be 100% ready for action on Friday.
We have taken some vacation away from bus building for a couple of days during the first week after the test weekend in Malmö at Veidec Raceway but during the last week we worked a lot on the bus to make it a little bit more finished. Now we are actually doing things that you can see and that is a lot more fun. We have got help from a lot of people and we are appreciating it so much that they now want to help us to get the bus finished. We still have some work to do on the inside but we will take it step by step.
We were supposed to go to Sundsvall last weekend but as we looked at the weather forecast we realized that it was not worth doing. We did some work on the bus and also got some lazy days. It was really good to have some days without everything in your mind and I had some time to realize and understand what I was doing on the track. I watched a lot of videos and this really made me more excited and eager to continue to achieve good results and keep on exercising hard. We are a little bit too heavy at the moment with the 1500cc engine but, with the new 1655cc engine, I think that it will be quite good when I have lost a little bit more weight. I have lost quite a lot already but still I have some extra weight that we don't need down the track…
Finland is going to be really tight since there are 12 bikes fighting over eight qualifying spots. We have to have everything ready and produce some good times from start of qualifying. I am looking forward to this event and it also looks like the "weather man" should be on our side this weekend with a lot of sun and no rain. The goal for the weekend is of course to get qualified and to lower my personal best, and hopefully run under 7,4 seconds. I just want to thank everybody again for helping us out with everything, but especially for the help this week with the bus to Lasse Långkvist, Stefan, Emil, Carl-Peter and of course my mother and her sister Mia for sewing us some nice curtains.
Tuesday 14th June: Testing at Malmö.
We had quite a busy time in the week after the Main Event. We were supposed to go to Tierp to the new dragstrip they are going to build but we got a phone call from SRIF and Veidec Raceway in Malmö that they were going to hold a Test n' Tune this last weekend on Saturday and Sunday. At first we looked at the weather forecast and it was very uncertain and it looked like it was going to rain all weekend. We looked at the forecast again on Thursday morning and it was a little bit better, but still predicted some rain and a lot of wind. We took the opportunity anyway to go there and at least if we could get two or three runs, it would mean a lot to me to get some more track time and launches in. The track is a 1/8 mile track in the harbour in Malmö and a really nice place to go testing. Unfortunately, it is a little bit short for Pro Stock Bikes since we have to shift twice after the finish line before we can start braking. Anyway, for us it didnt matter since we only went there to do some test launches and get some 60ft and 100m times.
We got there on Saturday morning and the weather wasn't so bad at the beginning, but after a while the wind started to blow a lot and it rained on and off for half the day. We prepared the bike anyway and at least in the afternoon we managed to get two runs in. I have been having some problems with the way I hold the clutch lever to let it go properly and on the second run I finally found a good way to hold it. I have still got some work to do on timing my body so I don't get so much force backwards when I let go of the clutch but it is a lot better than before.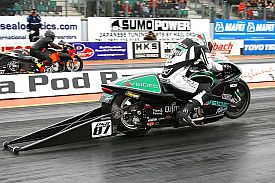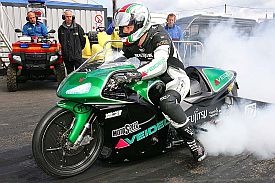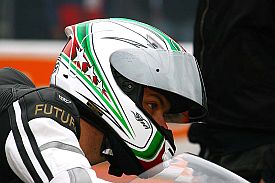 The weather on Sunday was a little bit better but a little bit colder. The good part was that the wind had slowed down somewhat. Unfortunately the cold weather had made the track more slippery and we had some problem with spinning the tire too much. We got four more runs in on Sunday and it was worth so much for us, both for me as a rider to get more experience and to get to know the bike and a little bit more on the tuning. We tried a lot of different tuning setups and I think we will soon have a good baseline to go from. I ran about the same times as I did on my 7.48 run at Santa Pod and that was really good for my self confidence to know that I can do it again. We are still using the small 1500cc engine with the weight a lot over the minimum, so when I get more experience on the bike and with the new 1655cc engine in, I think I can start to compete more with the other guys in the top at the championship.
There were not so many teams attending at the test, so whenever we wanted to make a run, we just got to the line and within five minutes we could start. I was confused that there were not any more teams attending. The track is really good and in terms of track time, this weekend was worth more than two UEM rounds for us at least.
Now we have to strip the bike down for some service and look over the engine just to see that everything is ok. On Thursday evening we are leaving for a national race in Sundsvall here in Sweden. It's also a really good track and hopefully we can test some more things, so we are really prepared for the next UEM event in Alastaro, Finland. The competition in Finland will be really hard, since it will only be an eight bike ladder. Right now there are eleven bikes on the entry list, but I think it will grow some more. It would be nice to get some more data from the clutch and the bike so we can be more prepared than ever before.
Pictures from the Main Event courtesy and © Ivan Sansom.
Wednesday 2nd June: Santa Pod Main Event.
I'm back home in Sweden after the Main Event at Santa Pod Raceway. It was a very successful weekend for me, with a new personal best in both speed and E.T.
I arrived at Stansted Airport on Tuesday night and was supposed to be picked up by the team but, unfortunately, the ferry from Trelleborg to Travemunde had already left the harbour when they arrived, 45 minutes before the booked departure time... So they had to take the next ferry the next morning, which meant I had to find a hotel near Stansted somewhere. I looked on the internet for some cheap rooms near the airport and found one that looked ok. What I didn't know was that it was out in the woods in some small village that the GPS on the bus couldn't find at first, so the team had some trouble finding me. After a lot of phone calls trying to explain to the team where I was, they finally found me. It was a big relief for me when I saw the bus since we were already late for the testing on Wednesday. We arrived at the track and started to unpack the bikes and tent. We prepared the bike and went out for the first test run. Since we had a new engine in the bike I took it real calm and slow first run. This was also my first time riding at Santa Pod so I wanted to take it slow on the first run to see how the track felt.
Since we were a little late, we only managed to get one more run on the first test day. On the second run I managed to improve my personal best from 7.85 to 7.73. Not a very good run, but still my best ET ever.
On Thursday, we got only one more run, since a bolt on the engine got loose and sprayed the bike and the rear wheel with oil. I still did a 7.70 for another new personal best with oil on the rear tire, and you could see on the film that the bike was spinning the tyre for the whole of the first 60 foot. I have had some troubles with my hand releasing the clutch lever, but this was the first time I made a better release. It felt good taking small steps down in times, and I felt pretty confident for qualifying. My goal for the weekend was to get qualified and to run one tenth faster than I did in Hungary, and I had done that already in testing.
Friday was no racing at all for the Pro classes, and so we had some time to do things on the bike that we hadn't had time for before. We had a nice time on Friday evening with good food and a lot of nice people to hang out with. I got to bed early to be prepared for the qualifying that was supposed to start on Saturday, but the weather was really bad and it rained the whole day. So we missed one day of qualifying but got a lot of time to do some things on the bus and the bike that we never would have had time for if this hadn't happened. So you have to take the good with the bad and just prepare for next day.
The weather on Sunday was better, but it was a bit windy in the afternoon. I was really keen to make a good run in the first qualifying session since I knew I had to make one to have a chance in the eliminations. The bike left very nicely from the start and I had good shift points in all gears but I couldn't get the sixth gear in. So I was on the rev limiter for almost a second over the finish line. It felt like it could have been a 7.6 run or something, but when the other bikes came down they told me I had run a 7.48. At first I didn't believe them but when they all started to congratulate me on the good run, I was so happy and it felt really good. Before I had even sat on a Pro Stock Bike I never could have imagined myself going 7.48 in my first year. My first goal was to run under 8 seconds and now everything is going really fast. Still, I am using the small 1500cc engine so when I get more experience on the bike with this engine we will put the bigger engine in. So after the first session I was qualified at no.5. This was unbelievable for me and it took a long time to realize that I had done a good job.
After some problems on the track with oil downs and a Pro Mod car ramming the Christmas tree, we got one more run on Sunday. Unfortunately the wind was blowing like hell and almost every bike was going towards the wall. I pointed the bike to the right and got away well but got a little too close to the centre line and tried to get the bike back to the centre of my lane, having some troubles with the shifting again but then the wind drifted me towards the wall and I shut off early. Only one of the bikes managed to improve their ET so I ended up as no.6 qualifier in a 15 bike field. I was really satisfied with the result and confident. I got to bed early to be prepared for the eliminations on Monday.
I was the last pair out, against the Buell rider Jesper Thiel. A good rider with a very fast bike, but he had some problems on qualifying, so it was not impossible for me to beat him if I had a good reaction time and a good run. But unfortunately Jesper pulled a really good light and I was a little late, since the bike didn't respond as we wanted to. We have had some problems with the clutch cable being a little slow on the launch so we did some service on it on Sunday evening which made our clutch switch setup totally wrong and the rear wheel spun one turn even before it even started to move. Also, since the bike didn't respond correctly, I didn't get my hand off the clutch lever and it ended with double clutching. Still I did 7.67 with a 1.20 60foot time with a double clutch, and also a new personal best in speed, 282 Km/h over the finish line and now the gear shifting worked perfectly. At first I was a little sad that I hadn't done a very good run but after a while I started to think of everything that had happened this weekend and, after all it has been a great weekend for me and also I got more experience on the bike.
Great thanks to my team for being there and helping me this weekend. Without their help and support, this weekend never would have been this successful. A very special thanks to my sister Sara and cousin Ida who took care of the food and everything else this weekend. They are very professional and worth so much to me and the team so we could focus on the racing and know that everything else is being taking care of.
Next up is some testing here in Sweden at Sundsvall Raceway in about two weeks. I will compete in a national class called Top Eliminator Bike. Hopefully the weather should be good and we can get some more rounds and data from the bike, so we can be ready for the next UEM championship event in Finland. It will only be an eight bike field in Finland so I have to run much faster than before to even get qualified there.
I will post some pictures from the event later when the bus comes home and I get some time to go through the pictures from the weekend.
Tuesday 18th May: Main Event preparation.
Finally we got the bus home from Hungary with all the bikes and parts. We have lost a week of preparation for the Main Event and we have a lot of things to do this week. The bus is leaving for Santa Pod on Monday and I am flying on Tuesday evening.
We had an old 4-valve 1500cc engine at the first race and testing, but for the Main Event we will put in the bike a new 1500 2-valve that we have been building. We are planning to change the engine this evening and do some dyno runs on it on Wednesday to see that everything is working properly. With a new engine and some more horsepower I hope to get qualified at the Main Event and, of course, break my personal best of 7.85. If I can just find a good way to let go of the clutch properly, I don't think it will be a problem to run faster and, hopefully, get in the ladder at the Main Event. My goal is to run under 7.6 during the weekend and of course to get qualified.
We are going to test at the Pro Peak test day on Thursday and we will also do some testing on Wednesday at a private test session. Hopefully the weather will be good so we can get a lot of test passes in. That is the most important thing for me right now, to get as much as time on the bike as I can. I need a lot of driving practice before we can start to tune the bike more.
We have ordered a new 2-valve 1655cc engine from Vance & Hines and, if everything goes well, we will have it before the bus leaves. If that is the case, maybe we will put the 1655 in the bike after the first test day if the bike and, of course, I are making good passes. More horsepower means more trouble and a much harder to ride bike.
Unfortunately the Greek guy blew his new engine at the test session in Hungary, so we also have some repair work to do on the motor before we leave for the UK.
Wednesday 5th May: Home from Hungary.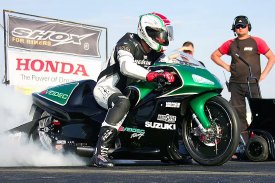 Home after the first UEM race at Kunmadaras in Hungary. At least I am home since I flew back on Monday morning. The rest of the team was supposed to go home in the bus but the gearbox broke when they got to Budapest. So they are still stuck in Budapest but the bus is at a workshop and they have found the problem. It will take some days for the shop to fix it so they will have to fly home as soon as possible and then fly back when the bus is ready.
The first UEM race in Hungary was a real success for me and Team Veidec Racing, I have to say. It was going to be the first UEM race for me and also my first ever time on the new bike. Since I didn't have the opportunity to make any full passes at the drag school this was technically my first real pass on a Pro Stock Motorcycle. We had a whole test day on Thursday just to see that everything worked on the bike and that it was going straight. The bike felt really good to ride and after three test runs on it I felt really confident.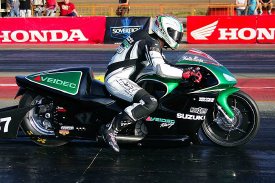 Qualifying started on Friday and my first round wasn't really good since it moved a lot to the right and I had to back off the throttle early. The second qualifying round was really nice. Although the sixty foot time wasn't the best I managed to go down the quarter mile in 7.85 seconds. My first pass under eight seconds and both the team and I were very satisfied with the pass. Unfortunately there were no better times in the qualifying rounds but I got some more riding experience, and we found some stuff on the bike we had to do and also some set-ups that we needed to change. Anders Abrahamsson had bought me some champagne to celebrate my first UEM race but I got it after my first qualifying day since it was a real success.
So I ended up as number fifteen qualifier in the ladder and I was against Ulf Ögge in the first elimination round. I knew that it was going to be really tough to beat him since he has a lot more power than me. I also ran on an old four-valve 1500 Suzuki engine since my new two-valve engine wasn't finished. I took Ulf on the tree with a reaction time of 0.008 seconds...but after sixty feet he was ahead of me and I didn't have a chance to catch up.
Since the bike is still on the bus in Budapest we cannot go to Norway this weekend for more testing. We were supposed to put in the new engine this weekend to get it tuned with the new carburettors and such but instead we will aim to get the bike ready for the test days before the Main Event at Santa Pod.

Wednesday 14th April: Time to meet the public.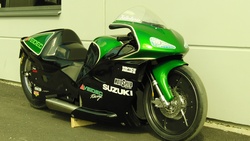 The weekend in Stockholm at the 75th Anniversary Meeting of SVEMO was a real success. The bike was displayed right in the middle of the stage at the meeting and in the hotel bar afterwards. We got a lot of attention both for the bike and for the drag racing. There are a lot of people who don't even know what dragracing is and especially not how extreme the bikes really are.
Now I am working hard to get the bike ready so we can do some testing on the dyno and maybe do some burnouts on the parking lot. There are not so many big things left to do, but a lot of small things so it takes a lot of time to add the last final touches. The electrics should be finished today or latest tomorrow. The engine will be finished at the end of the week and hopefully we can do a little burnout before the weekend.
We got some new leathers from Berik which look really good. Right now they are at Tonyz PR-Look to make them look even better with all the sponsor logos and names.
The bus is in Kungsäter for the mounting of the awning. If everything goes well we will pick it up on Friday. The back of the bus is starting to near completion but we have still got a lot of work to do on the inside with the kitchen and beds. As long as the back is finished so that the bikes and stuff can be transported it is OK. We might be sleeping on the floor in Hungary but we will at least try to have some beds!
Thursday 8th April: Race against time.
We have had a busy time last couple of weeks. We are working day and night to get everything in order for the first event. A lot of things have happened with both the bus and the bike. We delivered Timo´s bike and he was very happy. We got the bus from paint last week and yesterday I picked up the bodywork from paint. It looks really cool but I will not show any pictures before the bike and bus is completely finished. This weekend we will be showing the bike at SVEMO annual meeting and 75th anniversary. We need to work day and night to get the bike ready.
We are heading to show up at the test session at Mosten in about one week. Since we took a lot of parts from my bike to get Timo´s bike ready in time we have to redo everything on my bike.
Hopefully we will have some room to breathe on Saturday at the SVEMO meeting and get some new energy for the last week before the bike runs for the first time.
No more time to write now since I have to go back to work with the bike.
I will try to write a little bit more after the weekend and then I will post some pictures on the bike…
Wednesday 17th March: Recovery and progress.
We have had a busy time in the last couple of days with everything that needs to be settled in such a short time. Almost the whole team is helping out with the bus to get it ready for paint and construction of the canopy. The inside is far from finished but, as soon as we get the outside done, we can all focus on the inside, as it doesn't take as much time as the outside.
I have been working on Stavros's bike to get it ready and the only thing left is to put his new engine in it and start it up to see that everything is working properly. I have not been able to work as much on my own bike since all the aluminium is in anodising and we still are waiting on some parts to arrive. Hopefully we will get the aluminium from anodising today and the rest of the missing parts at the end of the week.
Timo's frame is finished and we will start mounting everything as soon as we get the last parts.
Yesterday we visited our main partner VEIDEC in Uppsala for a small seminar to learn more about their products. It was very nice to meet their marketing manager Lube and the sales manager Pär. VEIDEC is producing extreme performance products for both maintenance and repair. All of their products are at another level of performance. It was very interesting and they are great products to work with since they are so good. I am very proud to be a part of VEIDEC and to represent them as their official race team this year. We have got a lot of cool things going on this year and we have to keep working hard to get everything ready in time. We are working on a new web site that will be up shortly. If you would like to get in contact or interested in VEIDEC and their Extreme Performance Products please visit www.veidec.com.
This weekend it is time for me to go to Bosön again for some more tests with SVEMO and Topp & Talang (SVEMO's central elite investment in fifty promising Swedish motorcycle racers, providing the opportunity to develop their physical and mental capacities in order to compete at the top level internationally). Since the last meeting I have been sick a lot and I trained when I still wasn't 100% well. That made me sick again, so the last couple of weeks I have been working out a little bit harder and hopefully the tests will show this. I am happy as long as the test results are not worse than last time.
Luckily, Paul Watson from England is coming to help us out with some of the building this weekend. He is a very good mechanic and he will help us mount the bikes and get everything in its place. I will be home on Saturday evening and working on the bikes on Sunday.
Since we have been working so hard on everything in the last week, we don't have any pictures of anything funny to show. Hopefully the body is going to be ready before Easter so we can present it at the SVEMO annual meeting in April.
Wednesday 3rd March: Down to the anodisers.
Back from the banquet and prize ceremony at the cruise. It was nice to meet all the racers again and hear what their plans are for the season. Many racers knew all about my trip to US and have also read this blog. That was really fun, to see that a lot of people actually read this. That makes it even more fun to continue to write about our projects and everything that is happening right now. The time schedule is very tight and I am working almost every evening on the bikes and Roger works on the bus and takes care of all other things that need to be fixed.
Both mine and Stavros's frames have now been painted and they look really good. You almost don't want to touch them. Also all the controls have been painted to get all the things in the same colour.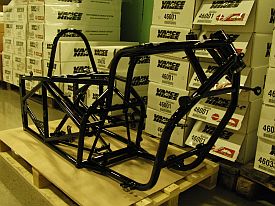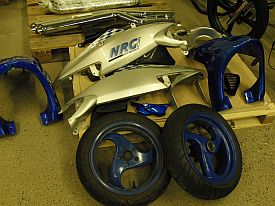 We are sending all the aluminium parts for anodising today so I have to wait for that before I can start putting my bike together again. So for now, I am working on Stavros's bike to get it ready. We got his last parts from polishing today so this evening I can put these parts in their place. Then we have some wiring to do since we are changing his Dyna Datalog for a Racepak instead. We are also going to replace his big battery with the new type of lightweight battery and batteryholder and move it to get more weight in the front.
Hopefully I will get my parts from anodising next week and then I will start to put things together again.
Roger and Lasse are working hard on the bus and will continue to do that tomorrow and also this weekend.
Emil helped us out with preparing the pitbike-scooter for paint. All the cowlings have been removed and also the wheels. We have not decided yet what colour paint it is going to be but I can assure that everything is going to look super nice this year.
The Swedish Motorcycle associations are holding their annual meeting in April and have asked me to be there to show the bike. So we have to work hard together to get the bike ready for this.
Tuesday 23rd February: A bus and three frames into seven makes...
Last weekend was really good and we got a lot of things done. We still have got a lot of things to do before the season starts but with everybody's help we think we can do it in time. We are treating every beam with epoxy-paint to keep it from rusting. We have almost replaced the whole frame on the back of the bus and all the sides also. We got some team members from Norway to visit and help us out a little bit. They were working on the interior in the front and started to build the benches and beds. Also Kenneth Vik from Norway came by to prepare the body for paint.
Thanks to Lasse Långkvist, Atle, Pål, Emil, Lasse Eriksson and Niklas Långkvist for the help this weekend. Without you this was impossible.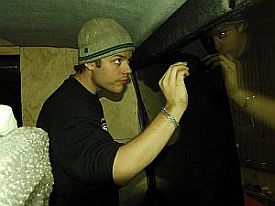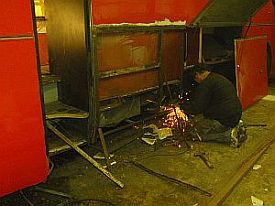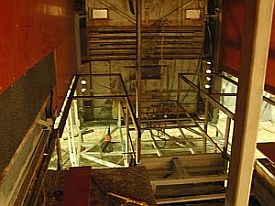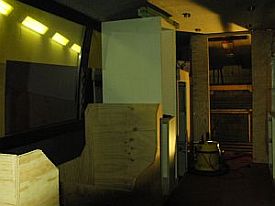 I am going to pick up my and Timo´s frame today from UCC. Later this week we will start to paint the frames. After that I will focus 100% on getting all three bikes ready for the season. I will leave the bus project to Roger and the other team-guys. In seven weeks we will do the first testing (hopefully) in Malmö here in Sweden. So we have for now three empty frames that are going to be finished in about seven weeks.
This weekend I am going for the Prize ceremony for last year's Scandinavian Drag Tacing Series. I was the runner-up in the total score with just 4 points behind. Roger and Lasse will continue to work on the bus and when I come home I will continue with the bikes.
Wednesday 17th February: Back in Sweden.
It has now been a couple of days since we came back home from the trip to USA and Frank Hawley´s School. I am storing all the information gained and I am very eager to start driving my new bike.
Right now I am working on the Greek guys' bike. We are going to move some weight and fresh it up a little bit. We will also mount the new Racepak Computer. He has got a lot of work to do so we are helping him out to make his bike better.
This weekend we are gathering most of the team members and we will do a lot of work together on the bus. Time is running away and we still have got a lot of work to do on it before painting it so now we really have to work harder and harder.
The frame for Timo (the Finnish guy) is planning to be ready for pickup at the end of this week so we are planning on start working on that next week.
My frame will also be ready for paint at the beginning of next week and as soon as we get some wheelie bars we can do the last mountings. The body is already at the painter's and hopefully he will be finished in time for the first test.
We are working on a new website that will be ready in a couple of weeks.
I have not taken any pictures during the last few days but after this weekend I will do a recap of the work days on the bus and also some pictures.
Tuesday 9th February: Frank Hawley Drag School.
I was supposed to write every day on our trip but I realized that it was not possible since every night I was so tired I didn'?t have the strength to write. So instead I have tried to record a little recap of the trip.
Update 1 - Tuesday 2nd February.
We arrived in a rainy Florida on Sunday night after a long wait at the airport, which made us miss our connecting flight from Newark. We finally got on a connecting flight and found our hotel in Orlando. We had a good night's sleep since we had been up a long time. On Monday we went to Universal Studios to have some fun. It is a really awesome theme park with a lot of great attractions. We rode a rollercoaster that was so cool. I have it on film so hopefully I can put it on Youtube so you can see how cool it was. After the day at Universal we went to Sears to buy some tools and stuff. Everything is so cheap compared to Sweden. I was looking for a Sports shop to buy some running shoes since they are very cheap here. We found a big Sports Authority at one mall and I found the shoes I was looking for. I also found some exercise equipment I have been looking for in Sweden but couldn'?t find there. After this we went to Wal-Mart to buy some food. We were at the mall about two hours and had so much fun there. It is so cheap at this kind of mall so it is really fun to go there. We were only supposed to buy some breakfast but we ended up with a trolley packed with stuff.
Today we have been to the world?'s largest Harley-Davidson dealer based in Daytona Beach. An awesome place with a lot of bikes and accessories. On the way up to Daytona Beach we stopped by MTC Engineering to visit their shop. To our big surprise we met Dave Beck from Great Britain there. He was there to pick up some stuff for his new bike. After that we went to buy some stuff for our ladies. You have to collect some extra points when you are away at a trip like this. Tomorrow we are heading to Gainesville to get everything ready for the school and hopefully the weather should be fine. The forecast says it is going to rain on Friday but we hope that is not going to happen.
Update 2 - Friday 5th February.
Another couple of days in Florida and we have done so much during these days and I have been so tired every evening I haven'?t had the energy to write about everything.
On our way from Orlando to Gainesville we stopped by Don Garlits Drag Racing Museum. An awesome place with a lot of cool cars and bikes.
The main thing I should be talking about is the Drag School. We have completed our two days at the school and I am so happy and satisfied with the results. I have made my first four launches ever on a Pro Stock bike and now I realize that there is some pretty big power in these bikes.
To my big surprise NHRA Pro Stock rider Karen Stoffer attended the same school as us. She was there to learn to ride the bike in a new way. She is a really professional sportswoman and it was a real honour to go to the same school as her.
We started to learn the staging process and the burnout first. After that we learned how to launch and in the first session we just did it to 60 foot. IN the next session we did the same procedure but we shifted to second and third gear to 330 foot. Then we went into the classroom and watched the films of all the students. It is really good to see everything on film and also to get feedback on what is happening. After this we got out and did one more session to 660 foot. Since I am used to a street bike clutch I like to slide the clutch a little bit too much instead of just flip it right out. Then we went in to the classroom again and watched our last run. We got feedback and also we talked about how we work both mentally and physically. Everything made so much sense when George Bryce tells us how it is and he explains everything so well.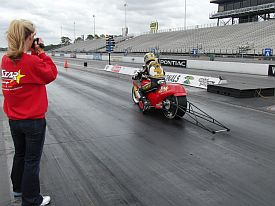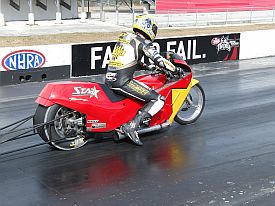 That was it for the first day and we just got to the hotel and ate some food and then went to bed straight away since my brain was really full of information. We started day two with more theoretical sessions and learned more about how humans work. The weather forecast wasn'?t so good but we hoped that the weather gods were wrong this time.
We got out in cloudy weather and we started to run the bikes. Right before it was my time to run (I was almost last) I felt some drops of water on my head. But the rain waited just enough for me to make my run. Now it was time to make my first 1000-foot run and I was really keen to do a good run. On my last run I flipped the clutch good but I didn?t rev it so much. This time I reved it good but I did a little double clutch. Despite that, I got away from the start really well and did a nice straight run and shut off at 1000-foot mark. I really felt that the bike was going straight and I did my first eight ever on a 1/4 mile despite shutting off before the 1000-foot mark. I ran an 8.62 and that is almost one second faster than my personal best on my GSXR. When I heard the number I was so happy and got a lot of good feedback on that run.
Unfortunately the rain came just after my run and we couldn'?t do any more passes. So we just had a couple of hours in the classroom talking about our rounds and got some feedback.
The school is the best investment and the coolest thing I have ever done in my racing career. I can truly recommend it to anyone that is thinking about racing a Pro Stock bike. For more info about the class and Star racing visit their website www.starracing.com.
Update after homecoming.
On Saturday we went to Daytona Beach again since we heard that it was the Daytona Speedweek this week. We got to the track on the morning to see if they had some tickets left and it was no problem. They had the NASCAR Budweiser Shootout on the evening and we got some really nice tickets in the main grandstand. I was impressed with the NASCAR racing. It was my first time on a NASCAR event and I have never realized before how cool it is with 300km/h average speed and with more than 20 cars fighting on every lap.
The week went really fast and we had a great time with a lot of memories and laughs.
Since we couldn´t finish our two last runs we can come back at any time and do those at a later time. Maybe I will go back next year. Time will tell what'?s happening after this season?.
You will find some more pictures of the trip on www.lyrenmotorsport.com at the end of this week.
Tuesday 26th January: Time to get serious.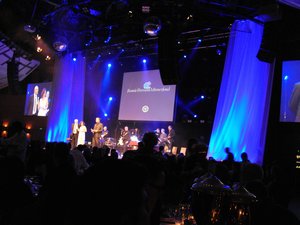 Last weekend we were in Örebro for the Speedgroup meeting and also the UEM/FIA prize giving. The prize giving was part of the Swedish Bilsportgala and I was really impressed with how professional the Gala was. I picked up the third prize for Martin Bishop in Pro Stock Bike since he couldn't come to the Gala and Roger picked up the third prize for Rikard Gustafsson in Top Fuel Bike. Nice food, and a lot of drag racers were there.
The last couple of days the focus has been on the Finnish guy's bike. They are having a show in Finland this weekend and he is going to show the bike there. The bike will not be finished but we will get the frame from UCC on Wednesday and the plan is to have a rolling chassis without engine but with the bodywork on. They are coming to pick up the chassis on Thursday morning so we have a lot of work ahead of us. We got the last part of the fairing today and will start with that this evening.
So the trip to US and Frank Hawley Drag School is heading up really fast and I am starting to get a little nervous. It will be my first time on a Pro Stock Bike but I think I will quickly learn how to ride it. I have watched a lot of drag racing movies on the Internet about Pro Stock Bike riders so I already know how to drive the bike mentally. There is just the practical left...
The plane leaves Stockholm on Sunday morning and we will arrive in Orlando in the evening (local time). We are planning to go visit some other places like Universal Studios and the Don Garlits Museum of Drag Racing. Since the School is on Thursday-Friday we will have some time to do some other stuff too, like shopping for tools and so on.

Wednesday 20th January: Filling in on filling in.
Last weekend we made the last touches before paint on the bodywork. On Thursday we are going to put the primer on it so we can leave it for paint as soon as possible. A lot of reinforcement and filling has been done to make it strong and also look good. You have to be careful not to put too much filler on it since the body will get heavy very fast. It is a fine line between a strong heavy body and a light weak body. You want both the light one and the strong one so you should not just fill every little hole on it with filler since it probably will be very heavy.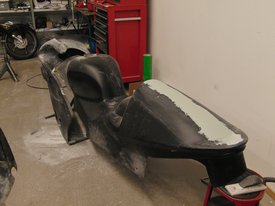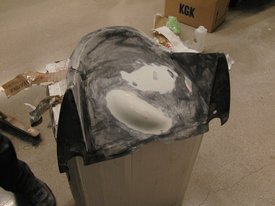 As I said before Bosse Jensen will do the paintjob on the bike and I think it is going to be great. He is very professional and he is always doing his best on every job.

This weekend Roger and I are going to Örebro to attend the Speedgroup meeting and also the FIA/UEM banquet. I am going to collect the third prize for Martin Bishop in Pro Stock Bike since he cannot make it this weekend and Roger will collect the third price for Rikard Gustafsson in Top Fuel Bike.

We are planning to leave the body with Jensen on our way to Örebro since Kungsör is in the same direction. Hopefully he will be finished with that quite fast so we can continue the work to get the bike race ready.

I am going to the doctor on Thursday to get my medical certificate for the Drag School and also for the UEM licence. It shouldn't be a problem for me since I am still young and don't have a long medical history. This is the last piece of the puzzle before everything is set for my trip to the USA and the Drag School.

Wednesday 13th January: Waiting for the bus.

Saturday we had the work day on the bus. As you can see on the pictures it is far from finished. Soon we will hopefully be back to where we started before all the tearing down. The big difference now is that everything is replaced and strengthened up.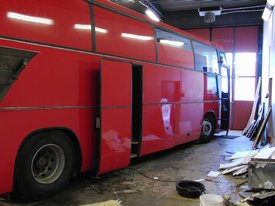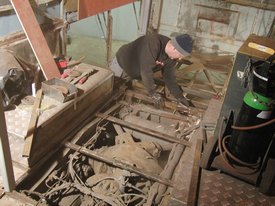 The time schedule is really tight so we have to keep working hard to get things ready in time. The plan is to paint the bus in the beginning of March and leave it with the awning manufacturer for mounting at the beginning of April.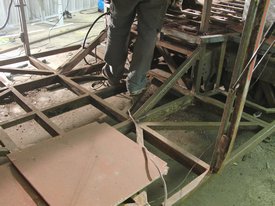 I am working hard almost every evening with the body to make it ready for paint. I will soon be done with that and the only thing left is to fill up the small grooves and then sand the whole body.

Friday 8th January: A Work Weekend beckons.

Time is running away but we are working almost every day with both the bike and the bus. We took a little trip to the guy who is going to paint the bike and looked at some suggestions. His name is Bo Jensen and is a very famous bike and car painter here in Sweden. When we arrived to his big old house in Kungsör he was painting this big painting of a wave with watercolour. We have told him a little bit how we want the bike to look, but otherwise he has free hand on doing something really special. You can see more of Bo Jensen and his work on his web site at www.bossejensen.com.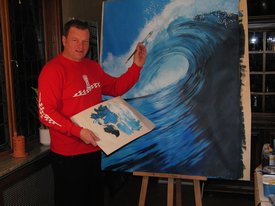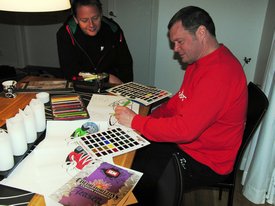 Yesterday I worked on the body of the bike to strengthen up some weak spots. I have a couple of hours left to do on it before we can give it to Bo for painting. I will continue to work on the body this evening. Since we are working with epoxy you can't do everything at the same time since it is very runny. You have to take one side at a time and wait to the next day before you can do the other side. We have sent the frame to UCC so that they can do the other frame for the Finnish guy. As soon as we get it back we are going to paint the frame. After paint there is just the final mounting left ("only"...smile).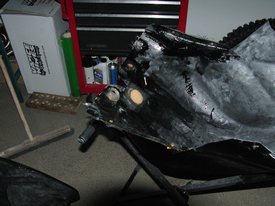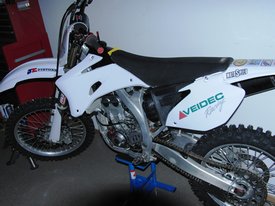 Tomorrow (Saturday) we have a big work day on the bus. Many of the team members are coming to help us out to get the bus ready in time. After the weekend I will write a little bit about that project and now that we finally bought a new camera I can take some pictures to show you.
I just bought myself a motocross bike to have for exercise and to play with on the days I need to get away from working on the bike and bus. I have not ridden motocross bikes since I was twelve years old so I am very excited to start riding again. The plan is to take a ride on Sunday if it isn't super cold, as it was a couple of days ago.
Monday 4th January: Back to work.
In the last couple of weeks we have taken some time off from building the bike and bus but this weekend we started again. We worked on the bike the whole of Saturday to straighten the bodywork and the Dzus fasteners. I also mounted the side and the bottom panels.
The chassie is nearly ready for paint so now we are going to strip it down completely and send it to Unique Custom Cycles so they can measure and build another frame similar to this one. They have made this frame from the beginning and they will also do the next frame that a Finnish guy will ride for 2010. Roger and I will be building that bike also along with our own bike.
Yesterday (Sunday) we did some work on the bus. Fortunately we had the luck to find a garage with big doors so we can store the bus and have a place to work on it. It is a little bit cold to stand outside and work on it since it is about -20 C here right now. We have a lot of hours left to do there since we had to tear the whole inside and replace almost all the beams.
It is just one month left until my trip to US and Frank Hawley's Drag Racing School and I am very excited. I think it is going to be a very cool experience and it will be the first time I ever ride a Pro Stock Bike ever. We will be leaving Sweden on 31st January and we will be back home on 8th February. The school is for two days with both theoretical lessons in classroom and also a lot of riding on the bike. They are using four-valve 1500 cc engines with about 250 hp and 15" tires. It is a little different from my new bike but I think it is good to start with. My old bike had only 175 hp so it will be a little bit different feeling I guess... The bike is also equipped with Racepak computers so they can record every run.
Unfortunately I don't have so many pictures of the project right now but I will take some new pictures and show more on the next Blog update.
Tuesday 29th December: Introducing Kalle.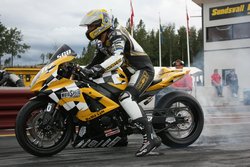 As announced earlier the Veidec Racing Pro Stock Bike Team will be fielding two bikes for 2010. It is going to be me, Karl Lyrén, who is one of the riders. With Roger Lyrén as my father I have almost been raised at the race track. I am twenty two years old and have raced in the Toyo Scandinavian Series in Super Gas Bike for two years. I ended as runner-up in the series for 2009. The other rider will be the European Champion from 2006, Anders Abrahamsson.
We are very proud that Veidec are giving us the opportunity to run the Veidec Pro Stock Bike Team in the coming years. There has been a lot of interest among other companies and we have a few other partners who will join us this year as MotoSpeed, Shoei, RK Chain, Pro Imp (Mickey Thompson), Performance Machine, Dynatek, Vance & Hines, Psycle Workz, Volvo Din Bil, Swecomposite and many others. More partners will be presented continuously.
I don't have any experience as a rider of a Pro Stock Bike so for me the 2010 season is going to be learning how to handle the bike. I will be travelling to Florida in February to go to Frank Hawley's Drag Racing School.
The bike is going to be all new and built in Sweden. UCC has made the frame and we have done all the other things. The bike is almost done with some minor things left to do such as paint, side panels and wheelie bar mounts. We are working almost every day to complete the bike as soon as possible.

We have invested in a new bus to transport the team around Europe. It is an old Formula 1 Boat bus. Since the bus didn't have enough beds and sleeping areas we have to rebuild the whole inside of the bus. Right now we are strengthening the rear end and soon we can we will start to build up the new interior.

I have been chosen to be a part of a Swedish élite team for young motorsport drivers. There is a total of about forty drivers from all Sweden and many different sports as Speedway, Trial, Enduro, Motocross and Supermoto. Drag racing got one spot last year and I was chosen to fill that spot. We will meet three times a year to do physical tests and we get mental help to improve our results at the track. I am very proud to be a part of this and will do everything to keep my spot.

I want to thank Eurodragster.com for this opportunity to be a Blogger here. You can find a lot of pictures and more information about the construction of the bike at www.lyrenmotorsport.com.


Feature ©Eurodragster.com


---
Lyrén Motorsport web site
Back to Racer Blog index
---