As told exclusively to

Friday 1st March 2019: Gatornationals preview.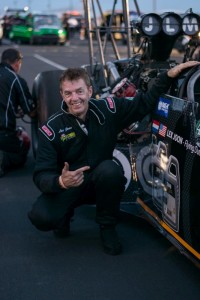 In October 2013, Gerda, me and my dogter Cha Cha made the biggest move of our lives; we shipped everything, our whole life, in a 40 foot container 4150 miles from Amsterdam to Indianapolis, USA. The content of the container comprised our private belongings and a race car plus equipment. Arriving in our new home country, our new life started - we had to start all over again. The difference is that this was not a normal new beginning like when you are born and things start taking its course. We are used to working hard for everything we want to achieve; nothing will come for free, but that's what makes you appreciate things more when they come together. I'm successful in business, but it's not that we have funding available to invest millions to start a racing career in the USA, it needs to be built, step by step.
Gerda and I started with finding a normal daily job, like most of you, we have to bring in a paycheck to pay the bills. In the meantime we were saving money to get our Top Fuel program back up to speed again; a lot of money is needed to get all equipment and parts certified to be allowed to race at NHRA tracks. The first step was made two years ago when we were able to rent a small race shop opposite Don Schumacher Racing's 145,000 square feet headquarters, to be able to start working on our race car program. In early 2018 we were able to finish the race car with new front and rear wings, also the front part of the chassis has been replaced to comply to the current NHRA rules.
Because my race license had expired, I had to make license runs before I was able to get back into action again. We ran at really iconic places like the Texas Motorplex and the big daddy of them all, Lucas Oil Raceway in Indy to get my racing license active again. After I became a certified NHRA Top Fuel pilot, we entered a couple of NHRA races during the 2018 season. This was the time were we needed to start building our team from a crew and logistical point of view. Another thing that needed attention was our parts inventory; running the ETs and speeds on those killer NHRA tracks requires an upgrade of a lot of parts. The first race we entered was the US Nationals, the biggest drag race in the World. We had an awesome time with the fans and it was cool to make history, being the first Dutchman entering this race. After this race we went to St. Louis (Gateway Motorsports Park) and Charlotte zMax Dragway. We did not qualify for any of the races we attended which is not something to be proud of, but running a Top Fuel team from your weekly paycheck in a NHRA Championship format is a challenge which will take a bit of time to be able to see success. #NeverQuit
Going into 2019 we had some time over the winter to work on our program. We found some issues that caused a lack of performance which resulted in our non-qualifying performance. Our first race in our 2019 schedule will be the 50th Amalie Motor Oil NHRA Gatornationals, Gainesville, Florida 14 – 17 March. We are still running our program with a limited budget, but we are confident we will qualify for this iconic event. I'm looking forward to shaking hands with a lot of our European Fans who always like to attend this race in Florida.
I would like to thank our ever loyal Fans who support us through thick and thin, also a big thank you to Gilbert Groot from JLM Lubricants who support us with their high quality engine oils and additives and last but not least my wife Gerda, my biggest Fan and partner. www.facebook.com/LexJoonRacing
Monday 19th October 2015: Racing smarter, spending less.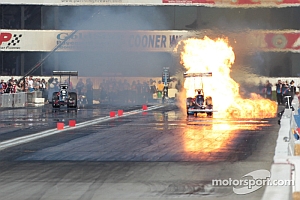 Sustainability of motors and parts is pretty complex in modern nitro drag racing when you are racing V8 stock pushrod engines making over 10,000HP. Some people have the idea not a lot can go wrong in nearly 4 seconds of wide open throttle; making over 1000HP per cylinder is a pretty challenging accomplishment and you might be surprised that even a $0.50 part can cost you a race if not installed or calibrated correctly.
It is spectacular for the viewing audience when we have cylinders go out or engines blow. As spectacular as the "boom" may be to view, it is expensive for the team involved to get the car repaired and back out on the track. When an engine is damaged during a run, the cylinder heads (two on a V8 motor) are one of the components that take a big hit. Currently most NHRA nitro race teams utilize Stage 7 cylinder heads. With all the parts that go along with the heads, like intake and exhaust valves, valve springs, retainers and fuel systems you can understand those heads are pretty pricey.
Pistons are coated to withstand the heat, connecting rods are made from special aluminum, cranks made out of a high spec steel material, etc. Needless to say, the parts we use for preparing those motors cannot be found in your local auto parts store.
The general opinion in the US is that nitro motors will explode almost every run. Racing in Europe is very different than racing in the United States because of the issue of obtaining parts for US engines. In Europe, we have to go through a complex and costly international process to have these parts shipped to us. The wait is usually months for even the simplest parts, versus the delivery you can usually receive in the United States in just days. Thanks to our experience racing in Europe, with small budgets and parts only made in the USA, you learn to take care of what you have knowing replacement is not so easy and downtime could be extensive. You become smarter with both your tuning and driving.
Image © Ted Rossino, Motorsport.com
Monday 12th October 2015: Tribute to a Winner, Robert Joosten.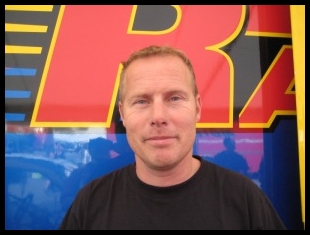 After the passing of Robert Joosten I would like to share a story which always comes to mind when thinking and talking about Robert. In 2005 Robert was ready to make the next step in his racing career and that was the time he consulted me; he wanted to talk about what would be ideal in his situation. He was thinking about racing a Alcohol Funny car or make the move to Pro Modified. That was the first time I learned about Robert as a person and a racer; I must say he was a driven, friendly, passionate person, the click was there, I recognized his desire to move forward and be the best in the business.
In 2006 he acquired a Jim Oddy 2001 Chevrolet Corvette, he asked me to help with the licensing which took place at Santa Pod. It was an honour for me to be asked to do this.
He was a great person to work with, understood all the instructions the first time, he was a natural, no wonder he was a licensed Pro Modified racer at the end of the weekend. He wasn't the type of racer that was easy satisfied with his accomplishments behind the wheel, he always was working to better himself as a racer which I think is what made him the racer he ultimately became, one of the best in the business. This adventure to be better every time he had to race made him visit me a couple of times in my trailer the first year he was racing Pro Modified. We attended the same FIA races which made a conversation easy to do.
Entering a race in Finland, Robert was struggling with the tuning of his Corvette, he qualified but had to run against one of the quickest cars in the field because he was low down in the qualifying order. He showed up at my trailer, his laptop in the hand. I knew something was going on because he was not the type of guy that would ask for help until there was a real problem. Beside driving he loved to do the tuning for his Pro Mod race cars, tuning was a love we shared so it was time for me to listen to his story.
Robert told me he tried to do everything in his power to get his Corvette running decent numbers but he could not get it done, "Can you please take a look at the data" he asked and showed me the data accumulated for runs he had made that weekend. I noticed a small problem and told him to fix that in his tuning window, and that he would win the first round if he only made that small change. He looked at me and asked "Are you sure, I thought I would change my clutch instead." His tune up was basically perfect, it didn't need much change to be perfect. I told him I wanted to make a bet with him that he would win that round.
Off he went, with his laptop under his arm, a picture I'll never will forget.
The next morning we were listening over the radio because Top Fuel had to run after Pro Modified and we were in the staging lanes, that is where we could hear Robert Joosten was announced the winner against Micke Gullqvist who was in the other lane. A well deserved win by a man that have made dragracing history, but didn't get the chance to show his real potential leaving us behind at the age of 46. R.I.P. my friend.
Monday 30th March 2015: Making steps Forward.
As most of you know, running a racecar that has nitro in the tank is a pretty intense venture. Being successful as a race team is only possible when the foundation is solid, which means everything needs to be in place to win races and stay successful in the long run.
Lex Joon Racing has made an important step forward in their program with the vision to communicate on a marketing level with the bigger corporations of this world.
A partnership between Innolytix Ventures and Lex Joon Racing LLC has everything to do with developing a solid marketing activation program for marketing partners and at the same time shaking up the NHRA scene as there is ample room to do fantastic experiential marketing.
Lawrence M Grega, Chief Innovation Strategy Officer at Innolytix Ventures and Lex Joon feel that this partnership is a great match. They think the US drag racing marketing scene is ready for a shake up. Adding a creative marketing vision and an agent for brand strategy and sponsorship activation to the Lex Joon Racing management team will create opportunities for the team and at the same time opportunities for drag racing in general. Creating truly and unique experiential marketing programs is what will give a boost to the modern drag racing industry, which at the same time will generate publicity and recognition for the sport in general.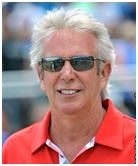 Lex Joon Racing is also proud to announce the addition of Lee Beard to the team, a multi time NHRA Championship winning Crew chief who will be a consultant for the team.
Lee Beard has 55 career wins and is the only Crew Chief in the NHRA to win national events in Top Fuel and Funny Car with 12 different drivers. Lee is also a highly skilled fly fisherman who has fished all over the world. He is giving people who share his passion the possibility to book their fly fishing trips in the USA through www.twistflyfishing.com.
Lee Beard says: Lex and his wife Gerda became very good friends. They are fantastic people and I admire their goals to become successful racers here in the United States. I am very impressed with their knowledge of the technical and business side of racing. I am looking forward working with them.
Lawrence Grega expressed his positive views on the partnership. "Innolytix is excited to partner with two proven champions to energize an innovative branding partnership with smart sponsors and a team ready to make its mark here in the United States. The Lex Joon Racing Team is stacked with potential to achieve wins and contend for a championship. We're off to a great start and have already defined the market opportunities for an innovative sponsorship activation program. With Lex's championship attitude and Lee's proven expertise in NHRA history, we've engineered the team brand to meet and exceed sponsor expectations in the NHRA venues.
The Flying Dutchman and his Team of Wingmen/women have their sights set on making history. There are many first out there to get into the history books. Sponsors looking for instant market exposure in Europe and North America will have an edge no one else does in NHRA. I urge corporations, and individuals, interested in doubling their market exposure to get in touch with Lex or me immediately. It is a rare opportunity for market domination in drag racing. We are poised to rock the Nitro ranks and want to work with sponsors aiming to do the same."
Tuesday 22nd July 2014: Making the dream a reality.
For most of you it's not a secret that my goal is to start racing in the USA, and to make it even more challenging, to do this with my own team.
To be a successful team owner and driver in America is my ultimate goal, something I started to work on 30 years ago when I built my first racecar. I know a lot of people think it's not possible to live the American dream, but I'm not everybody, I'm me.
I can tell you it takes a lot of perseverance, blood, sweat and tears to make the American Dream reality. People who know me can tell you that when I start working on an idea I won't stop until it's a done deal. I can tell you that I hate myself for that kind of attitude every now and then but perseverance is one of the ingredients you need to be successful. Especially when conditions are tough, I get something over me that gives me an unbeatable feeling, then I'm at my best.
The "Why I want to do this" feeling has hit me now and then working on our American Dream but it paid off in the end. Gerda and I are a team and we made the impossible possible, good teamwork is what made our "Living the American dream" a realistic reality.
It all started two years ago when we hired an American attorney who could help us to investigate the possibility of starting working and living in the USA. With an US tourist visa this is not allowed, those visas are issued for a vacation or holiday but you are not allowed to work under any circumstances. When you earn your money with professional racing in the USA you need a Green Card or working visa, otherwise you're an illegal or alien as they call it and you will be deported out of the country because you are not allowed to work. For me, the Green Card is instrumental to being successful in the USA.
After a meeting with our attorney who specializes in immigration transactions, the possibility seemed to be there to apply for a Green Card as an athlete of extraordinary ability, this is because of the achievements I accomplished in my racing career and drag racing in general. We needed to gather all published material which was ever written from the beginning of my racing career till now. It needed to be approved and when not in English translated to English by an American Visa Centre approved interpreter. I can tell you, there's a lot that has been written when it comes to my racing activities.
Our attorney needed to have a business plan from Lex Joon Racing LLC. I made a plan with all ins and outs that comes in play when you run a championship caliber team in NHRA dragracing. After we had remitted all our paperwork it took the immigration authorities only a couple of days to let us know our request was granted.
Normally it can take up to a couple of months before you get an answer back about your request, it seems the American authorities didn't need a lot of thought to get me onboard in the USA.
Migrating to another country is pretty complicated, especially when this is taking a journey of 5000 miles. You have to deal with a lot of things, from explaining your family it's really going to happen to selling your business are just a couple to start with. The USA has a different electric system, nothing from Europe will work in the USA when it has a plug and wire at the other end of the appliance. To find a shipper who can deal with racing equipment and private goods in the same container is another thing, eventually we managed to get everything organized. The container left early September, we flew to Chicago October 1 with Cha Cha our dog in the cargo area of our plane. We drove from Chicago to Brownsburg were we reside in a 3 bedroom apartment to live our new life as American citizens.
Brownsburg is located pretty centrally in the USA, a 3 hour drive south from Chicago. Brownsburg is for a lot of race teams the place to work from, teams like John Force, Don Schumacher, Morgan Lucas, Bob Vandergriff, Cruz and Tony Pedregon, Al Anabi and Steve Torrence have their shops in central Indiana.
The reason for working from Brownsburg is that the majority of the race facilities can be reached with a truck and trailer within a day's driving, which helps the teams with their logistics.
Right now I'm coaching and helping owners in the automotive business about how to run their shops and diagnose specific problems when they occur on European, Asian and American cars. At this moment we are situated near the Indy drag racetrack which is convenient when we are going to start testing and racing.
Our plan is to do a limited schedule for 2014 in the Mello Yello NHRA series; how many races we are going to attend will be decided by the interest from the partners we work with. When we have more news to share regarding our schedule you can read it at Eurodragster.com.
Thursday 31st May 2012: The American dream.
The last couple of weeks have been very exciting for Gerda and I. Even though we have not been on a race track we do feel like we were in a roller coaster. It was a huge decision for us to make but we have put all our focus on racing full time in the USA! This means a lot of paperwork. Luckily Gerda is very good with paperwork (smile) and I am sure that by the time we receive the get go she will have everything in place. As most of you know she and I share the same dream. And we strongly believe that our American dream will come true. Our truck and trailer are sold. It was very funny to see the truck and trailer for sale between our used cars here at our shop.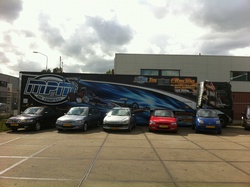 I'm sorry we have to disappoint our fans and friends in Europe and we do appreciate all the good wishes we have received from each and every one. And when we race in the US I am sure many of them will stop by our pits and/or follow us online.
Looking at the reactions we get back from our marketing partners in the US we are on the right track, corporate America does have a more then positive interested in our team. We always have positioned our business partners in the first place, we work with a mentality that will make any company a winner, something we managed to do in the past and will continue to do in the future. 2013 is our target to start racing in the US.
The start of the FIA European Championship season is around the corner, with an extra race added to the Championship schedule the financial situation for a lot of teams will be an extra hurdle to jump. The cost of racing is becoming more expensive, not only because the parts teams have to buy which are going up in price, but also the costs of transport are becoming a serious issue. The teams are working with volunteer crew members but most of them have a daily job and a limited amount of days they can use as a holiday to get free from work to invest in the team. The fact that a team like Urs Erbacher is not able to run the full European Championship tour, and the Andersen race team is not on the entry list, says something about the difficulties European teams have to face.
The news Knut Söderqvist passed away after an accident was a real shock for me. There are a lot of stories to tell about Knut, during the 2004 season my first year in Top Fuel I rented a Top Fuel car from Knut. Without Knut European nitro racing would not be as exciting and professional as it is right now, he gave a lot of drivers a chance to start racing and get their own programmes up and running. May he rest in peace.
Thank you for reading and I hope everybody will have a great season. Whether you a fan or a racer!
Sunday 17th December 2011: Planning for 2012.
The end of 2011 is nearly here; it has been a year with a couple of highs and lows. I'm always trying to put my best foot forward for my fans and associates. Although this has not been a good year for our team when it comes to performance and the amount of races we attended, I'm very proud my fans are still believing in what I (try to) accomplish.
Our team made it to national television in Holland last week when the announcement was made that my wife Gerda has been promoted to first Dutch female Top Fuel Crew Chief for Lex Joon Racing. She has worked for several years beside me and for the last three years as assistant to Kevin Poynter which makes her an ideal candidate for the job for our team. It means overseeing the crew and assisting them and me with the work that needs to be done. As you can understand, I'm very proud and also happy with all the attention this announcement attracted for our sport in general and for our team in particular. More than a million people nationwide have seen the program which resulted in a huge amount of positive reaction. The TV crew wanted to film the firing up of the car which was performed by our crewmember Simon who handled the starter motor and Gerda who made sure the motor got the fuel to start and after that she set the idle, believe me, it was a lot of fun. Gerda and I have been invited to a talk show on national radio on 7th January which will be a lot of fun for sure. We will promote dragracing to a public which is not familiar with the sport and is always a challenge with the spectacular numbers from a Top Fuel car generating enough attention in case we need it. I still hope this kind of publicity will help the general idea that our sport needs a permanent dragstrip here in Holland.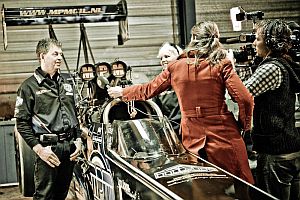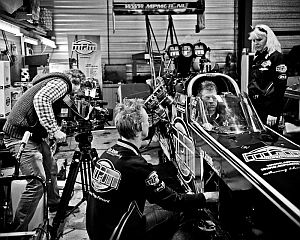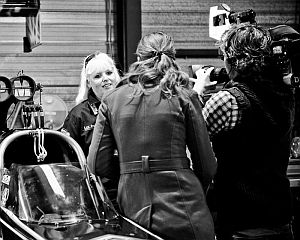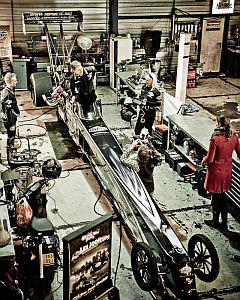 Early this year I mentioned the start of MPM UK which fitted in with the idea of controlling the future of Lex Joon Racing business wise. As I explained at the beginning of this year, the economy is not in the best shape, which is an extra handicap for teams like ours who need companies to market their name or products through drag racing. Although at the beginning, things seemed to look good and all the noses were heading in the same direction, things were not meant to be and in early September the decision was made to break up the agreement which means I'm not longer involved in the MPM UK endeavourers. This also means I'm not responsible or accountable for any outings in Social Media or other forms of communication made by MPM UK or MPM Oil UK Top Fuel Racing, this being in answer to questions I received through emails in the recent past.
With this said, there still is a lot of work to be done to secure enough funds to make a solid chance for the 2012 FIA Championship crown. With an extra race added to the 2012 calendar in Sweden, the financial situation is becoming even more of an issue. I completely understand that the fans love to see an extra race added to the program. For our team it means an extra challenge which is not only a financial one. The crew who are all volunteers need to request more days free from payment from their regular jobs which can create a problem in the team structure.
The plan right now is to do the full European Tour. Our marketing department is working 24/7 to find the right partners in Europe and the USA to make it happen; our USA mission to start racing Stateside is still on the calendar and also has our full attention. The near future will give us more ideas about what our agenda will exactly look like. I'm not waiting to see where the future will take me, I'm a strong believer in taking my destiny in my own hands and moving it in the direction I would like it to go, which is, as you know, straight forward.
I wish all our fans, friends and associates a very merry Christmas and a good and healthy 2012.
Thanks for reading.
Pictures courtesy and © Stephanie Halma
Sunday 25th September 2011: Commentary at finals and the 1000ft change.
At the end of my last blog I mentioned my attendance at the European Finals, which at first seemed to be certain to happen but sadly we had to pull the plug at the last moment. Since we didn't run a serious number of races in 2011, it was difficult for me to keep enough crew interested in spending their time in our team. This said, I had to fly in experienced crew members from the US to get the chance to make a decent and safe outing. The funding to get those guys over was not received in time which left me no choice but to withdraw our team from the race. At least the good thing about all this is that the car is ready to go and we can expand our parts inventory over the winter to get ready for the 2012 season. We will also make time to attract new crew members and train them for their new job which will help us to have a flying start next season.
I made the decision to fly over to the United Kingdom and be part of Saturday's Euro Finals Qualifying to support the MPM teams and meet my fans who are really awesome. The fact that our team has not made a lot of outings the last two years has not interfered with the contact and support I get from my fans and supporters. To get from the airport to Santa Pod I hired a car from Alamo with the special drag racing discount as advertised. Amazing but true, they gave me a brand new Ford Focus with just 3 miles on the clock, very friendly people at the desk and an awesome rate, what more do you want from your rental car company, awesome job Alamo.
I had a great time in the tower assisting Colin and Darryl with commentating on all the action in the Top Fuel third Qualifying round. The final elimination round in Top Fuel on Sunday was a thriller, which had the best ingredients possible. Congratulations to Urs and his team on winning the 2011 Championship. Also it was the last race for Andy Carter; although he and I have had our moments on and off the track I found it sad to see that he didn't qualify for his last race before signing off. Andy's crew gave him a dignified salute when he idled down the track after Sunday's first round of TF elimination.
This week the announcement was made that Top Fuel will be run over 1000 ft distance in 2012. This rule is copied from the NHRA where they changed the distance for the Nitro classes from 1320 ft (402 metres) to 1000 ft (301 metres) because of safety reasons. Some of the tracks in the USA are getting too short in comparison to the speeds, those tracks were built in the 1960s when speeds weren't much more than 200 mph but nowadays 335 mph is possible. After some tragic accidents the NHRA decided to shorten the track to get the speeds down and create more track to stop the cars. It does also help the rear tires from getting too hot and blowing into pieces.
Right now we see speeds of around 325 mph at 1000 ft which has made the NHRA decide to reset the RPM limiter so it will allow less pre ignition during the last part of the run, which will kill the speed over the 1000 feet. For us in Europe, most tracks are not sufficient quality to see runs in the 3.7 seconds over 320 mph, except for Tierp which is built to NHRA standards. We have to deal with asphalt tracks where the NHRA is using concrete which will give better grip. When we ran our car in the USA, we could run a lot more clutch weight because of the amount of grip the track gave us; more grip means more horsepower that we can feet through the clutch which will give the quick ET's and speeds. We have run 3.9 runs to 1000 ft in Europe before, which will be the ET to shoot for; reaction times will be more important because there is less real estate to make up ground for leaving the start line later then your opponent.
Saturday 30th July 2011: Drachten joy, Hockenheim disappointment.
The holiday season is under way, and all the children are on school break as well, so I see a lot of happy faces around me, which is good because there is nothing better than being connected with people enjoying themselves and the sunny weather.
In my last blog I mentioned the possibility of us attending the Hockenheim FIA event, a decision I could make following our demonstration runs at the MPM Internationals at our home track in Drachten. After our Main Event outing, after coming back from the USA, the car had some issues that needed to be rectified, which we tracked down and we were ready to run rounds on the Monday at the Main Event, but the event was washed out on the Monday as you know. We decided to use the MPM Internationals' demo runs as an opportunity to prove and assure us that we had identified the issues, and had indeed sorted the gremlins with the car.
Although the weather conditions weren't in our favour at Drachten, we have to say that the track crew did an outstanding job preparing the track, and the car showed us its real potential, running some awesome 60 ft numbers as low as in the 0.830 region, and 330 ft times without dropping any cylinders whatsoever. We couldn't make it to the 1/8 mile cone under power because of traction problems, but we still ran a 3.8 second after only being on the loud pedal for 1.8 seconds. After this we are more than confident that the team and car are more than capable to not only run with, but take out the best of the competition at the track. We had a great time at Drachten with more than 1500 MPM Oil guests visiting the event, and experiencing full hospitality. What topped off the event with us, was the MPM Oil "Shockwave" fuel funny car team were also in attendance, and making 3 runs in their new MPM Oil livery, and between us we gave the spectators and MPM guests a first-hand assault on their senses with nitro fumes and ground shaking noise.
As to running in Germany, unfortunately we did not get a positive response from the Hockenheimring as we had put ourselves forward some time ago to enter the Saturday night show for them. This would have given us the funding to run the whole weekend at the event, as funding is very tight at the moment. To cloud the water also, the Hockenheimring board has taken the decision that we would have to pay a late entry fee, even though we were negotiating our entry for the weekend long before the closing date (July 11). I don't want to go into too much detail, just because this is not the forum for it to be aired, but we do feel very aggrieved by this. I only want to address the fact that our team was more than prepared to travel to Germany and run the event, but now we have made the decision to save our parts now for another day which might be the Euro Finals in September, where we can support and promote our MPM Oil UK endeavours.
We hope our fans accept our apologies for not running in Germany, and we hope you understand that we did everything in our power to make the event, but unfortunately due to circumstances beyond our control we will not be there.
Hopefully, we will be able to confirm our attendance at the Finals soon, so keep an eye out for an update.
Saturday 18th June 2011: Back on track.
Hi Girls and Boys, a little later than planned but here is the latest update of my blog. The Main Event didn't give us the outcome we had planned, but at least we kept our record intact by maintaining our 100% record of qualifying for FIA events attended.  I have to say also that it was great to talk with some old and new faces at our pits, and we were amazed at the warm welcome we received from our fans again.
In hindsight, it was funny to see that normally Andy C and I battle for the number 1 spot, but on this occasion we now had a fight for the number 8 position. For me it's a sign that running a limited schedule is not really working out for our team. On top of that we had to deal with all kind of problems we brought back from our USA adventures which needed to be addressed before we could start running full runs. After our fourth qualifier we finally had all issues addressed, and were ready to start running at our full 100% potential.  Obviously we had to deal with the number 1 Qualifier which didn't gave us such a headache as many people thought, as we knew the car was set, ready and loaded for a low 4.6 run to go into the battle in round 1 of eliminations. Once again the rain was a big spoiler for our race team.
Our MPM village was a great success, my partner Richard Stevens and his lovely wife Samantha made this weekend a perfect one. Even though they couldn't erect all the equipment, displays and material that were in the MPM truck and trailer  due to the strong wind and then rain, they still did their best considering the conditions.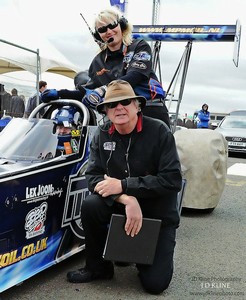 The highlight of the weekend was to have Kenny Youngblood, his wife Terri Youngblood and Trackside Tina in our pits. They all had a great time at Santa Pod, it was such an honour to have them around. Kenny really is one of the best artists out there. I cannot believe what he can make with only a couple of sharpies. Absolutely awesome!
The entertainment that we arranged for the Saturday and Sunday night was also warmly welcomed, and on the Sunday night, Santa Pod did a rough head count and there were over a thousand guests turned up to enjoy the Pat McManus Band.  Pat can't wait to do it again, and he couldn't believe the friendly response from everyone at the event - but that just goes to show what a friendly bunch us Nitro Junkies are.  He has dedicated a song from his new album to the MPM teams, and we are in the process of producing a montage of pictures that will accompany the song, and as soon as it's ready, we will post it on the MPM Top Fuel Race Team Facebook page. If you look at our facebook page now you will find many fantastic pictures that were taken by our good friend Jeff Kline, who came over from the USA to document the weekend for us. 
It's also great to see that MPM UK is getting more involvement in other classes of dragracing in the UK.  I'm glad we were given the opportunity to contribute and sponsor the Pro ET class for the rest of the 2011 season, in what we think is the greatest sport on Earth.   The MPM village was a perfect example of the family idea we have that comes with the sport, our sport.
Right now we are getting the car and equipment ready to give demonstration runs at the MPM Drachten Internationals at Drachten Airstrip which will be held 15-16-17 July. Further plans are pending but we will try to attend the FIA races at Hockenheim (August 12-14) and the European Finals (Sept 08-11)
I would like to send a big thank you Jon Webster for his help during the Main Event, as always perfect!
Thanks for reading!
Monday 2nd May 2011: The return.
I know you guys and girls have been missing my regular blog updates on Eurodragster.com judging by the amount of E-Mails I've been receiving. It's not because there hasn't been much to say, as I can assure you there are a lot of things going on in the Lex Joon Racing/MPM OIL UK racing stables at the moment.
Last weekend I flew over to visit the Easter Thunderball together with Richard Stevens, who is my business partner and who is in charge of the MPM UK operation, and who is currently securing distributors and stockists for the MPM range now that it's available in the UK and Kevin Poynter (KP), who is my American Crew Chief and 334Racing partner. It was great to be back at the birthplace of European drag racing after an absence of almost two years. I was pleasantly surprised how the fans reacted when they saw me at the event, and I couldn't believe the warm welcome we received. Considering that we haven't attended any European events for the best part of two years, it really was superb talking with fans who recognised me whilst I was walking around the pits, and it made me realise how much I'd missed running at Santa Pod.
Richard and I are working around the clock to get our MPM business programme together in time for the Main Event, and we will be able to update you on the new sponsors that are looking to come on board with us also. Take a look at our new web site at mpmoil.co.uk, as it shows the full diverse range of products which we are introducing.
As you've probably already seen on the Eurodragster.com news updates, we are planning some surprises especially for the fans and our associates, just to say thank you to all that have supported us over the years. On top of this KP and I are also working 24/7 to get our race programme and team up to speed, and firing on all cylinders again. After our stay in the US our programme needs several updates which by the look of things won't all be closed out in time before the Main Event, but our aim is to bring the car out to the track with the parts which are available to us at that moment.
Let's hope we get everything done in time, so that we can make it up to all our fans after a two-year absence from the European tracks by running some big numbers.
More news will follow soon.
Monday 7th February 2011: MPM Oil UK.
As a regular reader of my blogs, you probably know our team is in constant pursuit for marketing partners (sponsors) to fund our racing operation. The corporate world is changing their strategy towards marketing since the economic crisis, which also has its effect in the world of racing. It's obvious we need to explore other opportunities to secure funding for our team, to make it possible to hit the tracks again. Starting the 2011 season we kicked off with big plans - which means we are looking to get two teams running, one in Europe and one in the USA.
To get those plans realised, I teamed up with Richard Stevens who has been involved with the team since 2009, and who resides in the UK.  We have acquired the sole rights to import and sell MPM Oil products in the United Kingdom, which is a great step forward in building a business plan for Lex Joon Racing in the years to come. With the newly formed company MPM Oil UK Ltd, together with Richard we will be able to answer questions about MPM products and at the same time market the products through the race team attending shows and hospitality during race weekends. MPM Oil UK is in the process of appointing dealers throughout the United Kingdom, this being the first step in making the brand available for all Lex Joon Racing fans and the serious mechanics that only want the best products in their workshops. The alliance I made in 2004 with MPM has been a proven winner for my team when it comes to partnership and performance. This successful formula will now be available in UK stores soon.  For inquiries regarding MPM Oil UK products, Richard Stevens is available at richard@mpmoil.co.uk or you can visit the web site at www.mpmoil.co.uk.
Richard and I have launched an MPM page on Facebook at www.facebook.com/?ref=home#!/pages/MPM-Oil-UK-Ltd/131486330252711. Please feel free to upload any relevant photos or links which shows the team in action, and feel free to share this with your colleagues, friends and fans.
The MPM Top Fuel Dragster is still situated in our shop in Los Angeles ready for action, our marketing agency is working on projects to get my team running in the USA. With MPM Oil UK getting finalised right now, chances are that the car will be moved back to Europe to assist the marketing efforts of MPM in Europe. Stay tuned… Thanks for reading, Lex.
Saturday 30th October 2010: US update.
Hi fans, here's a quick update about what's going on regarding our plans to race in the USA for the remainder of the 2010 season.
We entered the Las Vegas and Pomona races in case we could find the funding to compete. The large fields (more than 24 Top Fuel dragsters entered) could mean that, when we find the necessary funding, we can't compete because the class is full. As you already have noticed, we didn't make it to Vegas; our marketing people are working continuously to get our team on the road, or should I say track. Proposals have been sent and meetings scheduled; it's a matter of time and we are in the middle of the game. Our race car and equipment is sitting in Los Angeles ready to go and the crew is waiting for the green light.
When we find the funding we need and make it to Pomona, I will update my Eurodragster blog on a daily basis to keep all my fans informed and provide you all with the latest news hot from the track.
Tuesday 21st September 2010: Indy visit.
Hello everybody! Here I am, checking in after a break of some time. The fact that I didn't send in any blogs for a while was not because there was nothing to tell, but because there is so much to undertake regarding our future in Drag Racing (as well as running our business in the Netherlands).
As I have mentioned before, the 2010 season has been used as a sabbatical year, at least for the European racing circuit. At the start of the 2010 season we worked very hard to obtain sponsorship that was good enough to run at least a couple of races in Europe, and for a long time we were confident we would race at Mantorp Park and Hockenheim this year. The idea was to ship our equipment early May from Los Angeles to our shop in Europe to get it all prepared in time for the race at Mantorp Park. When the time had come to start packing our things, the agreement for the two race deal was cancelled making shipping the car back home a pointless exercise. At that time there was no funding available in Europe and I believed we had a better chance to acquire funding in the USA than in Holland or Europe. So our American Dream continues and this means we want to start racing full-time in the USA. You can understand this is easier said than done, and it needs a lot of patience and perseverance to realize this dream. I have to say I believe it will be easier to win a NHRA Full Throttle Top Fuel race than finding the funding for a full season of racing at the highest level in NHRA Full Throttle Drag Racing. This is why it's so important to have the right people in your camp that will work together with you and all other team members to get this dream realized.
During this year we decided to have a professional marketing agency involved in our business to bring our team to the level we want it to be. The people in this agency are familiar with working with high dollar companies and know their demands when marketing is on the agenda. It will probably take time to find the right match for our team but that's what comes with this adventure.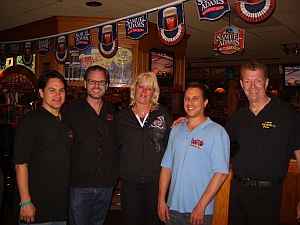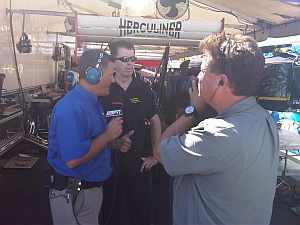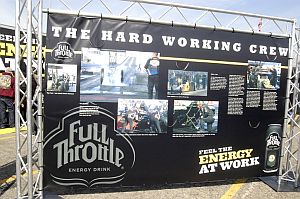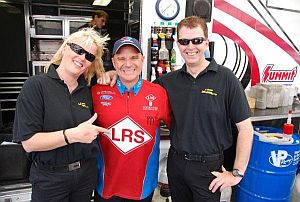 In the meantime, we are trying to find an opportunity to attend the last two NHRA races of the 2010 season in Las Vegas and Pomona. We attended the US Nationals race at Indianapolis just to visit friends and, at the same time, working on the future of our team. That is the very cool thing about drag racing: you have friends all over the world. It doesn't matter if it is a driver, crew member or a fan, you always feel very welcome and appreciated.
When you take a look at our home page you can find a link to WFO Radio, an internet radio station with Joe Castello giving all the latest news about drag racing. We met Joe and his colleges, Gio and Phil, during our stay at Indy; those guys are really cool and are creating a new type of deal using the internet as a transmitter to inform all the drag racing fans what's going on with their favorite sport all over the world.
Talking of Indy, Gerda and I took a break for a couple of days; it had been a while since we had one. Normally, we go to the last NHRA race in November which is Pomona but now we are racing there, we didn't have a chance to take a little holiday. Then Indy came and we thought it was a great idea to go there; we left on Thursday to be there in time, which we were. It's a great experience which I will tell you about in another blog sometime. Anyway, we had a great time! One of the highlights was seeing Don Garlits walking around in the pits and Bob Glidden racing in Pro Stock. He didn't make the field, but it gave me goose bumps every time he passed the grandstands. After a run, the audience gave him a standing ovation - it's awesome how the American fans honour their heroes. As Bob Frey said, where in the world do you get a standing ovation being 'not qualified'? At least we know now why it's called the Big Go - around 900 entries at one race is something I have never seen before, and being a winner is probably bigger than being a Champion after a season's racing. It was also great to find out people hadn't forgotten me after our two race streak last year. We even saw our car and crew member on the Full Throttle banner in the pits. It's incredible how many fans did recognize me, even ESPN did an interview with me about our plans regarding racing. One thing is obvious - they want to see us back on the American tracks!
That's it for now, till the next time. Lex.
Monday 28th June 2010: Taking a step back.
To take two steps forward in the sport of Top Fuel Drag Racing, sometimes you have to take one back; at least this is my philosophy on how I can make the next step in my career. As a die hard racer, I would rather spend time behind the wheel of a 8000 hp Top Fuel Dragster. But, up until now, I have to make my first run down the track in the 2010 season. We are using this season to fine-tune the team in the USA. And, when we are ready, besides running the car in the NHRA series, we will look into running a few events in the 2011 FIA European Championship Series. Mantorp Park (Sweden) and Hockenheim (Germany) will be on the list, in an effort to promote our European sponsor and partner, MPM, who have supported our efforts and success for many years, and is now showing great interest in assisting our endeavours in the USA.
Being the most successful drag-racer in the Netherlands was just the first step in my career. In 2005 I became the first Dutchman to win the FIA Top Fuel European Championship. And in 2007 and 2008 I came a close runner-up in this prestigious European Championship. During my career, I smashed numerous records at several tracks across Europe. But the one that stands out in my mind the most is the one I set at the NitrolympX in Hockenheim, where I had the opportunity to participate in the night show and where we produced tall header flames, lighting up the fans, as I powered down the quarter mile track.
Following our racing in Las Vegas and Pomona at the end of last years' Full Throttle season, we made the decision to leave the whole racing operation in California with the vision of moving forward with our ambition, by embracing the opportunity to compete at the highest level within the sport. My aim is to be at the top of the class in the U.S., which will be the ultimate step in my career. This is going to be the most important and at the same time the most difficult challenge I have ever faced in my racing career.
American marketing agency, Seasick Marketing, is working overtime to find the right commercial partners to come on board, so that our team can commence building their success story in the U.S.. Lex Joon Racing has partnered with U.S.-based 334 Racing, to give themselves the perfect American background, and procure us with an official U.S. status. Together we are confident that the team has the experience and equipment to make a positive impact on the sport in the US, and get the desired results for our partners and crew. We are more than aware that it will take a little time and a lot of patience to get the team fully funded and in a position to race and compete at this high level in the sport. But, regardless of any issues or difficulties that may arise, the collective team is confident it can take it all in its stride and we are determined to get the results we all seek.
Saturday 22nd May 2010: No-show for Main Event.
The 2010 European FIA Drag Racing Championship is almost ready to kick off. My teams have attended the Main Event since 1995, when we started racing in Top Methanol Funny Car. In 2003 we made the step to Fuel Funny, which ended at Avon Park that same year. 2004 was our first year in Top Fuel with a rented seat from King Knut. 2005 was our first year as an independent, which was our most successful Main Event resulting in winning the race after a huge wheel stand and the unforgettable Jon Webster who helped us fix the car, which made him runner-up at the same event. 2009 gave us the #1 Qualifying spot which was another highlight in my racing career.
This year, our fans will have to do without us. Although most European drag racing teams haven't seem to have suffered under the difficult economic situation, we didn't manage to find the right amount of funding to start racing for a new European championship title. Last year the signs were already there, with us just attending a couple of races instead of the complete Championship. I had the hope that during the winter break, we could clinch a deal that would bring us back in the saddle again for the 2010 Championship. As you will understand by now, all the work we put into finding funding didn't work out, resulting in our first no-show since our first Main Event in '95.
I know the world won't stop turning and the event will be as good as ever with or without us; before you know it, the Main Event 2010 will be history, but for me it's a moment to look back and at the same time looking forward to what the future will bring us.
We from LJR-334 Racing wish all our fans and friends a great weekend with a lot of close racing and awesome records. Thanks for reading, Lex.
Saturday 27th March 2010: Meanwhile back in Europe...
With the knowledge that my big friend at Eurodragster is waiting patiently for a new blog entry from my hand, I decided to wait a little because the situation we are try to deal with can change at any moment.
As most of you loyal readers know, our race equipment is still located at a shop near Los Angeles (USA) with the intention to start racing in the NHRA Full Throttle Drag Racing Series. One of the decisions we made after leaving the race car overseas was to join forces with 334 Racing, a company which was established by Terri and Kevin Poynter. This strategic move will give us a better grip on what's needed in the US. Working from a European-based company like LJR is not the most ideal situation when you want to start a new business in the USA. Not only will the time difference, which can be up to nine hours, interfere but also the knowledge of how to deal with certain issues, customs and habits can better be handled locally in the US. Kevin, who is also our tuner, is a well known face in the American racing scene, while Terri has earned her stripes in PR and marketing related matters. This is a strong team which can take care of a lot of issues that we are facing and need to be dealt with.
Looking at the economic situation, the timing for getting a new team started is not really ideal. A lot of well known teams have lost their sponsorship and some of them threw in the towel and didn't return for the 2010 Championship. Our quest to clinch enough funding to start racing in the US is an ongoing project. We had two moments when we were really close to making a deal. One failed just before Pomona, and the other a couple of days before Gainesville. But it gives us enough momentum to carry on with our endeavours and keep the faith that we will pull it off. Right now, we are working to find business oppertunities to enter the Las Vegas race on April 16-18. Whether we will succeed is hidden in the future. Preservation is the keyword for success - something we know very well when it comes to winning races.
Fans ask me frequently about our European race plans. The intention is to attend the races at Mantorp (29 July to 1 August) and Hockenheim (13 to 15 August). At the moment we have no other races planned. Funding is also (at least for us) here in Europe, but the issue is planning a couple of rounds instead of the full European programme. Because we are a Dutch based team, we have an extra handicap with the lack of a permanent dragstrip. This makes it really difficult to interest sponsors and marketing partners. MPM is a company with a growing international group of clients. Mainly because we are racing internationally, things have worked out pretty well for the Dutch based Oil Company. Their investment in us is paying off and that's how it must be.
I'm very proud that after 5 years of pretty fast racing behind us, our motors are still intact, no windows or nasty holes, but you can imagine that they are getting tired and it's time to replace them. Most of our soldiers, as we call them, have seen around hundreds runs apiece, which is probably a world record considering they have a Top Fuel duty to perform. Another reason to select our races carefully, waiting for better times to arrive.
We keep searching for partners who believe in our quality and business approach. We were awarded a Wally trophy for best appearing team and car at the Las Vegas race November last year, which proves the fact that we can equal any team in the world when it comes to our professional appearance. The success that MPM has found since they partnered up with us is another example of our dedication and marketing value.
Sunday 17th January 2010: The dream continues.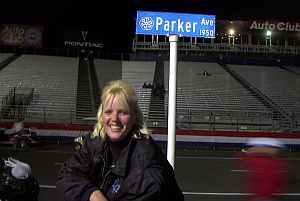 I don't know if it is too late, although I think good wishes can be expressed all year long - but I would like to start with a Happy New Year and best wishes for Good Health to all my fans and their families. It just seems like yesterday when we left Pomona last November, and we decided to leave our equipment in the USA. Racing in the USA is like living a dream. My passion for the sport is what brings us back to where it all began. Walking around at the Pomona drag strip, looking at the street sign (Parker Avenue) near the starting line, tells you something about the great heritage our sport has mustered during the 50 years that the Winternationals has been a part of the NHRA Drag Racing Series. Sometimes when I think of walking through the pits in Las Vegas and Pomona, I realize that the strangest thing for me was seeing my race car and team there in the pits - I was finally living my dream.
With the 50th Winternationals scheduled for February 11-14 at Pomona Raceway California getting near, it's time to continue. We are ready to pick up where we left last November, our car is ready after some problems we encountered during the Las Vegas and Pomona races which prevented us making a full pass. Racing in the USA IS a full-time job! Not only with preparation of the car, but also with marketing information for our partners. There is no time for a second job - there is too much work to do! We can't race without the support of our Marketing Partners. Yes, we don't call them sponsors any more - They are Marketing Partners. Sponsor sounds like somebody is sending you a nice pile of money for you to play with. While that would be nice, we look at it differently - we are a Team! That team is comprised of not only our race crew, but also our Marketing Partners and fans. After all, without all of them, we could not do what we so love to do.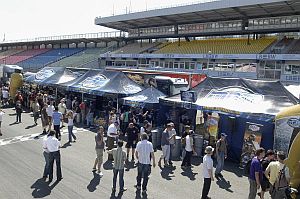 Times have changed, and I'm proud to say our team has played a major role in the enormous growth that MPM International Oil Company has made in the years that we have been working together. Our partnership with MPM has had a positive impact on their success as a company, and we have given them a substantial return on their investment. Partnerships are the key for clients and race teams. Return on investment is what it is all about. And that is what we as a team have learned, and what we will continue to work toward in the future. MPM invites hundreds of their clients to every European race at the Hockenheim track in Germany. Their guests have the time of their lives with food, drinks and even live music on Saturday evening - all the while being a special part of this incredible race team.
Our pit-side hospitality is always a big eye-catcher. Last season the Hockenheimring camera crew came in our hospitality tent to make some great movie shots. The atmosphere was absolutely awesome. I remember I felt very proud to be part of the big show, and proud that we represent a company that benefits from our team and drag racing. That is what drag racing is all about - keeping everybody happy and making them smile. At this time, we are working very hard on obtaining funding for the Winternationals in Pomona next month, along with a Primary Partner for the entire 2010 race season. It starts with Pomona, with less than a month to go. I know time is going faster than I want it to. But, my American Dream made me realize that there is more to racing in the USA than just racing on excellent tracks, against the biggest names in the sport.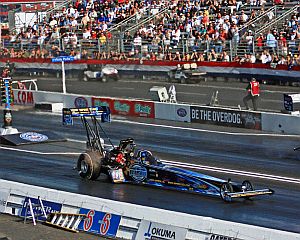 Drag racing originated in the USA and because of that the USA will always be ahead of everything that goes with the sport. With our team's drive, personality, determination, dedication and perseverance, it should not take very long before we find a company with which we can build a successful marketing partnership. Our team has a good, clean look and appeal, the right attitude, the skill and knowledge to be a winning team, and the appreciation of our fans and supporters, which sponsors would love to have representing them.
Our equipment and team are situated in Southern California, and are ready to go racing. So, as long as the last round of qualifying at the Winternationals has not started, we will keep on working on securing a partnership to race with at Pomona and the full 2010 NHRA Full Throttle Drag Racing Series. Interested? send an email to partner@lexjoonracing.nl and we will sent you a sponsorship opperunity deal you can't refuse. It ain't over till it's over! And, giving up is not something I do. So, I hope to see you, my fans-my friends at Pomona next month!
Saturday 28th November 2009: Pomona reflections.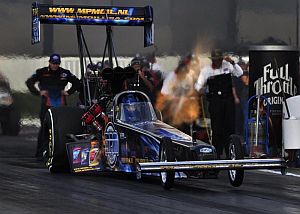 Our 2009 season has come to an end. It's the first time in my career I have raced my car in November, one of the advantages the NHRA Championship has to offer to the fans and their race teams. In Europe, our Championship season starts at the end of May and the final race is organised for early September. The US is a much bigger country in comparison to Europe, although we have the southern countries that can provide us with the weather we need to race all year long.
Our American Dream Tour has been a great experience; there were so many things that crossed my path during the time we spent in the US that I could write a book about it. Every day was a special day. From meeting great people I never met before, to making friendships that will last for the rest of my life. It felt like a warm bath. My crew did an outstanding job with US crewmembers we never met before mixing with the Dutch giving me a car that never failed and was always safe to run. Although we failed to qualify at the two events we attended, we made a lot of progress and had a great time. When I hear Alan Johnson say after making more than 150 runs, Al Anabi Racing missed the Top Fuel championship because this is the first year they have run their car, we can't complain with what we managed to achieve in just eight runs. We solved a lot of issues that were holding us back from making steady ETs.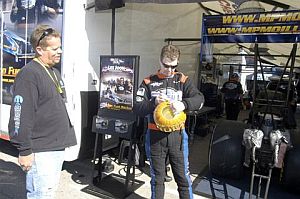 The blower belts breaking at Vegas didn't help. At Pomona, we didn't break any more belts. However, we did find a problem in the setup of the chassis. This caused the car to go to the left, something we thought first had to do with dropping cylinders. After the second qualifying session at Pomona where I kissed the wall, we found something else was wrong. We knew we had to find the problem after this wake-up call. We took the whole car apart to check it for alignment and cracks. By doing this, we found out why the car was behaving the way it did. This issue has plagued me for a long time, but was never as severe before our trip to the US. The fact that we ran a lot more horsepower in the US made the problem severe and it got our attention.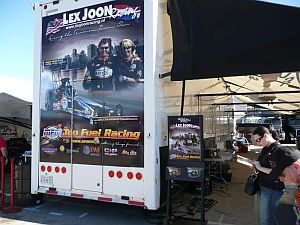 After we fixed the chassis issue, the car went straight as an arrow. Our last qualifying round at Pomona was delayed a couple of times which gave us a track that was almost 30 Fahrenheit cooler than we anticipated when the tune up was made for that particular run. In a last effort I tried to pedal the car but it didn't help. It hurt the engine, something I really hate to do, but it was the last chance we had to make the field and I just gave it everything I had.
Anyway with the blower belt fixed after Las Vegas, every run we made was special. Bob Frey talked about a rodeo ride after the first qualifying round and the second round gave us a kissing wall incident to talk about. The last round gave enough flames to light up the place and get the attention of all the people in the grandstands.
Did you know that that for Las Vegas, we just came 0.007 short of making the field after Friday qualifying and at Pomona, just 0.5 inch further from the wall and we would have been qualified instead of disqualified? But would have, should have and could have does not count in drag racing.
Race day was a great day for all the fans with Tony Schumacher winning the Top Fuel Championship by just two points. I understand a little of what went through Larry Dixon's mind because I lost a Championship once by one point and once by two points.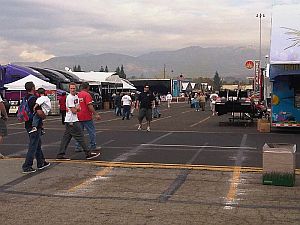 Because we were not racing on Sunday, Gerda and I had the chance to talk with the fans and we gave away a lot of hero cards. The decal on the rear door of our trailer displayed not only an image of our race car but also images of Gerda and me. The fans didn't think twice but wanted both our autographs, which I found really cool.
I have had a great time racing in the USA. Drag racing is about being one big family and that is what I found during my stay. The fans were standing behind our team as if we were relatives. Our team, part of which had not seen each other before, worked as professionals. This tells you something about the motivation these girls and boys have had to make it safe and great. I would like to thank Gerda, Terri Poynter, Linda McMonagle, Kevin Poynter, Sebastian Visser, Jim McMonagle, Owen McKinley, Don Jackson, George Taylor, Del Fowler, Keith Kossuth, Jon Schaffer, Jeff Schaffer, Hans Brings, Arjan van Bemmel, Patrick Duijzers, Menno Groenendaal, Ed Dawson, Joanne Dawson and all my sponsors who worked to make my dream become a reality.
The latest news is that we have left our race car in the USA. The idea is to start our season with the 50th anniversary Winter Nationals at Pomona in February. A special event that will be great to attend. As so often, it will depend on funding. Let's see if we have earned our spot.
Saturday 7th November 2009: Las Vegas highs (and low).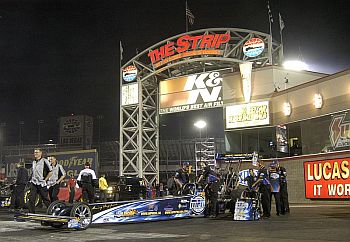 Our Las Vegas trip has given us a lot to think about. We had a great and awesome race weekend with a lot of highs and just one low.
On Thursday evening I visited the Fan Fest activities that were organized by the NHRA in downtown Las Vegas. Urs was also one of the invited drivers and drove with us to the NHRA Vegas-style Fan Fest on Fremont Street. It was awesome to talk with all the fans and give away signed hand out cards. After almost two hours, security closed the gates otherwise we would have had to sit there for more than three hours.
Friday was our first day of Qualifying. With a crew that is a mixture of American and Dutch people, we would have to get familiar with each other during the runs we would make in the weekend. You can imagine I'm very proud the car started for every run we made, didn't lose any parts or oil, and made it safely down the track. For Kevin Poynter, who is our American crew chief, the car was pretty new. Normally a crew chief sends his car down the track in a test mode creeping up towards the finish line under power on each run you do. We didn't had the time or the possibility to go testing prior to the event, which set us back against all the other 25 teams that were in competition. All the American teams already ran prior to the event; the European teams also had a head start on us, Urs already has run at a couple of NHRA races, Stig hired an American car & crew and the Danish team with Thomas behind the wheel have been working with the famous American tuner Jim Brissette for almost two years now, giving them the knowledge on how to set up the car.
The good thing about all this was that all the European teams performed very well. After the first qualifying session the four European teams were in the top half of the 26 car field. In the second qualifier we ran with Larry Dixon, who ran low ET (3.80) right then. We lost our blower belt at 3.1 seconds otherwise we would have ran a very decent 3.87 but now a pb 3.93 became our number at the scoreboard. We just missed the cut by 0.002 of a second ending up # 13, which meant that the under NHRA qualifying rules, we lost our 3.93 et and had to start all over again on Saturday. On the second day of qualifying we started with a really strong pass, but around the 330 cone the blower belt snapped again, and when we looked at the data there was no apparent reason why it broke.
The track started to become warm end we knew we had a pretty heavy task to fulfil. We had David Grubnic in the other lane which I thought would be no problem because he is a professional racer. Grubnic had the idea to shallow stage the car which gave me an overheated clutch after seven seconds of staging where three is normal. The tires started spinning after 100 feet, ending my qualifying efforts for the weekend. We learned a lot about what the car needed during the weekend which we can use in Pomona, and for me as a driver what to expect in the other lane.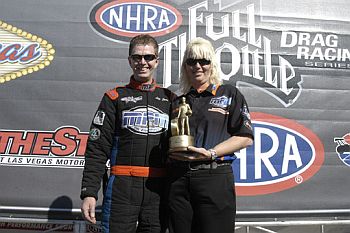 Of course we had a hard time being not qualified, but our mood changed 100% when we got the message from the NHRA that we were elected as best appearing team of the race. Yes our first "Wally" at our first race; I never expected to come home with a Wally to be honest. Terri (www.dirtygirls.com) who made our shirts and Gerda who made the design were doing a better job winning a prize then we men were. At least it gave all the European teams something to be proud of.
We had a lot of attention from the fans; most of them find it awesome that we made the trip all the way from Europe to entertain our American fans. My blogs on Eurodragster and NHRA have been received well. I receive many reactions every day from over the whole world, people telling me they are rooting for us and finding it very interesting to get an inside view of a European Top Fuel Team.
I enjoyed the hands-on facilities we don't have in Europe, Goodyear with a big trailer loaded with tires. XRP there to fix our fuel lines - normally this would take three weeks, here it's done in 15 minutes. Simpson with all the latest model shoes and helmets, Tim Hyatt who also does the annual SFI tour was at our disposal with a trailer filled with all kinds of small parts and our other need to have goodies. We damaged one cylinder head, normally it would take $700 in freight vice versa, now it's just an hour's drive. Racing in the US gives me an idea how American teams experience our sport; I must say it's a lot easier in many ways but thats perhaps the charm of racing in Europe. But we showed our American peers we can run with the best.
When our car came back in our L.A. shop the crew started investigating why we lost a blower belt every run we made, and they took our rear axle apart and found it was in a not so good a shape. The good news from L.A. came later this week that the problem of the breaking blower belts has been solved and the rear axle is fixed. I have a great bunch of guys who work day and night to get our race programme ready for battle when we enter the Pomona grounds. Also Gary Burgin is helping me out whereever we have a problem with parts. Keep in mind these people are making this adventure possible.
I have the feeling we can make up for our mishap last week in Las Vegas, now we are able to spend time to go over the details and listen to what the car told us, we have a better chance to go after it. Finally the time has come since 2000, when I last rolled through the gates at Pomona with a trailer and racecar, that I have told myself to go again. Its time to go now, thanks for reading.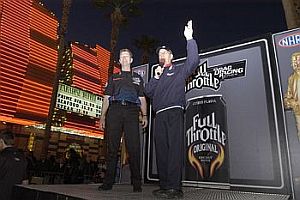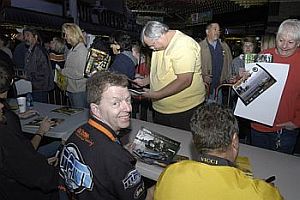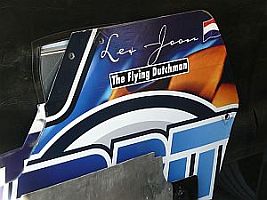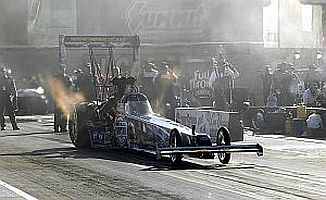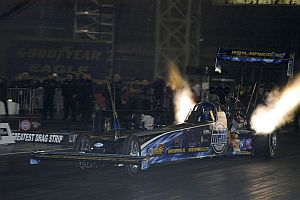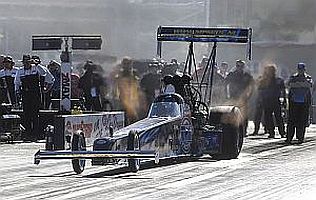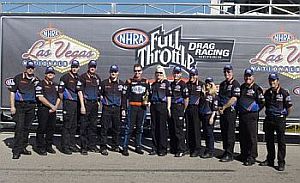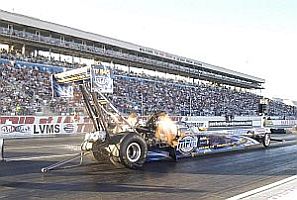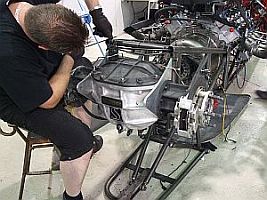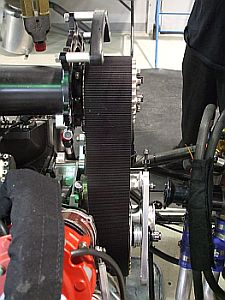 Pictures courtesy and ©Remco Scheelings and Lex Joon Racing.
Sunday 25th October 2009: Las Vegas here we come!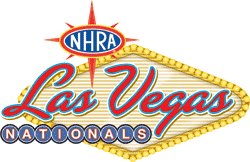 Finally it's time to pack our bags and go racing. It's still hard to imagine that we will enter the Las Vegas Nationals. Gerda and I have visited the races at Las Vegas a couple of times before and when we strolled through the pits I always had the wish to be part of this with our MPM Top Fuel Dragster. Some of you know that Gerda and I have been working for a couple of years to make my dream reality to race in the USA. Athletes dream about the Olympics: for me this is the start of my Olympic games. I'm looking forward to standing in the fire up lanes with twenty four other Top Fuel cars waiting to qualify. I have the desire to compete with the best in the business and the reason is quite simple, I want to know where I stand compared to those professionals who race ten months a year and most of them have multi million dollars to spent. David against Goliath but I believe we have a chance to pull something off that will turn some heads and is strong enough to leave a good impression.
Our MPM Top Fuel Dragster arrived in Los Angeles on 20th October. After the crew unloaded the container the work started to get the car ready for NHRA racing. Because the tracks in the US have a better traction pad we need to add more of everything to have a chance to qualify and go rounds. Kevin Poynter is in charge of getting everything ready so we can hit the nail hard directly from the first go. Normally under these conditions you want to make a couple of test passes to see if the car and tune up are ready for a full pass, a shakedown run as they say. Given the conditions we have no possibility to test. We will have no time to waste and we will go full throttle from Q1 on.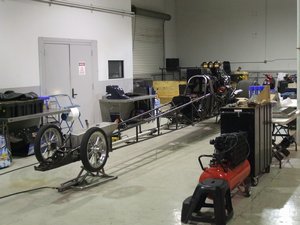 We are attending this race not only to be part of the show but to go the distance to the final round. I know this will be a very difficult task but we will give it a serious shot. There are a lot of records that can be set and awards to be won.
I will meet my crew in Las Vegas in the beginning of the week. We will have a mix with American and Dutch crew. On Thursday our sponsors will arrive. I'm looking forward to a great time with the people who made this American Dream Tour possible. On Thursday evening I will attend the NHRA Vegas Style Fan Fest, which will mark the official kick-off to the 2009 NHRA Las Vegas Nationals. This fest will take place from 6:00 pm to 8:00 pm on Fremont Street in Las Vegas. NHRA Full Throttle Drag Racing Series stars Antron Brown, Larry Dixon, Tony Pedregon, Tim Wilkerson, Bob Tasca III, Jeff Arend, Jeg Coughlin, Allen Johnson, Michael Phillips, Bob Bode, David Hope, and others will participate in the autograph session. I'm looking forward to meeting all the fans and giving a way a lot of signed hero cards especially designed for our American Dream Tour.
On Friday the first two rounds of qualifying are on the agenda. The idea is to qualify within the first twelve spots. The drivers who have the number thirteen and lower qualifying spots will lose their ETs for Saturday and have to start over again, something you will try to avoid. As Bob Frey always says "You do the math". Talking about Bob, when you are interested and don't need too much sleep, the race activities can be followed over the internet. Check out www.nhra.com for my latest USA Blog or click at the Audiocast icon and you can hear the voice of Bob Frey with the latest details from the race track.
This is it. The last step is set in motion, a Dutchman on his way to make his dream a reality. Thanks for reading.

Saturday 3rd October 2009: Living the American Dream Tour.
October is were we are right now, just a couple of weeks away from our first race in the USA. The container with the race car and equipment is on its way to Los Angeles; the estimated time of arrival will be 13th October. East West Forwarding is helping us with the shipment of the container. I must say they are doing a great job. The American authorities are very precise when it comes to filling in and providing the necessary paperwork; without the knowledge of people from EWF we never would have got the race car in time at its destination.
When our container has arrived in Los Angeles, it will be transported by truck to our facility in L.A. where we will prepare our car and parts for the American Dream Tour 2009.
The shop is located near the harbour and it's only an hour drive to Pomona. But first we need to get everything ready for our first race at the Las Vegas Drag Strip (29th October 29 - 1st November)
Kevin Poynter, our American Crew Chief, has made a game plan for how to setup the MPM Oil Top Fuel car. He will be involved with the work that must lead to the spoiler role we will try to achieve in the NHRA Countdown to the 2009 Top Fuel Championship.
I must admit it's a lot of work shipping our complete programme to the US; it would have been a lot easier to rent a race car and just take my helmet and race suit as my only luggage.
Gerda has had a daily job sorting everything out since the container arrived at our shop. The amount of paperwork involved is huge and there seems to be no end, looking at the e-mails and phone calls entering our office. Nevertheless, I'm happy that we made the decision to sent our own equipment. We know the car and parts and are also in a position to change things if necessary to achieve our ultimate goal. From a driver point of view, it's a much better situation to work with your own car that you know and are familiar with.
Another important thing for me is to enter a race with a strategy. Using our own equipment and working with people which I know are the best in the business will give a better starting point and will benefit the level of performance overall.
Apart from Gerda and myself, there are five of my original Dutch crew guys that are going with me to make the tour. For them, it's also a dream that will become reality and they didn't hesitate putting everything aside and become part of "Living the American Dream Tour 2009."
Sunday 6th September 2009: USA Tour becomes reality.
As you probably have guessed already, it's all excitement after we clinched the deal which makes our dream of an American Tour in 2009 reality.
We started our campaign early this year with the idea to have things finalized by mid August, and although it wasn't easy, we managed to pull it off with help of our main sponsor MPM International Oil Company. For companies who have plans to extend their business or want to use our hospitality arrangements, we still have room for backers who have or had plans to promote their company or products in the U.S.
Our American representatives Ed and Joanne Dawson are doing a great job getting details worked out like press releases and answering questions from journalists and media, they also take care of our USA sponsor and business partners.
When you take a look at the entry list for the last two NHRA Full Throttle races, you will find that our entry has been accepted. Our number is TF 845 which is a fine number to start with - to be honest, any number would have done.
I will send my blog entries in on a regular basis to keep you informed about what's going on. Right now, we are in the middle of making arrangements to start racing at Las Vegas and Pomona. The container will be filled this week with our race car plus all the parts and tools we need when we go racing.
I'm really proud and excited to have the chance to work with Kevin Poynter. Although it will be a pretty difficult task to get the car dialled in for American tracks in just four Qualifying runs, I believe he has the skills to pull it off.
At the moment, I'm working to find the extra budget to get a test weekend in before our first event at the Las Vegas Strip, but it's a big question mark if this will work out in time. But even without testing I'm confident we will do good.
We expect more then 40 guests from Europe in our pit side hospitality area in Las Vegas, I'm looking forward to entertaining our guests and all the fans that will visit us during our stay in the USA.
Sunday 16th August 2009: NitrOlympX Eliminations.
For me personally this has been an event of mixed emotions. To take the positives we have sorted out the car problems that have plagued us and got qualified. The night show was great and we ran in the dark which was a thrill. The crowd are part of the night show and it was great that there was a full house. There were many guests of MPM Oil and they had a wonderful time.
The downside of the meeting was this morning. Before round one of eliminations I found and solved the problem that has bit us for a long time. The car responded very well but because of oil downs in the right lane and other problems on track from the other racers in classes running before us the track became problematic. As we had to run in the right lane we could see that in that lane all TF cars were smoking the tyres at the same spot whereas cars in the left lane went from A to B. We knew we had to make the call to go down the track. I grabbed the brake at the start and the car responded well. My reaction time was 0.007 and Micke Kåered's was 0.14. The car then shook and I saved it with the brake amd this happened for three times until we were going sideways as there was no traction.
With one hand on the brake and the other steering I was getting close to the guardrail. If I steer with one hand I can only turn the wheel a quarter of a turn before my hand hits my leg. At that point Micke passed me and I lifted.
Drag racing should be two cars racing on equal terms. It is not a good show when two lanes are different. When the lane choice gives such an advantage you have to accept that you can't always win.
This weekend overall we had good fun and the racing was good across the classes. Our guests had a good time and the event concluded successfully. We will leave the track this evening. As the weekend was tiring and we had some 3am nights we will stay overnight to recover.
Saturday 15th August 2009: NitrOlympX Qualifying (Day 2).
This blog entry was written between the fourth session of qualifying and the Night Show where Lex defeated a red-lighting Andy Carter.
It was a difficult day today. Our mission was simple - to qualify. There were so many people in the grandstand and we needed to be part of the show. So we changed almost everything except the driver: the engine, tyres, clutch and blower. So we had to start from scratch.
After the warm-up we discovered a crack in the rocker arm stand and we had no spares. Thanks to Anita Mäkelä for lending a spare. It was a different design and so went on at a different angle. On the next warm-up this proved to be a problem as we broke pushrods. Once we replaced them we warmed up again and a valve spring broke. We changed a head. On the next warm-up the linkage from the clutch pedal broke. We have a spare so we changed it. I have never had this many problems with warm-ups. On firing up for the fifth time the car idled oddly. There was no readout from the flow meter from the fuel system and had to find a way to make the engine idle.
When we came to make the run I doubted it would go as it should but there were some problems on track and we had a chance to fix the idling issue. The car burned out fine, it reversed properly and staged properly. When I pushed the pedal at the launch you can imagine my relief. It was a decent run and we were qualified eighth. We now had to find a decent setup that would move us up the order.
The fourth session was also a good pass. There was no tyre smoke but we were down on power. We ran a 5.07 for sixth place and will meet Micke in round one. Things worked out for us and it is sad to see Anita not in the field. That's racing and while she will be disappointed her time will come.
Now we are getting ready for the night show and will have a tuneup that will work tomorrow. Perhaps we can also run low ET of the night show. Jerry Lackey and his crew have done an outstanding job of preparing the track and we are really looking forward to running tonight.
Friday 14th August 2009: NitrOlympX Qualifying (Day 1).
I don't want to go into details about last night's meeting between Top Fuel racers and the meeting organisers about our racing distance. It was upsetting to see how some react in the name of our sport. I am happy that the Hockenheimring has made it possible for us to run the full quarter mile safely without any related issues. The event is very well organised but I am aware that some are looking at a shorter distance because they believe they have a better tune up for 1000ft. Of course it saves money to run a shorter distance but our sport is a quarter mile race. I know people are interested in the subject but I am not proud to be a Top Fuel driver right now and I don't know how this issue will work out for the future - we will have to see how the remainder of the year pans out.
We made two qualifying passes today and encountered the same difficulties we had at Mantorp. At Mantorp we thought the problem was the new tyres but after two passes the problem has not been solved. We could only run 0.9 sixty foot times and with the amount of power, nitro and blower we were putting into it, it should have responded better. So we are changing the engine tonight because we think there may be something wrong with it. The last major component change was a new crank and camshaft at the Main Event. With a new engine, we are starting from scratch and will see if we can do better then than we did today.
The track is good enough to run decent ETs and if it is not really hot tomorrow, we will see more four second times.
Sunday 9th August 2009: NitrOlympX preview.
The most important race for us is just a couple of days away, the NitrOlympX 2009 held at the famous F1 track in Germany. We expect around 400 people over the weekend in our hospitality area, who will be our guests through our main sponsor MPM Oil Company.
Last year we had a great Hockenheim weekend with a final round appearance, track record, #1 Qualifying position and the first and only four second pass at the Saturday Night Show.
This year the hopes are high again although we have to overcome the fact that we missed two events this year in comparison with last year, which means 50% less information. The latest news is that there is a serious possibility Top Fuel is going to race over 1000 ft at the Hockenheimring, the same as was done at Mantorp and Alastaro. Nevertheless we are confident we have the right tune up to start the weekend with because we can use the data from our race before at Mantorp.
The fans are always eager to meet and greet, especially because this is the biggest drag race in central Europe; people from many countries around Germany will make the trip to the Hockenheimring. Our friends from the USA will prepare the track again, a great chance to meet them again.
After the weekend we will make the decision if we will proceed with our planned USA trip later this year. We have some interesting irons in the fire, we are talking with potential sponsors that are interested to support us with our "Yes You Can" American tour. We have a great American tuner lined up to give us the head start we need to Qualify and go rounds, the race car is NHRA legal as well as the driver.
It would be great for European dragracing to be the third driver besides Urs and Thomas to confirm attending the last two races at Las Vegas and Pomona. The Pomona race is a very popular race, especially for European fans. It will be an extra treat with many European teams attending the final NHRA race.
As you understand a pretty interesting couple of weeks are ahead of us, in the mean time we will update our blog from the Hockenheimring in cooperation with my buddy Simon Groves from Eurodragster. Thanks, Lex.
Sunday 26th July 2009: Veidec Festival Eliminations.
Today is not the day I hoped it would be. I spent my evening session yesterday talking about tuning and how to solve the problems we encountered. We came up with a different tune-up that confirmed we were going in the right direction.
In the first round Linda could not engage forward gear and Ian Marshall told me I was on a solo pass. I decided to run straight from the start to the finish, to give the fans something to look at. It picked up really well and the data was helpful in showing us it was the best possible setup even if there was a risk of overpowering the track. We wanted a good car for the second round even if it meant our first round pass was risky and we ran a respectable 4.18.
In the second round Andy Carter was in the other lane and we decided to follow the basic tune-up from the first round and step it up a little in the first part of the track and calm it down in the second half where it had been too strong. However it was a difficult decision because conditions were different from earlier.
The car left really strongly and ran a 0.85 60ft time which was our objective for the weekend. It hazed the tyres at 330ft, the tyres got hold of the track, and then in the second part of the track it started spinning the tyres again. It was not enough to beat Andy. The heat of the track was too much for the power we were producing.
Despite the disappointment, we are happy with our overall performance this weekend. We have also solved the issues with running the new tyres. Most of all we are ready for Hockenheim.
Not being at Alastaro put us beind here, but what we found out at this event has put us back on track and we have the right information to run the numbers we want at the next race.
Saturday 25th July 2009: Veidec Festival Qualifying (Day Two).
Today we tried to improve on what we achieved yesterday. The outcome was however, different. We tried several things. The problem is that as we are running the latest Goodyear tyres for the first time here, our previous data may not be comparable with that recorded on the new tyres. What we found is that our changes put us in the wrong direction.
After the third qualifying run, we changed the tune-up to clear some problems and run a 4.0. When we saw the data from the runs, it was not what we were expecting. Other teams were making big improvements and the track was ready for better numbers. Our problem is that we do not have enough data on the current tuneup.
It is tempting to say, "Let's switch back to the old tyres." But we need to make the new tyre work as it is the only one available for us and we have to get used to it.
After the last qualifying pass we are working on the tuneup for race day. Most of the data we have is not useful so we will have to start from scratch, create a setup with what we know and see what happens. I am convinced we have a good car. We will take our time and burn the midnight oil. At least the car is ok.
We have Linda in the first round. Rune's cars both did excellently and I am really pleased for her and for Risto. It's for us to give an answer to their performance and find the right setup. Like baking a cake, you have to look at how you have done things in the past. And in our case, that means applying more power at a certain point.
Friday 24th July 2009: Veidec Festival Qualifying.
The first qualifying run is something you always have to figure out the tuning for before going down the track at all. It involves sitting behind the computer working out the details without having tested them. There is an ongoing process of trying to achieve the best possible result, but you also have to try to find something that will work and test new things that you figure out may work.
You have to look at track conditions before the first run. Here they looked really difficult. The track is not used continually for drag racing and it takes a lot of time to prepare and dry it. Sometimes the track is better than you expect. This morning we could see the cars in front of us were running good numbers for the first time down the track at this race. Most cars were running 4s passes and we felt there was some kind of track there. Our setup proved to work for the given conditions.
In the first session the car shook a bit and I found that we were giving the maximum amount of power to the track that we could. I knew it was a good number as the car was pulling all the way to 1000ft. Jon Webster did good work on our chassis over the winter to bring it up to current spec. We could steer it away from the centre line as the car was drifting towards it. That gave us no.1 which was awesome as we are not running all rounds of the championship.
The entry is eleven Top Fuel cars and all are capable of running the numbers and there is no easy sailing. In the second qualifier we were in the right lane and made only small changes to see if we could go better. We would like to run a 4.0 but the track needs to be there and we will have to step up little by little. The rpm was set too low on the throttle stop and the tyres wouldn't spin. I lifted the pedal because I did not want to hurt the clutch so we had to run without a burnout. Urs was in the other lane. It is always special to be up against Urs as they are a great team and have US racing experience against top NHRA teams. It was a race and I beat him with a hole shot and we were then no.1 and Urs no.2 qualifiers at the end of the day. That's great for the fans and what they want to see.
Tomorrow is another day but today was our day. We had all the right curves on the computer and if we go like this we can run a 4.0.
Sunday 19th July 2009: Veidec strategy.
We have finished working at our race car and loaded our trailer with everything we need to be successful during next week's Veidec Festival. After the Main Event we took the time to go over the car and check all our data and parts to get a better race car for the upcoming event. The numbers we ran under power during the Main Event were very impressive. Now we have to chance our strategy a little and start with a safe combination to go into the weekend. With our sponsor attending the race, we need to deliver and make an attempt to win the event. Of course we will try to run the numbers, it would be awesome to put the first 3 second run on the scoreboards, and because we are racing 1000 feet instead of 1320 we have the possibility to do so. Last season we did well at Mantorp until we went out in the first round on race day when we lost a cylinder on the hit after qualifying in second place.
It will be a great and intense weekend. Urs will attend, his first race this year in Europe after racing in the USA at the beginning of the year, and with Andy Carter collecting his second win in Finland he will be the man to beat. He can pronounce himself King of Europe and even better dress like one but at the end of the day I know he is just the driver in a good team.
After the Main Event, Gerda did some investigating regarding the importance of lane choice at Santa Pod. Reading some of the remarks people make about winning Championships and rounds, it would be interesting to find out what the statistics on round wins in eliminations can tell us about this:


| Event | Left lane 4s | Round wins | Right lane 4s | Round wins |
| --- | --- | --- | --- | --- |
| 2007 Easter Thunderball | 2 | | 2 | |
| 2007 FIA Main Event | 2 | Rained out | 0 | Rained out |
| 2007 FIA European Finals | 6 | 4 | 8 | 3 |
| 2008 FIA Main Event | 3 | Rained out | 1 | Rained out |
| 2008 FIA European Finals | 4 | 6 | 0 | 0 |
| 2009 FIA Main Event | 7 | 6 | 0 | 1 |
We learned last year during the European Finals lane choice is the key for winning rounds. The right lane is not forgiving for Top Fuel cars; this has everything to do with the lock-up clutch these cars are using to apply the power to the track. Somehow the right lane has less traction around the lock-up point than the left lane. We know this, and were happy to have lane choice in the Finals last year because we had the best chance to make it first to the stripe. By the same token, we knew we had a problem in the second round of this year's Main Event when we were given the right lane. We gave it away in the first round not running the numbers we should losing lane choice because of that. Now you know!
On any given day it's possible to have a track that delivers records in all kind of classes but the nitro cars are struggling to get down the track. All has to do with the amount of horse power a track can hold on any given spot at the track. You can imagine that a car that is running in high gear before the 1/8 mile doesn't need a sticky track for the second 1/8 mile, it could hurt the ET if the track is pulling at the tires. When this situation occurs those cars run records while Top Fuel is struggling because those cars need the traction to apply the power to the track. We would love to run record numbers just as they do in the other classes.
Thanks for all the well wishes I received after my last blog and the story about my horse Splandit, the good news is that I have started riding again and things look really promising. The wound healed really well and the only thing we need to do now is ride for miles to make him stronger again after a month of rest in the stable.
Friday 3rd July 2009: Equine drama.
A couple of weeks have passed since I sent in my last blog. The reason that has taken me some time to write the next one has everything to do with the fact that time is needed to get started.
Three weeks ago, my horse Splandit (Splendid-Bandit) was seriously hurt after it received a kick from another horse while playing in the paddock. Both horses were chasing each other and they had a great time playing around. They have done this type of playing for more then four years without any problem. This evening, things went really wrong. After we heard the sound of the kicking against the horse's chest's we saw a long trail of blood spraying over his left leg colouring the front of the horse red at once. His main artery had been hit, and we could see the blood spurting out of the hole with the rhythm of his heartbeat. He got scared from the blood spraying around and started running around leaving a spattering of blood. Finally we managed to catch him and we could try to stop the bleeding.
The location of the damaged artery gave us no room to ligature the wound. In the meantime, a vet was called but because it happened after six there was no vet available in the nearby area. Gerda tried to stop the bleeding by putting her two thumbs in the hole. In the meantime a big pool of blood formed around us and we all were covered with blood. At one point, after we were working with the horse for almost 15 minutes, we both had the feeling we would lose the horse because he was losing too much blood. After 25 minutes, the vet arrived and he started helping us with making a suture to stop the bleeding. Splandit had lost more then 25 litres of blood already, and his condition was very critical. He survived the first night and we feel we are very lucky to still have him with us. He is still recuperating but, according to the vet, he will be okay and won't have any setbacks after the wound has healed.
This weekend, the second round of the FIA European Drag Racing Championship is held in Finland. It's a strange feeling not to be there, especially being the defending event winner from last year. It's not that we were not interested to attend the event, but the cost and time that we need to invest to go there are not realistic any more. With the economy going through rough times, the chance of getting a better financial stepping stone is a great challenge. Of course we are very happy with our primary sponsor MPM, but the reality is that they have to settle with the amount of races and television air time that is presented currently. We have made the decision to run a limited number of races so we can use the available funds to help our business partners in their quest to grow, which will help us in return.
Not only have the running costs of a race team increased, but also the enormous amount of rule changes have taken their financial toll. I received a new rear wing I ordered a couple of weeks ago, together with a recertified one. The costs of complying with the new rear wing rule would have been enough to allow us to attend the race in Finland. Our focus is now set to our next race and that will be the Veidec Festival at Mantorp Sweden. More about this, and how important it is to have lane choice at Santa Pod in my next blog.
Thanks for reading, Lex.
Monday 25th May 2009: FIA Main Event Eliminations.
One of the highlights of the meeting was the interview to have the no.1 qualifier interview. I have never before had this privilege at a Santa Pod meeting and seeing the crowd and getting so much applause gave me a real boost. I was amazed to see how many were on the bank and in the grandstand and the whole occasion was well presented.
In the first round I wanted to run good numbers because lane choice was crucial for the next round, as there was a difference between the left and the right lanes. Both are equal to 600ft then there is a big difference for Top Fuel where the clutch locks up and the car needs traction. For some reason the right lane was not working as well for us as the left lane. In fact no car made a decent pass in the right lane all weekend.
In the first round when I made my burnout I saw that Jon Webster had a problem and I knew we had a bye-run. We could have taken it really easy but that is not how I race. I am here because of the crowds in the grandstand and what I do is why they buy tickets.
The track is not the same as the day before. I thought the cooler conditions would give us the same track or better than yesterday but we spun the tyres from 60ft out. I tried to pedal it once then got off the throttle before I crossed the centre line.
When we got back to the pits we found one of the main studs from the crank had broken. If we had made a full pass that could have cost me an engine, so lifting saved me a motor.
For the next race Andy Carter had the better ET in round one and therefore lane choice. It was an unequal fight, I am not blaming the track crew but we found the issue was just the same as it had been last year. We gave it our best shot in spite of the difficulty. We wanted to grab everything and set the car up to run fast until the problem spot and then took out power to get over it. We had a good reaction time of 0.0386s. I don't like having to do this as it is a bit of a risk. On the pass the car ran good. I thought if I made it through the middle section I would have the race in the bag.
We hazed the tyres at the eighth mile, the Gs went away and I pedalled one. At 1000ft the engine dropped a cylinder and the tyres spun. We sustained a lot of damage. It was the first oil down that we have had since running our own car. Both heads were torched and the block was damaged but repairable. A big thank you to the track crew and in particular the guys and girls at the end of the strip who asked if I was ok. There had been a lot of energy and adrenaline and I was out of breath when I took my helmet off. They came to see me in the pits later to give me a second check-up which made me feel well looked after. The outcome was not what we wanted but there will be a next time.
In spite of the loss it had been a great weekend. There was great weather, we enjoyed the event and we know we have a car that is competitive, which will help us get through the year. And we sold a lot of tee shirts. We are having fun and hope to be back here in September.
Sunday 24th May 2009: FIA Main Event Qualifying, Day Two.
I think we have done really well at this meeting to get no.1 qualifier after deciding so late to compete. We tried to make a faster run each time and this trategy worked well until the fourth session.
We were not looking to run 4.8 today. The car was instead running on the edge of going much quicker. In the third session, up until the eighth mile point the car was on a potential 4.4s run. The incrementals at 60ft, 330ft and the eighth were my best ever. We got to 330ft in 2.1s and the eighth in 3.1s when we were starting to spin the tyres. This was all with a more conservative tune-up than yesterday.
A lot of people have asked today whether the Top Fuel racers here have agreed to run the car only to 990ft. Top Fuel cars are a different setup to any other class. Most other classes make power to half track and then run to the end. So the track is good to the eighth but, for Top Fuel, it is difficult beyond that point. The problem for us is that we struggle further down the track and if there is no grip for us in the swcond half, we can't run the low ETs over the quarter which we want to. We have to calm the car over the second eighth of the track.
On the first run we hit the earlier part of the track as hard as we felt it could take and it stuck until the eighth mile point. It was vibrating a huge amount because of the thrust of momentum the car experienced. It went towards the wall as well but I kept my foot in it because I wanted to run a four.
For the fourth qualifier, the temperatures were well up compared with the morning. We had tried to calm the car down especially at the starting line. Earlier I had run a 0.84s 60ft time in the right lane. In this last session Andy Carter ram a 0.84s 60ft time in the left lane which stuck even in the hotter temperatures. We had taken out power but not enough. Also Andy's run showed that the left hand lane is better than the right. I have lane choice as no.1 qualifier amd hope we can go rounds. But we also want to run the numbers to get the lane choice which I think is the key to winning this race.
Saturday 23rd May 2009: FIA Main Event Qualifying.
We got to the track and prepared the car at the shop beforehand. We only had a week and a half to prepare as we only found out we could race at a late stage. Also we have a couple of new guys on the team and had to get them up to speed. So last weekend we had a practice session which went well. The team has worked well at this event and seem happy.
I am very happy with the car and how it is handling. Jon Webster has put a new back half on the chassis and changed the front half. I joked earlier with our starter Ian Marshall who actually ordered the parts for the car he started today.
The car has never run as straight as this before; it is really straight even in the burnout. A lot of work has paid off. The car shook a bit on the second run. We have changed the approach to tuning the car to be more aggressive. Whereas we were consistent, we are now aiming to be both consistent and quick. Last year we did not get the opportunity to do many runs with the weather conditions and we wanted to fight for the championship.
The other reason we want to run quick is that attending fewer events, we need to get points for quickest ET to have a chance of winning the championship. But we are having a lot of fun and running really good.
On the first run the car smoked the tyres at the eighth. I felt the number that came up on the board was not correct and was three tenths slower than what our data showed. On the second run the car did a brilliant 60ft and the 330ft was our best ever. We smoked slightly but still got to 1000ft in 4.1s. We were the quickest in the second session.
The tyre smoke was a result of a little bit too much clutch but rather than loosen the clutch we will try adjusting the tune-up as a way round it; this is fine tuning for track conditions. John Spuffard did a fabulous run at the end of the day; it was a real achievement.
We are dialling a low 4.6 or high 4.5. We can run a 4.8 with no problems but want to go quicker. First of all I want to be the first in the fours this year in Europe.
Saturday 16th May 2009: Entry for FIA Main Event.

Wow, a week ago we were making arrangements so we could sit behind the computer and listen to what was going at the Main Event and a week later we are entered and my name is listed on the Top Fuel entry list!
I must admit I still had a small hope we would pull it off but with the closing date becoming that close, the chance it would work at the end became really slim.
You can understand I'm very proud that Corporate Persuasion has faith and belief in our program, and that this type of company is prepared to help us to make the first round of the FIA European Drag Racing Championship this coming weekend. You can find the Corporate Persuasion logo on my website and you can click at it for more information when you want more information about this great company. For all our fans it was a great relief to understand we will join the Top Fuel class for the first round of the Championship, I must say it gave me an extra drive to find a solution, seeing all those emails with the message that the Main Event would not be the same without us. We finished the car today (Saturday) and we will start packing the trailer tomorrow. After we received the green light, I started ordering parts through Gary Burgin; he has helped me out as always, collecting the parts I need and sending them so that we will have everything in time. It has been a long time since the last time we ran the car, so I'm really looking forward to starting working the 1/4 mile again. We have a couple of new crew members; they will have to adjust quickly, but I have the idea that will be no problem. We had our last training session today and looking at their performance we will be right where we need to be by Saturday when we start with the first round of Qualifying.
We will bring new T Shirts which will be sold for GBP10 in case you want to support us; we think it will be a nice way of thanking our fans for the support over past years.
We will have to sort out the car in our first qualifier to see if everything is working the way it should. The whole car has been taken apart so it makes sense to check out if all management systems are working the way we are used to. Also we made some changes to the set up of the car to make it better under difficult circumstances. Let's see how the car reacts on the first launch. After that, we have one target and that is going after the #1 position and the European records at the same time.
I lost my bet with Gerda because I said Urs would race at the Main Event; I really expected he would race, but with the big blow up the team encountered at Houston I presume the plans to attend the Main Event had to be changed. The amount of money lost in this accident is not something that can be taken lightly and will be the main reason Urs has to change his plan to ship one of his cars back to Europe. Talking about Urs, I have a great respect for what he has achieved in the USA. It must be a great adventure going over there, but it can be really difficult at the same time when you try to compete with those high profile teams with budgets of more then $3 million a year. My regular readers know my plans are to start racing in the USA later this year, I think this is something I have to try and find out for myself. I understand what it takes to be successful and it won't be easy, but I believe we have what it takes to turn some heads.
Our ferry will leave Thursday evening from the Hook to Harwich and we will arrive Friday morning at "the Pod". I hope to see a lot of people in the pits and the grandstands. It's been a long time the bank was filled with people cheering at us. My blog will be updated daily during the weekend. I believe we will have a great and history-making weekend. Thanks for reading, Lex.
Tuesday 14th April 2009: Car tagged and ready.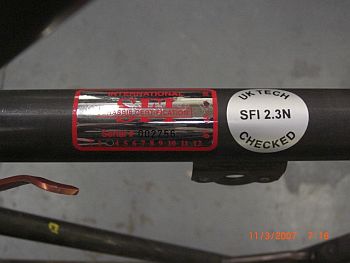 Last week the car came back from Jon Webster's shop tagged and ready for the years to come. Jon and his team did a perfect job on the car; not only was the back half of the car replaced so it meets the newest specs, also the front half was repaired. After Jon put the chassis on the jig the front half showed distortion caused by the wheelstand in 2005. The fuel tank has been made to the latest specs and also the puke tank that collects the engine oil when the pressure in the oil pan is getting too high has been made bigger. It's new and shiny and it looks like a mirror; my crew can check their hair cut when the car is reversing from the burn out.
This weekend we started to work on the car to get it ready for its first outing. We will change some settings and parts on the car that will benefit the tuning so we can apply more power to the track. I must admit it was a strange weekend, working on the car at the shop with the action from Santa Pod coming out of the speakers. It was good to hear the track was coming around on Monday although our Top Fuel peers didn't manage to hit the four second zone this early in the season.
Anita Mäkelä back in the hot seat is good news for the fans. She was really close to putting Europe's first four second run in 2009 on the scoreboard. I bet she has the urge to continue driving. Running a final round will give her a taste for more, and the excitement of a car accelerating as fast as the family Top Fuel car can close the deal.
Fans are asking me frequently if we will attend the Main Event. At least our car is tagged and ready to race. Gerda and myself are working hard to find the funds we need to race at the Main Event, the question is whether we will succeed in time. Looking at the emails I find in my mailbox, our fans are really expecting us to be at the Main Event and I must admit this gives me a warm feeling and the energy to continue to find the solution.
Thanks for reading, Lex.
Wednesday 18th March 2009: The memory and the dream.
Before the Easter Thunderball was run in the format as it is done nowadays the meeting had a slightly different character. The main act were the Funny Cars, Alcohol and Fuel Funny Cars competed in a Cannonball race. I made it to the final twice, both times against a Nitro burning Funny Car. In 1996 Gary Page was my opponent in the final. The difference between a Fuel and Alcohol powered car is big looking from a performance point of view, but this difference in horsepower was made up by an advantage on the Christmas Tree of half a second. I knew we had a chance to win this prestige Funny Car race. One of the things that would make the difference was the reaction time because the Fuel drivers were not used to pulling great reaction times. On the yellow my clutch was out and I ran the car like I was possessed by the devil. During the run I was waiting for the tremendous noise those Fuel cars make when they pass, then my blower belt broke before the 1000 foot mark and I thought I was fried. My engine went dead and the silence was massive, still no Fuel Funny Car charging to get me before the finish line? I passed the finish line first and won the event, Gary went up in smoke and could not catch me in time. I was really proud and in later Cannonball meetings I made it again to the Finals, those memories are great and I will never forget them. In 2004 I entered the race with my own Fuel Funny Car.
This year I will not enter the Easter Thunderball, for the first time in more then a decade. At a certain point choices have to be made and we made the decision to follow my dream, with the consequence that we have to make a choice which races to attend. I know my fans will be disappointed but probably they understand my decision and hopefully they support me in my quest to make my dream come true.
Living the American dream is what can be read on top of the Lex Joon Racing web site at www.lexjoonracing.nl. The idea is to go racing in the USA starting in Las Vegas and two weeks later in Pomona later this year. For me this is something I have been working on for the last couple of years and I know we are almost there to make it all happen. The race car is at Jon Webster's shop. Jon and his crew will make the car legal for racing in the US, something which is important because we can hit the nail on the head when we set foot in Las Vegas later this year, with a car we already raced in Europe.
When you visit our web site you will find details of how you can join us and support us to make our dream come true. For us as team it's a great adventure and the idea is to share this feeling with our fans and give them the possibility to join us during the races in the USA. That is one of the reasons we choose to race at the last two events of the NHRA season. Those races are not only interesting because it's the place to be when it comes to the Championship decision but to combine racing with a visit to Las Vegas and Pomona is an extra reason to make the trip.
Saturday 28th February 2009: Catching up.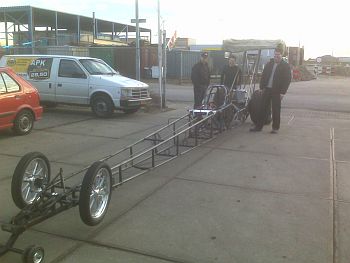 As you probably have read already I was thrilled to make the announcement that the MPM Top Fuel dragster will attend a couple of races this year on the European tour. In spite of the ever growing costs of campaigning a Top Fuel team, we found a way to attend a couple of races. The key is to attend events where hospitality can be utilized to benefit our sponsors' products and give them the opportunity to network with business contacts. MPM made the decision to continue their support while the economic circumstances are not ideal, something that can be described as rather unique.

The fact that MPM and Lex Joon Racing came to an agreement is not only because our sponsor has a weak spot for drag racing but also because they see the possibilities to use our sport to expand their business, plus LJR has the best track record when driver points are calculated looking at the last four years of Top Fuel racing. Another reason MPM support us is that there is no sport that gives the public a closer look at what the teams are doing as drag racing. Drivers and crew are approachable and you can see everything that's happening in the pits during the servicing of the car. These aspects are unique and one of the main reasons to go for a lasting partnership.

For us as a team it means we have to catch up because during the winter break we didn't work on our race program as we normally do. The first thing we needed to do is to take the car apart because the chassis needs a lot of updates because of rule chances for the '09 season. Last weekend the car was stripped and transported to Webster Race Engineering. They will take care of all the work that needs to be done to get the car safe and legal for the coming years. I have admired Jon Webster's work and conduct since 2005 when he was campaigning a TF car he made in his workshop; this car was a perfect example of the craftsman Jon is. The car was built the way I would like to have my car built. The fact that he helped me put my car together after the wheel stand was awesome. I will never forget we were running the final of that same event and I could win my first Top Fuel race because he helped me getting the car ready, the same car that beat him in the final round.

This week we will attend the SFI tour with parts that need to be certified like clutch parts, bellhouse and rear wheels. Gary Burgin has already received parts sent by us that need to be recertified in the USA. The diaper needs to be done every year and the blower safety items every two years. This year we need to have a special insert in our seat to protect the driver against severe shake and vibration this became mandatory in the US after Eric Medlen crashed and lost his life in a testing accident almost two years ago. Our fuel system is in the hands of Don Jackson (DJE), he will go over the slide valve and BDK, parts that are crucial to have a fast and consistent racecar.

Thanks for reading and most importantly, don't forget to support the sponsors that make drag racing possible!

Sunday 1st February 2009: Planning for 2009.

It's been a long while since I posted my last blog. One of the reasons is that I'm very busy with my day job, and the other reasons are that I promised to support my wife's dressage ambitions and am finding a business solution to start racing in the USA.

Luckily we didn't experience a big set back at my garage after the economic problems set in. Although you are never sure if things will continue the way they are, right now the perspective is not too bad for our kind of business.

Gerda did very well this weekend with her horse Okido. She managed to win one round and was runner up at the other course she competed in today. With the two points she earned today she advanced to the next stage, M2. I'm very proud of her achievements and the perseverance to be successful that she shows.

The plans to start racing in the US are still in progress. With my regular job consuming most of my time, the steps we have made to transition to racing in the USA are not as big as I hoped they would be. It won't interfere with our overall objective because our aim is to start NHRA racing some time during this 2009 season. In the meantime everything is possible, perhaps good news for our local fans. Talk to you soon, Lex.


Feature ©Eurodragster.com


---
2008 Blog
2007 Blog
2006 Blog
Lex Joon Racing web site
Back to News page
---