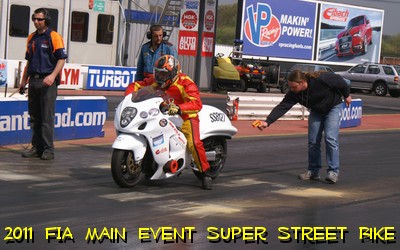 As told exclusively to

by Stephen Moon
Tuesday 31st May 2011: Over and out
Well that was a damp ending to the Main Event for one and all, sadly. I wanted to sign off with a final SSB blog, having enjoyed putting it together over the last couple weeks.
I took a trip up to Santa Pod yesterday, primarily to speak to George Bryce about our Pro Stock development programme. But it was great to walk through the pits and speak to friends old and new. Correction – it was great to lean into the gale and try and force my way up the pits – that was the headwind to beat all headwinds! A great day for windsurfing, not so great for bike racing.
I watched one round of SSB qualifying from right next to the gantry. Watching these bikes approaching under power is an impressive sight, the front wheel has this sort of loose relationship with the tarmac, as in it doesn't touch it very much at all. I watched Steve Venables wresting his bike through the finish line, leaning it hard left into the wind as he crossed the line. Later Ven was telling me what a smooth run it was and he was surprised by what I had seen – it looks like these guys are so focused that they don't realise how much they are moving around to correct the bike in poor conditions.
I spent some time talking to Garry Bowe and Mickey Templeman in the Bowe awning. Just great to see Mickey out there again so soon after his bad fall at Shakey and great to see him in his jovial mood, bantering away with Garry. At the time I showed up, Garry had damaged a big end by the look of it, so Dave Smith and Mark Watkins pulled up the deck chairs to give Garry "technical advice" on fixing it. I learnt some great technical nuggets, including one from Mark that a touch of Bacardi in the coolant system can improve performance. Or reliability. Or something, I sort of lost the thread.
Steve Mead had the barbecue on and was cooking a monstrous pork joint – it looked pretty good actually. I was impressed by the level of catering that goes on in the SSB pit actually, some serious food preparation goes on and there are lot of full-sized coolers for the copious amounts of soft drinks consumed over the weekend. Steve was pretty chipper after having finally cracked a seven second run after struggling all weekend. Apparently the change from the new "good" motor to an older, allegedly less powerful motor helped him step it up to a 7.77 run, leaving him qualified at number ten. He told me he considering some fairly major changes to the bike, so it will be interesting to watch that story develop.
Other items of interest, in no particular order, included a look at the photos of Ven's humungous new race workshop at his home. To say the guy takes his racing seriously is an understatement. I was also regaled by tales of some of the goings on at the social events that take place in the evening when racing is finished. I hear a corker about Franko and what he was up to after a couple of the aforementioned soft drinks – unfortunately I can't give you the full story, as he has taken a superinjunction out.
Finally, I would like to sign off by wishing Wayne Saunders the very best. The guy has been round the racing scene for a long, long time and has raced at a very high level on two and four wheels. For my money, a guy who has real race craft and is one of our best drag racers - it was impressive to see the progress he was making on the beautiful NLR Hayabusa. As everyone is aware, he took a very high speed tumble on Friday. He is still in hospital for a few more days, with some painful but thankfully not serious injuries. I'm sure I speak for everyone when I send Wayne my very best wishes and I look forward to seeing him at the race track again soon.
See you all again for the European Finals, where I expect we will see another full and record setting field of Super Street Bikes.
Sunday 28th May 2011: What a Mess
Mark 'Woggie' Wells sent me news from the Team Mess camp in the early hours of Thursday morning. I'm guessing his keyboard is a bit of an oily mess now, as he had clearly finished the bike, then walked to the computer to type the update. Let's hear what he has to say for himself:
"A quick update from the Team Mess camp, where we finally got the Hayabusa running tonight – talk about burning the midnight oil! We had a disastrous start to the season, dropping two valves on our first run, which delivered an 8.0. We launched into a major engine change thrash, then realised that one of the dropped valves decided to free itself via the turbo, seriously damaging the rotor. Game over, sadly.
"But after Ian Cotton had his mishap, he kindly donated his turbo and various other bits. I can only thank Ian sincerely, what a gentleman. We got the bike rebuilt overnight and proceeded to run a 7.77, which we were really pleased with. But then we found we had a defective cylinder head that keeps popping out core plugs, the result being something like a very fast cappuccino machine! What a meeting of ups and downs. Anyway, we sorted it all out for Shakespeare County Raceway. Well we thought we had it all sorted out, but that wasn't the case, as more core plugs went walkabout." Where does this leave Mark and Team Mess for the Main Event, as it's clear this isn't the smoothest start to the season? "We have just finished another marathon session in the workshop and put a new cylinder head on tonight, so we are ready to roll for the Main Event", was the comment from a tired but happy Mark. "It's a great privilege to race in such a high profile event in front of one of the year's biggest crowds, so I just hope we can keep it together and provide a few surprises. We are showing up just to make the numbers up, we would like to qualify well and look for a Personal Best. I want to say a big thank you to my crew of Krapa, The Wizard H, Ian and the rest of Team Mess for their support. Now bring it on!"
I'm guessing with that parting comment, Mark headed off to get some well-earned sleep, but I expect it will be worth all the graft – good luck to Woggie and Team Mess.
Saturday 28th May 2011: Worth £1 of anyone's money
Steve Venables' Main Event planning has been a little distracted by running a major project at work, but I still expect him to be the man to watch when Monday comes around. As Eurodragster.com readers already know, Team Ven had a huge boost earlier this week when Pretty Green, the clothing range founded by ex-Oasis front man Liam Gallagher announced their support for Steve's racing effort. To have a leading edge, non-motorsport brand come into drag bike racing is a major coup.
But anyway, onto the serious business of preparing for the Main Event. I asked Steve where he was with his racing plans for the year and he told me "Over the winter we started to plan for Jemma to make the move into 8.50 Bike at some stage. So I started to play around with the old bike – the one with the blue flame paint – and as well as some new tuning ideas, I also shed a lot of weight from it. It now weighs eighty pounds less than when I last campaigned it. It's now a really quick bike and I thought of racing it this weekend, but it's still in primer, so I don't want to race it like that in front of one of the big crowds of the year – we have to put our best foot forward as a class this weekend."
"I will give the new lightweight bike a few runs on Thursday to see what level we have developed it to, but I will also be giving the current bike a couple of passes as well, so we are prepared for qualifying", Ven continued, "The current bike isn't being left undeveloped, Graham Balchin has done some work on the ECU and we have made some changes to the Marelli system, plus some other tweaks have been made, so there is more to come."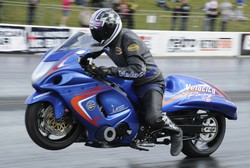 The bikes were originally built by Pro Street legend Barry Henson and I asked Steve what Barry's involvement was in Team Ven. "Barry is very busy with his new truck training school and recruitment business, so racing is down his list of priorities at the moment", said Steve, "He feels we have gotten a good handle on the setup anyway, so he is leaving it to me. But he is always there for me in the background and he is happy to provide input at any time, when I'm racing or in the workshop. Barry has been one of the great riders and tuners in Pro Street class and he has been an enormous help to me over the years, as well as being a good friend."
I mentioned to Steve that I was very impressed with Jemma's progress in the 9.50 class and he echoed that, proudly saying "She is out there racing against some very experienced guys and giving a good account of herself. At the last meeting she cut a zero light as well. She is becoming a better racer all the time, she listens and learns, but most of all she enjoys herself." We already know that an 8.50 bike is in the works for her, but I would imagine at some stage she will have her eye on the old man's SSB, so Steve will have to keep delivering the goods.
Steve is a multiple Championship winner and currently holds the ET record. I have been a close observer of his racing over the years and for my money Steve will be there or thereabouts on Monday. He quite often progresses slowly through qualifying, making small changes here and there, creeping up on the tune up. But when the killer qualifying pass is needed, it tends to happen, plus he tends to steadily improve as he goes rounds.
I'm an impartial observer, but my feeling is that a number of guys are still putting their combination together – G has come good in a big way, the NLR bikes of Wayne and Garry are improving (I understand Dave Holland is sidelined for medical reasons, sadly), Legend has the potential to be there as has Dave Smith as well – but Ven has the setup already dialed in. My £1 is on Venables for the win. But it's a very quick field and any one of six or seven bikes has the potential to take Ven out with a big number. So I will limit my bet to just the one pound. Bring on the weekend!
Friday 27th May 2011: NLR
If you look through the Blog entries for the last few days, the name Brad O'Connor comes up again and again, so the Essex-based electronics wizard is clearly an influential figure in the class. In fact when I caught up with him, he told me he had a hand, one way or another – whether it be building, tuning or maintaining – sixteen of the twenty four bikes appearing this weekend. Brad is the UK agent for Seb Domingo's NLR Racing, builders of some of the world's very quickest Pro Street bikes and he was highly influential in the appearance of the Wayne Saunders and Dave Holland bikes in the UK. He also built the immaculate NLR turbo kitted bike that Garry Bowe now rides.
I opened the conversation by asking Brad what the secret was behind the stunning performances of the NLR bikes. "These bikes have more power than anything I have ever worked on, but they do it with much lower levels of boost than other bikes", he commenced, "It's interesting that it's the total package that delivers the performance – so the engine, turbo, control, mapping and boost control together as a package, rather than one element, such as boost. The complete package just delivers more power and delivers it very smoothly – it's a very integrated package. In fact in the early running we are using less boost this season than we were last season."
Wayne Sunders has already illuminated the scoreboards with a 7.37 pass this season, as well as a 199 mph run. Does this mean it's a case of Brad just turning up the wick now, I asked? "I'm sure Dave and Wayne won't mind me saying this, but at this stage it's about more coming from the rider, rather than jut throwing more power at the bike. We are working at getting the front end of the run right and the guys are focusing on riding a little more smoothly as part the total run", stated Brad. From my own perspective, Wayne and Dave are two of the most experienced riders, with many years of racing under their belts in a range of classes including Pro Stock Bike and Funny Bike, so there is no doubt this is a case of when these bikes dip into the teens, rather than if.
It's clear when you look at the two beautifully built NLR bikes that a lot of money has changed hands to get these machines onto UK soil and a quick look at the pit setup for Dave and Wayne confirms the investment extends a long way beyond just the bike – these are two seriously professional operations. Brad continued with some very interesting points on this level of commitment – "The commitment Dave and Wayne make to the class and the level of preparation has to be seen to be believed. Anyone who thinks that this is a case of two guys opening their cheque books is dreaming – the two guys leave no stone unturned in their pursuit of success, their standards are very high. And a lot of hard graft goes into their day jobs to pay for this gold standard stuff, before they even look at the racing side of things" was Brad's illuminating view on the NLR bikes. "But this extends across the whole class", he continued. "Garry Bowe is another example, he travels to some pretty uncomfortable places in some poor conditions to earn his cash, then on top of that he drives thousands of miles to develop his race bike. It's 380 miles from his home to my workshop and I reckon he drove 4,000 miles over the winter to get the bike sorted – he leaves home at 2:30 in the morning and is outside my workshop when I open. This level of effort extends across the whole class, the high standards and winning mentality are dyed in the wool with these guys and they are just driving each other to be faster and faster."
I noted that Brad was in my view the busiest man in the pits on race day and I asked what a day at the track was like for him. "The Motec has 21,000 options on it straight from the box, so I need to check that everyone has the right package of those options for their setup and that they understand it", he said, "And then on race day, while I primarily look after the NLR bikes of Dave and Wayne, I also talk to all the other guys about either setup, or infrastructure – the 'how', and diagnosis – the 'what'. Really my job is to endure that the guys understand what they are doing with their setup and that took a lot of time at the Thunderball, but they are all getting more and more comfortable as the season progresses."
There we are, with an interesting insight into the performance culture within the SSB class, together with a few hints that the NLR bikes of Wayne and Dave may deliver some big numbers very shortly.
Thursday 26th May 2011: Tales from the North
This edition of the Blog looks at the plans from two of our Northern contingent, Pete Field and Garry Bowe. A little legal disclaimer up front: as you know, Pete Field rides the Hayabusa owned by his brother Frank. Garry and Frank have what might be called an interesting relationship, which results in Garry throwing as much verbal abuse at Frank as possible, preferably with a few practical jokes thrown into the mix as well. I have to say that a very relieved Frank finding his slippers in the middle of the pits, only for the relief to turn to shock as he realised they were nailed to the tarmac was an all-time comedy classic, masterminded, as you would expect, by Mr Bowe. Anyway, Garry has told me to throw as much of the brown stuff as I want in Frank's direction and he will take the blame. Yeah, right, I've heard that before. Plus most of Garry's helpful 'facts' are unprintable on a family-friendly site like Eurodragster.com!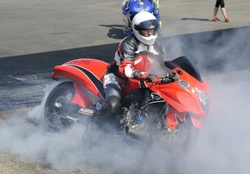 Pete Field told me that Frank had been looking to sell his Hayabusa towards the end of last season, but that the two brothers came to an agreement where Pete would have a run out on the bike to see if he could get to grips with it. The early signs were extremely promising, with younger brother Pete recording a best time of 8.00 with a sixty foot time of 1.27 – observers of the class will know that 1.27 is a pretty good short time.
That led them to decide to do what they referred to as "A bit of test year in 2011", but unfortunately the first outing at a Straightliners meeting resulted in the much-lowered bike having a coming together of front tyre and radiator, bringing the meeting to a premature close for the guys. Cue a hasty exit to the workshop to get a custom fabricated radiator mounted under the seat.
The duo pushed on a decided to enter the Thunderball. By this time they had persuaded ACU Champion Rick Stubbins to work his magic on the bike. For my money, Rick is one of the best riders and bike builders and tuners in the game, so it was fair to expect this would be a boost for the guys. From that point, every run was faster than 8.0, with a 7.7 being the next run, then not long after that a 7.49 at 191 mph came up on the scoreboard. Pete commented "The 49 was absolutely awesome and beyond anything I imagined I would achieve at my first meeting. I was hoping for an even quicker next run, but Rick spotted the headers on the bike were cracked as he rolled it out for the next run". The team got the pipe welded quickly, but of course this threw the tune up data out of the window. So the next runs resulted in a few wheelies and a broken fairing as the guys worked back to a decent tune up. The team made it through to the semi-finals, but the plenum blew off at half track, leaving Wayne Saunders to take the win with a storming 199 mph terminal speed. "I went to the meeting hoping to get a good setup and work from there over the season", reflected Pete, "but I never expected to make the semis while still learning to ride the bike. I'm really grateful to Frank for letting me ride this awesome machine and to Rick for setting it to be so rideable and quick. I think there is a lot more to come from Team Twiglet. For the Main Event I would like to qualify well again, but I also know the rest of the field will be very quick."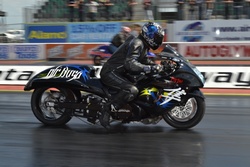 So that's our colleagues from Nantwich, but now let's look even further North to Cumbria, where Garry Bowe has had a very busy winter, having bought the immaculate NLR-kitted Hayabusa from Dave Holland. Garry gave me this overview of his season to date:
"I had a very difficult start to the season and it continued well into the Easter meeting. But on the third run at the Thunderball it all came good, as I blitzed my Personal Bests on all the split times and recorded a 7.46. Which was quicker than Team Twiglet by three hundredths, I want to say at this point. That's quicker than Team Twiglet, if you didn't hear me the first time. I went out in the first round of eliminations when it started to lift the front really quickly and I shut off, but even so I recorded a 1.27 sixty foot time."
I asked Garry what his targets were for the season and he commented "I'm hoping for a low 7.40 next, but I think if I get all the set-up together I could run down into the 7.30s."
Anyone who has seen the bike will know that it is stunningly turned out, reflecting the NLR-based build which Brad O'Connor put together for Dave Holland, but also the heap of work Garry has put into it, including a striking paintjob. "I have made quite a few changes since I bought it", confirmed Garry, "a mixture of easy and obvious upgrades, but also some not so easy to see new NLR parts. I was down at Brad's a few days ago and we went through the whole bike, with Brad configuring a lot of the electronics. The range of tuning options available from the system is unbelievable, I'm pretty sure the bike could make me a cuppa if it has a 13 amp socket! To be fair, Brad asked me at the beginning of the year what I wanted on the bike and my answer was 'everything' and he has delivered on that. There is also a nitrous system on it as well, which I'm planning to try at the Main Event."
So what are his goals for the upcoming meeting? By the time I had censored his reply it sounded something vaguely like "My goal is to run a 7.3 and I'm looking to win the event. Oh and I want to qualify faster than that fine figure of a man Frank!" His thoughts on the rest of the field were "I don't know who will have the quickest ET of the meeting, it could be any one of eight people. This is one of the things I love about SSB – Ven, Busaman, Dancey will all be quick and I think Wayne and Dave Holland are getting ready for some very quick runs." So that's Garry's view of the Main Event and I'm looking forward to seeing him deliver a new PB during the weekend. Brad O'Connor made some interesting comments about Garry's commitment to the sport and the SSB class and I will return to those tomorrow when Brad gives me the lowdown on the NLR bikes.
Wednesday 25th May 2011: Back in the game
Graham 'Legend' Balchin has been in touch to let us know how he turned around a very tough 2010 season and is now heading for a much more promising 2011. I feared the worst at the Easter meeting, when driving up the road to Santa Pod I saw Kate Balchin running away from the track and towards the main road. Fortunately I spotted her again later in the pits and realised the run was for exercise, rather than running screaming away from another broken motor. But let's hear from Graham how he has turned things around: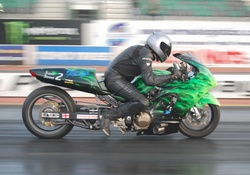 "2010 turned out be a tough session for us, starting with traumatic handling issues at the beginning of the year and finishing off with two destroyed engines and a clutch set-up which frankly was not cutting it.
"So over the winter it was time to pick up the pieces and regroup and a very busy off session it turned out to be. First off, building  two new fresh 'bullets for the gun' with new pistons, rods, heads and other bits and pieces. The second motor, which is sitting in the wings,  has had Brian Johnson's magic fingers inside so watch for some high mph later in the season. We may even give it a run at the Main Event.
"The biggest change made is to the clutch. We have now put into reality Brian's idea of a new clutch system and the few hundred hours plus which the BJ spent whittling metal in his workshop is looking like it's starting to pay dividends. The Easter meeting showed promise, but gremlins in the control system put a stop to the fun and a round one defeat. However last weekend's meeting at the Springspeed Nationals  was a great result for us, taking the win with nearly three-tenths on the rest of the field was a well-needed boost for the team. So with the team on a high we look forward to the Main Event, one thing is for sure, we are back in the game!"
It's great to hear such a positive report from Graham. I know he is very respected by the rest of the SSB field for both his riding skills and technical knowledge. One of my all time drag racing heroes from either side of the Atlantic is Brian Johnson, and I know the depth of expertise he will be bringing to Graham's race efforts will also make a big difference. So after his recent outing, I would expect to see Graham in the mix at the weekend. 
Tuesday 24th May 2011: Quickest field ever?
Richard Hann, aka Boss, has been in touch to update us on his winter exploits with his very clean Hayabusa, together with his plans for the Main Event.
"Over the winter the motor was sent down to Ray Debben, who gave it a really good rebuild, together with a few modifications", said Richard. "Ray put in a new R&D transmission, together with a Gann clutch. I was a bit short of time, as I have been busy down here in Somerset with work, so I dropped the bike with Brad O'Connor, who took a good look over the bike and added a few secret' bits and pieces to it!"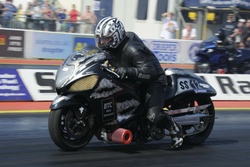 The first outing for the new set-up was at the Easter Thunderball and while this was Richard's first time in the hot seat for six months, a 7.88 run was very creditable. As Richard said, "I'm very happy with the bike, the rider is a bit rusty though". The plan was to then race at Shakespeare County, but an eve-of-the-meeting issue couldn't be sorted in time, so Richard missed his first meeting in around eight years.
Asked about his goal for the Main Event, Richard said "I'm gunning for a new Personal Best for sure. The bike is now well sorted thanks to Brad, and the field is very competitive, so I have to step up to PB level and I think the bike can deliver. My head is in the right place, I'm going to be back on the shift light and am targeting a top ten qualifier as payback to the crew who support me - my wife Lesley, my mate Mark and my good old mate Fred Furlong."
Great to see Boss coming into the event charged up and looking to raise the bar even further. Again it's interesting to see how much effort and investment has gone in over the winter and how high the standards are these guys are setting for themselves.
Paul 'Grumpy' Watson has been one of the driving forces behind Danny Cockerill's entry into the SSB arena. I'm sure all our readers know that Danny has been around the racing scene for a long time – his '57 Chevy Pro Mod was one of my all time favourites. Danny was bitten by the bike bug a couple of years ago and campaigned a 9.50 class Hayabusa for a time. He then started to put together a Street Eliminator car, but then decided to go back onto two wheels with a turbocharged Hayabusa.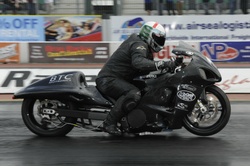 After a very good outing at Easter, the bike went back to the DSD workshop for some further modifications, with a new sump fitted and a scavenge pump on the way from Big CC Racing. Grumpy noted some of the tuning challenges. "We settled on a good baseline at the Easter meeting and going forward we may try controlling the boost with our AMS 1000. I haven't set up a bike for such a big guy before and it's presenting some challenges, but Danny has great riding skills and racecraft and I'm sure he will do very well at the Main Event."
I asked Grumpy what his goals were for the upcoming race and he offered "We are still getting to grips with the new Hays clutch, but it worked well out of the box and with some fine tuning we hope to get the sixty foot times into the 1.30s. With that part of the jigsaw in place, I think a 7.6 is a real possibility for us, in fact we will need that in such a quick field."
Those who remember Danny's car exploits will remember that not only does he turn out highly professional vehicles, but also the race rig and pit set-up are impressive as well. So when Paul tells me a new trailer is close to being completed and is looking good, I'm expecting something which will add further to the professional image of the SSB class.
So there we go, two guys who have worked hard all winter to get ready for this meeting and who will be gunning for Personal Bests at the weekend. "Expect to see the quickest field of qualifying ever" is the message coming through loud and clear from all the SSB guys.
Monday 23rd May 2011: Return of The Mick
As you will have seen on the Peak Performance Day report on Eurodragster.com last evening, Mickey Templeman made a return to the track only a week after his high speed get-off at Shakespeare County. I think that's pretty incredible personally. People can blather away with as many "Get back on the horse quickly" clichés as they want, but they are only words – I think the act of climbing back on a 500 bhp bike within days of having been sliding down the track at very high speed is extremely brave indeed.
Anyway, I got a note from Mickey late last night, after he had returned from the track, telling me that he was to compete at the Main Event! Let's hear from Mickey: "People gave me so much support in terms of parts, help to build the bike and general morale boosting, that I began to think about getting back on the track much quicker than I had originally thought would be possible. Then a long discussion took place between me, Garry Bowe and Brad O'Connor and they persuaded me I could be ready for the Main Event."
So Mickey's bike from last year was looked over, a new motor installed in addition to a new Motec. Brad put Saturday aside to make all the final preparations on the bike and on Sunday Garry Bowe acted as crew chief for Mickey, with Brad tuning the bike from his office. As an observer, I think that's a great story that says a lot about Mickey's determination and bravery, as well as a lot about the hard work and loyalty of Garry and Brad. It's one of those classic stories of racers and adversity.
Here is a final note from Mickey: "I feel a lot better for going to the track and shaking off the effects of the accident. Everyone at Santa Pod supported me throughout the day, from the start line crew, the girls in the office and even the fire crew. Of course the one and only Darren Prentice supported me, and I want to thank him for that, but also for making the SSB appearance at the Main Event a reality. Thanks to everyone!"
Tune in next time for more tales from the North and Garry Bowe and Pete Field tell us their plans for the weekend. As you have come to expect, Garry also has some nice things to say about his old friend Frank Field.
Only a few days to the race itself now, please keep those news items on your plans, preparations and predictions coming please!
Sunday 22nd May 2011: A closer look at the G Man...and a word from Walter
Graham Dance has kindly shared some insight into his bike and has given some thoughts on how he sees the Main Event unfolding. And our old friend in Jacksonville, Walter Sprout, chips in with a few thought on the upcoming battle in SSB.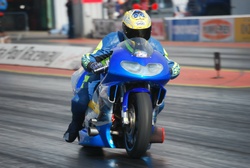 Graham tells me his chassis is built by Jon Hogarth of SID; so that's my mistake, because I credited it to Jon Webster in the opening blog entry. Sorry about that Jon! His engines are prepared by Roger Upperton and we can see from Graham's performances, as well as a number of stout performances in Comp Bike, that Roger continues to be one of the UK's finest purveyors of horsepower. Len Paget, he of Pro Stock bike notoriety, built the turbo kit for the bike, as well as fashioning his own design of clutch from a solid piece of billet. Brad O'Connor has had a significant influence on the bike, assisting not only with his usual top quality input on engine management and general electrical trickery, but also helping with the tune up and the dyno work. As an aside, I would guess that Graham probably spends more time on the dyno than any other SSB and we can see that coming to fruition now.
So how is the season going from the G Man so far? Well pretty well I'm guessing, judging from the mile wide grin. But let's ask him – "It's been a very hectic start to my season starting with back to back meets, only one weekend off, then Shakey. After Hungary I needed to freshen the head as it had new valve seats that had settled and now after last weekend I pulled a cylinder stud so the motor is stripped again! No damage so I'm thankful for that!"
We contemplated the upcoming Main Event, where Graham must be considered one of the favourites for the win and he shared these comments with me – "I think we'll have another record field and bump spot, I can't believe how things have stepped up in the last twelve months. I could imagine up to eight bikes running 7.3's or better in qualifying - the two races this year have produced four different finalists and the traditional big hitters are going to come back really strongly, I'm sure."  
Running one of the quick SSB bikes isn't a one man job these days and Graham relies on his crew to prepare the bike, doing the between round maintenance and getting him back from the shutdown area. Sam Birch normally carries the workload in the pits, but unfortunately he isn't available, so Dave Hall and Ond will be helping out. Like the runners and riders in all the classes, Graham is suggesting a conservative approach to the early part of the meeting, commenting - "We plan on a steady start on Friday and then will try to build from there. I plan on using the nitrous in fourth gear from about the eighth mile onwards instead of just fifth and if we keep getting out run - like last weekend when Graham Balchin flew past me at the 1000 foot mark - I'll get the jet drills out! I'm assured that the track is in excellent condition and we have to take advantage of it as I'm sure the rest of the field will." Call me a cynic, but I don't believe him or any other of these "I'm having a couple of soft passes on Friday" merchants – they will be dropping the hammer and looking to set the pace, in my view.
When pressed on who the key players would be, Graham suggested "The riders I think need to be watched are Ven – obviously - the two NLR bikes of Dave Holland and Wayne Saunders, Boisy who's on a roll, Graham Balchin with the Brian Johnson clutch that now looks sorted, Garry Bowe who ran some stunning eighth mile times at Easter, Peter Field on Big Frank's bike and The Bounty Hunter who can smell the money. Expect to see the mid pack moving up as well with Stephen Mead and Thomas Granica looking good." I'm out of breath just reading the last quote and as you can see Graham isn't leaving many people of the reckoning when it comes to his mental preparation for the meeting!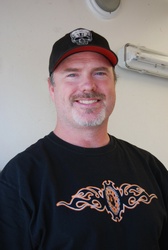 I was talking to Walter Sprout the other day. Actually I was listening to Walter Sprout offering me some "motivational advice" on getting my Sprout-prepared Hayabusa down the racetrack some time this millennium. While we haven't seen Walter over here in the UK for a few months, he continues to advise Steve Mead on race day and also has an influence on a number of other race programmes over here. The Main Event view from Walter is – "I see a lot of potential runners in this class, most have the pieces to put together still, before they will be top runners." As always, Walter consistently puts forward his view that a race bike is a balanced sum of a lot of different inputs, some of them often seemingly subtle.
"Graham I think has the potential - and I mean the overwhelming package potential - to be the first in the 7.1's. As always, Ven has already proven he can get the job done and he will be up there in the mix. 90% of these bikes have the parts and potential with the UK rules to run 7.0's. This meeting it will all depend on the track and the consistency of each overall bike package. But of course it doesn't matter who's the quickest or fastest though, it's who gets to the line first on race day! That's all that really matters, once all the talk has stopped." Really interesting thoughts from Walter. Although he won't be at the track, you can be sure he will be burning the phone lines between Jacksonville and the Mead trailer, and in addition I know he is an avid user of the Eurodragster.com race coverage.
Saturday 21st May 2011: Rules Britannia
As mentioned in the opening blog entry, the season got off to a strong start, with something of a surprise winner in Graham Dance and his "Old school, new school" combination of a GSX turbo and nitrous motor in a bespoke chassis. As well as smashing his Personal Best out of sight with a 7.27, he closed in on Steve Venables' ACU record of 7.24, set late last year on his Velocity built Hayabusa.
The performance has started a colourful debate in the Super Street Bike class as to the future direction. In the US, the bikes have a more constrained set of rules, with a standard frame loop being used on the bikes, having self starting and being street legal - I have to say "street legal" might have a different meaning in the US, but that's a another story. Importantly, turbochargers and nitrous cannot be used together as a power adding combination. This rule set has really been the inspiration for the recent growth of the class over here, with some very quick bikes being imported from the US, and quite a few of the UK-built bikes pretty much being clones of their US cousins. And to be fair, it has really paid off for the class, with a lot of expertise coming over the water with these quick bikes. So Pro Street tuners like Barry Henson, Kent Stotz, Sebastian Domingo and Walter Sprout have all helped out our guys and indeed three of the four US experts have visited Santa Pod. Steve Venables, Graham Balchin, Wayne Saunders and Dave Holland all ride imported bikes built by Velocity Racing (Steve and Graham) and NLR (Wayne and Dave). I don't think anyone would argue the US Pro Street class has had a positive impact.
But we're British aren't we? We have to do things a little differently than our American cousins, like driving on the wrong side of the road, or using a knife and a fork together. So when the rules for the class were devised many years ago, actually pre-dating the original US Streetbike Shootout class by some years, it was decided to allow a lot of latitude, in order to stimulate innovation and hopefully result in more riders coming into the sport. Non-standard frames are permitted, as well as multiple power adders – it makes a lot of sense if you remember the 1980s trend for seriously quick custom-framed road bike with draw through turbos and various other degrees of insanity.
So while the US Pro Street influence has made its very positive mark on the class, some guys have gone a different direction and used the rulebook to build legal, but very different bikes. Dance's bespoke chassis, together with turbo and nitrous, uses the rulebook to its utmost and offers a very different take on how to run quickly in SSB. If we are honest, it has all been under the radar for a few years, while Graham has struggled through several developmental stages. But with Brad O'Connor advising on the turbo and nitrous set-up and Roger Upperton nailing together some very quick motors (I will come back to the full story of G's setup in a day or two), all of a sudden there is a new contender. And there is more to come, as new bespoke chassis bikes with complex four link rear suspension systems are on the building blocks. It is expected that Jamie Sneddon will début a Webster-built bike before much longer.
This makes an interesting year even more interesting as a whole new chapter has opened – will be see the US style bikes prevail, or will one of the UK innovators start to take wins or set new records? It's safe to say the debate is underway and ranges from heated internet chatter, through to a lot of discussion in the pits. I don't think there is a right and wrong answer at this stage, but the competition is heating up for sure, as we now have a very real battle for not only race wins, but for places in the record books as well. It isn't just us Brits getting excited over rules either, in the US where nitrous bikes have more latitude in the rules, the recent stunning performances by Cecil Towner's nitrous bikes has also sparked arguments as to whether the rules are fair.
I don't think either camp over here in the UK is going to give up easily, there is a lot of experience and a lot of investment in both styles of bike. So while there may be a little tension building between the quick guys as a result, one thing is sure – it will be great for spectators as these guys push each other into ever quicker records and closer racing.
Friday 20th May 2011: Thomas eyes Top Ten performance
It goes without saying that Thomas and Peter Granica are two of the most dedicated guys, not only in Super Street Bike, but in the whole sport of drag racing. These guys make the long trip from Germany, not only for the big races like the FIA Main Event, but also for ACU and Straightliners races. So having been known to complain when I fall out of bed to drive the 95.2 miles (not that I think too much about the distance) to Santa Pod, thinking about the distances these guys drive to compete really puts me in my place.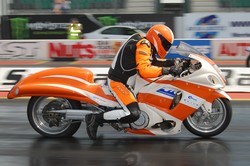 The guys always have their burnt orange Hayabusa beautifully turned out and it is a pleasure to see these guys at the track. They are yet another reason why SSB has a special feel about it. It's a pleasure to see them back at the Main Event and hats off to them, because they had a very tough season in 2010, at one stage having broken all their motors.
I talked to Thomas about his plans for the Main Event and he said "We are making the trip to Santa Pod with high hopes. We came to the Easter Thunderball with a clear objective of a 7.5 second run and we achieved that, so it was a good start for us". So what about objectives for the upcoming race? "Our goal is to qualify in the top ten, so we can get some travel money!". Which seems a practical objective, given the miles they will log this year.
"To be honest, this year seems like it will be very tough, as we saw at the Easter meeting, where the first seventeen bikes were in the sevens and the bumpspot was a 7.86", he continued. "So we will work hard to hit our goal and I really hope we don't have the same disaster as last year when we destroyed two engines. But I trust and respect Peter's expertise and I know he was put a good setup in the bike for me."
For a guy who puts the miles in, the Euro Series has to be of interest and when asked, Thomas responded "I'm very happy, but because the class deserves it for the progress it has made. I think there is so much more to come from SSB and the new series will really make a difference. We really enjoy the class and thanks to all involved in making this happen."
Wednesday 18th May 2011: Bolton's Best bounces back
Everyone is aware that Bolton bon viveur and socialite Mickey Templeman took a nasty fall at Shakespeare County last weekend. Unfortunately it rules Mickey out of the Main Event, due a combination of a severely damaged new bike and also more than a few aches and pains, as you would expect from such a high-speed tumble.
Mickey took ownership of Garry Bowe's proven 7.4 second Hayabusa over the winter, with Garry moving up to Dave Holland's 2010 NLR ride (more of that in days to come). He has been getting a good handle on the new bike and it was well on its way to being dialled in ready for some seriously quick runs.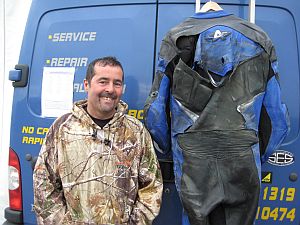 Unfortunately, events took a turn for the worse at the weekend during a qualifying pass, when the front end washed away from under him at the 1000 foot marker while doing 170 mph. Luckily, Mickey had the presence of mind while sliding to get some distance between himself and the bike, which proceeded to hit the Armco barrier and then barrel roll beyond the finish line. "Sliding down the track on my side at that speed, with the Armco a couple of feet to my right is not something I want to do too often" Mickey wryly commented. Ever the technical mind, Brad O'Connor suggests that Mickey crossed the line doing 113 mph!
The reason for the crash isn't clear, there is some speculation that some foreign material may have been present on the track, but the cause isn't known. What is clear is that in times like this, the drag racing community knows how to react and do the right thing. "I would really like to thank the medical team for getting to me so quickly and looking after me in a professional manner. Everyone on the track team at Shakey was highly professional" said Mickey a couple of days after the event. "I also want to thank my friends in the racing community. I was blown away by the offers of help from so many people – just about any part I need to repair the bike has been offered to me. This is just another of the reasons I love racing in this class, I am truly moved by the support I have had from the guys."
Mickey thought about trying to get a bike together for the event, but then realised that with the class being so competitive these days, it wouldn't really have been a practical solution. So it was decided to take some time and build it right. The bike has a new motor in it already and the new setup will feature a Motec M800, with the finishing to be done by Brad O'Connor of BTC Motronics.
Mickey will of course attend the event as a spectator and when asked for his predictions for the meeting he offered "I have no predictions on who will win the event, but I think with the track being prepared to its usual high standards we may well see someone run into the teens. We will also see a lot of new personal bests. I think Garry Bowe may surprise some people with his new NLR ride, the potential is clear and he has the right backing. So Garry is the dark horse for the event."
I'm sure all readers will join me in wishing Mickey all the best for his recovery and we look forward to seeing him out in the very near future on his new bike. Get well Mickey!
Wednesday 18th May 2011: Chasing the Bounty
2011 looks like it might be a very interesting year, with three different winners in the first three events and Dave Smith is of the opinion that the Championship could be very tightly contested.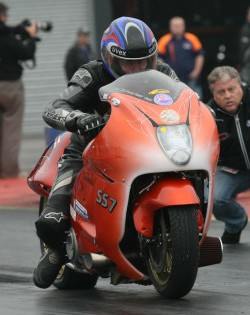 Team Bounty Hunter have been very busy over the past few months, with a lot of new ideas being developed for the bike, with the plan being to unleash these on the competition at the Main Event. Playing his cards typically close to his chest, Dave didn't give us any clues as to what new developments we might see, but given this UK developed bike has already topped 200 mph, then you can bet everyone will be taking him very seriously. "If the modifications work as I think they will, it could yield a tenth off the ET", commented Dave "and I wouldn't mind one of the medals for a 200mph run that Jon Webster has kindly donated to the SSB class". So it's fair to say Dave isn't showing up just to make up the numbers. "I'm more excited this year than I have been in a long time; the depth of the 2011 field is outstanding, the bikes are even better than last season and of course the teams are all professionally turned out", Smith notes.

Dave thinks the new Euro Series is an exciting prospect which has the potential to take the class to the next level. He was seen deep in conversation with Keith Bartlett at the Hungarian race, discussing the prospects for this year and next season. "It was great to see that Keith shows the same enthusiasm for this class that the racers do and I'm very grateful to him for the opportunity to show what we can do at Santa Pod's premier events - we will do our best to impress!" says Dave.

No news item mentioning Dave would be complete without mention of the big prize, so he leaves us all with this thought - "I don't know who will win the Main Event, you might want to check the odds with Ladbrokes, I wouldn't like to guess. There are no easy rounds in SSB now, anyone can take the win on race day. But after the win in Hungary, I'm very fired up...after all there is BOUNTY to be had!"

So there we have it from one of the most experienced guys in the class and one who has delivered stunning ETs and record-setting 200 mph terminals on his homebuilt Hayabusa.

The class is very diverse, with record setting US imports, UK built bikes and some very innovative bikes built in the UK to take advantage of the broader rules available. The issue of future rules has been the subject of some colourful discussion on the Internet forums in recent weeks and it's fair to say there are widely different views. If the class wasn't completive enough to start with, the rules discussion has raised the temperature a little more and that's an issue that we will return to in the coming days.

Tuesday 17th May 2011: Again, with feeling

Well here we are ten days out from another Main Event at Santa Pod and once again we are expecting a strong performance from the Super Street Bike class. Last year was another year of close racing and new records from the guys and as you would expect there has been a lot of investment in new technology in the closed season, this year is expected to be red hot. There has even been a little less chatter on the internet forums over the winter, which must mean more time was spent in the workshop, rather than on the keyboard.

The biggest pieces of news over the winter was that Santa Pod Raceway is to stage SSB rounds at both the Main Event and the European Finals in 2011. This was followed by the news that there is to be a European Series for the class, which makes sense given the healthy numbers of bikes across Europe. This latter news saw some of the dedicated UK band make the long trip to Hungary to put on a great show at this emerging venue. So it looks at though the class is getting some well-deserved recognition. In recent days it has emerged that the class will be doing qualifying runs during the Pro sessions at the Main Event and it is the this type of development that indicates promoters value the fast and close racing provided by these "street lookalike" missiles.

The Easter meeting gave a few hints about 2011 – firstly, it's going to be fast; secondly, the world order may be changing; and thirdly the class over here is as good as anywhere in the world. Some political tension is creeping in (nothing new there then!) as well, but more on that later. But most of all, the guys continue to turn out some very professional bikes on race day, while not losing their well know ability to have a good time off the track.

Graham Dance provided the first shock of the season, with a stunning 7.27 personal best on the way to the event win over Wayne Saunders. As observers of the class will know, Graham has grafted away for years with his less conventional - "less conventional" is a nice way of saying barking mad - old school Suzuki motor is a custom Webster chassis. After melting most of the remaining GSX cylinder heads in the world with the previous nitrous set-up, Graham was finally persuaded by Brad O'Connor to go with a turbo set-up. Although of course being an N20 addict, it still has a nitrous system to...ahem...supplement the turbo. Over the winter Graham and Brad have spent a lot of time on the dyno and the result was clear to see, as the bike blew away its previous bests during the meeting. Len Paget has had more than a hand in the development of the motor, with one feature being a clutch developed and built from scratch by Len. As you could see from Len's startline reaction after the 7.27, he was pretty pleased and you can bet that SSB owners the length of the pits will be hearing about the merits of British engineering over US engineering.

But that wasn't the only new news at Easter. Dave Holland unveiled a very classy new NLR bike, Garry Bowe played musical chairs with Dave and competed on Dave's 2010 bike, plus a host of the guys were taking new combinations to the track for the first time and doing so with some panache, given the PBs or close to PB performances in the season opener. We will come back and look at all of these over the coming days.

Now I could do with a little help from the guys in the class. As mentioned above, there has been a lot of new billet porn developed over the winter, so I'm aware that many of the teams have moved on. It would help me if you sent me a few lines on what's new on your bike for 2011 and what your goals are for the year. A photo or two wouldn't even go amiss. We will post a new blog entry each day up to the Main Event. Last year some guys provided great technical information, some guys provided some very amusing updates (step forward the Man in Pink) and some guys carried on like they had accidentally superglued their lips together, so sparse was the information. Please send me your updates!

As well as a daily (or as close to daily as I can get while managing to get some sleep) blog, updates will also be posted during the event, so stay tuned. Send your updates to me by clicking here.

I'm also toying with the idea of a Super Street Bike Facebook page and will post photographs there as well. As last year, the blog will be a mixture of team updates, some technical information from well-known tuners, and some tongue-in-cheek comments as well – do me a favour and don't take offence if we have a little fun!

On a serious closing note, we are all aware that Bolton's finest Mickey Templeman took a tumble at the weekend's meeting at Shakey. Thankfully the old dog is fine and was on his feet quickly, although I imagine today he will be feeling every one of his forty years of age. Get well soon Mickey! The bike was a bit of a mess, but SSB being the class it is, the guys were soon rallying round offering support and replacement parts, so we expect to see him out there before long.


Feature ©Eurodragster.com


---
SSB Racer web site
200mph Forum
Back to News page
---