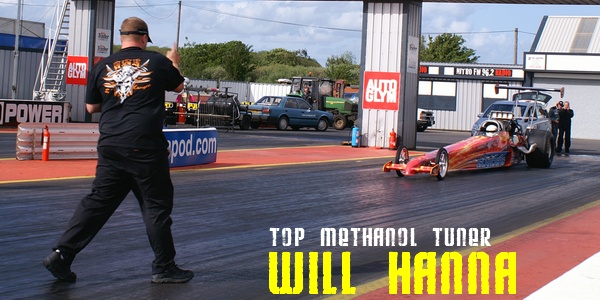 As told to

Thursday 15th April: Ingenuity in action.
Time flies when you're having fun. When racing, you hope your car does too...
Sorry folks I haven't slowed down to get a blog in lately, although it does seem like yesterday I wrote my last blog right before the season started. I didn't think I would start racing until March, but funny how things change.
As if I didn't have enough on my plate, I still have a hard time turning down good opportunities. In January, Kate and Diana Harker approached me about doing a radio show with them on RaceFanRadio.com. I had a bit of radio experience helping with the now defunct Sammy & Bob radio show here in Houston, which covered mainly drag racing. I've always wanted to do something like this, so I couldn't say no. It's quite a bit different being the 'host' than being the third wheel in the studio like I was on the Sammy & Bob Show. It took a few shows to get a feel for it, but now that we have eight shows under our belt, it definitely comes a lot easier. Radio Nitro airs Monday nights at 8 pm EST here in the US, but you can catch all the episodes on demand at RaceFanRadio.com. We definitely plan to have some European racers on the show, so if you're interested in coming on the show, drop me a line at will.hanna@insidetopalcohol.com.
Shortly after getting booked in with Radio Nitro, I decided to head out to Pomona for the Winternationals to do some PR, hang out and enjoy a few days at the races. I got there early to visit some of my web site advertisers that are in the area. While walking through the pits Wednesday night, Top Alcohol Funny Car racer Brian Smith approached me about working as a consultant for his team for a few races. We made a deal the next morning, and now I've turned my vacation into work.
Luckily he already had a Randy Anderson fuel system and basic combo, which is what I recommend to my clients anyway. It really hurt not having more time to go over things and prep things the way I like to do them. We struggled and ended up dropping a valve in the first round. The car just wasn't acting right. It was shaking no matter what we did.
Brian hired me again to go to the Phoenix Division 7 event where I got to see my European friend Gittli Koller. I brought a fixture I use to check flatness of floaters with me, and sure enough the floaters were 0.004" taper. Now his local guy who was cutting the floaters told him they were within half a thousandth flat. Lesson learned is you don't trust anything unless you do it yourself or see it with your own eyes.
We got another racer to cut them on a good machine and get them flat, and we were in business. Brian ran a clean 5.84 out of the box on Friday. We made some adjustments, and ran a 5.75 on the next run. We hoped to find a low 5.70 the next run, but they ended up postponing the race due to the bump in the left lane. The bump didn't seem to bother the Alcohol cars as much, but we have much more downforce built into our cars.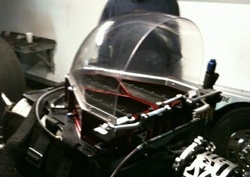 After Phoenix, it was time to start the season for Chris Foster's TAFC team. I organised a test session at Houston Raceway Park, and it turned out to be a great test. We had two goals: scrub new tires in and to test out a new injector project I had been working with Cody Perkins on. We had two new sets of tyres mounted for the weekend. On Friday, we hot lapped the car, making three laps and one more long burnout. I had the motor backed down and the gearing and clutch very conservative. We had our old injector on the car and wanted to get a good baseline run for a boost graph. We made an ugly 5.81 full pass, but it was enough to give us a graph.
We worked Saturday night to finish up mounting the new injector. It was a pretty wild looking piece. Cody Perkins used this injector as his senior engineering project at the University of Utah. The injector is a CNC throttle body that is basically the same size as the opening of the PSI Supercharger. He has run the injector on his Top Alcohol Dragster, and has a big carbon scoop attached to it, similar to an A/Fuel scoop. While looking at pictures of this on the internet, I came up with the idea of a clear Lexan scoop for Funny Car applications. It took a lot of work, but we were able to get the project done just in time for the test. The injector featured a 96 square inch opening against 72 on the hat we were running, so we hoped for some more boost.
Not knowing what to expect, I richened the motor up a bunch the first lap, a low gear pass to see where we were going to start at. We kept on tweaking things until we made a nice clean half track run, clocking 204.5 mph to half track, our fastest eighth-mile speed. We went out there and made one full run on Sunday, running a very conservative 5.72 at 253.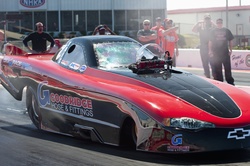 We got the data we were looking for. While we hoped for a bit more, the project still has some potential. I don't know when we'll be able to get back to it, but with a weekend under our belt, I think there are some improvements we could make to our original adaptation design for the Funny Car. We made the scoop completely curved to make the air go into the injector cleaner. Despite being clear, the curvature made the view through it distorted. We didn't see any significant gains in boost, but we agreed we needed to do a better job getting the air into the injector. We felt the dragster version put a cleaner charge into the throttle body. Hopefully at some point down the road we can try another version.
Well, I've already racked up a thousand words. I'll try to pick up where I left off next week. I'll go over my trials and tribulations in Gainesville, along with solid outings in Tucson and Houston. We race Foster's car next weekend in Dallas, and I head to Norway to assemble Fred Hanssen's car right after that. Santa Pod is right around the corner!
Thursday 14th January: What off-season?
Sorry I haven't done much with this blog lately. Life has been a blur since getting married in November. For those of you that didn't see the announcement on the site, I married my girlfriend of five years, Kelly, on November 21. After a week of honeymooning at the Royal in Playa Del Carmen, Mexico (near Cancun – highly recommend the resort), I had to hit the ground running as soon as we got back home. I got home on a Monday, and was on a plane Tuesday to head to the International Motorsports Industry Show in Indianapolis. The next week I went down to the Performance Racing Industry (PRI) show in Orlando. It was nice to see Gittli and a few other faces from Europe.
The tradeshows are pretty important to my business. While my tuning/consulting business keeps me busy at the track, running my three web sites, InsideTopAlcohol.com, InsideCompRacing.com and InsideFastBrackets.com is what keeps me busy during the week. Those shows are where I talk to the companies and usually renew existing advertisers and try to get new ones. This year was the first year for the IMIS Show in Indy. There was some drag racing representation, but the majority of the traffic was circle track related. It will be interesting to see how the show shapes up next year.
It was nice for me to have two shows to go to, but I know it's hard on the companies out there to have to choose between one show or the other, or pay the expense of going to both. Having a decent booth at those trade shows cost some serious money. On my end, it gave me more face time to talk to people about advertising, see some new parts and discuss racing plans for 2010.
After that it was time to transition into holiday mode. Usually the racing business is dead from the PRI Show to the first of the year. I guess with Christmas and New Year's falling on a Friday, everyone stayed in the office, because I was busy as ever trying to follow up on leads and discussions from the shows.
I also got a shipment of parts in from Fred Hanssen over the holidays. We have a block that needed some work done, along with freshening up a few parts, some recertifications and testing. I hope to get them back by February so that I can get the parts back to Norway. The current plan is for me to go over to Norway in March to start putting the car back together. I hope to have enough parts back that I can spend a week and get the car and trailer almost ready to go. Then I'll make one more trip over in early May if necessary to tie up any loose ends before Santa Pod.
My racing will start March 5-7, here in the States. I have organised a test session at Houston Raceway Park, the DragRaceHose.com Warm Up, which should have quite a few alcohol cars and Pro Mods. We will be testing some new parts on Chris Foster's TAFC if everything gets done in time. All I can say is it will be interesting to see how the 'new stuff' will work. That's all I'll divulge right now.
Aside from the new stuff, there's a few things I'd like to try and get some new tires scrubbed in. My Funny Car tune-up doesn't like new tires at all, so if nothing else, we'd like to get a couple of hits in on some new tires so we don't have to worry about that in race conditions.
That said, there's so much that can be learned in testing versus race conditions. Sometimes a new idea may take two or three hits to get it right. Well it's real hard to do that at a race. Usually if you try something and it doesn't work, you go back to what you know, rather than trying to make another change, etc. Not to mention the benefits of making laps and getting everyone, driver and crew, back in the groove before the first race.
After that weekend, I'll head to Gainesville for the Gatornationals, where I'm sure to see a few of my friends from Europe. I will be working as a consultant for Scott McNiece's Top Alcohol Funny Car team.
Tom Conway once told me, it doesn't matter when you start working on your car during the off-season, it always seems to come down to the last minute. While in Europe you have a bit more of an off-season, I'm sure it will come down to the wire getting all the parts rounded back up and getting them back over there in time.
I'll drop back by with more updates soon.
Friday 6th November: Victory is sweeter with a side order of late-season heroics.
What a weekend it was for Foster Racing. If you didn't read my first blog, I Crew Chief for Chris Foster's Top Alcohol Funny Car team. We were locked in a points battle for the NHRA Division 3 Championship with Andy Bohl. We entered our last race in third place, needing to win the event to move past Bohl and clinch the Championship. The team did a great job; we won the race and the Championship.
Winning the Division 3 Championship this season exceeded all of our expectations, myself included. It was certainly a goal, but if we didn't meet that goal this year, it wasn't the end of the world. This was my first year working with the team and I had them change quite a bit on the car going into the year, so it was a new combo for them.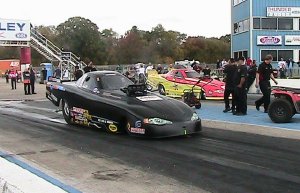 Chris has had some success racing on the IHRA circuit, reaching several final rounds there and finishing as high as fifth, but decided to buy a screw blower and change to NHRA when he saw the writing on the wall a few years ago. Since switching to NHRA in late 2006, he had run respectable at times, but hadn't won a round of competition. So to go from that to Champions in one year was a very fun ride for all of us.
They had the talent and dedication, and everything came together for us this year. I have to say they are a great group of guys to work for. Chris has been driving since he was fifteen, and he races with his dad and step-dad, who both do clutch together.
We ran pretty good right out of the gate, but had some ups and downs for a few races figuring out what the car wanted in certain conditions. We really turned the corner in June at the Chicago National event, and then won our first race the next weekend at the Division 3 race in Chicago. We went on to runner-up at the Norwalk National event, and then won the next Division 3 race in Columbus, Ohio. We then reached the finals at the Division 5 event in Cordova, Ill. Four finals in a row, life was good!
Our next race was the final Division 3 event in Bowling Green, Kentucky. We made some changes to the engine combo at this race, expecting hot weather. Instead, it was mild on Friday, and we ran a 5.68 right out of the trailer to put us No. 1 qualifier. At that point, a few racers had told us, "You have the Division 3 Championship locked up, right?". I told them promptly that the fight was a long way from over; anything could happen from then to the end of the year. That proved to be true indeed.
After that first run on Friday, we were getting up around twenty four runs on the tires we had, so we decided to try to break a new set of tires in for eliminations on Saturday. We were met with massive shake on both runs. The temperatures had cooled off all weekend, taking the corrected altitude down to 2100 ft (it was 2800 ft on Friday). We went out and shook hard and lost in the first round. The two guys we were battling for points, Andy Bohl and Mick Snyder, went on to race each other in the final.
The next stop for us was the U.S. Nationals in Indy. Normally you bring your best game for Indy. As tempting as it was to go back to the same combination as we had when we went to the finals in Norwalk, we decided to debut the new NRE X-1 heads. While National points were certainly important to us, the Division Championship race had become more important. I felt that the new heads would give us some more power, so Indy would be a good chance to get some data on the heads going into our final Divisional races. They were definitely worth some more power, and I had no idea what it was going to take to get a handle on the car with these heads. It was an animal. We ran a 5.66/252 the first lap on them, with what I thought at the time was a 'conservative' tune-up.
We lost in the second round in Indy and collected some good data on the heads. We spun a rear main on one of our motors in Indy, so we decided to skip the Division 5 race in Earlville, Iowa, the weekend after Indy. We knew this was where Bohl and Snyder would go. Bohl ended up winning the race and passing us in points. We regrouped our parts, and headed down to hot and balmy Belle Rose, La., for the Division 4 race there.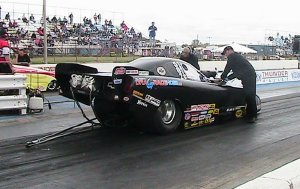 I'll pause momentarily to explain the points system to some of you who don't follow the NHRA Top Alcohol cars as much. NHRA has seven geographical Divisions; based on where you live or want to race (you're not tied to where you live). We can claim our best five out of the first eight Divisional events we go to towards the Division Championship. Of those five races you claim, you can count two races out of your Division towards your points total (your best two out of the first three you attend). With us running Division 3, which means we can go to three out of Division races, and use the points from our best two if it improves our standing. National points are decided by the best five out of the first eight Nationals you go to, combined with your best five of eight Divisional points. Divisional points count towards the National points, but National points don't help your Divisional standing.
We had only been to one out of Division race (Cordova) heading into Belle Rose, and Bohl had already won two out of Division races (Cordova and Earlville), so he could not add to his points since the Division 3 schedule was done. We needed to at least score a runner-up and a first round win at our next two races to tie him in points, and we would win the tie breakers.
In Belle Rose, our dreaded tire shake woes followed us. The shook very hard the first run and damaged the transmission, leading to an aborted run. The second lap it was on about a 5.68, but an air line broke going into the transmission, so it would not shift out of low gear. With a solid pass through low gear under our belts, and only six cars on the property, I got after it a bit. It shook, not quite as bad, and Chris was able to get it down the track to a 5.82, which put us third. We had lane choice in the first round, so things were looking good at that point to at least get the round win we needed.
So I put everything back like it was on the run that would have been a high .60 or low .70. I pulled a touch of clutch out of it. The air was almost exactly the same, the track was exactly the same temperature, there was no reason why it shouldn't have went right down the track, right? It shook hard again, we slowed to a 5.82, and the other guy stepped up and took us out. We weren't out, but it meant it all came down to one race - Noble, Oklahoma. We had to win it to pass Bohl for the Championship. Needless to say, we weren't happy campers loading up from there.
The Division 4 race in Noble isn't exactly the easiest race in the world to go pick up some points. It's one of the last races of the year, and there's usually quite a few out of Division cars there trying to pick up points just like we were. I've seen as many as eighteen cars there trying to qualify for an eight car field.
We kind of had to rally and meet the call. I spent a lot of time looking at the tune-up, past data at that track, trying to figure out what the car wanted to not shake the tires. It was clear it was making more power with the new heads; we just had to get it to the ground without shaking. It was tempting not to go back to the old combination and try to race with it there.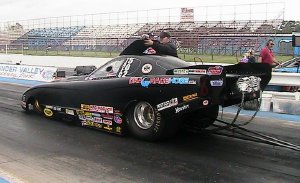 Like I said in my last blog, we had gone from racing to win, letting it all hang out to essentially racing not to lose. It's not hard to get into that mindset. We never had considered racing for the Division Championship until we had won two races and had a big points lead. Then, all of a sudden it hits you that you have a chance. We went from underdogs to favorites almost overnight.
The mindset was not helping our situation. I could see it in Chris' driving and was guilty of it in my tuning calls. Then when we got behind, it was either going to do us in, or we were going to bounce back. As stated in my last blog, we had a team meeting and decided to let it all hang out in Noble. That included sticking with the new heads instead of reverting to the old heads.
When I told Steve Harker what I was going to do at Noble, he told me I was crazy. We made some big changes to try to harness this new combination. The first run, we had some oiling problems and lost a couple of pushrods on the run. It was just not the way we wanted to start the weekend. We also found out how bumpy the right lane was down track, especially if you got close to the wall. The car left the ground about eight times from high gear to the finish line. In the process it badly damaged the rear main. It was time to change motors.
Luckily for us, the heads weren't damaged. It was time for another decision. Do we stick with the X-1 heads or go back to the BAE 5s? While the early numbers weren't spectacular, the car made a clean launch until it lost two pushrods at the top of low gear. We decided to stick with the X-1s on the new motor.
We got after it a little more early in the next qualifier Saturday, and ran a good, clean 5.76. A gain, nothing spectacular, but a good, clean run that gave us some good data. For the third qualifier, we got after it some more, but had the bumpy right lane. I told Chris going into the run, that if it got bouncing around again to just shut it off, I'll have what I need to know by half track.
It had some decent shake, but it was closer to the top of the gear than the violent shake we had been experiencing in the middle of low. It hit the bumps and he shut it off. We went into race day qualified third. We hadn't set the world on fire, but we had regained our confidence and got our 'fighting legs' back.
I backed it down a bit for the first round from the last qualifier. It was in between the tune-up we had for Q2 and Q3. Chris had a good light, and she went right down the track to a 5.72 for the win. That win moved us to second place in the standings, so we had something to show for our trip. However, we would face our biggest test, Steve Harker in round two.
At this point, I would say this was the easiest round of the weekend mentally. There was nothing to really worry about. We just went for it. You had to, it was Harker. Chris had the same attitude. Sometimes you get some bad breaks, but it was our turn to get a good break, in the form of a little red bulb. Harker went .007 red against us. Chris was right there ready for him with a .027 light. Chris had come within .003 of beating Harker on a hole shot earlier in the year, so he knew he had to get a good light. So I think that falls into the category of making your own luck.
The number one qualifier Vern Moats, who had run a 5.65 in qualifying, took a huge nap on the line and was beat by Lance Van Hauen with a holeshot 5.78 to 5.65. So it all came down to one run: beat Van Hauen.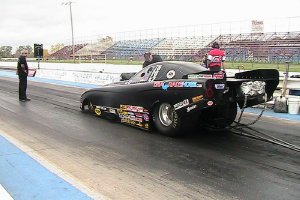 There was bad weather coming, so they were rushing us pretty hard back in the pit. I think that actually worked out pretty well, because it didn't give anyone a lot of time to dwell on the round. They told us to go to the lanes as soon as we were ready. We were pulling out of the pit when they ran TAD, so they told us to tow all the way to the line. We had enough time to get Chris in the car, do our final preparations and it was time to go.

Going into the final, I wanted to put a low .70 on the board. The best he had run was a .78, so nothing personal; it was just the smart decision. I backed it down to a similar set up to the .72 in we ran in the first round. I told Chris to go after the tree just like it was Harker or Manzo.

Everything went well in the burnout, nothing stupid. I gave Chris the fist pump and it was time to go. The car launched good, the tree was green, and about 300' out, I saw Van Hauen lift, so barring anything stupid, we had done it! 5.73 popped up on the scoreboard along with the win light and the party was on!

I had kept the champagne hidden all weekend until Sunday morning. I showed the team Sunday morning as a little motivation. Chris and his dad got a good bath once we went across the scales and it was official. We went on to terrorize a few bars down town Norman, Oklahoma (the hometown of Oklahoma University Sooners) who probably thought they were going to have a quiet Sunday evening.

I didn't mean for this post to get so long winded, but it was just a story book ending to a storybook year. I'm glad to have been a part of it with Foster Racing. It just goes to show you "It ain't over till it's over."

Foster Racing - 2009 NHRA Division 3 TAFC Champions!

Monday 19th October: Preparing for 2010.

Well, first off let me say thanks to Tog for allowing me to have this blog, and I'm excited to be involved with the Eurodragster.com community. After one year of racing the FIA circuit, I have nothing but respect for the racers and teams over there. As I've said on one of my web sites, trying to win the FIA Championship is every bit as tough as trying to win a Division Championship here in the States, which is quite an honor.

With that in mind, I'd like to congratulate Timo Habermann on a great season on winning the Championship. It truly was a team effort, as Timo got the job done on the line when they needed it, while his dad Werner and the guys provided the quickest blown car in Europe as well. It's also like I told him. On Monday, Sept. 14, after the race, we're all tied for first again.

I'm very excited that Fred Hanssen has elected to bring me back on board again next year in a somewhat expanded capacity. I'll not only be at all of the FIA events next year, but will make trips between races to prepare the car for the next event. One of the disadvantages of a primarily all-American crew is that there was nobody back at the shop to service the car, besides Per, who did the clutch. So the only work that was done between races was whatever I could do after the race and before the race. We got the job done, but it presented a situation where we were working around the clock. Even if we didn't hurt anything, there was always something to do whether it was servicing a head, servicing the spare motor, etc. Then when we added the fact the car had to be front halved between Sweden and Germany, it was quite the scramble.

Our goal this year is to roll the car out of the trailer on Thursday, put pushrods in it, pack the parachutes and be race ready.

We took one step towards that goal last week when I flew to Norway to take the car apart. I wanted to get a jump on the parts that needed to go back to the States so that I could have them back in time to get them on early as possible. It's like Tom Conway once told me. It doesn't matter when you start working on the car for next season; it always comes down to the last minute. I've never proved that statement wrong yet.

Upon arriving back in the States, I've had to switch my mind from Dragster mode to Funny Car mode. As some of you may know, I also Crew Chief on Chris Foster's TAFC here in the States. We have one last race remaining on the schedule in Noble, Okla., Oct. 23-25. It's a pretty simple scenario going in. Win the race, win the Division 3 Championship. If we win first round, we clinch second, but who races for that?

As a Crew Chief, you not only have to make the tune-up calls, but you have to try to set a mindset in not only your team, but your driver. I told the driver and the crew going into this race that we've had a hell of a year no matter what goes down in Noble. I'm guilty of it myself, but we've all got into a 'trying not to screw up' mode rather than letting it all hang out like we did earlier in the year. We show up to win every race we go to, so the thought of having to win really shouldn't be that different than normal.

We also made some changes a few races back to try to find some more power. One of those changes was switching to the new NRE X-1 Cylinder head. It's not very often you can just bolt something on one of these cars and really find some horsepower. With the heads and a few other changes, we now have a monster, especially in the mid range. We bolted the heads on for the first qualifier in Indy and went a 5.66/252 mph with what I thought was a conservative fuel and gear set up. I put over a gallon of fuel in it and a tall gear, and it burned all the cad off the plugs and went .950 60'. While it's nice to have the extra HP, we don't have the luxury of just going back to our notes on clutch and gearing for certain air and track conditions. That has bit us at our last few races.

With more runs on the combo, hopefully we have a good idea of what to do to get it to the ground. Of course we could just put it back like we had it, but then you start getting into that 'racing not to screw up' mode.

Will it work out or will it be the 'famous last words of a fool?' I'll check in in a few weeks and let you know.


Feature ©Eurodragster.com


---

Inside Top Alcohol web site
Back to Racer Blog index


---