Share
With the 2019 season over we are, for the twenty first year in succession, pleased to bring you the finest comments from the year's Event Coverage on Eurodragster.com - and other quotes which we didn't publish at the time.
We open with the Quotes of the Year of the Eurodragster.com team...
Tog's Quote of the Year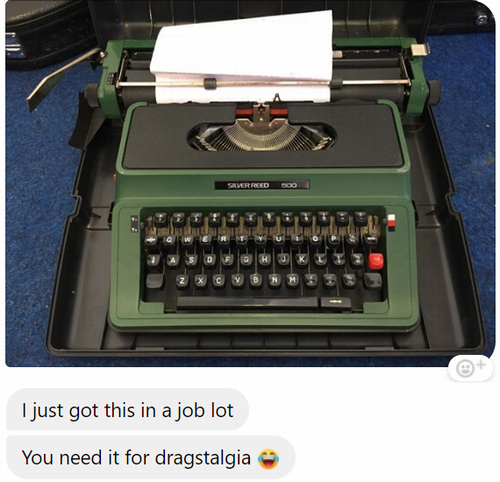 -- Eurodragster.com sponsor Lee Child offers Your Race Reporter a period-correct USB 0.0 keyboard
Simon's Quote of the Year
"I wish there were words to describe the feeling of a transbrake launch, or how it feels to get through the finish line under power, because you really can't. It is one of those things that to understand you must do"
-- Zoe Sparrow drives Paul Brown's Pro ET dragster into the eights at her first competitive event
Kirstie's Quote of the Year
"When Ian and Darren from Santa Pod are in charge of the track prep, you know you are going to get the best"
-- Anita Mäkelä bags a brace of 3.8s in NitrOlympX Top Fuel Dragster qualifying
Julian's Quote of the Year
"I'm very happy in the car, so happy I sometimes leave the braking too late!"
-- Dmitry Samorukov's Pro Mod goes into the kitty litter
Diana's Quote of the Year
"
San-
drooo!"
-- The Eurodragster.com team, SPRC timing crew and various Track Announcers, recurring
...and the rest of the 2019 Drag Racing Unplugged collection in chronological order...
"I was really sad to miss a run at the Flame and Thunder Show but that's this country and its weather"
-- Blown-nitro Daimler dragster racer Robin Read sums it up succinctly
"The Wallaces are keeping me busy!"
-- Andy Wright soon attracts customers to Wrights Mechanical Engineering Fabrication
"I gave him too much room, I knew he'd fill it up!"
-- Maybe Andy's landlord and Top Methanol legend Dave Wilson set the rent too low
"We have all the parts so it should come together"
"So long as the money doesn't run out"
-- Andy Wrights Senior and Junior give us the skinny on their new Pro Mod
"If you can spend ninety thousand on an M5 then another thirty then we're the people"
-- Funny Bike racer Lorcan Parnell attends Autosport International for his employer, BMW tuner AC Schnitzer
"The new car will have a Man Pedal!"
-- Pro Modified tuner Luke Robinson reassures his rivals
"I showed it to Mark and he was stunned and said "We'll go with that". The important thing was that Jackie liked it!"
-- Hawk Racing Fuel Funny Car driver Jason Phelps shows Darren West's graphic rendering to The Management
"We measured a customer two hours ago, Sylvana has done a design, we E-Mailed it to him and he likes it"
-- Wayne Jackson has a busy Autosport on the HRX Racewear stand
"I have a different gearbox, bigger turbos and a bigger fuel pump as the last one ran out"
-- Carl Goldsmith works on upgrades to his VW Pro Golf
"I will be doing the quarter in the same time I used to do the eighth, it's quite nerve-wracking but I am looking forward to the challenge. And I have to show Dad up!"
-- Junior Dragster racer Jordan Payne steps up to the Comp Eliminator Corvette previously campaigned by dad Nigel
"We're getting down the track and not hurting anything and those runs were a good finishing spot and a good starting spot"
-- Bob Glassup describes the previous season in his Nostalgia Funny Car
"The speed of the dragster is phenomenally different. You launch and it's a whole new world but it's great fun"
--
Split Second
Jet Dragster pilot Julian Webb takes a turn in Martin Hill's
Fireforce 5
"Strictly I should leave the room but the sandwiches have just turned up"
-- A conflict between propriety and Your News Editor's stomach at the British Drag Racing Hall of Fame selection meeting
"There's no data recorder or shift light so I have to remember any mistakes I make"
-- Race car pilot Craig Wright gives 9.50 Bike a shot
"I decided I had to work for a living and worked on the special effects for Game of Thrones"
-- That girl's tits finance Pro ET racer Mark White's return
"This was the biggest burnout you'll get from us"
-- A new pair of slicks gives Lee Huxley an excuse to fog the start line in Pro ET qualifying
"The first pass was entertaining and looked worse from the spectator view than from where I was strapped in"
-- A wayward run is all in a day's work for Fuel Funny Car pilot Kevin Kent
"It's not as bad as I thought it would be"
-- Robin Orthodoxou's never-entirely-straight-anyway Comp Eliminator altered has a new scoop
"Where did that time go?"
-- Wayne Nicholson celebrates thirty years in drag racing, culminating in Pro Modified
"We are using our own data to programme the controller, whereas some teams use information derived from US teams"
-- Pro Modified racer and Eurodragster.com sponsor Chris Isaacs saves on phone bills
"Don't mention the F word - slowly slowly catchee monkey!"
-- Steve Woollatt's Top Fuel Bike couldn't get much deeper into the sixes
"
Fireforce 2
pulls a lot more right along the track, and
Fireforce 3
is unreal!"
-- Lee Dennick works his way through Martin Hill's stable of Jet Funny Cars
"This is a one-off event to remind myself what being a racing driver is like"
-- Hopefully not Dave Catton's final Super Pro ET outing
"I was also number one qualifier off the trailer and won one round of racing, coming close in round two - and no red lights"
-- Super Pro ET racer Dave Evans feels a sense of achievement
"I should have pulled the chute before the finish line"
-- The story of Martyn Jones and his five-second Super Pro ET dragster
"It is an excellent event for getting to know the inside of the sport and you hear years of accumulated knowledge in one day"
-- Gary Lake takes in one of Santa Pod Raceway's Dial-In Days before joining Sportsman ET
"We found a new engine in Walsall, brought it back, fitted it and went to bed at 5 am"
-- Midnight and daylight oil burned by VW Pro racer James Gould
"I had never ridden a bike with slicks and wheelie bars before and it's quite a learning curve"
-- Comp Bike racer John McLean Jr tries something new
"The engine pulls all the way up the track whereas the nitrous bike runs out of puff early on in comparison"
-- Phil Crossley tries out the Brooks brothers' Funny Bike
"It's going to be very competitive this year with experienced racers and raw talent"
-- Liam Jones anticipates the coming season in FIA Top Fuel Dragster
"My bike is the fastest street tyre and no wheelie bar 500 cc machine in the world"
-- 9.50 Bike racer Ian Cross, for the record
"We didn't go out in Q2 as the wheelie bar had broken and had to be welded back together - it helps having a welder on the team"
-- Martyn Jones comes equipped not just with a Super Pro ET dragster
"That was lucky, the car didn't go straight and the corrections I made must have slowed it a bit"
-- Eurodragster.com brother-in-law Tom Atkinson takes top spot in Super Pro ET qualifying
"Back in the pits we found the internals of the distributor had shattered. We had been offered another but then found the brake master cylinder had failed. On top of that we had a fire in the motor home on Friday so we were thinking someone was trying to tell us something"
-- Laura and Paul Baynton meet Pro ET sponsors Pelion and Ossa
"I've enjoyed driving the Outlaw Anglia, which helped me get used to the noise from a V8, because I've only driven four-cylinder cars up until this year"
-- John Tebenham works his way up to Pro Modified
"There is too much downforce already"
-- Micke Nord's Top Doorslammer Mustang sticks to the track
"I want to do Street Eliminator another way. On paper, it's quicker - and scarier"
-- Mark Todd buys Steve Neimantas' Aston Martin
"As I'm busy at work, and have a budding race driver of twelve years old at home, I'm not at the track so much these days but it's great when I am"
-- ...and it's always great to see John Sleath and his diesel pick-up where they belong
"We do have wheelie bars and will fit them - the steering wheel is on the wrong side though!"
-- Pel Norman moves from Super Pro ET Capri to Pro Doorslammer Nova
"After the National Finals last year we were now thinking that it ran best on cold, dark tracks"
-- Spencer Tramm and the world's first vampire Pro Mod
"The controls are what I was used to, however the extra power with the PSI supercharger was a big thrill"
-- Top Methanol racer Matthew Carabott licences in the current Mister Whippy dragster
"One useful thing we learned is to avoid glare from the car's paint so that I can see shift points. I changed the visor and it helped a lot"
-- Sandro Bellio's Top Methanol competitors can see him coming, though
"
San-
drooo!"
-- The Eurodragster.com team and various Track Announcers recurring
"We called him at 10 am on Monday, and he had ordered the parts by 1 pm and the engine was ready by the following weekend"
-- Stuart Morrice and family turn to Eurodragster.com sponsor Jeff Bull for a rapid fix on the Super Pro ET/Super Gas Camaro
"I love my team!"
-- Jndia Erbacher clocks a three-second pass in Top Fuel Dragster qualifying
"It takes a lot of money, time and testing to get injected engines to the same level of performance"
-- Stefan Ernryd would like to keep carburetted engines in Pro Stock
"I have a spare car, could you use any parts from that?"
"Yes, the whole car!"
-- Santa Pod Raceway owner Keith Bartlett comes to Kevin Kent's rescue after a disastrous Fuel Funny Car qualifier
"We decided to make the change in January with Stuart Crane, but it was a bit of a mad thrash and we only finished this week"
-- Dale Leeks gets his Funny Bike to the track on time, just
"I turned just in time"
-- A stuck throttle and no brakes for Jean Dulamon's Pro Mod, but at least the hood scoop was still on it
"The burst panel blew at the Finals which destroyed the bonnet, windows, doors and front end. We replaced all those parts over winter and also a new engine with a dry sump, and we rebuilt our team bus, so it's been a busy winter!"
-- Unlike the rest of us, a long off-season was fine by Comp Eliminator racer Dirk Peiler
"I'm delighted, and the L plate is gone!"
-- John Tebenham gets his Pro Mod licence
"You can sometimes get lost and our improvement is from a lot of hard work, and also thinking about how we want to approach the set-up"
-- Steve Ashdown and team get a handle on the
Undertaker
Fuel Funny Car
"I'm confident of my car and crew, and I'm glad that we're back in action after a long winter"
-- Back to Santa Pod not a moment too soon for Top Fuel Dragster racer Anita Mäkelä
"There is a lot of power but the window of tuning is small"
-- Luckily Dmitry Samorukov's Pro Mod has Adam Flamholc calling the shots
"We could have made Q4 but it was a bit hit or miss, so we decided to have beer and pizza on the bank instead and didn't regret it"
-- Graham Dance and team do the clever thing with a heap of Super Street Bike damage to fix
"I used to own parts of the car in 2000!"
-- US tuning consultant Jerry Darien recognises Stig Olsson's Top Methanol Dragster, now driven by Daniel Jedborn
"Any modelling on computer simulations away from the track is really a waste of time because of all of the variables"
-- Filipos Papafilippou and his Top Fuel Bike team learn by doing
"Although the car performed well, you need a bit of luck to win and we didn't have that"
-- We say a new PB and a round win were a good start for Jndia Erbacher's 2019 Top Fuel Dragster campaign
"I wasn't satisfied with the car's performance and we made mistakes which we shouldn't have"
-- Pro Stock racer Bengt Ljungdahl was another unhappy with his FIA Main Event
"Yesterday the fuel filter was not giving the right flow; I was thinking about it for half the night"
-- Tuner Jan Gunnarsson has bad dreams about Stian Rusånes' Pro Mod
"Even my grandparents, who aren't into drag racing, are here for the first time after they saw me on the live video feed"
-- We always said that live streams ultimately increase attendance, and Top Fuel Dragster racer Maja Udtian agrees with us
"It worked out OK in the end and I was delighted to go 3.89 and into first place, but it must have been running on fumes"
-- Liam Jones has a long wait for a blocked track in Top Fuel Dragster qualifying
"My secret is a good crew who work hard, there is no short cut to work"
-- Strictly, Anita Mäkeläs secret to Top Fuel Dragster success is a secret no longer
"We are grateful that Jonnie Lindberg is available to help us, we contacted him on Wednesday via Snapchat and he said he could come to the track. We have the best team!"
-- Pro Mod racer Åke Persson marks Jonnie Lindberg's card
"With temperatures expected to be lower tomorrow, we have a lot of thinking to do on the raceday set-up"
-- After sweltering in qualifying, Pro Mod racer Andreas Arthursson faces the inevitable raceday change in conditions
"In the deal I struck with Urs at the start of the season we agreed there would be no team orders"
-- Tethys is qualified in Top Fuel Dragster, Jndia Erbacher is not
"The steering felt very light"
-- Graham Barton pulls his first wheelie in Gasser Circus qualifying
"The bike was built five years ago using 1984 bodywork but the rest of it is in the Seventies by the skin of its teeth"
-- Len Paget takes top spot in the Nostalgia Pro Stock Bike ladder
"Our sponsor is Oil Leaks R Us!"
-- Shaking the bugs out of Matt Wright's Nostalgia Funny Car
"More than I even expected"
-- Automotive journalist Elena Scherr takes a ride in Santa Pod Raceway's Two Seat Dragster
"We are developing it slowly and are taking pride in not oiling the track, having banged it only once with a few spots of oil"
-- Not a sponsor of Erik Wallinder's Nostalgia Funny Car
"We bought the car in the pub over a pint, and kept the engine the same but next year will start on the nitrous"
-- Barry Crookston's Outlaw Anglia career started on the slope and it's only going to get more slippery
"This is what you get running nitro, you race them, break them, fix them and race them again"
-- Very few people are more qualified to discuss nitro than blown-fuel Daimler racer Robin Read
"We are having fun racing here, then Tierp next weekend and Santa Pod in early September, three races in five weeks!"
-- Super Gas racer Eddy van den Bos auditions for the Eurodragster.com staff
"I must buy a car to race"
-- Andre Nahler cracks and joins Pro ET after twenty five years of spectating
"I ran a new PB at Santa Pod at the Main Event and am proud to have been the first Austrian in a FIM final round"
-- A banner season for Erich Gruber and his Super Street Bike
"Rene is staying on the throttle for longer than we agreed"
-- Dutch Top Fuel Bike racer Rene van den Berg berated by his crew for a Maltese Sixty Foot
"We had a feeling we were on to something when we ran well at Santa Pod and Tierp, and this was great"
-- Top Methanol tuner Krister Johansson is pleased with Jonny Lagg's number one qualifier
"It is a 6.0-tagged chassis, more Pro Stock than Pro Mod in that it has fewer tubes, and the workmanship is great"
-- Comp Eliminator racer Klaus Romahn approves of the handiwork of Eurodragster.com sponsor Webster Race Engineering
"Our trip here and to Tierp next weekend has resulted in us needing to be on the road for fifteen days before we return home"
-- Another audition for the Eurodragster.com staff, this time Pro Mod racer Jere Rantaniemi
"We are here to race for the fans and to be with friends"
-- Having sat out the season thus far, Dennis and Timo Habermann find a damn fine reason to contest Top Methanol at Hockenheim
"The slingshot is the money maker"
-- You can never go wrong with a Nostalgia Top Fuel Dragster and Stig Neergaard's got one
"OK but not more than that"
-- Micke Kågered is not entirely happy with his Top Fuel Dragster
"In qualifying we had some gremlins in session one, checked the car and couldn't find anything"
-- Frank Schwimmer sets up Jürgen Nagel's Top Methanol Funny Car for round one
"We have a lot of our sponsors here today and it was good to get past round one, but I feel sorry for Jean"
-- We'd imagine that Michel Tooren got over it in time for Pro Modified E2, though
"The medics said I was to go home but I am feeling a new person and not needing pain killers"
-- Pro Modified racer Micke Gullqvist and the tale of the pre-NitrOlympX kidney stone
"Peter took a chance with his 0.005 RT, it is a bit of a fluke and something that works occasionally"
-- One the up side Mats Eriksson has a pristine clock, having had it deep-cleaned by Peter Kunc in Pro Modified E1
"If the car is not quick, you need to be quick on the tree - and I saw the yellow!"
-- Another way of looking at Peter Kunc's holeshot is "Do you want fries with your ass on this plate?"
"Mechanically we are moving some weight around. A good run will be a 5.9"
-- Hot conditions force a set-up change on Pro Mod racer Andreas Arthursson
"Apart from the tyres, the car is behaving well, it's just me behaving badly!"
-- Not so bad, since Magnus Pettersson tuned Jimmy Ålund to the Pro Mod win
"There was so much smoke in the car I couldn't breathe"
-- The things John Tebenham will do with a Super Pro ET Pop just to win a few Euros
"The times are slower than the NHRA, in which Harleys dominate, but our riders get very little track time and have less budget"
-- Fredrik Fredlund thinks that European Pro Stock Bike racers do alright, and we'd agree with that
"The availability of suitable bikes is important and we prefer bikes to be sold for continued use rather than storage"
-- Simon Holgate helps to keep those Junior Drag Bikes where they belong
"With the turbos, the starting and staging routine is so different I have had to print it out and tape it to the dash"
-- Dave Day goes from Super Comp to Topspeed Automotive Street Eliminator
"We refreshed the engine a couple of years ago which got rid of the smoking problem, and also put some Weld wheels on at the start of 2019 to make the car more shiny"
-- Pro ET racer Leigh Morris goes after SPRC Best Appearing Car
"I want to go faster, and racing in Super Pro ET gives me that potential"
-- Mari Udtian makes the change from Super Comp
"At least it was a change from last meeting where it ran consistently slow"
-- Collin Morrice goes +0.016 in Super Pro ET qualifying after dad nipped home to get the spare transbrake
"I haven't raced since the Summernationals back in June, perhaps a little time off helps"
-- Meanwhile in Super Pro ET Joe Kellett goes 0.000 on the tree and +0.004 on dial-in
"When you get shake you try to stick with it but this afternoon it got worse, my vision didn't go as it can, but I had quite a few bruises and a headache"
-- Tethys suffers for his art in Top Fuel Dragster qualifying
"I had never driven anything so loud, and it was different from the VW, the wrong side of the cockpit, using a transbrake, and a TH400 gearbox you don't know whether it's in second or third gear"
-- A move from VW Pro to Pro ET and from four to V8 cylinders got Dave Crowhurst's attention
"The car was getting loose down the track and despite adjusting the four link, I had to lift twice on the Perfect ET run"
-- 9.1000 on 9.10 dial-in and we'd say those were well-judged pedals by Pro ET racer Gino Bernadine
"I've got the A Team and won't let them have any beer until they have completed the work"
-- Super Gas racer Jon Turner and change a water pump... which also means removing the Procharger, radiator and engine plate
"I'm racing my hero Freddy in the next session, what could be better?"
-- John Tebenham relishes the next Pro Mod qualifier
"The launches are great but we need further work down the track as we haven't been there much yet"
-- Phil Baimbridge's three-cylinder Top Fuel Bike is under development
"I was happy enough with the ET but to run my first 200 mph and then have it run 212 mph was beyond awesome"
-- Paul Harris makes with the Personal Bests in Nostalgia Funny Car qualifying
"I know the guys are doing their best and it's up to me to go fast and win"
-- Maja Udtian's weekend in Top Fuel Dragster is not off to the best of starts
"I am simply wanting to run well in qualifying and win the race"
-- The game plan for Anita Mäkelä's Top Fuel Dragster Championship weekend
"We spent last weekend taking Liam and Maja's cars apart and between Rune and some members of the team, stayed up late every day to build up the engines and cars, and worked to 1:30 last night"
-- Gary Page and the Rune Fjeld Motorsport team burn the midnight oil on the stable of Top Fuel Dragsters
"I will save my money for next season"
-- Kevin Chapman calls a halt after damaging both motors of his Fuel Funny Car
"I can't thank my crew enough, they work so hard and they have been at their best this year. They deserve a lot of the glory"
-- Anita Mäkelä takes the Top Fuel Dragster title and immediately gives credit where it's due...
"I always think I have got to beat them all"
-- ...but there's still an event to be won
"It sounded good but we will need to tune it for the race"
-- The Brad Anderson heads on Jonny Lagg's Top Methanol Dragster have an effect but Glenn and Tim Read will have to tune for it
"Our campaign next year depends on the sponsors, the team availability and work commitments, we will see what happens"
-- Jan Ericsson subsequently took the Pro Mod title so we all know the answer to this one
"We want to get into the 5.8s this weekend and running 5.92 was a signal it is possible"
-- Mats Eriksson is now a lot happier with his Pro Mod
"I've now bought myself a packet of fag paper"
-- Supercharged Outlaws racer Roy Wilding gets close to the centre line
"It has been on the street but it doesn't ride too well so I trailer it to the track and then run it on C12 fuel"
-- An equally historical and valid tradition for Steve Matthews' 1006 hp Ford Consul
"Everyone knows the car by its paint job, so when I work on it and get a fibreglass shell I may have to repaint it the same way"
-- Instant fame for Modified Ford 100E organiser Sean Doyle
"I am being chased by two whippersnappers in the SPRC Championship but the car has been awesome since 2015 and I just have to drive it"
-- Lee Huxley and the
Dark Horse
team head for another title
"I love racing against slingshots and altereds"
-- Elaine Hancock enjoys a weekend with the Wild Bunch
"Oh, here's Diana. Coffee or vodka?"
-- Heard by Diana, recurring
"It's easy to say "Disqualify him". It put NHRA in a horrible spot. Torrence was out of line but it was a corporate decision for NHRA."
-- A few days after The Torrence Incident, former NHRA Chief Starter Steve Gibbs is asked his opinion
"I ran 300, shut off and put the chutes out and I could hear the crowd. I thought "I hope I won"!"
-- Doug Herbert follows Kenny Bernstein over 300 mph
"We walked into the hut and said "Where's our car?". It's that chassis with four wheels up against the wall"
-- Some work to do for Waterbed Fred and the
Blue Max
crew before an appearance at Santa Pod
"Most of the rule-bending we never found out about!"
-- Steve Gibbs acknowledges that anything not expressly forbidden will be tried
"I've cleaned up a lot of oil, most of it from him"
-- To hear Steve Gibbs tell it, Doug Herbert gave him plenty to do...
"I always enjoyed racing Bernstein because he got so pissed when he got beat"
-- ...but it wasn't all oildowns for Doug
"You have to leave on Mike Boyd, be ahead of him not behind him!"
-- Ron Hope knows that all Fuel Altereds go anywhere
"There are no Fuel Altered drivers, only passengers"
-- See?
"The first concrete pad owner was too cheap to repair the asphalt"
-- Steve Gibbs reveals the truth behind one of the huge steps forward
"I look at my 300 mph car and I say I wouldn't do 50 mph in it now"
-- Doug Herbert compares safety then and now
"It was a bad night. A fire, a crash, I hit the wall..."
"For a Fuel Altered that's a little!"
-- For Dan Richins that's just another typical day in the life of Ron Hope
"You're in the car pretty secure. But when the crash comes those belts are pretty loose!"
-- Ron Hope or indeed any Fuel Altered pilot would know
"Garlits has gone 189 but no-one has asked the spectators"
-- Doug Herbert is not sure about electric drag racing...
"My golf cart makes the same noise!"
-- ...neither is Waterbed Fred...
"Would you buy a Tesla? I'd have to buy a grille and a sound system to make car noises"
-- ...nor Dan Richins
"I made it from the Tower to the track in thirty seconds"
-- Steve Gibbs is not amused when one of Brett Fanning's dried cowpats shatters into hundreds of pieces on Steve's sticky track
"Drag racers are never scared to develop stuff that people say won't work"
-- Doug Herbert neatly sums up why ours is the best motor sport
"I never made the cut of
Unplugged
, feel my shame"
-- What was that you were saying, Lee Child?
Back to News page