Exclusive interview with Paul Allen
Paul Allen is the first Junior dragster driver here in the UK. Eurodragster caught up with Paul and his family at a "Run What Ya Brung" meeting at Santa Pod on the 14th February 1999, just after Paul had made his first trips down the racetrack in the car, with a best of 12.68 at 55mph. The car itself only arrived in the country on the 25th January following a 3 day sea voyage from Gothenberg.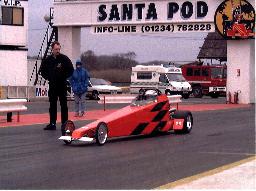 The car is currently the fastest Junior dragster in Europe, having previously run 9.78, 67mph for the 1/8 mile. It is built around a full chrome moly tube chassis and is powered by a Briggs & Stratton engine which is run on Methanol. The only modifications that the team have had to make is to fit rack and pinion stearing and a wider throttle peddle

Paul is joined in team L-A Racing by mum Sally and dad / crewchief Mike and they hope to be racing at both Santa Pod and Avon Park raceway this year. The whole team are impressively professional in their approach to the sport and are very friendly and approachable in the pits so if you see them at an event do stop by and say hello, but don't be surprised if theres a bit of a crowd if the interest shown in the car and team at this RWYB is anything to go by!

Eurodragster: Firstly, Paul, as I'm sure there are a lot of people out there who, like me are new to the concept of Junior Dragster, could you please explain a little about the class and how it is run ?

Paul: Well the class is actually made up of two types of car, stock and modified. the stock cars are for the 8-12 year olds and the modifieds are for 12-18's. The racing itself is over the 1/8 mile and is run on a dial your own index basis (as for pro and super pro et) using a sportsman tree to start. The qualifying is slightly different to normal as it is worked out on reaction time (who ever gets the best light is number 1) instead of who gets closest to their dial in.


Eurodragster: You mentioned Stock and Modified classes there, could you just explain what the differance between the two is?

Paul: The stock cars are very limited as to the modifications they can make to the engine, etc. With the modified cars there is more flexibility in the rules that allows things like differant crankshafts and the use of methanol as a fuel. The stock and modified cars will race together, with the dial in times making up the performance difference.


Eurodragster: Thanks for explaining that Paul, maybe you could tell us how long you have been interested in drag racing and what got you interested in Junior Dragster?

Paul:How long have I been interested in drag racing? as long as I can remember! I got interested in Junior dragster by reading about them on the interenet. I wanted to race but didn't want to have to wait 4 years until I was 18 to be able to get onto the dragstrip. Junior dragster offered the perfect solution to that problem


Eurodragster: And what is your best drag racing memory so far?

Paul:For some reason its Viveca Averstedt running 5.05 at the 1995 Main Event at Santa Pod. I think its because it was such a huge step up for her, she went from running 5.30's to running 5.05


Eurodragster: Who are your drag racing hero's?

Paul: Well obviously theres Barry Shevills, he's a great guy, he's brilliant with the fans and the record breaking at the Eurofinals was awesome.


Eurodragster:And from the USA?

Paul:Well I'd have to say Cory Mac, he's very consistant and very fast, but always seems to just come up short.


Eurodragster: Eurodragster is pleased to hear that you are getting some sponsorship from Redline Oil for the coming year, could you explain how that came about?

Paul: Well I'd already been in touch with Gavin Scott of Delta Oils a few times to try and get some sponsorship and then Gavin saw the Junior dragster news article on Eurodragster and I think that helped a bit as well. Having Redline Oil on board with us this year will be a great help to the team.


Eurodragster: Thats definitely good news. Now as one of the first competitors in the UK, how do you see the class developing?

Paul: Well this year junior dragster is being run as an exhibition class and I think that by the end of the season there will be 10 or more cars competing. Hopefully next year we will have a proper UK championship for Junior dragster. It would be brilliant if it could grow to the level its at in Scandnavia, where they get 30+ cars at a meeting. If things work out for us we hope to go over to Sweden to take part in a race there.


Eurodragster: What advice would you give to anyone that was interested in taking up Junior dragster?

Paul:Come and see us in the pits or speak to Geoff Hauser for details on the cars.

Mike (Dad):Well the sport is very safe, the cars are all built to a standard specification, and the drivers all have to wear full protective equipment (this includes firesuit to a SFI Spec, helmet, gloves and boots) so it really is an ideal way to start any youngsters who are interested in the sport. As Paul says, come and talk to us in the pits or speak to Geoff Hauser if you want to know more.


Eurodragster: And finally Paul, you've still got four years competing in Junior dragster , but have you given any thought to what you would like to do after that?

Paul: Yes I'd like to drive an Alcohol car first and then maybe move up to Top Fuel later on.


Eurodragster:Thanks very much Paul, and good luck for the coming season.

For more information on Junior Dragster see News Item

Interview ©Eurodragster.com


---
Features and Interviews index
Back to News page
---
Eurodragster.com aims to bring you links to all the best European Drag Racing web sites. To add your site to Eurodragster's listings, simply email links@eurodragster.com with your URL and a little information about your site and we'll do the rest. When you update your site, drop us a line at news@eurodragster.com and we'll feature your site in our "What's New" section.
Eurodragster.com is a non-profit-making organisation run by a small group of Drag Racing enthusiasts for the sole purpose of promoting European Drag Racing. If you can help us to meet the modest cost of hosting this web site by advertising here, please email webmaster@eurodragster.com. We're sure you'll find our rates extremely competitive.