2007 Auto Club NHRA Finals
It has been a gruelling year as teams battled conditions, each other and came to terms with the new points format, the POWERade NHRA Countdown to the Championship. Toward the end and especially in the last two events at Las Vegas and Pomona in the Countdown to One, excitement was running high in not only the high point earner camps but the international media and of course the multitude of fans. There were highs, lows, jubilation and bitter disappointment and in two cases nerves were tested right down to the last run of each class - Pro Stock Motorcycle and an almost carbon copy of last year's Top Fuel 'The Run'.
Some believed the teams that were not in the Countdown to One would not find it beneficial to attend - that was proved very wrong as there were twenty-two Top Fuel machines, twenty-six Funny Cars, twenty-four Pro Stockers and twenty-one Pro Stock Motorcycles each proudly representing their sponsors and giving it their all.
During Sunday and prior to the finals the NHRA screened a moving video then put on a wonderful display of dozens of old and new race cars that all fired up at once in tribute to the late Wally Parks.
The horrendous Californian wildfires were mainly under control now but had left a legacy of hazy conditions and although the sun did it's best to shine some cloud cover came in at times cooling temperatures to give a few great times.
Click on any picture for large version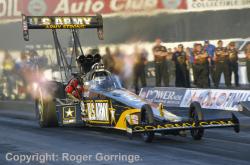 In Top Fuel it was J.R. Todd in the Skull Shine/Torco Race Fuels car that stood in pole position with a 4.521/328 for most of the time despite running that number with what was later discovered, one end cap missing! However, Tony Schumacher upped the game and in qualifying round four he carded the new number one with a 4.508/320 pushing Todd in second. It was just a mere 0.081 seconds that separated the top from the bottom as Alan Bradshaw made the cut with a 4.589/323. Among the DNQ's for this tight field were Scotty Cannon, Joe Hartley, Mike Strasburg, Clay Millican, FIA European Champion Urs Erbacher and Steve Chrisman.
There were some major upsets during the first round of eliminations and it unfortunately opened with an oil down as Doug Foley oiled the track in losing to Morgan Lucas, 4.562/322 to a losing 4.572/325. In a close round Larry Dixon's holeshot paid off, his 4.522/323 beat Hilary Will's 4.524/330 try. Cory McClenathan went up in smoke slowing to a 12.0109/75 as Brandon Bernstein clocked a 4.557/327 win. Doug Kalitta suffered instant smoke and a red light in his bout with J.R. Todd who stormed to a 4.496/334 to the 12.554/84. Alan Bradshaw also suffered the up in smoke route, his 12.48/75 left in the fug as Tony Schumacher took the win with his 4.508/325. A tardy leave by David Baca cost him the race with Doug Herbert as Herbert ran a 4.624/296 to the losing 4.574/327. A real close race ensued when 'Aussie' Dave Grubnic left first recording the 4.542/326 win as Melanie Troxel followed with a losing 4.549/330. Rod Fuller the points leader must have thought the world was against him as he blazed the slicks right off the line and got a 10.998/78 lose as an on fire Bob Vandergriff Jr. took the light with a 4.54/331 to end round one.
Just like the opening round there was a first pairing oil down courtesy of a huge fireball from Bob Vandergriff Jr. who never-the-less took the win with his 4.570/310 as Doug Herbert dropped a cylinder at three hundred feet and slowed to a losing 4.681/294. Dave Grubnic hit tyre smoke at half track that wiped out his 5.020/305 try as Brandon Bernstein advanced with a 4.549/322 win. Morgan Lucas got a good lead off the line against Tony Schumacher but 'The Sarge' drove by him at three quarter track nipping the win light with a 4.501/330 to the 4.552/327. It was by just a half a car length that Larry Dixon lost in a great battle with J.R. Todd in the last pairing, the 4.508/330 winning against the 4.549/318.
The semis got underway with a fixture between Bob Vandergriff Jr. and J.R. Todd and in a complete surprise Todd red lit his 4.566/284 counting for nothing as Vandergriff Jr. managed the winning numbers of 4.585/331 to advance to the final. It was a points run for the Championship for Brandon Bernstein, he had to win this clash with Tony Schumacher to take the Championship and he led out of the box running a 4.637/319 but it was not good enough as Schumacher chased him down winning by over a car length in the lights with a 4.520/325 to keep his own chances open for another title.
Rod Fuller who went out in round one and had to endure watching his points lead whittle away with each round waited on the startline for the all consuming final between Bob Vandergriff Jr. in the UPS Store machine on his career twelfth final round appearance and Tony Schumacher in the multi winning U.S. ARMY backed dragster. It all hung on this race if Schumacher took it he was the Champ if he lost, Rod Fuller would get the gold Wally. In an almost identical leave the cars left but then the Alan Johnson magical tuning crept in and decimated the on fire again Vandergriff Jr. as his 4.681/317 was no match for the Championship winning 4.486/328 from Tony Schumacher who racked up a fourth consecutive POWERade NHRA Championship, his fifth in total. "This Countdown - we spent a long time preparing for this moment. It was a stunning day. We won a lot of races and have the best parts, team and Crew Chief" said a beaming Schumacher.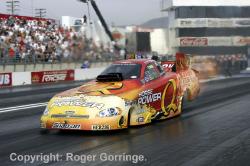 The Funny Car Championship was not quite tied up after Vegas and Tony Pedregon had to wait in another almost to the wire finish for a result. It was Jeff Arend in the Checker Schuck's Kragen '07 Impala that led the qualifiers all weekend with a 4.781/324 number, leaving Championship contender Tony Pedregon sitting on the bubble with a 4.842/315. Disappointed DNQ cars were Tommy Johnson Jr., Jim Head, Scott Kalitta, Bob Bode, Cruz Pedregon, Grant Downing, Bob Gilbertson, James Day, Terry Haddock and Peter Russo.
Jack Beckman opened the first round with a close to the wall win, 4.797/324 to an up in smoke Gary Densham's 7.076/123. Tim Wilkerson seemed to be on a roll producing some great numbers, this winner included, a 4.762/321 in the defeat of Tony Bartone's 4.931/318. Cheers once again erupted as Ashley Force gave her Dad something to punch the air for from his support frame, a win in 4.843/296 as Del Worsham hit tyre smoke at sixty feet out slowing to a 7.037/132. A bombshell hit Tony Pedregon as his 4.853/319 was beaten by the 4.849/318 from Jeff Arend making him sit out the rest of the race biting his fingernails hoping that Hight, Scelzi and Capps would have a similar fate. One of those racers went out in the form of Gary Scelzi, his troubled 5.632/176 was soundly beaten by Robert Hight's 4.902/307. Jerry Toliver overcame the holeshot by Kenny Bernstein and took the win with a 4.871/322 to the 4.915/316 lose. Mike Ashley managed a win over Mike Neff a 4.802/328 beat the 4.938/284. It was Phil Burkart Jr. in the John Force car that dealt out the other points holder Ron Capps to end the round, a somnolent leave by Capps made his 4.822/323 the loser as Burkart Jr. ran a winning 4.861/317.
The second round didn't calm Tony Pedregon's nerves as he waited in the wings watching each round. Jack Beckman got into a slight weave up track that gave Mike Ashley the chance to pass him taking the win with a 4.795/329 to the 4.799/320 lose. Tim Wilkerson managed to get the jump off the line against Ashley Force and held on to take a good win with the 4.792/322 to her losing 4.812/322. Jeff Arend's luck went the way of losing some cylinders and getting crossed up in tyre smoke at half track against Phil Burkart Jr. in the next pairing and lost with a 5.596/223 to Burkart Jr.'s 4.891/301. Robert Hight needed to win this and the next round to become Champion and he chalked up a good win with a 4.796/319 as he drilled Jerry Toliver on the tree, the losing figures being 4.839/323 leaving Pedregon still hanging in there with a chance.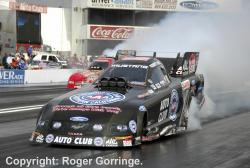 This would be the Championship decider round as Robert Hight needed to not only win this round but set a record on top of that and he gave it a good shot as he charged after a quick leaving Mike Ashley running him down around three quarter track and taking the win with an above the record 4.796/319 to Ashley's 4.951/324 lose. This put the cap on the POWERade NHRA Championship and handed it deservedly to Tony Pedregon and the Q Horsepower '07 Impala. The other duo put Phil Burkart Jr. up against Tim Wilkerson and Burkart Jr. managed to catch and pass a quicker leaving Wilkerson and took the light with a 4.796/324 to the losing 4.859/312 to end the tense round.
All that was left was for the event win to be tied up and in a confrontation between two John Force Racing Mustangs that of Robert Hight in the black Auto Club of Southern California/Ford machine against Phil Burkart Jr. in the Castrol High Mileage Mustang and they both left on identical reaction times before Burkart Jr. hit tyre smoke at three hundred feet out and slowed to an 8.314/104 lose giving the win to Robert Hight's 4.731/326. "John told us to go out there and have fun" said Hight, "we are making stronger race cars, they will be faster and quicker - I can't wait till I get back here (Pomona) in February. John Force wants to be back - he has the desire to get back - it's real hard for him to watch", he added.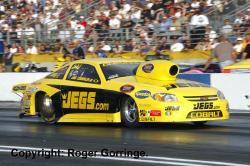 In the Pro Stock ranks another nervous wait occurred and nothing was not finalised until the second round as Jeg Coughlin waded his way through the competition watching every move that Greg Anderson, Dave Connolly and Allen Johnson made. Top qualifier position was firstly taken by Jeg Coughlin (6.689/206) then Richie Stevens Jr. (6.665/206) and finally by Dave Connolly with a 6.648/208 ticket. Last in line was Mike Edwards with a 6.687/207 clocking making for a tight field separated by just 0.039 seconds. DNQ's included Kenny Koretsky, Jim Yates, Bob Panella Jr. and Gordie Rivera.
The opening round delivered a few upsets and starting out was Jason Line's defeat of V Gaines 6.669/208 to the 6.681/206, won on a small holeshot. Max Naylor pulled a red light giving the win to Allen Johnson's 6.671/206 then Kurt Johnson was overtaken by Tom Hammonds in a 6.693/206 win 6.739/206 duel. Ron Krisher's chase of Richie Stevens Jr. ended up a loss with his 6.844/205 being beaten by the 6.671/206. Greg Stanfield managed a good leave against Warren Johnson and took the light at the stripe with a 6.699/206 to the better but losing 6.663/207. Points contestant Dave Connolly red lit away a 6.677/206 to allow Mike Edwards the win with a 6.703/206, "I was driver error - we dropped the Championship because of me" Connolly said afterwards. Another name to go out was Greg Anderson as Justin Humphreys got the jump off the line and delivered a 6.669/207 win to the 6.658/208 chaser. Jeg Coughlin seemed to do no wrong all weekend even under the pressure of the Championship as he ran a winning 6.650/207 win to see off Larry Morgan's 6.692/206 try ending the round.
Tom Hammonds carded a stunning .004 light and hung on for the win overpowering Greg Stanfield's 6.742/206 with a 6.693/206. Justin Humphreys took out another contender in the shape of Allen Johnson when he zipped past in the lights with a 6.647/207 to the 6.676/207 lose. A great upset happened when current Champion Jason Line red lit against Mike Edwards handing the win to Edwards lesser red light win of 6.712/206 to the wasted 6.672/207. Greg Anderson led the points at this stage but as Jeg Coughlin faced Richie Stevens Jr. in this round it all counted for the Championship, if Jeg won he'd take it if he lost Greg wound up with another title. A little over 6.646 seconds later at 207mph Jeg Coughlin secured the POWERade NHRA Championship as he beat Stevens Jr.'s 6.672/206 to end the second round. Coughlin stated "We had a mean hot rod from Pomona to Pomona, we're proud to be your Champion".
Round three and in a close race Justin Humphreys managed to trailer Tom Hammonds with a from behind 6.674/206 to the losing 6.699/206 try. It was the turn of Mike Edwards to suffer a red light that had been the demise of his last two opponents his 6.723/206 though no match for the charging 6.654/207 from new Champion Jeg Coughlin.
The Jegs.com '07 Chevy Cobalt of Jeg Coughlin had all the pressure taken off him with the Championship out the way but it still was not enough for the Mooresville, North Carolina resident as he faced the giant killer Justin Humphreys in the Knoll Gas and Energy '07 Pontiac GTO and despite a better leave Humphreys failed to take the event win with a 6.662/207 as Coughlin passed him with half a cars length to back the Championship with the event win on a 6.638/207.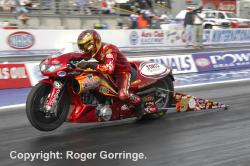 The two wheel contingent of Pro Stock Motorcycle started with Angelle Sampey's 6.973/188 taking the lead, that was surpassed in round two when Chip Ellis ran a 6.965/191 but in round three and ending up in pole was current Champion Andrew Hines with a 6.956/192 on his Screamin' Eagle/Vance & Hines '07 HD V-Rod. There were six bikes all in the six second zone and it was a 7.097/188 that held the bump spot from Shawn Gann giving just 0.141 seconds between the top sixteen. Michael Phillips, Mike Berry, Michael Ray, Ryan Schnitz and Fred Camerena were in the DNQ zone.
In the frame for the Championship were Matt Smith, Andrew Hines, Chip Ellis and Peggy Llewellyn and each managed to get through round one. The first in eliminations saw Antron Brown leave slightly later than Craig Treble as both popped on the red light therefore Brown's lesser light got him the win. Chip Ellis went a round further when his 6.996/189 got the better of Junior Pippin's 7.263/180. In matching leaves it was Eddie Krawiec that carded the winning numbers with a 6.990/188 as Matt Guidera chased with a 7.035/188 lose. Karen Stoffer ran a 7.019/189 win over Steve Johnson's 7.052/189 and Peggy Llewellyn whose name suggests her Welsh roots ran a 7.075/187 win as Hector Arana red lit away a 7.099/187. Shawn Gann tasted defeat at the hands of Andrew Hines when the 6.984/191 dealt out the 7.182/175. Geno Scali failed to catch the hard leave of Angelle Sampey and lost with a 7.068/189 to the triumphant 6.993/190 and finally Angie McBride knew she was up against it when her 7.152/165 was defeated by Matt Smith's 6.994/188 win.
Matt Smith leapt out first and plain out-powered the move by Peggy Llewellyn's 7.005/189 with a winning 6.969/188 ending her hopes. Karen Stoffer just could not catch up with Angelle Sampey whose 6.979/190 was well ahead in the lights against the losing 7.078/187. Eddie Krawiec must have been in another world as Chip Ellis drilled him on the line and powered to the easy win in 6.979 seconds at 190mph as Krawiec chased with a 7.053/187 lose. It was one of those anomalies often seen in Pro Stock Motorcycle as a blatant red light flicked on in Andrew Hines lane followed by another red in Antron Brown's. Brown took the 7.078/184 win to Hines 7.380/191 loss, "It was my fault, I didn't roll in deep enough" said Hines, "it kind of bounced back out of the beams" he concluded acknowledging the fact that had he won, the Championship would have been his again.
In the semis Angelle Sampey seemed to stall her bike and dejectedly tried to push it back as Chip Ellis did not hold back, running the solo winner of 6.987/191 to make the final. Up at the top end Hines watched knowing that the next pair would be his make or break as Matt Smith won it on the start line when Antron Brown red lit giving the 6.956/190 win to Smith and his chance for the title as Hines was now dealt out.
It was another winner take all final as the Championship went down to the wire again. Matt Smith or Chip Ellis and Ellis on his Drag Specialties/S&S/G2 '06 Buell left a little late and his 6.957/192 was not enough to catch the winning 6.944/191 from the new POWERade NHRA Championship Matt Smith on the Torco/Skull Gear '06 Buell. "It was a wild day thinking if we win the race we'll get second (in the Championship). We were beaten up real bad (during the season) but we came back. When we saw Andrew (Hines) lose we thought we can win this. It's an awesome win, an awesome year. Even before they handed me the trophy I was shedding a tear", said an emotional Matt Smith.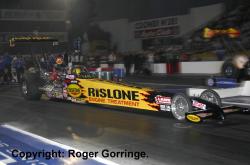 The Top Alcohol Dragster wars came down to a final round between Bill Reichert and Duane Shields. Shields left first then stuttered, his Shortline Express Markets car slowing to a losing 13.445/87 as Bill Reichert's Rislone Engine Treatment injected nitro burner scored a 5.191/275 victory.
Jay Payne won his final round of Top Alcohol Funny Car on the startline as the Jackson Racing '02 Camaro of Von Smith pulled a red light and aware of it slowed to a 7.034/129 as Payne in his Thunderslug/Valvoline '07 Camaro ran the winning 5.607/257 number.
It was the Twin Farms Mettler Motorsports '01 Dakota truck of Tom Mettler that ended up the winner in Competition Eliminator, his better leave coupled with a 7.456/180 beat the 6.954/177 from Dean Carter's Quality Floors/Lucas Oil dragster.
Dan Fletcher in his leaping Valvoline/K&N/MT Tires '69 Camaro managed to wrap up the Super Stock event title when his 9.361/137 beat the 9.937/125 from the '87 Camaro of Michael Iacono.
Stock Eliminator saw Jody Lang in the JNL Racing '81 Malibu Wagon beat his brother Toby Lang in his Leading Edge Technology '69 Chevelle as he red lit away his chances with a disqualified 11.681/111 to the winning 13.180/79.
Super Comp win went to Shawn Langdon in his Lucas Oil Products dragster as his 8.924/167 got the better of opponent Gary Stinnett's 8.946/174 try.
Steve Parsons in the families all red '67 'Vette took the Super Gas event win with a 9.906/157 to the 9.916/155 from Randy Balough's Uncle Joe's Racing/Team Smooth '63 Corvette.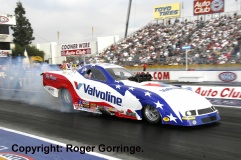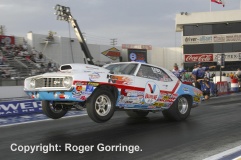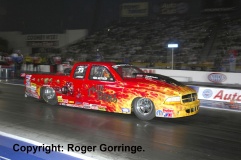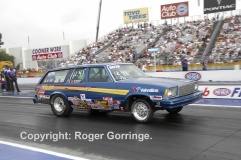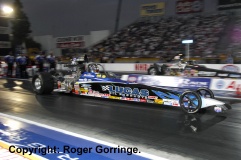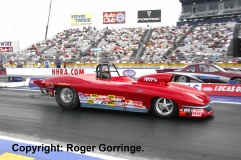 Feature ©Eurodragster.com.


---
Features and Interviews index
Back to News page
---