2007 SEMA Show
It seems impossible that the Specialty Equipment Market Association show could get any bigger but every year the organisers seem to manage to fit more and more into the huge halls and outside areas of the Las Vegas Convention Center and the associated AAPEX show at the Sands Expo Center. There definitely is not enough time to get round everything as the ACDelco Las Vegas NHRA Nationals and the Auto Club NHRA Finals in Pomona, California now run back-to-back weekends it made it even more difficult to spend the full time at the show. There did not seem a huge amount of drag racing vehicles present this year but what did appear always drew the crowds. The Nostalgia Mustang Funny Car driven these days by Leah Pruett stood alongside the Pisano & Matsubara '74 Vega driven by Jeff Utterback just outside the Convention Center whilst scattered around both inside and out were a few Professional and Sportsman machines.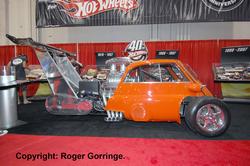 However, despite the paucity of drag racing machinery there was one vehicle that commanded a lot of attention and looking at the photograph one can see why. It is a BMW Isetta bubble-car with a blown 502 cubic inch Chevy motor. It has run we were told but no detailed figures were available. The project started out as a Hot Wheels model designed by Phil Riehlman in 1998 and in 2005 Bruce Weiner of the Bruce Weiner Microcar Museum, Madison, GA built the real thing using a tube chassis and the all steel body mounted on three wheels. The car produces 730bhp on pump gas and as a sideshow can produce four foot flames on either side, from the headers I guess.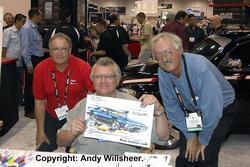 During the show Andy Willsheer and I bumped into legendary artist Kenny Youngblood a long time acquaintance who was on signing duty on the Superchips stand, he quickly sketched out this Hemi for me adding Eurodragster.com in the top left corner. He would love to visit Britain and is just looking for an excuse. The photo was taken by another good friend, renowned drag racing video and filmmaker Dean Papadeas who would never forgive me if I did not mention his input, though he'll probably berate me for not mentioning him first!

Feature ©Eurodragster.com.


---
Features and Interviews index
Back to News page
---