2008 ACDelco NHRA Gatornationals
Despite wind, rain, tornados in the neighbouring state a few hundred miles away things did not bode well for this years event but with just the one day, Friday, out of the four rained out the fans returned each day to fill a standing room only facility with the finals day run with the Sunshine State living up to its name.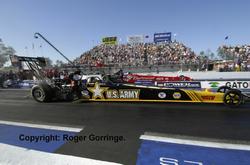 With just two of the allotted Top Fuel Dragster qualifiers able to be run because of Friday's rain it made it doubly hard for all teams to dial into the track conditions but after the first it was the 4.587/324 from Cory McClenathan that topped the pile. As the day cooled off for the late afternoon second session none were more surprised than Alan Bradshaw in the Vis Viva energy drink car who carded a fine 4.547/306 to head into eliminations the following day. Just behind Bradshaw came Dave Grubnic 4.555/327, Rod Fuller another 4.555 but with a 326mph speed, Antron Brown made it into the top five with his 4.558/327 and in fifth place came Tony Schumacher with a 4.579/326 and sitting on the sixteenth spot was Bruce Litton's 4.755/309, leaving Morgan Lucas, Doug Kalitta and Bob Vandergriff Jr. among the DNQs.
Larry Dixon opened the Sunday eliminations with a 4.592/314 win over Doug Herbert's very close 4.598/322 lose. Another reasonably close contest saw Brandon Bernstein wrap up his second round place as his 4.593/328 beat the 4.623/322 from Clay Millican. Hillary Will once again began turning up the speed numbers with best of 330.63 mph coupled with a 4.582 to oust Cory McClenathan's 4.619/318. FIA European Champion, Switzerland's Urs Erbacher came off the throttle with problems slowing to an 8.386/102 leaving Rod Fuller to get the win with a 4.590/325. Alan Bradshaw's earlier qualifying luck deserted him as he went into instant smoke and despite trying to pedal slowed to a 8.386/103 only to watch Bruce Litton charge to a 4.655/323 win. Antron Brown notched up another round win when he despatched Doug Foley with a holeshot 4.604/327 to the blower belt losing 4.928/217. It was Dave Grubnic this time that fell victim to the instant smoke, recording a given-up 11.723/78 as Michael Gunderson reaped the reward with a 4.722/305 win. The last pairing of round one was Tony Schumacher against J.R. Todd with Todd leaving first then burying the slicks in smoke as Schumacher drove by to record the win with a 4.612/314 to the slowed up 9.647/87 try.
Round two opened with Tony Schumacher getting the better of Antron Brown as the latter hit tyre smoke at sixty feet out and slowed to a 9.495/68 lose as Schumacher charged to a 4.596/320 win. Michael Gunderson's day ended with a loss in the pedal fest with Brandon Bernstein, Gunderson hit smoke first then Bernstein both pedalling for all they were worth but Bernstein regained enough to click the win light on with a 6.782/218 to the losing 8.135/135. Hillary Will continued well getting past a tyre hazing at half track Rod Fuller and wrapping up the 4.694/316 win to the 5.305/200 try from Fuller. Bruce Litton's day ended with a slowed up 10.587/86 as Larry Dixon took the win with a 5.112/268.
Down to the last four in the semi finals and each pair gave it their all in an attempt to reach a finals placing. Brandon Bernstein left first in his bout with Hillary Will in the KB Racing/LLC machine and put her out as his 4.666/322 carded the win to her losing 4.672/325. Larry Dixon in his attempt in the U.S. Smokeless Tobacco car oiled the top end of the track when his 4.850/274 was just not enough to beat the 4.741/304 from Tony Schumacher's car.
Finals time and the last pair to go down the track in front of the capacity crowd and the live TV audience and it was no holds barred as the U.S. Army dragster of Tony Schumacher left a tad before the Budweiser King/Lucas Oil car of Brandon Bernstein and held on to take the all important title with a 4.603/325 to the 4.665/323.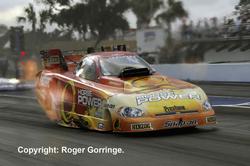 Again, with only two qualifying sessions Funny Car teams were hard pressed to deliver the numbers but in the first attempt it was Phoenix winner Jack Beckman who carded the top numbers, 4.847/324 only to be put down to number six in the second session by current Champion Tony Pedregon who's 4.780/326 was the best number of the weekend. Following Pedregon came John Force still limping and drawing huge cheers with a 4.816/326, Tim Wilkerson was up there with a 4.820/320, Cruz Pedregon came in number four with a 4.841/316 whilst in fifth place came Jim Head with a 4.847/325. Down on the bump sat Jerry Toliver with a 4.973/291 and surprisingly in the non qualifiers were Gary Scelzi, Tommy Johnson Jr., Melanie Troxel and Tony Bartone who emerged fine from a power wheelie at half track that wiped out the steering putting him firstly across track into the wall then back to his own lane to hit hard there too in the shutdown area.
Into round one and it was a battle between Mike Neff and Tim Wilkerson with Neff loose at one-thousand foot losing with a centreline crossing disqualifier as Wilkerson notched up the win with a 5.072/290. Bob Tasca lll smoked the tyres on his attempt slowing to a 5.389/261 as Jim Head got the win light with a 4.903/300. Old team mates of Gary Densham and John Force faced off and it was Force that felt the tyres go away at half track slowing him to a 7.042/124 as Densham put on the win light with a clean 4.912/304. A better leave by Tony Pedregon helped his win; a 4.861/317 beat the 4.931/316 from Jerry Toliver's try. Ron Capps fell victim to tyre smoke at half track as they hazed to a losing 5.822/171 only for him to witness opponent Cruz Pedregon suffer almost a carbon copy of his brother Tony's explosion at Pomona, cylinders went away, a quick flash fire and boom the body almost joined the space-race but he took the 4.866/310 win. A return to competitive seat time had Frank Hawley register a 4.898/321 but losing to Jack Beckman's 4.866/320 winner. Del Worsham had his Monte Carlo mainly in K&N Filters colours and took the round win despite hazing the slicks at half track, 5.331/290 as Robert Hight in the other lane got loose as well and shut off as he got close to the centreline, slowing to a 5.636/195. Scott Kalitta went up in smoke about sixty feet out and slowed to a 13.385/74 as Ashley Force in the other lane got loose at the three quarter mark going all over her lane but wrapping up the win, 4.984/290.
Del Worsham smoked away his chances at the one-hundred foot mark allowing Gary Densham the win with his slowing 7.668/118 to the 12.801/70 lose. A small problem with the Christmas tree stopped the next pair (Jim Head and Cruz Pedregon) in their tracks and they had to return to refuel and come out later. It was a simple timing repair and Jack Beckman and Tim Wilkerson were next up, Beckman leaving first chased by Wilkerson who ran him down scoring a 4.848/322 win against the 4.957/307 try. The last of the team Force cars came out in the shape of Ashley Force but she was first into smoke and got crossed up as did Tony Pedregon at half track but the pedalfest continued down track with Pedregon getting the better result in a 5.982/239 win against the 6.506/169. With Head and Cruz Pedregon refuelled the wait was worth it as Head left first quickly followed by Cruz and in a classic battle Jim Head triumphed with a 4.936/318 to the close 4.983/308.
Jim Head's luck disappeared when he blazed the slicks one hundred feet out as he chased Tony Pedregon's better leave, with the latter retaining the win with a slowing 5.034/308 to the really slowed up 14.623/63 lose. Tim Wilkerson's good fortune also deserted him as his close race with Gary Densham left him with the 4.925/318 losing ticket as Densham ran the winner with a 4.964/311.
Gary Densham had made a late decision to enter the Florida race and his efforts proved good enough for the Racebricks backed '08 Impala giving a good account of itself against the might of Tony Pedregon's Q Horsepower Impala. It was a classic race as Densham chased Pedregon up track and despite Tony getting close to the wall after he had taken the event title Gary recorded a 4.924/309 to the 4.921/315 winner.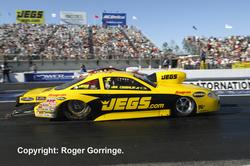 It was Warren Johnson who led the twenty-nine strong pack of Pro Stock cars in both sessions topping the bill with a 6.665/208 followed by son Kurt Johnson with a 6.665/207, Jeg Coughlin 6.680/206, Mike Edwards 6.685/205 and in fifth place, Allen Johnson with a 6.687/206 with Matt Hartford sitting in sixteenth place on a 6.743/204. Unfortunately, the three visiting Scandinavian teams of Adam Flamholc (6.807/203), FIA Champion Jimmy Ålund (6.824/201) and Finland's Richard Sundblom (6.844/202) sat in the twenty-fifth; twenty-seventh and twenty-eighth place among some big named DNQs the likes of Kenny Koretsky and Larry Morgan.
Round one kicked off with Jason Line slowing to a 10.44/86 as he saw the red light and crossed up launch from Rickie Jones. Justin Humphreys managed a better leave than Greg Stanfield and notched up the win with a 6.692/206 to the 6.694/204 try. Greg Anderson marched on with a 6.635/208 win to the close 6.677/206 from Jim Yates. Allen Johnson managed a good 6.624/207 win as opponent Dave Northrop came second on a 6.747/205 try. A 6.621/209.26 best speed of the event went to Warren Johnson in a win against Matt Hartford's 6.704/206. Phoenix winner V. Gaines lost with a 6.650/206 against the 6.655/206 holeshot from winner Mike Edwards. Jeg Coughlin caught and passed the leave by Ron Krisher and the win was 6.618/207 against the 6.687/206. The last pair in the round was Johnny Gray who surprisingly took out number two qualifier Kurt Johnson, 6.774/204 win to the close 6.773/206.
In round two Johnny Gray pulled one out of the hat when he left on Justin Humphreys who experienced a crossed up launch and never really recovered losing 7.953/148 to the winning 6.972/203. Allen Johnson got a little out of shape losing to Mike Edwards, 6.694/207 to the 8.534/106. Warren Johnson experienced woes on his launch and slowed to a losing 13.278/64 leaving the road clear for Jason Line to take the 6.670/208 win. Jeg Coughlin managed a fine leave along with a 6.645/208 win as Greg Anderson failed to catch up with his losing 6.631/208.
Mike Edwards was next to experience the crossed up leave slowing his on/off ride to a 16.643/46 as Jason Line capitalised with a 6.677/208 win. Johnny Gray's luck went away in the third round up against Jeg Coughlin who left first and made it impossible for Gray to catch up despite a 6.757/206 try against the 6.661/208 win.
In the final it was the 2006 Champion up against the reigning champ, Jason Line in the Summit Racing Equipment 2008 Pontiac GXP and Jeg Coughlin in the Jegs.com 2008 Chevy Cobalt and it was Jeg who left first and held on to the lead winning with a 6.652/208 against Line's close but losing 6.656/209.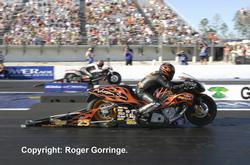 Only one six-second pass was put down in round one of Pro Stock Motorcycle qualifying and it was held by Andrew Hines on the Screamin' Eagle/Vance & Hines '07 HD V-Rod with a 6.982/190 clocking but in the second and final qualifier Matt Guidera on the Mohegan Sun/Rocklin Motorsports '08 Buell upped that to a 6.922/192 in front of current champ Matt Smith on 6.972/190 leaving Hines in third spot. In fourth place came Eddie Krawiec 7.001/190 and in fifth, Chip Ellis on 7.016/187 leaving Hector Arana on the bump with a 7.147/186. In the DNQ bin were Steve Johnson, Craig Treble, and Ryan Schnitz among others in the first national round of the bike championship.
Round one started with Karen Stoffer lifting just after her leave slowing to a 9.304/89 and allowing Chris Rivas to win with a 7.057/186. Angelle Sampey proved her worth on her new ride; a 7.152/185 gave her the win against the red lighting 7.137/184 from Paul Gast. Angie McBride overcame the better leave but slowing 10.433/80 from Wesley Wells with her heavily leaning 7.613/151 win. A great leave by Hector Arana was no match for the flying Matt Guidera's 6.955/189 win to the 7.115/187 try. An almost perfect light gave Eddie Krawiec a 6.972/190 win as Michael Ray failed to keep up losing on a 7.250/180. Shawn Gann unfortunately broke leaving Chip Ellis to solo for the ticket, a 6.975/189 did the trick. A pretty good light from Junior Pippin was just no match for Andrew Hines; a 7.187/180 was beaten by the 6.969/185. Edward Murphy redlit away any chance he had and Matt Smith saw it and coasted to the 22.005/29 win, the 7.232/181 wasted.
Angelle Sampey carded her best competition number with a 7.054/186 but to no avail as Matt Smith captured the win with a stout 6.963/189 putting her out in round two. Eddie Krawiec wasted his 7.030/177 with a red light giving the win to Chip Ellis whose 7.017/185 got the better of the day. The better leave by Chris Rivas did him no favours as Matt Guidera rode round him scoring the win with a 6.944/192 against the losing 7.065/189. Angie McBride came off the throttle about one hundred and fifty feet out slowing to the losing 12.043/63 as Andrew Hines powered to a winning 6.956/190.
A perfect light for Andrew Hines opened the semi finals and zipped together with a 6.973/190 it beat the almost exact timings from Matt Smith's Nitro Fish/Red Line Oil/MSR '08 Buell, 6.973/190 lose. Chip Ellis on the Schumacher Electric Suzuki TL 1000 broke before the line and left Matt Guidera to solo for the win ticket, a 6.943/191 made the final.
It was two booming American bikes that made the final, the Mohegan Sun/Rocklin Racing '08 Buell of Matt Guidera and the Screamin' Eagle/Vance & Hines '07 Harley-Davidson V-Rod of Andrew Hines. It was Guidera that got the best leave and he hung on to that scoring the event title with a 6.949/191 as Hines chased ineffectually with the runner up time of 6.985/189.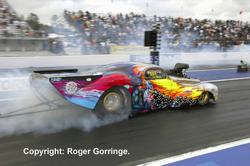 The Jeg's Pro Mod Challenge fielded twenty-two cars in this popular class and it was Mike Ashley that sat on pole with a 5.945/239 that was the only five in the whole of qualifying. Sweden's Roger Johansson made the trip over and was the only non North American in the field but could only sit and watch on race day as he was in seventeenth place just outside the eliminations with a 6.272/222.
Round one started with Scott Ray overcoming the better leave by Taylor Lastor, a 6.061/227 against the losing 6.082/238 told the tale. Jay Payne carded the only first round five with a 5.996/232 win over Harold Laird's slowed up 8.173/119. Canadian Tony Pontieri managed a 6.082/234 in his match with Danny Rowe who lost with a 6.123/235. Roger Burgess took the nod with his 6.193/225 as John Russo slowed with problems to a 10.947/88 lose. Kirk Kuhns took the win against Rick Stivers 6.104/233 to the 6.136/211 from Stivers. An all Canadian duel was next but ended with a solo for Raymond Commisso's easy 17.953/60 as opponent Carl Spiering broke. Current Champion Josh Hernandez thoroughly beat a troubled Eddie Ware with a slowing 6.898/156 to the 10.723/83. Last in the pack was Mike Ashley who slowed to a losing 10.405/107 as Joe Baker ran the winner in 6.411/229 to end round one.
In round two Raymond Commisso ran the rounds only five, a winning 5.950 and a great 247.34mph as Tony Pontieri's '57 Chevy could only play catch-up, failing with a 6.068/237. Scott Ray red lit away his day and slowed knowing the fact leaving Joe Baker to record the win with a 6.167/232. A staging duel took place next between Jay Payne and Josh Hernandez with the latter pulling in first and Payne getting off the quickest and going on to take the win on a 6.667/226 ticket to the losing 7.416/166. Roger Burgess broke leaving Kirk Kuhns to take a solo and smoke laden top end win with a 6.464/178 to end the round.
A battle of the '41 Willys took place to open the semi finals as Kirk Kuhns came up against Joe Baker who left first, shook and was back on to hold on to gain the win with a 6.855/166 as Kuhns suffered problems and limped through with a 19.741/37 lose. The second pairing had Raymond Commisso in his '68 Firebird against Jay Payne's '68 Valvoline backed Camaro, the pair left almost together only for Payne to get crossed up go up on two side wheels before bringing it back under control but running a losing 10.651/79 as Commisso stormed to a fine 5.935 and another whopping speed of 246.44 mph to take the win.
The final was a first for Joe Baker as he had entered the event as an alternate then came from bump spot to win the event as he chased the flying Raymond Commisso who went into the centreline corrected and almost hit the wall after the finish line ruling out his crossing the line first and negating his 6.352/173 whilst handing the win to an astonished Baker who took it with a lowly coasting 12.687/63.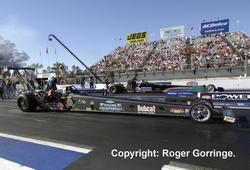 Top Alcohol Dragster came down to a final between the Bobcat Express of John Finke and the Pump System Interfacing car named the Iceman of Ken Perry. It was Perry that left first as Finke chased him down, the Perry car suffering a flash of flame at the top end slowing him to a 5.694/185 and allowing John Finke the win with a 5.489/254. The Top Alcohol Funny Car final was run between Frank Manzo in the Lucas Motor Oil '06 Monte Carlo and the Sheetz Electrical Inc '08 Mustang of Marc White. Both left within a fraction of each other but at the top end Manzo had it wrapped up by several car lengths taking the win with numbers of 5.502/264 as White followed with the losing 5.645/256.
Rodger Brogdon took his '04 Cavalier to a fine 8.368/157 Competition Eliminator win over the 8.984/138 try from Lee Zane's '32 Bantam altered. The Stock Eliminator trophy went to Peter Biondo and his '69 Camaro as his 11.478/82 beat the red light time of 14.202/65 from Jeff Strickland. In Super Comp Ron Erks took on and beat Steve Cohen in a battle of dragsters with the winning numbers being 8.927/174 to the defeated 8.936/165. The Super Gas class win was secured by Brian Forrester in his '63 Corvette with a time of 9.931/164 to the runner up times of 9.937/162 from the '95 Cutlass of Chuck Rothermel.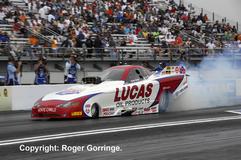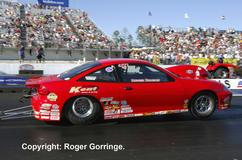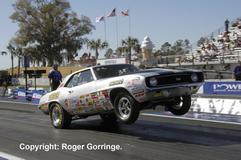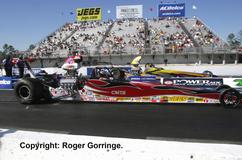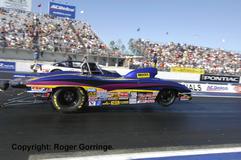 Feature ©Eurodragster.com.


---
Features and Interviews index
Back to News page
---