2008 California Hot Rod Reunion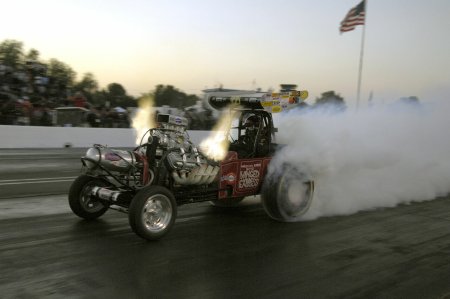 As the financial world swirled around in its own meltdown there was a small oasis of calm and enthusiasm as hundreds of car enthusiasts with all kinds of classic cars from street rods, muscle cars to race machines and thousands of fans descended on the Auto Club Famoso Raceway in Bakersfield, California for the 17th Annual NHRA California Hot Rod Reunion presented by the Automobile Club of Southern California. The weather was in fine form with glorious warm sunshine providing good air for the racers over the Friday through Sunday event and incorporating the famous Cacklefest on Saturday where dozens of dragsters were fired up, run down past the fans and lined up on the track at night providing many licks of header flames in the darkness.
Click on any picture for large version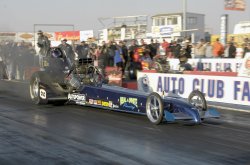 A whopping seventeen of the front-engined Nostalgia Top Fuellers were on hand to give the quarter mile another coating of rubber although there was a certain amount of mechanical attrition that kept the track crews busy throughout the event. Top qualifier went to Troy Green driving the High Speed Motorsports Donovan powered machine to a 5.722/259 clocking just ahead of Brett Harris on 5.725/255, Jim Murphy 5.746/257, Denver Schutz 5.771/255 and Rick White on the last in the 5.7s on a 5.797/254 pass.
The eliminations started early afternoon on Saturday with cool air providing a healthy mix for the motors and Rick White began his rout of the class, a 5.776/255 beat the weaving Terry Cox's 7.934/115. Troy Green kept up his side of the show with a 5.783/252 defeat of Rick Rogers whose 5.823/240 trailed lots of smoke in the lights. Brendan Murry was off the throttle by four hundred feet slowing to a 10.316/76 lose as Brett Harris claimed the win with a fine 5.746/261.02, the mph being top speed of the meet. Jack Harris plumed smoke at the top end necessitating a clean up on his 5.912/219 only to have Jim Murphy win with a 5.781/257. A trail of oil after the burnout had Rick Williamson shut off allowing Mike McLennan a pedalling 7.573/108 win. Pete Kaiser beat an on off and shut down by half track Ed Schartz with a 5.974/250 to the slowed up 10.088/76. Shannon Stuart got somewhat wayward and crossed the centreline disqualifying his 7.141/133 as Adam Sorokin managed a 6.158/177 win. The last pair had Denver Schutz hit the reflector blocks negating his 6.764/139 and handing the win to Mark Malde whose easy 14.520/57 got the nod.
Round two was started late Sunday morning with Rick White continuing his dominance with a 5.782/246 thrashing of a piston smoking Mark Malde's 6.609/152 necessitating a clean up from half track. Pete Kaiser went up in smoke, pedalling the car before going into tyre smoke again slowing him to a 9.750/80 and another clean up as Brett Harris clinched another bracket like win with a 5.795/249. A great drag race between Jim Murphy and Mike McLennan ended with Murphy clinching the deal with a 5.820/237 as the holeshot 5.988/244 from McLennan lost and left the track crew with yet another clean up. Adam Sorokin managed to smoke some pistons at the thousand foot mark slowing him to a 6.196/193 as Troy Green powered through with a 5.701/254 win.
The semi finals produced two awards, firstly Brett Harris ran the low ET of the event with a 5.696/260 that beat the 5.810/258 from the clean looking machine of Jim Murphy then the Top Fuel National Champion was crowned as Troy Green, despite losing with a piston smoking 6.036/203 claimed the thrown as Rick White stayed ahead with the 5.770/253 win.
The final was at five p.m. on the dot, the last race of the day but a disappointed Brett 'The Sheriff' Harris could only watch as his machine was shut off with problems before the startline allowing Rick White in the Autopower/CNC/Neal & White dragster to solo to the event win with a 5.819/255 the only time in eliminations he did not run a 5.7.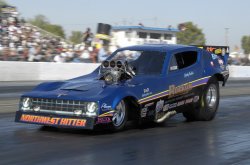 The gathering of the fine-looking Funny Cars was beyond belief as a massive twenty entries ran a Chicago style tournament where each ran a qualifier then the quickest eight ran to produce the quickest two for the money run and all on the finals day of Sunday. What a marvellous morning that was. There were just two cars in the pack that stood out numbers-wise, Bucky Austin and Kris Krabill both in Plymouth Arrows whose 5.805/244 and 5.894/245 respectively led the field with the only fives.
Into round two where Mike Harstead's '69 Charger ran a 7.41/132 as Terry Capp blistered down the track with a winning 5.87/248. Kris Krabitt managed a 5.84/242 win as Stephan Romanazzi took his '77 Firebird close to the wall losing with a 5.94/239. Bucky Austin was in a rapacious mood his 5.79/243 beat Jack Wright's '70 Challenger. Leah LeDuc formally Leah Pruett was in the hot seat of the Dickies backed Plueger & Gyger '71 Mustang and her 5.90/238 beat the time from Mark Saunders 'Mr. Explosion' '70 Chevy to end the round.
The final came down to a run off between the original pacesetters Kris Krabill in the 'Pedaler' 1979 Plymouth Arrow and the Bucky's Mufflers Brakes Radiators 1978 Plymouth Arrow of Bucky Austin. It was all Austin as the car ran a 5.74/244 to take the win as Krabill followed with a 5.81/255 runner up.
It was a Canadian-owned car, the 1963 Corvette of Jirka Kaplan, that ruled the roost in the exciting AA/Gas class where seventeen runners vied for position with a 6.420/213 from Kaplan gaining the pole position ahead of second place Mike Leonard on a 6.666/207. It was this pair that met for the money run and despite Leonard's plain matt black Chevelle leaving first, Kaplan drove past him taking the event win back to Canada with a 6.624/207 to the losing 6.727/203.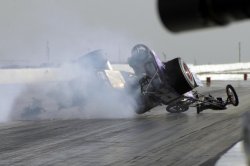 Friday witnessed an extraordinary mishap in A/Fuel as Darrell Waters shook, lifted, shook badly again recovering at around three hundred feet only to be T-boned by Lisa LaVoie who had lost control and crossed lanes upside-down, the latter going on to barrel roll through the top end. Both drivers suffered only bruising. Bill Wayne led the eleven car qualifier with a 6.440/215 just ahead of Kin Bates 6.441/221 and it was these two that made it all the way to the final to face off. This time it was the U.S. Air Force backed car of Kin Bates that got the accolades, a 6.232/226 beat the 6.568/213 from Bill Wayne's front wheels lifting all silver machine.
There were just seven cars in Junior Fuel A led by Scott Parks with a 6.872/193 with JD Zink a tad behind with a 6.924/190. Once again the top pair in qualifying met in the final and Zink got away on a holeshot but the 6.964/191 was chased down by the winning 6.838/194 from Scott Parks.
Bob Lander drove the best numbers in Junior Fuel B qualifying. A 7.121/185 led the small field of seven racers. Lander was taken out in round two by eventual winner Don Enriquez who in the final beat Fred Notzka. Despite a perfect light coupled with a 7.184/179 Notzka was chased down as Don Enriquez won with a 7.138/186.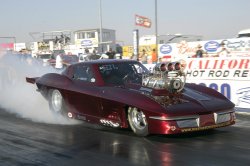 A big class of twenty-one good looking A/Gassers was led by the '67 Camaro of Augustine Herrera with a 7.601/185 just ahead of Chris Beanes and Jimmy White on 7.606/177 and 7.620/151 respectively. It all came down to a battle between the two and three qualifiers, Jimmy White and Chris Beanes. Jimmy White led out of the hole in his clean looking red Corvette and a 7.731/151 secured the win as Chris Beanes in the all black Henry J runner-upped with a 7.712/165.
BB/Gas was a final between Tim 'TK' Krupa in his '67 Camaro and Gary Reinero in his comical looking '48 Austin and unfortunately Reinero had to be pushed away from behind the startline with problems leaving Tim Krupa an easy solo for the event title where a 6.817/202 did the job.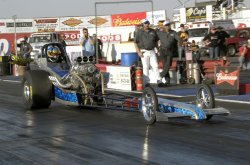 Bobby Runyon in a '60 Davis led the Nostalgia Eliminator qualifiers in this massive class of mixed vehicles, a 7.602/182 being the numbers. Runyon lasted until the final where his under index 7.569/185 failed as Rick High in his dragster managed a 7.656/182 win.
Al White sat on the AFX pole with a 9.322/147 to lead the packed class but despite winning in round one failed to make it to the next round. The final came down to a match between the '64 Thunderbolt of Phil Featherston and the '67 Mustang of Steve Whitemore. A better leave by Whitemore and his 10.466/121 was downed as he broke out leaving the legal 10.256/129 the winning numbers from Phil Featherston.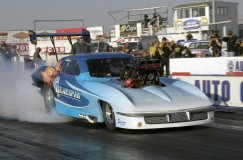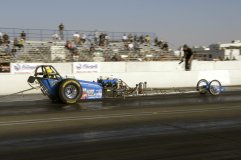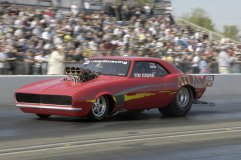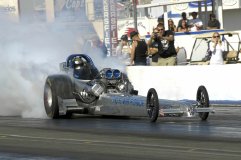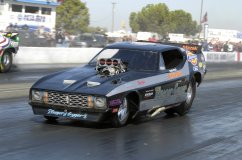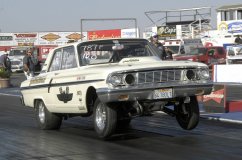 Feature ©Eurodragster.com.


---
Features and Interviews index
Back to News page
---