2008 Checker Schuck's Kragen NHRA Nationals
Okay, so it has to rain at sometime in the desert but during the second event of the NHRA POWERade Countdown to the Championship? Yes, unfortunately it is not just England that suffers the wet stuff at inopportune moments. Overcast skies turned into light rain for most of Friday and the uncharacteristic chilly day was called off at 17:00 hours cutting qualifying to just one day. Saturday however, turned into what would be expected from the desert climes, warm and sunny but cool enough to deliver some good numbers before turning back to cool and cloudy conditions for eliminations on Sunday as weather fronts moved over from a now rainy California.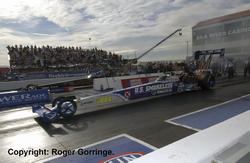 Leading the way in Top Fuel Dragster qualifying on the first of the Saturday sessions was Winternationals winner Tony Schumacher with a 4.561/319 just ahead of Brandon Bernstein's 4.563/329 in the seventeen car field. The second stanza came in the late afternoon as the temperature slid down along with the sun and had Bernstein sit atop the pole in the Budweiser King/Lucas Oil car with a 4.515/330 just in front of Dave Grubnic, 4.524/327, Hillary Will with a 4.532 at a whopping 334.32 mph then Schumacher with a 4.536/329 and in fifth spot was rookie Antron Brown with a 4.538/320 leaving Steve Chrisman on the bump spot with a 4.873/300 and Alan Bradshaw the person on the outside.
Round one began with Larry Dixon getting the win with a 4.610 and a slowing 277 mph as Morgan Lucas went into early tyre smoke and coasted to an 8.324/87. The right lane was proving to be the one to be in as Bob Vandergriff Jr notched up a 4.593/328 victory as Winternationals runner-up Cory McClenathan blazed the slicks at the sixty foot mark slowing to an 11.011/79 try. No tyre smoke in the next pairing though when Doug Herbert put down a fine 4.598/323 only to have it pipped at the post by Antron Brown's 4.536/329 from behind! Again the right lane delivered as Tony Schumacher despatched Doug Kalitta with a 4.541/329 to the losing 4.817/308. Steve Chrisman continued the smokers with an instant in-smoke 11.340/109 lose as Brandon Bernstein ran the winner with a 4.623/323. The smoke came from the good lane next as Hillary Will hit smoke at sixty feet out shutting down to a losing 10.431/76 as a surprise win went to Mike Strasburg who delivered a pedalled winning 5.568/174. A pretty close leave by both Dave Grubnic and Troy Buff came out in favour of Grubnic whose 4.5 dead at 330 mph beat the 4.644/304. The last pairing produced another good bout as Rod Fuller ran the winning 4.562/319 winning on the holeshot against the 4.642/294 from J.R. Todd.
Brandon Bernstein hit instant smoke as round two opened and his battle with Larry Dixon was over with a 12.113/78 try as he watched Dixon's winning 4.609/319 come up on the scoreboards. A pedal-fest was next as Tony Schumacher faced Antron Brown with the latter first in smoke then Schumacher at half track with some damage that oiled the race surface, Brown's 5.916/203 was beaten with a 5.257/181. Rod Fuller made short work of Mike Strasburg with a fine 4.491/328 to the slowing 4.982/217. Ending the round was another good number as Dave Grubnic matched Fuller's efforts with a winning 4.491 at 323 mph beating the 4.621/324 from Bob Vandergriff Jr.
The semi finals first pairing had Larry Dixon get the better leave then the win light with a 4.534/326 as Tony Schumacher failed to catch up as the U.S. Army car lost with a 4.529/325. Rod Fuller who won last years event went into heavy smoke just off the startline in the Caterpillar machine negating his chances as Dave Grubnic zoomed to a 4.519/332 win.
Dave Grubnic in the sadly all black Kalitta Air dragster who has at present no major sponsor colours or lettering could have been favourite after his earlier 4.4 but he over powered the track, going into smoke at half track and despite gallantly pedalling, his 5.002/259 was no match for the 4.532/327 that came from the U.S. Smokeless Tobacco car driven by Larry Dixon now the sole car owned by Don Prudhomme.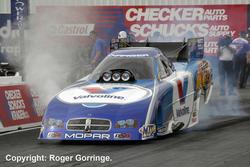 Of the twenty-one Funny Cars in the show Tim Wilkerson in the Levi, Ray & Shoup Inc. '04 Monte Carlo showed the way leading both sessions of qualifying with a 4.813/317 in number one then a stunning 4.775/327 in the second. Mike Neff was number two with a 4.798, John Force at three with a 4.808/325, Tommy Johnson Jr. a 4.815/318 and in fifth was Cruz Pedregon on a 4.829/320. Bob Bode was in at number sixteen with a 5.106/246 leaving names like Melanie Troxel, Del Worsham and Ashley Force out in the cold.
Unlike the first round of Top Fuel there seemed to be no favoured lane as the opener provided a heck of a race with Cruz Pedregon getting the better of Ron Capps with a 4.859/319 win to the 4.867/317 lose. Tommy Johnson Jr. took the nod with a 4.834/310 win as Jerry Toliver slowed to a 5.067/280 lose. A great holeshot from Bob Bode gave him the win as his 4.892 at just 296 mph beat the 4.940/283 from the number one qualifier Tim Wilkerson. Mike Neff hit smoke just off the startline and he slowed to a 13.142/75 only to see Jack Beckman gain the win with a 4.874/318. A surprise win went to Scott Kalitta when his stepped up 4.782/325 soundly beat from behind the 4.860/305 from John Force. Tony Bartone started to lose cylinders that just slowed him enough for Jim Head to get the upper hand and pass him, 4.887/319 to the 5.012/241 lose. Gary Scelzi drifted close to the centreline as he battled to catch Tony Pedregon who also came close to the centre and Scelzi as they crossed the line with Scelzi getting the nod with a 4.874/317 against the losing 5.052/260. The last pairing pitted Robert Hight against Gary Densham and as Densham chased he was pulling power wheelies at half track and had to slow to a losing 6.152/160 as Hight carded the 4.766/321 win.
In the second round Cruz Pedregon went into almost immediate tyre smoke and slowed to an 11.429/82 wasting his holeshot as Tommy Johnson Jr. capitalised by taking the win with a 4.908/311. The pairing between Jim Head and Scott Kalitta turned into a pedalfest with Head getting the better of his, taking the win on a 7.245/243 as Kalitta was out manoeuvred easing off to 10.929/84. Bob Bode's luck went away as he tossed a blower belt nearing the lights and his 5.609/187 was ably despatched by the 4.870 at just 269 mph from Robert Hight's machine. Gary Scelzi was pulling mid track power wheelies in his bid to catch a flying Jack Beckman but Scelzi's slowing 7.021/124 was no match for the winning 4.884/320.
Jim Head had finally managed to put some signage on his all black Head Racing '07 Solara but it did him no favour as he was off the power with problems just past the Christmas Tree leaving Jack Beckman to pound through with a loose and weaving but winning 5.612/191. The other duo in the frame was Robert Hight's entry and Tommy Johnson Jr. in Kenny Bernstein's Monster Energy Drink backed '08 Charger and it was a race to the end as Hight hung on to his holeshot and lit the win light with a fine 4.803/318 as Johnson came in second with a 4.837/323.
Finals time came as the late appearing sun hung low over the mountains and featured a flu-ridden Jack Beckman in the Valvoline/Mail Terminal Services '08 Dodge Charger against the Auto Club of Southern California/Ford Mustang of Robert Hight. Hight was away first but hazed the tyres just one hundred and fifty feet out after which he lifted and coasted to an 8.030/105 as Beckman pounded out a 4.868/320 for the event win.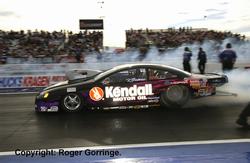 It took just a 6.635 time slip at 208 mph to hand Greg Anderson the number one spot in the first Pro Stock qualifier but in the second it was Allen Johnson in the J&J Racing/Mopar '08 Stratus who ruled with a track record 6.631/208 putting Anderson into second spot just ahead of Warren Johnson on a 6.638/208 followed by son Kurt Johnson with a 6.641/207 and Jason Line with a 6.642/207 to head the top five, number sixteen was Johnny Gray on a 6.701/205 leaving the likes of Jim Yates, Larry Morgan, Gordie Rivera to name just a few in the DNQ zone.
Round one kicked off with a red light for Ron Krisher, his 6.651/206 wasted as Mike Edwards ran the winning 6.660/205. V Gaines put down a 6.663/204 to down the 6.757/184 from Greg Stanfield. A terrific 0.000 light from current Champion, Jeg Coughlin was probably attributable to the urgent red light leave from Justin Humphreys who slowed to a defeated 12.789/67 as Coughlin won on a 6.637/207 pass. Jason Line managed a 6.654/208 win as Max Naylor could not quite get the numbers with his 6.690/205. Warren Johnson caught and passed the better leave by Tom Hammond, reeling him in with a 6.646/206 win to the 6.723/204 lose. The eliminations took a short break here as the overcast conditions spilt a few drops of rain onto the track but thankfully not as much as the NASCAR event back in California was suffering. A near identical leave by Greg Anderson and Kenny Koretsky went in favour of Anderson with a 6.704/208 win to the 6.790/204. Allen Johnson had a catch up job to do when Johnny Gray left first but Johnson carded the 6.629/208 win as Gray came in second with a 6.709/204. The last pairing of the round had Kurt Johnson notch up a 6.640/208 win as Matt Hartford could not quite match the numbers, his 6.686/204 just failing.
A huge surprise ensued in the opening pair of the second round as Greg Anderson failed to catch the superb leave by V Gaines, a 6.683/205 beat the 6.703/207 try. Jason Line also managed a stout leave and used it to his advantage in the duel against Kurt Johnson, the 6.662/207 told the tale against the early shut off 14.763/56 from KJ. Jeg Coughlin was away first against Warren Johnson and recorded a 6.653/207 that beat WJ's 6.660/206. Mike Edwards gained a perfect light and coupled with his 6.671/205 gave him the win over the early shut off 20.094/39 from Allen Johnson.
An identical leave by both Jason Line and Mike Edwards went in favour of Line as his 6.657/208 beat the 6.678/206 of Edward's Young Life/Penhall backed Pontiac GTO to open the semis. V Gaines cut another good light and together with his 6.676/205 beat the 2007 Champion, Jeg Coughlin's Jegs.Com '08 Cobalt who lost with a better 6.654/207.
Finals time and the 2006 Champion Jason Line in the Summit Racing Equipment '08 GXP faced V Gaines in the Kendall Oil backed '07 Dodge Stratus and once again Gaines pulled a good light and hung on for the win with a 6.702/205 win to the off the throttle at the sixty foot try from Line.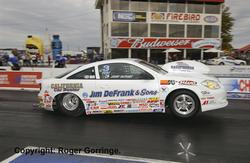 The Super Stock wars came to an event climax with a bout between Jimmy DeFrank's '08 Cobalt and the '69 Camaro of Gary McGlasson and despite a great light from McGlasson he failed to catch the fleeing Cobalt, 8.903/145 took the win against the 10.041/128 try.
Toby Lang took the Stock Eliminator trophy with an 11.707/111 on an 11.69 dial-in in his '69 Chevelle as opponent, Bobby DeArmond fouled out with an under index 9.986/130 on a 9.99 dial-in.
The numerous dragsters and full bodied cars in the Super Comp class battled it down to a run off between Steve Williams' dragster and the '02 Cavalier of Ken Mostowich and the better leave by Williams paid off as his 8.927/180 beat the 8.910/175.
Super Gas had many a battle to get down to the money run and in the end it was fought between the '58 Corvette of Brad Pierce and the '63 Corvette of Tommy Turner. Pierce took a better leave and held on to take the trophy with a 9.933/142 that saw off the 9.948/153 from Turner.
In the Super Street final it was the '63 Falcon station wagon of Ryan Smith that got the win light with a 10.965/122 that beat the 10.970/116 from Leroy Duran's '69 Camaro.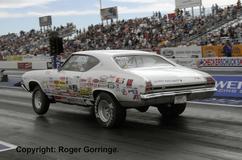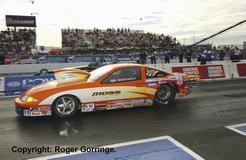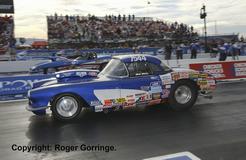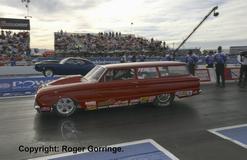 Feature ©Eurodragster.com.


---
Features and Interviews index
Back to News page
---