2009 AHDRA Jim McClure Nationals and IHRA Summit Team Finals
Report and pictures by Steve Moxley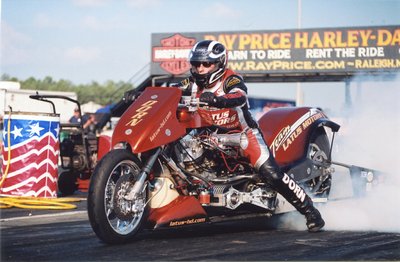 Click on any picture for large version, and scroll down for additional photographs
The Jim McClure Nationals at Rockingham, North Carolina, was the final round of the 2009 AHDRA Screamin Eagle Championships and was contested by sixteen classes of which this report covers the Pros.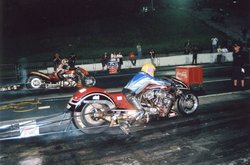 Friday was Test and Tune from 3:00 pm until 8:00 pm with a bit of night racing, header flames and a good dose of nitro, with no less than forty five fuel bikes. Jay Turner, the points leader in Top Fuel, tested both his bike and team mate Randal Andras' Pro Fuel bike and had the ex-Mike Romine Top Banana bike for sale. Larry (Drums) Brancaccio débuted his new fuel bike which was only finished on the Wednesday night with help from Mike and Jack Romine and ran 6.428. Doug Horne has been running in the NHRA Pro Stock Bike this year and qualified for the countdown to one of the NHRA Full Throttle Drag Racing Series. Horne was at Rockingham to have fun with his Top Fuel and Pro Fuel Bikes and ran a Personal Best speed of 220 mph in testing on his Top Fuel Bike. Jack Romine was on Jim Fagan's bike, as Jim couldn't attend this meeting.
Dana Meeks had a moment in the shutdown area when his injector broke off at the flange and the throttle hung open, whilst his opponent was turning off to the return road. Meeks missed him and managed to kill the motor. The injector was welded and he was ready for qualifying the next day.Bob Malloy had teamed up with Jim Smith and Paul Spangler and was riding their bike. Saturday temperature reached 90degrees so I was told with 83% humidity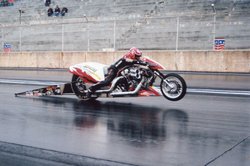 Top Fuel Bike (20 bikes): Five riders - Jay Turner, Steve Dorn, Joey Sternotti, Phil Schmidt and John Breckenridge - all had a mathematical chance of winning the Championship. The first session of qualifying got off to a bang with Rickey House blowing his front cylinder head at the sixty foot mark (out of the show) and Bob McCabe blew his cylinder head at the 200 foot mark. Armon Furr had an ignition wire come off and didn't run. Turner led the field 6.496-209.39 followed by Schmidt 6.504-206.95 and Dorn 6.512-210.37. Breckenbridge was eighth and Sternotti had clutch problem and was seventeenth. Rain fell between sessions.
In the second session Sternotti fired up the motor only for a inlet rocker arm to break on tickover, so the team had to work hard to get the bike ready for the final session.McCabe had another break at mid-track flash of flame. Armon Furr lost power at the 1000 foot mark, 7.797 and still not in the show. Bill Furr had an electrical fault.Horne ran a PB of 6.371 to sit on top of the pile. Dorn was #2 6.454, Turner 6.486. Tom Schwartz was on the bump spot with a 7.147 of the sixteen-bike field.
Tak Shigematsu changed his two speed Lenco transmission before the final session in the dark and what a show these guys put on for the fans, side-by-side 6.3-second passes with three foot long header flames (trying to cook the riders' right legs), on the wheelie bars all the way down the quarter mile, fantastic. Armon Furr ran a superb 6.488, Shigematsu 6.437, Dorn 6.432. Sternotti's last ditch effort was 6.397 at 225.22 (top speed in qualifying) whilst Horne ran another PB 6.348 against Mike Romine 6.327. But it was reigning champion Schmidt who topped the table with 6.312.Tommy Grimes was on the bump spot with 6.930.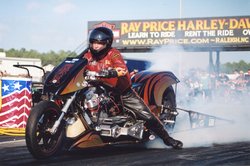 Round one saw both Brancaccio and Derrick Nelson have problems at mid-track when their bikes drifted very close to the centre line, when they were well ahead of there opponents only to see Turner and Horne power past to t ake the win light. Close races between M. Romine and Furr and Shigematsu against Malloy. Breckenridge lost to Dorn. Round two saw a great race between Dorn and Sternotti with Dorn taking the win light 6.291 (Low ET) to 6.384 at 226.35 (top speed). Turner got another break when Romine was leading and broke at the eighth. Turner had traction problems off the line, saw Romine slow, got on the throttle and just got the win light 8.679 to 8.840.
The semi-finals saw Dorn knock out Schmidt who lost traction at the 60 foot mark.Horne ended Turner's run with PB figures of 6.317-224.17 to 6.380-212.
Dorn had to win the event to become the 2009 Champion and what a race. Side by side until Horne drifted to the centre line at three quarter track and eased off as Dorn powered to the title, 6.341 to 6.495.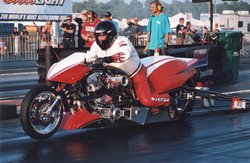 Pro Fuel (15 bikes): David Poague blew his cylinder head in the first qualifying first session, but did get in the show with a 7.563. Horne was #1 qualifier with 6.548-203.65 followed by Jack Romine 6.674-204.32 and Chris Streeter who built a new motor on Friday in the pits 6.743-195.56. Points leader Randal Andras had problems and qualified 14th, but claimed the 2009 Pro Fuel bike title.
Poague pulled a red light against Mark Cox and blew another head at the eighth mile mark. It was a close race between J Romine and Tommy Sloan 6.565 to 6.798 and Cox against Mark Collier 7.116 (holeshot win) to 7.104 in round two. In the semi finals Romine ran Low ET of 6.541 against Streeter who had his injector blow to bits at the 40 foot mark. Horne beat Cox 6.575 to 6.666.
The final saw Romine have a problem off the line and Horne won with a 7.178.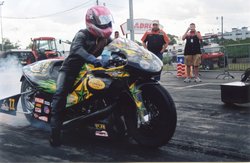 Pro Gas (8 bikes): A couple of surprise guests arrived at the track, Matt Smith and Angie McBride with their Buells to do some testing of new parts. McBride led the field 7.08 after the first qualifying session, riding the ex-Peggy Llewellyn and Angelle Sampey Rush Buell. Smith topped the field with 7.023-186.79 at the end of qualifying. Rick Moore and Jay Wagner were the only riders fighting it out for the Championship. They met in round one and for Moore it all went wrong, they couldn't get the motor to fire up (battery/starter?) leaving Wagner a bye to the semis. Smith knocked out Wagner with Low ET and top speed 6.906-190.78 making Moore the Champion.
So it was Smith against McBride in the final and Smith had a problem at mid-track with McBride taking her very first Pro class win 6.985 to 8.402.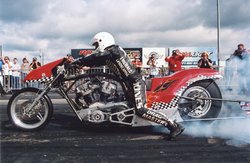 Pro Drag (10 bikes): This was the only class in which the title had been decided as the riders came to the event. Chuck Jones was the new Champion and qualified #1 spot with 7.289-174.59, top speed. With his Top Fuel Bike broken Rickey House qualified his Pro Drag bike in #2 spot 7.408-172.41. Johnny Vickers rode a new bike, but missed the field with an 8.149 on an 8.061 bump spot. Best race of the day saw Mike Nolen take a holeshot (0.138 to 0.144) win, 7.535 over Rickey House 7.533 to meet Jones in the final.
Jones capped his year off with a 7.283 (Low ET) win over Nolen's 7.451.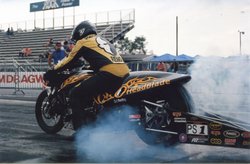 Pro Stock (7 bikes): The Pro Stock title was between defending Champion Shaun Reno and Mark Venia. But it was Andy Simon who took the glory over the weekend. He qualified #1 with 8.080-160.71 with Reno next 8.093 and then Venia 8.186. The title was decided in the semi-final when Reno beat Venia. In the other semi Simon set a new AHDRA ET record of 7.966. He went on to win the event 8.014 to Reno's losing 8.047.
Pro Mod (13 bikes): Reigning Champion Greg Krenik led the field by two tenths, 8.554-154.26 from Tom Hannum 8.750. Bob Goodwin was the points leader and was in #3 spot with an 8.778. Challenger Shane Pendergast was in #6 spot 8.923.
Pendergast's challenge ended in round one when he lost on a holeshot to Bruce Chandler. Goodwin got knocked out in the semis against Hannum 8.601 to 8.645. Hannum then beat Krenik in the final 8.651 to 8.722.
Street Pro (6 bikes): Charley Douglass topped the qualifying sheet of the small field with 9.451-145.06. Mike Roberts ran Low ET of 9.001 against Mike Motto in the opening round, which saw Lou Gerencer break against Russ Johnson. Gerencer finished runner up in the Championship. Roberts went on the beat Douglass in the final and was the 2009 Champion.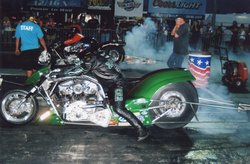 Outlaw Fuel: This is a chance for non qualifiers and first round losers of Top Fuel and Pro Fuel to race twice and the quickest combined ET of the two runs determines the winner. Tracy Kile was the quickest in round one 6.420 followed by Bob Malloy 6.522 and Derrick Nelson 6.968. Round two and Kile ran 6.47 with a combo of 6.447 of the two runs to win. Nelson had a combo of 6.798. Joey Sternotti ran the Low ET and top speed 6.38-225 mph in round two.
It was a great weekend. I met up with some of my friends and made new ones. My thanks to Craig, Stephanie and Chris of the AHDRA for their help and allowing me to cover the event. If any of you are planning to go to the States next year then take in one of the AHDRA events, you won't be disappointed. AHDRA may add some more rounds to their series next year so check out their website at www.ahdra.com.
I returned to The Rock after a few days in Pinehurst for the IHRA Team Finals sponsored by Summit. Eleven teams rolled through the gates on Thursday. It was eighth-mile dial-in racing with over five hundred racers entered in Top ET, Mod ET and Junior Dragster.
Rain disrupted running of the four day event with Thursday's Gamblers Race postponed. Friday only saw a few hours of action before the rain returned. Saturday was a better and the start of the of the Main Event (Team Finals) and concluded on Sunday.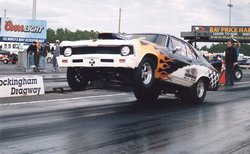 Early Bird Top ET was won by Michael Morton in his 70 Nova (6.639) when Bill Kivert red lit. Mod ET was won by George Brown in another 70 Nova 6.813 against Jamie Durden's 74 Nova. Carey Curling beat Troy Brewer in a close final 7.950 to 7.987 in Junior Dragster.
Friday's Gamblers Race was run on Saturday. Top ET saw Diane Marquess drive her Spitzer dragster to the winners' circle 5.441 over Donald Webb's 70 Nova (there were a few Novas racing) 6.399. Brandon Tuck pulled a big wheelie in his Mustang and still took the win light in Mod ET 6.139 against Richard Alford in a 71 Chevelle 6.541. In Junior Dragster Michael George edged Christopher Matter 8.784 to 9.002.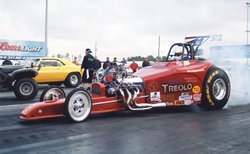 The Dunn-Benson team led the field on Sunday morning with 13 points, with Maryland 12 points and Richmond 10 points close behind. A brief shower stopped the race. Into the afternoon and Maryland made their move and took over the lead, 20 points followed by Dunn-Benson 18 points, Richmond 17 points and the 2007/2008 Team Champions Greer Dragway 16pts.
Late in the afternoon Maryland had a useful lead at 50 points, Richmond were next 43 points and Dunn-Benson and Greer tied on 42 points. Greer then made their move and overtook everyone to win the Team championship for the third year running with a final points tally of 63 points, Maryland second 62 points and in third place Dunn-Benson 58 points.
Main Event results: Top ET Derrick Sholas ran 4.528 (4.470) to beat Bill Cummings who broke out 6.253 (6.26). Mod ET winner was Tony Duff 6.945 (6.93) over Perry Green 6.915 (6.890). Junior Dragster was won by Troy Brewer who beat Shianne Hayes.


---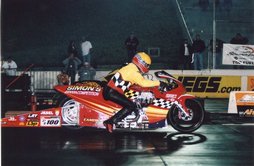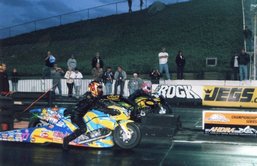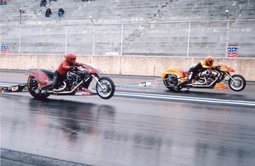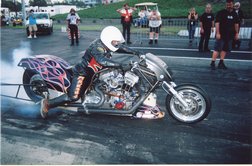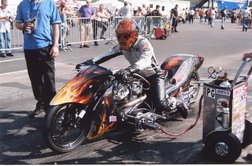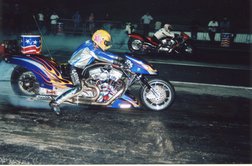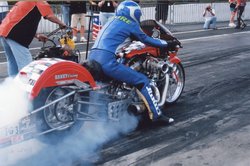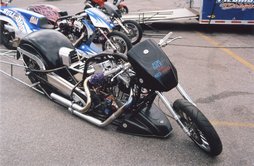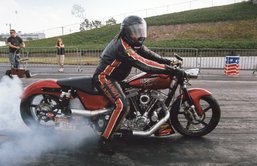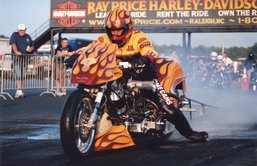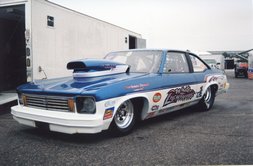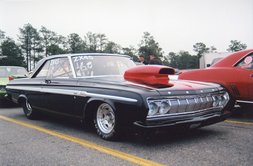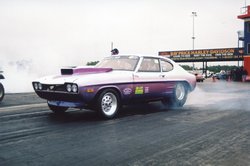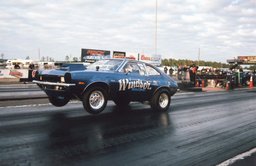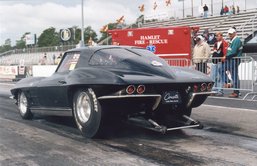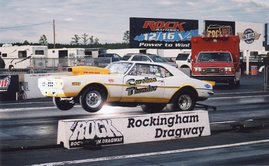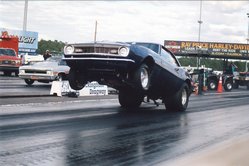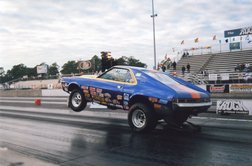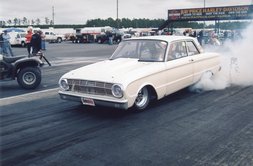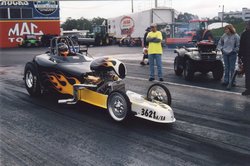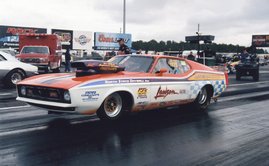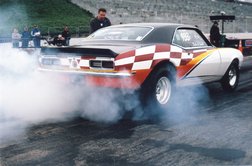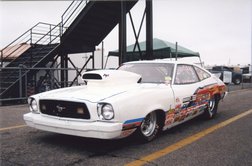 Text and photographs are ©Steve Moxley and must not be taken, copied or used in any way without written permission. Unauthorised use may result in legal action. To enquire about purchasing photographs please see the Eurodragster.com FAQ or E-Mail photography@eurodragster.com.


---
Features and Interviews index
Back to News page
---