2009 California Hot Rod Reunion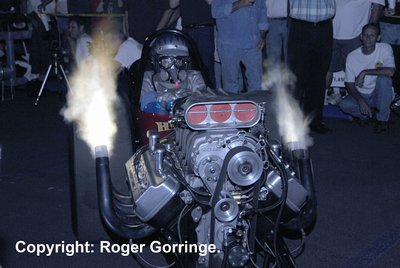 Massive crowds were attracted to the annual nostalgic mix of hot rods and race cars at the legendary Famoso race track. The property was overflowing and late arriving spectators had to contend with parking on the roadside and walk for over half a mile to the entrance gates. The headliners were Top Fuel and Funny Car with the former having seventeen entries and a sixteen-car eliminator whilst the whopping thirty one-car field of Fuel Coupes had to battle it out for just eight places in competition, both having just two qualifying sessions making it a tough job to get dialled-in and into the field. The weather was hot and sticky after much-needed rain earlier in the week.
Click on any picture for large version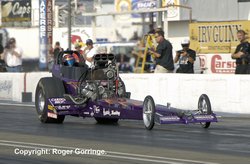 Brett Harris took his Rodeck powered Nitro-Thunder fueller to the top qualifier in Top Fuel running a stout 5.809/252 with the ET not being bettered right up until the final. Rick McGee driving the Hannah Trucking entry made his way through the field beating Ed Schwarz in round one, a 5.904/240 besting a troubled 8.320/110. Adam Sorokin was McGee's next victim and despite a holeshot McGee caught and passed with a 5.814/249 to the close but slowing 5.935/209. Rick Williamson left before the tree ran handing a nice win to McGee's easy 9.012/91.
Coming up the other side of the ladder was last years Champion Troy Green in his High Speed Motorsports Donovan-powered rail, a 6.055/230 put paid to the eased up 7.041/218 from Denver Schutz's Raisin Express. Next, Rick Rogers pulled a cherry handing the win to Green with a 5.983/222 to the wasted 5.978/242. A huge clean-up operation had to be completed after Brett Harris' motor went bang just after the tree slowing to a 10.051/98 as Green sped to a fine 5.879/226 win.
The final occurred as both Troy Green and Rick McGee faced off in the dark with McGee leaving first quickly followed by Green but in the traps it was Rick McGee that lit the win lights, a neat 5.761/247 took the trophy over the 5.919/252.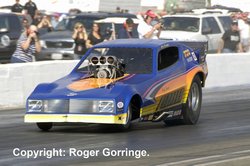 It was a stunning array of Plastic Fantastics that had the crowd's rapt attention as all thirty plus entries fought for supremacy in Funny Car. All were fighting for a rare place in the eight-car eliminator and there were many upsets as big names failed to qualify for the small number allowed. Garrett Bateman driving the Plueger & Gyger '72 Mustang scored top numbers as his 5.848/234 led the field just ahead of event winner Kris Krabill's 5.872/242.
Kris Krabill will always have something to boast about as he took out the 2008 NHRA Funny Car National Champion Cruz Pedregon who was driving a Joe Pisano '78 Plymouth Arrow, the 5.907/243 plain beat the 6.015/224. Canadian Tim Boychuk driving a neat Castrol '77 Firebird was only able to follow as Krabill left for another 5.921/243 victory to the crossed up and close to the wall 8.819/99 lose.
Josh Crawford shoeing a, plain silver '69 Mustang made his way through the field with a first round conquest of number one qualifier Garrett Bateman who got well crossed up and went over the centre line allowing Crawford the win with a 6.039/238. A heck of a close race ensued when Crawford ran against Mike Savage in his '70 Barracuda, eight thousandths separated them at the start and Crawford notched up the win light with a fine 5.888/240 to the 5.938/241 try.
It was all frustration for Josh Crawford in the final as he rumped the car up to the line but his last rump pushing him through the beams immediately gaining a red light and handing a very nice win to Kris Krabill's eased up 7.192/135.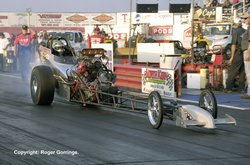 The eight car A-Fuel field was led by Bill Wayne with a 6.453/212 and it was he that went all the way to the money run taking out Darrell Waters in round one then Kin Bates in two 6.515/209 against the better 6.490/223, it won on a good holeshot. In the final Wayne was up against Gary Wheeler, Wayne was out of the hole first and coupled with the 6.491/209 clinched the win as Wheeler's close 6.466/213 came second.
Bob Lander led the eleven-car Junior Fuel pack with a 7.078/187 then went on to take the trophy with wins over JD Zink, 7.105/187 to a losing 7.697/153, then a 7.150/186 beat the 7.222/185 from Don Enriquez. Bud Hammer left first in the final but slewed around his lane from half track slowing to a 9.416/94 as Bob Lander wrapped up the win with a 7.888/180.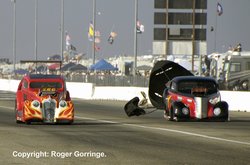 Thirteen cars vied for a place in the eight-car AA/Gas eliminator and they were led by Chuck Moore in his '63 Corvette with a 6.529/214 but his luck deserted him as Howard Anderson beat him in round one. Anderson went on to take a surprise win over Sean Renteria, a 6.781/203 as Renteria no showed. Rich Roberts in his beautiful '34 Willys made his way past Mike Leonard, 6.846/204 to a losing 6.977/203 then a 6.777/200 beat Rob Moore's slowed up 8.225/121. On the trophy run Rich Roberts used all of his lane in trying to stay ahead of Howard Anderson who charged ahead winning with a 7.170/204.
A massive field of twenty-six cars fought for a place in the sixteen car A/Gas eliminator and they were led by Jim Godec in his '37 Chevy on a 7.610/175. Godec lasted until the semi, going out to event winner Chris Beanes in a '51 Henry J. It was Beanes that took the win with a 7.676/167 as opponent Rob Patten's 7.749/180 came second.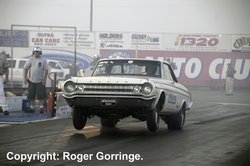 Larry Knapp took pole position in AFC with a 9.075/148 in his '65 Ford in the twenty plus entry but went out in round one to Lynsi Martinez. Event win was taken by Denny Sanders in his '64 Dodge with a 10.75/118 to beat Mitchell Akers' 10.059/133 in a '60 Impala.
In top spot in Nostalgia Eliminator 1 was Dale Taros with a 7.606/174 ahead of the forty-plus entry. The event win went to Bruce McDowell, an 8.089/134 beat the 7.879/158 from Mike Hoyt Sr.
A twenty-plus 7.0 Pro field was led by Richard Phillips in a '32 Bantam with a 7.009 194 but it was Will Martin who took his Camaro Funny Car to the win with a 7.083/187 beating Joey Steckler's 8.508/114 in the final.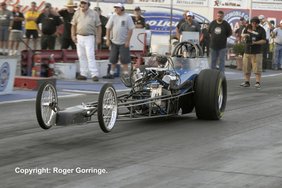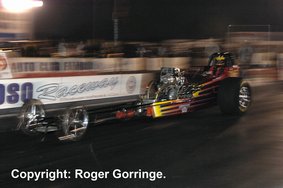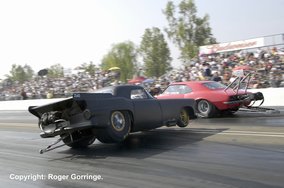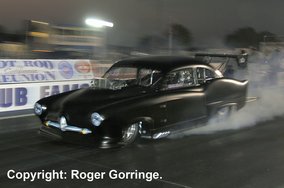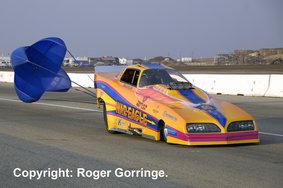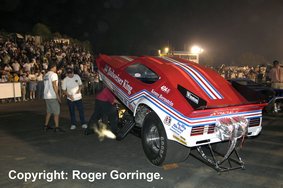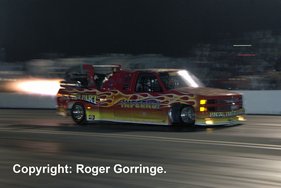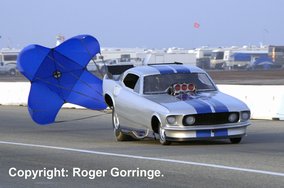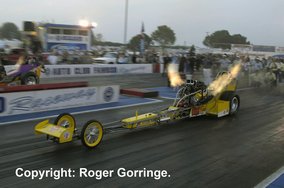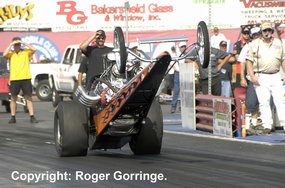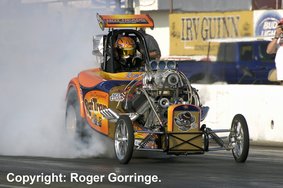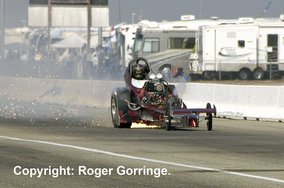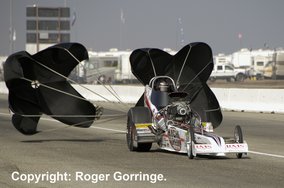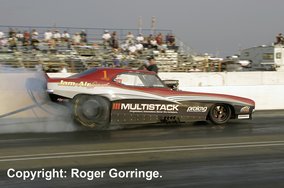 Text and photographs are ©Roger Gorringe, Eurodragster.com and must not be taken, copied or used in any way without written permission. Unauthorised use may result in legal action. To enquire about purchasing photographs please see the Eurodragster.com FAQ or E-Mail photography@eurodragster.com.


---
Features and Interviews index
Back to News page
---