2010 California Hot Rod Reunion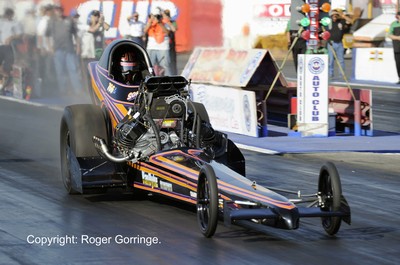 Click on any picture for large version
With a sixteen car slingshot Top Fuel field and a massive thirty-seven nostalgia machines in Funny Car the popular gathering attracted huge crowds with everyone suffering in the sweltering ninety-seven degree heat on the Friday and Saturday which thankfully abated somewhat on Sunday, plummeting to the low sixties along with an incoming thunderstorm and gusty winds that coated the track with dust then rain. The resultant climatic turmoil late afternoon ended the race day just short of the Pro finals and several Sportsman rounds, with the event organisers deciding to run off the remaining rounds on the Monday morning. The weather however had other plans as steady rain put paid to any track action on that day and the event was called late morning with the sun typically coming out shortly after!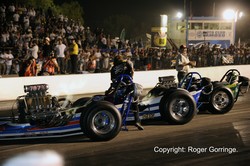 The fans were treated to two Cacklefests with the larger event on Saturday evening when literally dozens and dozens of vintage machines were pushed to the top of the track then returned one after the other down the fire up road beside the bleachers many with pipes showing a modicum of nitro header flame, this crepuscular activity sending the crowd wild. Cacklefest number two involved a variety of static cars and a couple of drag boats being self-started prior to the main eliminations.
There was a small international showing as Erik Wallinder from Sweden made an appearance driving Johnny Nilsson's Tre Kronor '79 Arrow, several Canadians were also in attendance and a couple of Aussies added to the numbers.
Top Fuel was led in session one and two by Jim Murphy with a fine 5.801/237 just ahead of Rick White on a 5.817/254 and Rick McGee on a 5.823/224, bottom of the pile was Jim Weaver who in the first session crossed lanes at the top end and smacked the guard wall ending up out of competition with a damaged car and destroying the wall mounted camera and big lens of photographer Mark Rebilas.
The un-run final was to have been between the outgoing Top Fuel Champion Brett Harris, the number fifteenth qualifier in the Nitro Thunder machine, and Adam Sorokin piloting the Van Dyke Motorsports car. Both competitors had their moments en route with Sorokin easily getting past transplanted Aussie Keith Burgan whose 6.292/216 was no match for the 5.892/253, then a real close encounter came as Sorokin's weaving and pedalling 5.816/249 just got the nod over the 5.829/252 from Brad Thompson. A win in the semi of 5.634/252 gave Adam Sorokin the 2010 Top Fuel Championship title as he beat the up in smoke pass and zinged motor from Jim Murphy.
Brett Harris on the other side of the ladder had an easy bye as Rick White shut off on the line after the burnout, Harris recording a non too slovenly 5.739/257 to then face Rick Williamson whose game 5.920/236 was not enough as Harris's 5.805/247 took him to the semi. As the clouds gathered and the wind got fresher on the Sunday afternoon Brett Harris managed another good five, a 5.776 at 250mph as Jim Murphy in the other lane kissed the wall at just past half track and getting the losing time of 6.886/132.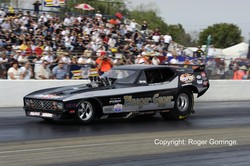 Funny Car was a stunning class as they never seemed to stop appearing from the staging lanes with some recording numbers matching the Top Fuel class. It was Mark Hentges driving the Bucky Austin Arrow who sat on pole with a great 5.786/248, the only car in the 5.7s, behind him was Jason Rupert in a Camaro on a 5.809/245 and Lee-Paul Jennings on a 5.835/244; in on bump was Dennis Swearingen with a 5.955/240 from his '69 Mustang showing how close the field was.
The two racers down to run in the final were Mark Hentges in the Bucky Austin '78 Plymouth Arrow and Leah Pruett-LeDuc driving the Pleuger & Gyger '72 Mustang. The sheer numbers of fuel coupes were allotted just two qualifying passes that meant a desperate attempt by many just trying to make the field. Pole position after the first stanza was Steven Densham, the son of Gary Densham with a 5.855/235 but on the second try Densham ended up in fifth place with Mark Hentges on top with a 5.786/248, then Jason Rupert, 5.809/245, in third place was Lee-Paul Jennings with a 5.835.
Leah Pruett-LeDuc had a close race with Dwayne Patton in the first round, a better leave coupled with a 6.086/236 got Pruett-LeDuc the nod as Patton chased hard with a 6.096/231, the lady then delivered the team the 2010 Funny Car Championship when she ran a 5.891/237 to defeat an up in smoke Mike Halstead. Another holeshot with a 5.823/241 saw off the 6.036/202 from Claude Lavoie taking the new champ to the rained off final. On the other side of the ladder Mark Hentges easily beat a troubled Dennis Swearingen with a 6.296/211 then caught and passed Kris Krabill's holeshot, 5.797/243 to a 5.926/235. A dramatic semi had Steven Densham lift the wheels and go into a crossed up block hitting pass that disqualified his run as Hengtes cruised past with a 6.092/218 to enter the un-run final.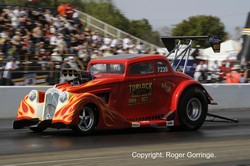 The AA/Gas cars were led by Max Abbey in round one with a 6.771/206 only to be put into third place by Cecil Matthews in round two with a 6.642/208. Abbey no-showed for eliminations whilst Matthews beat Rob Moore 6.669/202 to a 7.422/141 then was taken out by Chuck Moore in round two, a great 6.598/213 to a 6.654/202 putting Chuck Moore into the final. Rich Roberts meanwhile was dealing out Mike Leonard who failed to show then a 7.948/120 was all that was needed to see off the crossed up launch from Scott White. This all culminated in an un-run final between Rich Roberts '34 Willys and the '63 Corvette of Chuck Moore.
Kin Bates led both qualifying sessions in A/Fuel with the better time being 6.346/223, he then began disposing of the likes of Darrell Waters 6.297/226 to a losing 6.421/216 in round one then a 6.388/218 beat the troubled 13.170/60 from Shawn Cobari to get to the final. Meeting Bates would be Les Davenport who won his bouts with 6.232/217 over the 6.462/212 from Casey Grisel who came in as alternate then a 6.363/220 from Gary Wheeler was seen off with a great 6.182/217 from Davenport.
All other classes including Junior Fuel, A/Gas, Nostalgia Eliminator 1, 7.0 Pro, AFX and Exhibition still had rounds to run when the dust storms, lightning and rain ended the event prematurely. At time of press arrangements were being made to hopefully run the Top Fuel and Funny Car finals at the Auto Club of Southern California NHRA Finals at Pomona, California next month.


---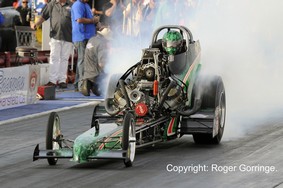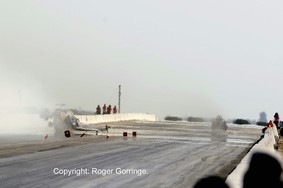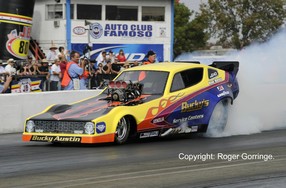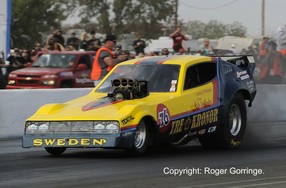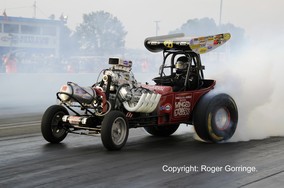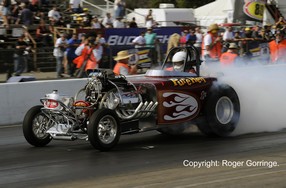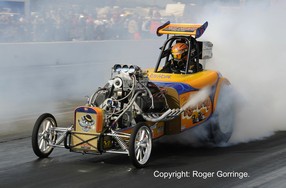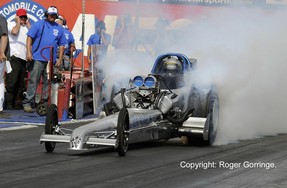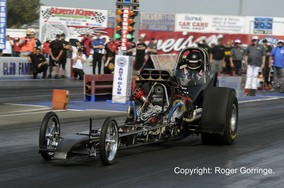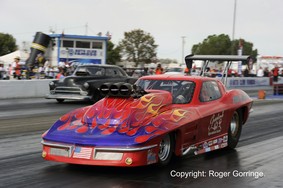 ---
Features and Interviews index
Back to News page
---