2010 Tire Kingdom NHRA Gatornationals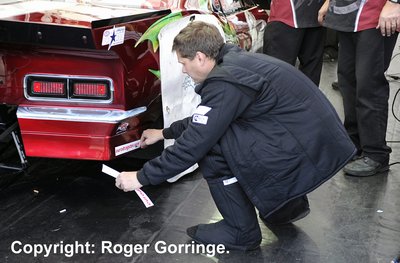 After what many described as the coldest winter in Florida, the third event in the NHRA Full Throttle Drag Racing Series was held up for almost two days out of the four by cold, torrential rain storms and frequent localised tornado warnings. The track crews and event staff were plagued by wet track conditions and soggy pits, with some areas a quagmire if teams were not on hard standing. One Pro qualifying session was managed on the Friday after no Sportsman action on the Thursday, and it was then a well organised rush to complete the meeting by late Sunday evening. The cool and somewhat breezy conditions gave rise to some great times and speeds with some of the Fuel cars recording times over the one-thousand feet mark more typical of the old quarter-mile times. It was another international gathering as racers from Canada, Qatar and Sweden came up against and sometimes beat the Americans at their own game all in front of a near capacity crowd of dedicated race fans.
Click on any picture for large version, and scroll down for additional photographs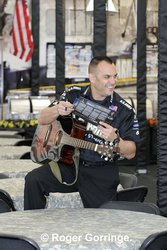 Just three Top Fuel qualifying rounds were able to be run due to the weather and it was Antron Brown freshly regrouped after his devastating Phoenix crash that led the sixteen car eliminator at the end of the day, a track record 3.803 at 321 mph just topped Tony Schumacher's initial 3.823/318.
Round one delivered some major surprises as the left lane was not on-song with the first victim, Morgan Lucas going into tyre smoke leaving a tyre shaking Steve Torrence a 3.879/311 win to the 7.782/91 lose. Doug Kalitta fell foul to the same against Doug Foley, Kalitta's holeshot worth nothing as the tyre smoke belched out, slowing him to a 6.519/113 lose and seeing Foley get a 3.959/254 win. Shawn Langdon switched lanes with Chris Karamesines and it paid off as 'The Greek' smoked the hides allowing Langdon through with a small fire and a 3.919/299 win. The lane tables turned then as Dave Grubnic suffered tyre smoke in the right lane as Brandon Bernstein ran the winning 3.891/313 to the 7.263/87 lose. Antron Brown took a 3.973/229 win as Todd Paton slowed to a 7.079/94 lose. A real close race occurred next as Tony Schumacher kept ahead on his holeshot winning with a fine 3.818/320 as Terry McMillen chased hard with a 3.865/304 lose. Larry Dixon overcame the slight lead by Pat Dakin and clinched the win with a 3.824/319 to the 3.952/275. Last pair in the round was Cory McClenathan who raced by the lead from Bobby Laguna to record a 3.816 win at a fastest ever one-thousand foot 322.50mph as Laguna's 3.955/305 came second.
Round two opened with Antron Brown powering ahead from half track the try from Steve Torrence, a 3.812/318 beating the 3.862/314. Brandon Bernstein hazed the slicks, got a little crossed up and pedalled but it was in vain as Larry Dixon's 3.831/317 lit up the score boards with the lose being 8.355/82. Doug Foley's day ended with a blower pop at three quarter track slowing him to a 4.332/179 as Tony Schumacher stayed ahead with a 3.839/319. Shawn Langdon showed his mettle as he left on Cory McClenathan and stayed ahead in a close match, a 3.852/317 got the nod to the 3.840/315.
The fastest ever one-thousand foot speed fell again in the semis as a match up between Tony Schumacher and Larry Dixon in the Al-Anabi car kicked off, 'The Sarge' left first and held on to record a great 3.822 at a whopping 324.98 mph win as Dixon followed with a losing 3.825/319. Antron Brown kept up his good weekend with a 3.801/318 win over the Lucas Oil/Speedco dragster of Shawn Langdon whose 3.909/304 was not quite enough.
The final pitted reigning Champion Tony Schumacher in the US Army machine against team-mate Antron Brown in the Matco Tools car. Schumacher left first and despite a flash fire in the lights took the event win with a great 3.797/322 as Brown pedalled to a losing 6.632/101.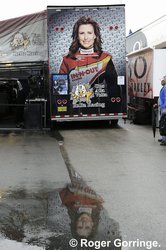 Funny Car Champion Robert Hight took initial control of the eighteen car field with a track record setting 4.060 at 310.13mph but then Matt Hagan mastered the pack with a 4.060 at a new track speed record of 313.58 mph possibly with the help of ex team Force tuner John Medlen.
Popular fan favourite John Force passed an up in smoke Bob Bode to open round one, a winning 4.087/310 beat the troubled 8.061/98. Cruz Pedregon suffered the same tyre blistered tyre pass as Bode as he faced his brother Tony Pedregon, a 4.128/310 beat the 8.771/90. Ron Capps caught and passed the leave by Del Worsham running a winning 4.072/310 at over a car length to the losing 4.157/306. Matt Hagan upped the fastest ever speed in the class with a 4.061 at 316.15 mph in beating the 4.223/268 from John Smith. In a close leave Robert Hight managed to stay ahead and win by several car lengths, a 4.122/305 to the losing 4.223/301 from Jim Head. The next pairing was all female and what a pedalfest it turned into as Ashley Force Hood hit tyre smoke then pedalled out of a crossed up situation only for Melanie Troxel to get loose and pedal. Troxel took the win 5.324/158 to the 5.980/34 both getting rapturous applause from the appreciative crowd. Jack Beckman hit tyre smoke at two-hundred feet out that put paid to his event, a losing 6.672/94 had Bob Tasca III take the 4.139/308 win. The last pair in the frame were Tim Wilkerson and Jeff Arend and Arend suffered the tyre smoke as did Beckman slowing him to a 5.520/190 as Wilkerson took the 4.188/283 win.
The second round opened with a close race as Tony Pedregon stayed ahead with his holeshot against Melanie Troxel, a 4.113/310 beat the 4.164/307 try. Ron Capps overcame the holeshot by John Force and the ticket read 4.066/312 for the win to the 4.135/310. A mere two-thousandths separated the leaves by Tim Wilkerson and Matt Hagan and Wilkerson clinched the deal with a 4.094/307 as Hagan slowed to a 4.465/284. The last pair saw the last of the Force team cars go out as Robert Hight struck the tyres at three-hundred feet out slowing him to a 4.804/178 as Bob Tasca III ran the winning numbers, 4.125/308.
It was Tony Pedregon's turn to smoke the slicks in the semis as his Nitro Fish machine went almost immediately into smoke giving the race to Tim Wilkerson, a 4.149/298 to an 8.493/85 told the tale. Ron Capps driving the NAPA Filters Charger hazed the slicks and got a little wayward as Bob Tasca III took the light on a 4.125/308 to the 4.562/216 try.
Not the usual favourites to go into the final but both well deserved as Tim Wilkerson in the Levi, Ray & Shoupe Inc Mustang left first, Bob Tasca III took off and drifted close to the wall in the Motorcraft/Quick Lane Mustang but it was Wilkerson all the way on a 4.097/303 win to the 4.192/287 lose.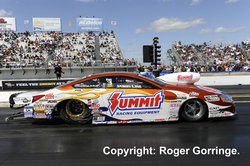 There were twenty-four of the Factory Hot Rods all trying to get into the tight sixteen car Pro Stock field which was led from the start by Champion Mike Edwards with a 6.610/208 but this was improved upon in round two of the three when a 6.537 tripped the lights at a track record speed of 211.86mph that lasted until eliminations.
Eliminations were run throughout the early weekend to find the Phoenix winner who turned out to be Mike Edwards.
Going out in round one were Vinnie Deceglie to Ronnie Humphrey, a red lighting Greg Stanfield to Jason Line, Steve Spiess to Greg Anderson, a tyre shaking Rodger Brogdon to V. Gaines, Shane Gray to Allen Johnson. Mike Edwards recorded another stunning speed 6.520 at 212.23mph beating Rickie Jones, Johnny Gray lost to Ron Krisher and finally Bob Yonke who runner-upped for the Phoenix event lost to Jeg Coughlin.
Round two opened with identical leaves for Greg Anderson and Jeg Coughlin but Coughlin slowed with problems leaving Anderson the 6.587/210 win to the troubled 9.637/93 lose. Allen Johnson got the leave on V Gaines and stayed ahead to gain the light, a 6.600/210 to a 6.616/209 lose. A neat leave by Jason Line kept the lead over Ron Krisher a 6.582/210 win to a close 6.592/210 lose. Mike Edwards continued to dominate catching and passing the leave by Ronnie Humphrey, a 6.549/210 beating the 6.577/210 to end the round.
In the semis Greg Anderson was off the power by the tree in his Summit Racing Equipment '09 GXP slowing to a 17.349/43 as team-mate Jason Line surged ahead to take a 6.606/210 win. Mike Edwards notched up another round win when his 6.564/211 got the win light over a losing Allen Johnson in the Mopar/J&J Racing '10 Avenger whose 6.596/210 was not enough.
It was the first loss of the season for the Penhall/K&N/Interstate '09 GXP of Mike Edwards as Jason Line in the Summit Racing Equipment '09 GXP drilled him on the lights leaving him floundering, a 6.580/210 beat the 6.556/221 try.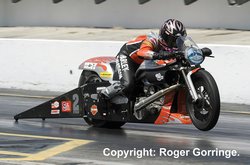 A field of twenty-three Pro Stock Motorcycles had Junior Pippin lead Friday's qualifying with a 6.959/190 pass but in session two Karen Stoffer recorded a track record ET of 6.869 at 194 mph only to better that later on Saturday with another track record breaking ET of 6.855 at 194mph for top qualifier. Eddie Krawiec settled in at number two with a 6.868 and a track record speed of 195.51mph. There were thirteen qualifiers in the six second bracket.
In round one Junior Pippin the earlier top qualifier went out to Shawn Gann, Matt Smith was beaten by Steve Johnson, Michael Phillips red lit against Craig Treble, LE Tonglet lost to Champion Hector Arana, Mike Berry red bulbed against David Hope, Angie Smith went down to Eddie Krawiec, Karen Stoffer beat Redell Harris and in the final pairing of the round Jim Underdahl went the red light way against Andrew Hines.
Red lights were most prevalent in round two as were six second passes, very similar to round one. David Hope lost with a red light 6.939/189 as Craig Treble seeing the light slowed to a 7.038/186. Andrew Hines got a little too urgent as his red light put him on the trailer leaving Hector Arana a 6.916/191 win to the 6.891/190. It was Steve Johnson's turn to get the evil eye; a 7.149/159 gave the win to Eddie Krawiec's 6.856/194. No red light in the last pair but it did see top qualifier Karen Stoffer fall by the wayside, a 6.979/187 lost to the 6.945/192 from Shawn Gann.
In a surprise lose Hector Arana's Lucas Oil Products '09 Buell carded the rounds only red light, a wasted 8.316/110 as Shawn Gann won on a 6.907/193. Craig Treble's Valvoline backed Suzuki TL1000 was run down and passed as the 6.971/189 was bettered by the 6.903/194 from Eddie Krawiec.
In the final it was the '10 V-Rod of Eddie Krawiec backed by Screamin' Eagle/Vance & Hines that got to the stripe first, a winning 6.899/195.68 beat the charging Rum Bum Racing '09 Buell XB9R of Shawn Gann whose 6.908/194 was left in the wake.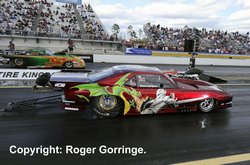 This was the inaugural round of the NHRA Get Screened America Pro Modified Series and it attracted twenty five contestants from as far away as Qatar and Sweden. The pack was led by Jay Payne in the first stanza, a 5.887/241 that was bettered in the second round of two by Roger Burgess on a 5.856/248.
Round one victims in this tough class were Tim Tindle to Sweden's Micke Gullqvist in a Roger Burgess Camaro, Tony Pontieri beaten by Qatar resident Khalid Balooshi, Troy Coughlin who red lit and shook against Kenny Lang, Rickie Smith lost to Burton Auxier, Mike Knowles to Joe Baker, Chip King was beaten by Melanie Troxel, Ed Hoover lost to Jay Payne and Sweden's Adam Flamholc was beaten by Roger Burgess.
In round two the stakes were raised as Burton Auxier ran a winning 5.943/237 beating Jo Baker's '68 Firebird's losing slowed up 6.853/160. Ken Lang then took the win as Melanie Troxel got off the power at three hundred feet, 5.883/244 to the troubled 8.028/125. The next pair was visitor against boss as Micke Gullqvist ran a winning 5.827/248 as Roger Burgess got loose at half track kissed the guard wall and shot across lanes to be disqualified. Another visitor, Khalid Balooshi then got shot of Jay Payne, a 5.877/245 beating the 5.913/244 to end the round.
In the semis Canadian Ken Lang holeshot the Al-Anabi '68 Camaro of Khalid Balooshi and held on for the win light, a 5.932/244 beat the 5.909/245 by a fender. Burton Auxier shut of by the tree on his duel with Micke Gullqvist, the 5.857/248 getting the win against the losing 11.983/81.
It was a first for the history books in this first ever NHRA backed Pro Mod event and it was contested by two foreign drivers, Ken Lang from Canada driving the '53 Corvette against the '68 Camaro driven by Swedish driver Micke Gullqvist. It was all over on the startline as Gullqvist red lit then blew the tyres off slowing to a 10.977/109 as Lang became the winner with a 5.908/243 time slip.
The Top Alcohol Dragster final became a battle between Duane Shields and Darren Nicholson, and it was Shields in the Shortline Express Markets that triumphed with a 5.362/267 as Nicholson slowed with problems to an 8.334/114. Eurodragster.com sponsor Michael Manners had traction problems and qualified fifteenth, making a first round exit.
Top Alcohol Funny Car saw Frank Manzo in an Al-Anabi backed '10 Monte Carlo take the trophy with a 5.475/265 as opponent Mickey Ferro in the Ryco Hydraulics chased hard with a losing 5.498/262. Eurodragster.com sponsor Ulf Leanders qualified tenth with a 5.781 but went out in the first round of eliminations.
Competition Eliminator had Arnie Martel in a '07 GTO take the win with a 7.891/170 as Glen Treadwell chased with a losing 7.857/159. Super Stock had Sal Biondo record a winning 9.287/131 in a '97 Achieva as Chuck Gallagher ran a losing 8.924/151 in a '94 Sunbird. Stock Eliminator saw Joe Santangelo in his '95 Camaro beat Wes Neely's '88 Trans Am in a 10.633/122 win to a 12.232/105 lose. Steven Furr took the win in the large Super Comp class with an 8.947/169 over the 8.916/178 from Trevor Wiggins. Jerry Heffelfinger ran his '38 Chevy to the Super Gas win with a 10.031/124 to beat Michael Ruff's '67 that ran a losing 10.577/113.


---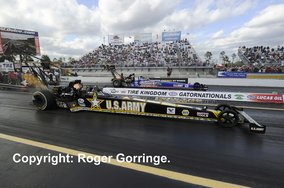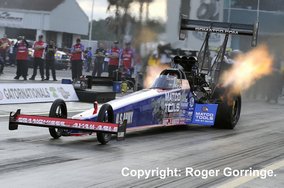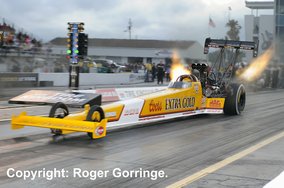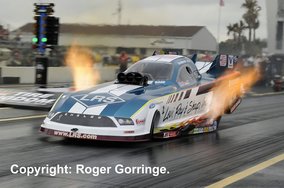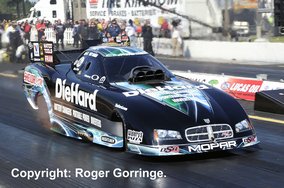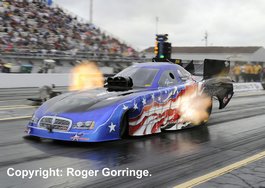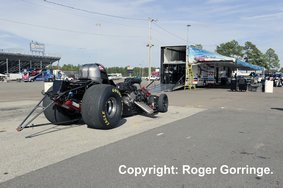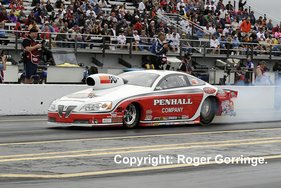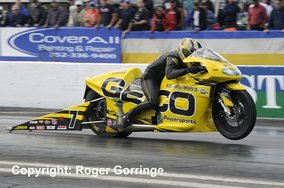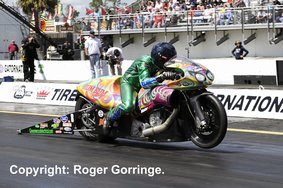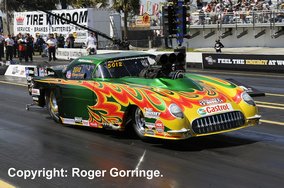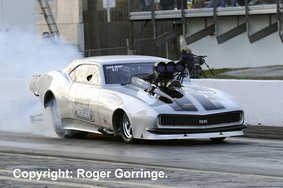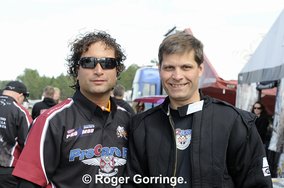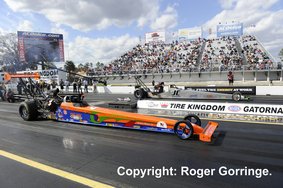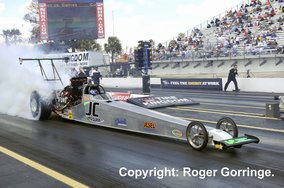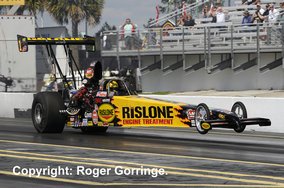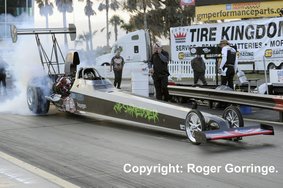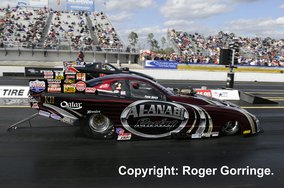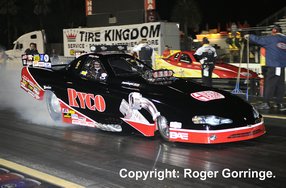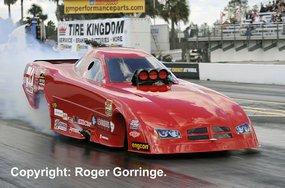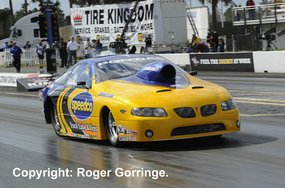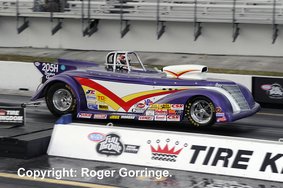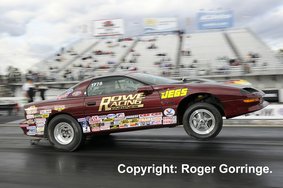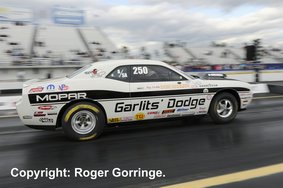 Text and photographs are ©Eurodragster.com and must not be taken, copied or used in any way without written permission. Unauthorised use may result in legal action. To enquire about purchasing photographs please see the Eurodragster.com FAQ or E-Mail photography@eurodragster.com.


---
Features and Interviews index
Back to News page
---