2010 NHRA Las Vegas Nationals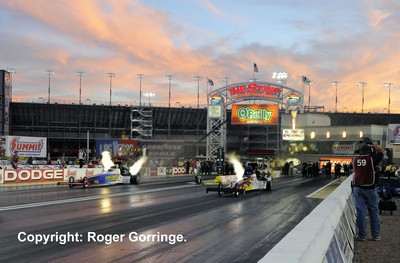 Click on any picture for large version
If you wanted stunning track records, an amazing national speed record, comfortable seventy to eighty degree warmth and an unusually high percentage of time-consuming oildowns, the NHRA Full Throttle Countdown to the Championship penultimate round at the desert facility in Las Vegas was the place to be. The grandstands were pretty much jammed with fans and the twenty-five fuellers, twenty-one floppers, twenty-three factory hot rods, twenty-five Pro Stock Motorcycles, twenty fabulous Pro Mods and all the Sportsman classes gave them day and night racing to awe any spectator. It was truly an international affair with racers from three continents giving their all to try and make the field; some made it, others not quite. The number of oildowns at this event has made the NHRA introduce new penalties for depositing liquids on the race surface.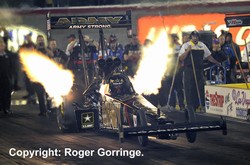 Top Fuel was a pernicious affair with the prolonged daytime qualifying on both days stretching into the dusk and night, pleasing both fans and photographers with the high header flames and the odd fireball here and there to light up the night air. Denmark's Stig Neergaard tried hard to make the field not quite making it with a best of 4.160/243 ticket, Australia was represented by Mark Mariani driving Santo Rapisarda's machine, he made the field with a respectable 3.986 and a top speed of 297 mph over the one thousand foot distance. Top of the pile was defending Champion, Tony Schumacher who lit the boards with a national event record speed of 325.14 mph in 3.812 seconds followed by team-mate Cory McClenathan with a 3.822/321. On the bump spot was a Bob Vandergriff with a 3.996 and a best speed of 291 mph. Notable DNQs included Doug Kalitta and Morgan Lucas among several other top racers.
A few big upsets occurred in round one of eliminations as Brandon Bernstein came off the power early allowing Shawn Langdon through with a 3.840/317. Dominick Lagana started a brilliant weekend with a defeat of Clay Millican who was losing cylinders by half track, 3.910/313 to a 4.697/162. A devastating blow to the points happened when Cory McClenathan smoked the tyres at half track then oiled the rest of the way giving the win to Aussie Mark Mariani's 3.930/307.
Round two saw Antron Brown end the Aussie hopes with a sound 3.875/318 to Mariani's 4.001/302. A massive set back to Larry Dixon's points lead occurred when the Al-Anabi car had cylinders go out as he added to the track crews oil clean-up statistics allowing Dom Lagana to clinch the win by a half car length and a 3.967/305 to the losing 3.984/248 taking the chase for the Countdown to 1 to Pomona. Dave Grubnic suffered a fireball in the lights after taking the win against Steve Torrence who went up in smoke then seeing the conflagration pedalled but in vain, 4.386/269 to a 4.713/209. Tony Schumacher then notched up the fastest ever Top Fuel 1000 foot speed when he won with a 3.820 at a national record setting 325.61mph and seeing off the 3.901/310 from Shawn Langdon.
Giant killer Dom Lagana continued his spree with a 3.892/312 win as Antron Brown's Matco Tools car lost cylinders and even though ahead at three quarter track was passed and left for dead. Dave Grubnic lifted in the Kalitta Motorsports machine by three quarters track with problems and allowed Tony Schumacher to stay ahead with a 3.808/323 to the losing 3.993/238 to end the semis.
The final was between the US Army car of 2009 Champion Tony Schumacher and the Big O Tires machine of Dominick Lagana; Schumacher led out of the hole by a small margin and powered not surprisingly to the finish line first with a 3.845/316 as Lagana followed with a non shabby 3.987/274. "It's a long shot but we're gonna give it our best shot" said Schumacher after the race. The man has a great past habit of coming in to clinch the title at the last minute.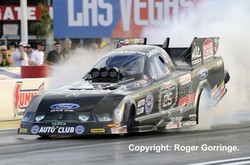 Funny Car was led by Ashley Force Hood with a 4.032/309 just ahead of Dad, John on a 4.050/311 and Ron Capps at 4.082/309. Sitting on the bump was Paul Lee with a 4.222/289. Jeff Diehl suffered a horrendous crash when he suddenly turned right, T-boning the wall at past half track launching the body over the wall and sending him and the intact chassis across track behind his opponent and into a huge fireball before stopping in the shutdown area. This unfortunate incident added to the already delayed schedule and made for a late finish on the Saturday night. Defending Champion Robert Hight had problems and failed to qualify.
Some big names went out in round one and they included a tyre smoking Tim Wilkerson as Melanie Troxel in the In-N-Out Burger Dodge managed to pedal her way to the 4.633/273 win. Jim Head got past Cruz Pedregon who was losing cylinders and then put oil on the track 4.121/305 to a 4.273/270. Del Worsham went into smoke at sixty feet out as Ron Capps went bang at three quarters and slowed, he took the win, 5.824/101 as Worsham pedalled hard, his 6.332/170 chase in vain. Tony Pedregon ran a trouble 4.951/167 as point leader Matt Hagan won with a 4.071/305. Gary Densham smoked the hides off the line as Bob Tasca III ran the winning 4.158/305.
Round two kicked off with Ron Capps leading until he smoked the slicks at half track allowing Bob Tasca III to roar past 4.305/297 to a losing 4.763/183. Nice guy Jack Beckman led the way until he had cylinders go away at six hundred feet and watched Ashley Force Hood storm by with a winning 4.135/309 to the 4.213/267. Jim Head also suffered losing cylinders and slowed to a 5.495/134 this allowed Matt Hagan to progress through with a 4.133/303. Ending the round was a classic with John Force hazing the slicks at three hundred feet and getting close to the centre line as Melanie Troxel hit tyre smoke around the same distance then seeing Force in trouble pedalled but just failed as JF took the 4.710/197 win to the 4.856/227 lose.
A 4.130/307 took John Force to the win as Bob Tasca III in the Motorcraft/Quick Lane Mustang pedalled three times in his attempt to get to the finish line first, then Ashley Force Hood in the Castrol GTX Mustang went into smoke at the tree and had to watch Matt Hagan take the light with a 4.097/304.
The final pitted two of the main title contenders, Matt Hagan in the DieHard Dodge Charger and John Force in the Castrol GTX High Mileage Mustang, Force got the jump and ran all the way to the line winning with a 4.232/281 as Hagan smoked and was off the power at two hundred feet then pedalling in an attempt to catch up, a 6.925/110 was the runner-up ticket.
In Pro Stock, twenty-three factory hot rods were led by Allen Johnson and a 6.646/207 then V. Gaines on a 6.651/206 and Jeg Coughlin at 6.657/206. In round one upsets defending Champion Mike Edwards was beaten by Greg Stanfield, 6.682/206 to a 6.655/206 the holeshot winning the bout. Gaines also went out to Bob Yonke 6.730/205 to a 6.640/207 red light. Round two sorted another couple of heavy hitters into the losers files, number one qualifier Allen Johnson went out courtesy of Greg Stanfield 6.667/206 to a 6.664/208. Greg Anderson managed to get by Jeg Coughlin a holeshot holding on for the 6.663/207 to a 6.659/206 and Ronnie Humphrey lost to a red on the tree against Jason Line, 6.651/207 to a disqualified 6.690/206.
The semis found Shane Gray pulling a cherry against Greg Anderson, Gray's Tire Kingdom slowing having seen his own mistake as Anderson had a great light and won with a 6.677/207. Greg Stanfield's weekend ended here with a 6.664/206 lose in his Nitro Fish '09GXP as Jason Line managed a 6.652/207 to take the win to the final.
The two teammates of the Summit Racing Equipment team met for the money run, Greg Anderson managed the better leave and held on to record the 6.654/207 win as Jason Line came in behind with a 6.656/207.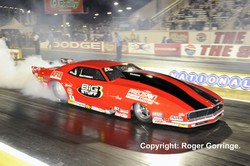 Pro Mod ran its last this year NHRA Get Screened America round and crowned the Champion after the point totals were collated at their own Champions banquet at the top of the Stratosphere tower on the Sunday evening after eliminations; Von Smith was that man driving the Barwa/Al-Anabi Racing '68 Camaro. However, it was popular racer on both sides of the Atlantic Melanie Troxel that pushed her In-N-Out Burger '68 Camaro to a 5.907/246 top qualifier ahead of Brad Personett's 5.913/251 with his turbo assisted '68 Camaro. Sitting on the bubble was Chip King with a 6.182/233 from his '69 Daytona.
Round one defeats included a red lighting Danny Rowe against Canadian Raymond Commisso, 6.023/243 to a wasted 5.934/244. Series backer Roger Burgess took his R2B2 '68 Camaro to a 6.053/242 win over Canadian Kenny Lang who was off the throttle at one hundred and fifty feet. Champion to be Von Smith knocked out Mike Knowles 5.933/243 to a losing 6.026/239. Pat Musi shook and which allowed an early lift from Troy Coughlin the win. Rick Stivers beat Ed Hoover and Jay Payne took out Dennis Radford. Brad Personett stormed to another big speed in his defeat of Joe Baker, a 5.929/251 beat the 6.028 237. Finally Melanie Troxel trounced Chip King's 6.058/233 with a 5.895/247.
In rounds two Jay Payne managed the win with a 5.941/239 over Von Smith's slowing 13.356/70. Troy Coughlin ran a six dead at 234mph to beat the close 6.008/240 from Rick Stivers '06 Stratus. Roger Burgess left first but was beaten from behind when Brad Personett passed him at three quarters, 5.884 at a whopping 254.52mph beating the 6.004/242. Although Raymond Commisso left a tad before Melanie Troxel she hauled him in to take the light with a 5.909/245 to the losing 6.008/241 to end the round.
The semis matched Melanie Troxel against the Jegs.com '68 Camaro of Troy Coughlin, a slight lead by Troxel coupled with a 5.930/244 gave her the win as the 6.024/235 lost. The other pairing was Brad Personett and the FireIce '68 Camaro of Jay Payne and after a burn down on the tree the pair were then ordered out and to restage; Payne left with quite a lead and his 6.216/188 was run down as Personett charged by with a 5.910/236 winning number.
In the final it was Melanie Troxel in the In-N-Out Burger Camaro that left first but along came that turbo power of Brad Personett's Precision Turbo/Big Stuff Camaro and just ran her down from behind with a 5.859/254 win to the 5.984/244 lose.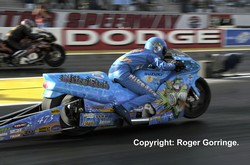 Pro Stock Motorcycle had a twenty-five bike field all trying to make the sixteen bike eliminator which was led by defending Champion Hector Arana on a 6.909/193 ahead of Eddie Krawiec with a 6.911/196 and Karen Stoffer with a 6.950/193. Bottom of the qualifiers was Scotty Pollacheck with a 7.102/186. Track records went to Arana with the 6.909 and Krawiec the speed at 196.02mph.
Names who got through round one included LE Tonglet, Eddie Krawiec whose 6.976/191 beat Matt Guidera's 7.115/183. Andrew Hines holeshot took out Craig Treble's 6.992/109 to a losing 7.072/185. Matt Smith beat Michael Phillips who slowed with problems. Shawn Gann saw off Angie Smith's try, 7.103/186 to a 7.112/182. Karen Stoffer despatched Steve Johnson's 7.118/185 with a 7.002/188 and finally, Hector Arana's 6.993/188 beat the 7.286/178 from Scotty Pollacheck.
Gann went out in round two via a red light against Jim Underdahl, a 7.024/189 beatinf the disqualified 7.078/186. Matt Smith overcame the slight holeshot from Karen Stoffer, 6.999/188 beating the 7.046/186. Hector Arana's luck went away as he slowed at three hundred feet and watched LE Tonglet take a 7.004/187 win. Teammates, Andrew Hines and Eddie Krawiec faced off to end the round with the win light going on in Hines lane immediately as Krawiec red lit, the 6.984/189 beaten by the 6.989/189. The semis pitted LE Tonglet against Jim Underdahl's Suzuki Extended Protection backed '02 Suzuki, a near identical light made it a fight to the end with Tonglet taking a 6.948/190 win to the 6.988/190 lose. Matt Smith then overcame the slight holeshot from Andrew Hines Screamin' Eagle Vance & Hines '10 HD V-Rod the 7.037/187 getting the nod as the 7.041/189 lost.
The final was a Suzuki versus Buell battle as the Nitro Fish/GT Motorsports '98 Suzuki GSXR of young LE Tonglet left first followed by the Al-Anabi '10 Buell XB9R of Matt Smith. Despite earlier ditching his bike in the sand pit Smith gave it his all but the 6.983/189 was not quite enough as Tonglet notched up his fifth win of the year with a 6.951/188.
Top Alcohol Dragster had two Brits and Eurodragster.com sponsors in the action, Derek Flynn in the Gold RV Larry Miersch car and ex-pat Brit Mike manners in the Shredder car. Both qualified but unfortunately went out in round one. The final came down to a battle between a blown car and an injected machine, the blown one belonging to Jim Whiteley who took the win with a 5.347/263 as Monroe Guest red lit away his weekend with a wasted 5.446/269.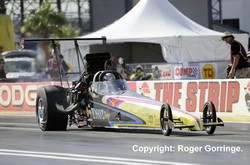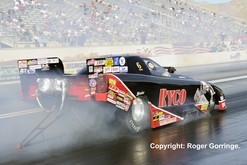 Top Alcohol Funny Car and the final came down to a run-off between Mickey Ferro and Doug Gordon. Gordon's Morro Bay Cabinets Racing Monte Carlo was the one that red lit and his slowed up time was proof he knew as Ferro in his Ryco Hydraulics Monte Carlo took the win with a 5.578/256.

Comp Eliminator saw Dave Rampy in his '32 Bantam take the win with a 7.818/124 as opponent John Edwards in his '99 Neon redlit to end his weekend. Super Stock had a massive entry that was whittled down to a run-off between Tony Mandela's '87 Camaro and Dan Fletcher in his '69 Camaro, the win went to Mandella with a 9.989/131 to the losing 9.511/141. Stock Eliminator was another massive class with the final coming about between Slate Cummings in a '99 Firebird and Marlene Nelson in a '68 Chevelle, the 10.728/107 from Cummings beat the 12.221/106 from Nelson. Super Gas again a well-populated class that came down to a run-off between Steve Williams in his '63 Corvette and Stephanie Warn-Skaggs in an '05 Grand Am. A 10.115/161 was declared the winner for Williams as the 10.079 from Warn-Skaggs was not quite enough.


---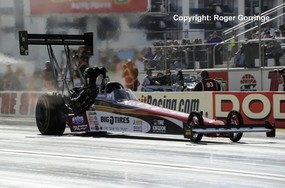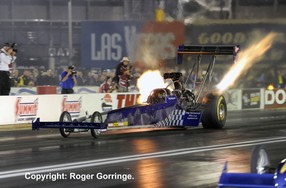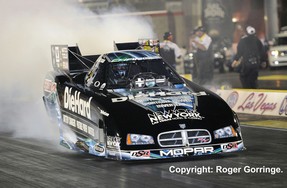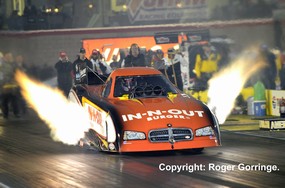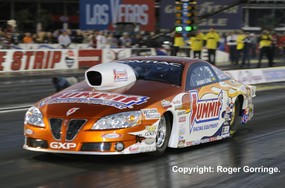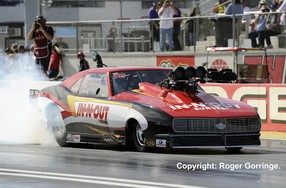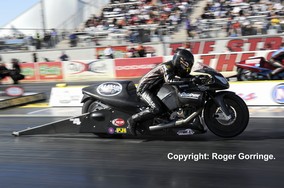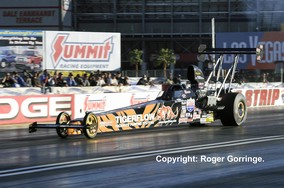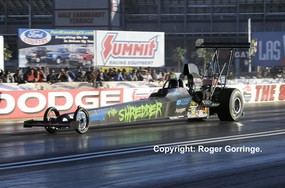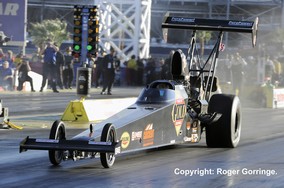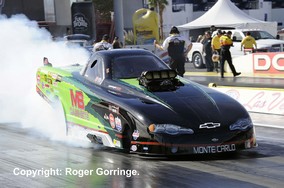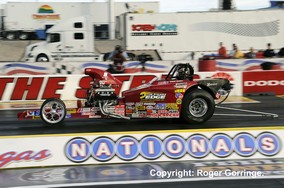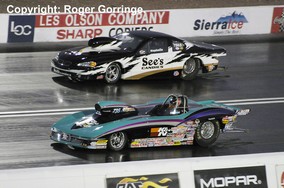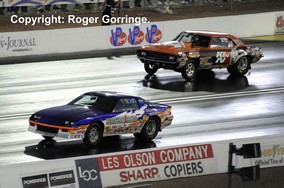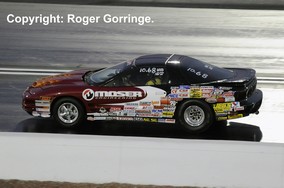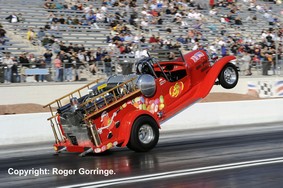 ---
Features and Interviews index
Back to News page
---