50th Annual Kragen O'Reilly NHRA Winternationals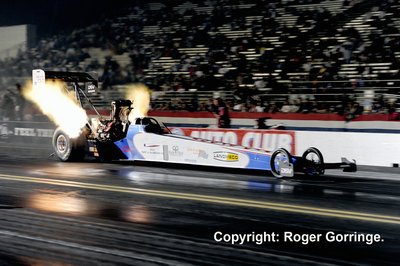 The NHRA Full Throttle Drag Racing Series kicked off at the famed Pomona track under perfect blue skies and warming temperatures, a far cry from a couple of days earlier when it was cold and extremely wet. 'February Fury' was the in-phrase being widely used, applicable to the severe snows that were blanketing vast tracts of the United States. Snows blanketed the mountains behind the track bringing a wonderful atmosphere to the Fiftieth Anniversary race which included a double Cacklefest and a demonstration Nostalgia Funny Car show. February Fury could also have been coined to describe the sheer horsepower that was unleashed as every competitor vied for the first points of the year. It was an international affair once again as two Europeans were there to participate in the fuel ranks, England's Andy Carter and Norway's Thomas Nataas whilst Canada was well-represented in several other classes all watched by thousands of race fans.
Click on any picture for large version, and scroll down for additional photographs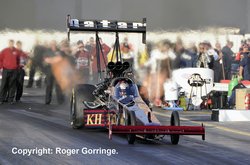 Top Fuel qualifying was dominated by just two racers over the one thousand foot distance and they traded places all weekend, Cory McClenathan set the pace on Thursday with a 3.809/320 before Larry Dixon ran a little quicker with a 3.795/317 on the Friday before McClenathan re-took the pole with a Saturday second lap of 3.787/320. Norway's Thomas Nataas completed an off the trailer 3.880/306 then a last try of 3.844/310 that put him in seventh place in the field. England's Andy Carter unfortunately did not fare so well, an up in smoke 10.485/72 followed by a fireballing 4.260/218 before a no show in round three due to a problem being found and repaired then a last ditch multiple pedal 6.093/107 had him DNQ.
Round one had Aussie Dave Grubnic inexplicably drop the chutes on the launch as Shawn Langdon took the win with a 3.855/315. Next up was the American-European face-off as Thomas Nataas went up in smoke on a slowed up 10.242/72 allowing Brandon Bernstein the win on a 3.887/312 lap. A real close race occurred as Antron Brown held onto his holeshot and took the light with a 3.883/314 to the 3.897/310 from a chasing Steve Torrance. A great light from Troy Buff secured him the win with a 3.950/295 as Morgan Lucas chased hard but in vain losing with a 4.108/263. Number one qualifier, Cory McClenathan got the better leave and powered to a 3.843/318 leaving Steve Faria floundering with a 5.482/126 lose. Larry Dixon rapped out a great 3.799/318 to take the win as Steve Chrisman hazed the slicks and slowed to a 5.301/130. Tony Schumacher said he saw the red light that the 'Greek' Chris Karamesines left on his 8.115/66 try and slowed accordingly to an easy 7.838/73. The final pairing had Terry McMillen go into instant smoke leaving the way clear for Doug Kalitta to score a 4.518/254 win.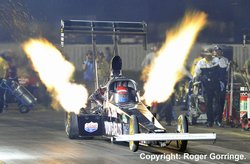 Doug Kalitta opened the next round with a 3.929/309 win as Troy Buff hit tyre smoke at sixty foot slowing to 7.715/84. Antron Brown was the next to suffer from the slicks breaking loose slowing him to a pedalling 4.535/196 as Tony Schumacher caught and passed him winning with a 3.923/302 ticket. Cory McClenathan powered past Shawn Langon's better leave and took the win light with a 3.855/314 to the losing 3.916/306. Another close race happened when Larry Dixon overcame the lead by Brandon Bernstein chasing him down with a 3.854/316 to a losing 3.929/309.
Doug Kalitta took the Kalitta Motorsport Fueller to win by half a cars length and a time of 3.849/315 as the beautiful Fram-backed dragster of Cory McClenathan followed behind with a losing 3.860/315 to open the semi finals. In an extremely rare occurrence the next pair, Larry Dixon and reigning champion Tony Schumacher both carded exactly the same numbers but it was the US Army car of Schumacher that took the loss with the figures of 3.836/317.05.
The Al-Anabi Racing dragster of Larry Dixon was first out of the hole by a tad closely followed by the Kalitta Motorsport car driven by Doug Kalitta and it was the Dixon machine that held on for the first win of the year with a half car lead and a 3.808/316 ticket to the losing 3.848/310.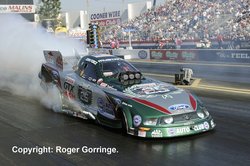 It was the current Full Throttle NHRA Funny Car Champion Robert Hight who dominated qualifying leading from the hit and holding on with a 4.059/312 staying ahead of the nineteen-car field.
Round one opened with Matt Hagan taking a little bit of a wild ride but staying ahead of an up in smoke at the two-hundred foot mark Gary Densham, a 4.525/270 won the race to a losing 4.572/278. Bob Bode also hazed the slicks at two-hundred, slowing to a 6.109/113 as John Force powered to a 4.132/308 win. A close race followed as Del Worsham overcame the slight lead by Jeff Arend, a 4.188/302 beating the 4.205/301. Robert Hight's luck ran out when he hit smoke got crossed up and went over the centre line, disqualifying his attempt and allowing the 4.330/251 from Cruz Pedregon through to the next round. Melanie Troxel's new In N Out Burger car ran a 4.197/304 but a tardy light lost her the round as Bob Tasca lll won with a 4.191/301. Ashley Force Hood managed a good 4.121/307 win over an up in smoke 4.720/185 from Tim Wilkerson. Jack Beckman drove around the lead from Tony Pedregon and took the win with a 4.164/306 to the losing 4.210/306. Ending round one was the win by Ron Capps, a 4.174/301 beat the troubled 5.825/98 by Jim Head.
Matt Hagan hazed the slicks at the two-hundred foot mark on his 4.636/237 try in round two as Bob Tasca lll ran the winning 4.196/301. Ron Capps managed to catch and pass the lead from Cruz Pedregon, a 4.153/299 beat the 4.307/284 try. A family race was next as Ashley Force Hood faced her father John but her chutes came out on just before the line; she was saved as the crew hurriedly repacked them, a feat achieved because Capps was locked up at the end of the track. With no burnout Force Hood gave a good account of herself but just failed to catch the old man, 4.120/305 beat the 4.187/305. Del Worsham hit tyre smoke at three hundred feet which slowed him to a 4.587/244 lose as Jack Beckman zoomed to a fine 4.183/304 win to end the quarter finals.
Bob Tasca III in his Motorcraft/Quick Lane Mustang fell foul to the tyre smoke at the three-hundred foot mark, his 12.686/46 following way behind the 4.158/300 from Ron Capps. Jack Beckman also went the up in smoke route slowing to a 5.658/132 in the Valvoline/MTS machine as opponent; John Force made his way to a 4.125/305 win.
The final saw John Force in his Castrol GTX High Mileage Mustang celebrating 25 years of Castrol with JFR leave on a better light and then take his first win since 2008 with a 4.124/298 as Ron Capps chased hard in the NAPA Auto Parts Dodge just failing to take the win with a 4.123/305.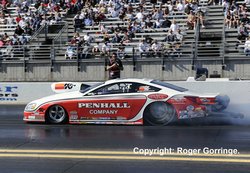 There were twenty-two of the factory hot rods chasing closely to get into the sixteen car Pro Stock eliminator which was led by current Full Throttle Champion Mike Edwards with firstly a 6.58/210 then a better 6.578/211.
Round one saw some surprise exits as Jason Line went out to Greg Stanfield, Kurt Johnson to Greg Anderson, Ron Krisher to rookie Shane Gray and Jeg Coughlin to Larry Morgan to name but a few.
Into round two and Larry Morgan's stunning looking Mustang ran a 6.674/208 to beat a wayward Ronnie Humphreys. The race between Rodger Brogdon and Allen Johnson was won on the start line as a red light shone in Brogdon's lane leaving Johnson the win with a 6.634/209. The initial luck of rookie Shane Gray ended when he faced Greg Anderson, a better light for Anderson coupled with a 6.626/209 beat the hard charging 6.697/207. A close leave between Mike Edwards and Greg Stanfield saw Edwards hold on to a slight advantage with a 6.610/210 beating the 6.659/208.
Despite a holeshot from Larry Morgan's Lucas Oil/Summit/Ford Racing machine he was reeled in by the power from Greg Anderson's 6.632/209, the 6.681/208 losing. Mike Edwards continued his domination with a holeshot 6.615/210 win over the 6.645/209 lose from the Mopar/J&J Racing Avenger of Allen Johnson to complete the semis.
Greg Anderson in his Summit Racing Equipment '09 GXP led from the start and looked for all the world to have wrapped up the win but for the fact that Mike Edwards in his Penhall/K&N/Interstate '09 GXP powered past in the last few feet taking the win with a 6.577/210 to the losing 6.618/209.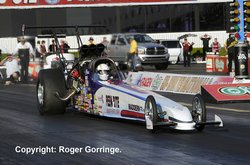 In Top Alcohol Dragster it was an all-blower final as Joey Severance faced Chris Demke in the Peen-Rite car, Demke cut a great light and held onto the lead all the way recording a fine 5.332/269 win to the slowing 5.916/196.
Top Alcohol Funny Car saw Sean O'Bannon take his Forest River RV Monte Carlo to a good win he caught and passed the lead from Doug Gordon's Morro Bay Cabinets Monte Carlo and too the event win with a 5.541/259 as Gordon recorded a losing 5.643/259 lose.
Competition Eliminator had the win go to Lou Ficco Jr in his good looking '09 GXP with an 8.624/114 as opponent Dean Carter in his front motored dragster red lit away a 7.258/155 try.
The Super Stock wars saw the final win go to Jeff Lane in his '98 Achieva, an 8.880/153 secured the event title as Jimmy DeFrank in his '10 Cobalt ran a losing 8.806/153.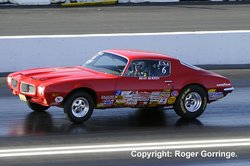 In Stock, the win went to Brad Burton his '72 Formula ran a winning 10.820/119 to the 9.79/135 from Ryan McClanahan's '69 Camaro.
The huge Super Comp battles were whittled down to a run off between Kevin Wright and Ed Olpin but it ended up a solo as Olpin broke giving the easy 9.902/107 win to Wright.
The huge Super Gas entry came down to a fight between Brad Pierce and Jimmy Lewis and it was Pierce's '58 Corvette which took the win with a 9.901/146 to the runner up place of 9.905/151 from the Corvette of Lewis.


---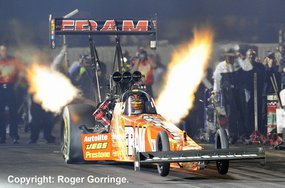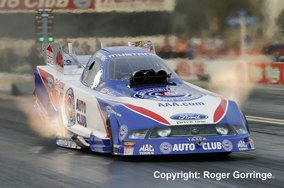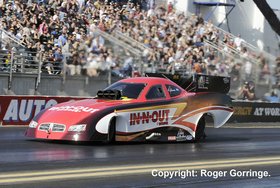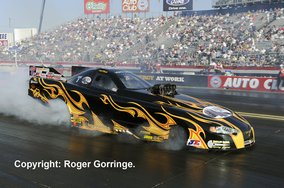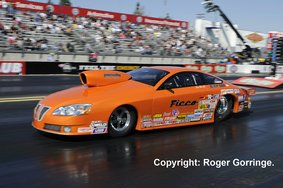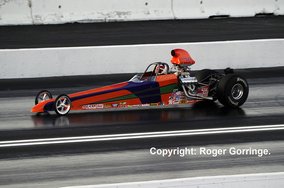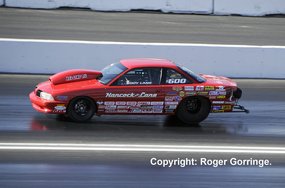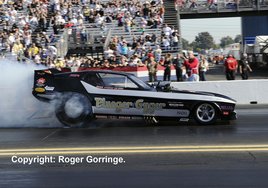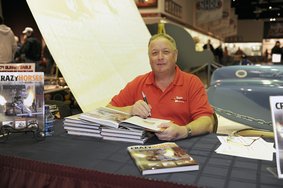 Text and photographs are ©Roger Gorringe, Eurodragster.com and must not be taken, copied or used in any way without written permission. Unauthorised use may result in legal action. To enquire about purchasing photographs please see the Eurodragster.com FAQ or E-Mail photography@eurodragster.com.


---
Features and Interviews index
Back to News page
---