2011 California Hot Rod Reunion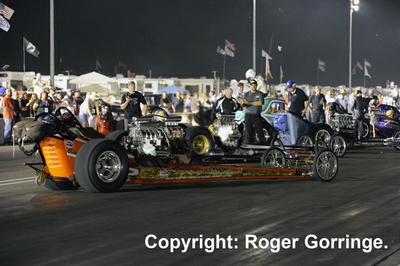 Click on any picture for large version

Commonly known as the 'Gathering of Geezers', the 20th Annual NHRA California Hot Rod Reunion presented by the Automobile Club of Southern California ran for three glorious days in cloudless skies and eighty plus degree temperatures at the world-renowned Auto Club Famoso Raceway . It was another huge success with the gate up a goodly amount pleasing organisers the Wally Parks NHRA Motorsports Museum and giving the multitude of fans from all over the globe a wholly entertaining time with a huge entry of nostalgia classes and a total of fifty-two blown fuel cars running in competition and exhibition and creating some stunning times and speeds.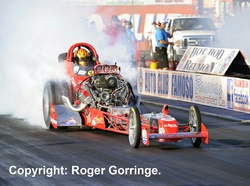 Top Fuel had a neat sixteen car field that was led by Jimi Young on a tremendous 5.593/255.92 over a tenth ahead of second place man Rick White on a 5.698/231 on the full quarter-mile surface. Nine cars made it into the fives with the remainder in the sixes and last man in was Jim Boyd on a 7.588/133 on a sadly two session only qualifier.
Big loser names in round one that was run on Saturday afternoon included Brendan Murry, Brad Thompson, Bill Dunlap, Howard Haight and Mendy Fry. Worthy of note is the impressive quickest ever time of 5.566 that was run in this round by Tony Bartone. Round two opened with Tony Bartone putting down a 5.619/245 to see off the top end smoking 6.110/199 from Rick White. Denver Schutz managed to leave before Rick McGee but was hauled in as McGee passed him taking the light with a 5.732/261 to a close 5.774.241. The 2011 NHRA Hot Rod Heritage Racing Series Top Fuel Champion was made in the next pairing as Brett Harris took the win over Jim Murphy with a 5.757/259 win to a 5.859/224 lose. Howard Haight on his pass got a little crossed up and crossed the centre line hitting the half track blocks disqualifying his pass and as Jimi Young saw what was occurring eased off to gather the win light to end the second round.
The semis opened with Tony Bartone taking a from behind win with a 5.648/248 as Rick McGee lost with a close 5.692/253. Brett Harris left first and managed to get the light on a 5.724/257 ticket as Jimi Young followed with a losing 5.908/201.
The final round of Top Fuel pitted the new Champion Brett Harris against Tony Bartone and it was the Nitro Thunder car of Harris that got away first putting the win lights on in his lane with a 5.725/255 as the gold, non panelled chassis machine of Bartone charged to a runner up place recording a stunning 5.693 at a best ever speed of 269.29 mph.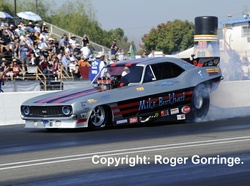 Funny Car fielded a massive thirty-three floppers that had to be whittled down to a sixteen car eliminator in just two qualifiers. Sitting on top of the pile was Paul Romine with a 5.698/241 from his '79 Mustang and on bump spot was Mark Hentges with a 5.886/241.
Round one dealt out names including Jon Capps, Ron Capps and Don Schumacher Racing Vice President, Mike Lewis. Entering round two was James Day driving the Dale Pulde '77 Trans Am who took the win over Mark Hentges with a 5.714/242 to the losing 5.792/249 that was won on a holeshot. Kris Krabill also made use of a neat holeshot netting a 5.789/247 win to the 5.847/252 from Dennis LaCharite. Despite putting a blatant red light on the tree Jason Rupert was crowned the NHRA Hot Rod Heritage Racing Series Funny Car Champion a 5.874/242 though gave Steven Densham the win. Last pair of the round was John Hale and Mike Halstead and on a near identical leave it was Hale that clinched the win on a 5.730/248 as Halstead slowed to a 6.022/223 lose.
John Hale's luck continued into the semis as he caught and passed a quicker leaving James Day the 5.700/249 beating the 5.816/246 try. Steven Densham's day was ended when he unfortunately reversed back over his parachute after the burnout leaving Kris Krabill to take the win with an easy 14.587/61.
For the final John Hale driving the Mike Burkhart '69 Camaro made a somewhat tardy leave in comparison with Kris Krabill in the Pedaler '78 Arrow but Hale rode Krabill down securing the event win with a best ever ET of 5.589 at 255mph as Krabill came second with a 5.783/248.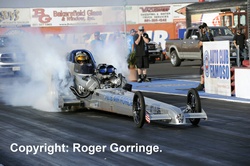 A/Fuel had twelve machines competing and was led by Californian resident Kin Bates with a 6.263/222 clocking. Bates met up with Jeremy Sullivan in the run-off and overcame the better reaction times and running 6.261/222 against the losing 6.717/195.
Junior Fuel had only seven entries led by Bob Lander on a 7.044/188 pass. It was Lander that met Don Enriquez for the money run and Lander caught and went by Enriquez to record a 7.115/186 win to a 7.238/185 lose.
7.0 Pro had a huge mixed entry of machines and sitting on pole was Bob Murphy with a 7.005/192. However, it ended up with an altered against a Funny Car for the final, Ronnie Lennon's '32 Bantam versus Greg Howland's '72 Corvette. Lennon clinched the deal with a 7.014/197 to a breakout 6.993/200 from Howland.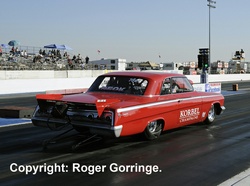 A/Gas witnessed a huge thirty-one car field that had Ken Ratzloff in his '53 Studebaker leading the pack with a 7.600/175 but when it came to the final it was a duel between the '62 Impala of Dean Hall and the '63 Corvette of Rob Patten. Hall carded a great light and hung on to take the lead and the win with a 7.644/167 to the losing 7.625/178.
Nostalgia Eliminator 1featured action from twenty-nine cars trying to make the grade that had Gabe Wood lead with a 7.600/159 from his dragster. It was however a match between an altered and a dragster, Tim Brown in his '23 Ford against Dan Schrokosch's rail and the rail led the way only to overtaken as Brown notched up the win with a 7.782/159 to the losing 8.008/157.
AFX had twenty-four runners led by Lynsi Martinez in her '69 Dart on an 8.968/144 pass and Lynsi made it to the final to face Joel Miner in his leaping '64 Plymouth. A 10.302 was the winning numbers for Miner as Martinez followed with a 9.063/148.


---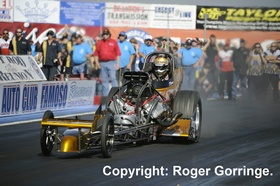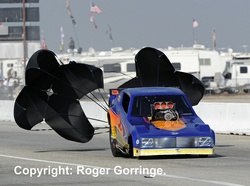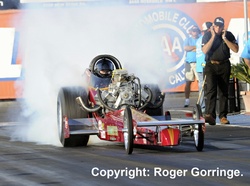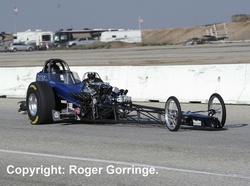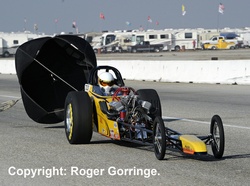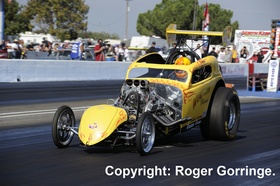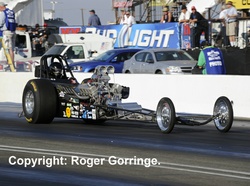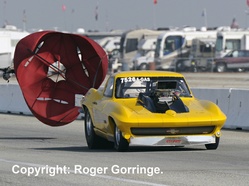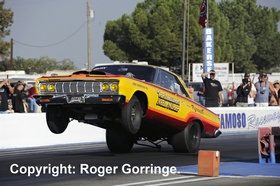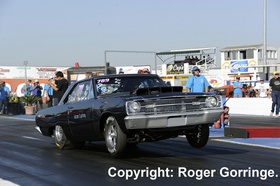 ---
Features and Interviews index
Back to News page
---