2011 NHRA Kragen O'Reilly Auto Parts Winternationals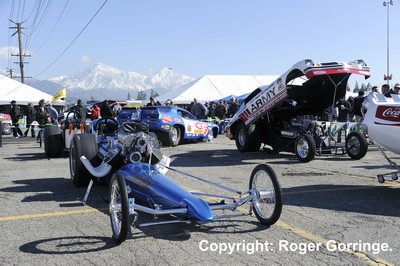 Click on any picture for large version

If you ever thought we had some tough weather at some events in Europe then think again as in the normally sunny California, the climate was cold and damp. Thursday was cool and dry, Friday was rained out after just a few Sportsmen ran and Saturday's forecast predicted rain and possible snow! The event, the first in the NHRA Full Throttle series this season went relatively well, surviving the cold and just a small amount of the wet stuff, the Pro categories managed to run their finals along with Top Alcohol Dragster and Top Alcohol Funny Car, the remainder had to run their rounds on the Monday.
It is the NHRA's sixtieth anniversary and the fifty-first Winternationals, part of the celebrations was the tribute to Don 'The Snake' Prudhomme and many of his old Top Fuel and Funny Cars were on display in the pits under the backdrop of the snow-capped San Gabriel Mountains.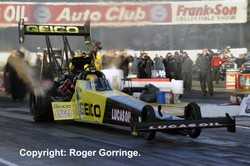 2010 NHRA Full Throttle Top Fuel Champion, Larry Dixon in the Al-Anabi Racing Fueller made the best pass of the weekend as he delivered a stunning 3.770 at 324.98 mph to set the pole position over the one-thousand foot race surface, Antron Brown made number two with a 3.788/323 and Tony Schumacher sat in third with the only other 3.7, a 3.789/324 out of the twenty entrants; sitting on the bubble was Terry McMillen with a 3.931/299.
In round one Brandon Bernstein blew the tyres off against Morgan Lucas, the following bout was a good race as the 3.830/318 from Doug Kalitta saw off the 3.831/317 charge from Steve Torrence. The left lane then suddenly went sour as TJ Zizzo then Bob Vandergriff blazed the tyres against Shawn Langdon and Del Worsham respectively. Ron August Jr continued the blazing lane losers as Spencer Massey put down a 3.782/324. Troy Buff fireballed as Schumacher took the light in their pairing. Mike Strasburg clicked off early with problems as Brown went through and finally, in a huge upset, Larry Dixon slowed to a 4.486/223 as Terry McMillen fireballed another motor but took the win with a 4.188/207.
Round two opened with McMillen tossing a blower belt to end his day, a 3.945/266 against the winning 3.858/317 from Lucas. Kalitta suffered a big engine detonation at three quarter track losing the race with Brown, 3.828/320 to 4.373/190. Worsham continued to impress in his new ride with a 3.810/322 win over a tyre hazing at half Massey. Another shock occurred when Schumacher blazed the slicks at half track and despite pedalling lost with a 5.375/127 to Langdon's 3.841/309 to end the round.
The semis kicked off with Antron Brown in the Matco Tools/US Army car suffering a big fire and oiling the track from the halfway mark as Shawn Langdon charged to the win with a 4.033/313. Del Worsham's luck in the Al-Anabi car ended when his 4.291/186 was not enough to hold off the 4.049/220 from Morgan Lucas.
The final pitted the two team cars of Morgan Lucas in the Geico Powersports/Lucas Oil machine against Shawn Langdon in the Lucas Oil Fueller and it was Langdon away first only to be reeled in by Lucas with a winning but fiery 3.835/316 to the 4.047/313.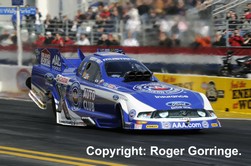 The final round of Funny Car qualifying had everyone's eyes raised as Cruz Pedregon pushed the Snap-On '09 Toyota to a stunning track record ET of 4.015/313 to lead the pack. A 4.049/311 put a returned to seat Johnny Gray in at number two and Mike Neff back in competition with a 4.060/312 for third out of a twenty car entry. On the bubble sat Tony Pedregon with a 4.191/278. Among the DNQs was European fan favourite, US Pro Mod and Funny Car driver Melanie Troxel.
Eliminations started badly with a double oil down as an on fire Bob Bode lost to Jim Head. John Force managed a 4.115/310 over Paul Lee's 4.456/202 and Gray's luck ran out as Jeff Arend took a wild win in his lane. Neff managed to get by a cylinder losing Tim Wilkerson whilst an all brothers bout saw Cruz get the better of a tyre spinning and pedalling Tony. Robert Hight pushed his machine to a 4.121/305 win against Bob Tasca III and a 4.060/308 got Matt Hagan past a slowing Gary Densham. In the last pairing of round one Ron Capps managed a 4.134/306 to defeat Jack Beckman.
Round two continued with Neff beating Head, 4.243/293 against the 4.231/284. A team battle saw Hight get the 4.107/308 win as boss Force took a wild top end charge lose of 4.123/309. Cruz Pedregon's weekend ended with a smoking 5.225/157 as Ron Capps ran a winning 4.117/306 to advance. Matt Hagan managed to catch and pass the better leave by Jeff Arend, a winning 4.106/305 seeing off the 4.161/295.
The semis saw a great race as Robert Hight led out of the hole with Ron Capps in the NAPA Auto Parts '09 Charger in hot pursuit, a winning 4.070/312 from Hight beat the 4.079/307 from Capps. In the other pairing, Matt Hagan dispatched the Castrol GTX Mustang of Mike Neff with a 4.138/302 to the losing 4.122/306.
Again for the final Robert Hight in the Automobile Club of Southern California Mustang got the better light and stayed ahead of Matt Hagan's DieHard '09 Charger, the 4.056/312 beat the better 4.023/310.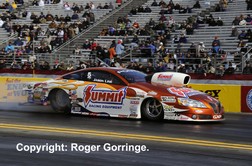 Unusually, there were fewer numbers in the factory hot rod category but Pro Stock qualifying qas led by Erica Enders in the Cagnazzi Racing '10 Chevy with a 6.553/211 for top speed and low ET of the qualifying rounds, behind her came 2010 Champion Greg Anderson with a 6.556/210 charge and in third was Allen Johnson on a 6.561/210 and sitting in sixteenth place was Richard Freeman on a 6.640/208 ticket. Surprise DNQ was past champion Mike Edwards.
Several big names fell in round one, Warren Johnson to Ronnie Humphrey, V. Gaines to Jason Line, Rodger Brogdon to Ron Krisher, Shane Gray to Greg Anderson, Allen Johnson to Vincent Nobile and Larry Morgan to Kurt Johnson. Erica Enders' high weekend ended in tears as she unfortunately could not get reverse after the burnout allowing Humphrey through on a solo. Greg Anderson won his round against Kurt Johnson with a good holeshot coupled with a 6.531/211 against the losing 6.587/209. A near identical leave had Jason Line pull ahead and win on a 6.535/211 against the 6.555/211 from Nobile. Greg Stanfield won on the startline his holeshot and 6.561/210 staying ahead of Ron Krisher's 6.629/210.
Greg Stanfield opened the semis with a win of 6.538/210 over the 6.561/211 from Ronnie Humphrey in the Genuine Hotrod Hardware '09 GXP then in a team battle Jason Line got the better of Greg Anderson in the Summit Racing Equipment '09 GXP, a 0.001 holeshot coupled with a 6.532/211 beat the 6.563/211 from Anderson.
The much better light by Greg Stanfield in the Coffman Tank Trucks '09 GXP was chased down and beaten by Jason Line in the Summit Racing '09 GXP, a 6.529/211 beating the close 6.595/210 to hand Line the event win.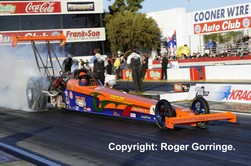 Duane Shields led the fifteen-car Top Alcohol Dragster eliminator with a 5.233/271 clocking and it was Shields that made his way to the final to face Canadian, Don St. Arnaud in the A&J Construction car. Despite a slight advantage on the lights from Arnaud, Shields in the Shortline Express Markets machine took the win with a fine 5.277/274 ticket to the losing 5.385/268.
Sean O'Bannon was number one Top Alcohol Funny Car qualifier with a 5.522/258 leading the fourteen car field but he went out in round one. The final pair were Tony Bartone in the Centre Pointe Collision Ford Mustang and the '07 Monte Carlo of Doug Gordon backed by Morro Bay Cabinets and an identical leave saw them battle all the way to half when Bartone pulled ahead winning with a 5.452/264 to the losing 5.579/259.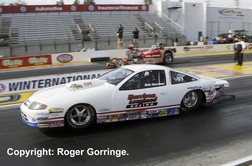 A jubilant Canadian, Rob Harrison took his Harrison/Lougheed Racing '05 Escort to the Comp Eliminator winners circle with a 7.610/117 as opponent Dave Rampy in his Elite Motorsports '32 Bantam runner upped with a 7.249/169. The huge field of leaping Super Stock doorslammers came down to a run-off between Ryan McClanahan in his 'Private Ryan' '08 Cobalt and the '11 Cobalt backed by the California Car Cover Company of Jimmy DeFrank and it was McClanahan that clocked up the win with a 8.555/161 as DeFrank came in second with an 8.675/155. Once again the multitude of Stock entries was whittled down to the final between Jody Lang and Jim Meador; Lang's JNL Racing '81 Mailbu managed to clinch the deal with a 12.342/97 as the Tri City Comp/MT/PMR '67 Camaro ran the runner up time of 10.75/123. Super Comp was another large class that was stripped down to have James Glenn meet Tom Pappas in the run-off; it was Glenn who got the better light and held on to take the win with an 8.915/169 to the 8.907/178. An all-Californian Super Gas battle ensued in the 9.90 class and it was Tom Broussard's little '69 Opel GT which managed to take the trophy from Steve Williams in his '63 Corvette, a 9.902/155 beat the identical 9.902 at 169mph.


---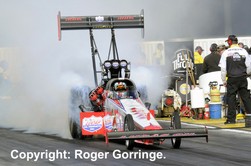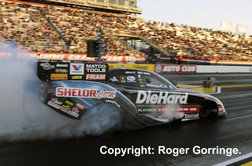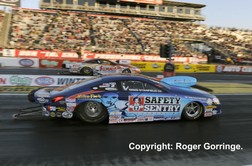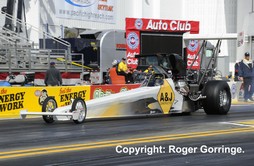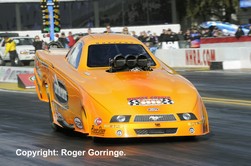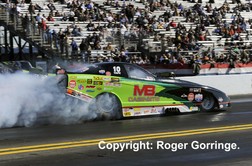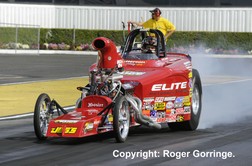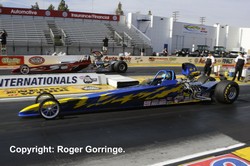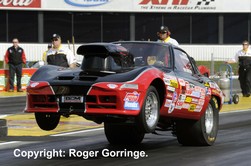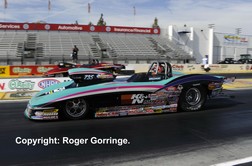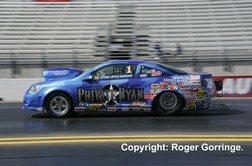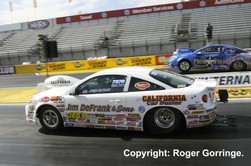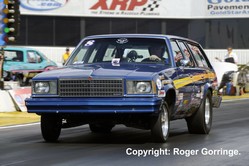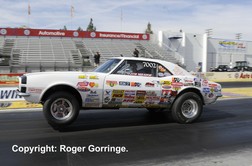 ---
Features and Interviews index
Back to News page
---