NHRA come to Ed's back yard
by Eurodragster.com US Correspondent Ed O'Connell


Click on any picture for large version
When New England Dragway first opened in the fall of 1966, I had made the decision to boycott this drag strip. I was determined to remain loyal to Sanford Maine drag strip, sacred ground for me as the site where I saw my first drag race on 14th June 1964. It was the site where I first encountered Garlits, Ivo, Sneaky Pete Robinson, Arfons and the A&B Speed Shop along with countless local legends. I wasn't about to support some newly-arrived competitor for my quarter-mile excitement.
I held out until the summer of 1967 when a Sunday! Sunday! Sunday! ad on local AM radio promised a booking I could not pass up. I discovered NED to be, for the era, an average purpose-built drag strip, one small step up from the abandoned airport runway era with a few more competitor and spectator comforts: wooden bleachers, actual pit space, staging lanes, and guard rails (although the guard rails were made of plumber's pipe).
In the ensuing forty seven years I have attended several races each year with the exception of a two-year forced vacation courtesy of the US Army and a year chasing waves in California. The track has continued to improve and evolve through the Funny Car match race era, a period of AHRA sanction, a brief period of NHRA Divisional races, a switch to IHRA sanction hosting National events, back to NHRA for a Divisional race in 2012 and, finally, the Holy Grail of drag race meetings, a NHRA National event in 2013.
Having attended major inaugural events at Virginia Motorsports Park in Chicago, and Tierp in Sweden, I was aware of the potential for confusion and chaos. But as at those events neither was evident as I was very efficiently processed through the NHRA credentials trailer Thursday morning and on to the track. Many improvements were readily apparent: much additional paved pit area, state of the art lighting (without the annoying overhead wires which had marred most of my photos from the stands during the film era), additional seating, and rest room facilities.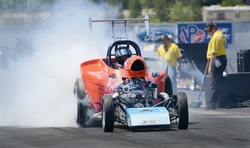 The crowd was thin for Sportsman qualifying on the Thursday. The on-track action and a tour of the well-organised Professional pit area provided for a few interesting photos as racing action on the warm summer day progressed efficiently at a relaxed pace.
Friday morning dawned as a perfect day for drag racing. The drag racing message boards, havens of doom and gloom, had many keyboard Crew Chiefs predicting apocalyptic events, unbearable traffic, terrible track conditions, starvation, pestilence, swarms of locusts, and Pro qualifying sessions comprised entirely of coasting aborted runs, tyre smoke, and oil downs. The morning editions of the local mainstream press, normally totally oblivious to drag racing, all ran very informative articles previewing the event, including quotes from local racers, fans, and Professional racers. Particularly interesting was an article describing how John Force Racing's track expert Lanny Miglizzi had spent Wednesday in a prone position inches above the track surface on a skateboard like device surveying the entire track before pouncing it "The smoothest track in North America", while 'experts' from thousands of miles away were posting on the drag racing message boards that the track surface was crap.
As the track filled to capacity or very near it, the racing just kept getting better. The first Pro qualifying session went off with military like precision, no delays, extremely minimal clean-up, and with very rare exception, complete runs with respectable numbers in all Pro categories, the large crowd very vocal in its approval of the on track performances. Numbers backing this observation as fact can be readily found at many internet sites providing race results.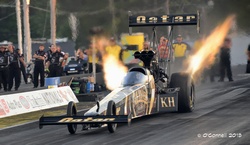 The Friday evening second qualifying session was, for me, a textbook definition of how a perfect day of drag racing should end. The air on this perfect warm sunny day had turned a bit cooler and dryer, the track surface was cooling down, and the amazing light on this longest day of the year seemed to be the reason photography exists. As the sun was setting on the west side of the track and a brilliant full moon was rising on the east, nitro cars with very visible header flames roared down the track, each run more spectacular than the previous.
When Courtney Force blasted down the track in 4.083 seconds to the number one spot, the crowd went wild until her father, John Force, took away the number one spot with a 4.051 at 313 mph. Doug Kalitta amazed the crowd, which was reported to contain many first-time spectators, with a 3.795 pass. I could not imagine any place I would rather be that evening than standing trackside, hoping I was able to capture some of the excitement and beauty of this session with my cameras.
Saturday provided more sunshine and a little more heat and humidity, somewhat diminishing the possibility of improving on Friday evening's great runs. I spoke with Andy Bissett, Car Chief for the Courtney Force team, in the staging lanes prior to the third qualifying session. He said they were looking to perfect a race day tune-up on the hot track rather than lower last night's ET. He said they were still experimenting and gathering data as, even though the relatively new all concrete surface was extremely smooth and had plenty of rubber on it, all tracks are prepared differently and provide unique tuning challenges. The final results of this race would serve as proof that his team had succeeded in solving this track. The day's two Professional qualifying sessions provided many exciting full passes on the hot track, to the delight of the capacity crowd.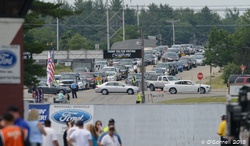 Shooting trackside with the long 500 mm lens on Saturday I was afforded a good view of traffic entering the track. While I had no problem arriving or leaving the track on all four days, I did observe traffic backups on Saturday, although no more than at other NHRA events or any major sporting event or concert. When tens of thousands of people will be arriving at a single location, those who don't plan a less direct route and an earlier arrival time are destined to sit in slow-moving traffic, but it provides something to complain about via the internet. The track announcers commented that Saturday's crowds, exceeding most expectations forcing off-site parking and shuttle buses, was reminiscent of Woodstock.
Amazingly, given that this June is on pace to set a record as providing the most rain in New England's recorded weather history; the only precipitation during the four day event was a brief shower very early Sunday morning. The Safety Safari had the track dry and ready to race long before the scheduled start time. The Sunday eliminations went off with typical NHRA Big Show efficiency. Right on schedule, the National Anthem ended as the parachutist landed with the flag and the first pair in Top Fuel fired up.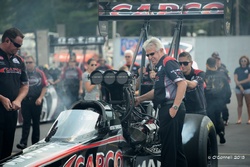 I was photographing the first round from the spectator side at the finish line and was amazed by the crowd reaction to the first pair of Top Fuel cars streaking by. It was apparent by the amazed looks and collective sigh, that very many were first time spectators in awe of the speed, sound and vibration of nitro drag racing. Eliminations proceeded with the same efficiency as the qualifying sessions; no oil downs, lengthy clean-ups, delays of any sort. The final rounds were completed around 4:00 pm, winners crowned, and the inaugural event was history.
From my station trackside, I observed the event as an extremely positive experience of great crowds, great runs, and no down time. Many internet experts who experienced the event from thousands of miles away apparently disagree with me citing all sorts of problems and inconveniences. What I do know for certain is that photographing Friday evenings qualifying session on the Summer Solstice, with New England providing its best possible weather and light and the cars providing one amazing run after another, will rank very highly in my all-time great drag racing memories, right up there with seeing Garlits run a blistering 189 mph at Sanford Maine or shooting the FIA European Finals from the top end at Santa Pod Raceway.

---
Ed's full New England Nationals photo gallery
Features and Interviews index
Back to News page
---