Exclusive interview with Andy Robinson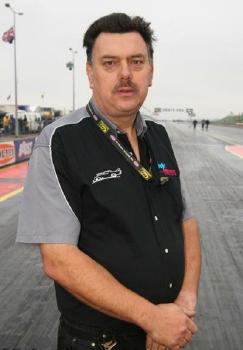 Click on any picture below for large version

Andy Robinson has been part of the British Drag Racing scene for over twenty five years and has built and driven a number of extremely rapid doorslammers. His current ride, a Studebaker Commander Pro Modified entry, holds the European speed record at 227.19 mph. He ran a string of firsts in 2005, eventually being the first British Pro Mod under 6.3 seconds and running a best ET of 6.283. He is owner of Eurodragster.com sponsor Andy Robinson Race Cars, a company which has built many Championship-winning drag racing vehicles and racing cars for other forms of motorsport.

Eurodragster.com: How did you start in drag racing?

Andy Robinson: I used to marshal at British Automobile Racing Club (BARC) events at circuits around the country and I was asked if I wanted to marshal at Blackbushe. It was in the early 1970s, when Priddle and Skilton were racing one another regularly. At the time, I was at college and Kate, my wife, was at university. We later went to some street rod events and became spectators at Santa Pod in the mid-1970s. I looked at it and thought, "I could do this!" It all started from there.

Eurodragster.com: Tell us about your racing history.

Andy Robinson: My first car was a Ford Zephyr Mk II which I built myself, like all my race cars, and started racing in 1979. It was a hi-rider, had AMC power and I raced it in the Street classes. On our wedding day, we went straight from the reception to Santa Pod for a race. Mad! I then built a Chevy Monza, which I ran in the mid-1980s and is now in Holland. My next car was the Sierra Sapphire which was built more on the lines of a Pro Stock car, with nitrous added so that we could run in Pro Mod, and ran that for three or four years. I later sold it to current team member Jerry Clayton.

I then was lucky enough to obtain some factory support from Rover and built the Rover 800 Coupe, with which we won back-to back Pro Mod Championships in 1997-8. This was one of the quickest car in Europe at the time, running as fast as 6.62/212. We were on our way to a hat-trick in 1999 but had a top end crash at Avon Park following a rear wing failure and the car was totalled. I had offers of other drives for the remaining rounds of the season but after some thought decided against this.

Our next build was the Studebaker. We tried to get some manufacturer sponsorship but the climate was less favourable so I decided to get a body that looked good and was aerodynamic; the Studebaker was perfect and it got a lot of press coverage including running it at the Goodwood Festival of Speed.

Eurodragster.com: What changes have you made to the car from 2005?

Andy Robinson: We have made very few changes. We've just freshened the mechanical parts and replaced the wheels. We were really pleased with the change to the blower set-up last year as we had not intended this when we originally built the car. The change improved performances to the extent that we are now the fastest Pro Mod car in Europe and I would like to give credit to Dave Wilson for all the help he has given us with the change. We spent most of this winter building a new trailer in advance of our European Championship campaign.

Eurodragster.com: What are your racing goals for 2006?

Andy Robinson: Our main goal for 2006 is to do the best we can in the FIA European Championship. We want to be both consistent and quick, which we will need to be to improve our championship position from our sixth place last year.

We plan to run the whole series, which has been decided jointly by the whole team. It's been quite a big decision as the transport costs alone are so steep. After the Finland round, we plan to leave the trailer and car in Sweden and then after Gardermoen, ship it back via Gothenberg or Denmark.

Eurodragster.com: What are your objectives for the Main Event?

Andy Robinson: At the Main Event, we want to qualify well and do the best we can. The European Finals showed us how difficult it is to run four rounds in a single day. The turnaround time between rounds gets less as the race goes on and we had to run the final with very little maintenance from the semi-final, which means a bigger risk of serious mechanical damage as we had to run hard against Patrick Wikström in the final.

Eurodragster.com: How's business at Andy Robinson Race Cars?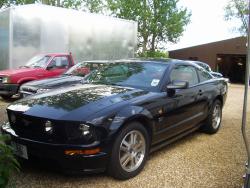 Andy Robinson: At the moment we've got about eight projects on the go. We have two new drag car builds, including a new Super Mod/Pro Mod for the Moore brothers. We've got Gordon Appleton's Pro Mod Camaro in for us to fit a new fire extinguisher system. Then there are two circuit cars, Adrian Newey's historic all-aluminium E-Type, which we're restoring, and a Peugeot for suspension modifications. There are two street cars as well, a white five window coupe and an Australian Ford Consul Mk II Utility with BMW M3 power plant. We are also about to build a new race car from an '05 Mustang.

Eurodragster.com: How did ARRC come about and what type of work does the business carry out the most?

Andy Robinson: From the late seventies we worked on other people's cars, doing work such as axles and chassis. I went full-time fifteen years ago after I left Marconi where I was a senior design engineer.

We do all types of work including complete drag racing vehicle fabrication, down to plumbing, wiring and all types of chassis and mechanical work. The only thing we don't do is paint as we outsource that.

Eurodragster.com: What is your role on the UK Technical Committees?

Andy Robinson: I sit on the MSA Tech Committee, which is chaired by Phil Evans. This body controls the White Book, the official rule book for UK Drag Racing. Phil also sits on the FIA Drag Racing Commission, which is the rule-setting body for the FIA classes.

I also sit on two SFI Committees for chassis, one for fast (7.50 or quicker) doorslammers and another for roadsters. SFI issue and administer standards for performance and racing parts and equipment internationally, for many sanctioning bodies in motor racing. I like to think that the committees I sit on are doing the right things in the interest of the racers, as well as for safety in the sport, and although some controversial rules come along now and again, we listen to sensible lobbying.

Eurodragster.com: Who works with you on the team and at the shop?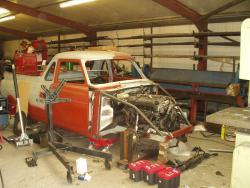 Andy Robinson: I am really grateful to my team, who work for no pay and without which I couldn't race at this level. They are: Mark Balzaretti (who was 1996 Street Eliminator Sportsman Champion), Jerry Clayton, son Luke Robinson (who is currently at University and 'only' works for me four days a week as well as being crew chief for Colin Lazenby), Tom Barnes, Bob Roberts (my long-time pal who does IT and promotions work for us), daughter Stefani and my wife Kate who is the team organiser.

At the shop, we have Pete (who is also on Bert Englefield's crew), Wayne (who is building a Mark I Escort for hill-climbing), Rob (who crews for his brother Andy Chilton), Mike (an ex-Street Eliminator racer), Dave Wilson and Bob Roberts for IT support.

Eurodragster.com: Who has supplied your main sponsorship support?

Andy Robinson: Although we are currently without a major sponsor, I am extremely grateful to a variety of automotive firms for supplying products sponsorship. They are:

Torco Oils
Hylomar Sealants and Adhesives
Brown & Miller Racing Solutions (BMRS) for hoses and fittings
Poole Clayton Automotive (suppiers of OEM windows for specialist cars such as TVR)
Aurora Rod Ends
Hoosier Tyres (which we are dealers for)
Ringspann Control Systems (RCS) for supplies of cable.

Eurodragster.com: Who is your hero in Drag Racing and why?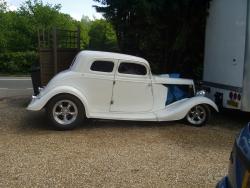 Andy Robinson: Bob Glidden, without a doubt. His record of wins and Championships in the 1980s and 1990s in such a competitive class as Pro Stock with the only Ford was awesome!

Eurodragster.com: Andy, thanks for your time, and we look forward to seeing you at the Main Event.


Feature ©Eurodragster.com


---
Andy Robinson Race Cars web site
Features index
Back to News page
---