Workshop visit: B and J Nostalgia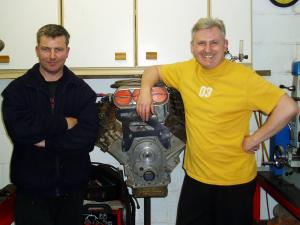 Bill Felstead and Johnny 'Mental' Hall started race car construction company B and J Nostalgia after realising that they had been "separated at birth". Both have a long history in drag racing, Bill as a fabricator and racer and Johnny as a racer who has built his own cars. Most recently Johnny has been seen, sometimes upright and in a straight line, in the Windridge Hall McKenzie slingshot named The Happening.
Bill and Johnny's shared love of nostalgia and Nostalgia Racing made the direction of B and J Racing obvious, and Bill and Johnny specialise in building slingshots although B and J Nostalgia can also produce one-off specialist work. As well as customer cars, they are working on a slingshot to be powered by a blown-fuel Small Block Chevy which will be out on the track in 2004.
We visited Bill and Johnny in their Romford workshop. What started as a formal workshop visit quickly turned into an enjoyable bench racing session, but amongst all the talk about the old days we managed to find out what makes Bill and Johnny tick, what B and J Nostalgia are all about, and about their future plans.

Eurodragster: Tell us a little about your backgrounds in the sport?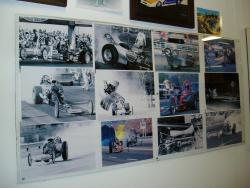 Johnny Hall: I bought my first copy of Hot Rod in about 1966, aged twelve, and I was hooked on fuel masks, tyre smoke and slingshots.
I made two attempts at building race cars. The first was a Comp Altered which was eventually sold to Dave Grabham in the early 1980s and became his first Blue Dragon car. The second was another Comp Altered which was sold in about 1997. I sold both of these cars because I needed the money at the time for my growing family, and I would do the same again: family comes first.
I started attending Run What You Brungs at North Weald and Santa Pod in 1997 with a 1932 Model B roadster powered by a V8. I didn't actually get into a full-on race car until 2001, after I bought the Stars and Stripes car from Paul Stubbings and Wendy Baker. My first full pass was a 10.5/140, and I remember wondering what took me so long! I went to Bakersfield in 2002 for the March Meet and upon my return decided to turn my slingshot into the high-windscreen type that is still popular in the States today. It took me four weeks to make completely new panels and paint the car ready for the first race. On my first pass I nearly T-boned the armco: Dave McKenzie and Mark Windridge said that they could see the 'Johnny Mental' signwriting on the side of the car from the start line, and I still had my foot firmly up against the stop!
Bill Felstead: I have built and raced about fifteen cars, from basic Jag altereds with Ford Pop and Topolino bodies to 440 Chrysler Topo altereds, and then onto nitro-burning KB Topos and Funny Cars, but I never really achieved what I wanted due to lack of funds. My happiest days were in the late 1980s when I was based in a unit in Rayleigh, surrounded in the adjoining units by the likes of Rob Loaring, Kev Perkins, Charlie Draper, Norm Wilding. What a laugh!
I was out of the sport for about ten years until persuaded to come back, and I decided to buid a big block Chrysler slingshot as an asthetic exercise, to help in building my ultimate car based on the last of the slingshots.
Eurodragster: As soon as I walked into the workshop, you asked me what my favourite-ever race cars were. So what are yours?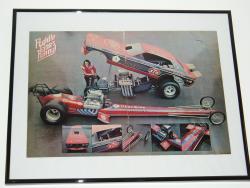 Bill Felstead: Dennis Priddle's 6.04 car and Tony Nancy's The Loner, both cars look perfect. When I was a kid I was all over Priddle's car. At Blackbushe Priddle turned his engine off during a warm-up because my mate Rob Carrington got a splash of Nitro in his eye from the headers , so Dennis and the crew washed his eye out for him. The lucky sod!
Johnny Hall: I have so many favourites and this question is really difficult! Any Garlits car from about 1964 onwards, because he was an inovator and had so much fire in his belly, and he absolutely thrived on pressure. The other car/driver/backer-upper has to be Jungle Jim Liberman with the Vega Funny, and only because I can imagine him smiling under his fire mask when Jungle Pam used to back him up after the burnout. She had the best pair of tits in the business! I like the showmen and women.
Eurodragster: How did B and J Nostalgia start?
Johnny Hall: Bill and I have known each other for about three years. We used to bounce ideas off each other about racing, tune-ups, and the art/aesthetic side of racing. We both had the same goal and passions about nitro slingshots. It didn't take us long to realise we had been separated at birth! We started renting a unit in Romford with the idea of building our own cars to a professional standard, and things progressed from there.
Eurodragster: What facilities do you offer?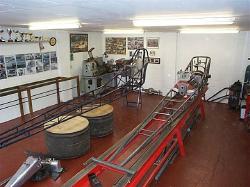 Bill Felstead: We have a twenty three-foot chassis jig, tube bender, AC/DC tig welder, lathe, mill and a lot more. We can do any fabrication for centre-steered race cars - doorslammers are already well catered-for by Andy Robinson, Geof Hauser, Chris Issacs and Jon Webster. We also have an English wheel, bending rolls, guillotine and folder specifically for aluminium bodies on slingshots. We have recently expanded our workshop into the next unit, so we can fit two cars into the shop at once.
Johnny Hall: The current car on jig is tig-welded CDS steel and we also build chromoly chassis. All cars leave our workshop with a tag as part of the price.
Eurodragster: Are any B and J cars racing?
Johnny Hall: B and J Nostalgia is a new company, so you will have not seen any of our cars on track yet, but this season keep your minces open and check out the quality of the work! We also like taking on unusual projects, recently on Eurodragster you saw Gary Pettley's Tot Rod. We also made up some custom wishbones for a TVR racer as well as race roll cage for a Caterham race car.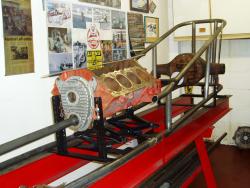 We have firm orders for three cars at present including an order just placed for a 413 Dodge-powered slingshot. We are also currently talking to a few people who are unsure whether Nostalgia Top Fuel is the way to go. I reckon they might change their minds when they see our car out soon!
Eurodragster: How is your car getting on?
Johnny Hall: The Happening 2 is being readied at the moment. We picked up some new parts in the States and they are currently on their way here. We've got a tune-up for Nitro small blocks from the VRA guys in the States. As far as we are aware no-one else is going to be running a nitro slingshot this year, but we have a funny feeling that we will open the flood gates.
Eurodragster: And you already have plans for its successor?
Johnny Hall: Yes, we are going to build a proper Nostalgia Top Fueller. We'll have two things the other guys won't have, the smell and the header flames. We have spoken to lots of older big-time racers who have stated their desire to run a blown slingshot. We'll go fuel to try to encourage others like Norm Wheeldon and Doug Bond to come out - and we'll kick their arses!
Eurodragster: If anyone would like B and J Nostalgia to build them a race car, or to do some work for them, how do they contact you?
Johnny Hall: Our workshop number is 07930 842313 but please be patient as sometimes when machinery is running we miss calls. Leave a number and we will get back to you.
You can also E-Mail us at johnnyholeshot@btinternet.com. Dave McKenzie is working on a website for us at www.bjnostalgia.com. When we get going it will have weekly workshop updates courtesy of the good ol' digicam!
Eurodragster: Thank you very much indeed for your time, guys. We look forward to seeing your slingshot pointed at us this season!
We took a number of other pictures during our visit, and Bill and Johnny have provided some pictures of the extended workshop. You can view the rest of the pictures by clicking here.


Feature ©Eurodragster.com


---
Features index
Back to News page
---
Eurodragster.com aims to bring you links to all the best European Drag Racing web sites. To add your site to Eurodragster's listings, simply email links@eurodragster.com with your URL and a little information about your site and we'll do the rest. When you update your site, drop us a line at news@eurodragster.com and we'll feature your site in our "What's New" section.
Eurodragster.com is a non-profit-making organisation run by a small group of Drag Racing enthusiasts for the sole purpose of promoting European Drag Racing. If you can help us to meet the modest cost of hosting this web site by advertising here, please email webmaster@eurodragster.com. We're sure you'll find our rates extremely competitive.