Bennett Racing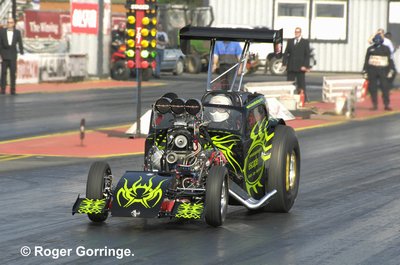 The UK's Bennett Racing have been racing since the early 1980s initially fielding a Ford Pop before taking time out later in the decade to put together a Topolino-bodied blown-alcohol altered which firstly ran in Top Alcohol and with the Supercharged Outlaws and which is now raced with the Nostalgia Fuel Altered Association. As the 2009 season approached we spoke to Crew Chief Luke Bennett to found out a bit more about the car and its newly-built motor.
Click on any picture for large version, and click here for more photographs
Eurodragster.com: How long have you been involved in drag racing?
Luke Bennett: We started racing back in early 1981 with a Ford Pop called Phantasm, formerly Mean Streak, which we raced very successfully until 1987 when we imported an NHRA Top Alcohol Funny Car named Cape Codder, formerly Boston Strangler. We spent a few years building the car up as we didn't buy the motor and since we used Small Block Chevy power in the Pop the obvious choice was to go Big Block Chevy in what was to become a Fuel Altered. We then competed in Top Alcohol with the other altereds of Tony Betts and Mickey Moore/Ollie Burns, we did this for a good few years but due to our extremely limited budget we were never going to be a force in the class. We ran an iron 427 block, standard GM forged crank, iron heads, and a blower which probably made about five pounds boost on a good day.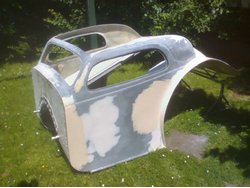 Then in the mid 1990s - I forget the year now - we started to race in a new class, the Supercharged Outlaws, in which we had great success and really enjoyed every single event. Then in 2001 our crank of twelve years had enough and broke in the best possible way, everything out the bottom but thank god it didn't touch our new ally block. On that run we still managed a 7.400 at 99 mph so it was on one.
We then didn't have the budget at all to get back out until a new sponsor found at the Xtreme Wheels show in 2005 brought us back out and ready to run in the newly-formed Nostalgia Fuel Altered Association, which so far is best class we have run in. Which gets me back to 2008. As a few have seen already the car is a little bit different now and our intention is to run low sixes at 210+ mph.
Eurodragster.com: Tell us the history of the Topolino. Were the chassis and body on other cars originally?
Luke Bennett: The chassis is a Steve Plueger item built in the USA for Arnie Carp, which he ran as one of his Boston Strangler cars, this was then sold onto Ed Parker who ran it as Cape Codder, which is how we bought it in 1989. We bought it as a rolling chassis, sold the Funny Car body to the Drapers, and then bought the Topolino body from Bill Felstead, which he had run as the Eliminator altered with Gary Willy.
Eurodragster.com: Tell us all about this year's motor.
Luke Bennett: It's a 511 ci Big Block Chevy, Donovan solid block, Bryant billet crank, Brooks rods, CP custom pistons, Comp Cams custom cam to our specification, Comp Cams lifters and push rods, Moroso billet oil pump, Moroso alloy two-piece sump, Taylor diaper, RCD billet crank support, Morgan billet heads, Moroso alloy rocker covers, we made the headers, Pioneer billet mag drive, Enderle 990 fuel pump, MSD 44 amp Pro mag, 14-71 K9 Kobelco Retro Hi Helix 15% overdriven with all modifications by DMPE, DMPE billet spacer, DMPE restraint plate, DMPE belt guard, Taylor blower bag, Enderle Big and Ugly hat, K style barrel valve, fuel system by me, three-speed CS1 Lenco, and two-plate 10.7" Crower clutch with Browell steel can.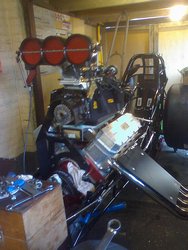 Eurodragster.com: That's a pretty exhaustive list! What tuning calls do you have to make on all that kit before a run?
Luke Bennett: I make calls based on the weather and the track conditions. We use a weather station which measures the air temperature, barometric pressure and relative humidity which give you a corrected altitude. Simply put, the higher the number the less air there is, which in turn means the motor will burn richer if settings in the motor were left the same. So we change the timing and fuel settings to lean the motor off if we are at a higher corrected altitude or, if lower, we put more fuel into the motor. This is when keeping records of runs is very helpful because if we were about to run and corrected altitude was at say 1500 feet then I could refer to an old run and then simply make changes based on the those records, if it was a good run.
The other factor which is most important is the track and what power it can take. There is no point tuning the car for maximum power if the track is not going to take it, so that's when we take timing and clutch away and put more fuel in to richen it up and take power away.
Various other things are all vital such as clutch settings, Lenco ratios, rear tyre pressures, launch RPM, shift RPM. Another huge help is driver feedback, which is where I am lucky as my old man always gives excellent feedback on what the car, clutch and motor are doing.
Eurodragster.com: We understand you are developing your own injector hat?
Luke Bennett: Yes, we have designed and are in the process of making our own injector. We have thought purely of power and made it to suit our Kobelco K9 supercharger and the DMPE billet spacer. The NFAA rules do not allow carbon fibre so we thought "Let's make one from aluminium". Right now we have put about forty hours into it. People may have seen our Wanted advert on your Swap Meet for an aluminium Enderle Buzzard. The reason we started with this hat is that it has worked for many years so we didn't want to try to reinvent the wheel.
There are also some other things we have tried with this hat, things which we believe will yield more horsepower and most importantly give us more efficient boost. One thing we will definitely be using is more de-icer!
As with anything, the proof will be on the track and we still have yet to prove what this car and engine are capable of, but hopefully with a full season's racing we can show it.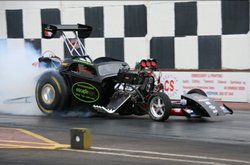 Eurodragster.com: Do you ever feel like turfing the old man out of the altered and driving it yourself?
Luke Bennett: Yes, big time! I can't wait. The plan was to have ago after the National Finals last year but we spun a bearing on the Saturday so came home, after the National Finals this year we will go to a meeting on the quiet and I will have ago. I have only driven my manual Rover-powered altered to an 11.14/124 best and I'm under no illusions about the difference between the two cars, but I will approach it in the same way and listen to my old man and just take it easy.
We are currently building an all iron carbed big block Chevy for the Bantam so I will drive that in between NFAA events.
Eurodragster.com: Who do you have on your team?
Luke Bennett: We'll start with the old man...
Frank Bennett: Obviously the driver of the Relentless Fuel Altered. Jobs at the track include clutch maintenance, checking the Lenco, bottom end, and giving feedback once back from a run to enable us to makes engine and/or clutch tuning changes.
Me (Luke Bennett): Team Crew Chief and soon to be driver of our Bantam altered. Jobs include fuel system set-up and changes made at the track, clutch and rear end set-up, bottom end, supercharger maintenance and making sure that all the jobs are done by everyone else in between rounds. Away from the track I manage the Bennett Racing web site, which has had 123,000+ visits to date, plus all of the sponsorship communication and attracting new sponsors.
Louise Bennett: Patient wife and mother. Jobs include refuelling the car, tyre pressures, oil filter maintenance, and parachutes.
Adam Bennett: Jobs include engine maintenance, rebuilding the cylinder heads, valve lash, and changing engine oil.
Amy Bennett: Jobs include passing us tools when needed, keeping pit area tidy and professional, and selling Bennett Racing merchandise.
Lisa Bennett: Jobs at the track include keeping us all fed and watered and selling the Bennett Racing merchandise. Away from the track Lisa organises the fund raising we do for Macmillan Cancer support.
Steve Thompson: Steve's job involves the complete rear end of the car, checking and general maintenance from the Lenco back, and prepping and cleaning the body and tinwork ready for the next race.
Joe Riley: Our newest team member, whose first event will be the Easter Thunderball at Santa Pod. Joe has bags of enthusiasm and will fit in very well. Jobs to start with will be general maintenance and he will progress and learn the car throughout the year.
Rob Farley: Rob is our USA parts scout and team promoter on that side of the Pond, raising our team profile and attracting new US-based sponsors.
Away from the track we do everything in-house apart from chroming and anodising.
Eurodragster.com: Do you ever plan to move to a Fuel altered or are you happy enough burning alcohol?
Luke Bennett: Personally I am happy enough running alcohol, but I know that my old man wants to in his heart, but in his head and financially we can't do it unless we get a larger sponsor. But I would never rule anything out. With this current motor we eventually want to get into the 6.1s, so until or unless we're getting beaten with that then we may go over to a Hemi for more power. But I don't know about the nitro route for now.
Eurodragster.com: Tell us a funny racing story, which doesn't involve Charlie Draper and a Ladies' toilet.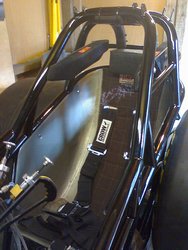 Luke Bennett: One story which springs to mind is when my old man was putting up the sump gasket with superglue, because it's easier to hold in place, he put the tube on the floor then forgot it was there and laid on it while holding the sump up. He then went to get up but had stuck his head to the floor...on his own in the garage. He then had to basically rip his head off the floor which took an inch patch of hair and scalp with it.
We then went to a race meeting a few days later, and my brother Adam was gluing the o-rings for the inlet manifold gently pressing them in place when with all the luck in the world the super glue squirted straight in his eye. Of course the first reaction when you get something in your eye is to close your eye. Bad move! This stuck Adam's eye shut and I quickly told him to pull it open before the glue went off properly. He went to the medical centre for treatment. We thought we were on our way home but we proudly went on to win the event.
Linking to this story I was on chemo one week but was out in the garage on my own, because I was bored of daytime television. Maybe I should have been indoors, but hey ho. Anyway I was turning the motor over to get TDC so was crouched down looking, and the torque wrench slipped out and laid me out with a half inch gash to add to it. I got up thinking someone had crept up and done me over but I was on my own. I was forced into going to A&E and guess what? They repaired me with superglue.
The outcome of this is that we don't use super glue any more...
Eurodragster.com: Here is an unlimited budget - now tell us what are you going to build with it.
Luke Bennett: Fuel Funny Car, without a shadow of doubt.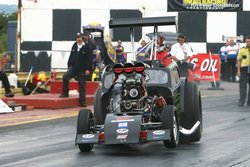 Eurodragster.com: Where do you see Bennett Racing in five years' time?
Luke Bennett: Same car, maybe when we have got the best out of our Chevy then a switch to an all-out nitro Hemi.
Eurodragster.com: Where do you see the NFAA in five years' time?
Luke Bennett: Hopefully a twenty four car field and eliminations. And everyone still having great fun and camaraderie as it is now.
Eurodragster.com: Do you and your dad have time for other hobbies?
Luke Bennett: Sadly no. We spend all year on our car, keeping it up to our own high standards. Everything we do somehow we end up linking it to racing or an opportunity for a possible sponsor.
Eurodragster.com: You already have a fair number of sponsors, who are they?
Luke Bennett: Our sponsors are:

Abbey Hose, AIM Sportline, Autoglym, Avondale Composites (E-Mail paul.blandavon@btinternet.com, Beez Neez cafe (01268 533777, 2-3 Cranes Farm Road, Orion Court, Basildon SS14 3DB), BHP Tuning (07939 901 807), Chronos Engineering, Cocaine Energy Drink, CP Pistons, Darton Sleeves, Escape Design, Forge Motorsport, Goodridge Hoses, Klotz Lubricants, Konica Minolta, Lucas Oil, N138 Clothing, Phoenix Generators, The Plastic Shop, The Plough and Tractor Pub (186 Great Knightleys, Lee Chapel, Basildon SS15 5HG), Silicone Hose.com, Slick Attire, and Top Film Posters.
Eurodragster.com: That's very impressive and must be the result of plain hard work. Do you have anyone else you would like to thank?
Luke Bennett: All of our sponsors for all their support and help, Eurodragster.com for running this feature and for their support both of Bennett Racing and drag racing as a whole, all of the crew at Santa Pod for the excellent track conditions and prep, and Lawrie Gatehouse for organising the NFAA. A big thank you to everyone who has donated to our fund raising pot for Macmillan. On a personal note thank you to everyone who voted for me to receive the NFAA Spirit of Fuel Altered award, and thanks to those who voted for us to be nominated for Best Appearing Car, this made us very proud. Last but not least, thanks to all the spectators for coming racing and to the fans who constantly support us.
Eurodragster.com: Thank you for your time Luke. We'll see you at Easter and good luck for 2009.

Feature ©Eurodragster.com.


---
More pictures
Bennett Racing web site
Features and Interviews index
Back to News page
---