As told exclusively to

Monday 7th December: Winter work and couture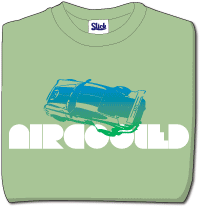 For many, the off season is the time for new parts, new cars or, as with most teams, a total rebuild of their car or bike ready for the next season and it's no different for us. Since the National Finals, we have not stopped working; our new workshop extension is coming along nicely and, considering we're not chippies, it's looking very good. We really can't wait to have it finished and actually get in there; it's going to be so different to what we're used to. It will be fully lagged and heated too, which is nice when the weather starts to get cold. We're also going to make a chassis jig so that we can do our own chassis updates and modifications and, in the future, we will probably build a chassis or two. Most likely the first work will be on the slingshot chassis for my brother Adam's Darkside car. It will do the job for now, but we want to fit a R34 turbo to the Ford Pinto for 2011 and run it on methanol and don't want to push the current chassis too far. Next year, we will stick to the twin Weber's and aim for high tens to start with.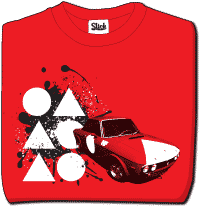 Progress on the Superpower Unlimited Bantam is coming along slowly but steadily. Kenny at www.superpowerunlimited.co.uk is in the process of rebuilding an 8/71 blower for the car, prepping an inlet manifold to suit and machining it ready to take a burst panel. We now have the majority of parts, it's just a case of getting the workshop finished before we tackle the rebuild as stripping a car without the space available will just result in parts being lost and misplaced. But the chassis is pretty much ready to go; there are a few brackets to come off and a few to be added, things like oberg brackets, but these are all straightforward and shouldn't take too long. Then it's a case of mocking the whole car up, stripping it down, getting bits and pieces painted/chromed/anodised and then fitting it back up! It sounds so easy...
The Relentless Topolino will also recieve a few new parts over the winter but I will keep details quiet for now. With all this to be done before March time, we're not going to have much time off, although over Christmas we make a point of having a 'ban' on working on the cars, as it's important to have a break and spend time with the family. Although I might try and sneak a few nights working on the Bantam if I am quiet.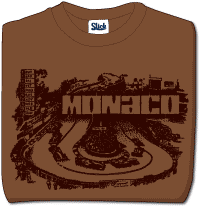 Whilst talking about Christmas, one of Bennett Racing's sponsors 'Slick Attire', experts in petrolhead couture, have three new designs out just in time for Christmas. First up is 'Air Cooled', featuring a classic Porsche 934 racer and available in two colours. 'Lancia' depicts the championship-winning Fulvia rally car, is available in Italian Racing Red only, but in short and long-sleeved, as well as ladies' skinny-fit versions. 'Monaco' features the classic view of the 'Loews' hairpin and comes in a choice of four colours in short and long-sleeved versions. Prices start at £16, which includes delivery within the UK. Check them out along with the rest of the range at www.slickattire.com.
So while some might already have the feet up relaxing, we will be working away in the great British weather, trying to get this workshop completed before christmas and get cracking on the other cars.
Hopefully the next blog update we will send some photos of it finished. Thanks for reading.
Monday 16th November: Team member Alan Scott writes...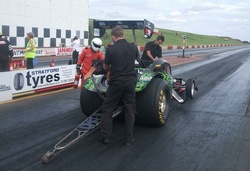 It all started back in the mid 60s picking up a hot rod magazine, I think most guys of my age identify with that scenario. Opening the pages and seeing them wild hot rods, slingshot dragsters with those massive engines leaving the line with smoke pouring off those big fat tyres and the front wheels in the air, how could a young lad not be blown away with that! Just looking at the photos you could nearly hear them and you knew they were going to sound incredible.
I got to the Pod for the first time in 1969. But things really got going in the 70s, seeing Priddle do the first six and the battles he had with Clive Skilton to me they were our very own Snake and Mongoose. The big American names of the day that came over to play, Big Daddy staging up against Peter Crane and making him do the first five. And didn't Funny Cars do the thickest smokiest burnouts then, Allan Herridge just didn't know when to stop. It wasn't just the big boys though, you had the altered of Dave Stone and Fred Whittle, the early Pro Stockers, and Al O'Connor who as we all now is still racing today, hats off to the guy. We cannot forget the bikes because they have been just as entertaining. Henk Vink and John Hobbs and what great racing between the two American racers, Goliath the double engine Harley of Danny Johnson up against Hogslayer the double engine Norton of Tom Christensen. Could go on a lot longer but it would seem like I was doing a Brian Taylor only briefer and no pictures. There's a lot of memories when you have been a fan/spectator for over forty years and loving every minute of it.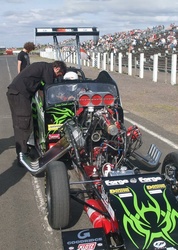 Well it's another season over and what a season it's been. For one thing the weather been exceptional, except for the Easter event, another thing I've been more than just a spectator I managed to get on as a crew member with the Bennett Racing Relentless Fuel Altered. It all came about when I was reading Eurodragster.com and there were crews wanting help for the coming season, their web site address was provided so thought I'd take a look. Very professional web site and the car just looked the business thought it would be great to get on this team. After a couple of E-Mails and a trip down to meet them I was on the team. I was well chuffed, I thought at last after all these years I'm actually getting involved. Could not wait for Easter the first event.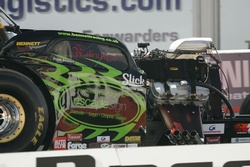 Easter soon came round and it was a four day event. It was just like the first day at a new job you don't quite know what to do, anyway managed to get into it in a fashion. We got the pit area set up (the amount of tackle they can squeeze in that truck) and then they rolled the car out that was it I just wanted them to fire it up there and then. It nearly didn't get fired up at all because on inspection the next day it needed a set of lifters and the only set available were in Somerset and before you know it two other crew members were in the van and on their way a round trip of four hundred miles. I knew then I was with a serious team. We got them in and everything buttoned up by the Sunday that's when I got to hear the motor for the first time. And as soon as it cracks in to life that's it that's what its all about. I have heard it crack into life umpteen times this season but it still gets you, gets you right just there. Saw it run on the Monday (only decent day weather wise) and being on the start line, a place I had wanted to be for years and seeing that power unleashed was pure magic. Went home knackered but absolutely buzzing.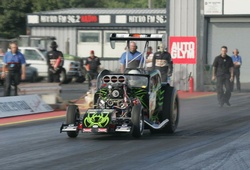 Went to four events with the team and we won three out of the four, got low ET at 6.4 and at the National Finals we managed to put down a 202 mph run. Glad we got a 200 mph run in, I'm sure it can go quicker still. Talking of the Finals, what a cow bag of a weekend. Had the Lenco out five times and stripped it three. Think I understand it but it's so different to a normal gearbox. The intensity of a weekend like that is unreal, all that you have to do and still get it turned around to meet your time slot, adrenalin is just pumping, tempers can be on the edge if things don't quite go right, but it gets done, it's a team effort. And when it's all done and you get down to the start line and put in a good run its worth all the effort. I felt that at this event it was all coming together better I was getting the format of our pit area and where most of the tackle is, tools etc. Feel as though I've learned a bit but there is a lot more to learn. Also managed to go to the Main Event and the European Finals not with the team, just spitting. Two great events, and can still enjoy just watching, but you see it with a different head when you've been on the other side of the fence.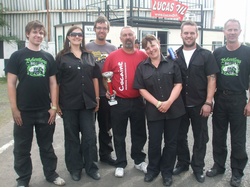 We rounded off the year at the NFAA Dinner and Dance. This was held at good hotel and we enjoyed the meal, took the wife (got to let them out now and again) and she got to meet the team and all the partners. Got to chat to one or two people from other teams which was good, and we both enjoyed the evening. Oh, we picked up a couple of awards as well.
Well that about sums up my first season. You know, I don't get to drive the car or call the shots on the engine I'm just part of the crew doing the other stuff but you still get the feeling that your contribution is just as valid. and even though you can get so knackered you can still get such a rush from it all. I just love it. We could be running a three car team next season, can't wait!

Monday 9th November: NFAA Awards Evening.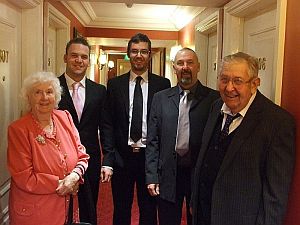 It's been a few weeks since the NFAA Awards Evening and this is the first blog entry since we won the championship. The Awards Evening was held in Solihull and was a really good night; the usual people went but this year my Nan and Granddad (my Dad's Mum and Dad) came too, this was great, really good to have them there and for them to see my old man collect the winners trophy.
We also got the trophy for the quickest ET in NFAA competition of the season too, which was a nice bonus. Not bad for an methanol burning Chevy motor.
Thanks also go to Lawrie for the flowers for my Mum, women always love them and she is no exception, and she does put up with a great deal of racing talk and work pretty much 24/7.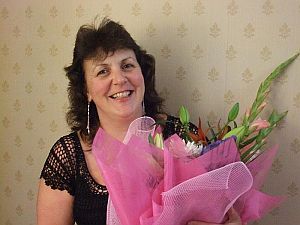 Obviously the main talking point of the evening was the fact that Lawrie Gatehouse has stepped down as promoter of the NFAA. This for us was a total shock and completely out of the blue; we would like to give him our genuine thanks for everything he has done for the class and for us; if it wasn't for the class then we wouldn't have made our first six second run in 2007 and be the second quickest supercharged methanol altered in Europe. So many thanks from us all, put your feet up for a change Lawrie.
Taking the helm for the future is Bob Glassup, and I think it's fair to say everyone there gave him sore ears by the end of the night with ideas and opinions about the class's future, us too, so thanks for listening Bob.
What next year holds no ones knows, what direction the class will go in, who will run in it? Any new cars...for me, I'd love to see more cars and some more competitors from overseas, obviously it's hard due to costs, etc. but I'd love to get the car over to Hockenheim; I think the NFAA would go down pretty well there.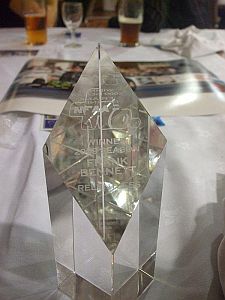 Back to England, and we're glad the season is over, this year was hard work, as it always is, but trying to run like we are makes the car and us work more. And, since the last event, we have started work on extending our workshop, really can't wait to have more room. Anyone who has seen the NFAA DVD will have seen how small it currently is. It will be a big help for us as I can actually start working on my SuperPower Unlimited Bantam altered which I have had now for nearly three years. I really can't wait to get going on it and have lots of ideas for it, not only that but also my brother's slingshot too; both will be a welcome change.
Thursday 1st October: National Finals.
What a weekend; we ended up winning the NFAA championship but only came third in the event. We had a total and utter nightmare from beginning to end.
We arrived on Friday night due to work commitments and had to set up in the dark which is never fun, then found that the junction box for the electricity supply was about 50 feet away and we had to sort out loads of leads to get power. We then plugged into the box and it shorted out; most of the NFAA racers lost their lights...sure they were pleased to see us!
We then set about starting to get the car ready for the next day, bear in mind this was about midnight, so we were all tired and ready for bed. We got the wheelie bars, canards and drive shaft fitted and got the wing and body off and the pit in shape for the weekend's racing ahead. Finally got to bed at about 1:30am. My old man did not stop moaning and whinging; fair play, he had been up since 5:30am Friday, but we have all learnt to ignore him.
Up and working for 7am, we got cracking, getting the car ready for the first round of qualifying at 11:30am; the plan was for a mid-6 to make sure that all was ok and pick up where we left off at the Summer Nationals, when we ran 6.6, 6.6, 6.4 and a 6.5.
This was not to be; the car left arrow straight, a nice 0.97 60 foot, but then shifted into 2nd and it zinged big time, on the limiter at 10,000 is not a nice sound to hear and it turned out that the 2nd gear Lenco sprag had gone, hence no drive. This is the first time since we have been racing that we have had a sprag let us down. Back to the pits, we got cracking checking the motor as it had just revved higher than we would have liked; we pulled the blower and manifold off and then the heads, and all was spot on other than two clipped exhaust valves which we changed and then reassembled.
We then got the gearbox out and began to strip it down, ready to change the 2nd gear sprag; a big thank you to Lawrie Gatehouse and the Chaos team as they lent us a sprag and got us out of trouble. We fitted the gearbox back in the car and, after a mad thrash, fired the car as soon as we could and very quickly we new something was wrong...it turns out we had fitted the sprag in back to front, a silly mistake but these things happen when you rush. So yet again the gearbox had to come out and was stripped and we corrected our mistake, put it back in the car and fired and all was deemed ok.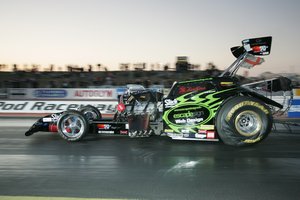 Back out onto the track for the 2nd round, again we hoped for a mid-6 to get a time on the boards and get us in the final. The car launched nice again, a slower 1.002 60 foot but straight, and it looked one of the fastest and most aggressive runs the car has ever done, but turns out it was only a 2.76 330 foot, and we have ran a 2.63 there, shifted into 2nd fine, and we were well ahead and it was looking like a win, then yet again the chute came out. It must have had a little shake at the top of 2nd, so then went to shift into 3rd and again nothing...other than lots of revs, another 10,000rpm session. We had lost another sprag. Dad kept feathering the throttle as long as he dared, but had to lift for the sake of the motor, still ran through, this time with a losing 7.29 at only 125mph.
We only lost twice all year and both times due to the chute falling out.
So yet again, back to the pits and we pulled the motor and gearbox apart for the third time that day, the motor still a-ok and no signs at all of any damage. We still pulled the sump and checked all the bearings to be safe, but all were spot on so we diverted our attention to the Lenco. We renewed the whole thing, changed every single clutch, floater, bearing, sprag in there just to be safe. Thanks also to Ollie Burn for the loan of the sprag, couldn't have won this without it. Ollie, we owe you a pint.
We fitted the gearbox up again, totally shattered as many other teams were, and at about midnight we called it a night otherwise mistakes would have happened again. We all had a wash and slumped into bed.
Next morning at 7am we fitted the rest of the car up and yet again the plan was to make the show; no matter what the time was, we wanted to make the final. The car was set up lazy with some fuel added and timing removed to make sure we got from A to B. This resulted in our first full pass with the car, a lethargic 6.77 at 202mph. This time, no damage or drama.
We were then told we had not made the final, but had qualified 3rd. Ok, not what we wanted at all but at least we were racing and collecting valuable points. The next run was against Dave Grabham, who has been ultra consistent and a great competitor this year, and it is a massive shame the bad luck that he and the team has had. Not deserved.
We pulled round on a solo as Dave broke pulling round, a short burnout and then we all heard it had dropped a cylinder, hence the speed he backed up, we then staged as quickly as possible as we were running alone and launched off of idle with one stab of the throttle to take the points and not hurt the motor. Ended up with a 9.6 at about 54mph I think.
Overall, a really harsh and hard weekend, not a nice way to finish the year out, but at the end of the day, our sponsors for 2009 pay for us to race and we have repaid thier faith and commitment with the NFAA Championship and three out of four event wins.
On mentioning our sponsors, we would like to thank the following:
Autoglym - www.autoglym.com
Avondale Composites - New website coming very soon - email at paul.blandavon@btinternet.com
Chronos Engineering - www.chronos.ltd.uk
Cocaine Energy Drink - www.drinkcocaine.com
CP Pistons - www.cppistons.com
Darton Sleeves - www.darton-international.com
Escape Design - escapedesign.net
Forge Motorsport - www.forgemotorsport.co.uk
Goodridge Hoses - www.goodridge.co.uk
Klotz Lubricants - www.klotzlube.com
Konica Minolta - www.konicaminolta.com
N138 Clothing - www.n138.net
The Plough & Tractor Pub - 186 Great Knightleys, Lee Chapel, Basildon, England SS15 5HG
Silicone Hose.com - www.siliconhoses.com
Slick Attire - www.slickattire.com
Superpower Unlimited – www.superpowerunlimited.co.uk
Top Film Posters - www.topfilmposters.co.uk
Also a huge thank you to our fans for the support and for all those who bought our Slick Attire Bennett Racing T shirts and our Cocaine Energy drinks. These help the team out a great deal so many thanks for us all. Keep buying our merchandise!
A huge thanks to our crew who have worked tirelessly all year and have really learnt the hard way what it takes to run a blown car competitively and how to win.
Also thanks to all the track crew at Santa Pod, you gave us a great track all year and allowed us to run the times that we did. Thanks.
As ever we are now on the look out for any new sponsors to come on board with us for the 2010 season, we have numerous levels of sponsorship available and don't forget that next year we aim to have three cars in up to five different classes on the track, and you can get your company name on all three which means a lot of exposure. Get in touch at sponsorship@bennettracing.co.uk or call us on 07843 619 724.
Thanks again from all at Bennett Racing.
PS – This was the easy year; defending our title in 2010 will be much harder due to ALL the cars in the class stepping up. Well done guys.
Friday 18th September: National Finals preview.
Things have as usual been totally manic here at Bennett Racing; we never seem to get any time to do anything else but drag racing, working on the cars or attracting and meeting sponsors. I keep telling myself I must do these blog entries more often and from this one onwards I want to try and do one every week or so. I've been having a good read of the NHRA blogs (thanks Robo) and the things that they write about are so different to the European blogs. They seem more personal and include their everyday life. Obviously, they're full time and Pros, so things are going to be different, but drag racing in Europe is simply put a hobby; don't get me wrong, this is not really a hobby, it's a full time job, the amount of time we spend on the race cars, if we were paid then we could retire! And by these comments, I mean no offence to anyone racing in Europe, but as far as I know, we're all doing day jobs and then finding the time to build and maintain our race cars or bikes, and yes there are differing levels of competition and work involved, but I think that anyone with pride in their car or bike still spends a scary amount of time on them, well we do...
The Relentless Topolino is all ready to go for the National Finals and, got to be honest, we can't wait for it. We didn't attend the Euros, the reasons for which I am not going to go into but needless to say we intend to win the National Finals and hopefully the NFAA championship. We have had a very good year, qualifying number 1 two out of three events and winning the last three events, but some how we only have a 15 point lead, so we can't take things easy and will be going for it at the National Finals.
Talking about the Euros, I feel I have to mention Tony Bett's crash. We were, as always, tuned into Eurodragster coverage of the event, and when we read it, our hearts were in our mouths. Tony is not just a fellow NFAA racer but a good friend; both he and Elaine popped round lots when I was on chemotherapy and, considering some of my own family didn't, it meant a lot. We were gutted for Tony and the team, and hope that they get the car sorted for next year; have to say also looking at a few videos that have popped up on Youtube, I think it was lucky that the tank didn't ignite, plus the fire extinguishers got smashed off, maybe its time we all moved them as they're not really much good in a fire if they're not even on the car...Again, though, a big well done to the safety crew as they were on the scene fast and got Tony out. At the end of the day we were glad he was ok, cars can be rebuilt.
Over the off season we have as usual a scary list of jobs to do. First up, we are going to extend our workshop; as people will see on the NFAA DVD when it comes out, we have an alarmingly small garage and quite how we manage to turn out machines like the Relentless altered I don't know; it's such hard work out there with the space we have, and now we have got three cars, its time for an extension, so the plan is to extend right out the back and sideways which will give us some nice space to work with. We're going to end up with an engine building room, a machine shop and three bays for each car so it should make fabrication and building a whole lot easier.
One other project is our lorry; it's been a good motor to us and, touch wood, has never let us down, but the old girl could do with a bit of TLC, so over the winter, we're going to re-skin the box, build new storage boxes under the box and give the cab a much needed bit of modernisation; also, we really want to fit a tail lift and if there are any companies reading that would like to sponsor us with one, please get in touch, it would make things so much easier and safer getting the cars and tools out at each event or show. Also the aim is to paint it in the team's colours and generally give it the once over so it looks more professional and updated. It's one thing that's always been neglected, as 99% of our time goes into making the Relentless altered the car that it is, you only get this with hard work.
Onto another subject, I just got the all clear for another three months which takes me to a year all clear of Cancer now which is a big relief, putting it bluntly, if its going to come back then the first year is when it will, so I was hugely relieved and happy to hear the news. Got one more check up just before Christmas and then I go to six monthly check ups for 3 years so it's all heading in the right direction.
The other two cars should also hopefully be hitting the tracks in 2010, just collecting parts (and waiting for garage to be built) before we can really get into the builds. One thing that I did sort today was the fuel tank for Adam's Darkside slingshot, again courtesy of Forge Motorsport, big thanks to them, will sort out a photo for the blog once we receive it.
Anyway that's enough typing for one day, my fingers are hurting, thanks for reading everyone.
Wednesday 26th August: Another win.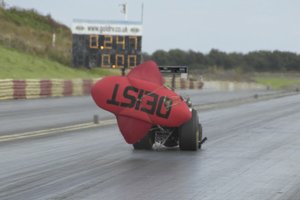 Well they say a picture tells a thousand words and I think the photo is self-explanatory.
It was a good weekend's racing and I think we did well to win with the silly problems that we had.
We were all ready to run early Saturday morning and I had decided to take timing out of the car and add some fuel to lose some power as we had seen that the track was going to be tricky, not really how we like to do things but we wanted to get from A to B. First run we just wanted to get it down there, didn't really care what the ET was just wanted to make sure that we got into the finals. It left well with a 1.01 sixty foot, tamer motor showing by the 330 foot as it only ran a 2.81 there, but having spoken to my dad after the run, he said after the eighth it got very lose and he lifted at about the 800 foot mark, so when a 6.79 at 168 mph popped up I was very surprised, as was he, he said it felt like an eight.
As there had been a couple of oildowns that day we only got the one run in. Once the car was serviced we all did something we had not done for years and had a few beers in the clubhouse, made a really nice change to relax for a bit and not be working on the car on a Saturday night!
Early on Sunday morning we all walked the track and the track crew had done an excellent job getting it prepped considering the issues that they had on the Saturday. We gave the car a very good clean and polish using our excellent Autoglym products and we were ready and hoping for another good ET to make sure that we got into the final.
We were paired against Venom, it was a good race until about 500 feet out when we got some tyre shake and one of the chutes popped out. I turned around and walked off, knowing that it meant we had lost the round. Still the 7.4 that came up on the boards was good enough for us to qualify number one for the second time and make our third consecutive final.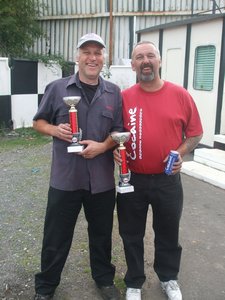 As you can imagine pulling a chute along for 800 feet is going to heat the clutch a tad so soon as we were back to the pits we pulled it to pieces and checked it all over, all was OK although the clutch release bearing had collapsed. Replaced it, fitted all back together and we were sorted for the final, again against the very consistent Freddy's Revenge.
Chaos and Rebel T ran just before us and laid down a 6.77 and a 7.09 so we knew the track was good, so we hoped for a mid sux and 200mph+ but this was not to be. A normal tame burnout from us and we backed up and completed our normal start line procedure, although in the other lane I think that they had a oil leak, I did wait as long as I could but as people can understand we have a lot of money in our engine and I didn't want to sit there waiting for too long. We were told we would have a solo and my old man staged the car, when it left I knew it was not going to be a good run, the revs of the motor stayed the same and it was clear there was a problem in the Lenco, it didn't shift into second or third properly hence only a 7.20 at 187 mph. I suspect when we pull the Lenco apart we will be replacing a lot of the clutches and floaters. Still we got the win and no it wasn't pretty but were now top of the NFAA points and hoping for good things at the National Finals.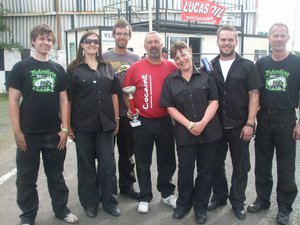 I would like to say a big thank you to the crew, we all worked together so well and got the car turned around quickly and with no drama.
Thank you also to all of Bennett Racing's sponsors, we really could not do this without you and we're paying back your commitment with three NFAA event wins in a row and top of the points.
Thursday 30th July: Between rounds.
Yet again a month has gone by in-between our blog entries, but as always we have been totally manic with work on the cars and sponsorship deals.
Since our Summer Nationals event win and low ET run of 6.42 (at only 1000 foot) we have done a lot of work on the Relentless Topolino, mainly maintenance that these cars require when you push them to run low 6's, so the car was pulled to pieces to check and measure everything to see if it needed replacing, and we new certain things needed to be changed, for example valve springs; anyone running a good blower will know that an alky motor eats springs. It's a necessary evil.
We also changed the rods too as these were the rods from 2008 and half of 2009 and for the cost of rods its not worth leaving and gives piece of mind.
One of the major points we looked at was the clutch and gearbox. At the Summer Nationals we used a set of clutches on only 4 runs so as you can imagine its slipping a little bit too much…so we stripped and cleaned it and reset with more finger weight and more base. And also found a needle bearing had collapsed in the Lenco too, which was a strange one as everything else was untouched, but we rebuilt it and replaced all of them to be safe and its all back in the car.
We are looking forward to the next event and if all goes well then we would still like to get that 6.2 (or better) as the 6.4 at the Summer Nationals was quite and easy pass for the car as we only left at 4,000rpm and shifted at 8,000rpm so there is a lot more to come and the fact that it was a 1000 foot pass, it doesn't take a lot of working out to know the potential of this car.
We are also slowly collecting parts for the Bantam altered which as told on Eurodragster will now use a blown big block Chevy. Recently we bought some Brodix aluminium heads with T&D rocker stands and rocker arms. Thanks to Bill Todd for sourcing and sorting these.
We are still looking for some parts for the car, but its coming together well and the plan is to have the car out early 2010 for some testing.
Yet again I need to thank everyone who has visited our website, as I write this we have had over 146000 visits, I have been keeping an eye lately and its working out about 400+ per day, obviously this is great for us and our sponsors as there getting some very good exposure, so thank you too all, keep it up!
Regarding sponsorship, I am still working away with a few companies but as ever we are looking for more so if you would like to get your name on three separate race cars that will race in three different classes then E-Mail us at sponsorship@bennettracing.co.uk or give me a call any time on 07843 619724.
Tuesday 23rd June: A super Summer Nationals.
After another excellent weekend's racing, we were all happy with the event win, but we all knew that the car had so much more in her. The 6.42 we ran was effortless and my old man was off it at about 1000 foot, as the slicks were rubbing the body badly (new brackets to be made asap), so, as stupid as it sounds, we were very happy with the win but unhappy with not running faster. But it's because are all out racers, we want to win and want to race as fast as we can every round of racing.
Anyway, a few thank yous to our superb sponsors and all associated with Bennett Racing, and a big thanks to the Santa Pod track crew; the track was faultless, the best track we have raced on for years as the picture below proves!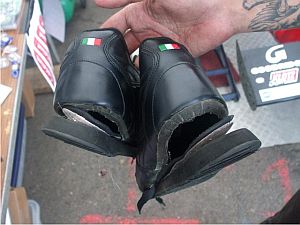 Just a note about our website too. I have updated the Merchandise page with a newer fresher look and also added a Relentless Fuel Altered Anatomy page.
As a bit of a change for the rest of this blog entry, I have asked two of our crew members to write something for the blog. First up is Alan Scott's entry.
It's been a week since crewing on the Bennett family Relentless Fuel Altered at the Summer Nationals. It was only my second event with the team, and it's the first team I've ever been involved with. I can tell you it's a whole different ball game being on the pit side of the track. For one thing, I go home knackered; the amount of maintenance one of these cars commands is surprising. I could do with Mondays off.
After leaving work at 5.00 on the Friday night, getting home and having a quick bite to eat, putting the camping gear in the van, driving for two hours to the Pod, getting there about 9.30pm, putting up the tent, then helping the team set up (the amount of stuff you need for a weekend!), that takes you to about 12.30am. We crash out in the tent and I think to myself I'm getting to old for this.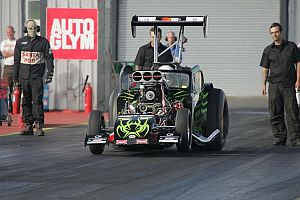 Come Saturday though and you've had a cup of tea and a bacon roll and everybody's done what they have to do and Frank climbs into the hot seat, Luke hooks up the starter motor, spins it, then that blown and injected methanol burning baby cracks into life, man it's worth all the effort just to feel that methanol tingling at the back of the throat and trying to pull the tears from your eyes. When I was spectating I never thought methanol could do that, not like nitro does, but it does when you're under a canopy.

On Sunday with everything done, after running well the day before, we were ready to go, but we weren't running until about 1.00 to 1.30, so we had a bit of down time which is good sometimes, because you know you'll probably be thrashing later. And we were, because we went out and laid down a 6.4 a new PB. Brilliant, but we'd only got a two hour turn around to the final. Sweat was standing on my forehead (it was a hot weekend weather wise), they were waiting to warm the motor and I had got the allen bolts the wrong way round D'oh! A bit of a Homer moment there, but it was soon sorted. We towed the car down to the staging lanes; all the rushing about and we still had a bit of time. We were up against Dave Grabham in Freddy's Revenge. Frank did his burnout and beat Dave with a 6.5 at about 196 m.p.h, another trophy going in the Bennett cabinet.
One thing about being with a team - you get to stand next to the concrete barrier and there, you get a real sense of how much power these cars have. The best thing though is we can do it all again at Shaky in a few weeks.
Now, here's Joe Riley's piece.
After a very busy week doing A-Levels, a bit of racing at the Summer Nationals was exactly what I needed. I unfortunately couldn't get to the track to help set up our pit on the Friday night, but bright and early on the Saturday morning I jumped out of my bed quicker than Frank can cover the quarter. I Couldn't wait to get there; for some reason I never feel tired the morning of a race weekend getting to the track. I can tell you it's a bit different to getting up normally.
No sooner had I arrived I was cracking on with the car. Our first run was not for a while, so we could have a relatively leisurely start (still very busy though) getting the motor ready. My main job along with Alan is to check the rear end of chassis, change wheels and make sure the car looks pretty for everyone's viewing pleasure. Along with the infamous side panels (zeus clips do require amazing technique) we got our jobs sorted. After a nod from Luke we fired up for a warm-up; as always the car ran sweet as a nut. We were ready to go.
I got a little job to do this weekend different to what I did at the Thunderball, Luke handing me the starter and lead after firing ready for a run. It may sound simple, but having to take care with it and putting it in the van while Frank trundles around, and then once in having to leg it to get to my place does get your heart racing. Needless to say I know exactly where to put the starter now.
Frank hopped in and immediately ran a 6.6, not bad for the first run of the weekend. This would set the trend for the rest of the weekend, the second run of the day being another 6.6. After a rather bizarre sleep in my car we went into day two with quiet confidence. On the first run on the Sunday, Frank set down a true marker with a 6.4, our best ever ET but with a lower terminal speed than expected, giving us yet more optimism. The following two hours before the final can only be described as manic; we all worked so hard to turn the car round and with not a lot of time to go, we pushed out. After my Olympic standard running to get a couple of bits and bobs (the fire up road is remarkably long when you sprint it) we were up against Freddy's Revenge in the final. Managing to drive round that car was the icing on the cake. A 6.5 was still ultra consistent but the win mattered.
What a way to round off another fantastic weekend's racing. Two wins out of two races this year can't get much better. We were all really exhausted to say the least, even Adam was feeling weary! But as always with the Bennetts, I had the best fun, we were working even better as a team than at the Thunderball and no doubt we will get stronger thoughout the season. Now exams are all over, a great summer lies in store, with another round being only a short time away. Just one thing to end on...has anyone got any skyhooks?
Tuesday 10th June: Sadness and joy.
Nearly a month since I last updated the blog, and its been a nice month off to be honest. Sadly, we had the unexpected death of my Nan to deal with, and the funeral, three days before the wedding. We all went and paid our respects and it was a hard day. A few days later, a completely different day, totally opposite emotion, and I think perfect timing for all involved, as we all really needed a good knees up.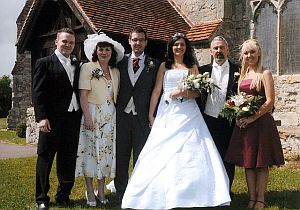 The wedding was superb, couldn't have been better, and I wouldn't change a thing. We were married on the 16th May and luckily for us, the weather held out, so we were chuffed.
As you can see from the photo, the Bennetts don't scrub up too badly!
Also, below is our stunning wedding car, a 1950 Cadillac Fleetwood, what a motor, the sheer size of the thing; Lisa loved it.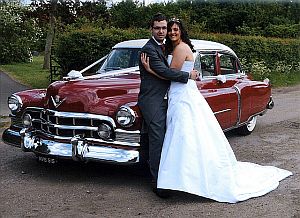 We had a couple of days in a Spa and then we were off to Cyprus for our honeymoon; we stayed in our own villa and we cannot recommend Cyprus enough. I had been before but it was Lisa's first time, and we really didn't want to come home.
Back to the racing, we were gutted not to be able to attend the Main Event and glad it all went ok for the NFAA racers that went, especially to the Wrattens, well done. It's a shame they're not going to be at the Summernationals so we can give them a race. After missing the Springspeed Nationals and the Main Event we are all desperate to race again and really looking forward to this event. The plan is to carry on where we left off at the Easter Thunderball. As you will have read we ran a 6.63 at only 181mph, as my old man was off it early with the chutes out, as it was only our second proper full power pass.

What I have in mind if all goes well is to come away with a 6.2 ET. We know the car has the power to run these numbers, we just need a few runs to get them. Other than that, all is well here. I have now decided that I am now going to build a blown motor for the Devil's Advocate Bantam too; it will again be a 511 cubic inch big block Chevy, but we will run it very gently to start with. The plan is for 7.5s for now.
As for my brother's slingshot, we have got our hands on a Nissan Skyline turbo into which we are going to fit the current Pinto motor. This will make it capable of 10s and will be a good engineering project for us all.
Tuesday 12th May: Pain and pleasure.
A bit of a long overdue blog entry but didn't feel right writing this until now. As many will have noticed due to the numerous E-Mails and texts I got (thanks to all) we didn't go to the Springspeed Nationals. Unfortunately this was due to a death in the family. My nan of only 67 died on the Friday evening after a twenty-hour spell in hospital with a brain haemorrhage. Needless to say we didn't go to the race. As you would expect we are all totally devastated but it has really hit my mum very hard. The only good thing is that Nan didn't go in pain and that my mum was there when she passed away.
On a brighter much note I get married to Lisa (lucky girl) on Saturday and am then off on honeymoon for a few weeks, hence we are not running at the Main Event. We were very glad to be invited but we had to turn it down as we always run and stick together as a family. We wish the racers going all the best, and a safe and fast weekend, and we really hope that they put on a good show on behalf of the NFAA.
Thursday 16th April: Victory at the Thunderball.
Well what a meeting, considering the grief we had, to come home winners made it very special indeed.
We got there early Friday morning, got the car out, set up the pit area and got cracking getting the car ready to run. My brother Adam and I put the lash in and all was going well until I noticed that one of the rocker stands was about an 1/8th of an inch higher than the others. Obviously we had to investigate further, so we pulled the rockers back off and found it to be another broken lifter. Needless to say we won't be buying that brand again, anyway that was that, we had a spare but we felt that if two had already gone then how long before the rest went? So the decision was made to change the full set, but we didn't have a spare set so we were basically going home even before the car had been on the track.
A huge hunt around the pits for another set was started but I knew there wouldn't be too many sets about as we use hemi size lifter bore for more strength. Anyway, it turned out that Bob Glassup had a set but as he has switched to hemi they were back at Richard's workshop in Somerset.
So on Friday night we had to remove the cam and install a new one, after being up since half five that morning. Concentrating on that was hard work but it went in without any issues, and more importantly we got the lifter out.
On Saturday morning Steve, one of our crew members, arrived after two hours of driving and then had the news that he had to drive a 400 mile round trip to get the lifters; nice. Thanks Steve and Adam for the drive.
Steve and Adam had a cuppa and then got on the road. While they were gone the plan was that we would do every other job so that all we had to do was install the lifters, fit the blower, do the lash and run it up. This turned out to be a blessing in disguise, as we got so many other jobs done that we had been meaning to do for ages. Also the fact that it was raining (and sorry to the other racers), but it helped us massively as none of the other NFAA teams got to run.
Steve and Adam got back with the lifters, at about five o'clock, I think and we dressed them up a little and fitted them; they were Crane lifters and looked and felt so much better then the others, got them fitted and ready to run.
We also had the new injector that we had made and so we leaked down the barrel valve and we were ready to fire the motor after making sure we had good oil pressure. The car fired but soon died, not enough fuel, tried again, still not enough, a couple of flats on the barrel valve and it ran but was very lean on idle to I added another ten flats on the barrel valve. I could not believe how much fuel this motor wants on idle, considering we had already set the barrel valve to the same set up as the 'big and ugly' was. The motor sounded very strong, fat as hell but safe, and in one piece so we were very happy. I gave the signal to switch it off and then got a nice round of applause so thanks to all for that.
On Sunday, the first run ended up being at about fiveish and the track was very tricky and cold. The track crew had worked themselves silly trying to get the track dry, so thanks guys. Anyway as we knew the lifters and cam were all fresh, we took it very easy and ran an 8.13 at 128mph against The Mob.
The next run was at about half eight and again the track was slippery, so we launched from idle and just took it easy to get the points and fight another day, I think it ran a 9.46 at about 98mph.
Next day, we all felt much happier as a team and were raring to go. Bear in mind we still hadn't made a proper full pass to get any indication of what this car will do. The first run of the day was against Bob. We were gutted when they couldn't get into gear, as without Bob, Richard and Lee's help with the lifters we wouldn't have been running at all, so I waited as long as I could but had to pull round due to the heat of the motor. It was a nice little burnout and the track was a lot better so a nice gentle pass was in mind. It left ok, nice and straight, a few pedals and still a 6.90 at only 184mph. I was happy.
Back to the pits and a proper check of the motor; everything was spot on, so we were very happy. We left the tune up the same, as this was still only our baseline tune up as we had not run a full pass.
We had made the final too so we were happy. We were against Tony Betts who had earlier ran a 6.50, so we knew we needed a good pass. We towed down and seemed to wait for ever to run; eventually we did at about six I think. We pulled round, a nice burnout and backed up. The motor sounded very strong, and in the back of my mind I knew that, if my old man cut a good light, we could beat the nitro car as the tune up was capable of a 6.5 at worst. Anyway, he left so well and straight and our car won as it just didn't stop pulling. We were still testing (only our second full run) and he came off it early with the chutes out and it still ran a 6.63 speed was only 181mph, so gives a clear indication of what was there. The team and I were over the moon, considering that on Friday we were going home. To repair the motor and then win was brilliant.
Thanks again to Xtreme Racing for helping us out, and for the huge applause from everybody when we came back to the pits.
And, like I said at the top, we came away from this meeting very proud.
Wednesday 8th April: Ready to race.
Well it seems that everything has came together just in time! The new injector is finished and polished, we are really pleased with how it turned out, it should definitely give us more power that our previous injector and as such will help us to run faster. We still have not had the time to get the stickers made for the butterflies, so if there is anyone out there who can cut vinyl we need 3 x 5 inch discs cut in Kawasaki green.
The valves arrived and they were spot on, such an amazing difference in weight should make a huge improvement on engine response and valve spring wear. We also got new titanium retainers. These were all fitted this week with no issues so the car is ready to pick up where we left off last year. The plan is to make a gentle pass full first of all just to make sure all is well and then gradually pick up the revs and hopefully come away with an ET we are proud of.
Regarding sponsorship, I am still working away with a few companies but as ever I am looking for more so if you would like to get your name on three separate race cars then E-Mail me at info@bennettracing.co.uk or give me a call any time on 07843 619724.
Hopefully the next Blog or news I will write will be good news, and who knows maybe a new Personal Best for us.
Thursday 5th March 2009: Workshop update.
It's been a few weeks since our last Eurodragster Blog entry but Bennett Racing have been very busy on all fronts. The new injector that we are making is well on its way to completion and coming together nicely, it should look good and more importantly it will give us more power and give us the means to achieve the ETs and MPH that we want to get this season.
The new valves and retainers are now on order and so we are looking forward to getting them and getting them all fitted, this will also allow us to rev the motor harder and obviously with the reduced valve train weight helps the valve springs out too.
On the sponsor front things are harder than usual and as everyone will know things are very tough at the moment but we are working hard to secure more sponsors to add to our impressive list of current partners.
On a separate note we are still looking for new crew members to help out with the team, as we have said before all we need are people who are committed, honest, trustworthy and most importantly enthusiastic, knowledge is something that you can learn as you go. We provide entry, food and drink to events. All you need to do is E-Mail us at info@bennettracing.co.uk with a few details about yourself and we can go from there.
Monday 2nd February 2009: Getting shirty.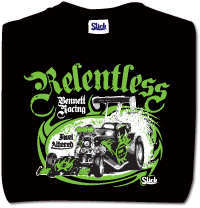 Bennett Racing would like to introduce their new 2009 season T shirt very kindly provided to us by Slick Attire.
Slick Attire (previously known as N138 Clothing) was established in 2008 with the aim of offering stylish apparel for the discerning petrolhead. The label's philosophy is to create high-quality garments with designs inspired by the whole spectrum of motor sport and car culture, from 1920's Bentley Le Mans racers to wild Fuel Altered Dragsters such as 'Relentless'.
They have been involved with Bennett Racing since 2007, producing two designs, 'Severely Altered' and 'Relentless'. The design of the new shirt has been heavily influenced by the livery of the updated and more outrageous than ever 2009 spec car.
We would like to thank Slick Attire for their design, which we all love and hopefully so will our fans. They are priced at £16.00 (inc. P&P inside UK), £17.85 (inc. P&P inside Europe), £19.35 (inc. P&P to Rest of World).
This is also a very good time to mention Slick Attire's obvious skills at producing stunning designs that sell, if anyone reading this is after some T shirts then get in touch with them at dan@slickattire.com or visit the website www.slickattire.com.
Wednesday 28th January 2009: Exit Robo.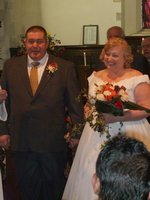 This Blog entry from all at Bennett Racing is to pass on our thanks and gratitude to Robo who crewed with us for 2008 and is returning back to the USA as he has had enough of England! Robo helped with the build of the Relentless Fuel Altered and also with lots of the work at the track during the meetings we attended in 2008. We all wish him and his new wife Sam the best of luck in the future together.
Robo is completely and totally obsessed and in love with drag racing so returning home was not a hard choice...I think he will have six tracks all within two hours so we're not jealous at all obviously. During his time with us he worked on the rear of the car, making sure all was OK with everything back from the gearbox, and always there to help with anything else.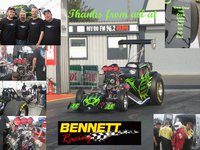 Over Christmas people may have noticed that we posted a Parts Wanted advertisement a wanted advert for an aluminum Buzzard. The reason for this is that we are going to make our own design injector hat. As the NFAA rules state no carbon fibre, we're gonna design and make our own design to complement our Kobelco K9 hi helix supercharger and the DMPE spacer plate. It will include a few innovative ideas that we have had and will hopefully give us some more HP and lower ETs.

Other additions for this year will be that we will finally fit our AIM-sponsored data logger, this will also help with tuning and keeping the motor safe.

On another note, due to Robo's departure we will be needing some crew members for the 2009 season. Anyone reading who would like to crew with us E-Mail me at info@bennettracing.co.uk. All you need is enthusiasm and a willingness to learn. We provide entry, food etc.


Sunday 14th December: Charlie in the pink.

We regularly go down the pub, one of our sponsors, with the local racers and always have a good chat about what's going on and new stuff in the sport. A few weeks ago we were down there as usual with the Drapers and Charlie's work phone was going mad. On this particular night it was -1 outside so, having to keep going in and out all night, Charlie got cold. So his best idea was to go on to the toilet, nice and quiet.

And pink.

By this time the whole pub had noticed that Charlie had gone into the Ladies, and promptly gathered around the door ready to greet him on his way out. When he did he was none the wiser, until he looked round at the door and it clicked. As you can imagine we all laughed a lot and Charlie was a tad embarrassed, we still laughed about it last night down there too.

Nice one Charlie.

Friday 5th December: Looking to 2009.

It has been a long time since I have written an entry to our Blog but things have been very busy with the Bennetts. I recently had an important hospital appointment and no new tumours or anything were found so all is good, just got to have blood tests every three months for two years now. Been a hard year but the support of fellow racers and fans has helped a lot. So thanks to all.

The Relentless Fuel Altered will have a few changes for next year; we will be switching to titanium valves as we intend to up the revs for next year as we haven't pushed the motor at all yet and have only ever revved to 8,200 rpm. And with the Kobelco on there too the power is in abundance so more revs will be even more power. Other changes will be mostly cosmetic and also we will be fitting our data logger as we have run without one until now, and tuned by reading the parts on the car. AIM supplied the data logger and we will run it with exhaust gas temperatures, fuel pressure, oil pressure, blower boost, engine rpm and input shaft rpm. This will give us bigger clues as to what the motor and clutch are doing and will aid in fine-tuning.

We should also hopefully have a new set up next year also, including a new lorry, new awning, new tow van so our pit should look smarter and more professional, important to keep and attract new sponsors.

Although we didn't do anything notable ET wise this year for us we sorted a huge amount of problems on the car and learnt a lot too, we are always learning and never assume that we know everything as with these motors there are always new things to learn and improve.

We were chuffed with the performance of the car though, the best time was a 7.66 half pass as the speed was only 133 mph, we also got our first 0.9 sixty feet too on the car's first pass although the car decided to take off soon after with all four wheels off the ground.

Our aim for 2009 is to win the NFAA Championship and I think it will be the hardest year by far as many of the cars in the class are not easy to beat and will be tough competition, but this is the way it should be we are pure racers at heart and all we want to do is race as fast as possible.

Monday 13th October: Supporting those who support us.

Bennett Racing regularly donates to Macmillan Cancer Support and Cancer Research UK. We also do a lot of fundraising for them at shows and at the track.

Since December 2007, when I was diagnosed with bowel cancer, Macmillan provided me and my family with excellent support and knowledge about the illness and chemotherapy.

The Bennett Racing team are now trying to raise as much money and awareness for Macmillan Cancer Support and Cancer Research UK as we can. Donating through Justgiving is quick, easy and totally secure. It's also the most efficient way to sponsor us. Macmillan Cancer Support gets your money faster and, if you're a UK taxpayer, Justgiving makes sure that 25% in Gift Aid, plus a 3% supplement, are added to your donation.

So please sponsor us now at www.justgiving.com/bennett_racing.

Wednesday 17th September: As far as third.

A long overdue entry for our Blog but we have been totally flat out working on the Topolino or at hospital appointments, the good news is that all my chemo is done with and I am now onto the blood test every three months stage, a huge thank you again to everyone that emailed, phoned or has asked how I have been getting on.

The Open Sport Nationals event was a bit of a let down, unfortunately we broke a lifter link bar but luckily for us the lifter didn't spin as my old man heard it go at the top end and clicked it off straight away, this also meant that it didn't hurt the block which was good, but the cam was scored and we were not happy to run it so packed up on Sunday morning. The two shakedown launches on Saturday were very promising, with a safe baseline tune up in the car we went out and run our first 0.9 sixty foot, but the motor was far too aggressive for the track and it turned right at about eighty feet out, so was off the throttle and coasted through.

The next run we wanted to run to the 330 foot marker but again about eighty feet out the car turned left very hard and once he got it straight, shifted into second and touched the throttle and picked the wheels up at half track, this motor is making upwards of 500 horsepower more than last year's engine. It was at the end of this run that the lifter broke and we were done for the weekend.

Next event was the Hot Rods Drags. For this meeting we took some clutch and timing out and fattened the motor up a little to take some power away, and hopefully get the car straight and off the line. The car had other ideas, on the hit of the first run on Saturday the motor spat both head gaskets out but again dad was off of it very quick and we didn't touch the heads or block. If this had been further into the run then a different story...

We then thrashed all Saturday night striping the motor and then trying to source some O-ring wire, a big thanks to Frank Griffin and Wayne Allman for the wire. We replaced the o right wire in the liners and it turned out that the o-ring wire that the liners came over with was not really up to the job to say the least. Anyway the car was boxed up and finished in the morning and we fired the car up and were ready to run again. First run on Sunday the plan was a very easy checkout pass to make sure that all was ok, launched off idle and ran a slower 1.03 sixty foot, but at least was a bit straighter and off the throttle before the eighth and ran an 8.0 at 123 mph. The afternoon's run was for against Havoc for third. We were glad to be running and as we were still worried about head gaskets we weren't going to do a full pass but run it through first and second and into third to just run through soft. It ran OK in first, short shifted into second, then lifted as turned right, back on it, and into third then a stab of the throttle at about 1000 feet. It ran through with a 7.6 at 150 so we were chuffed.

The next meeting is the National Finals at Santa Pod, looking forward to it.

Wednesday 13th August: ready for action.

Bennett Racing would like to say thanks to every fan, sponsor and racer who has checked out the team web site. We have now had over 102,000 visits and counting and I am chuffed that so many people have the time to look at our site. If anyone has any suggestions of things to add to the site then let me know at info@bennettracing.co.uk. Also a big thanks to Tog and the team for letting us put our news etc. on Eurodragster.

In other news we are entered for the Open Sport Nationals and we can't wait to get the car on the track for some shakedown runs. We have already fired the car at the Damn Yankees show and got all the little problems out the way (not many for once) and even though I will sound over confident the motor sounded very strong and crisp. Now we have the new block and new liners we don't have 70% plus leak downs and with the new blower can make some proper power for this year. If anyone out there has any photos from the Damn Yankees show then please E-Mail me.

The plan at the Open Sport Nationals is to make three shakedown passes on the Saturday so that we are still able to compete properly in the class as fast as we can. In an ideal world what we are aiming for is a six second run on the first full pass.

Sunday 3rd August: A brief history.

As this is our first blog on Eurodragster (thanks to Tog), the best place to start is with a brief history of Bennett Racing. We started racing back in 1981 with a Ford Pop called Phantasm which we raced until 1987 when we imported an NHRA alky funny car called Cape Codder, formally Boston Strangler. We spent a few years building the car up as we didn't buy the motor and since we used small block Chevy power in the Pop the obvious choice was to go big block in what was to become a Fuel Altered. We then competed in Top Alcohol with the other altered of Tony Betts and Mickey Moore/Ollie Burns, we did this for a good few years but due to our extreme budget we were never gonna be a force in the class. We ran an iron 427 block, standard GM forged crank, iron heads, and a blower that probably made about five pounds boost on a good day. Then in the late 1990s, I forget the year now, we started to race in a new class, the Supercharged Outlaws in which we had great success and really enjoyed every single event. Then in 2001 our crank of twelve years had enough and broke in the best possible way, everything out the bottom and it didn't touch our new ally block thank god.

We then didn't have the budget at all to get back out until a new sponsor found at the Xtreme Wheels show in 2005 brought us back out and ready to run in the newly formed NFAA, which so far is best class we have run in. Every single member of every team is always out to help everyone else and with the crap news I had at Xmas with this poxy cancer stuff the support in general has been amazing, not just NFAA racers and crews but fans, sponsors and people from all over world, it's all nice to get and I thank everyone for asking how I am.

Which gets me back to 2008. As a few have seen already the car is a little bit different now and our intention is to run low sixes at 210+ mph. We stepped it up from last year's motor as we knew the class was gonna get faster and that there were the cars and the potential to run fast and consistent, shown by the Wrattens with their 6.46 at Summernats, hats off to them and Charlie for running it, and also to Lawrie Gatehouse and John Wright with the 6.19, that car has a five in it without a doubt.

Anyway I'll keep sending stuff in to Eurodragster.com as usual and if people read it then great if not then at least I'm keeping my brain ticking over while im off work. If there is any thing you wanna ask us then E-Mail info@bennettracing.co.uk.


Feature ©Eurodragster.com


---
Current Blog
2010-14 Blog
Bennett Racing web site
Back to News page
---