. We are also following up the starter jaws with billet aluminium crank support for any big block Chevy motors, with the hub which again we can make from heat treated chrome moly or of course grade 5 titanium, both lighter (easier to remove) and less rotational weight on the crank.

Thanks for reading.

Monday 12 September 2011: TRAX.

Firstly a big thanks to all those at TRAX for the invite to the event; what a superb day we had, possibly the busiest and best event we have been to for a good few years.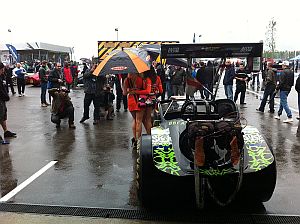 There was a huge range of cars there and the site was too big for us to walk around; everyone we spoke to were so complimentary of the car and it was very nice to hear a lot commenting on the fact that we do everything ourselves and as a family, apart from chroming and anodizing. we try whereever possible to keep everything 'in-house' as we know exactly what we're dealing with then, and only have ourselves to wait on.
This however makes us very busy, but busy is good, though we are still looking for crew members that are local to us (we're based near Benfleet, Essex). If you're interested, please email us at info@bennettracing.co.uk.
We have also been invited to appear at TRAX 2012 as the organisers were very happy with the car and how we conducted ourselves with the public. For 2012, we plan to take two of our cars, the Relentless altered and also the DarkSide slingshot; we also plan to take part in the 0-60mph competition held there with the DarkSide slingshot too; we're aiming for around 2.5-3 seconds to 60mph.
The DarkSide slingshot is coming along well; we are now at the stage where we will be mounting the engine and gearbox six inches further back to give better weight transfer and will also be making a motor plate, as for some reason this car didn't run with one; this will also make the car launch harder. The cage has also been heavily modified and now sits four inches lower which has really transformed the 'tallness' of the car and fits much better with the scale of the rest of the chassis. We also just received a nice box of parts from K&N Filters including 3 sets (different lengths) of polished alloy trumpets which will look superb on the Pinto engine.
We also are making progress on the SuperPower Bantam altered; the fuel tank drawings have been sent to Forge Motorsport, next up once this is fitted we will make the tank straps to hold the tank in place and plan to use carbon fibre for this. We have lots of this thanks to Tillett racing seats. With the look we are going for on this car and the tank made to fit the curve of the front of the chassis, it should have a real sleek (we hope) look.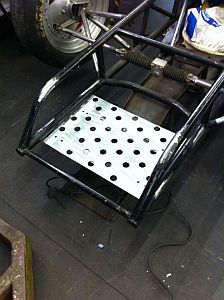 We are still on the hunt for a suitable scoop for this car too, either fibreglass or carbon fibre if possible, similar to the A/Fuel style if anyone has one lying about somewhere.
We also have another car that has been added to the Bennett Racing stable, this time a hot rod, not sure of the hp, depends on the drivers foot power, bought this for my little girl, she is only one (in a week) so it will probably be a present for next year or maybe Christmas, but I couldn't resist!


Sunday 21 August 2011: Relay For Life.
A huge amount has been going on since our last blog entry (time flies as ever); we have attended the Universal Fast & Furious 5 DVD/Blu-ray release day at Santa Pod where we met up with sponsors Battery Energy Drink and www.BuyEnergyDrinks.co.uk.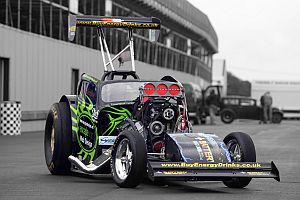 This was also the perfect time to do a photo shoot as the track wasn't that busy and sadly had some rain but this did mean we could get on to the track and got some great photos (one below), thanks again to Lawrence Clift for these. This was a great day despite the weather and a nice change to racing as we were able to take the time to talk to people. It was really good to meet up, we all did a lot of talking around the car and team and what's in store for the future. Everyone was suitably impressed. We have of course sent on all of our PR so far to our other committed sponsors, all of whom we couldn't race without, thanks guys! Also a personal thanks to our team members Alan Scott and Joe Riley, hope you had a good day gents.
Next up, we went to the Cancer Research 'Relay For Life' in Southend, not too far from us and a great way to give this very worthy cause some support. We had a really good day, great weather, lots of interest in the car and even more fun for all the kids that had a photo sitting in Relentless. These are run all over the country so keep your eyes out for one being held in your town and go and support!
A bit of information regarding the cause - Relay For Life is an inspirational overnight event that honors cancer survivors and celebrates life. Relay For Life brings you and your town together to help beat cancer. Throughout the year, teams fund raise in their local communities to support the work of Cancer Research UK. Then everyone comes together in an inspiring overnight celebration and commemoration that the whole community can be part of. Relay events focus on fun for all the family, regardless of age or fitness level – everyone is welcome!
At the event everybody gathers at their local race track, park or sports field and take turns walking laps. Each team keeps at least one member on the track at all times, while all around them a party is in full swing. Relay events have a friendly, festival-like atmosphere that the whole family can enjoy. Camping, music, stalls and entertainment will be laid on, and many of the teams taking part camp overnight. Every Relay For Life lasts 12 to 24 hours, runs overnight and includes a Survivors' Lap of Honour and a moving Candle of Hope ceremony.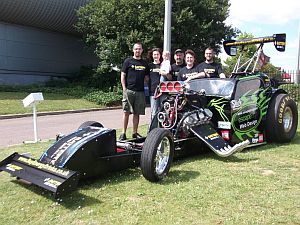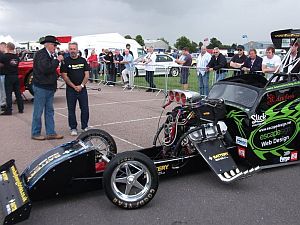 We also have attended the very popular and sadly the last Damn Yankee' American Car show; a big thank you to Gary Hall for looking after us, we loved every show we went to with both Relentless and also the Devil's Advocate altered. This was the 25th show too and was a great end, a big well done to the Drapers and all crew for getting the car built and started in the time you did, no mean feat at all! Once the bugs are ironed out it will be a quick car for sure.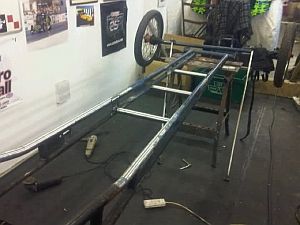 Meanwhile back at the workshop progress has been steady on the other two Bennett Racing cars, first up the DarkSide slingshot has had some serious mods, and we're just getting near to putting on a new roll-cage and adding some chassis bars; we also plan to move the engine back about 6 inches for better weight transference and hopefully we will give it a good make over and it should come out very nice.
Progress has been slow but steady on the SuperPower Bantam altered; the block itself has been prepped and bolted into the chassis, and the engine very roughly mocked up to check everything goes in OK. The first job I want to get out of the way is to shorten the header tubes a little as I feel they stick out too far and will look wrong with the Bantam style body. Then I will make a front motor/idler plate and other parts for the car.
So as always, lots going on but its the way we seem to operate!
Thanks for reading.
Wednesday 15 June 2011: Battery Energy Drinks.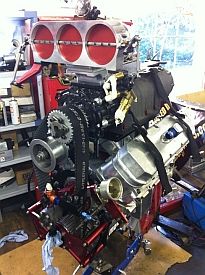 Yet again the weeks have passed since our last blog update, and as I always seem to type, we're busier than ever. The car is really coming along, the engine is coming together very well, and within a week we should have it in the car and then a few more bits to fit and we will be ready to fire.
We have a great day lined up soon too - we will be attending the official Fast 5 DVD/Blu-Ray release, part of the Fast & Furious franchise. This is to be held at Santa Pod Raceway on 8th July 2011. This should be a great day with hopefully lots of interest in the car and Bennett Racing as a whole.
All we have left to do now is fit the engine in the car, fit the clutch, fit the new titanium clutch can, rebuild and fit the Lenco gearbox and send some parts away to be anodised. There are probably a heap more jobs to add to that list but we're certainly getting closer to having the car finished. While in the garage last night we also took the opportunity to take a few photos with our Battery Energy Drink and www.BuyEnergyDrinks.co.uk banner. Whilst you can clearly see we're not professional photographers, we think they still look good!


Monday 23 May 2011: Engine rebuild.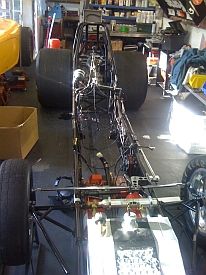 Well, the good news is that Relentless is now a rolling chassis; we have been working hard and it's finally coming together. Last week we started the engine rebuild/refresh too and, so far, all seems OK. We are going to change all the bearings and give the motor a professional clean and pretty much build it as you would a new motor just to check all is a-ok. On Saturday we also rebuilt the heads. This is a time consuming task, grinding each valve in, but got them done and are very happy that all the valve springs are still holding up fine. Titanium valves and retainers definitely help here.
Its nice to get to this stage, as you actually start to see all the hard work coming together and hopefully going together smoothly, its funny how this car is just being rebuilt but we keep finding things to improve and make better.
Also I must add in our last blog I wrote we found a hole in our puke tank, please note that this wasn't in the bottom, it was in the top and was a pin hole, we haven't been oiling the track all season!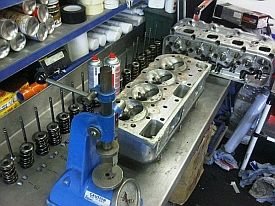 We are also remaking/redesigning our inlet manifold plate too, to better suit our Kobelco blower; we feel that we can produce a better flowing better designed version than our current one. Which in turn we yield more horsepower. We will CNC machine this from 7075 aluminium, supplied to us by Smiths.
We also plan to get our Kobelco supercharger totally rebuilt and refreshed, so will be handing it over to Kenny at SuperPower Unlimited.
So as always, lots to do, but bit by bit we're getting there. Just can't wait to fire the car up again; it seems a very long time.


Friday 13 May 2011: Relentless updates.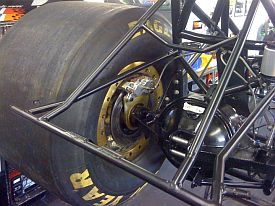 Progress is pretty good on the Relentless Topolino; we're slowly getting the car back together and are really happy with it. We have tried to update the car a little this time around and make it easier to work on between rounds, only small things such as proper push fit air lines, but these make removing and refitting the Lenco gearbox just that bit quicker and easier when working on the car. Also large changes such as the Trick Titanium clutch can will make our lives easier as lifting out the 55lb Browell can was not always fun, especially when you catch your fingers too...so we hope that with the changes all over the car it makes servicing it easier and more efficient.
As promised, I have also taken some more photos of the progress of the car. It's now a rolling chassis and the 3rd member has also been fitted; before the wheels were all fitted we gave them a thorough polish with our Autoglym metal polish; they came up a treat. I cannot recommend Autoglym's products highly enough; we use them throughout the car and every product we use is faultless.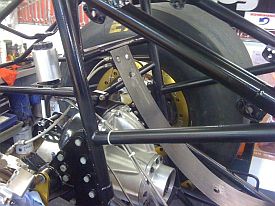 Also we had the fun task of bleeding the brakes, god I hate brake fluid, horrible stuff! But when fitting them back we also found an issue causing the brakes to bind so we fixed this too; every little bit helps.
As seen from this photo we have still yet to fit the seat panels, puke can and Silicon Hoses; we actually found a small hole in the puke tank so will weld this up before refitting to make sure no oil/fuel can escape onto the track or tyres.
The next job is to rebuild the engine. We broke a lifter at the last event so just want to double check everything is OK, we will replace both the camshaft and lifter but, fingers crossed, nothing else!
Tuesday 3rd May 2011: Relentless going back together.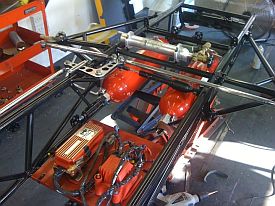 Well the good news is that the Relentless Topolino is finally going back together after a long time apart.
We painted the chassis over the weekend and started to fit everything back in. First up, the fire bottles in their new position, and they look great - safer too, and we're really glad that we did it now.
Also we fitted our new air bottle at the front of the car for easier access, as it was near the puke tank which was sometimes a pain to turn on/off and once was forgotten, (cue a short burnout...). Also seen in the photo is the MSD coil and points boxes.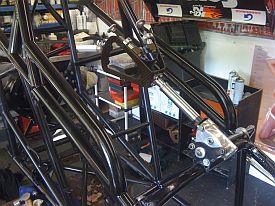 The next photo is of our new carbon steering wheel, a bit of a change from the usual, but it's given the car a nice simple update and saved a little weight too. There are a few jobs still to do, such as fitting lines etc for the Lenco gearbox. We're back out in the workshop tonight, and plan to fit the 3rd member and half shafts.
It's a bit of a short blog this time, but keep coming back and I plan to update every week or so.




Wednesday 27th April 2011: Lots of changes.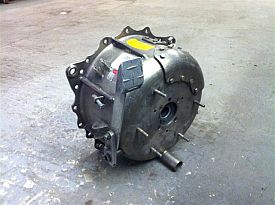 Yet again, weeks seem to have flown by since we wrote our last blog entry; where is this year going? It's nearly May already. Anyway, as always, we have been very busy here at Bennett Racing, so there is lots to update you on. First off, to say thank you to Robinson Racecars for the help with our new clutch can; it's a very nice Trick Titanium one which replaces our Browell steel one - we were tired of lifting the steel one in and out in between rounds!
We have also nearly finished the chassis updates we had planned last year; one change was the relocation of the fire bottles. We have mentioned this before, but after watching Tony Bett's crash many times, the bottles were the first thing to break from the car and we felt having them inside the chassis rails was safer and we think it should really be brought in as a rule for all cars. Even if we were to run with the funny car body, the carbon won't offer huge protection from the wall. Other changes were more cosmetic, and as we like to do every now and then, we check the chassis for damage or cracks etc.
Since our last update, we have also sold our very faithful lorry and made the switch to a large box trailer, just easier to store and a lot easier with the current MOT regs and emissions issues that seem to get worse year by year! It's a very tidy triple wheel 26 foot box trailer and should make loading and unloading the car far easier too - well we hope.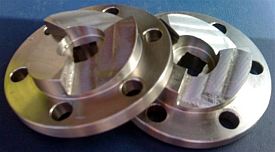 Also our new website www.bretitanium.com is now live and were taking an orders for anything you want made. The main part for sale to start with is our titanium starter dogs, they offer a 45% weight saving over their steel equivalent and are priced at £150 each.
If there is something you need made for your race car in titanium or aluminium then give us a call; we can make pretty much anything you can think up - all work is CNC machined and very accurate. We only use Ti-6Al-4V (Grade 5) titanium and a wide range of high strength/high grade aluminium including 6061, 6068, 6082, 7022, 7050 and 7075. Our products range from one off parts to large quantities.
Thanks for reading.
Friday 11th March 2011: A rebuild and new parts.
Been a long time since we have written a blog entry but we have been busier than ever (if that's possible). Things are progressing well in the workshop - we are in the middle of a complete bare chassis rebuild of the Relentless altered/funny car. The reason for a bare chassis build is that we like to do this to make sure there are no big problems such as a crack or anything being bent. Plus it's good to do this as we can fit any new parts we may have.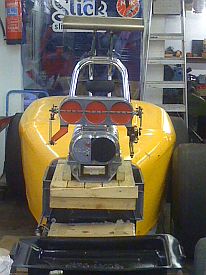 We are also very happy to have had our new 8/71 BDS blower and inlet manifold delivered for the supercharged outlaw Bantam altered. This was courtesy of Kenny at Superpower Unlimited . The blower shown in the photo is a BDS 8-71 polished blower with hard anodised case and rotors fitted with billet end plates, new bearings, seals & front cover, teflon stripped and all set up for alky use. The inlet manifold is also BDS with SFI burst panel cage and panel fitted and will be perfect for my application. This work was all carried out by Kenny at Superpower Unlimited and we are more than happy with it. I only plan on spinning it at around 20% as we want the Bantam altered to be lower maintenance than the current car, plan is for mid to low 7's but to be consistent, a big help will be the heads, these are Brodix BB3's and are fitted with T&D stands and rockers, should really help valve geometry and wear.
We are also happy to say that we plan on attending Dragstalgia this year with the Relentless altered. It looks to be a great event alongside the very popular Nostalgia Nationals and Hot Rod Drags. It's not really a secret that Nostalgia racing is becoming very big both here and more so in the USA, so it's about time that Santa Pod also hosted an event of this type.
While I write this I'd also like to mention the parts that we have for sale. We need to fund the FIA funny car, and as a lot of people in Europe are in the same boat, we have for sale our Browell clutch can (SFI 6.2), our HUGE diesel generator (this thing would and has run a house with ease), a fuel tank suitable for altered or funny car, a Jaz fuel cell, some BBC heads, and various other parts.
On the sponsorship front, I am in contact with a company literally as I type this, and all of my fingers and toes are crossed that we get this sponsor.
Thursday 30th December: A word for our sponsors.
A Eurodragster.com reader asked me a very good question and I thought it might make an interesting Blog entry to answer. The question was: it might seem to an outside observer that racers build cars which they can't afford to run and then expect sponsors to pick up the tab. Why should they do so? Aren't racers in fact just asking for someone else to finance their hobby?
Very good question, but there is a lot more to sponsoring Bennett Racing than them paying for our hobby.  Yes to an outsider it's a hobby, but to us it's a full time job, well a full time job times three as we have the three cars.  We easily spend more time on the cars than anything else. So a hobby yes, but a very serious, highly obsessed full time one.  Sponsoring Bennett Racing is a massively powerful marketing tool that many companies could use to raise either their brand or company awareness to thousands of motorsport fans around the world.  And I say around the world as even with the Relentless altered we had exposure in the USA, Australia, all over Europe and obviously the UK.  So going into an FIA class this will give even more exposure worldwide.
In terms of our actual sponsorship, our budget each year is probably made up by under 10% from sponsors.  The rest we ran on mainly through prize money thanks to the NFAA wins.  This was a huge help.  Other budget comes from parts sales.  We had one guy come up to us at a show and really believed we were rich!  I quickly explained we wasn't, our car is and always has been spotless, we pride ourselves on it.  He was shocked, he really thought we had money coming out of our ears, we don't sadly, we put all of our effort into the cars, not our lorry or pits or shirts, we make the car the best we are able to and I don't think we did too bad with it so far, a 6.42 early shut off at only 191 mph.  There was so much more in this car, which we will get to show next year.  Also remember this is still a Big Block Chevy engine too, which in realistic terms and power terms is inferior to a hemi, simple as, but I kind of like that, I like that fact that we have what should have been slower but run pretty well in my eyes.  
We do well with sponsorship and don't get me wrong I completely appreciate all of our current and previous sponsors, and they know this, we do however get varying levels, what I mean by this is that some may read a new sponsor news on Eurodragster.com and think we're getting more money, sometimes this is not the case, sometimes its product sponsorship, which is a big help, it might not sound it, but as an example say we had to buy some new lorry tyres, OK, cost of say £300 for argument's sake, if we can get product sponsorship then they cost us £0.  So it is a big help and always welcomed and earnt.   
Also with our current seventeen sponsors comes a massive amount of work on our part, people sometimes forget that yes we do have lots of sponsors and always ask how (not going to tell you!) but I work very hard to keep them.  Pretty much involves keeping them updated with the team, what are we doing, why we are doing it, when were winning, why were not winning, giving them PR for news they may have and mentioning them as and where we can.  It also comes with some harsh E-Mails and sometimes difficult phone conversations, one that springs to mind was when the NFAA had seven rounds, this was great, more exposure for our sponsors, this was then cut to five, OK but one sponsor went mad, how and why they asked?  Surely this means less exposure for my company, less time out for the car.  So yes I had to explain the best I could and in the end we made the time up by going to a couple of extra events, the Flame and Thunder Show one of them.  So yes we love our sponsors, they are a bigger support to us than they themselves realise but they do come with lots of hard work.  
I love it though, I really enjoy building up relationships with sponsors, it takes time but there are some that have supported us for years and we have visited them, they have come to the workshop, one even drove to the track and made us a fry up!  It went down well believe me.  Bottom line is, it's hard work, I never stop looking for other sponsors though and I now can't help driving or walking anywhere, if I see a logo then I make contact, I ask, some say no way, some say not this year, some say yes.  Times are tough I don't really need to write this but a lot of racers are struggling, but not just racers, companies too, one of our sponsors (I won't name them) is really feeling it at the moment but I hope even if in a small way that Bennett Racing can give them some customers and help them.  After all that is all its about, they give us money or product in return for logo and brand exposure and new customers. Simple as.  Well, not quite.
Sunday 17th October: In for questioning.

A few weeks ago we were kindly approached by Extreme Element for a brief interview for their web site. As they are suppliers of over 800 extreme sports courses and activity days, they thought that drag racing fell nicely into that category! 
Extreme Element is the UK's Leading Extreme Sports Specialist across the UK and Spain. Whether you are after the perfect gift, an unforgettable experience with your mates, a corporate day out with a difference or you're looking to get into a new sport, look no further than them...
Hopefully this will give Bennett Racing and drag racing some nice exposure to people that might not normally read about it. You can find the interview at blog.exelement.co.uk.
Friday 8th October: The new arrival.
Well what a couple of weeks that was! Since our last blog update, we have our newest team member, our baby girl Gracie, born on the 21st September weighing 7 lbs 4 ozs. As all parents will know, everything now changes, not a lot of sleep and hard work, but more than worth it.
A huge thanks to each and everyone that sent messages on our facebook page and also E-Mailed, really kind of you all. I would also like to take the opportunity to congratulate Phil and Abby Sweeney on the birth of their little boy James, maybe we can sort some match races in the future.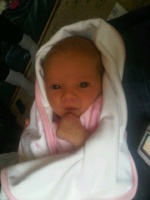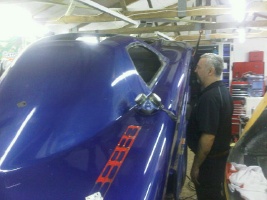 As you can imagine we have had a brief pause in the progress of the Top Methanol FC. The body now fits the chassis, as anyone who has mounted a Funny Car body will know it's a pain, simple as that, but fitting one with existing tinwork makes life a little easier but still requires lots of up and down and on and off with the body. But it's now on the car roughly where we want it, just need to tweak a few things before we start building the rear A-frame.

Once the A-frame is built, the body fitted and we're happy with everything, the car is due to be totally stripped to a bare chassis so we can go over every part of it to make sure nothing is damaged or cracked, then obviously as we build the car back up we can lose the 'altered' parts of it and remake or add parts to make it an FIA-legal Funny Car. Wish it was as easy as it sounds!

Thursday 16th September: Grandad, we love you.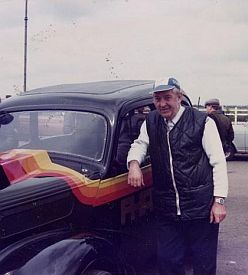 Well, what a cracking Euro finals that was; we went up on the Saturday and took my 86 year old Grandad, Lenny Bennett. He had not been to a track since the very early 90's and had not seen or heard a drag racing car since...he loved it, had such a good day, even in his older years he still remembered a lot, including the firing order! He didn't see a lot of the old faces he knew, but he did recognise Bob Jarrett so the memory is still working.
It was such a great event to have taken him to also, brilliant sunny weather, good racing and the best thing for me and my Dad, was that he got to see his first four second ET and his first 300mph+ runs. He loved it and we really enjoyed seeing him so happy. We were so chuffed. On that note, a huge well done to Andy Carter and the team on running the 4.61 and then a stellar 4.57, great runs and well deserved after a tough year for all of the team.
Also a big well done to all the 2010 championship winners.
On the journey home we were talking about our move into FIA TMFC; Grandad was keen as ever and giving us some ideas we had not thought of too. We showed him photos of the 2003 Firebird body that we have bought. We have actually raced a Funny Car before, in the late 90's, but sadly the body was lost in a workshop fire years ago. It was a 1989 Chevy Beretta, had such a nice shape for a car of that era too. If I remember rightly, we raced it in the Supercharged Outlaws and in Super Pro ET, running a best of only 7.33 at about 176mph (we ran the engine very soft then due to lack of £££).
We also bought a few parts while we were up there too; we have made a start on the fitting of the Funny Car body, which will require lots of fabrication to the rear of the chassis, on the A frame, but this is easy enough to build, it just requires patience and lots of lifting, on and off, of the body. Below are a couple of photos to show what the old car looked like and what the new one will look like.
Thanks for reading.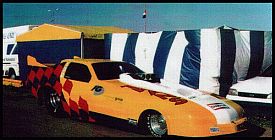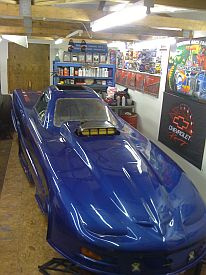 Thursday 26th August: Working towards the change.
Yet again a month has passed since our last blog update, how time flies! Seems all we have been doing since the Damn Yankees show is reading the Top Methanol Funny Car rules again and again to make sure we don't miss anything, making lists of what we will need to make the step up and seeing what we need to change on the car. Some changes are safety items which we are all in favour of: roll cage shroud, SFI quick release on steering, fresh air system. Some are mechanical such as double skin headers, everything else is up to date.
We also need to change the A-frame on the rear of the car to be able to fit the Funny Car body. We are really are chuffed to bits with the body. It's a very nice shape, both to look at and aerodynamically, and it's also very light: two of us can lift it with ease so this is a big help. The body itself is actually carbon fibre over a honeycomb structure which is both very strong and lightweight. Turns out it's a body the originates from Jim Dunn Racing in the USA, so some nice history attached to it too.
Other changes we will be making to the car are a new injector, as always for power but also for a more modern look that it will give over our existing injector. The existing injector will not be sold (too many hours machining work in it!) but will go on my SuperPower Bantam altered's 8/71 supercharger. We also hope to change all the panel work, seat, steering wheel and puke tank for carbon fibre items to refresh and update the car. So lots to do here at Bennett Racing but we can't wait, however the talking needs to stop soon and we do need to get on with the work.
We are constantly searching for a team title sponsor. It's harder than ever, with companies really pulling in those purse strings hard, but we can't emphasise enough what a great package we have here, and the step into FIA drag racing gives a much greater level of exposure. The Funny Car body is surely the best in the sport for advertising on due to its sheer square footage of space: a real eye-catching and unique rolling billboard for your company. Anyone interested in any level of sponsorship please get in touch by E-Mail at www.bennettracing.co.uk and if you want to join the list then please get in touch.
Tuesday 20th July: Damn Yankees and looking forward.
On 18th July we attended the Damn Yankees car show. Firstly a big thank you to Gary Hall for the invite. Sorry we couldn't fire the car but, as people will have read, we damaged a lifter at the National Finals at the end of 2009, hence we only ran a nine on our last run. But we brought the car along anyway; to be honest it was very nice to get the car out again after a while out. We turned up nice and early on the Sunday to get the car ready and, more importantly, give it a good clean, fitted the headers, mag and side panels and gave the whole car the once over; we also set up our for sale table too, where we were selling our official Bennett Racing tee shirts (kindly supplied by Slickattire.com) and also lots of Cocaine Energy drink; thanks to all those who bought some.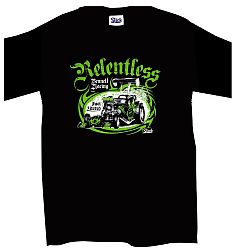 We then settled in for the day to just relax for once and sit back and have a good chat with people as they looked around the car. It's a real pleasure to go to shows, as there is no rushing about like at a race meeting, and you can talk to people without feeling hurried. It's nice. Also it was great to have a talk with John Price too; John, if you read this, remember what we talked about! Do it.
I have to say that the standard of show cars there each year seems to be getting ever better. There was a Corvette that made everyone on site dribble; it was a beautiful car. We had a good look round and as are all complete Petrolheads, we loved the whole day.
Also in attendance was Bert Englefield in his very nice Pro Mod. We think it was a first time visit for them but they looked as though they had a good day too. We did push the car into the arena where we would normally would fire it, and it did seem odd not running the old girl up! But least Bert was there to fire his and it went down very well with everyone there.
Looking to next year, there was a lot of interest in us moving to FIA Top Methanol Funny Car. People were asking why and when? Well the why is we want a new challenge and the when is 2011. We are still hunting very hard for a title sponsor; it's a real battle at the moment. A lot of companies do not want to part with their cash at all, but we won't give up and we will keep on searching.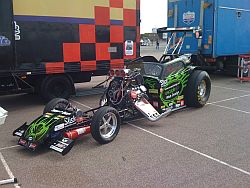 On a side note, we have reduced the price of our tee shirts to £10 each or two for £18; this is definitely a bargain, they are very good quality tee shirts, and the money goes right back into the car, so every one sold helps us to get the car on the track sooner!
It's hard to believe that it's nearly August already. This year seems to be going faster than last year and so on; we still have lots to do here, what with preparing Relentless to race in Funny Car and trying to get my Austin Bantam altered built too, and then getting the Darkside slingshot built, it doesn't leave a lot of time.
Still, roll on 2011, we really can't wait to go Funny Car racing again. It's going to be a completely different animal as we intend to really push the Chevy motor hard. We hope we can run some decent times and see how we get on.
Thanks for reading.
Thursday 24th June: The dream trip.
This update has been a long time coming, but, as always, we have just been too busy to get this written. As some of you may remember, we went to the USA in March to watch the Gatornationals and visit the Garlits Museum of Drag Racing. Well, believe me when I say we didn't waste any time at all; we were up at the crack of dawn every day and not going to bed till the early hours - no point wasting time out there.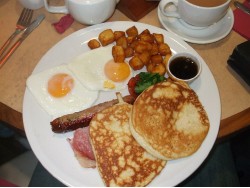 The trip started early one morning going to Gatwick airport; one thing we did, which worked an absolute treat was to check in online and then cut the check in time at the airport to about two minutes, a really relaxing way to go about it. Once our bags we gone, we proceeded to have a walk around the shops and then went to get some breakfast; we thought we might as well start as we meant to go on!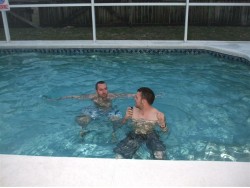 We then had the usual wait and the boredom before we went to the gate to board the plane. It was a great flight and we landed at Orlando at around 3pm US time. We came through immigration etc without any bother and went to collect our hire car; we ended up with a Ford Explorer, only a V6 but a nice ride and plenty big enough for us all. I was the first to drive and I have to say that the roads out there are so easy to drive on, they all just flow and make sense - like turning right if the light is red, a great idea to keep it all moving along. The first thing on the agenda was to find our villa. We went to the main villa office, collected the keys and we were on our way, again very easy to find and first thing we all did was to jump in the pool....sadly I didn't really check the depth of the pool first and promptly nearly brOKe my ankle, great, had a cracking limp for 3 days after that. The villa was a cracker, bloody huge and had everything we wanted for the time there.
That evening we met our good friends Robo and Sam and went for a really nice meal out and a few drinks, then back to the villa for some shut-eye.
The next morning, after a visit to Denny's we were on the road for the Kennedy Space Center. What a great day this was, incredible engineering throughout the facility and we all really enjoyed it. The sheer size of the Saturn 5 rocket was just amazing, a real testament to the NASA engineers who built it. The photo below gives an idea of the scale of it.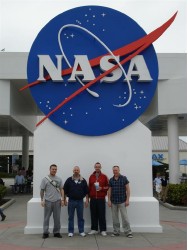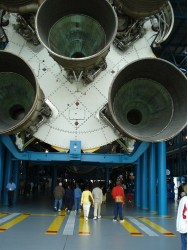 We were there for the whole day till they pretty much chucked us out, but if anyone is heading over there soon, then a visit comes highly recommended, a really great day...apart from the ankle pain anyway.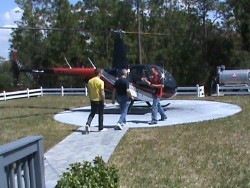 The next day again we were up early and went on a quick mall visit to pick up presents for the other halves so that we were kept in the good books, then a quick stop to get some petrol and we noticed a sign near the garage for helicopter rides, so off we went for a go. We had really great views of Florida and the usual tourist places like Sea world and so forth. What surprised as all was how the helicopter handled, it turned in the air so sharply and quickly and was really enjoyable.
Then we were off to my favourite part of the trip by a long way. This part meant a lot to me, as I had pretty much dreamed of going there while I was on chemo. That place was the Garlits Museum. It seemed to take us forever to get there but as soon as we pulled into those gates, we all got excited like kids. My old man had been there years ago but Adam and I had only ever looked at photos. When we went to buy our entrance tickets Don Garlits offered us the Crazy Horses book. We declined as we already have it, but mentioned to him that we are also in the book. Don asked us to show him, so we found the photo and chatted about the car and what ETs etc we have ran.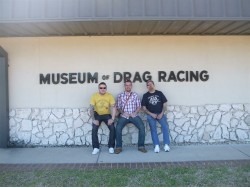 We decided it best to walk around the antique car museum first and save the best till last. As soon as we got in there, we all just dribbled; it is such a great place filled with so many iconic cars. We spent an hour or so looking at the antique cars then we could wait no more and headed to the race museum. As soon as you walk in, you're greeted by Swamp Rat I and the feeling in there is great, looking at the amazing history and innovation that Garlits achieved; the things he tried are brilliant.
I cannot explain in writing how much this meant to me to be there; it was an ambition of mine very much fulfilled and I'd like to thank my family once again for helping to get me there; without their support I'd be six feet under now. Talk about dream come true - Thank You!
We spent the rest of the day in the race museum, looking at every single car; it's a fantastic place and we would without a shadow of doubt advise anyone who loves the sport like we do to visit there. We took so many photos (all on our website) while walking round, but these don't really capture the feeling and grandeur of the place. A great time.
Luckily for us, and the reason we went on the Wednesday, in the evening there was a cacklefest in the car park of the museum, so once they kindly asked us to leave the Museum we popped over to the Taco Bell nearby, then wandered back to see the cars that had been brought out. Just seeing the cars on display was a treat, but the fact they would be fired later on was great. Now, before this trip I wasn't that keen on slingshots, but having seen Swamp Rat VII in the flesh I now want one; well, I want that car but that's a little unlikely! It's such a pretty car - the perfect stance.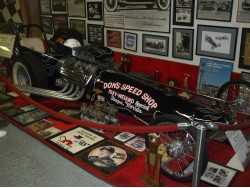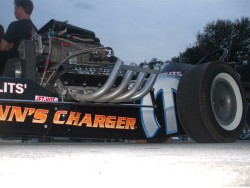 What we also noticed and loved was that 90% of the people there were old boys from racing; it was great to see them all chatting and catching up and reminiscing about days gone by. Time seemed to fly by and it was soon time to fire the cars. They did it one by one and every single car sounded great. We took so many photos and video but it was all well worth it; it was a true privilege to have been there.

The best bit for me was when the last car was turned off, Garlits just murmured to himself, 'rights that's it, show's over' and an amazing show it was.

This was now about half nine so we thought some food was needed so what better place to head for a meal than Hooters, we heard that the food there was nice, so off we went. I need say no more about this place, as everyone knows the score!

Next morning we were off to the Gators, again, as you can guess, all excited and couldn't wait to get there. We arrived to it raining like mad, but thought it might clear, silly Brits, should have stayed away, but we went in bought some ponchos and walked around the pits. It was a quiet day but nice to see the teams more relaxed and unpacking all the gear. We left it till around one-ish then headed off a little damp. We headed back to the villa, showered and got some dry clothes then headed down to Kissimmee to the fairground, went go-karting and then for some grub.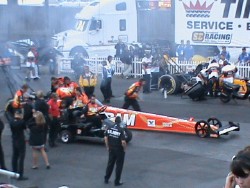 Next day, the weather was so much better and it was nice to be dry again. We headed into the Top Eliminator stands and got settled. It was then that it really dawned on me and Adam (Dad had been before) that we were here at the Gators and we were so chuffed. As the first pair of Nitro funny cars started all the hairs on my neck stood up. The whole day was so slick and went very well; I have to say that the NHRA looked after that track like a baby.
One thing I do need to mention, that we were so surprised by, was the complete lack of interest for the methanol classes. We just couldn't understand why everyone left (even the NHRA and the big TV screens shut down) when they started. How can anyone not appreciate A fuel cars running 5.20's and Frank Manzo running a 5.4? It totally baffled us.
Same with the Pro Mods; the crowd just didn't seem interested; it's so weird. One car we have to mention as we don't really ever mention other cars is the Pro Mod of Brad Personet, what a car. we were gutted when he went out, as we really loved the sound of that car on the line.
Back to the racing, we didn't leave the stands all weekend, other than downtime when we hit the pits and got a Gators tee shirt signed by every single driver we could; it's going to look good on the workshop wall.
On Saturday night we headed back to Kissimmee as there is a weekly car show we wanted to see. We got there a bit late to see all the cars but there were still some very nice cars there and we spent a few hours there looking at them all before heading back to the villa for some sleep.
We couldn't believe it was Sunday already, but we were back at the Gators, gutted it was the last day's racing but it turned out to be a great event and the weather turned out really well too after the soaking on Thursday.
We also took part in a first for the NHRA, a track walk in aid of the Darrell Gwynn foundation. This was brilliant; walking the track was great but a lot of the NHRA stars took part too. My old man walked the whole 1/4 with Brandon Bernstein and Doug Kallita, both great guys.
On Monday morning we were up early to pack and tidy the villa up and checked into our flights on-line. Robo and Sam then came to meet us and we were not sure what we were going to do. Firstly we went to another mall, then Robo came up with the great idea of a gun range, so off we went. For anyone who has never fired a gun, it really is an experience but needs 100% concentration at all times; the power that these things have is frightening. We had a little competition too which my old man won; I think he only missed the centre of the target once.
One other random thing we saw out there, shown below is that milk is dearer per gallon than Petrol!
We then said our goodbyes to Robo and Sam, took the villa keys back and headed for the airport, and slipped into that usual semi depression of going home. We loved it there, not just the racing and everything we did, but the attitude of the people as well. No one wants to fight you, and when we went anywhere people were so polite; even the amount of people coming out the car park for Gainesville, everyone let someone out so it just flowed, not like the UK where no one lets anyone out.
Anyway my fingers are aching now, so I am going to stop typing, but thanks for reading, hope you liked it.
For more photos visit our website at the link here.
Monday 19th April: Workshop update.
As always, it's been a totally hectic and busy month since the last blog update; it seems that this year is going faster than ever. But we have been getting a lot done on the new workshop extension. It's all self built and coming along very nicely; we were in desperate need of some more space and while this is not the biggest area in the world, it's going to be kitted out with enough room for six race cars, a machine shop, engine room, work benches, television and DVD player, phone and PC and kitchen with fridge (no cooker yet though!). It's going to make our lives a great deal easier.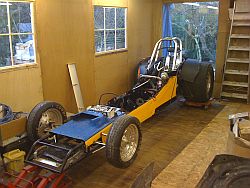 As you can see from the photo the body is finally off the SuperPower Bantam. We have had the car for a while now but due to illness and racing the Relentless Topolino, we haven't had the time to touch it. It's been really good to get the body off and have a good look around the chassis; there are some really nice touches on the car.
The block is soon off to be prepped for its blown application, looking forward to seeing it back so we can get the engine built up. Also here is a nice photo courtesy of Kenny at Superpower Unlimited showing the completely refurbished blower and inlet manifold, I won't be using the injector shown; I have got some very interesting plans for that which I will hopefully be able to announce soon.
Other than that, we are working harder than ever to secure a title sponsor for the team and hopefully news of that will come soon.
Thursday 25th March: Good news keeps on coming.
Some very very good news from the Bennett Racing team, my wife Lisa and I are expecting our first baby!
We are absolutely over the moon, after a torrid couple of years we are finally getting some luck. Lisa is currently 14 weeks and a scan photo is below. It was one of the most amazing things that I have even seen, completely muted me for a change. Some other great news is that we are also moving house this weekend into a nice three-bedroom house, and going from a one-bedroom flat it's going to seem very large indeed!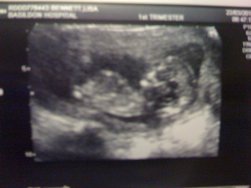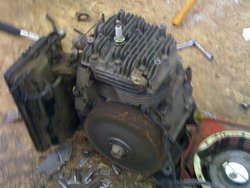 Also, and maybe a little bit early, I have already sorted a little four-strOKe engine to build a tot rod, so if anyone has any (cheap) parts for one give me a shout, although we have a few years to build one.

I also just got the news that I am going from three-monthly check-ups to six-monthly, so that's even more great news. So far 2010 is looking to be a superb year, long may it continue.

Sunday 14th March: A word for our sponsors.

Bennett Racing have always had a great history with their sponsors, building excellent and reliable relationships and so for 2010 we are no different, and while times are very hard as we all know, we are still attracting new sponsors and team sponsorship, testament to our reputation and our performance on the track. For the 2010 season our sponsors are as follow (in alphabetical order).

We use nothing but Autoglym on our race cars, for a full range see the Autoglym web site. Autoglyms professional and motorist's vehicle care ranges are highly respected around the world and proudly hold many important endorsements for exceptional performance and dependable quality. Manufactured to recognised international quality and environmental standards, Autoglym vehicle car products have earned international reputation for being the benchmark by which all others are judged.

Avondale Composites are a composites engineering company, amongst other things they have moulds for various altered bodies, seats, scoops, front nose cones, and they also offer a one-off service to the motor sports industry, basically you dream it and they will make it type of thing, they deal in fibreglass and more exotic materials such as carbon, aramids, pre-preg etc.

Chronos Engineering Supplies supply a huge range of engineering and model engineering supplies around the world via their speedy mail order service. Whether you are a hobbyist with a small home workshop or run a fully fledged engineering company, you are sure to find something of interest among their 8000+ products.

Cocaine Energy Drink has been huge in the States and they are keen to bring it across the Pond and what better way than with us. The drink packs 350% more caffeine than Red Bull and is by far a better working drink, it contains a natural sugar Dextrose which gives you an instant rush, other sugars make your body work and give you a crash when they run out. Not Cocaine!

CP Pistons' sales staff have over 100 years of industry experience, and as a member of Pankl Racing Systems, they share in the cutting-edge knowledge of a high-technology racing group supplying engine and drive train components to numerous racing teams in Formula 1, F3000, IRL, CART, World Rally, and to elite car manufacturers like Ferrari and Porsche. CP Pistons carry one of the most comprehensive inventories of off-the-shelf pistons in the industry. Obviously most of the pistons in drag racing are custom made which they can do to any specification using cutting edge technology and precise machining, they endeavour to provide their customers with the best forged pistons in the racing industry. Their sales staff is versatile and knowledgeable, coming from all areas of motorsports to provide you with the best possible service. They apply this experience to your benefit when you place your order, by asking the right questions and understanding your needs, CP Pistons make sure that the pistons you receive are customised to your combination and application. As with any motorsport company they attend many trade shows, recent ones include the 2008 SEMA Show Las Vegas, Professional Motorsport World Expo 2008, Performance Racing Industry Tradeshow, 2009 Dealer news International Powersports Dealer Expo and the 9th Annual V-Twin Expo. CP Pistons also sell buttons, locks, pins, rods and rings. For sales or tech support call : +1 949-567-9000 or E-Mail at sales@cppistons.com.

Darton Sleeves pioneered modular sleeve designs and speciality ductile iron material beginning with their manufacture of top fuel sleeves in 1978. Darton sleeves excel in the harsh environment of all-out racing. Their centrifugally cast nodular composition represents the highest quality of any cast material. The unique matrix of Darton's centrifugally cast nodular iron sleeves provides unexcelled surface toughness. Darton's unique casting process provides a bore finish which, while very tough, promotes quick and total piston ring seal for the most complete combustion possible from each cylinder.

Escape Design specialise in high quality, fast turn-around web site design. Maybe you have a new business. Or you are already an established company, venture or organisation. Whatever type of operation you are you will need a web site to fully reach your potential and most importantly, attract new customers. This is where Escape Design can help. They offer individual customer attention, and listen to your comments and value your feedback - ultimately producing visually stimulating solutions to your brief and requirements. With a keen eye for detail and originality, they aim to satisfy and thrive on your input, believing this delivers the best result. Asking questions about what you do and how you do it, to get to know you and your company. Tailoring their skills to suit your target market; this information allows them to excel where other companies simply cannot. Get in touch today for details or information on anything they offer. All of their web site design packages - starting from just £195 - include professional web site design, unlimited web site design revisions, web site hosting and support, domain name registration and management, search engine optimisation, multiple E-Mail accounts, Internet Explorer, Firefox and Google Chrome compatible, visitor statistics.

Forge Motorsport are recognised as one of the UK's premier manufacturers of alloy aftermarket accessories. To ensure there total commitment to quality Forge have obtained the internationally recognised manufacturing standard ISO 9001 this covers them for all design and development work. All their products are produced in their own state of the art CNC workshop. All Forge products are guaranteed for life with the Forge "No Hassle" service promise. If you have a particular motor sport requirement that is not listed in there catalogue, or on the web site please call them and they will gladly assist with any queries.

As most people will know Goodridge they are the world's leading manufacturer of high performance fluid transfer systems, driving the top race cars, performance road cars and motorcycles across the globe. Goodridge products cover all fluid transfer needs including hydraulic Brake and Clutch lines, and lightweight hoses for fuel, oil cooler, gearbox and water systems. Contact them at Goodridge Silverstone, Unit 2215 Technology Park, Silverstone Circuit, Towcester, Northants, NN12 8TN. Phone 01327 858799 or E-Mail silverstone@goodridge.net.

Every racer is always looking for an edge. Klotz products have a long history of race testing and race proven performance. In 1959 JC Klotz Jr needed a lubricant to give him and edge over the field, in moments like these, where racers are looking for something to give them more performance, Klotz was born and still continues to develop today. For over forty five years they have focused on meeting the needs of racers, performance enthusiasts, and the consumer who cares enough to use the best product available. Regardless of which power sport is your passion; Klotz defines the highest standard in the highest grade of synthetic lubricants. It is their goal to make mastering the science of synthetic lubrication their first priority. Thousands of racers and performance enthusiasts have relied on Klotz for winning performance. They maintain their reputation by continuing to adapt to the ever-evolving needs of racers and consumers. Their line of products covers marine, SkiCraft, automotive, motorcycle, kart, snowmobile, and RC model markets. It is their goal to serve you by providing the highest quality product, with the most consistency, for exactly the application you need it for. Contact them on +1 800-242-0489.

N138 clothing are purveyors of distinctive apparel for the discerning petrolhead. Take a look around at the top-notch T-shirts we currently have on offer in the on-line catalogue. You can also see what's in the pipeline by checking out the in development section. There's loads more other products too, so you can N138 yourself silly.

NGK Spark Plugs Ltd was established in 1975 and is now located in purpose built premises in Hemel Hempstead, Hertfordshire. Within the company there are two main Divisions; NGK Spark Plugs responsible for spark plugs and related products, and NTK Technical Ceramics responsible for semi conductors, electronic components, ceramic cutting tools and fine ceramics. NGK has established a world-leading reputation for quality and innovation in all its product areas and is committed to maintaining this excellence. The dramatic growth of NGK Spark Plugs (UK) Ltd represents one of the greatest success stories in the UK automotive market over the past decade. Starting in the 1960s, initially to serve the motorcycle market, NGK entered the UK automotive market in the early 1970s. In 25 years it has advanced from a market share of under six per cent to one of over fifty per cent and increasing. NGK has become the brand leader in the UK spark plug market and the number one choice of the professional as a result of its quality, technical excellence and total commitment to Research and Development. This has led to major successes with vehicle manufacturers worldwide who are increasingly specifying bespOKe plugs so as to achieve maximum efficiency from their new engines. The NGK research and development work is based in the Technical Center at Ratingen, established in 1990. Since that time it has continuously been expanding and provides technical support to the European automotive manufacturers. The NGK Technical Centre has a test facility covering an area of approx. 2,200 sqm into which approximately €15 million have been invested. It has three modern engine test rigs for endurance and application tests, together with cold-climate chambers in which engine and chassis can be cooled down to -30C for analysing cold-start performance. It also has comprehensive equipment for carrying out full exhaust gas tests, and also tests for the examination of Lambda sensors regarding their long-term quality and reaction time. Today, NGK supplies spark plugs to most vehicle manufacturers in Europe including BMW, Audi, Volkswagen, Jaguar, Fiat and Renault as well as many Japanese manufacturers.

Raceparts UK have been in business since 1972 from their Wallingford base in the heart of the motorsport valley. They are dedicated to manufacturing and supplying proven, top quality products to all forms of motorsport worldwide. Raceparts is the first and original, one-stop warehouse for all motorsport spares and they pride ourselves on their personal, friendly and efficient service that has served them so well over the years.

RPM Performance Products was established in 1994. It's sole business is the development of quality electronics for racing. After ten years of developing products for other companies, RPM is redirecting its efforts in order to bring newly developed products directly to the racer. The staff and associates at RPM bring over twenty years of experience in Data Acquisition in control electronics and software, as well as over sixty years of experience in drag racing, with first hand experience in almost all classes from Super Street to Top Fuel. We have worked with and developed products for several of the top racers, and are striving to provide quality instruments to help our customers achieve success in their racing programs. First and foremost, RPM promises integrity. We will deal with all customers fairly and honestly. We will not mislead our customers with hype or false promises. We believe it is possible to have satisfied customers only when our products truly do provide the advantages they claim to offer.

SiliconeHoses.com are a new name in silicon hoses, but with a thirty year history in the development of engineered components and performance engine applications. If it's automotive, marine or an industrial piece of equipment and requires silicon hoses, we can help! Our hoses are suitable for cooling systems, charge air systems, induction systems and negative / positive pressure signal lines.

Slick Attire was established in 2008 with the aim of offering stylish apparel for the discerning petrolhead. The label's philosophy is to create high-quality garments with designs inspired by the whole spectrum of motor sport and car culture, from 1920s Bentley Le Mans racers to wild Fuel Altered Dragsters such as Relentless. They have been involved with Bennett Racing since 2007, producing two designs, Severely Altered and Relentless. The design of the new shirt has been heavily influenced by the livery of the updated and more outrageous than ever 2009 spec car.

Smiths High Performance is a leading stockholder and supplier of high performance engineering materials to high technology industries such as motor sport and aerospace. Choose from a wide variety of commercial and speciality alloys and benefit from complete supply solutions including full inventory and logistics management. When you purchase high performance materials from Smiths High Performance you will be joining some of the biggest and best world class engineering companies from civil aviation, through to marine and Formula 1 motorsport. Telephone 01767 604708 or fax 01767 312885.

Sparkplugs.com stocks an incredible array of just about every spark plug and spark plug wire made in the world. They stock every spark plug made by Denso, NGK, Champion, Autolite, Pulstar, E-3 and Bosch. More than great spark plugs, they also carry oxygen sensors, high performance lighting, filters, shocks, wire sets, and the tools you need for installation. SparkPlugs.com is your source for hard to find parts. They have all those hard to find high performance spark plugs that you are looking for. They especially pride theirselves on providing complete spark plug cross reference and spark plug gap information. Sparkplugs.com and its parent company Monarch Products have been around since the 1960s delivering first class service and same day shipping on most orders. Give them a call on (+1) 888 800 9629 or visit Sparkplugs.com whenever you need high performance sparkplugs or ignition wires.

SuperPower Unlimited are no strangers to the drag racing scene, having been involved since the concept of the U.K. NFAA, they offer a truly American flavour for 'Big Inch Engines' and have built up a reputation for value and reliability within a diverse range of motor sports ranging from fast road cars to nitro burning dragsters!

Top Film Posters is an online-only company which specialises in the best online choice of iconic film posters. You can buy iconic film posters and television posters. Secure on-line ordering is available on their fully illustrated web site. Film posters include Sin City, Fight Club, Pulp Fiction, Back To The Future, Star Wars, Reservoir Dogs, Trainspotting, The Godfather, King Kong, Scarface, Quadrophenia, Jaws, Goodfellas, Saw, James Bond, Jackie Brown, E.T, Alien, Raging Bull, LA Confidential, Superman, Batman, Wall-E, The Terminator, The Goonies, Teenwolf, Halloween, Harry Potter, The Shining, Slumdog Millionaire. TV posters include The Simpsons, Futurama, Family Guy, American Dad, The A Team, Knight Rider, Friends, Only Fools and Horses. They can also print any poster you require on their fully commercial printers. So get in touch for a superb print of your racecar or bike!

A huge thank you to all our sponsors, we really couldn't do it without you. Visit our web site for details on all of our sponsors. Any other companies wanting to sponsor us please E-Mail sponsorship@bennettracing.co.uk.

Monday 22nd February: Blowing the Bantam.
Obviously during the off season, every team are hard at work and we are no exception. The workshop extension is coming along nicely but, as ever, it's holding work back on the cars, however Kenny at SuperPower Unlimited has been working hard on the supercharger and manifold for the SuperPower Unlimited Bantam altered.
Having taken on the task of providing Bennett Racing with a rebuilt 8-71 blower setup, we decided to start with an ex-fuel BDS Manifold that had worked well with a 14-71 in its previous life. The manifold had been adapted for the bigger blower by cutting out the front of the base and extending it to accommodate the larger discharge opening on the 14-71.
While this works for the bigger blower, it wouldn't work for the 8-71 that we wanted, and rather than supply a new manifold we agreed due to budget restraints that Kenny could re-adapt the manifold to suit the 8-71 and also have the necessary SFI Burst panel & cage.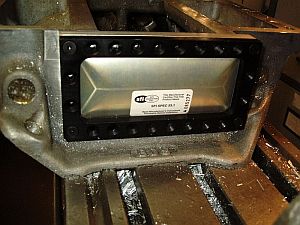 The next step was the Blower itself. Kenny had a used Ed Pink 8-71 that had not seen action for many years which, once rebuilt, would fit the deal and he set about checking the rotors for run out. They measured up and received restriping of the teflon, new bearings, seals and gears. Once everything has been set and clearanced, it will be fitted with a new front cover then it will be ready to go to work! As I have said before, the Bantam will be run soft and easier than the Relentless NFAA altered, for both parts and also the workload. As soon as the supercharger and manifold are finished I will get a photo on here. Thanks to Kenny for his help with this and if anyone reading has a need for a blower or your current one freshened up then get in touch with him on 07967 728175 or visit www.superpowerunlimited.co.uk.



Thursday 18th February: Going to the Gators.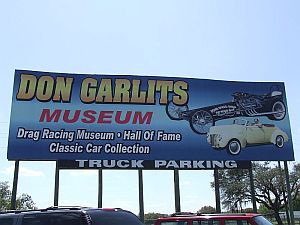 Well, a bit of a turn up for the books but I will soon be doing something I have wanted to do for long time and that's going to the Gatornationals in the USA. It was a proper last minute thing and I didn't really plan to go this year, but we just thought sod it! I am going to do the whole event, but thought I might as well go for the Top Eliminator tickets as they tend to look after you a bit more and get drinks etc through the day; also a visit to Florida cannot be done without going to the Garlits Museum, which is the part I am really looking forward to, just to see that many cars and how they have developed in terms of speed and safety. I can't wait, especially if he is there and I can meet him; that would make the trip for me.
I am also going to go to the Kennedy Space Centre which should be great. Seeing anything that size is amazing. There will also be visits to Speedworld, maybe Daytona, some go-karting, shooting ranges, a classic car show...
It's going to be a busy time but I can't wait for it. Watching it on Channel 5 (although they have wrongly stopped this) was good, but seeing it all in the flesh will be a whole other level. We went to California a few years ago to watch the Hot Rod Reunion and that blew me away. There were over 70 blown altereds there; it was a cracking event.
I am going to do my best to keep a diary type thing with many photos of our time over there so I can update our web site and also this Eurodragster blog. I hope that it's of some interest to the thousands who read this blog and visit our site.
Thanks all for reading.
Wednesday 10th February: Iris Page Memorial Trophy.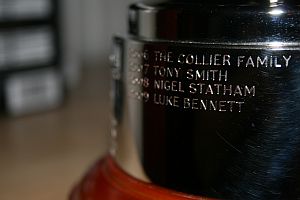 Firstly I would just like to say a massive thank you to every single person who voted for me to win the APIRA Iris Page Memorial Trophy. I was very honoured indeed...
Winning any trophy is obviously nice but to be awarded it for what I did is really great and means a lot.
Building a race car from the ground up is hard enough but building it while spewing your insides up in a bucket is even harder believe me, I have never really gone into this side of cancer and chemotherapy at great length as I don't want people to break out the violins, but it's absolute agony. The only thing that got me through it other than my family (who are the best in the world) was rebuilding the Topolino; it kept my mind busy, it kept me right in the head, gave me a goal to aim for and kept me busy. Also a huge huge help was the fact that my old man quit his job to look after me; this meant a lot and he knows how much, and again it kept me right. If I started to moan he would tell me to shut up and get on with it, which sounds harsh but one thing I always kept first in my mind was that there were kids going through cancer and chemo. If they can do it then I can.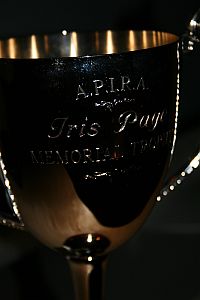 While building the car we must have had about 345,545 arguments, mostly due to me being a little bit moody, but five minutes later we would be back to normal, and I don't like to be big headed but I am VERY proud of what we built and what we achieved. We didn't just slap a new body on the car, we replaced/changed/improved every single component. It was not a rebuild, it was a new car. Then we got nominated for best appearing car, which I knew we wouldn't win but I was over the moon to just be in the mix. Not bad, considering the garage size and circumstances we built the car in.
Then the cars debut, think it was at the Open Sport Nationals; everyone commented on how good the car looked and more importantly they asked how I was (thanks all). One thing I didn't let on was I had only had the chemo a few days before the event, I was dead on my feet, so so tired after only one day, but the desire I had to get the car on the track completely took over, and another thing which I am very proud to have done was a sub one second 60 foot (0.991) on our first launch with the new combo; I was chuffed.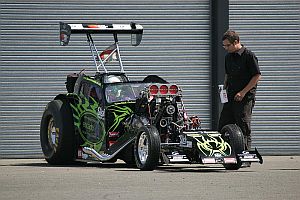 Then, on the next run, a lifter bar brOKe (credit to my old man for hearing it and getting out of it) but we then went home, in all honesty we could have pulled the cam and de-burred it and replaced the lifter but due to it being the first event and we knew we couldn't win, we went home and I was glad; I could barely walk without tripping ove;, quite funny now but I was tired and glad to get home.
Anyway back on point, thanks for the trophy, I have again just had the all clear so very happy and got the news about the trophy two days later so it was icing on the cake really.
Thanks all and thanks for reading.
Wednesday 3rd February: Joe's memorable year
This blog entry was written by Joe Riley who became member of the Relentless NFAA team in 2009.
It is roughly a year ago now that I posted an ad on Eurodragster and got the text from Luke. Little could I guess how our year would go. After being a spectator for several years I became part of the team, a chance that I couldn't wait to take up. The first time I ever saw the car and met the Bennetts couldn't have fired me up anymore for the season ahead, and so I remember the first day of the Easter Thunderball when finally it could all begin.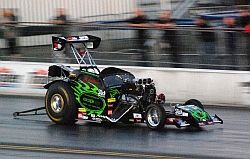 One thing you cannot expect when you join a team is the hours and workload you have. It would be unusual not to be up at 7.30 to 8 in the morning starting with the checking of the rear end and getting rid of overnight dirt, and to continue working till often long through the night. This was especially noticeable at the Thunderball, although, with a fortunate lack of snow as opposed to 2008, it still felt pretty cold. During the days, as well, there's no time for a breather. If there was an issue and we would only have an hour and a bit to turn the car round ready for a deciding run, I would often think how are we going to do this? Yet we would all click into the jobs we had and somehow find a five minute tea break before the run, with the car readier than ever. That certainly made all the hard work and long hours well worth it, especially when that deciding run resulted in a trophy.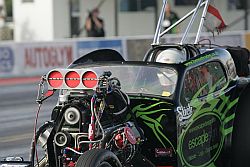 When I've explained drag racing to people not in-the-know, especially those who have no idea whatsoever, I am often told that 'all they do is go in a straight line'. This last year has taught me even more how so wrong they are. The buzz I get when standing on the line watching Frank roar up the strip grappling with the car is amazing, and then, when a good time comes up with a win, it's incredible. This is to the point of being incapable of filming the run well due to shaking far too much, Lisa doing a much better job!
I've learnt as much in my first year in the team about mechanics and dragsters than I had done in my whole life. It definitely makes studying engineering at university this winter seem more straightforward! I couldn't have guessed that so many factors could affect the car's performance. Drag cars might look like just a massive engine and big wheels to some, now I know there's a lot more than that.
It all built up to the final championship round. We were still leading Joe Bond, but we couldn't take the weekend putting half the effort in, we still had to win. There have not been many times when I've felt as on edge as during that weekend. Everything had to go well, every job to be done right but on time. There were a few times I would talk to Alan before the car was getting ready to fire up for a run and we'd both agree that it was getting serious. Every part of me wanted us to win, it mattered so much after the hard work we'd all put in. So when we did win the championship, I couldn't have been more relieved. In 2008 I couldn't have guessed that by the end of the 2009 season I'd be part of a championship winning team. No better way to finish off a very busy and very exciting year.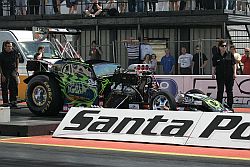 It has now been roughly four months since we won the championship, and I cannot wait any more for the new season. With a year of experience working together behind us and a championship to come with it, this year has the prospect of being even more memorable. Now I know what it's like working on a car (and never to look for skyhooks...) the weeks leading up to the Thunderball can't count down quick enough. Many many thanks go out to the whole team for the chance they've given me. I couldn't have asked for a better first year in drag racing. I'm sure this year will be another great one.


Feature ©Eurodragster.com


---
Current Blog
2008-9 Blog
Bennett Racing web site
Back to News page
---