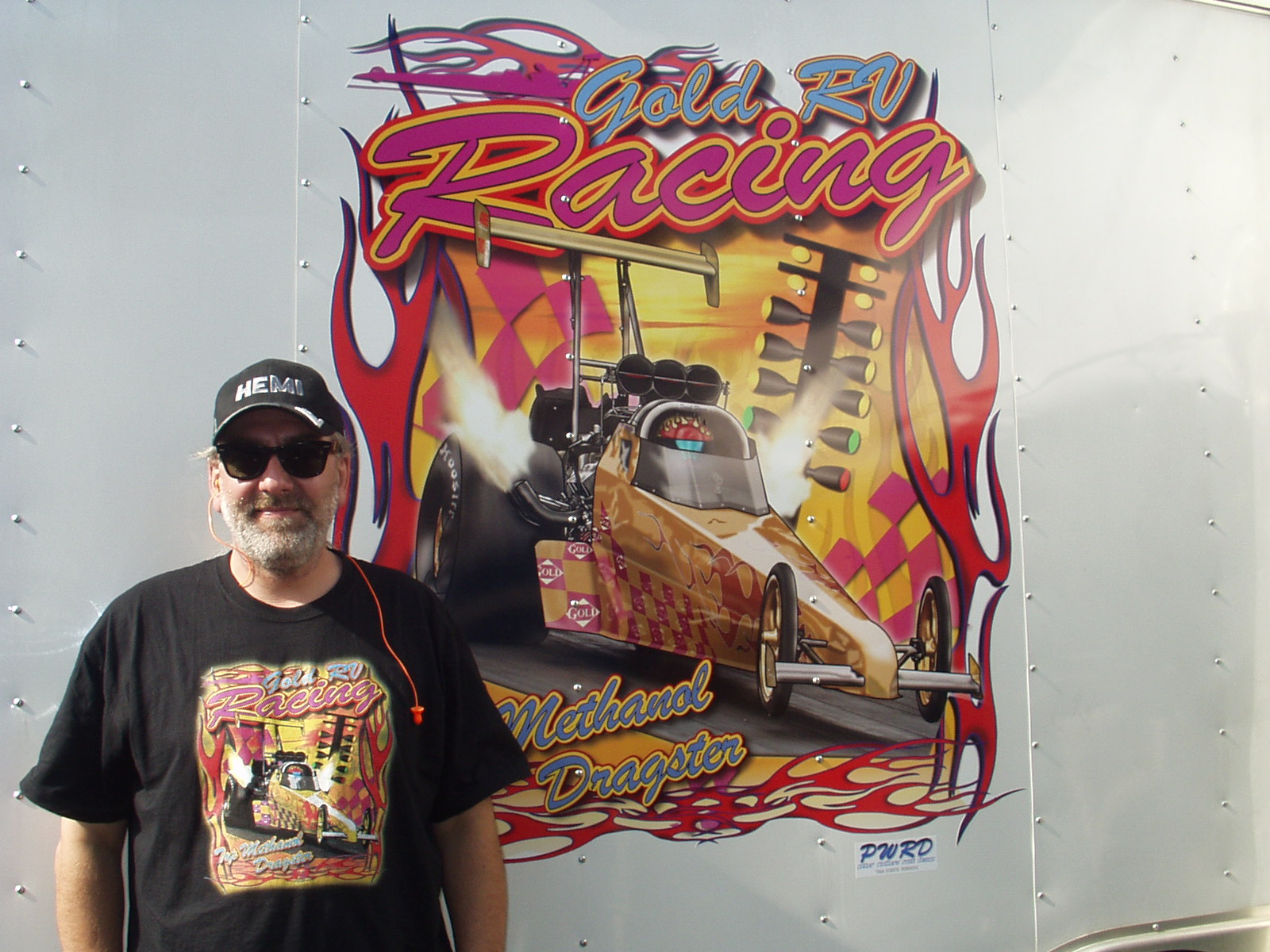 As told exclusively to

Thanks to our major sponsor Gold RV whose web site you can find at www.goldrv.co.uk. If you have a question for Derek or the team or if you would like to send a message of support then please E-Mail us at derekflynn@eurodragster.com.
Thursday 27th September: USA blog.
After my services were no longer required by the Kalanc Team, a shame really as we had good success and set numerous records as well as recording their first FIA win at Tierp in only the team's second FIA event, along with re-setting my own FIA speed record along the way. Ho hum, guess that is just the way it goes, when you are a tuner. Although after watching what was going on in Germany, to be honest I was glad I was not there.
Anyway, that freed me up to go to the USA and catch up with my USA racing buddies. After the rain delay at the US Nationals in Indy, that meant I could start my end of season USA tour at Indy, and caught up with Jim Rizzoli and his new driver Aaron Olivarez and the Team World/Black Rhino sponsored team, as well as my good buddy Mike Manners and of course Will Hanna.
A mixed bag of results for some of my friends, although a big congratulations have to go to Will Hanna and his driver Chris Foster on their first ever National event win, taking out some of the big hitters along the way. Then it was off to Charlotte and the very impressive ZMax facility. Wow, what a place and any race fans or racers who fancy a trip out next year - this is a must go to facility. Again a mixed bag of results for my friends, but overall a great experience although it was sweltering hot in the stands.
Next stop Houston to meet up with Howie Main. Howie was the previous owner of the Fred Hansen car that I nearly bought, but decided instead on the A Fuel deal with Larry Miersch. Howie and I have remained friends since our first meeting and have met up several times at European and USA tracks since. He has extended some excellent Texas style hospitality whenever I have met up with him in Houston.
After spending a few days with Howie, it was off to Dallas with him and Darvin Martinets to play with their new (to them) car. After the first pass, they were having some problems with the Racepak and computer; well, I piped up saying I could help 'em out if they wanted, to be honest watching from the stands is not really my thing. We got the Racepak sorted, although we lost half the EGT sensors on the second pass, but I was able to offer some tuning advice and as I had my trusty Kestrel Weather Station with me, was able to advise on Main Jet settings etc.
It took a little while to get back into blown Alky setup again, after all it has been a few years, we had some borrowed wheels and liners that we were trying but had trouble with tyre shake. Even so, we qualified on the bump with a respectable 5.46, keeping out some big money outfits, but we had drawn Jim Whiteley who was putting down some great numbers. We discussed the tune up for the first round of eliminations and by now I had tweaked the fuel system a little as we had some uneven cylinders and we agreed to give it our best shot at running a 5.3 as the car had never run that before and then even if we lost, we would be happy with the car's best run to date.
In the pairing lanes it was good to meet up with Jim Whiteley again. Maybe it was my pants, but he remembered me as we had qualified against each other numerous times when I was racing at Pomona and Vegas a couple of years ago. Anyway, several jet changes were required in the pairing lanes as it was getting hotter and hotter and the corrected altitude was climbing. For once I was quite pleased to be tuning a blown car in these conditions.
So with a little cajoling I got Howie to put one last change in and I said it would get us a high 30 and am pleased to say it did. Whiteley blew us away with another 20 but looking at the start line, you would have thought we had won with the amount of celebrating that was going on by the team after the score board lit up 5.37. Well, that was really great fun and I came away very happy and the fact I was able to help out a little was really cool too.
I would like to thank all the team, it was great fun working with you guys and congratulations on the run and the excellent turn around of just one hour. I am off to buy an RV now and where next? Well, maybe Reading and the Maple Grove facility but if not, definitely Vegas Nationals and then the Divisional, and then my favourite track in the world - Pomona with the season finals, where I will be hanging out with my good buddies Larry Miersch and his team as well as the Rizzoli family and their teams.
Sunday 1st July: Scandinavian swing.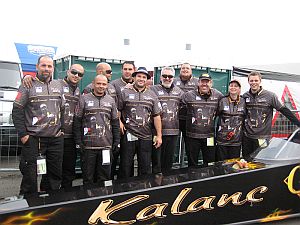 Well, finally a bit of quiet time. I tell you, this racing full time is tough work sometimes. It's never ending, organising the team, truck and trailer to get to the next event... ordering fuel, oil, spares etc, driving through five different countries in as many days and doing it all again and again... dealing with US suppliers, European suppliers, also half my team do not speak much English, so nothing like making it easy for yourself, Derek, but I am really enjoying helping Chris achieve his dreams and even though we cannot have the most complex of conversations, we both know what it feels like to drive the car, especially after a good run or bad run. My Maltese is coming on but still only the basics, as I have quickly learned that the Maltese language is obviously very rich in content as they seem to have so many different words that can mean the same thing but slightly different. So, I guess I am always saying something slightly different to what I really want but most of the time it seems to work and it seems to keep the guys amused, me stuttering and stammering certain phrases, but I must sound as daft as that policeman in 'Allo,'Allo!
It would also seem that the Grumpy tag has moved from Dave's car and trailer to me as I seem to have adopted the title "Grumpy Team Manager". But, despite all the shouting and Grumpyness, we are having great fun. Obviously, going rounds, breaking records, winning at Tierp in only their second FIA event, is great but, this early in the season, the work has only just begun. It also seems that we have most of Malta watching what we are doing and supporting us all the way. Thanks to all our supporters, it is great seeing all the excitement Chris and the team are getting. Chris's Mum Virginia is supporting us every step of the way and she always tells me thank you and well done and to keep her boy safe. No pressure then... What a great experience for this crew and it is all new and very exciting for most of the team.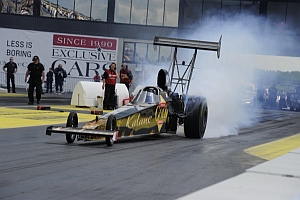 Although to be honest, I had told them that we could win an event this year and I would have been disappointed if I could not make the car go faster and hopefully quicker than I had ever been, but it is an A Fueler and they are bit Jekyll and Hyde, well they are when I tune 'em LOL. Well, the Main Event came and went for us, showing promise with the opening qualifier, shut off in a much needed Q2 that turned out to be our missed chance and, even though we were quicker than Timo, the quicker reaction won it. Chris has learned a great deal in a short space of time and I know the hole shot loss hurt, but it is hard to be to be disappointed when your run at that time is your quickest run yet, so it is all about seat time for Chris..
I am still learning on every run that the car makes, and so setting records for tracks and championships does matter to me, as it says you are doing some things right and every car turn around or engine rebuild, you always learn something, another trick or a way to do something quicker or faster or better because making sure you are ready for every run, and round win is a massive buzz and takes a lot of great team work, tools and spares to make it all happen. So well done and proset Chris and proset crew.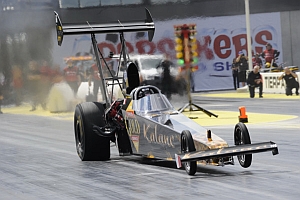 Hard work, some late hours in sickness and in health and at times the highs and lows seem never ending in this sport, yet the rewards when your team does good and we get the plaudits from some of our peers, it is very humbling and I feel proud of what we are achieving for basically a new team, though to be honest, with the experienced crew that came with me and the car, I expected nothing else and I had made it very clear to all, I am here to race. I have told them that I want to win, not just take part and also to race as safe as is possible in this sport. It is up to everyone in the team to think about safety of themselves, the drivers, track crew and spectators. One mistake and the consequences can be catastrophic. I have already lost a good friend when some things just did not go right on that day, and it always reminds me that we are potentially playing with our lives every time we work on this type of car, it is so important the car is made and kept safe as is possible at all times.
If we can keep up the good work, and really focus on what we are doing, then we shall see where the chips will fall, come the end of the season. Let's hope we can at least help make it a tough Championship to win, and it would be great if we could be in amongst it, at the end of the season…
I would just like to say a special thanks to Vicci Apparel; the new team shirts meant we looked every part the Champions we were, and thanks also to Gary Burgin, J&E Pistons for your contingency sponsorship too. Also a special mention to Richard Stevens of MPM UK. Thank you for the excellent MPM products afforded us, that prime spot MPM Logo got the TMD European Speed Record you know, matey. Thanks for your support.
Tuesday 1st May: Off Season, What Off Season?
Again apologies for not blogging sooner but I have been a little busy and do have a sick note signed off by the doctors LOL...
Well I have never been so busy racing wise, since I sold my A Fuel operation. Who would have thunk - not me, that is for sure, I was really worried that I would miss my racing when I put the car up for sale.
Nor have I been to hospital so many times...
Last year around this time we were just preparing the race car for the Main Event and the coming season, however this year we have already done effectively four meetings and in between all that I had a trip to the USA to help my good friend Larry at Pomona and the Winter Nationals, as reported on Eurodragster Wow what a great weekend that was and I am so pleased to have been with Larry when he made his first ever National Final...
Oh, and more visits to hospital and a couple of operations squeezed in too just for good measure, but finally an answer as to why I had been suffering so much over recent months and picking up various fairly serious infections. Apparently I had contracted Glandular Fever around the same time as selling my car, apparently not too serious when you get it in your teens which is when most people get it, but I get it when I am fifty - go figure - guess I must be finally growing up. Anyway I was just happy that a reason had been found for my various ailments and explained why my immune system had been knocked for six. One more operation to go and, hopefully, as they say, these things come in threes and with a bit of luck, that will be the end of it and I would have had my full 50 year service and can look forward to avoiding hospitals for a good few years again.
So anyway back to the racing, following on from last November's effort to get Chris down the track, cut short due to my bad leg whilst out in Malta the first time, and as reported on Eurodragster News; Chris hired the Hal Far facility, this January for a private test session and obtained his FIA licence.
Then Chris and the team's first meeting proper with the A Fueler at the season opener at Hal Far, Malta, again as reported on Eurodragster. An excellent effort by Chris and all the team and whilst we were uncontested, so by default we were the winners as the other teams in our class had decided to skip this meeting, saving parts for the European season I guess, that left us with just one goal, to break the long standing track record set by the Borg Brothers which was around 5.72 and try and beat the time of the Mr Whippy car driven by Mante in November, as Mante had recorded a single run of note, being a 5.69. Well I am pleased to say just like at Drachten "been there, done that, got the T shirt and the track record." Well done Chris and all the team, you did a great job, especially as this was your first meeting proper with a TMD. We basically ran as if it were an FIA event, two runs per day for two days of qualification at 11:00 am and 3:00pm and three runs on elimination day… The team were great and we made every run on time every time each day… Chris was so appreciative to me and all the crew, hugging us all with a tear in his eye whilst saying that we had made his dreams come true as he was now the fastest and quickest Maltese Man in Malta, well at Hal Far anyway. I guess a few Maltese Pilots may have been faster… But the Kalanc / Gold RV A Fueler was really flying too.
Well, we had quite a party that night I can tell you. It reminded me of a certain night in Finland when I won my first ever FIA event. Luckily I had no ferry to miss this time and my flight was not until late the following day.
So next up, ship everything back to England and prepare for the Easter Thunderball. It was kind of strange to have my baby back in our workshop again. I call it my baby, but it is Chris's car now yet he allows me to treat it as if it was still mine and to be honest he has provided for the baby far better than I could have this year. It is really great to have the additional spares, tools and crew that I could only have wished for. By the Main Event we should have a complete brand new engine (Maria) as a spare, our record breaking engine Minnie Me has been totally refreshed and my old fastest engine Sylvia that had been repaired by BAE in the States is almost complete again too, with the aid of a few hand me downs. The trailer has also been treated to a few titivations and I must say it is all coming together nicely and I am so pleased to still be so involved with it all. Chris has confirmed we shall now be competing at all the FIA rounds together and the crew is really starting to come together great. Mainly Maltese and with some of the old Go Gold Crew; John Foster as Crew Chief, his wife Sarah, James Blackman and Mole joining the fold, it has made for a great new crew. I have a sign up by the door in the trailer as you go in and out and it says "The Maltese and English Connection Makes for Drag Race Perfection." So far so good, let's see how we get on racing the whole FIA tour.
As most of you would have known by now Easter was freezing cold after such a great couple of weeks before hand, and when we arrived at the Pod I felt sorry for my Maltese friends as they had not experienced -2C conditions at a race meeting before LOL... and now understood why we had an LPG blow heater for the pits in the trailer for such occasions, been there, done that and even remember a certain Easter Snowball. Anyway suffice to say, track conditions were a little tricky and I am pleased to say; again we made every call on time and I think we were one of only a few big horse power cars to make it down the track every run. OK they may not have been the quickest of times but still respectable 5.7 considering the conditions and quicker than most at the Pod and the car really was MPH'ing as we even managed to break the British Top Methanol Speed Record, not too shabby for a rookie driver and a new team in its first overseas event. So, two meetings two records, what a great start and I just hope we can keep it going throughout the FIA series, we shall have to see. I am really enjoying my new role as team Manager and Tuner and it is neat to watch our baby fly off down the track, knowing what Chris is feeling and that he is loving every second of it, as are all the crew, and for once I could join in with the high fives, with them all at the start line and that is a whole new and very enjoyable experience for me.
Roll on the Main Event, we all just cannot wait, and Chris has asked me to say a big Grazzi or Thankyou to all the Santa Pod Staff and the English crowd who seemed to appreciate all our efforts and made him and our crew feel so at home at the Pod.
Saturday 3rd December: Hospitality to hospital and back.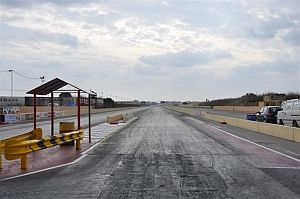 Well it's been a while since my last blog and oh so much has changed; as you have probably all read on Eurodragster, the Gold RV Racing Dragster, truck and trailer have all been sold lock stock and barrel. As you can imagine at first I was very disappointed that I had to put the whole race setup up for sale, but with the current downturn in the economy it was obvious that sponsorship would be difficult for me in the 2012 season and we would probably have only done the two UK FIA events. Also, having competed at all the rounds again this year, the engine and equipment would still have needed the usual end of season rebuild, with new crank, rods pistons etc. which would have made even competing at just the two FIA UK events quite expensive!
As it turned out it was far less painful than I imagined, within ten days of releasing the news and placing the ad on Eurodragster it was sold. Thank you so very much Eurodragster, guess that is another curry and beer I owe you all.
The guys from Malta were great, no messing, no haggling, they telephoned me on Thursday morning then arrived lunchtime whilst we were unloading the car and when we fired it up in the afternoon, they saw and heard enough and knew what a great car and setup we had and that it was priced to sell and said "we will have it". Friday afternoon the funds duly arrived and they drove it all away to Malta for testing.
But the adventure continues for me and most of the team as they have secured my services for at least six meetings as Team Manager and Tuner. We are doing a couple of meetings in Malta, then the Easter Thunderball where hopefully conditions permitting our driver Chris Polidano will get his FIA licence, after which we aim to compete at the Main Event, Sweden and Finland, then we shall decide if we will complete the rest of the FIA tour and then finish with the end of season race in Malta.
First and foremost I would like to thank Gary and all the Go Gold Crew, after a few hasty phone calls, all but one of our crew quickly agreed to come and help me and the new Team test the car in Malta even though it was only a few days notice, thanks guys you truly are a great Crew and we could not have done it without you.
So, on to the new Team; the race car, truck and trailer have been purchased by a UK company. So technically that still makes us a British Team with a Maltese Driver and the car will be crewed by the Kalanc A Fuel Racing Team and I am pleased to say that includes John Foster as Crew Chief. John and Sarah have been with me for many years now and have also helped me race in the USA and John was my assistant Crew Chief and has filled in as Crew Chief at the few events when Gary could not make it. John was due to take over next year anyway as Gary is retiring from racing, thanks Gary for everything, "it's been emotional" as Vinny Jones so eloquently puts it. Sarah, Mole and James have also been retained, this should make the transition so much easier and hopefully will ensure we can hit the ground running so to speak. The new crew members or should that be existing crew members as technically I guess us Brits are the new crew, include Martin, Shawn, Weo, James II, James III, Kalanc (Dad) and of course our driver Chris.
The Maltese guys promised us hospitality second to none should we agree to come over and test, as at the time of sale I thought this was going to be a tall order to get the car, crew etc. all over to Malta within just a few days and run the car. I need not have worried, they were all magnificent, and I have to say a special thanks to Chris's family especially Virginia (Mum) & Dad who put us up in their home and could not have been more perfect hosts.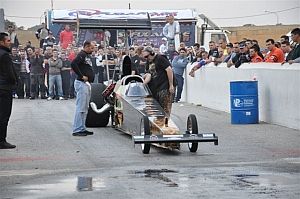 Also to everyone in the Maltese Drag Race Association and everyone involved at the track, thank you, you made us all feel so very welcome and we cannot wait to come back and do it again. There were a few familiar faces at the track, including Manty (Mr Whippy), all the Haberman family and I was really pleased to see Lee Child there who was helping to prep the track. My first impressions of Hal Far was WOW, this is really good, a full time dedicated drag strip, friendly staff and a start line tower that Santa Pod and even some US tracks would have been proud of. I had to keep reminding myself we were on a small island in the middle of the Med and the population is only 400,000 yet they had their own dedicated track. I believe the track was originally an RAF base and then modified to a drag strip by the Maltese Government and run by the MDRA and I think there are at least four FIA legal TMDs, amazing; the mix of cars and bikes were great too and, from what I saw, some really great numbers too…
OK on to the testing, Friday, once the (Malta) crew were finally assembled(!), I soon learned that life has a slightly different pace in Malta, apart from when driving that is and I don't mean just at the track, wow, I have been a few places around the world like Rome and Paris where I thought the driving was interesting but I think Malta now takes top spot, it was explained to me that when driving in Malta you have to steal spaces as you go along or you won't get anywhere, that's just the way it is… I was really impressed at some of the town driving around the ancient narrow streets, with traffic coming at you from all angles; it would seem give way is purely a suggestion and not mandatory but man can these guys and girls drive and park. Anyway I digress, after finally getting the car and crew ready and after warming up the car and then going over all the controls and specifically how to trim the car on Nitro, we then serviced the car and were ready for Chris's and Malta's first A Fuel burn out and launch… Just as we pulled into the lanes though, unfortunately the curse of all tracks around the world struck and we had a bit of an oil down situation, we waited patiently in line, where it was neat talking to fellow racers, fans and track crew, then we got the news the track was ready and we would soon be running. Chris had borrowed all my race equipment as he had not had time to purchase all his own TMD legal stuff yet, but luckily he is a similar build to me and everything fit him just great, the only problem was I had forgotten to pack the clear visor and it was now dusk and was getting darker by the minute and after a quick test it became clear that Chris was unable to see the dash very well and not at all with the tinted visor down, which would have made it very difficult for him to see the fuel pressure and trim the fuel not to mention see where he was going on his first trip out, so I had to call it for the day, obviously everyone was very disappointed but all agreed it was the right call.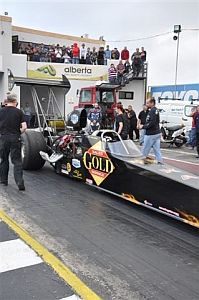 After a quick team meeting I explained that 10:00 am actually meant 10:00 am and not lunch time, and we would try again tomorrow. We had a good night in our pit, I don't think our trailer and awning has ever had so many people or so much food prepared in it before, it was great.
The team all assembled (almost all on time) and we warmed the car and were first in the queue ready to run, Chris seemed quite relaxed but raring to go, but I must admit I was feeling like a cat on a hot tin roof, checking and re checking the track, car, crew and driver, pacing around, so much so that my right leg was starting to hurt and I now had a bit of a limp, little did I know what was to come… Anyway the track opened, the sun was shining and getting warmer and warmer by the minute but we had a massive head wind, then we got the signal to fire up… Finally, the Kalanc A Fueler burst into life and was soon running on Nitro, Chris did a perfect job on the burn out and backing the car up but over shot a little and went through stage, which obviously threw him and rather than going full on the high side he unfortunately shut the fuel off, but having almost done that myself it was an easy mistake to make, Chris was obviously upset with himself but soon got over it once we were back in the pits and the Crew went about servicing the car for our next run, I explained to Chris to take it a little easier when staging but he had done everything else just perfect.
Once we had the car ready to run again unfortunately we were down to just a single lane at that time and that was now being worked on due to an oil down, whilst we were in the queue, the MDRA Crew and Lee were busy fixing the problem and we were advised to pull round some of the other racers in the queue, at first I was reluctant explaining to the officials that the other racers cars were just as important to them as our was to us, but he explained, no the other racers want you to pull round and watch you guys run so with a little shuffling in the pairing lanes (thanks guys much appreciated) we were ready to try again, due to the fact Chris had handled the car well last time, apart from the obvious we decided that he could do a good launch and on the throttle for approx three seconds, again a perfect burn out and reversing job smack bang where we wanted him and this time perfect into pre-stage, up on the high side, full stage and wham he nailed it hard, he drove through a little tyre shake and just as the car started to smoke the tyres around the 330 he lifted and chutes out… Well for me this was the first time I has seen my car launch from outside the cockpit, but I can tell you the hairs were all standing up on my arms and I jumped so high pumping the air with my fist, it was just awesome and I think I am going to like this job almost as much as driving it…. The crowd and crews around were all applauding Chris and the team and once the Crew collected Chris and the car they got another massive cheer as they towed pass back to the pits... Chris had a grin so wide it must have hurt and he gave me and the Crew massive hugs and thanks. That was nothing, I thought to myself, just you wait till I tune it up a bit and you do a full pass you are going to really love it.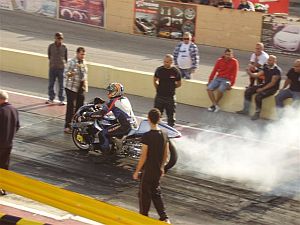 The car was serviced ready for tomorrow as again it was now quite dark and this is where unfortunately things took a bit of a turn for the worse, I don't think the jump at the line did my leg much favours either as by now my right leg below the knee was twice the size it should be and I could hardly walk, so it was off to the doctors then sent to the hospital, where I was promptly admitted with a serious infection and that was that game over. Again the guys were really great taking me to a doctor's then to the hospital, making sure I was settled in all ok and had everything I needed but this meant no full passes for Sunday, I was totally gutted I had let the team down and really felt for Chris but he was perfect and very understanding and said no problem and just concentrate on getting better. I got a couple of jibes from some of the team saying well they might have been a bit late a couple of times but at least they made it eventually, yeah, yeah sorry guys. So Monday the Brits all came to visit before they had to fly off home and abandon me.
After being released from Hospital late Tuesday I had a no fly slapped on me for a further seven days, so it was back to the hospitality of Chris's family, friends and crew and I must say they all really looked after me, thanks again. By the weekend I was walking about just fine and as the race meeting was not finished the weekend before it carried on where it left off but unfortunately without all the crew there we were unable to run the A fueler, so it was left to the bike guys to do their thing and it was great to see Chris's bike do well, as well as one of his best friends who was also in our now bike pit as he ran the quickest time ever in Malta for his class. Fiona had now joined me for a bit of a break and I reckon just to make sure I came home as she could tell I was loving Malta and really enjoying all the Maltese hospitality, and I am proud to say I was even speaking a little Maltese by the time she arrived.
Watch this space, I think the Kalanc A Fuel Racing team will soon be a force to be reckoned with, well if the Manager/Tuner can stay fit that is. If you ever get the chance to go to Malta, do it, but try and arrange it when there is a drag race meetings are on, you will love it we all did…
There are just too many people that I wish to thank that it would probably take up another two pages but you know who you all are so THANK YOU and I have probably gone on far too long now anyway and you really should be doing something else rather than just reading my blog, shouldn't you?
Sunday 21st August: I hate Hockenheim, Hockenheim hates me.
Yet again another really disappointing trip to Germany for us and others, our setup and combination just does not go well at Hockenheim, and the only luck we seem to have there is bad. One positive this year is that we did not break anything.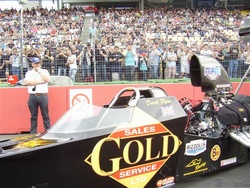 We can only get down that track with our car if we take all the power and clutch out of it, which is disappointing when you see others in our class getting down the track with some reasonably good number. Obviously the blown cars have the ability with their gearboxes to move shift points or even short shift to help get them through a run, and Grumpy runs a totally different kind of set-up to us. We managed to get off the line just fine every time but at 1.8 to 2.0 seconds, the worst shake I have ever had, no matter what we did, so much so that it was setting off the auto shut-off system, which killed two of our runs. In eliminations against Grumpy, even though we were well in front, I had in fact not lifted or put my chutes out early, but again the stupid shut off system had wrongly deployed. It is so annoying, a piece of kit that we as team owners have been forced to install, even though the tracks have not had to install the corresponding part of the safety system which would make the systems of some use. It is a long way to travel to get put out like that, not to mention the costs involved, as well as the crew who give up so much time and holidays to enable us to go racing.
The out-sourced start line security staff were in full swing again this year, I saw quite a few push-me-shove-you incidents yet again as well as a few shouting matches and in one case a near-on brawl which was stopping us from getting to the start line, between some of the over zealous security staff and racers or race team members. It is really strange that despite being a car owner, tuner and driver I am not allowed to take a quick look at the track or a couple of cars go down a lane I am about to run on. What do they think I am going to do ? I am an experienced racer, I would not get in the way or mess up another teams run, slow things up or sabotage the track. Even before or after the day has run, they seem to be so protective of the strip, yet come the Night Show you can set fire to it with a jet truck if you like, all in the name of a good show, as reported by Urs in his news item. Don't get me wrong, some of the people involved really know what they are doing, and do their utmost to make it a good event, but others... well, for instance we pushed our car round ready to fire up, when an official was shouting at my crew that we had to stop and remove the methanol starting tank and chute pin, before we had even started and despite being told several times by my crew it was all OK, he still kept on. Obviously he had never seen an A/Fueller start before, but there he was shouting at our crew about what they should do. As it turns out this distraction only caused my guys to forget to turn on the methanol tap which is why we could not start until they realised, but it could have been worse. The team are fully focused on what they have to do and do not need this kind of interruption from an over-zealous start line novice.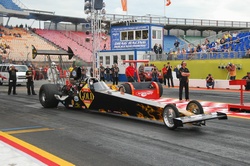 It was a shame the event did not get finished either. One of our crew guys, Mole, did all he could to help even though we were out, as he responded to the tannoy request for street cars with street tyres to run on the track to help dry it after the rain storm. First time I have heard that one before, but Mole seemed to enjoy it and probably made more runs than most down the track and apart from our very first conservative A-B pass of 5.82 probably ran quicker than me too. Finally with the sun shining the semis were run but then, ahead of schedule, the meeting was called at 18:00 before the finals could be run. I guess we are spoilt now with Tierp and Santa Pod, and we expect those kind of standards for every FIA event, despite all the problems we had in Finland where the racing did not start until at least 2:30 pm, they still finished the event with the help of some quick turn arounds by racers. It seems that at Hockenhiem is all about the Saturday night show and the FIA event is secondary, which is surely wrong. We as teams all spend far too much money and time to be treated like this. I am happy to run in the evening and if an FIA evening session is not a good enough show then I don't know. After that session then maybe a few demo classes could be run but surely the FIA-sanctioned event should take priority, not a side show.
OK rant over!
On a positive note it was great to meet up with Richard Stevens of MPM Oil UK in person, and I would like to thank him for his and the MPM support over the weekend. Some of you keen-eyed supporters may have seen we were sporting MPM stickers in Finland ahead of our proposed running at the Drachten Internationals, but unfortunately we were unable to attend that event due to the damage sustained in Finland and the fact we were awaiting spares from the US. Despite our no-show at Drachten, we kept the stickers on for Hockenheim and the excellent products afforded us by Richard and MPM, such as oil, brake cleaner, hand cleaner and numerous other products supplied, were brilliant and very much appreciated and we are really look forward to working closer with MPM at the European Finals and hopefully next year. I have many Dutch friends and we are really proud to be associated with such a great Dutch Company such as MPM Oil.
Well, on to Santa Pod and the final round of the FIA Championship. A track I love, in front of a crowd that really appreciates great drag racing, and marshalled by some of the best track and safety crews in the business, and hopefully no street cars required here to dry the track!
If you get a chance please stop by and say hi.

Friday 29th July: Main Event, Tierp and Finland.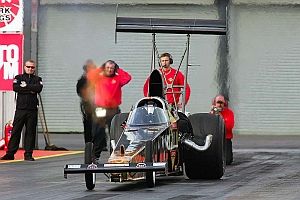 Well as you probably remember, unfortunately the Main Event ended up being the rain event. But we still managed to put our car number 2 qualifier which was good and we were really looking forward to the eliminations as I think we had a good tune up for the conditions and we love doing well in front of our home track fans.
On to Tierp Arena. What can I say, what an awesome track, what a great facility and what great people.. thank you everyone who was involved in producing Europe's greatest drag race facility, it is absolutely amazing, and is on a par with or even better than some US facilities, what they have done at Tierp in such a short space of time is nothing short of a miracle… Thank you one and all. It was really neat to be greeted at the gate with a warm smile and a handshake and a thank you for coming… I tell you it was a pleasure… I was half expecting that there may have been one or two problems during the weekend as they were still literally finishing things as we arrived and with all new equipment, new organization etc. etc. but for us and most of the teams I spoke with, the facility and organizers were brilliant all weekend.. The great thing is talking with the people involved at Tierp, it is going to get even better if they can implement all the things they have planned. WOW!
Unfortunately for us we could not make the most of what was on offer, despite doing really well in qualifying again, stepping up each time and ending up with a really nice 5.34 in the heat and I think our 5th consecutive run without hurting a thing, but when it came to eliminations, our A fueler decided to drop a cylinder right on the hit and even though we only had 7 cylinders for the whole ¼ mile we nearly ran Peter down, but unfortunately that was us out. So disappointing and so frustrating, as we know we have a great hot rod and should have run with the best all weekend, but at the end of the day that is typical of an A fueler, in the words of Forrest Gump 'just like a box of chocolates, you never know what you are going to get', record breaking runs one minute and dropping cylinders the next… If you knew how to fix that problem you could make a fortune.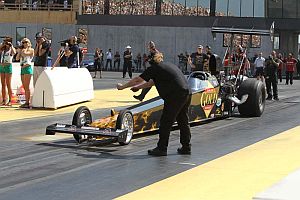 Congratulations to Dave Wilson and his team on being the first to the 5.29s, that crisp packet is doing you proud, I often joke with Grumpy that it was just a stray crisp packet that broke the beams, I must say I think Grumpy must have mellowed cuz I reckon I am grumpier than him on occasions and I even joked I might put Grumpy II on the side of my car as my team will testify…. Sorry guys but I know you all feel the same as me that it is just so frustrating when you know you have a great hot rod, and just cannot seem to get the best out of it sometimes, but I really believe as a team we are just as capable, as is Hanson and few other teams for that matter at running a 5.2? and it will be oh so close come the end of the year as to who wins what and who has got what records, congratulations to Fred and his team on their first FIA win.
Special thanks to Jim Rizzoli who was out helping us at Tierp and I know he was more frustrated than any of us with regard to the end result, but I would not swap Jim for any tuner in the world, he is awesome, he has helped us out oh so much, we just needed that little slice of luck like Dave got in his first round and things could have been oh so different, shoulda, woulda, coulda does not do it though. So we were looking forward to Finland where a totally different track awaits and all the challenges that it brings, but we love Alastaro as it is where we achieved our first FIA Event win and we have many friends there.
As has been well documented now Finland was a frustrating affair with two huge storms cutting the qualifying to just two rounds and it almost looked like we would get no racing at all on the final day as a lightning strike took out all the timing systems, incidentally our bottom end guy James who was laying in about 2 inches of water and working on the bearings when the lightning struck got zapped pretty good too. Although we did not show him much sympathy and kicked him back in to the puddles within twenty minutes or so.
It was a real shame that the two new Finnish drivers were unable to compete despite great efforts. In Q2 one of them managed to secure his licence and for a while they were included in the ladder for eliminations, but apparently someone complained that they should not be allowed to gain a licence and qualify on the same run, but with only 6 cars qualified and the qualifiers cut short due to weather, what would have been the problem with letting him run? I know most of the teams felt he should be able to, but obviously someone did not agree and another ladder was published and he was out, which I think was a real shame, that team had to miss out at their home event, lets not forget it was not that long ago we were crying out for teams to join our class… Still he has his licence now and we would like to wish the team good luck and look forward to racing with them in the future and on behalf of most of the teams in TMD, sorry you were not allowed to run…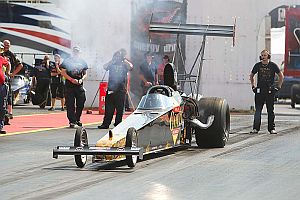 Q1 turned out to be an interesting affair, I had not noticed but the throttle stop had not been removed and shown to me as is usual, now this is a job normally done by Ian who unfortunately had not been able to make the event and Gary was to do it and double checked by James, as well as John who calls me into stage, but all four of us missed it. Gary had a split second decision to make once he realised it had not been removed and after I had lit the pre stage bulb he decided that a run on the throttle stop would not collate any useful data and would have surprised the hell out of me when I hit the throttle… so he carefully and quickly leaned in and pulled the stop off knowing that we would probably get a blue line violation but hopefully get some useful data. As it turned out the data was very useful as we dropped cylinders again right on the get go and it enabled us to adjust our tune up to try and overcome it… The first storm meant we lost Q2 and a terribly slow day followed due to oil downs and racing incidents, we knew another storm was forecast and when we finally got the call for Q3, we knew that was probably going to be our one and only shot to qualify… pressure on then.. Gary was really beginning to worry as on the tow down a few spots of rain, now he was thinking a run on the throttle stop would at least mean we were in…. I am pleased to say the rain stayed away a little longer the team were perfect as is normal to be honest, and with the assistance of Jim and his long range tuning prowess, we had a good run and we were in and finished up qualified 3rd. Eliminations, we eventually ended up with Dennis and unfortunately for him he red lit any chance of a win away although we did out run him on the track too.
Once back at the pits the team started to go about our usual turn round only to find our starter dog, harmonic balancer and timing wheel were missing off the end of the crank shaft and were now laying in the diaper… Oh shit, all the bolts had sheared off, Gary and team to the rescue. After a very unusual turn round and a massive thrash by everyone Gary some how managed to painstakingly remove the broken bolts with a centre punch carefully tapping each broken thread out one by one, to allow us to refix everything, however more dramas when we tried to attach our starter to windmill the engine to clear any remaining nitro, get oil pressure ready for our warm up, he found the starter would no longer fit into the plate it locks in to as the balancer etc had mangled it when it came off. Arghh, now we were really struggling and the Top Methanol Funny cars were down there and Dave Wilson was pulling out of his pit for his bye run, special thanks to Dave for lending us a puller and supplying us with spare bolts to fix our balancer etc. on with, he was towing down as slow as he could for us which was great, thanks guys. Thanks also to Matti, our pit marshal who got us more time to make the call, I did not realize but Fred was also struggling to turn round his car after dropping a valve and repairing the subsequent damage. Suffice to say we literally ran with our car to the line and we had not even had a chance to fire it up. But we had got the starter to fit windmill the engine and get oil pressure, in the words of Murray Walker I just shouted go go go… We got to the pairing lanes and were thankfully given a couple of minutes to get our breath back and get suited and booted and when our car started that was one of the sweetest sounds I have heard for a long time. Well done Gary and the team, awesome thrash… during the burnout something got stuck in the butterflies and I ended up with the RPMs way too high and no amount of toe tugging on the throttle pedal or James (who meets me and guides me back after the burn out) trying to close it helped, so I quickly got back to John at the start line who managed to put all the golf tees back in. These are used to block the holes and adjust our idle RPM by allowing more air mixture in to the engine when we change from methanol to nitro and we normally go to the line with 3 or 4 of them out. Anyway, finally John calls me in to stage and after what seemed liked ages (but was actually only a few seconds) Fred came in and the tree ran I got the jump on him, the car hooked up and I was away first but unfortunately after just 2 seconds we blew the tyres off it and off Fred went. Looking at the data we nearly made it but during the thrash the weather conditions changed quite a bit and the corrected altitude dropped by nearly 600ft which meant I had over-tuned the car for the conditions… I would just like to say well done to my team for getting us there and for us it was another "if only moment", however we were not alone as Dave blew the tyres off in the final against Fred as the conditions got even better, air wise and the A fuel engines were loving this cooler air after struggling to make any real power in the excessive heat we had had all weekend. Well done to Fred and the team and well done to everyone at the FHRA and all the race teams, it was amazing the event got finished considering when eliminations got started.
With only two races left we now only have a real outside chance of the Championship but we will not give up and we shall be doing all we can to win every round we can. Although, traditionally, Germany has always proved a bit of a tricky track for us, we have some reasonable data now and I think we shall at least be starting from a better position than last year.
Pictures courtesy and © Ivan Sansom
Thursday 19th May: In the words of Will.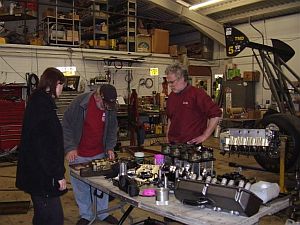 In the words of Will... No, not Hannah, but Shakespeare; Now is the winter of our discontent... Which apparently meant the time of unhappiness is past... Which I really hope is the case...
Sorry to be so deep before our season has even started, but this winter has been a bit of a worry for myself and the team, as it seemed for a while Gold RV Racing may not be returning, but thankfully it has turned out OK after eventually reaching an agreement with Steve Wright to buy him back out after he invested in Gold RV Racing before last season. We have relocated the race car and operations back to our Gold RV workshops in Alton. But buying out Steve has left us a bit short of funds and may mean we are not able to compete at all the FIA rounds, which would be a real shame, as I think we proved last year after finishing 3rd in the Championship, setting a European speed record, as well as again winning as many races as the Champion, that we can be a real force to be reckoned with. Any sponsors out there reading this, please get in contact if you would like some excellent exposure on the fastest Top Methanol Dragster in Europe, as we believe we could be oh-so-close.
Congratulations to the Habermans on their achievements, as they proved over the season they were the team to beat last year and ran the world's fastest and quickest times ever for their type of combination. Last year, they had the two most consistent cars in TMD, and I know how hard that is with just one car, let alone two, so well done guys, that was an amazing achievement. But please, the rolling around the start line, kissing the camera etc. etc. is a bit tough to watch for securing 2nd place when it was mainly due to another team's mis-fortune, especially as this was all done right in front of that team, and as Will said, no not Shakespeare but Hannah this time, "that is all the motivation we need", which I have to say I quite agree with.
I was on a road trip after racing in Vegas at the end of last year and was driving our RV across the USA from California to Texas to bring it back to the UK (what a great trip that was) but I was without an internet connection and was unable to comment at the time, when all the hubbub was going on, on Will Hannah's Inside Top Alcohol web site, as the thread had closed by the time I got a connection. For those that did not read it, it was all about whether or not some sort of illegal traction control device was available, or being used. It would seem there are such devices available and they are apparently used as tuning aids by some teams in the USA on test days to help them find the tuneup or 'sweet spot' of the car and/or track by preventing wheel spin, by knocking out and putting back ignition timing, very quickly and multiple times, I believe. However, the main focus of the debate was whether or not some such device was being used by a team in Europe in competition, which would be totally illegal according to the rules. I really hope that it was not, but I guess only that team knows for sure if it was or was not used. What I do know is with all that was said by so many people here and in the USA, some people will now be watching very closely what goes on in TMD this year for possibly the wrong reasons, which is a real shame.
To be honest, this year we will not be distracted from our own goals and shall be concentrating on our own car and what we can achieve as a team rather than what anyone else is up to; we shall leave that to others and the powers that be to police.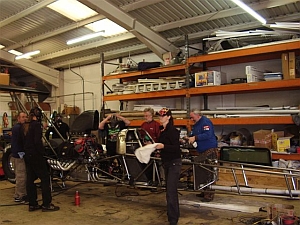 Well, that's got all that off my chest and I am so pleased that the winter/off season is over... We had not touched the race car for some months after our record breaking runs and our win at the Euro Finals, mainly due to our circumstances, but over a few weekends recently the team all got together and we stripped down the car, engine, clutch etc., getting things ready for this year and I am pleased to say it is all looking really good. All new con rods, pistons, camshaft, wrist pins, bearings, tyres, new chutes etc. etc. We installed all the new safety equipment and upgrades that are required to comply with this year's rule changes and I think we are just about ready to go.
I would like to thank all the Go Gold Crew for last year and for all the hard work during the team weekends that we have had recently and I know they are all chomping at the bit to get going again this year. This last weekend was great as we fired up the beast and we all got our first fix of Nitro fumes this year. It was so sweet. Thanks to BAE for the excellent work on a couple of our cylinder heads and thanks also to Gary Burgin for all his help and assistance, supplying all our new parts, and thanks for the contingency sponsorship too.
I would like to apologise to all our fans for not attending the Easter Thunderball, but we were saving parts and funds to try and make all the FIA rounds if we can. We plan to do at least one test run before the Main Event and cannot wait to meet up with all our drag racing friends and family again. If you get a chance, please come by our pits and say hi; thanks for all your support it is very much appreciated by myself and all the team.
Thanks for stopping by and I promise I won't leave it so long between blogs next time; let's hope I am writing about what a great event the Main Event was and how we are really looking forward to going to the exciting new track in Tierp, Sweden.
Tuesday 28th September: Just Awesome Euro Finals.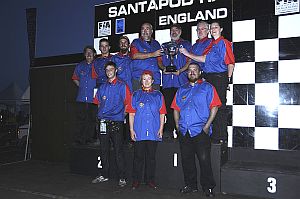 The Go Gold Crew have worked so hard all year for this result. It was a shame we did not get to race anyone in the finals but a big part of our sport is being ready for the next round and this is where I believe we as a team have really improved. We have sped up turn-rounds significantly with additional spares and the team learning the skills required to quickly analyze any problems or potential problems and deal with them is proving to be a winning formula.
I would especially like to mention Ian Moore. He used to be a spectator on the bank for many years, until he responded to an ad on the excellent Eurodragster.com (thanks Tog & Team). Ian has quickly proven to be an invaluable member of the team and is responsible for the left cylinder head as well as all our spare heads and unfortunately we have kept him very busy this year, not just at the track, as Ian has worked many a night and weekend between events to ensure we had the best heads possible at the track. Thanks Ian, you have been a star and so has your wife Theresa who has been so understanding.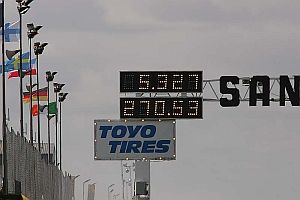 Another star that has shone brightly this year is John Foster who, on top of being responsible for the clutch, got the job as Assistant Crew Chief during the Main Event as we knew Gary was not going to able to make all the events. John is proving indispensable in this new role, especially after working closely with Jim Rizzoli in the USA, Sweden and Germany; watch out Gary, although personally I believe the two of them together are fantastic, as was proven at this event.
In fact the whole team have really come together well and are getting a handle on our A Fueler. These cars can be a bit tricky and even dangerous and I must admit, I think we were all a little worried about the switch, yet the team all work together well to ensure we and the car are all safe and the car is prepared the best it can be. The team all work so hard for each other, which should bode really well for the future, so thank you one and all, you have been and are great. Special thanks to Jim Rizzoli, you are the man, and thanks also to Larry Miersch; without all the help and assistance you have both given us, none of this would have been possible.
It was really neat to win another event with our A Fueler and it was made all the sweeter that this win was in front of our home crowd; we would like to thank you, the fans, for all your support. The crew tell me you gave them huge (and well deserved) cheers after each of the runs. Whilst we could have just taken the green light for the win in the final and pootle down the track and saved ourselves some time and money, we really wanted to put on a show for our fans and we wanted to finally back up the European speed record, so we gave it all we thought we could. We were still a little worried about going up in smoke at the hit, a problem that has plagued us so much this year. I need not have worried; as is usual at Santapod, the excellent track crew gave us another record breaking track, thanks guys and girls and we now hold the European Speed Record; the fact we also set the class low ET of the meet gave us an extra few points that helped us to secure third place in the FIA Championship too.
I dedicated this win in the memory of my friend Mark Niver who tragically lost his life whilst racing this year in the USA. Mark and I used to chat quite often about each other's exploits and I miss that; he always used to look out for our results and how we were doing and, with his stickers on our car, I kind of felt like he was with us all the way.
Next stop Vegas, but more about that next time.
Team shot courtesy and © Andy Willsheer; time and car shots courtesy and © Ivan Sansom.
Sunday 8th August: Losing a good friend.
Well I have tried to write this blog a few times before we went to Sweden and since returning, but just could not seem to do it, I was so upset and angry after losing a good friend in Mark Niver, it really hit home in Sweden when we put the black line through our number on the race car in respect of Mark and I just broke down, I guess I needed to grieve the sad and tragic loss of Mark.
I am proud that I was able to call Mark a friend, he was an excellent machinist by trade, a great innovator, a true gentleman, a great racer with so many stories and a really great sense of humour and most of all just a great all round guy. I, as will many, will really miss the times with him and his team in their pits and I shall also miss our regular telephone chats… my condolences to all the Billet Bullet Team, friends and family, especially, Tanis, Cory, Samantha and Bobby.
Jim had brought with him a few of the Mark Niver tribute stickers that we promptly put on the car as did some of the other racers that knew him, I think it was really neat he was being remembered this side of the pond too, such was his influence to our sport around the world, especially to all involved in TAD/TMD. Should anyone else wish to have Mark Niver tribute stickers then come and see me in our pits.
Our first ever Championship Trophy was down to Mark, we were leading the UK Championship but we had had major problems with our engine and had damaged two cranks in two meetings, and were looking like we could not make the National Finals when I was discussing our problems with Mark, he piped up 'what stroke do you run?' I told him and he said 'I think I got one of them, I don't run that stroke any more and I bought it as a spare a few years back so you are welcome to it free of charge as I am not totally sure of its history.' I knew the perfectionist Mark was and if it was good enough for a spare for him, it would be just fine and he promptly sent it to us the next day, which meant we could run the National Finals. This sums up the man, he would help anyone even a guy from 'bloody ol' England' as he used to say.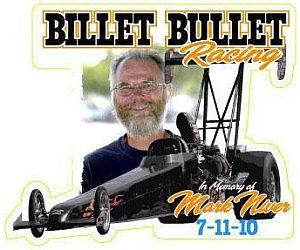 I really wanted to try and win Sweden and dedicate it to Mark, but our car was just too good for the track conditions mainly due to the fact the weather was against us, a newly laid track and the lack of a day of sportsman racing and the subsequent lack of rubber.
I love Mantorp but it does not seem to love me; the A fuel cars that made it down the track all seemed to drop cylinders from the get go, but our car was happy off the line but just overpowered the track conditions every time, despite us taking as much power as possible out. Jim was pulling what hair he has left out after the runs and we even joked about pulling some spark plugs leads off and may be we might make it down.
Unfortunately on Q2 despite me seeing Jim had put down plenty of water in the burn out box, in between that and us starting unfortunately it had been swept away and with the lack of water that we really needed, we could not burn out and that was that run gone. On the last qualifier we smoked the tyres again down track, and despite running 204 MPH at the 1/8th, we dropped 4 cylinders after the tyre smoking and only managed a 6.0 at 201 MPH, it did not help that I lifted 0.2 of a second early either... D'oh... but as it happens the engine was chewing up a head and liner so probably just as well. So it looked like we were a DNQ again, but when we got back to the pits, Esko was straight down to see us saying he was broke and he would not be running in eliminations and we would be in as first alternate, thanks Esko. But, alas, despite all the hard work by the track crew who managed to get the track dry at least twice on that Sunday, we never got a run and the meeting was called due to rain.
Thanks to all the Go Gold crew, for all your hard work yet again and special thanks to Jim & Kay Rizzoli for coming over to help too. Jim and Kay have gone off for a tour around Europe in their Alamo/Europe car (thanks to Andy Wheeler for his assistance and the great drag racers deal they offer) and they will be meeting up with us again in Germany, where we have some unfinished business from last year; lets hope the weather is with us and we can really make the most of our hot rod, it just really wants to go and I am looking forward to learning even more about the tuning.
Friday 9th July: Alastaro: Will everybody stop shutting me down...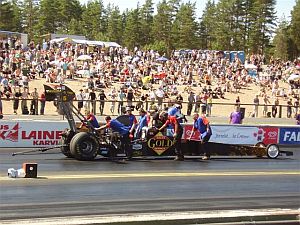 Q1 and an up in smoke on the hit, which was the same as last year when we won, but that is where the similarities ended unfortunately... Oh, what could have been if everybody could have stopped shutting me down...
Q2 - with a few modifications to the tune up we were back on song, although this run was a little scary as I got close to the guardrail and a little out of shape as well as a little too close to the grass once the barriers ended. But it was a 5.42 with a massive 273 mph and we were on for another speed record if we could back it up. I was a little too long on the throttle as I was busy trying to keep it away from the wall and missed the finish line by a second. Oops... looking at the data we reckon I was doing around 284 MPH before I lifted. Sorry for scaring everyone who thought my throttle had stuck, I knew it was a fast run as the chutes hit really hard thankfully and I made it all the way to the end of the track which I did not do last year.
Q3, and we were shut down due to fuel coming out of the header gaskets, which happens a lot on our car and is not a problem on the run, but the keen eyed start line official was not happy and insisted I shut down…
Q4 - good burnout, but when I depressed the clutch it went past the pedal stop and got stuck behind it and I could not get it back, so with the clutch fully engaged I had no option but to shut myself down. Thanks to Andy Robinson who welded and strengthened the clutch pedal stop, despite his own woes.
Elim 1: We were against Fred Hansen and the tuning prowess of Will Hannah. Our car really struggled to burn out, I had decided to give it all I thought the track would take, but with the lack of burnout the tune up was too much and after one second it blazed the tyres and I thought that was us done then I saw Fred get very sideways and thought he is going to lift so I got back on it again, and then pedalled it as it went up in smoke again, but too late, he beat me across the line and then the team informed me on the radio he had red lit. Phew that was lucky!
Elim 2: Against Dennis and the Habermann team and I must admit I was looking for revenge for the Main Event, but alas it was not to be. After a great burnout, I was struggling to find reverse, when John my crew guy who was up front told me to shut it down as we had a fuel leak from one of the barrel valve fittings - aghhhh! Apologies to the Habermanns for keeping them waiting. My comments on my last blog had obviously hit home with Werner, as I saw in their runs against Grumpy and Krister (as I was the car behind in the fire up road), they waited for the nod from all the A Fuel crew Chiefs before starting their cars at this event, just as it should be, thanks guys.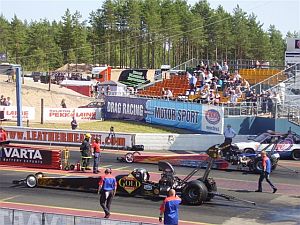 The Habermanns are obviously the team to beat with Timo's unbelievable top fuel like 60 ft times and Dennis' reaction times. They are proving to be very tough to beat, but to keep the Championship alive, beat them we must and I am sure all the teams like ours will be doing all they can to do so.
We came away from Alastaro a little disappointed not to have closed the gap and we had tripped our selves up at this event with the problems we had had. The team worked hard and I would like thank them for all their efforts and I know they are all determined that we will improve. Thanks also to all the FHRA crews for putting on a great event and special thanks to Mattie our pit Marshall. Big thanks to Andy Wheeler and Alamo for all their assistance with the car rentals. Also it was great to see Tog and the guys from Eurodragster on track and thanks for the excellent coverage, when you are running a car you don't get to see any racing and it was neat to keep up to date with what was going on real time. Last but by no means least, a massive thanks to Jim Rizzoli who once again allowed me to phone and wake him in the wee small hours for help and advice; sorry we did not make the most of it, Jim, and good luck in Seattle, where Jim is tuning no less than three A Fuelers; son Kyle, Larry Miersch, as well as helping good mate Mark Niver. I would also like to take this opportunity to pass on our condolences, hugs and best wishes to his wife Kay who has unfortunately lost both her parents recently within a few weeks of each other.
It was sad to see the state of my mate Andy Robinson's car after his top end fire, although it was good to see he is all OK and if anyone can rebuild a race car better than it was before it is Andy, but I know running a small business and trying to finance a race car on a budget is not easy, especially when you are the team owner and sponsor. Good luck with it all Andy and team, we hope to see you back at the track soon...
Thanks for stopping by. Roll on Sweden, we can't wait.
Photos courtesy and &copy Fiona Flynn
Sunday 6th June: Farmer Flynn, and he drove the fastest plough from the west...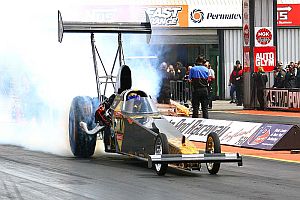 What a couple of weeks that was; I am glad to be back at work for a bit of a rest… not for long though, as we are already preparing for Finland.
Huge thanks to the Go Gold Crew; they worked their socks off just to get us to the event, as the new block and parts arrived just in time and took a couple of weekends to put everything together.
The test day was a little disappointing as we were late getting the car ready to run and only managed one shot in the day, and that was an 'up in smoke at the hit', which meant we learned very little from the data, other than we were making more horsepower than before.
After a great day of Sportsman qualifying, we had rain on Saturday, so we were down to just two qualifiers. I am pleased to say our first run was a team best of 5.42 and that was with a dropped cylinder after 3.5 seconds. After the session, we were qualified number two, however we had hurt a head; the crew turned the car round and we were ready for Q2, but with all the on-track delays (well done to all the track crew who worked their socks off too) it was getting later and later and the weather was getting colder and colder. We were in the pairing lanes and due to run as the last pair, but with only one car bumping us down a spot we decided to err on the side of caution and towed back. Sorry to the fans for that, but from the applause we received as we towed back down the return road, I think you understood our position, no point risking breaking more parts and not making eliminations, as we experienced in the Euro Finals last year, where we qualified and then had to give our spot in Eliminations to Esko due to a bent crank.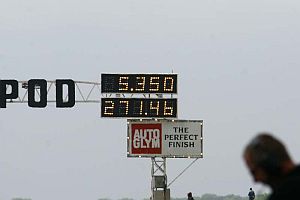 So the team had an early night for a change, as the car was ready to run and we were looking forward to race day proper. We were up against Paul Ingar Udtian in the first round and after going over the data with Jim, we really fancied that we could improve on our 5.42 and hopefully take the win. This run was one of the few times we have had all eight cylinders lit to the line and it showed with an awesome 5.35 at over 271 MPH. Just brilliant... I went through the line, pulled my chutes and started braking, but there was no hit as is normal when the chutes hit hard. Looking at the data, I lifted at 5.75 seconds and was on the brakes by 6.2 seconds and managed to get the brake pressure up to a whopping 500 psi, pulling so hard on the brake lever trying to get stopped. The car was slowing but I could feel it was about to start the dreaded bounce, so had to ease off the brakes a little, three quarters down the shut down area and I knew I was going off the end. Just like Drachten, but this time going quite a bit faster. I estimate I scrubbed off over 200 MPH but braced myself for the off and just concentrated on keeping the car shiny side up, and hopefully the car and I would be OK.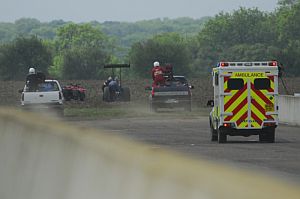 A massive thanks to the excellent Santa Pod Crew and safety teams; they were there with me in the field in a flash and I signalled to them with a thumbs up that I was OK, although covered in dust and dirt, and rather shaken up by my high speed ploughing experience... After the Safety Crew checked me over they then allowed me out of the car and it was straight to the back of the car to check what had happened to my chutes. They had in fact deployed, but had somehow twisted together and dropped through the wheelie bar above the netting used to stop that happening - honestly, if you tried to dangle a single drone through that gap while the car was stationary, it would have taken you ages, let alone at 271 MPH and near on impossible to get both through. Darren Prentice arrived and after he checked I was OK, he gave me the news that it was a 5.35 at an amazing 271 MPH; well I jumped in the air and screamed yeeessss! A quick look over the car and nothing obvious was broken. My crew then arrived, all very concerned that I and the car were OK and we then set about getting the car out the field and back to the pits to check it out properly. I learned later that my wife, Fiona who was watching from the bank as she normally does, knew I had gone off the end and was standing in a corner down by VIP, not knowing if I was OK and wondering whether she should go back to the pit or to the medical centre. Luckily the Walters family came across her and reassured her (thanks guys), saying that I was probably fine as the start-line crew had let our crew go to collect me, which they do not do if there is a problem. Sorry for the scare hon. The crew were awesome stripping the car down, removing all the bodywork, fuel tank and fuel pipe to clean it all through and checked over all the chassis and A arms etc. on top of our usual turnaround stuff. Amazingly, apart from a little body damage to the under tray and a small crack in the screen, we had got away with our high speed ploughing. The engine had not fared quite so well as again we suffered head damage on a couple of cylinders, not as bad this time but we had eaten away a few spark plugs and it had picked up on a few of the combustion chambers. Unfortunately our other spare head had unseen damage (prior to the event) with a split around where one of the head studs goes through and could not be used. We thought that was it and we were out, but, no, Dave Wilson to the rescue! With a very sporting gesture he lent us one of his heads, thanks mate. What a thrash by the Go Gold Crew, really proud of you guys. Steve Wright, my new partner in the race team, had a baptism of fire with this turn round (thrash) but it was as if he had been with us for years, helping to take everything apart, cleaning, metal working and helping to ensure the car was ready and we made the call.
During this thrash, I downloaded the data and sent it to Jim Rizzoli who had been up most of the night checking and advising on our tune up and progress. Thanks again Jim, you are a real Star! I also had to have the obligatory check over by the medical crew half way through the thrash. I must say the adrenaline was still pumping from the run, going into the field as well as trying to get the car ready for the next round. It was quite amusing after the Ambulance Crew were checking my pulse and blood pressure and confirming I knew what day it was etc they commented that my blood pressure was a little on the high side - really, wonder why?? Anyway, they were great and after a couple of jokes about my mental stability with regard to strapping myself into a 270 MPH missile, they gave me the all clear physically, but 'no comment' on my mental state. It is great that we have these guys and girls on hand and a Big Thanks for checking me out!
Just as we were about to do the warm up after the rebuild and the amazing effort by the Go Gold Crew we got the call to go to the pairing lanes. Phew...we made it, and we even had time for a sandwich, watch the Battle of Britain fly past, whilst we were waiting in the pairing lanes…
Unfortunately this is where it all went awry after the great sportsmanship extended to us by Dave Wilson, and to be honest this is quite representative of the class. We then experienced probably the worst unsportsmanlike behaviour we have had since we started racing. As some of you probably don't see our start up routines, I will explain: A Fuel cars are unable to start on nitro due to the high percentage of Nitro we use and the compression of our engines. One wrong move and the engine goes bang and someone could get seriously hurt. We have to start on methanol first, via a little tank we have on our rear wing. We warm the engine a little then switch it over to nitro, set the rpms and fuel pressure, and then remove the little tank, starter etc. and then we are ready to pull round.
It is accepted by all the teams around the World, that when a Blown car races an A Fueler, the A Fuel car starts first and once it switches to nitro, the A Fuel Crew Chief gives the blown car's crew chief the OK that they can start. In our case my Crew Chief Gary always goes to see the opposing crew chief just to confirm and to be sure they know he will give them the thumbs up when they can start. Due to the sharp turn from the fire up road to get into the water box at the Pod, especially the left lane, the TMD Class start line astern in the fire up road. Well, when we got the signal to start up, Werner started Dennis' car at the same time right behind us and did not wait for us to switch to nitro, then just as Gary was about to switch over to nitro, Werner came running down to us, banging on our tow car, shouting and waving his arms at Gary and our team. At first Gary thought there was some sort of emergency and stopped doing what he was doing, but, no, Werner was trying to get us out of his way. Not only was this dangerous but as I say, very unsporting. Unfortunately all this distraction meant our normal start routine of Gary and I setting the rps and fuel pressures were out of whack, and this was the reason our car did not burn out properly as the fuel pressure was wrong and our rpms and EGTs were way too high as was the clutch temperature, which meant our run was done before we even started, as was our chance to back up the European speed record. I do not want to take anything way from Dennis who pulled an amazing 0.0001 light, but if things had been equal and Werner had not rudely interfered with our normal start routine, I am certain we could have given Dennis a run for the money as we should have equalled or even bettered our previous run as Jim and I had tuned the car up just a little. We will all be ready for any such antics in the future should Werner try that again and we have all learned from this experience, and it will not faze any of us again. This was a rather sour note to end the meeting on, especially after all the hard work by the team.
I am so proud of the team and really grateful for all their effort, and I would just like to say special thanks again to both Larry Miersch and Jim Rizzoli for all their help and assistance too. Steve Wright absolutely loved his first event with us, saying it was just so great working with the team. He also said that until you are physically involved with a team you do not realize how hard they all work between rounds (as did Steve) to get the car ready, and watching a nitro car he part owns thundering off down the track and performing so well, was brilliant.
We cannot wait for Finland and to meet all our Finnish friends again and look forward to the chance to defend our win of last year.
On-track photos courtesy and &copy Rose Hughes; field photo courtesy and &copy Ed O'Connell
Sunday 11th April: Gearing up for 2010.
Well, the 2010 season has finally started and it was disappointing not to be involved at the season opener, especially as we are the defending TMD Champions but we are still awaiting parts. It was great to catch up with so many of my friends at the Pod on Easter Sunday and I would like to congratulate both Dennis and Esko for their achievements.
As you may have read on Eurodragster.com NewsI have a new partner in Gold RV Racing Ltd. Steve Wright and I have relocated the entire race team set up to his excellent workshop and facilities in Somerset. Having a dedicated workshop for the dragster is going to be great; it was always hard juggling space at our RV workshop in Alton to accommodate the dragster, truck and trailer. Steve is looking forward to getting well and truly stuck in and learning all about the A/Fueller he now jointly owns. Steve will also assist me with increasing the trading opportunities of the company, especially now we have the extra space and resources to expand.
Steve, wife Kim, Fiona and myself are all excited to be off to LA on Monday and then Vegas for the SummitRacing.com NHRA Nationals, where we will meet up with our good buddies Jim Rizzoli, Larry Miersch and Crew, with the A/Fueler which Larry so kindly let me drive last year. Making his début in TAD competition proper will be Jim and Kay's son Kyle in the Rizzoli Automotive A/Fueller, and we wish them good luck for the event and season.
It will be great meeting up with our friends the Nivers and all of the Billet Bullet Team too; being involved with these teams will allow us an excellent opportunity to learn from these seasoned A/Fuel campaigners. Also helping out with Larry and Jim's A/Fuellers are Go Gold Crew members John and Sarah Foster ;John is going to be busy helping prepare both cars' clutches.
Another reason for the visit is to collect our new block and spares which we need, and I would like to thank Jim and Larry for all their help in assisting us with this. Thanks also to Roy and Diane Miersch for the airport shuttle service, and for storing our RV at their place, it is great to have a home away from home waiting for us.
It is going to be a bit of a rush getting everything back from the US and ready for the Main Event. We shall be attending the Pro Test and Tune prior, to give us at least a couple of runs to blow out the cobwebs and get some data on our new combination before we go in to competition proper. I know we are in for another tough and exciting battle this year in TMD and we hope to continue our climb up the TMD ranks, which should be achievable if we can continue to improve, we start this year as TMD 5.
I am pleased to say that the excellent Go Gold Crew will all return again this year, with the addition of Steve Wright and I know they are all chomping at the bit to get going. Crew Chief, long time friend and Gold RV Sales and Service business partner Gary Jenkins says he is also looking forward to 2010 and believes, like me, that we can improve on last year's performances and consistencies. I would like to say a big Thank You to the Go Gold Crew. You are the best - I am so proud of you for getting the Gold RV Dragster two Firsts for an A/Fueller last year. First to win an FIA Event, and First to win a Santa Pod/UK Championship. The Go Gold Crew are:
Gary Jenkins: Crew Chief
Steve Wright: Co Owner / Short Motor
John Foster: Clutch
Alistair Cole: Clutch Assistant
Sarah Foster: Safety / Fuel / Tyres and tow vehicle
Ian Moore: Cylinder Heads
Colin Chapman: Cylinder Heads
James Blackman: Bottom End
Fiona Flynn: Cook and Secretary
US Consultants: Jim Rizzoli and Larry Miersch - thanks guys, we really appreciate all that you do for us.
A big Thanks to all our fans and supporters too! We look forward to sniffing nitro with you all again soon...
Monday 15th February: First championship trophy.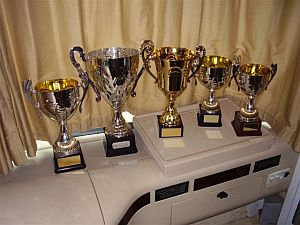 Hi again, I know it's been ages since my last blog, sorry about that, but not too much has been going on racing-wise for us.
It was great to catch up with so many of my drag race friends at the dinner dance the other night and it was really neat to pick up the Santa Pod Top Methanol Championship trophy, our first Championship. I would just like to say thanks and well done to all the Go Gold Crew, it is very much a team effort and I really appreciate all the hard work the whole team puts in, also a big thanks to Jim Rizzoli and Larry Miersch, without whom none of what we have achieved would have been possible. The trophies we have picked up with the A fueler since we first campaigned it at the Euro Finals 2008 speak for themselves and it is has been great dusting them off over the winter months and remembering the events.
It was good to see Krister Johansson and his team at the dinner dance too and so cool that his achievements and dedication to our sport was recognized with his entry into the British Drag Racing Hall of Fame. I am so pleased to be racing with Krister, a brilliant machinist, a living legend and a true sportsman, it was definitely seeing, feeling and hearing his car that helped to persuade us to go A Fuel, and now we have I appreciate even more what he has achieved, these A Fuelers are not easy and he has pioneered the way since the '70s, often making the parts that were needed, not buying them off the shelf like we can today, well done Krister.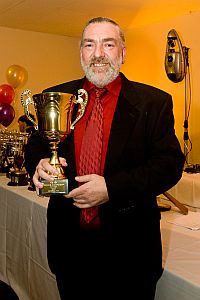 We had not touched the car since holing the block and winning the Santa Pod Championship, until recently, when Steve Wright (thanks mate) and myself removed the engine and stripped it all down. It was not a pretty sight and I must admit it was a little depressing. Oh well, that's racing and no use crying over spilt milk as they say, although we do need to learn from our mistakes and damages and it looks like we have had an oiling issue with the block since Germany.

I have been working with both Larry & Jim to secure a replacement block and rotating assemblies. We are taking the opportunity to make a few changes to our current set-up which will hopefully keep us in the hunt, and I am pleased to say it is all well underway. The BAE billet block has just come back from Brad Andersons after getting a once over and the lifter bores made bigger to take our larger Top Fuel lifters. Our spare heads have also had a make over at Brad's and we hope to ship all our parts back in March, when the team will be able to complete the rebuild and hopefully we will be sniffing nitro again soon. I can't wait….

I have also been working on trying to raise additional sponsorship that will allow us to do the whole European tour again. We ended the 2009 year in fifth place out of eleven cars, so not too bad especially when you consider this was our first full year with the new car and how much everyone has stepped up in the TMD ranks, and I think that TMD 2009 was one of the most competitive and exciting fields ever! It looks like it is going to continue in 2010 too.

Thanks for reading and I will catch you again soon.

Photo of Derek courtesy and &copy Sharkman


Feature ©Eurodragster.com


---
2008-9 Blog
Latest Blog
Gold RV web site
Back to News page
---