UK event entry update.
29th February: Further to Sunday's report of the UK Riders' and Drivers' Meeting, entry forms for all events at Santa Pod Raceway this season are now available via the Entry Forms link on the Santa Pod Racers Club web site at www.eurodragster.com/sprc.

Entry forms for Shakespeare County Raceway events will be available shortly.

Dance strips down.
29th February: For the first time since it was originally built, five years ago, UK Super Street Bike racer Graham Dance has stripped down and rebuilt his bike:

Jon Hogarth of Specialists In design has made some useful revisions and a smart satin black finish to the chassis. The boys at Warpspeed Racing have made some very nice billet stuff to tidy everything up and Roger Upperton has updated my spare engine to the same spec as my recently-freshened 7.20 number one engine.

The biggest change however has been the electronics on which Brad at BTC Moto has been working. I am now fully sponsored by the leading SSB Motec distributor and BTC Moto has supplied and installed a full custom loom with various new map strategies which I will be testing for Brad this year. The advantage of using BTC Moto is that Brad has such a good understanding of the Motec/Turbo/NLR Boost Controller bike combination having built, tuned and ridden his own Super Street bikes to competitive times in the recent past. He is also at all the race meetings to give advice on set-up and adjustment, electronic and mechanical.



Having spent the last two weekends locked in the dyno room sorting out various combinations and testing fuels I now feel we're ready to go racing!

This year there are some changes to the European rules including the introduction of unleaded fuels. Those teams which are prepared to dyno and to test at the track will have the advantage when these changes become compulsory (next year in UEM SSB - Ed), now with four rounds instead of three in the UEM SSB Europa Cup.

I'm just waiting for Jon to finish my newly-painted bodywork at the weekend and, weather permitting, we'll be at Santa Pod for the first Straightliners meeting in mid-March.

Web site updates.
29th February: Further to yesterday's Swift Snippet, our good friend Alan Currans tells us that he has updated the official web site of the UK's Chaos Fuel Altered team with pictures of the work on the body shell as well as an updated Team page. You can check it out at www.chaos-fuel-altered.com.

SFI 38.1 HANS recertification.
28th February: Further to our news item of 27th November, Geoff Martin of the UK Tech Crew has asked us to remind racers that SFI 38.1 Head and Neck Support devices stickered between 2004 and March 2007 are due for recertification by 1st April 2012, and then five years after the sticker date as follows:


| | |
| --- | --- |
| SFI sticker month/year | Expiration date |
| Month/2004 | April 1, 2012 |
| Month/2005 | April 1, 2012 |
| Month/2006 | April 1, 2012 |
| Jan-Mar 2007 | April 1, 2012 |
| Apr-Dec 2007 | Month/2012 |
| Month/2008 | Month/2013 |
| Month/2009 | Month/2014 |
| Month/2010 | Month/2015 |
| Month/2011 | Month/2016 |

Raceparts of Wallingford in Oxfordshire have been appointed the sole official European HANS agent for recertifying all HANS devices. The cost of the inspection and sticker is £15, plus the cost of repair or replacement parts in the unlikely event that this is found necessary.

For more information about the recertification service please contact James at Raceparts at james@raceparts.co.uk or call 01491 822000 (outside the UK +44 1491 822000). HANS devices for recertfication should be sent to:

SFI Recertification Department
c/o Raceparts
3 Rockfort
Wallingford
Oxfordshire
OX10 9DA
England

You can contact Geoff Martin at ukchassis2@btinternet.com.

Thompson's shiny Chevelle.

28th February: UK Super Modified racer Peter Thompson has revealed that the spy picture published here on 15th February showed his rebuilt and repainted Chevelle.

"It's shiny again!", says Peter. "This is due to RW Custom Paint and Pete Walters Race Design. Richard and Peter Walters have pulled out all the stops and produced a paint scheme which was beyond my wildest dreams, the duo show real skill and talent, I look forward to seeing future completed projects that come from the drag race stables near Bridgewater.

"I would also like to show my special thanks to sponsors and friends who have helped me to get back on track: Dean & Wood Ltd/ LG (Air Conditioning) for smartening up the crew with uniformed clothing, Kinloch & Son for sponsorship, Chris Isaacs for fabricating and repairing the chassis, Andrew (Fred) Hone for engine work, Jeff Bull for getting me out of trouble with some head work, DRE for fibreglass, Nigel Payne for headers, Steve Henry for Chevelle parts, WASP for sourcing and importing, and crew Steve, Big Carl, and Mick. And many thanks to Eurodragster.com (You're welcome - Ed).

"2012 will be an exciting year in Super Modified. We have some drivers returning from time out, and some new cars to the class. SuMo news and race reports will be updated throughout the season at www.supermodified.org."

Swift snippets.

28th February: The latest spy picture to arrive at the offices of Eurodragster.com came with no words save a smiley emoticon. If you know more, or if you would like to send your own spy picture, then drop us a line at eurodragster.com@btinternet.com.

Meanwhile the second of Sunday's spy pictures turns out to be the new front end of Lawrie Gatehouse's Chaos Fuel Altered. "The bodywork is undergoing substantial modifications to make it lighter, in order to improve safety", says Lawrie. "I can confirm that Gary Page will again be driving the car this season."

No news update yesterday so it's a day late but a very Happy Birthday for yesterday to NitrOlympX Race Director Jerry Lackey. Hope you had a great day Jerry. Happy Birthday for today to Supertwin Gas racer Les Harris, aka Beardy Bloke, and Nitro FM Producer Julian Parsons. Have a great day guys.

PDRC do the honours.
28th February: Pennine Drag Racing Club Chair Al Perkins writes that the Club held its thirty seventh annual Presentation Evening last Saturday:

A great night was had by all. We kicked off with British Drag Racing Hall of Fame presentation of Tony Murray's induction. This was presented by Stu Bradbury to Tony's son and grandchildren. PDRC awards followed, then our traditional raffle. This year proceeds were to go to Yorkshire Air Ambulance, with the agreement that PDRC would match the donation to go to Paul Barraclough (York's Rescue Unit). We raised £640, which I'm sure both will put to good use.

Congratulations to:

Marshal of the Year - Lesley Jackson
Most Consistent American Car - Claire Johnson
Services to PDRC - Ian Walker-Boyall (York's Startline Bar)
Best Performance by a British Engined Car - Darren Peart (8.39)
Enthusiasm for PDRC - Martin Green
Sustained efforts for PDRC - Angie Perkins
Best Enginneering - Marc Manning
Fastest Doorslammer - Andy Hadfield
Quickest Comp Car - Sag
Best Appearing Comp car - Nik Wilson
Most Outstanding Performance - Team Billingham
Entertainer of the Year - Andy Hadfield
Crew Chief of Year - Dave McCallan
Most Promising Newcomer - George Kinghorn
Services to Motorsport - Jamie Donallan
Reaction Times - Lee Chiles
Services to Drag Racing - Des Taylor
Raw Horsepower - Pete Youhill
Racers Choice - Kasey Dixon-Grainger
Hard Luck Award - Dave Billadeau

Sportsman ET
1. Lee Chiles
2. Claire Johnson

Pro ET
1. Pel Norman
2. Adam and Chris Nowak

Air-cooled
1. Daz Chandler
2. Adam Proctor
3. Craig Perry

American Superstock
1. Lee Chiles
2. Gene Billadeau
3. Dave Fox

Super Cup
1. Des Taylor
2. Marc Manning

Overall points
Lee Chiles  

Thanks to Martin Drake for taking photos which you can find at www.york-raceway.com/forum/viewtopic.php?f=1&t=3157.

Web site updates.

28th February: Eurodragster.com Photo Editor Roger Gorringe has posted his first galleries of 2012 on his personal web site at www.nitroexposure.co.uk. Roger's pictures include the 2012 O'Reilly Auto Parts NHRA Winternationals at Pomona and the NHRA Arizona Nationals in Phoenix. The galleries contain most winners and runners up photos plus a few extras which won't be seen on the forthcoming Eurodragster.com Features on both events.

UK Riders' and Drivers' Meeting report.
26th February: The 2012 UK Riders' and Drivers' meeting took place this afternoon (Sunday) at the Diamond Centre in Irthlingborough. The official minutes of the meeting will be published in due course but these are the main points:

The dates of this year's UK Championships are listed below.

Entry forms for events at Santa Pod Raceway will be available this week on the Santa Pod Racers Club web site at www.eurodragster.com/sprc and for Shakespeare County Raceway on the Shakespeare County Raceway web site at www.shakespearecountyraceway.com. Closing dates are listed on the entry forms and reminders will of course be posted here on Eurodragster.com.

As in 2011 all teams intending to field more than one driver for the same vehicle must send a list of the season's drivers to both APIRA and SPRC before the Auto Trader Easter Thunderball.

UK events are not likely to form part of the EDRS in 2012 but participation is being investigated for 2013.


Cars
Top
Methanol
Pro
Modified
Super
Modified
Super Pro
ET
Pro ET
Sportsman
ET
Super
Comp
Super
Gas
Super
Street
Street
Eliminator
Junior
Dragster
Easter Thunderball
Santa Pod Raceway
6th-9th April
✔
✔
✔
✔
✔
✔
✔
✔
✔
✔
✔
Big Bang
Santa Pod Raceway
28th-29th April
✔
✔
✔
Springspeed Nationals
Shakespeare County Raceway
5th-7th May
✔
✔
✔
✔
✔
✔
✔
✔
✔
FIA Main Event
Santa Pod Raceway
1st-4th June
✔
FIA
✔
FIA & MSA
✔
✔
✔
✔
✔
✔
✔
SPRC Summernationals
Santa Pod Raceway
23rd-24th June
✔
✔
✔
✔
✔
✔
✔
✔
✔
✔
Bug Jam
Santa Pod Raceway
21st-22nd July
✔
✔
✔
✔
non-points
Open Sport Nationals
Shakespeare County Raceway
25th-27th August
✔
✔
✔
✔
✔
✔
✔
✔
✔
FIA European Finals
Santa Pod Raceway
6th-9th September
✔
FIA
✔
FIA & MSA
✔
✔
✔
✔
✔
✔
✔
non-points
UK National Finals
Santa Pod Raceway
22nd-23rd September
✔
✔
✔
✔
✔
✔
✔
✔
✔
✔
✔
Bikes
Top Fuel
Bike
Pro Stock
Bike
Funny
Bike
Super Street
Bike
Comp
Bike
8.50
Bike
9.50
Bike
Junior Drag
Bike
Easter Thunderball
Santa Pod Raceway
6th-9th April
✔
✔
✔
✔
✔
✔
✔
✔
Big Bang
Santa Pod Raceway
28th-29th April
✔
✔
✔
Springspeed Nationals
Shakespeare County Raceway
5th-7th May
✔
✔
✔
✔
✔
✔
✔
✔
FIA Main Event
Santa Pod Raceway
1st-4th June
✔
UEM
✔
UEM
✔
UEM TFB
✔
UEM
SPRC Summernationals
Santa Pod Raceway
23rd-24th June
✔
✔
✔
✔
✔
✔
Mini Festival
Shakespeare County Raceway
7th-8th July
✔
Open Sport Nationals
Shakespeare County Raceway
25th-27th August
✔
✔
✔
✔
✔
✔
✔
✔
FIA European Finals
Santa Pod Raceway
6th-9th September
✔
UEM
✔
UEM
✔
UEM TFB
✔
UEM
UK National Finals
Santa Pod Raceway
22nd-23rd September
✔
✔
✔
✔
✔
✔
✔
✔
Extreme Performance Bike Weekend
Santa Pod Raceway
6th-7th October
✔
✔
✔
✔
✔
✔
---

Entry Fees have been frozen for 2012 (the third year in succession) and are as below.

Prize money has also been frozen this season.

2011 Santa Pod Racers Club Champions will again receive free entry to rounds at Santa Pod Raceway in 2012. In the case of teams with more than one driver, one team driver per event will receive the free entry. Pitside power must still be paid for. The free entry must be used during 2012.

Santa Pod Racers Club will not be offering half-price racer tickets this season. This will be reviewed for 2013.


Class
Two-day event
Three-day event
Four-day event
MSA British Pro Modified; Top Fuel Dragster / Fuel Funny Car / Pro Fuel Shootout; Top Methanol; Nostalgia Fuel Altered Association
£145
£150
£175

NB FIA classes pay FIA fees for FIA European Championship events
ET classes; Super classes; Super Modified; Junior Dragster; Comp Eliminator; Topspeed Automotive Street Eliminator; VW classes; Outlaw Flat Four; Wild Bunch; Outlaw Anglia; other Sportsman car classes
£115
£125
£140
ACU Top Fuel Bike
£150
£155
£180

NB UEM classes pay UEM fees for FIM/UEM European Championship events
ACU Funny Bike; ACU Pro Stock Bike; ACU Comp Bike; ACU Super Street Bike; 9.50 Bike; 8.50 Bike; NAST Supertwin including Supertwin Fuel; Junior Drag Bike
£120
£130
£145
Exhibition
£140
TBC
£165
---

Fees for pitside power supply at Santa Pod Raceway in 2012 are as follow. Single phase is increasing by £2.50 a day at all events and three-phase by £6.25 a day for two-day events and £8.75 a day for four-day events. The point was made that this service is still being subsidised by Santa Pod.


| Event duration | Single phase | Three phase |
| --- | --- | --- |
| 1-2 days | £45 | £145 |
| 4 days | £65 | £170 |
---

After last year's suggestion of a change in the UK National Championships points system to reward racing over qualifying, different systems were analysed and found to make little difference to the top of last year's standings. The Clubs suggested that in 2012 there should be no additional bonus points for number one qualifier but after a vote from the floor it was decided to leave the points system as-is.

In 2012 noise reduction will again be on an advisory basis: vehicles will be tested, if they fail then they will still be allowed to race but pressure will be put on to comply. In 2013 any vehicle which fails noise testing will not be allowed to race. This season, volunteers will be sought across classes to help to test noise reduction parts (mufflers etc), if interested then please contact Darren Prentice at Santa Pod Raceway.

At those NAST and Junior Drag Bike events at Shakespeare County Raceway which take place on Public Test and Tune Weekends, riders running on ACU permits will not be allowed to take part in Run What You Brung sessions until qualifying has finished for the day or until they have been eliminated from racing.

Korte mededelingen.
26th February: Many thanks to our good friend photo-journalist Remco Scheelings for sending us some Swift Snippets from The Netherlands:

High wheelies were the reason Willy Reerink got his nickname 'Wild' Willy Reerink. This time 'wild' refers to his plans for the oncoming season. The former Vega racer has bought from Sweden a Ford Taunus 20 M Coupe with a 950 bhp V8 turbo engine! Willy is the first Dutchman to take the big step to a V8 turbo machine like this. Now his biggest worry is how to get all the horsepower of the meisterst¨ck (masterpiece) down the track. See more.

MPM, moving things forward, MPM International Oil Company's well-known slogan, is absolutely applicable to Vegter Pro Mod Racing. Thanks to MPM's support the 2500 bhp '67 Camaro Pro Modified can be upgraded and David Vegter and his crew will have a busy 2012 season. The team will focus on the FIA European Championship but the fast Vegter MPM Camaro will also show up at Dutch events. See more.

Last season Ramon van der Weurf was the first Dutchman in history to race a Nostalgia Funny Car. Dragstrip Drachten was his first outing and after a number of good test runs on other tracks the team is working hard to get ready for an even busier 2012. This season the Wild'r at Heart '71 Dodge Charger wants to make big steps forward. See more.

This season Tom van der Wijden is stepping up to Super Pro ET, the highest category of the Dutch Open Drag Racing Championship. With a 940 bhp, 555 ci motor from world-famous engine builder Reher-Morrison, the Step-a-Side Dragracing Chevelle has 300 bhp more than before. Tom will lower his ET by at least one and a half seconds. See more.

At last weekend's Auto- en Motorspordagen Johan Oomen showed his new ride for 2012, a Dodge Viper GTS/R imported from the States. The great-looking in every detail car has a 598 ci nitrous engine and will be raced by Johan in Super Pro ET. See more.

In The Hague Wouter van Leersum showed his new car for 2012, a '68 Camaro which he will race in Super Pro ET this season. The 1600 bhp car was built in the States in 2009. Dutch dragracing has another beautiful and fast car! See more.

Swift snippets.
26th February: Of the two latest spy pictures to arrive at the offices of Eurodragster.com the first came with the words "How about this for a start? There is a lot more to come".



The second spy picture came with no words at all. If you know more, of if you would like to send your own spy picture, then drop us a line at eurodragster.com@btinternet.com.

The Valley Gas Speed Shop Chilli Night takes place on 31st March and all hot rods and customs are welcome. The evening features live band, dancers and chilli and you can check out the new Valley Gas workshop and its current projects an Outlaw Anglia, a '57 Olds, a Roush-powered Capri, a Fordson van, a few Pops, a few pick-ups and more. Valley Gas Speed Shop is located at 21d Towergate industrial Park, Colebrook Way, Andover, Hampshire, SP10 3BB. For more details call Jim or Ellie Hibberd on 01264 353646.

The 21st Wyke Down Spring Vehicle Meet and Autojumble takes place on Easter Monday (9th April). Organised by well-known American car Dave Palmer, the show is massive and is held in a great venue with a licensed bar and restaurant. This touring caravan and camping park gets very busy so get booked up early; contact Dave or Jenny Palmer on 01264 363295 or 07889 630544 for pre-entry forms.

Thanks to Brian Taylor for letting us know that recent British Drag Racing Hall of Fame inductee Barry Sheavills is talking about his career in drag racing on the Richard Spurr Show on BBC Radio Nottingham at 3.20pm next Wednesday (29th).

We would like to say a very Happy Birthday to UK Fuel Funny Car racer Kevin Kent. Have a great day Kevin. Happy Birthday also to our good friend and Honorary Eurodragster.com Staff Member Darren Prentice of Santa Pod Raceway. Have a great day Darren.

Like Her Majesty the Queen, Eurodragster.com has an official birthday and that day is 26th February. We don't know where the time goes but your favourite drag racing web site is fourteen years old today. Thanks to all of the racers, clubs, officials, promoters, sponsors, fans and everyone else who helps to keep us going.

See Unipart for MPM.

26th February: Richard Stevens of Eurodragster.com sponsor MPM Oil UK has been in touch to confirm that Unipart are now supplying and distributing the full range of MPM Oil products across the UK.

"Race, Automotive, Commercial/Truck, Agricultural and Marine lubricants - they have them all, and are currently pushing them aggressively into the market not only through their 1300 outlets but via a courier and postal service also - have what you need delivered to your workshop, or front door", says Richard. " This advertisement (right, click for full PDF) will also be appearing in numerous publications next month. We have put this together so that all independent outlets and individuals can access the full OEM range, covering 98% of all vehicles on the road with manufacturer-approved product.  For the independent garage or workshop, there are currently major incentives in place, from a full range of marketing products, including reduced rates on MPM-liveried courtesy cars.

"You get your car serviced at your main dealer, and providing them with your MPM OEM products, for Mercedes, GM/Vauxhall, VAG etc.  You will make a considerable saving on your servicing costs by supplying the lubricants required for the dealer service, and because these products have full manufacturer approval it will not affect your warranty. Please contact Unipart via the details on the flyer, and they will ship any quantity you may require, from one litre to a thousand and beyond. Check out the MPM Oil UK web site for the manufacturer-approved product recommendation for your vehicle whatever it may be, and they can send you the correct OEM products with manufacturer approval. None of this "Suitable for..." or "Meets the requirements of...", but manufacturer-approved OEM products.

"Please support us so that we can support the sport even more, and contact Unipart should you require any further information, or just to confirm that the products are available. You can call the Unipart sales team on 02476 427333, fax 02476 427361 or E-Mail carcare@unipart.co.uk."

2012 UEM Championship update.
24th February: Keith Bartlett, CEO of Trakbak Racing the official rights owners and promoter of the UEM European Drag Bike Championships, released this statement to us today:

Following a successful meeting with the UEM on Monday 20th February we are now in a position to make the following information available to all teams competing in the UEM Championship and UEM Europa Cup in 2012.

Top Fuel Bike
Since their removal from the Top Fuel class in 2011, teams from the Funny Bike class have been in regular contact and discussion with representatives of Trakbak Racing with a view to the return of Funny Bikes to the Top Fuel class.

After a long period of consultation the following changes to the Top Fuel class rules have now been agreed by Trakbak Racing and the UEM:

In an effort to ensure that the Top Fuel Bike class truly displays only the fastest bikes in Europe, a class index of 6.99 has been applied to all bikes wishing to run in Top Fuel.

Motorcycles not using nitromethane as a fuel will be allowed to return to the class providing they can meet the new index requirement.

The proposal for a change of name for the Top Fuel Motorcycle class is still under discussion as it was deemed too late to make any such change in time for the 2012 season.

UEM Europa Cup
For 2012 the Europa Cup will be contested by the Super Street Bike class. Rounds of the cup will be held at:

1st-4th June: Santa Pod Raceway (FIA Main Event)
10th-12 August: Hockenheimring (NitrOlympX)
18th-20th August: Kunmadaras, Hungary
6th-9th September: Santa Pod Raceway (FIA European Finals)

Sixteen-bike fields will run at all rounds. The rules can be found on the UEM web site.

Dropping rounds
The promoters of the UEM European Drag Bike Championships are all too aware of the extra financial burden being borne by teams in the current difficult financial climate. With the second round at Tierp Arena being announced as a UEM round rather later than expected the promoter has decided, with the full agreement of the UEM, that for 2012 only all teams competing in the UEM European Drag Bike Championships will be allowed to drop one round without penalty.

Class representatives
In order to ensure that the key issues affecting teams are discussed on a regular and open basis, and to encourage good communications between all parties, the UEM promoter is planning to hold meetings on a trial basis throughout the 2012 season, with up to two elected representatives of each UEM Championship class and Europa Cup class.

These meetings will be held together with the Promoter, Organiser, CoC and the Jury President. Each meeting is expected to last around thirty to forty minutes and and will be held approximately half an hour after the last UEM Championship and Cup session on the Friday of the following events:

FIA Main Event, Santa Pod Raceway
NitrOlympX, Hockenheimring
FIA European Finals, Santa Pod Raceway

Full details of all rule changes will be available via the UEM Drag Bike page at www.uem-moto.eu.

Andersens return to Europe.
24th February: Denmark's multiple FIA Championship-winning Top Fuel Dragster team and Eurodragster.com photo kit sponsor Andersen Racing have decided to pack down all their gear, and ship the race car back to Europe.

"It was a hard decision, but we simply do not have the funding to race in the US", say Karsten and Per Andersen. "Racing with some of the best 'teams in the world takes a lot of money, and if you haven't got that, there is no point in even trying. That is one lesson we have learned the hard way. And seeing the low ETs and the reduction in number of competitors in this season's first races clearly tells the same story, no doubt about that."

This decision means that the fastest race car in Europe actually will be back in Europe in time for the 2012 FIA European Championship. Even more importantly, the seat is free.

"We have learned a lot from competing with the best of the best, and we are now hungry for yet another European title", say Karsten and Per. "We have had a dialogue with some drivers but the seat is not taken yet, so we are very interested in hearing from any potential drivers who wants to drive the fastest car in Europe and win the Championship."

If you wish to contact Karsten or Per Andersen, then you can contact Karsten on +45 296 868 19 or ka@andersenracing.dk, and Per on +45 229 352 50 or pa@andersenracing.dk.

Andréasson aims to clean up.
24th February: It was a momentous day for all of our friends in Sweden yesterday as a new Princess was born and and Top Methanol Funny Car racer and Tierp Arena leading light Leif Andréasson signed a new sponsor who will make their first appearance in March when Leif contests the NHRA Gatornationals.

For the next three year's Leif's new Funny Car will be running under the Disab-Tella banner. Disab-Tella manufacture industrial vacuum systems including a revolutionary road sweeper which leaves nothing behind on the road either solid or liquid. The environmental benefits of oil and other noxious substances being removed from the road are self-evident and the application on drag strips is equally obvious.



"The new sweeper is going to be a big hit for Disab-Tella", Leif told Eurodragster.com. "Every city will want one! One of the reasons I went into alcohol racing is that it is environmental. At the race track I have seen it on both sides: we need to improve everything all the time and Disab-Tella know all about the problems we have with rain and clean-up. This new system can suck up all the water at twice the speed as regular sweepers so clean-ups will be quicker. Last year Tierp Arena won the SBF Environmental Award and we need to keep up the good work on that so we have got one of the new sweepers. Disab-Tella are very happy to be involved and will bring a lot of customers to the track."

Leif's new car was previously owned by NHRA racer Steve Harker and was second in its Championship in its last season. Steve will be on Leif's crew all season starting with testing at Valdosta a few days before the Gatornationals at Gainesville. Leif is undecided about any more dates in the USA but plans to contest the entire FIA European Championship this season. "We need to get more Funny Cars into the series", said Leif. "It looks like we have a couple more this season with Jonnie Lindberg and I believe a new car in Finland. I have been away for two seasons although I borrowed my old car from Malta's Chris Farrugia last year. Subject to Chris' business commitments we will try to get him licenced and running in the FIA Championship this season.


"I always give my seasons a name and thanks to Disab-Tella this is going to be "The season we clean up"! The goal is not to be number two and Disab-Tella's Managing Director Lars Lind (left) promised me that we are going to be number one in Europe together."

Leif said that Tierp Arena is keeping him busy. "We have twenty events this season", he said. "I never thought it would be like this when I started it! We have twelve people working full-time at the facility. We have a new gate with a big building, you're going to love it when you see it. The next job is to start work on completing the Tower. The FIA Drag Racing Commission are holding their annual meeting at Tierp this year and we also have a lot of interest from Americans in coming over here."

The Gators, on doctor's orders.

24th February: Swedish Pro Stock Bike racer Ulf Ögge is racing at next month's NHRA Gatornationals on the advice of a doctor, although not his own.

"My Crew Chief Ola was prescribed sun by his doctor, and he was thinking of going to Thailand", Ulf told Eurodragster.com. "Then I told him that we could go to Florida and race there instead, and he beamed like a kid at Christmas!"

Things moved very fast from there culminating in Ulf getting his NHRA licence on Wednesday of this week.

"We will leave for Orlando next Friday, pick up an RV and head to Valdosta Georgia for testing", said Ulf. "Then we will go down to Gainesville for the Gators. We will be working with John Hammock who has already helped us a lot on this adventure. John has looked over my bike and said a lot of nice things to her.

"We are all looking forward to seeing how it is to race in the USA. We will probably send the bike back after the Gatornationals, but you never know!"

Staying with the Gatornationals, Swedish Pro Mod racer Adam Flamholc has announced that he too will be testing at Valdosta and then competing at the Gators. Eurodragster.com US Correspondent Ed O'Connell and Eurodragster.com Photo Editor Roger Gorringe will be attending the race and the plan is to post notes from the European racers' pits here on Eurodragster.com News throughout the weekend.

It's Race Retro weekend!
24th February: This weekend's Race Retro Show at Stoneleigh Park, Coventry starts today (Friday) and Shakespeare County Raceway together with venue owners Long Marston Airfield Sports and Leisure will be exhibiting Roy Wilding's Nostalgia slingshot dragster along with several sprint bikes at the popular annual curtain-raiser to the historic motor sporting season. SCR's Jerry Cookson writes:


Always a popular figure at Shakespeare County Raceway, Roy has very kindly taken time out of his busy workshop schedule at Roy Wilding Nostalgia Race Cars to put his 215-inch blown 417 ci Donovan American-inspired dragster on display in front of the more than 25,000 motorsport fans expected through the gates at this year's show.

Roy has said that during the show he will be carrying out a few daily routine maintenance jobs as well as answering questions and interacting with the public. During the weekend Roy will also be presented with the APIRA Iris Page Memorial Trophy voted for by the readers of Eurodragster.com.

In addition to the 2000 bhp monster, popular NSA Sprint racers Jasper Joy and Phil Steele will have their bikes on display. It took Jasper a total of five weeks to rebuild the ex Paul Mayhew/Mike Taylor Triumph Trident drag bike, which he found in a pile of bits, for its October début at Dakota Drag Strip. After a few checkout runs Jasper soon had the old girl up to 112 mph in just 12.2 seconds. Although the 750cc Triple is currently normally-aspirated, Japser is keen to fit a supercharger to the engine before the start of the NSA season next month.

Phil Steele is going to be a busy man over the weekend! Not only does he have the ex-Keith Parnell Parny Express ZX12R A1 on display but he will also have stand his 750cc blown McCoy-Weslake Triumph drag bike on dispay on the NSA stand, and this bike is expected to make several appearances in the show's fire-up paddock. Paso won't be going for a sub nine-second pass but look out for the ten-foot-long pulses from the machine's twin exhausts!

Also appearing at the show over the weekend will be racing legends Bjorn Waldegard and Roger Marshall as well as Jamiroquai's Jay Kay along with a mouthwatering collection of historic racing cars and bikes, motorsport Autojumble and the Retro Racer Café.

If you're going to the show, Shakespeare County Raceway's stands can be found in Hall 3, N112 and N116. Please stop by to say hello, and to pick up a copy of the track's new Events Guide and flyers for Springspeed Nationals, Yanks Weekend, NSRA Nostalgia Nationals and NSRA Hot Rod Drags. The Portatree reaction timer will also feature along with DVD presentations courtesy of Zeon TV.

The Race Retro Show opens its doors at 9:00 am today and runs until Sunday. Further information can be found at www.raceretro.com.

Welcome apprentices.
24th February: As part of the recently-announced partnership between the Allard Chrysler Action Group and the Institute of the Motor Industry Santa Pod Raceway, the home of European drag racing, has announced a commendable initiative to reward students and apprentices who are part of IMI's new communities: namely free passes to this years FIA European Drag Racing Championship events.

Santa Pod will be inviting any students or apprentices who are part of the IMI's 1st Gear or Accelerate communities to come and enjoy the first days of the FIA Main Event (Friday 1st June) or FIA European Finals (Thursday 6th September) completely free of charge.

Commenting on the initiative, Santa Pod's Marketing Manager Caroline Day said "We're always looking to give something back to the industry wherever possible, and this felt like a great way to encourage the industry's future stars to get involved with the world's fastest motorsport. Not only is it a great day out for these apprentices, but any meeting with Top Fuel is a great way to network and to meet industry people at the highest level. Who knows? Some may even find their true vocation here, too!"

Passes need to be pre-booked at least a week before the event. Groups should contact debbie@santapod.com quoting IMI Schools Offer and individuals should contact emilyh@motor.org.uk.

Smax's silence broken.
23rd February: It's been a while since there was any news from UK ex-pat Smax Smith's camp, but while you probably thought all was quiet on the other side of the Pond Aidan Heatley-Smith says that you should think again:

After acquiring the '48 Fiat altered from Mark Needham back in 2010 we had an awesome 2010/2011 season. The usual ups and downs, but the old man still has it as he tuned the car to a best of 7.29 throwing the belt at 800 feet, and after looking at the incrementals from dad's 1999 run of 6.91/203, all of my times were quicker by two tenths until the belt broke. That ended my season on a high! At the same event dad did some test runs in the Leverich Racing Top Fuel Dragster and after a spectacular fire on the first pass we came out and ran a best for the car, what a way to end a season!



During this off season we have purchased a new trailer so we're busy with organizing that. The Fiat has gone up for sale because and after a long wait we finally have the old Mainline Menace 3 1935 Chevy altered back at home with a brand new chassis under it! It will have a new look, a new 540 ci Big Block Chevy under the hood, new set-up and trailer. We're hoping for an even better 2012 and some Personal Bests!

You can check out our progress and updates on our Facebook page and videos on YouTube.

Voltz energise Springspeed Nationals.
23rd February: Shakespeare County Raceway is pleased to announce a new working partnership with Voltz International to sponsor the first of the Warwickshire drag strip's two rounds of the 2012 UK National Drag Racing Championship, the Springspeed Nationals on 5th-7th May. SCR's Jerry Cookson writes:


The Voltz International brand is currently enjoying several motor sporting sponsorships with the most visible for drag racing being the Voltz Engery Shots promotion on the sides of the Go Hard Go Home Wild Bunch Fiat Topolino of Adz and Dexter Price.

"We have been actively involved in motorsport in the UK and Europe over the last couple of years and this decision to get involved with the guys at Shakespeare County Raceway further supports our investment in this area of marketing and brand investment", says Voltz International CEO Rob Arnold. "Furthermore we also have a large number of sponsorship deals in place to carry us forward into another successful season supporting this area of motorsport."


Voltz Energy Shots is a high-energy drink for high-energy people living high-octane lives, making the brand the perfect combination for drag racing! Voltz International has also been involved with two popular car shows, the Modified Nationals and the French Car Show. More recently Voltz has been riding on the quest of the wave with European Ladies' Open Surfing Champion Sarah Beardmore as well as being featured on the counter of the corner shop in TV's Coronation Street.

"We now have major distribution deals in place in the UK, Europe, India, Australia and the Middle East and continue to grow our business globally", added Rob Arnold.

"We are delighted to be working with Voltz Engery in such a power medium as drag racing", says Jerry Cookson. "Our partnership with Voltz International covering the Raceway's Springspeed UK National Championship round is the shot of energy which the racers will thrive on", says SCR's Jerry Cookson. "Drag racing is a fast paced dash over a quarter of a mile in some of the wildest and hottest looking cars and bikes you'll ever see at a motorsports event, which suits the Voltz Energy branding perfectly."

Further commitments from Voltz International have been extended to a second full season with the Go Hard or Go Home altered, the Junior Dragster League, Bracket Gamblers Race, and the revitalised Pro Street Drag Series.

Webster sets gold standard.
23rd February: Jon Webster of Eurodragster.com sponsor Webster Race Engineering writes with details of his award scheme for Super Street Bike and Topspeed Automotive Street Eliminator in 2012:

We are posting gold awards for the first four vehicles in each class to break the 200 mph barrier: a very significant milestone for street tyred vehicles, which we feel needs to be recognised in a memorable way.



For Super Street Bike the award is appropriately engraved dog tags, significant as each rider has to have dog tags as part of the regulations. The blank tag can be used for their respective ID. For Street Eliminator, no significance to the medallion except that we have already done the gold ring thing for the seven-second barrier.

To receive the award, the first four riders and drivers in each respective class have to break the 200 mph barrier at a National event, and back it up within 1% at the same event. This can be achieved during qualifying and/or eliminations, but not during any open practice or testing.

Power Pour in 8.50 Bike offer.
23rd February: Webster Race Engineering's own fuel additive Power Pour, also a Eurodragster.com sponsor, will continue to support Pro ET and Topspeed Automotive Street Eliminator as in previous years, but Jon Webster wishes to extend contingency support to 8.50 Bike:

We will make supply one can - which treats twenty five litres of fuel - of Power Pour to any 8.50 Bike rider who would consider using our product. This will be for testing purposes only, and we would expect feedback by way of dyno sheets or similar. This will allow them to determine the value of Power Pour to the individual in terms of cost, performance, etc. Our give-away in this situation is to make the product available to the potential end user with no commitment on their part.

There is no detriment in using the product: we just suggest that the user apply the product and tune to their own application to determine whether it is of use to them. So far we have had no negative feedback.

Should 8.50 Bike riders decide to run our product, then they will qualify for £50 per event for the quickest Reaction Time during eliminations.

Power Pour has already spoken for itself when it comes to performance and economy, particularly in high boost NOS-type applications. We have nationwide distribution now, so it is easily and readily available both to your door and/or at the track. Contact Steve or myself at Webster Race Engineering on 01933 315236.

Pro ET sponsorship grows.
23rd February: UK Pro ET racer Mike Lacey, who co-ordinates the class' Sponsorship Scheme, says that more and more sponsors are seeing the benefits of sponsoring the popular class:

Firstly I must say a huge Thank You to Richard Stevens of MPM Oil UK, not only for staying with us but for bringing along not one but three extra sponsors: Marshall Amps, Smokehead Whisky and Unipart. Eighteen of last year's twenty sponsors are staying with us which I think that speaks for itself. Tim Howes of NGK Spark Plus is sponsoring us for 2012, as he is Wayne Nicholson, two of our in-house drivers are sponsoring us via their own companies, Nic Williams of OCS Paint and Simon Gough with Level 7 Construction and Demolition, and last but not least we have sponsorship from Rockauto.com where you can get parts for just about any car going, not just American cars.

I proudly announce the Pro ET sponsors for the 2012 season: Toxico, DS Racewear, Grand Prix Racewear, Hauser Race Cars, Avonside Engineering, Power Engineering, Engine Data Analysis, LA Racing Parts, VP Racing Fuels, Lohrspeed Vehicle Recovery, Penn Autos, Real Steel, Sick Boyz, Topspeed Automotive, Webster Race Engineering and Power Pour, Wolfy's Workshop, Modurstang.co.uk, MPM Oil UK, Marshall Amps, Smokehead.com, Unipart, OCS Paint, Level 7 Construction Ltd, Level 7 Demolition Ltd, Rockauto.com and NGK Spark plugs.

In all a total of twenty six sponsors this year, wow! Thanks to one and all from Pro ET, the best class in the world (so say we)!

Swift snippets.
23rd February: Finnish Top Methanol Dragster racer Esko Raisvuo has the former Mad Bomber dragster sitting in his workshop but it is taking up space and Esko says that he will resort to drastic measures if someone doesn't buy the car soon. "It would be nice if someone used the car in the real world", says Esko. "Otherwise I will cut the chassis to pieces and put all the usable bits on the shelf. I just can't keep the rail in the garage". You can find the dragster for sale on our Jeff Bull Race Engines-sponsored Swap Meet.

It came in time for yesterday's news, but we were not able to fit an update due to a busy time in the day job. So a day late but a very Happy Birthday for yesterday to Paul Wright, misguided conspiracy theorist but DJ of the excellent Shakey Sounds broadcasts at Shakespeare County Raceway. Commentary booth partner-in-crime Barry Bohannon and the rest of the SCR crew join us in hoping that you had a good day Paul. Happy Birthday for yesterday also to Top Methanol Funny Car racer and Eurodragster.com sponsor Dezsoe Krivan. Hope you had a great day Dez.

Spy pic FC revealed.
21st February: Richard Stevens of Eurodragster.com sponsor MPM Oil UK writes that last Friday's spy picture showed one of the Fuel cars which will be running out of the FGR Motorsport camp in 2012:

This car will be officially unveiled in Frankfurt next month, at the Musikmesse event which is the world's leading trade fair in the world of music. As you can see its sponsors are MPM Oil, Marshall Amplification and Smokehead Whisky.



This is still a work in progress, but we have to thank Paul Foote Ink Ltd and FGR Motorsport for their hard work in getting the body wrapped to such a tight deadline, and they have done an amazing job on this for us.

A full set of pictures of the body being wrapped will be posted on the MPM Top Fuel page and the FGR Motorsport page on Facebook.

NGK back Nicholson.

21st February: UK Pro Modified racer Wayne Nicholson is very pleased to announce the fantastic news that NGK Spark Plugs have agreed to support the Lucky Devil team in 2012.

"We have used NGK Plugs for many years and have had great results, so it is a genuine pleasure to have them support us", says Wayne. A big Thank You to Tim Howes at NGK Plugs for his help and support. Another great reason to look forward to the 2012 season."

You can read more on the team's official web site at www.luckydevil777dragracing.com.

Hosetechnik support the Bennetts.
21st February: UK blown-alcohol altered team and Eurodragster.com Bloggers Bennett Racing are pleased to announce their latest sponsor Hosetechnik. Luke Bennett writes:


Hosetechnik's aim is simple: to develop and manufacture a range of braided stainless steel fuel, oil hoses and brake lines suitable for a full range of applications within the automotive  industry.  Nearly every car or bike at the track will have some form of braided hose on. Hosetechnik will be rapidly expanding their range and can even make bespoke hose kits to order.

Bennett Racing were recently invited to Hosetechnik's headquarters, and we have to say it was an ultra-impressive set-up. They are able to supply a range of stainless steel braided hose for use in fuel systems, coolant systems and oil pressure systems available in varying sizes with operating pressures up to 1000 psi.  To complement the hoses they also stock a range of high quality, reusable, aluminium anodised hose joiners. Working alongside a well-reputed hose manufacturer, they are able to produce in-house their own range of performance brake lines suitable for all types of cars, bikes, and off road vehicles. In fact, if it needs brake lines they can probably make a set for you!


Of course Hosetechnik products will feature strongly on all of the Bennett Racing cars including the Relentless Topolino altered, the SuperPower Bantam altered and the DarkSide slingshot. For advice or product queries speak to us at events throughout 2012.

"This is a great opportunity for us to showcase our range of products", says Hosetechnik guru Bill Burdett. "Bennett Racing were an easy choice to work with and we look forward to a long and successful partnership with them."

We are extremely happy to have Hosetechnik join Bennett Racing as a sponsor. They are sure to thrive and as we do with all our sponsors we will do our utmost to promote and support them.

For further information please visit www.hosetechnik.com, E-Mail info@hosetechnik.com or call 0845 838 5364.

Swift snippets.
21st February: One of the least-desired retirements in European drag racing looks to be on hold as UK Top Methanol Dragster racer Dave Wilson tells us that he plans to run at the FIA Main Event at Santa Pod in June and that he may add further dates subject to finding backing. Dave Wilson Racing now have a Facebook page which everyone is cordially invited to Like.

Speedgroup have informed us that Trakbak and Santa Pod Raceway have announced that their events will not be part of the EDRS European Drag Racing Series. Teams with enquiries are requested to contact Speedgroup Co-ordinator Åsa Kinnemar at asa.kinnemar@speedgroup.eu. Speedgroup will provide further information here on Eurodragster.com next week.



Drag racing artist Paul Whitehouse has been in touch with news of his two latest nostalgia Funny Car paintings. The first is the legendary Stardust shown launching in the capable hands of Allan Herridge at Santa Pod in 1973 and the second is Raymond Beadle in his first visit to Santa Pod in 1977 performing a storming burnout in Blue Max. Both of the original paintings are for sale and prints will also be available a very special limited edition print of the Blue Max painting signed by Raymond himself. More details to follow. For more information on the original paintings, or to register interest in the prints, please contact Paul at pwhitehouse3@aol.com.

Steve Dudley tells us that the next slot drag race at MrD Raceway takes place at the Sturdee Social Club at Hoo in Kent on Sunday 11th March. For more details check out the MrD web site at slotdragracing.weebly.com, and for more about the slot drags check out our recent Alamo Rent A Car-sponsored Feature by clicking here.

Award thanks.
21st February: After some time to reflect upon the honour bestowed upon him at the APIRA/SPRC Dinner Dance, Obsession Motorsports Sportsman of the Year winner Darren Prentice has been in touch with his thoughts:

To have been nominated with the other fine names on the list was an honour in itself, but then to have been awarded the Obsession Motorsport Award which is presnted in Terry Gibbs' memory indeed a great moment. To win such an award, especially when it is in the memory of a man who did so much for the sport of drag racing and for Sportsman racing, is indeed a true privilege and will remain with me for ever.

But as ever their are many people to thank as I cannot do this alone. Firstly to all the staff at Santa Pod Raceway: most of these people who go the extra mile so that we can see or go racing, many working behind the scenes and who most people don't know exist, but the show would not go on without them. To all my friends who work so hard at each and every event, whether it be RWYB or a full-blown race event, we really could not do this without you. To Santa Pod Racers Club for your help and support and again friendship. To my family whos help and backing have always been a great comfort and given me the drive to keep pushing forward.

To Eurodragster.com and all of their readers for their votes, thank you. 

James Edgar Memorial Trophy winner Tom Atkinson would also like to thank all of those who voted for him. "It was such a privilege to be on the shortlist and I was completely blown away when my name was called out!", says Tom. "The trophy is sitting proudly on the mantlepiece.

"I'm sure I'll give Colin and Darryl plenty of opportunities to take the mick on the dial-ins thie year."

Web site updates.
21st February: The latest issue of the Allard Chrysler Action Group on-line newsletter is now available and can be checked out at www.drceurope.co.uk/acag/feb2012.

What's all this then?

20th February: From his workshop on Letsby Avenue, UK Pro ET racer Antony Wilkins sends this picture which promises some law and order in the pits this season:

Speeding, noisy parties, pee-taking will all be liable for on-the-spot fines (white, no sugar) and possibly Hobnobs if you're really bad.

On a serious note, the car has gone on a major diet with new panels, paint, ally heads and new intake etc. An idea was formed through work to use the car as a promotional tool working with the Casualty Reduction Partnership. More details to follow.

As soon as my daughter Chloe found out I've not had a moment's peace until it was finished, as she loves drag racing and can't wait for Easter. If only they had one like this on HeartBeat...

2012 Wild Bunch calendar.
20th February: The UK's Wild Bunch Nostalgia Drag Racing Club held their AGM in Swindon on Sunday 5th February, and race co-ordinator Claire Meaddows has been in touch with details of their Series dates for 2012.

The Wild Bunch will be running a nine-round Series for their main contingency sponsor, Real Steel Performance Automotive Products (RS below) with results decided on the best eight of nine rounds. Six of the rounds are run as the Wild Bunch Series (WB below) now in its seventeenth year. This decides the top four placings, with results based on the best five of six rounds. They also run a three-event Roy Wilding Nostalgia Race Cars Series (RW below), from which all rounds count. Many thanks to Roy for his generous donation of a prize fund for each of the rounds. The Club are again running an MSA Event Challenge Series over the four MSA rounds at which they are competing in 2012.

6th-9th April: Easter Thunderball, Santa Pod Raceway (RS 1)
5th-7th May: SpringSpeed Nationals,  Shakespeare County Raceway (RS 2)
26th-27th May: Spring Nationals at Yanks Weekend, Shakespeare County Raceway (WB 1, RS 3)
9th-10th June: June Jubilee at the Super Pull, Shakespeare County Raceway (WB 2, RS 4)
23rd-24th June: NSRA Nostalgia Nationals, Shakespeare County Raceway (WB 3, RS 5, RW 1)
7th-8th July: Mini Showdown, Shakespeare County Raceway (WB 4, RS 6)
14th-15th July: Dragstalgia, Santa Pod Raceway (WB 5, RS 7, RW 2)
25th-27th August: Open Sport Nationals, Shakespeare County Raceway (RS 8, RW 3)
22nd-23rd September: VP Racing Fuels National Finals, Santa Pod Raceway (WB 6, RS 9)

The Wild Bunch are very grateful to Real Steel who have again provided contingency sponsorship, available at all nine rounds, and there is £200 in vouchers to be won by the top four in the Series. This is the twelfth running of the Series, so the club would like to thank the company for their continued support.  

The Wild Bunch are really looking forward to the coming racing season and will be welcoming back all the regulars, as well as some new members and some returning members with their rebuilt cars. They would like to thank in advance: APIRA and SPRC, all marshals, officials, track and safety crews, track managers, promoters, the Eurodragster.com staff for all they do (Thanks, you're welcome - Ed), photographers,  media, and event organisers for all their hard work, time and efforts. We wish every racer all the best for a quick, safe and sunny 2012. Have a great season, see you at the drags everyone!

Further details can be found at www.the-wild-bunch.co.uk.

NAST's Dinner Dance.
20th February: National Association of Supertwins Chair Bev Batsford has been in touch with her impressions of last weekend's joint APIRA/SPRC Dinner Dance and Trophy presentation:

Firstly a huge Thank You and Well Done must go to everyone who put so much effort into organising the event, especially Yvonne and Spencer Tramm, Julie Wilcox and Angie Woods.

I would like to add my congratulations to my best mates Beth and Paul Satchell on being awarded the Anya Yates Memorial Trophy. I know that this has very special meaning to Beth. It was a pleasant and unexpected surprise for both Nigel and I to be nominated for the Endeavour Award and we send our congratulations to the winners the Supercharged Outlaws.

The Supertwins' trophies were presented first. I collected Ian Felstead's Supertwin ET runner-up trophy whilst Simon Clamp proudly collected his Champion's trophy. Nigel collected Chris Mott's Supertwin Gas runner-up trophy whilst Dave 'The Hat' Smart proudly collected his Champion's trophy wearing a new hat especially for the occasion. Ian and Chris will be presented with their trophies at our first race meeting at Shakespeare County Raceway in May. Congratulations guys, didn't we all look smart!

All who attended would agree the whole evening was very enjoyable, being able to catch up with everyone prior to the start of the season which is not that far away now. And what a lovely and unexpected surprise it was to see Paula Marshall! Well done to Paula and Ian on their awards.

Looking forward to 2012 season! It will be a good one.


Web site updates.
20th February: Our good buddy Jon Spoard has updated his excellent UK Drag Racing Nostalgia web site with the addition of the 1973 season to the Entry Lists and Results section. "1973 included the first race at Long Marston Airfield and Wroughton, whilst Santa Pod welcomed American visitors Don Schumacer, Paula Murphy, Tony Nancy and Danny Johnson", says Jon. "Thanks to Clive Rooms, Jerry Cookson and Nick Pettitt for making this possible". You can check it out at www.ukdrn.co.uk.

MoTeC, Owens post UK contingency.

19th February: Alan Cook of Owen Developments has been in touch with the exciting news that MoTeC Europe have upgraded Owens to distributor status. Owens have also been awarded their own joint Owens and MoTeC corporate logo (right). "We are very proud to be awarded this status, and to have our own joint MoTeC Owens logo is a great honour", says Owens executive director Christy Harrison.

Owens and MoTeC Europe are also very excited to announce a joint contingency sponsorship programme to sponsor all national rounds of Pro Modified, Topspeed Automotive Street Eliminator, and ACU Super Street Bike. The winner of each class will receive £250 in cash at the track, plus a bagful of MoTeC goodies. To qualify for MoTeC contingency sponsorship programme, competitors need to run MoTeC and Owens decals on either side of the car or bike. It doesn't get any easier than that!

"MoTeC Europe is delighted to be working in partnership with our Distributor Owen Developments to support customers and promote the use of our engine management and data logging equipment in conjunction with Owen's turbo and motorsport preparation expertise" says Peter Jackson, General Manager of MoTeC Europe. "We are both looking forward excitedly to the start of the season and our higher level of involvement and commitment to support the Pro Modified, Street Eliminator and Super Street Bike categories in UK drag racing."

A brace of sponsorships.
19th February: UK 8.50 Bike racer Jake Mechaell is pleased to announce a new sponsorshop from motorcycle clothing and accessory supplier Hein Gericke. "Hein Gericke is a well-established company with more than forty five stores in the UK", says Jake. "You can check out their wide range of clothing and accessories at www.hein-gericke.co.uk."

2011 Wild Bunch Champions Team Gridlock are delighted to announce their latest sponsorship with Fester Race Cars. Fester's owner Bill Felsted is pleased to back the Go Hard or Go Home car for 2012 and is looking forward to some interesting collaborations during the race season and into 2013. "Bill built the existing chassis at the end of 2010 and we have been extremely pleased with its performance", says team spokesman Dexter Price. "I have known Bill for many years and to me he is Mr Altered. We have been very pleased with everything he has done and now that he is backing the car this season I am sure we can put up a good fight in our title defence. The car will be displaying the Fester Race Cars logo throughout 2012 and into 2013."

Racers in the news.
19th February: In addition to winning the APIRA Sportsman ET Championship and being presented with the first McDonald Racing Ireland APIRA/SCR Best Newcomer trophy, UK Sportsman ET racer Nicole Parker has been further honoured by appearing on the front page of her local newspaper, the Central Somerset Gazette writes Jerry Cookson. "Well done Nicole and dad John, the perfect end to a perfect season", says Jerry. "Let's hope this year is just as rewarding!"



Also making the media in his native Netherlands is double European Top Gas Series Champion and regular Eurodragster.com contributor Herman Jolink. Herman is the subject of a feature in the fortnightly Motoplus magazine. 2012 will be Herman's thirty seventh year in drag racing, always on Ducati bikes, and he has a busy season lined up with no less than fifteen race events and exhibition appearances on his provisional calendar.

Click on either image above to check out the articles (PDF format).

One for the team.

19th February: With no European racers competing at this weekend's NHRA Arizona Nationals at Firebird International Raceway in Phoenix, Eurodragster.com Photo Editor Roger Gorringe and honorary Eurodragster.com staff member Andy Willsheer stepped into the breach.

The two photo-journalists on hand to cover the Full Throttle National event received an invitation to join the NHRA Media Race on Thursday. All participants ran the quarter mile in a series of Ford Fusions. On a fine warm day only one practice pass was allowed then straight into eliminations. Andy went out in round two whilst Roger lost in round one (You're fired - Ed). Best performance for Andy was 15.530/89.93 and 15.619/89.66 was Roger's best run.

"After forty years working on the safer side of the wall, this was a first for me" said Roger. "My first time driving down any track in anger and it was great fun. I wish I had gone further in competition but my reaction times were pretty poor despite being tutored and staged by Funny Car Champion Matt Hagan. The winner's trophy went to popular Arizona photographer Mark Rebilas, son of longtime quarter mile photographer Gil Rebilas.

Heini Habermann 01.05.1935-15.02.2012.
17th February: We were very sorry to hear from Timo Habermann of the death of his and Dennis' beloved grandfather Heini Habermann. Timo and Dennis write:

After a long battle against a serious illness our dearly beloved Grandfather left us peacefully. Since the seventies Heini was a successful and well known-member of the European world of drag racing. It made him so proud to run his final race against us at the 2005 Night Show in Hockenheim. He watched all of our races from home with great excitement and enthusiasm and attended Hockenheim every year without fail.



Heini was a major mentor for us, he set his goals and achieved them and fought to the end. He will be in our hearts forever, and we will fight to achieve our goals just as he taught us.

Your forever loving grandsons Timo and Dennis.

Heini's funeral will take place on Wednesday 22nd February at 13.30, at the cemetery in Langenselbold. Our deepest sympathies to Timo and Dennis and to the whole Habermann family.

2012 SBF Championship calendar.

17th February: Many thanks to Lars Pettersson for forwarding us the calendar for the 2012 Swedish Automobile Sport Federation Dragracing Championship. Sundsvall Raceway is back in the Championship with the Hall & Kapell Nationals in July.

Pro Modified

All events count towards the Championship.

12-13/5: NDRS Motor Club EDRS Nationals, Tierp Arena
14-17/6: NDRS Motor Club Sweden Internationals, Tierp Arena
23-26/8: NDRS Motor Club Scandinavian Internationals, Tierp Arena
28-29/9: NDRS Motor Club Race and Rock - Sweden Finals, Tierp Arena

Competition Eliminator

All events count towards the Championship.

12-13/5: NDRS Motor Club EDRS Nationals, Tierp Arena
14-17/6: NDRS Motor Club Sweden Internationals, Tierp Arena
13-15/7: Skellefteå Motorsällskap, Gold Town Summer Nats, Fällfors Raceway
20-22/7: SHRA Sundsvall Hall & Kapell Nationals, Sundsvall Raceway
28-29/9: NDRS Motor Club Race and Rock - Sweden Finals, Tierp Arena

Stock Super Stock

All events count towards the Championship.

12-13/5: NDRS Motor Club EDRS Nationals, Tierp Arena
14-17/6: NDRS Motor Club Sweden Internationals, Tierp Arena
13-15/7: Skellefteå Motorsällskap Gold Town Summer Nats, Fällfors Raceway
20-22/7: SHRA Sundsvall Hall & Kapell Nationals, Sundsvall Raceway
11-12/8: SHRA Lindesberg Linde Open, Lindesberg Raceway
28-29/9: NDRS Motor Club Race and Rock - Sweden Finals, Tierp Arena

Junior Dragster (JSC)

Six of ten events count towards the Championship.

12-13/5: NDRS Motor Club EDRS Nationals, Tierp Arena
2-3/6: SHRA Lindesberg Drag Nationals #4, Lindesberg Raceway
14-17/6: NDRS Motor Club Sweden Internationals, Tierp Arena
30/6-1/7: Borlänge Dragracing Club Borlänge Street Open, Dala Airport
6-8/7: SHRA Luleå Midnight Sun Internationals, Pite Dragway
13-15/7: Skellefteå Motorsällskap Gold Town Summer Nats, Fällfors Raceway
20-22/7: SHRA Sundsvall Hall & Kapell Nationals, Sundsvall Raceway
11-12/8: SHRA Lindesberg Linde Open, Lindesberg Raceway
23-26/8: NDRS Motor Club Scandinavian Internationals, Tierp Arena
28-29/9: NDRS Motor Club Race and Rock - Sweden Finals, Tierp Arena

Dragracing marknad.

17th February: Staying in Sweden, Johan Samuelsson writes that all are welcome to this year's Drag Racing Swap Meet which takes place this Saturday (18th) at the Norrköpings Mässhallar, close to the E4 motorway about sixty kilometres north of Mantorp Park (map).

"All of the pitches are reserved by sellers from all over Scandinavia", says Johan. "There will be new and used street and drag racing parts on the stands."

The main entrance opens at 09:00 and gates close at approximately 15:00. During the day there will also be meetings with some of the Swedish drag racing class associations.

For more information about the drag racing swap meet, admission fee or road directions etc please drop an E-Mail to amk@abymotorklubb.se or call +46 11 69833.

Swift snippets.
17th February: The latest spy picture to arrive at the offices of Eurodragster.com came with no words at all. If you know more, or if you would like to send your own spy picture, then drop us a line at eurodragster.com@btinternet.com.



UK Pro Modified racer Wayne Nicholson and the Lucky Devil team attended last weekend's APIRA/SPRC Dinner Dance. "Usually we don't look this smart, but hopefully you will agree that we don't look too bad!", says Wayne. "It was a pleasure to be awarded the third place trophy for the MSA British Drag Racing Championship. Now we have to make sure we improve on third place in 2012! A great night was had by all, and thank you to all our ladies for supporting us". You can find more pictures at www.luckydevil777dragracing.com."

PMR plan Bruiser TS date.
17th February: Paul Marston Racing have been hard at work on the PT Bruiser, which they luckily managed to get back from Bill Felstead's Fester Race Cars emporium before the snow arrived. PMR are now planning the Bruiser's first outings:

Now comes the recommissioning of all the systems which have been sitting dormant for the past years. The Bruiser will compete in Super Pro ET but I also hope to find a way to run the it with its Jari Konola Pro Stock Chrysler wedge motor in UK Top Sportsman. It has always been disappointing that there has never been a class to run the Bruiser heads-up without major changes. With the second Top Sportsman event scheduled for the Mopar Euronats at Santa Pod Raceway in July, there is now an event where PMR can run the PT Bruiser heads-up and really see what she can do.

At Dragstalgia last year Top Sportsman had twenty four teams fighting it out over two events in two days for a very nice prize purse. This year we will hopefully see the same number of entrants and the same fast action. With two races over three days this time, there will be something for everyone. The two events have been reversed: the bracket race will be held on the Friday and should be completed on the day. Qualifying for the sixteen-spot field heads-up race takes place on Saturday afternoon, with eliminations on Sunday. Come what may, we will see who has the guts to step up to the plate and be crowned, it's gonna be earned the hard way. Entry fees are the same as last season. To register your interest or to enter the event, check out www.topsportsman.co.uk.

Custom Chrome lay down a Challenge.
17th February: Shakespeare County Raceway is pleased to announce a new association with Warwickshire-based high-performance exhaust manufactures and suppliers Custom Chrome Racing as sponsors of the right hand lane for 2012 to complement existing left lane sponsors Piston Apparel. In addition to the lane sponsorship, Custom Chrome will also be putting their name to one of the Warwickshire drag strip's early-season Public Track Days, the Custom Chrome Cherry Bomb Challenge scheduled for Sunday 22nd April. If successful another Challenge is likely to be added to the calendar in September or October.


Former sponsors of several early dragsters and a Ford Pop campaigned by Roy and Angie Wilding, Nuneaton-based Custom Chrome have made a huge name for themselves as manufacturers of the world-famous Cherry Bomb exhaust systems seen in the seventies and early eighties drag racing and the traditional world of hot rodding. Managed hands on by brothers Graham and Nigel Swift, Custom Chrome Racing has made such an impact in the automotive world that in Nineties the company was commissioned by Birmingham's Gas Hall Museum to manufacture a motorcycle exhaust sculpture. Custom Chrome was also selected to supply its popular Cherry Bomb exhausts for the stunt boats used in the James Bond movie The World Is Not Enough. However, filming for the boat chase was interrupted after a complaint by politicians about the noise!

"This is a fantastic opportunity for us to showcase our performance products, along with the massive revival of Cherry Bomb in both its original form and new stainless versions", says Nigel Swift. "We are both fans of the American car and bike scene, having owned and raced several cars at the Raceway when it was known as Long Marston and Avon Park. Our association with Roy and Angie Wilding all those years ago was successful then so we see no reason why our name shouldn't be seen again at the track and in front of a younger audience."

For well over thirty years the company was involved with Spyker Cars of Holland developing prototype exhaust systems for its sports car range. A similar association has also been established with blue chip companies Jaguar, Land Rover, Peugeot and Noble Motorsport. TV work also followed with Custom Chrome's popular tail trim finishers installed on a customised Ford Capri commissioned by the Chop Shop programme for retired rugby star Lawrence Dallaglio.

"We are thrilled to have Custom Chrome Racing on board as a sponsor", says SCR's Jerry Cookson. "The name has been seen many times over here at the Raceway with their association with Roy but to actually have the Custom Chrome name over the scoreboards and for Graham and Nigel to sponsor a day for the grass-roots racers of tomorrow is fantastic news. I hope that the day in April is successful enough to allow Custom Chrome to back further events in 2013 with a series of Cherry Bomb Challenges."

For further information please visit www.custom-chrome.co.uk or for a catalogue please E-Mail sales@custom-chrome.co.uk. For event details stop by the Events page on the Shakespeare County Raceway web site at www.shakespearecountyraceway.com.

Malta's Micallef goes Top Fuel.
15th February: Malta's Duncun Micallef is to drive in Top Fuel Dragster this season. Duncun will be licencing in one of Rune Fjeld's Top Fuellers at the Autotrader Easter Thunderball at Santa Pod Raceway in April and the plan is then to contest the class at June's FIA Main Event.


Duncun has raced for the last five years in cars running under the Telephone Box name. He started his career in a T-Bucket and most recently drove a Top Methanol Dragster in which he recorded a Personal Best of 5.83 seconds at Hal Far Raceway's final event last season.

"Duncun is a very talented and also a quick learner", says Malta Drag Racing Association Secretary Jason Camilleri, to whom many thanks for the second news item about Malta in twenty four hours. "He likes to take things step by step and not to rush into them. He strongly believes that he can do it, and we are willing to help him in any way possible."

Duncun will be driving Rune Fjeld Motorsport's orange and black dragster most recently driven by Finland's Antti Hortto and the UK's Shelley Pearson and Laurie Bamford. The crew will be the same which supported Antti but the plan is to introduce some Maltese team members also.

"Duncun would like to thank Rune for giving him the chance to run his car", adds Jason.

Two of two.
15th February: Subsequent to Monday's spy picture, the UK's Simon Gough and the Red Hot team have decided to break cover and let the world know what lies ahead for 2012 and beyond:


After a somewhat eventful start to the 2011 season with the Bel Air, the current '68 Camaro was sourced from close friend Barry George and things finally started to move in the right direction. 2011 was our first year in drag racing and it couldn't have been in any better place than Pro ET. A fast learning curve was needed to be competitive and there was no shortage of help and advice from some now good friends, and we were more than pleased with the  improvements during our rookie year.

Anyway being laid-back, shy retiring types we had a little chat with Jamie from our sponsors US Autoparts and after a few beers and some base jumping from the Winnebago steps the plan was formed to have a brand new car built by Alston's Race Cars, for which US Autoparts had just been awarded the UK dealership.


So the 2012 Camaro is now well underway as you can see from the pictures. It is being built to 7.50 spec. The body is from VFN whilst the suspension and brakes are by Strange. It's having a full chromoly fabricated rear end again built in house by Alston's and will be rolling on some awesome Weld beadlocks. The plan was to transfer the John Sleath built 540 ci motor and TH400 trans from the '68 Camaro into the new car but it looks like this might change quite soon, as we have started looking for another motor and trans so that we can run the two cars together. You will have to watch for the updates on that one.

We are hoping to have the new car here around the end of April and then the last few jobs will be finished off over here. Hopefully we will make some shakedown runs mid-season and maybe a couple of rounds of Super Pro ET.

All this has been made possible by a few good people whom it goes without saying I would really like to thank, so here goes with the Oscars speech: my wife Sharon, Crew Chief Carl (Carlos Fandango), Jamie and Dick at US Autoparts, John Sleath Race Cars, the Huxleys, Dave (The Gent) Gane, Barry George, and Roy (Wake up it's your turn) Walker. If there's anyone I've missed then sorry but you know that anyone who helped us out is most appreciated.

With a little help from his friend?

15th February: Perhaps it was the fact that Eurodragster.com sponsor Derek Flynn was helping out on the Larry Miersch Top Alcohol Dragster team that they made their best outing yet by finishing runner-up in the opening Lucas Oil Sportsman Series at the weekend's NHRA O'Reilly Auto Parts Winternationals in early February. Derek can be seen behind the car wearing his usual leisure pants as the car launches.

Larry suffered tyre shake and got close to the centre line on a 5.503/267, and the event win went to Chris Demke's blown car which recorded a great 5.281/270. 

The event suffered a vast range of temperatures plunging from Thursday and Friday's mid eighties to low, rainy fifties for Saturday and Sunday with a lot of the Sportsman eliminations having to be concluded on Monday. 

Eurodragster.com Photo Editor Roger Gorringe will be submitting a race summary and photo gallery as soon as time allows. Roger is currently headed for this weekend's NHRA Arizona Nationals in Phoenix, Arizona.

Swift snippets.
15th February: We have a spy picture and a workshop picture for you today. The spy picture came with no i.d. but the E-Mail did contain a promise that we will be sent pictures of the finished article. If you know more, or if you would like to send your own spy picture, then drop us a line at eurodragster.com@btinternet.com.



The workshop picture comes courtesy of Dean Clatworthy and shows VWSP20 at Volkswagen Drag Racing Club sponsor WRP getting a new look for 2012.

Brian Taylor writes that the next Allard Chrysler Dragster Work-In Day will take place at Andy Robinson Race Cars on Sunday 26th February. Skilled and unskilled volunteers are welcome as there is plenty to do. Super Chef and Eurodragster.com Team Nutritionist Syd Mcdonald is providing food. "It's just like Boyd Coddington's American Hot Rod TV series, but colder", says Brian. If you can help then please E-Mail roberrl-1@robinson-race-cars.co.uk.

Dinner Dance thanks.
15th February: Ian Marshall of Santa Pod Racers Club has been in touch to thank those who helped with the weekend's APIRA/SPRC Dinner Dance and Trophy Presentation. Ian says that thanks are due to:

Paul Marston for sorting out the voice-only PA system which he stayed on top of all night to make sure that it performed as well as it did; Tog for sorting out the trophy slides, pictures and text, and all the other things that he has done in the background (Thanks, you're welcome - Ed); Yvonne Tramm for sorting all the bookings, tickets, table plans and all the other stuff which goes on behind the scenes, this also goes to all the girls of APIRA; all those who supplied raffle prizes; Darryl Bradford and Barry Bohannon as comperes. And finally to the whole audience for their respectful silence during most of the presentations - a special thanks to the people to the back of the room who either shushed or told people to pipe down once or twice, they are all booked for next year.

On a personal note, to all the people who made Paula's evening so special (i.e. everyone), Thank You is simply not enough.

NFAA do the honours.
15th February: Matt Glassup writes that the UK's Nostalgia Fuel Altered Association's second Dinner Dance and awards ceremony to be held at Ettington Chase really seemed to sneak up on everyone this year – and what a well attended affair it was:

Firstly, a massive thank you must go to Bob and Catherine Glassup for their part in organising and making the event possible. Bob was unable to attend due to a recent operation on his back – it wasn't the same without you Bob! The second casualty to ill health was the class founder and co-coordinator Lawrie Gatehouse – get well soon Lawrie, you were sorely missed, and my duties on the microphone were inflated due to your absence which meant that the class had to endure far more umms and ahhs than found in your excellent public speeches.

Those two absences aside, there was a surprisingly great turnout after what had been a difficult year for the class as a whole. The food was fantastic, the music was an improvement on last year and everyone really seemed to have a great time. Thank you to Bill Sherratt for handing out the awards, it was great to have you along. Thanks to David and Helen from Quarter Mile High who came along with the Nitro Warriors DVD and hopefully sold a good few copies to racers and crew.

Congratulations must go to the winners of Best Appearing Car the Nuthin' Fancy Team, and Best Appearing Crew the Chaos Team. Joe Bond had made noticeable improvements to his car for the 2011 season and it was clearly noted when it came down to voting. Lawrie's team had been impeccably presented as always with team attire and showmanship on the track, at the forefront of the team Chaos agenda.

With Joe scooping his second Championship victory, it would be safe to say that his team were in high spirits. Having just sold his spare motor, it looks like Joe is set in to invest and improve in 2012. Well done once more to Chaos and Motor Psycho for your second and third places respectively.

Lastly, a massive thank you must be said to all the attendees. Without your support and continued involvement, there wouldn't be a Dinner Dance. We hope you had a great time and, as always, any feedback is always welcome at info@nfaa.co.uk.

Web site updates.

15th February: Our good friend and occasional stand-in photographer Julian Hunt has updated his gallery site at www.julianhunt.net with a large set of pictures from last September's VP Racing Fuels National Finals at Santa Pod Raceway. As ever Julian's excellent pictures cover a range of subjects both on- and off-track.

Pro Mod team member Danny De'ath is on a shortlist to win sponsorship from Pro Decals for his motocross operation. As part of this contest Danny had to make a video and attract as many viewers as possible. If you would like to help Danny then you can check out his video at www.youtube.com/watch?v=qRmfqxmPfQc. Every view counts so you know what to do.

MDRA plan for 2012.
14th February: Malta Drag Racing Association Secretary Jason Camilleri has been in touch to bring us up with the MDRA's plans for Hal Far Raceway for 2012 as well as some more information about Chris Polidano's recent Top Methanol Dragster licencing:

This year the MDRA has decided to extend the day events to three days. They will start on a Friday with a Test and Tune day which will give our competitors more practice runs. This year's MDRA calendar is as follows:

3rd March: Run What You Brung
16th-18th March: Race event (closing date 11th March)
31st March: MDRA for Charity Car Show
21st April: Run What You Brung
4th-6th May: Race event (closing date 29th April)
20th July: Run What You Brung (night)
3rd-4th August: Night race event (closing date 26th July)
15th September: Run What You Brung
28th-30th September: Race event (closing date 23rd September)
10th November: Run What You Brung
23rd-25th November: Race event (closing date 18th November)

Daytime events commence at 1:00 pm Friday, 10:00 am Saturday and 9:00 am Sunday. Night events commence at 5:00 pm Friday and 5:00 pm Saturday.

Lee Child will be prepping our track for the whole of the 2012 season.

MDRA is constantly improving its facilities so that we can attract foreign racers to test and race in Malta where the sun is out for 95% of the year! Our plan for this season is to construct a building for scrutineering and track equipment storage. This building will be made possible with the helping of the Malta Motorsport Federation with which MDRA affiliated a year ago since when we have been working together for a more professional track and surroundings. The facility will also be used for karting, drifting, motocross and other related motorsport activities whilst the drag strip is not in use. This will in no way interfere with our drag racing activities and will make our facility more attractive.


Chris Polidano recently held a test session with Derek Flynn's A/Fuel dragster which is now the property of the Kalanc Racing Team. These passes entailed successfully starting, burnout, reverse and staging the car in a professional manner and included launch only, two half-passes with chutes deployed, 800-foot pass with chutes deployed and two full quarter mile passes, the first 5.91/235 and the second 5.99/187.

All runs were completed in a professional manner. Driver Christopher Polidano was in complete control of the race car at all times. The race team and car were also presented and managed in a professional manner, with all equipment meeting or exceeding current SFI specifications. The runs were managed and observed by Derek Flynn, the former owner and driver of the car. All runs were officially observed by myself and by Paul Pace, MDRA President and timing official.

The Kalanc Racing Team is planning to run the whole FIA Championship in 2012, so this will be the third Top Methanol racer from Malta this year. I think we are in the majority here but it's points and races which matter!

You can find some interesting video clips at www.youtube.com/watch?v=OJ56I1FDO1A and at www.youtube.com/watch?v=nFZUcqH7cKA.

Did you get the reference?

14th February: The spy picture of 4th February turns out to be the latest upgrade to UK Pro ET racer Kim Bishop's Willys:

Having owned the Willys for over twenty years in more styles than can be remembered, Kim is to add an 8-71 BDS supercharger to the Big Block Ford. Other changes for this year will be the driving duties which are now shared between Kim and Mark Bishop. Mark has sold the Vegas Hustler altered to a local family who we're sure will be in touch about their new acquisition soon.

The plan for this year is just to test and to return to competition in 2013.

Well done to anyone who got the clue in the spy pic... Brian Addison was the character in the film Hot Rod who drove the grey-primered Willys!

BDRHoF inductees presented.
14th February: The official presentations of the 2012 British Drag Racing Hall of Fame awards took place as part of the joint APIRA/SPRC Dinner Dance and Trophy Presentation on Saturday. Brian Taylor writes:


Thanks to some flexibility afforded by the organising clubs the BDRHoF were able to present the crystal tablet Bootsies to Frank and Phil Brachtvogel, Barry Sheavills, Dave Lee Travis and Carl Olson. DLT was able to have his presentation earlier in the evening than usual as he had to leave promptly to prepare for his live Sunday radio show.

British Drag Racing Hall of Fame Chairman Stuart Bradbury was joined by Steve Trice, Technical Director of US Automotive to hand out the awards, and for the first time at this event Brian Taylor was handed the microphone to compere the presentations.


All inductees were given time to express their feelings to those attending about receiving this accolade, something which is becoming a prestigious honour across the drag racing world. Probably Carl Olson's attendance demonstrates this most clearly. He flew into Heathrow at 10.15 on Saturday morning and departed Heathrow for Los Angeles on the Sunday afternoon – missing the Don Garlits 80th birthday celebrations at Pomona to be with us in the UK.

The new BDRHoF Private Reception prior to the dinner gave time for the inductees to get to know each other before the presentations, and for the press to carry out interviews. Dave and Carl were able to wander around and greet people during the dinner, as well as sign a few autographs of course.

We think that it went quite well but the BDRHoF is always pleased to receive comments about how we can improve things.

Tony Murray's presentation will be made at the Pennine Drag Racing Club event to be held in Bradford on 24th February.

Full details about the inductees can be found on the British Drag Racing Hall of Fame web site at www.britishdragracinghof.co.uk.

Swift snippets.

13th February: The latest spy picture to arrive at the offices of Eurodragster.com came with the words "Two hot to handle". If you know more, or if you would like to send your own spy picture, then drop us a line at eurodragster.com@btinternet.com.

One Perpetual Award which was not presented at the UK Championship Dinner Dance this year was the Red Light Trophy, which as it says on the tin has been awarded to the racer who pulled the most red lights during a Championship season. However timing guru Andy Marrs of TSI Timers Europe still did his usual totting up and tells us that the Trophy would have gone to Junior Dragster racer Jacob Kopasz, with Pro ET racers Dave Cherrett and Deborah Laugher a very close second and third with one cherry less apiece. No shame here guys; as we all know, if you don't redlight occasionally then you're not trying hard enough.

The first of what we guess will be a number of picture updates from Saturday's APIRA/SPRC Trophy Presentation is a gallery of the APIRA and British Drag Racing Hall of Fame presentation shots by Dave Derry. Jerry Cookson tells us that you can check out Dave's presentation pictures on the APIRA Facebook page.

We would like to wish a very Happy 65th Birthday to Santa Pod Raceway CEO and UEM Championship Promoter Keith Bartlett. Have a great day, Keith.

Top Methanol tuner Will Hanna writes to ask if we had seen the latest music video by Karina Hanssen, daughter of 2011 FIA European Top Methanol Dragster Champion Fred Hanssen. We hadn't, but we checked it out at www.youtube.com/watch?v=fOlxzNUvlGo and found it most enjoyable. Fred joins the still much-missed Kim Reymond on the list of racers who don't look old enough to have children of that age, but we find it impossible to hold against the likeable Champ.

Web site updates.
13th February: In the latest instalment in his exclusive Racer Blog presented in association with Alamo Rent-A-Car street-legal Pro Modified racer, and winner of SPRC Best Appearing Car for 2011, Andy Frost notes that there are seven weeks to go to the start of the 2012 season and reacts to his latest trophy. As ever you can stay in touch with the latest Blog updates by clicking here or by clicking on the Alamo Blogs link on the left-hand side of any Eurodragster.com page.


Our good buddy Jon Spoard has updated his excellent UK Drag Racing Nostalgia web site with an audio recording of the July 1972 internationals from Santa Pod Raceway. "The recording features a classic battle between Dennis Priddle and Clive Skilton and the crash of the Hillbillies Transcontinental Funny Car", says Jon. "You will also hear many of the other big runners from 1972 such as Dave Stone, Harold Bull, John Whitmore and more". You can check out this and Jon's other audio clips at www.ukdrn.co.uk. Whilst on the UKDRN site check out the cornucopia of old pictures, entry lists, results, video clips, one of the most informative and best-managed discussion forums anywhere on the Web, and a lot of other features.

Eurodragster.com Bloggers Bennett Racing are very pleased to announce a Kids' Zone on their web site at www.bennettracing.co.uk/kidszone. "Click on the link now and download free colouring pages of the Relentless altered, get your kids to colour them in and send them to us using the upload form on the Kids' Zone page and we will post them for your kids to see their handiwork!", says Luke Bennett. "Please remember to include their name, age and your location and we will post into the gallery. There are currently six pictures to chose from. Great fun for the kids especially with half-term approaching!"

UK Champions, Perpetual winners honoured.
12th February: The winners and runners-up in the 2011 UK National Championships, MSA British Drag Racing Championship, APIRA and Santa Pod Racers Club Championships, and British Drag Racing Hall of Fame inductees were presented with their trophies at the joint APIRA/SPRC Dinner Dance and Trophy Presentation in Solihull last night (Saturday). The winners of APIRA's Perpetual Awards and SPRC's Perpetual Awards and Obsession Motorsports Sportsman of the Year trophy, for whom Eurodragster.com readers had the chance to vote, were also presented with their trophies.

Congratulations to the Perpetual Award winners:

APIRA Iris Page Memorial Trophy: Roy Wilding
APIRA Alan Wigmore Memorial Trophy: Chris and Stacey Reed
APIRA Endeavour Award: The Supercharged Outlaws
SCR Award for Outstanding Achievement: Joe Bond (Nostalgia Fuel Altered Association)
SCR Sportswoman of the Year Trophy: Carla Pittau (Pro ET)
Anya Yates Memorial Trophy: Beth and Paul Satchell
McDonald Racing Ireland Trophy: Nicole Parker (Sportsman ET)

Wild Bunch Derek and Brenda Annable Award: Ian and Paula Marshall

SPRC Most Promising Newcomer: Stacey Reed (Junior Dragster)
SPRC Best Appearing Car: Andy Frost (Pro Modified)
SPRC Best Appearing Bike: Al Young (Funny Bike)
SPRC Most Professional Appearing Team: Team Reloaded (Super Pro ET)
SPRC James Edgar Memorial Trophy: Tom Atkinson (Super Pro ET)
SPRC Paul Giddings Memorial Trophy: Wayne Saunders (Super Street Bike)
SPRC Alex Brachtvogel Memorial Trophy: Paula Marshall

John Ledster Memorial Trophy: Paula Marshall

Obsession Motorsports Sportsman of the Year Trophy: Darren Prentice

Super Modified Racers' Association Crew Chief of the Year: Steve Clark

British Drag Racing Hall of Fame
The Brachtvogel Family
Tony Murray (To be presented by BDRHoF Chair Stu Bradbury at the PDRC Dinner Dance)
Barry Sheavills
Dave Lee Travis
Carl Olson

It was particularly pleasing to see Santa Pod Racers Club Secretary Paula Marshall at the Dinner Dance and receiving her well-deserved trophies. Everyone who knows her will know that Paula is not taking her illness laying down and we all wish her our love and best wishes for her continuing recovery.

Eurodragster.com would like to thank SPRC and APIRA for the kind and much-appreciated gesture of naming the Dinner Dance tables for Eurodragster.com sponsors.

Rodman's new ride.
12th February: It has been a busy few months for UK Supertwin racer Shawn Rodman and the AFB Racing team since the end of last season, both practically and on the decision-making front. Team member Nick Saunders writes:

2011 started very well for us at Easter, with a new Personal Best and more importantly a good clutch set up. However at our next race, and our first entry at a UEM event, our motor let go terminally. With limited spares for the bike, a decision needed to be made about going forward.

During lengthy discussions with Martin Newbury of Psycleworkz, he tabled the idea about developing an all-billet nitro Harley engine. Knowing of Martin's extensive experience with building Top Fuel bikes, we jumped at the chance to be a part of such a project. The decision was made to order the parts we needed for the damaged Fast Cat motor, and to rebuild the bike ready to be sold.



Six months on and the Fast Cat bike has just been sold and is making its way over to Sweden. Having just returned from a visit to see Martin and Cindy at Psycleworkz, we are delighted to report that the new bike is coming along nicely. Martin and Cindy were as welcoming as ever, kindly taking the time to show us the design work which has been completed so far, along with some aluminium billets ready to be machined and the chromoly tubing ready for the new chassis.



We are hoping to get out and test the new bike before end of 2012, with a view towards competing again in 2013. With Martin looking after the new bike build, we are keeping ourselves occupied fitting out a new race truck ready to transport a much bigger bike and of course trying to bring in additional sponsors. We are keeping our web site at www.afbdragracing.co.uk up to date and we have recently added a Blog at afbdragracing.wordpress.com, so please check those out.

Everybody at AFB Drag Racing would like to thank those who have supported us thus far, and whose products and knowledge are world class.

AFB Motorcycles: The South West's leading custom bike builders
Psycleworkz: Leaders in motorsports engineering
Spectro Oils of America: Producers of the finest motorcycle oils in the world
Zodiac International: Simply the best aftermarket performance parts for Harley Davidson
Highpowermedia.com: Producers of the excellent Race Engine Technology magazine
J W Hinchliffe (Tanks) Ltd: Fuel / Oil Tank cleaning and removal solutions nationwide
Saunderscreative.co.uk: Vehicle vinyl design, printing and cutting services.

Swift snippets.

12th February: Finland's Jarmo Markkanen made a first round red light exit in Stock Eliminator at the NHRA Winternationals on Friday. Jarmo had qualified #34 of 72. Jarmo is now preparing the car for shipping to Europe immediately the event finishes.

We would like to wish a Happy 70th Birthday for yesterday (Saturday) to Crazy Horses author, Allard Chrysler Action Group Chair and member of the British Drag Racing Hall of Fame Board of Selectors Brian Taylor. Brian had his birthday bash at last night's APIRA/SPRC Dinner Dance and Trophy Presentation.

PMR park an old friend.
12th February: After a lot of soul-searching Paul Marston Racing have decided not to repair their Championship-winning Piranaz-backed four-link dragster, which was damaged in a top end crash at last year's VP Racing Fuels National Finals. Paul Marston writes:

It was the very first four-link Dragster in the UK and won two UK National Super Comp Championships, four track Championships and countless National Events and number one qualifiers. It was an infamous race car, great to drive and very very successful, both Piers from Top Gear magazine and Ben Collins (ex-Top Gear Stig) learnt to drive this Dragster. It will be parted out on Eurodragster.com, please refer to the Parts for Sale section of the Swap Meet for more details.

Paul Marston Racing had a lot of success with their dragster, but feel that running just one dragster does currently not fit well with our doorslammer programme: PMR will focus our attention on our doorslammers for the next season or so and leave the door open for a return to racing dragsters in future seasons. If so then it would most probably be as a two-dragster deal.

Web site updates.
12th February: In the latest instalment in his exclusive Racer Blog presented in association with Alamo Rent-A-Car, Luke Bennett tells of a visit to the workshops of sponsor Forge Motorsport. As ever you can stay in touch with the latest Blog updates by clicking here or by clicking on the Alamo Blogs link on the left-hand side of any Eurodragster.com page.

Ross Racing Pistons join Maurischat.

10th February: German Pro Modified racer and Eurodragster.com sponsor Marco Maurischat has added Ross Racing Pistons as a product sponsor for 2012 and beyond.

"We are very proud to have Ross Pistons on board", says Marco. "I had a chat with Chris Madson at the IMIS show at Indy and shortly after that we got the go-ahead for this great  agreement. We ran Ross Pistons in our AJPE engine so I can truly say that we are really happy with the performance of this piston design.

"Ross Pistons have over thirty years in the business and they design and manufacture pistons for all forms of motor sports. Ross Racing Pistons has met the continual need for the most advanced forged pistons in the racing industry. In drag racing you will find Ross Pistons in all kind of engines from Top Fuel to Stock. For more information please visit www.rosspistons.com or contact chris@rosspistons.com."

Swift snippets.

10th February: Could the photographer who took this picture of Urs Erbacher please get in touch with us as soon as convenient at editor@eurodragster.com. Thank you!

Nicola Hart tells us that Santa Pod Raceway have seats available in their Two Seat Dragster for the the Mopar EuroNationals which takes place on 27th-29th July. For more information check out Santa Pod Raceway's web site at www.santapod.com or to book your ride call Nicola on 01234 782828 (outside the UK +44 1234 782828).

The Circus is back in town!

9th February: The nose-high race series, which pays homage to that crazy period in the mid-60s when Gassers ruled the drag strips of America and won the hearts of the racing fans, is back!

Fourteen Gassers have already joined the 2012 race series, its second year, with the grudge matches from last year having been cranked up during the winter months. This looks like it's going to be another good year for Gasser racing in the UK, with new combinations and new cars eager to hit the strip.

The Gasser Circus is proud to announce that the NSRA are to continue with their sponsorship and support of the race series. The four-event Gasser Circus Showdown starts with Gary's Picnic at Shakespeare County Raceway in May. The full calendar is as follows:

Gary's Picnic, 25th-27th May, Shakespeare County Raceway
NSRA Nostalgia Nationals, 23rd-24th June, Shakespeare County Raceway
Dragstalgia, 14th-15th July, Santa Pod Raceway
NSRA Hot Rod Drags, 14th-16th September, Shakespeare County Raceway

The Gasser Circus drivers and teams look forward to putting on a memorable show throughout the year. If you and your Gasser fancy running away and joining the Circus, then please contact us via our E-Mail address GasserCircus@hotmail.com.

Swift snippets.
9th February: European fans will have someone to cheer on at this weekend's NHRA Winternationals at Pomona as Finland's Jarmo Markkanen will be contesting Stock Eliminator before shipping his A/S car to Europe. Jarmo's involvement commences today (Thursday) and you will be able to stay in touch with his progress courtesy of our Drag Race Central colleagues at www.dragracecentral.com.

Congratulations to former FIA Drag Racing Commission Chair and recently-announced British Drag Racing Hall of Fame inductee Carl Olson who has done the double by being inducted into the the International Drag Racing Hall of Fame where he joins fellow BDRHoF member Sydney Allard. Carl will be presented with his BDRHoF trophy at the APIRA/SPRC Dinner Dance this coming Saturday, and with his International Drag Racing Hall of Fame trophy in Florida in March.


Sportsman ET racer Al Platt wonders if any Eurodragster.com reader knows the provenance of the pictured Santa Pod Raceway patch. "A friend of mine's brother bought a second-hand cut-off biker's jacket off EBay in the USA and this patch was on it", says Al. "He's just curious. Anybody remember when they were on sale? The seller doesn't know as he bought it used in the USA". If you know then drop us a line at editor@eurodragster.com.

If you are going to the joint APIRA/SPRC Dinner Dance and Trophy Presentation on Saturday then please remember that presentations start at 6:00 pm, so please be in your seats for that time. This year the Clubs have arranged for more loudspeakers in the function room, as the lack of speakers at the back of the room was one of the excuses used for the constant chatter during last year's presentations. However APIRA and SPRC would still appreciate it if the noise could be kept down during the presentations; it is only common courtesy both to the trophy winners and to MCs Barry Bohannon and Darryl Bradford. If you wish to hold conversations then please remain in the bar.

Hall: Two lumps for me.

8th February: UK Pro Modified racer Steve Hall says that a lot has happened since last year's VP Racing Fuels UK National Finals. The picture at right shows a new motor in Steve's Corvette and eagle-eyed and/or nerdy readers will spot Eurodragster.com sponsor Graham Ellis as the source.

"I knew that Graham was selling all of his blower engine stuff so after speaking to him at the Finals we came to a deal", says Steve. "I would purchase one of the Brad Anderson / Noonan-headed motors from him. I advertised my old engine on Eurodragster.com and had a couple of people wanting to come and view and to discuss buying it. Whilst this was going on Graham put the blower hat and fuel system up for sale. So I bit the bullet - remember you have to be insane to run Pro Mod anyway - and another deal was done.

"Unfortunately no one who was interested in the old engine had any money, so it's still for sale on the Swap Meet or we will use it as a back-up motor.

"We have a lot of work on to get the car ready for Easter. It's presently in Steve Large's workshop at Large Engineering for new headers, new puke tank, electrical work and general updates for this season. The plan this season is to run the MSA Championship and maybe if we don't embarrass ourselves too much maybe a trip to Sweden and Germany.

"I'm on the lookout for a new truck as the old one is no longer big enough to carry the car, two spare engines - in another moment of complete madness I've done another deal with Graham to buy the other block, crank and heads he has for sale - and the rest of the equipment needed to run in the class let alone go travelling abroad.

"Roll on Easter!"

Swift snippets.
8th February: Further to our news item of 25th January many thanks to Lena Perés for forwarding us a Swedish-language information sheet for the Swedish SFI Recertification Tour stop at Persåkers Speed Shop on 24th March. You can download the information sheet (PDF format) by clicking here.

Spectators and racers at the 2011 Flame and Thunder Show at Santa Pod Raceway might have noticed the strange cannon located at the side of the track towards the end of the day. Curious drag fans wanting to find out what this contraption and the associated film crew were doing should tune in to Gadget Geeks on on Sky 1 at 2:00 pm on Saturday 11th February. "Let's just say it involves firing sausage rolls into the Santa Pod grandstand (That explains Peppa Pig's mysterious disappearance - Ed)", says Rick Cuthbert of Santa Pod Raceway. "So set your Sky+ boxes or sit down and tune in with a nice cuppa. If you can't wait until then, it is also available to people who have Skyplayer. Search for Gadget Geeks Series 1 Episode 4."

Bill Macdermid of Eurodragster.com sponsor Topspeed Automotive asked us to say a big Thank You to Lee and Alan of Owen Developments for helping Bill with his Procharger. "At some point in its life my Procharger had digested some unwanted debris which damaged the impeller", says Bill. "The guys at Owens have done a fantastic job in balancing, repairing and re-machining the impeller to better than new condition. For all your turbo and related needs you can call  Owen Developments on 01865 821062 or check out their web site www.owendevelopments.co.uk."

Vehicles sought for charity event.

8th February: Graham Ilott tells us that he is seeking two or three race cars or bikes to attend a charity event near Bristol in May in aid of a children's hospice.

"It is a relaxed, private, static event named Caring with Cars with an ethos of variety and friendliness", says Graham. "There's no admission fee and the event is attended only by registered enthusiasts giving a respectful atmosphere.

"In 2011 we raised over £5400 for the Children's Hospice South West. Despite adverse weather more than 350 vehicles attended including a McLaren F1 GTR, Bugatti Type 57 Atalante and Type 35, Duesenberg Model J, Mosler MT900, Metro 6R4 and Ferrari 599 GTO, and the day included a Red Arrows flypast. The charity cares for over 1,000 seriously ill and disabled children.

"This year's event will take place on Sunday 20th May at the private Downs School and adjacent Children's Hospice near Bristol, just off the M5. We are again sponsored by two major Audi dealerships - Bath Audi and Bristol Audi - who will be attending with various top-level models. We also have official support from PistonHeads. At present there will be:
Top vehicles presented on the front lawn;
Live music;
Three free talks in the theatre by experts: advanced road and race driving by Mike Cooper, Lotus Renault F1, and Alsa Automotive, a well-regarded classic and prestige car restorer;
A large raffle of prestigious prizes;
Andy Carter, Top Fuel drag racer and his son Albert's karting team;
Alsa Automotive will be displaying a couple of restored vehicles;
Quality food on site and proper loos.
"For more details and images from last year's event our web site is at www.caringwithcars.com." 

If you would like to take your car or bike along to support this very worthy cause then please contact Graham via the event's web site at www.caringwithcars.com/register.asp or call him on 07765 718116.

SPR seek slicks.
7th February: Santa Pod Raceway would be pleased to hear from any racer with slicks which they no longer need, for use in prepping the track for the new season.

If you have any slicks which you no longer require and which you would like to donate to Santa Pod then please contact Darren Prentice at darren@santapod.com to arrange to get them to the track.

Hanna for hire.
7th February: US blown-alcohol tuner Will Hanna, who tuned Fred Hanssen to last year's FIA European Top Methanol Dragster Championship, says that he is available for hire as a tuner at this year's FIA Main Event, NitrOlympX, and FIA European Finals.

"I am available to competitors in Top Methanol Funny Car and Pro Mod - basically any category besides Top Methanol Dragster", says Will. "Fred is concentrating on his fishing business right now, so he is allowing me to do some consulting outside of TMD.  When Fred decides to focus on racing, we will be back racing together.

"I have won three NHRA Division Championships as a Crew Chief - two with Chris Foster in Top Alcohol FC and one with Jason Cannon in Top Alcohol Dragster - plus last year's FIA Championship with Fred.  I have tuned Chris to a best of 5.57 and we have run 5.60s down some dirt roads. 

"I think I could give a team a good baseline to work off, not to mention work with the crew and the driver. I don't have a Pro Mod baseline to offer, but I definitely think I can help a team in 'racing the track'. I still have a current Top Alcohol FC licence, so I wouldn't turn down a ride, either.

"I have enjoyed racing in Europe over the past three years and I hope to make it back there in 2012."

If you are interested then please E-Mail Will at will.hanna@insidetopalcohol.com.

Junior Dragster League update.
7th February: Chair Tim Long writes that the UK's Junior Dragster League had a very productive time at Autosport International last month and that the League is very happy to make a number of announcements.

The Junior Dragster League will be supported by Voltz Energy Drinks for the 2012 and 2013 racing seasons. "I have been looking for a drinks partnership for the JDL for a while and I know of many which are involved in motorsport in one way or another", says Tim. "I had to be very careful with whom we partnered with as the Junior Dragster League racers are predominantly sixteen or under; many of the energy drinks currently involved in motorsport are unable to be drunk by under-sixteens. The Voltz Energy Shot can be given to children of twelve years and over, which means that in this season we will only have three drivers who not be able to display their logo on their cars."

The addition of the Junior Dragster League to the sponsorship list for Voltz increases their involvement in the UK drag racing scene as they are also sponsoring Team Gridlock and the Go Hard or Go Home Wild Bunch altered as well as Shakespeare County Raceway's Pro Street Drag Series and Bracket Gamblers' races.

The League would also like to announce another season sponsor, Auto Finesse. Auto Finesse specialise in car cleaning and protection products and, similarly to Voltz, this is their second involvement in UK drag racing in 2012 as they will also be sponsoring Adam Gleadow's Motor Psycho NFAA Altered.

The League can confirm its involvement in National Motorsport Week on 30th June-8th July and is to be supported by the Motorsport Industry Association.   The League will be attending Shakespeare County Raceway on the weekend 7th-8th July and hope to see non-league Junior Dragsters there that weekend.   The Motorsport Industry Association will be in attendance at SCR that weekend to meet the up-and-coming drag racers of the future.

Finally the League can confirm its appearance at Trax 2012. The exhibition stand will be open to all Junior Dragster racers who wish to display their cars. Stand space will be on a first-come first-served basis. More details on how to get your Junior Dragster into Trax 2012 will be announced later on in the year.

Swift snippets.
7th February: European fans will have someone to cheer on at this weekend's NHRA Winternationals at Pomona as Finland's Jarmo Markkanen will be contesting Stock Eliminator before shipping his A/S car to Europe. Jarmo's involvement commences on Thursday and you will be able to stay in touch with his progress courtesy of our Drag Race Central colleagues at www.dragracecentral.com.

Alan Currans tells us that off-season work is continuing on the Chaos Fuel Altered, notably the construction of a new, lighter body by FGR Motorsport. "I have added a short description of the work on the altered, which can be accessed by clicking on Latest News as can a link to a gallery", says Alan.

Web site updates.
7th February: Alan Currans has also updated his excellent Acceleration Archive with the latest bulletin on Pat Neal's restoration of the Veney's Vega Pro Comp Funny Car. As ever you can stay in touch with the latest updates via the What's New link at www.theaccelerationarchive.co.uk.

Feature: The Isaacs and Tramm Pro Mod.

6th February: Eurodragster.com sponsor Chris Isaacs and Honorary Eurodragster.com Staff Member Spencer Tramm have enjoyed individual success as racers - their cars forming good advertisements for Chris' company - and have contributed to the sport as race car builder, UK Tech Committee and Santa Pod Racers Club Committee members, race marshal for the Pro Modified class, and crew member for other racers. Chris and Spencer have teamed up to build and campaign a twin-turbo 1970 Plymouth Duster which is due to make its competitive début at next year's Easter Thunderball.

For the latest in our occasion series of Features presented in association with Lucas Oil Products and Carter Motorsport Chris and Spencer invited Eurodragster.com to the workshops of Chris Isaacs Race Cars in February 2012 when the project reached the major milestone of standing on its own wheels for the first time.

Click here to read our Feature on the Duster Pro Mod, or click on the Features, Interviews, Tributes link on the left-hand side of any Eurodragster.com page.

Flamholc's week in FL.
6th February: Swedish Pro Modified racer Adam Flamholc has been in touch with a brief account of his week in Florida, culminating in runner-up spot at last weekend's US Street Nationals at Bradenton:

We arrived at the Performance Plus shop in Fort Myers on the Tuesday before the race. We spent two days working with the car and trailer, and our plan was to test at Bradenton before the US Street Nationals. Unfortunately it rained all day on the Friday. We had some problems with our clutch in the first two qualifying runs, but on the third and final pass we made it down the track. We made some strong runs during eliminations and made it all the way to the final round!

In the final I left the line first, and I was on a good run, but when I shifted to third gear there was no third gear. Terry Coyle passed me right on the finish line and took the win. It was a well-deserved win, Terry ran fast and consistent all weekend. Congratulations!

I am very pleased to announce that Flamholc Racing have closed a deal with Leanders Clutch. We are going to run their clutches in ADRL this year. I know how good their products are, so I am very excited and happy to have them as a business partner!

Swift snippets.

6th February: The latest spy picture to arrive at the offices of Eurodragster.com came with the words "Still Ratty!". If you know more, or if you would like to send your own spy picture, then drop us a line at eurodragster.com@btinternet.com.

A final reminder that Speedgroup have scheduled two meetings this Saturday (11th) at the St John's Hotel, Solihull, the venue for the joint APIRA/SPRC Dinner Dance and Trophy Presentation. The Sportsman meeting takes place between 12:00 and 13:30, and the FIA/UEM meeting between 14:00 and 16:00. To confirm your attendance at either of these meetings, please E-Mail Åsa Kinnemar at asa.kinnemar@speedgroup.eu. Please give the names of all those attending and the class in which you race, or your function if a race official.

If you are going to the joint APIRA/SPRC Dinner Dance and Trophy Presentation this Saturday then please remember that presentations start at 6:00 pm, so please be in your seats for that time. This year the Clubs have arranged for more loudspeakers in the function room, as the lack of speakers at the back of the room was one of the excuses used for the constant chatter during last year's presentations. However APIRA and SPRC would still appreciate it if the noise could be kept down during the presentations; it is only common courtesy both to the trophy winners and to MCs Barry Bohannon and Darryl Bradford. If you wish to hold conversations then please remain in the bar.

Lindbergs expand on all fronts.

4th February: As well as preparing both their Pro Mod Firebird and their new Top Methanol Funny Car for the coming season, Sweden's Lindberg Bros Motorsport is growing, evolving and extending its line of both parts and services.

Since 2011 Lindberg Bros Motorsport has been the European dealer for Noonan Race Engineering's NRE X1 heads, and to be able to deliver a complete product to customers, the range of brands and products has been expanded. Thanks to Manley Performance Products and Manton Rocker Arms you can get your complete set of heads filled with some of the world's best performance parts.

During the Swedish Automobile Sports Federation's 75th anniversary ceremony, Crew Chief Jonnie Lindberg received the prestigious Young Technician Award 2011. Jonnie used the price money of 15000 Swedish Kroner to visit the PRI Trade Show in Orlando, USA. Jonnie is seen at right in the Tierp Arena booth with three-time European Top Methanol Funny Car Champion Leif Andréasson and King of Carbon Fibre Jeff Burnett.

Winter X-Games multi medal winner Jon Olsson is not only skiing high and low, he's also a motoring enthusiast who has dhosen to go his own way. One of Jon's latest projects is to build a supercar of his own, and who did he turn to for help in Sweden but Jonnie Lindberg! Stay tuned for more information about that.

Swift snippets.

4th February: The latest spy picture to arrive at the offices of Eurodragster.com came with the words "If it's good enough for Brian Addison then it's good enough for us!". If you know more, or if you would like to send your own spy picture, then drop us a line at eurodragster.com@btinternet.com.

Bill Macdermid tells us that Eurodragster.com sponsor Topspeed Automotive have updated their new-look web site www.topspeedparts.co.uk with with a lot of their latest delivery from the USA but that not everything has yet been posted. "If you can't find what you're looking for then give our sales team a call on 01932 341700", says Bill.

Yesterday's update was already done and dusted when we heard about it so a day late, but nevertheless a very Happy 22nd Birthday for yesterday (Friday) to Daniel Giles. Hope you had a great day Dan.

Ålund's new ride.

3rd February: Seven time FIA European Pro Stock Champion Jimmy Ålund will have a brand new 2012 Camaro Pro Stock from Jerry Haas Race Cars in Fenton, Missouri for the upcoming season writes Stefan Boman:

The body has just recently been approved for NHRA Pro Stock competition and is the result of co-operation between Five Star Race Car Bodies and Chevrolet. GM supported Five Star with a Camaro body from which to make the mould as well as the necessary wind tunnel time. Many GM teams in the US have ordered Camaros and the model is scheduled to make its NHRA début during the Gatornationals in March. Jimmy's car is number four in Haas' building order and is expected to be ready at the same time.

Jimmy hopes that he can participate in a US event before shipping the car to Europe for the FIA Championship.

Jimmy's old car, the most successful Pro Stock in FIA competition, is for sale and you can contact Jimmy at jimmyprostock@telia.com.

VWDRC reaches the quarter century.
3rd February: 2012 is the twenty fifth anniversary season of the UK's Volkswagen Drag Racing Club, says Club Chair Luke Stevenson:

The VWDRC was started way back in 1987 by Brett Hawksbee, evolving from a group of Aircooled petrol heads to an international club which boasts some of the fastest VWs in the world and also leads the way in the future of racing, with the World Record holding Blackcurrent3 electric Beetle.

With Easter only ten weeks away the bench racing has already started, with many new names joining the Club and seasoned racers returing to battle with the current line-up. It's going to be one heck of a year.

To celebrate the anniversary there will be extra prize money available for the number one qualifiers, winners and runners-up in both VW Pro and VW Sportsman at all seven of our rounds. This can only be done with the generous help of our 2012 Club sponsors:

Reichspeed Aircooled: Aircooled Volkswagen specialist. Services include race preparation, and servicing to full restorations.

Volkszone: The UK's largest VW aircooled online community.

Sub11 Motorsport: VAG based 1.8 20v turbo specialist. Serivces range from engine conversions, servicing, re-maps and also a dealer for M&H Drag Tyres and Nitrous Oxide suppiler kits/refills. Based in Peterborough.

Dubz-by-Dan: Essex-based VW specialist. Services range from MOTs to full restoration of VWs, Watercooled or Aircooled.

WRP Paint and Restoration: Wellingborough-based paint shop which can provide show-standard finishes for your car or even race truck, also restoration/custom body work undertaken and wheel refurbishment available.

Vibra-Technics: Manufacturers of race engineered uprated engine mounts from fast road to full race and suspension mounts for all makes of car, also custom work undertaken.

Dub Shows UK: Promoters of five top VW and Retro Shows in the UK, starting with Ultimate Dubs at Telford International Center on 11th March.

Bio-Cam Ltd: CCTV and Bio-Metric specialists, from a home installation to full warehouse securtiy and beyond. You can be assured the service and maintenance they offer is second to none.

More sponsors to follow.

Please visit www.vwdrc.com for all Club updates, information, and to join in the fun, follow us on on Twitter, and Like us on Facebook. See you at Easter.

Icon back Veidec PSB team.
2nd February: Eurodragster.com Bloggers the Lyrén Motorsport / VEIDEC Racing Pro Stock Bike team are proud to announce their new partner Icon, who produce world-class helmets and gear for motorcycle riders.

Both Kalle Lyrén and Elvira Karlsson will be using their helmets this season. "Icon's products have a very high quality and the best look", says Kalle. "It feels very good to have them as a partner. Only the best is good enough for Pro Stock Bike racing and that is why we have chosen Icon."

Icon products are sold through Parts Europe dealers all over Europe. For more info about Icon and to look through their catalogue please visit www.partseurope.eu. You can also check out a YouTube video by Icon which has become very popular: www.youtube.com/watch?v=Te0V71sGoxA.

SCR sweeper, Award update.
2nd February: In September of last year Mark Wallington and the hard-working Outlaw Streer Racers and Shakespeare County Raceway launched a fund-raiser to help the track to purchase another sweeper to replace the long-suffering machine which had given the track twenty three years of service. With £769.43 raised from racer contributions and donations from Rebel V8 and the North Staffs Drag Club, the fund has since been bolstered by a further unexpected contribution £1000 from Edel, Graham and Gabrielle McDonald of McDonald Racing Ireland.

"On behalf of the SCR Management I would like to take this opportunity to thank Mark and his crew of Outlaw Street Racing friends for their help and encouragement in getting this off the ground", says Jerry Cookson. "We would also like to thank McDonald Racing Ireland for their very kind and generous contribution which was a totally unexpected gesture!"

In 2010 Gabrielle McDonald was crowned APIRA Junior Dragster Champion as well as becoming the year's top Sportswoman. Gabrielle also represented Shakespeare County Raceway at last year's NHRA Junior Dragster League Eastern Conference Finals in Bristol, Tennessee. "We are all very happy to help Shakespeare County and APIRA", says Gabby. "Every time we have been over at the track the officials have always been very accommodating towards us. Even though it took us a long time to get to the track we always loved being there for its friendly atmosphere, and for that reason we really wanted to give something back. What better way than to contribute £1000 towards the sweeper which the track so desperately needs."

Drag racing and oval racing photographer Steve Weston has also been involved, selling four specially-commissioned Outlaw Anglia, Gasser Circus, Supercharged Outlaw and Wild Bunch calendars.

Although the track isn't too far off from the start of another busy season Jerry is poised with further sponsorship releases and updates later this month.

In addition to the above announcement, McDonald Racing Ireland has also added a further APIRA / SCR Perpetual Award, for Best Newcomer of the Year at events organised by Avon Park International Racing Association and Shakespeare County Raceway. As the announcement of the award was too late to go through the traditional Eurodragster.com vote, track officials have deliberated and arrived at a unanimous decision. The winner will be announced at next weekend's APIRA/SPRC Dinner Dance and Trophy Presentation.

"We completely agree with the racer whom APIRA have chosen to be the winner of the McDonald Racing Ireland Perpetual Award", says Gabby McDonald. "It's a great choice and we're sure that everyone will agree."

In addition to receiving the McDonald Racing Ireland trophy the chosen racer will have their entry fees for both Shakespeare County Raceway's Springspeed Nationals and Open Sport Nationals paid by McDonald Racing Ireland. Track officials from both APIRA and SCR wish to thank McDonald Racing Ireland for their kind and generous support.

Web site updates.
2nd February: In the latest instalment in his exclusive Blog presented in association with Alamo Rent-A-Car, Brian Taylor brings us up to date with recent appearances on behalf of the Allard Chrysler Action Group as well as news from the Nostalgia scene. As ever you can stay in touch with the latest Blog updates by clicking here or by clicking on the Alamo Blogs link on the left-hand side of any Eurodragster.com page.

The latest edition of the Speedgroup newsletter is now on-line at club.speedgroup.eu/newsletters/2012/edition1_2012/edition1_start.htm. "We hope you will find some interesting reading in this edition", says Åsa Kinnemar. "We have focused on the Contingency Programmes for the FIA and UEM European Championships and EDRS European Drag Racig Series, and we feature some of the suppliers signed up to support European teams in 2012."

British Drag Racing Hall of Fame 2012.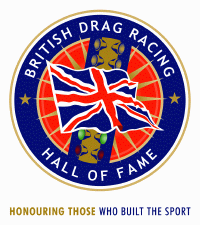 1st February: The British Drag Racing Hall Of Fame in association with US Automotive continues into its seventh successful year with five new members. Nominees are eligible by dint of having raced, owned, designed, built, maintained, prepared, promoted, officiated, supported or taken part in British drag racing in any capacity, having been involved for at least twenty years, or having made a significant and recognisable contribution to the sport.

The 2012 inductees to the British Drag Racing Hall of Fame, in alphabetical order, are:

The Brachtvogel family: From the early 1970s to the present day Alex, Frank, and Phil Brachtvogel's names have been associated with drag racing. They spent years at the top of two-wheeled drag racing, developing British-built Top Fuel Bikes in co-operation with Pete Davies and John Clift. They were innovative in their approach, sometimes leading the world. Their bikes became a classic route into Top Fuel for many of today's stars. This, along with Alex's dedication to improving the expertise and conditions for marshals, is why the Brachtvogels have been inducted into the British Drag Racing Hall of Fame.

Tony Murray: Tony Murray's name crops up regularly in the history of drag racing in the North of England. Starting with the development of the Crosland Moor drag strip in the mid-1970s he remained a leading PDRC organiser until his untimely death in 1992. Whether it was digging holes for Armco barriers or acting as Clerk of the Course, Tony Murray was a true Club man. Without his passion the establishment of a viable drag strip in the North might not have been achieved and it is for this that Tony has been inducted into the British Drag Racing Hall of Fame.

Barry Sheavills: Barry Sheavills has been part of UK drag racing since 1970 and there are not many four-wheel classes in which he has not competed. A leading light for many years, he has several firsts to his name – débuting the UK's first purpose-built Super Gasser, running the first Top Alcohol Dragster Five at Santa Pod Raceway, the first Top Fuel Dragster Four in the UK and the first Top Fuel Dragster 300 mph by a European. It is for his long career at the top of drag racing and his constant work in promoting the sport that Barry has been inducted into the British Drag Racing Hall of Fame.

Dave Lee Travis: Dave Lee Travis spent most of the 1970s driving a Chevrolet-powered Escort named Tender Trap which ran tens and a Top Fuel Dragster named The Needle which got down to mid six-second runs at over 220 mph. As a radio and TV presenter he was able to give drag racing a huge media profile, a major factor in broadening the sport's appeal. He was a great ambassador for the sport and it is for this constant and never-matched high-level promotion of the sport that DLT has been inducted into the British Drag Racing Hall of Fame.

Carl Olson (Overseas member): Carl Olson is one of the top names in American drag racing history, winning many Top Fuel dragster titles in the USA. He was later appointed NHRA Vice President responsible for International Relations and in 1993 became President of the FIA Drag Racing Commission, responsible for all international drag racing. He used his influence to raise the status of European drag racing to stand alongside other forms of motorsport and to produce the fantastic European Championships we enjoy today. It is for this work that Carl has been inducted into the British Drag Racing Hall of Fame.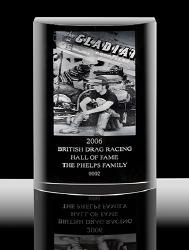 Members of the Hall of Fame receive a 'Bootsie', a trophy encapsulating an image of the late Allan 'Bootsie' Herridge, a man who put so much into British drag racing, together with an exclusive commemorative pin. They join the élite list of inductees from previous years and will be listed with fuller biographies on the official British Drag Racing Hall of Fame web site which you can view by clicking here or by clicking on the British Hall of Fame link on the left-hand side of any Eurodragster.com page. The Hall of Fame trophies will be presented at the joint APIRA/SPRC Dinner Dance on Saturday week.

The British Drag Racing Hall of Fame is sponsored by USAutomotive, Santa Pod Raceway, Shakespeare County Raceway, Pennine Drag Racing Club/York Raceway, Avon Park International Racers Association, Santa Pod Racers Club, Power Race Graphics and Eurodragster.com.

Trophy picture courtesy and ©Ian Messenger

Swift snippets.

1st February: The latest spy picture to arrive at the offices of Eurodragster.com came with the words "Fitting an old lady with new shoes!". If you know more, or if you would like to send your own spy picture, then drop us a line at eurodragster.com@btinternet.com.

It's a very appropriate day for the birthday of the owner of one of the best Nostalgia web sites out there, Jon Spoard of the UK Drag Racing Nostalgia site. Have a very Happy Birthday Jon. Equally fortuitous is Jon's latest upload to UKDRN, complete audio of the Radio 1 Roadshow at Santa Pod Raceway on 1st May 1978, which was of course hosted by British Drag Racing Hall of Fame inductee Dave Lee Travis. You can take a listen at www.ukdrn.co.uk/AUDIO/freeaudio/freeaudio.html.


Earlier news