Chris Isaacs Race Cars workshop visit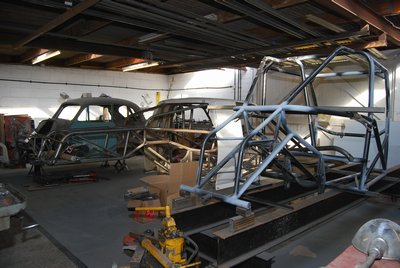 As well as being a race car builder and racer, Eurodragster.com sponsor Chris Isaacs is a member of the UK Tech Committee and Santa Pod Racers Club Committee. He has been building race cars full time since 1989 and started Chris Isaacs Race Cars in 1995.
Chris' racing career started in 1984 when he ran a Mk II Cortina at a Run What You Brung at Santa Pod Raceway. The Cortina ran low twenty ones and was followed by a Mk I Escort with a stock Pinto motor which ran sixteens. Chris then built himself a 351 Ford Cleveland-powered Ford Prefect which he ran for two years in Super ET and then, equipped with a Big Block, in Mod ET. This car won a National Championship and two Track Championships.
After selling the Prefect Chris drove cars for others including Ian Turbull, Tony Reed, Spencer Tramm and Steve Harrington and made occasional outings in his own Volvo.
On the track Chris is probably best-known for his eight-second Standard Vanguard which has rare original steel bodywork and which would not look out of place in a classic car show. Amongst other Chris Isaacs Race Cars vehicles are Steve Nash's Street Eliminator Cougar, Spencer Tramm's Super Pro ET VW Corrado, Matt Eley's Super Comp Ford Pop, and John Atkinson's Super Pro ET Mustang.
The Chris Isaacs Race Cars workshop in Wickford is relatively small although Chris manages to pack three vehicles and a lot of machinery into the limited space. On the day we visited we found a good representative cross-section of vehicles in the shop.
Click on any picture for large version, and scroll down for additional photographs
This truck has passed through a few hands but now belongs to Stuart Smith and is destined for Super Comp. It was started by Jon Hogarth some eight or nine years ago for Rich Kinsey. The truck came to Chris Isaacs Race Cars with the centre section of the chassis completed and accompanied by a flatpack Chevy S10 body kit. CIRC are carrying out changes and upgrades before the chassis is sent for powder coating to join the tinwork which is already being coated. The powerplant will be a 540 ci Big Block Chevy with a 'glide. Click on the picture to see the truck with bodywork mounted.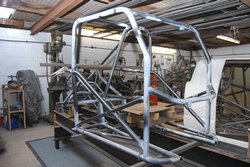 Matt Eley's Risky Trip Pop is being repaired after its crash at the 2009 UK National Finals. All of the chassis as far forward as the firewall survived the crash unscathed. Where the front of the car impacted the guardrail the tubes were crushed and dislodged but all the welds held together which is testament to the quality of the work produced by Chris Isaacs Race Cars. The chassis is being repaired from the firewall forward and upgraded to 7.50-second spec. The chassis is expected to leave CIRC after Easter but may not appear on track until 2011.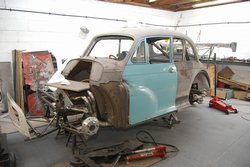 At the far end of the 'shop is Chris' own project, a Morris Minor to be raced in the DMN Saloon series. Chris raced on circuits between 2003 and 2008 and is now building this car with a Small Block Chevy equipped with a five-speed which should power it to 150-160 mph on a long straight. Chris aims to race the car in 2011.
Mention of a circuit car alarmed us enough to ask about the return of Chris' immaculate and very rapid Standard Vanguard, which he told us is due back on track at the Auto Trader Easter Thunderball. The Vanguard is currently kept in an extension to Chris' shop which he built himself, but will move in to the shop and have its rebuilt Jeff Bull motor installed when Stuart Smith's truck goes for powder coating. We asked Chris about the history of the car.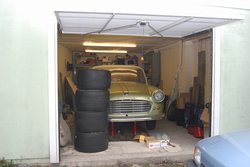 "I bought the car from the Classic Cars section in Exchange and Mart", said Chris. The Saloon was a possibility but I didn't know they did an Estate. When I saw it, I pictured it in my mind as a race car. The chassis wasn't bad but the seals were shot - I didn't have to cut out the floor, just stamp around the edges!
"Six months after I bought the car, the Owners' Club got in touch as they had been trying to trace it. They knew of fourteen Standard Vanguards left in the UK in 1997 plus a few in Australia and New Zealand, so they weren't common. The guy from the Owners' Club was happy that something was being done with it rather than scrapping it."
The car last ran at the 2008 FIA Main Event. "Number one piston fell off the rod at 1000 feet", said Chris. "It sounded like a rod had broken. When we looked at the sump it was full of dents and inside the motor there was a lot of damage from the intact rod flailing around whilst the piston was still intact. The block and heads were salvageable, but anything which moves has been changed. I will be getting the motor back from Jeff Bull this week and I plan to run in Super Pro ET at Easter. I just want to see what the motor can do rather than running in Super Comp and trying to hit a time."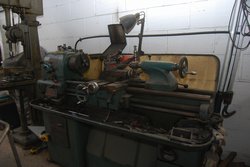 The Chris Isaacs Race Cars order book has plenty of entries. "The Mister Torquer Fordson is coming in for a full chassis", said Chris. "It is now owned by two brothers who used to crew with Tim Garlick. Julian Davidson is building a Ford 100E, probably for Super Comp. We also have a Gasser-style Fordson booked in plus a Mk 1 Zephyr street car/track day chassis. We are doing more of the circuit and track day stuff. There is enough to keep us going."
We would like to say a big Thank You to Chris Isaacs for his time and hospitality. You can check out the Chris Isaacs Race Cars web site at www.chris-isaacs.com.


---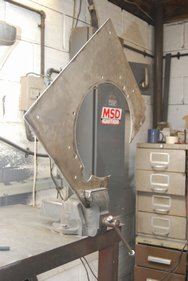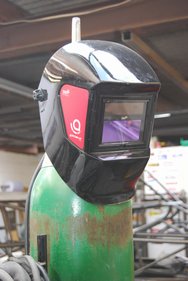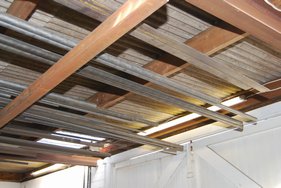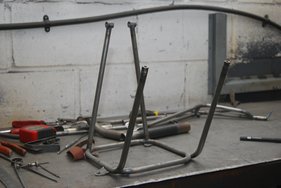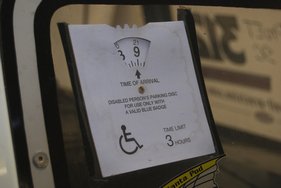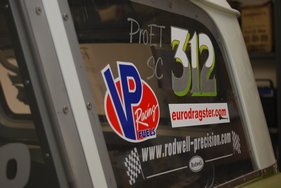 Text and photographs are ©Eurodragster.com and must not be taken, copied or used in any way without written permission. Unauthorised use may result in legal action. To enquire about purchasing photographs please see the Eurodragster.com FAQ or E-Mail photography@eurodragster.com.


---
Features and Interviews index
Back to News page
---