Chris Orthdoxou returns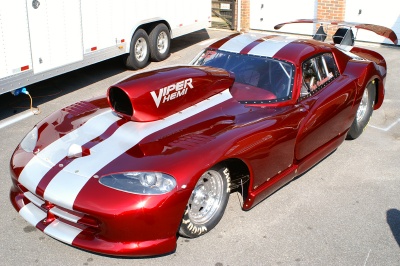 Click here
for extensive Photo Gallery
Click here
to go straight to race car specs
After a long lay-off from competitive drag racing, Chris Orthodoxou returned to the sport in July 2006 with a 604 ci Hemi-powered Dodge Viper GTS. The car is built to the latest Pro Mod spec but will initially be raced in Super Pro ET or Top Sportsman. Chris kindly invited Eurodragster.com to his Surrey base to attend the unveiling of his new ride and whilst there we took the chance to ask him about his absence, his racing career, his new car, his future plans, and his legendary attachment to Mopars.

Eurodragster.com: Tell us about your racing history.
Chris Orthodoxou: I was about nine years old when I read an article in a motorsport magazine entitled Seven Second Freak-out - about the Top Fuel cars of that era, the late 1960s. I have never forgotten my amazement at the performance figures quoted and have followed the sport ever since. I have always been a lover of the late 1960s/early 1970s muscle cars - especially Mopars.
My introduction to Mopar came via good friends Jim Wilson, Mopar Nationals organiser and whose genuine 1970 Hemi Cuda was my wedding car, who tried to sell me a 1970 440 Plymouth GTX in 1981, and also Paul (Bugsy) Bateman from Ripley in Surrey, who had the most awesome 69 Roadrunner and later sold me my 1972 Plymouth 'Cuda.
My first trip to the Pod was the 1978 World Finals. It just blew me away. My love of muscle car/doorslammer racing began there and then. I also witnessed Sammy Miller run a low four-second quarter in his Vanishing Point Rocket Funny Car.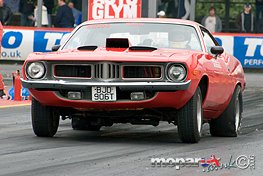 I first ran my 440 6-Pak 'Cuda at Blackbushe in 1982. My first ever quarter-mile pass was 14.1/101. The bug bit me! I had my first 'hot' 440 built in 1984, when I got to know and became great friends with 'Sir' Geof Hauser. After many years of experimenting the Cuda has run 11.30/119, at the 2005 Mopar Nationals. It's only through continual development and testing that I finally made the car go that quick, and she is still fully road legal.
It was after a visit with Angella to the 1987 World Finals at the Pod, walking around the pits and realising how little some of the racers knew about what they were doing, that I decided I knew enough to go into competition. I built Reservoir Dodge, the 1967 Dodge Dart. Hauser Race Cars narrowed the rear end and the axle and put in the roll cage. Ultimately I ran a 556-inch B1 engine and Powerglide.
Between 1989 and 1998 I raced in the Championship series with the Dart, or the Cuda when the Dart was broken, in Super Comp, Pro ET and Super ET. I won many trophies and many runner-up spots in all three classes, including winning the first ever running of the Super Comp class in, I think, 1997. My rivals at the time were blokes like Ivan Birch, Pete Austin, Steve Warner, John Atkinson, Gordon Smith, and the Bristol lads. Whipped the lot of them of course! I ran a best of 9.04/149 with no gas.
The Dart won the Santa Pod Racers Club Best Appearing Car award for the 1995 season. I thought it strange at the time that Paula Marshall at SPRC insisted that I attend the Dinner Dance that year. I was well chuffed. It was a tough-looking car, sat just right and launched wheels-up. It was always a real crowd pleaser.
Eurodragster.com: You've been away a fair while, what have you been up to?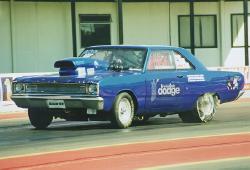 Chris Orthodoxou: My last time in Championship competition was in Pro ET at the 1998 Summernationals. I then started major building work on my Surrey mansion, which swallowed up lots of funds and time. It's almost finished now, but my need-for-speed never went away. I was working in Singapore for a year, Azerbaijan for a year, West Africa for two years, along with stints in Nigeria, Egypt and Ireland between 1999 and 2005, so this also messed up racing etc. Having to go abroad at short notice for unspecified periods has interfered with not only with racing, but with life in general. Needs must, but I am back now and I'm bad.
I've still managed to run either the Cuda or the Dart at every Mopar Nationals since July 1994, and I also play with my band Executive Relief on the Saturday night and have done every year since that inaugural 1994 meeting. We even cut short our honeymoon in 2003 to play this gig! I'm getting a bit old for it now.
Eurodragster.com: When did you start to think about getting a Pro Mod, and what about Pro Mod attracted you?
Chris Orthodoxou: From the first time I saw Geof Hauser, Al Packman and Tim Cook amongst others running in Pro Mod it was, for me, the ultimate class to run in. Unfortunately you can't now be competitive unless you have an unlimited budget.
I originally intended to use the 'Cuda as the base car, but Angella wouldn't let me chop her up - I took her home in this car the first time we met! So I thought "Let's go up-to-date". The Viper GTS is such a brutal yet sexy-looking piece that the decision was easy. Also there is no other similar car in Europe.
Although the new car is built to full Pro Mod spec, I will be running it in Super Pro or Top Sportsman for the time being. But you never know - all I need is a blown alky 526 Hemi and a Lenco.
I think the new Top Sportsman class will be a show-stopper if it takes off. Heads-up qualifying then dial-in style eliminations - superb idea. Seven-second doorslammers made affordable and competitive.
Eurodragster.com: Did you know exactly what you wanted and supplied precise requirements to the builders, or did you have a general idea of what you'd like and let them lead you?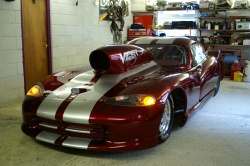 Chris Orthodoxou: I had vision of what I wanted to achieve. I have always striven to keep my cars looking as close to the original lines as possible. Minimal body mods were in order, although I did let the builder carry out any really necessary body alterations, within reason. I've seen several US-built Viper Pro Mod body shells which have been made into ugly slab-sided horrors, looking almost like Funny Car bodies, specifically for ease of chassis fabrication. This is exactly what I set out to avoid. The car must look ninety nine per cent how it came off the production line. And no deck wing either, as this would detract from that gorgeous sexy arse-end of the GTS Viper.
Eurodragster.com: Who built the chassis?
Chris Orthodoxou: Jon Hogarth at Specialist In Design Race Cars.
Eurodragster.com: Who supplied the body?
Chris Orthodoxou: I sourced it in a remote town in Tennessee. I'm not telling where, as I did a lot of homework and phoning around to find it. 'Big Steve' at SID Race Cars did the body mods.
Eurodragster.com: Who did the paint?
Chris Orthodoxou: Jon Hogarth at SID Race Cars.
Eurodragster.com: Tell us about Ray Barton Racing Engines.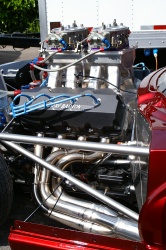 Chris Orthodoxou: When I took the plunge with this project, there was only ever one engine to be considered. The legendary Chrysler Hemi.
Ray Barton and his side-kick Craig Serra are top guys. What these blokes don't know about Mopar Hemis could be written on an ant's toenail. RBRE are located in Reading, Pennsylvania. If your Mopar is anything from a small block 273" V8 up to a 600+ inch Hemi, you need go no further than these guys. They are very highly regarded Stateside.
Ray's son David is the current NHRA SS/AA Super Stock record holder in the company's flagship R & D, genuine 1968 Hemi Dart. David is chief engine assembler and dyno man. Nearly all the guys running on the US Eastern area Super Stock circuit are running RBRE-built Hemis.
We flew out to the States to witness the final assembly and dyno testing at their premises in September 2004.
Eurodragster.com: How long has this project taken in all?
Chris Orthodoxou: I delivered the body directly from the docks to SID Race Cars in early February 2004. The engine/transmission and axle arrived in October 2004. I was originally hoping it would be ready for the 2005 Mopar Nationals.
Eurodragster.com: What sort of performance are you expecting from the car?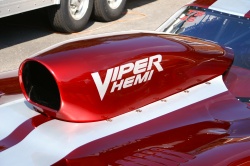 Chris Orthodoxou: The car is about 2550 lb with me on board, on the motor only I reckon 7.70s or possibly 7.60s at around 180-ish mph. The Barton boys reckon 7.50s. That could just be salesman talk, but we'll see. Then there's the possibility of trying nitrous, and I may even release the handbrake. RBRE don't consider my engine to be particularly wild, and there's scope for another 100 to 125 hp without radical work. I also have a plate nitrous kit to fit it, but Ray Barton said he'd never speak to me again if I dared suggest it again in his presence. These old Super Stock boys are very staid.
Eurodragster.com: What are your testing and then racing plans?
Chris Orthodoxou: Initial track testing will be at the European Doorslammers meeting at Santa Pod Raceway on 8th July. Then the Mopar Nationals at the end of July. If all goes well, I hope to go to the Nitrolympics at Hockenheim at the end of August, followed by the European Finals in September.
World domination is on the cards for the 2007 season when I will completely blitz the opposition in the Super Pro ET or Top Sportsman class. I would even consider double entry if both these classes ran at the same meetings.
Eurodragster.com: It's been a while since you last raced and you're looking at taking a significant chunk off your Personal Bests, how do you view the prospect of getting straight into a seven-second car after the lay-off?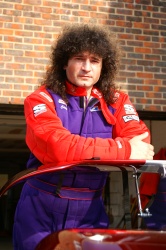 Chris Orthodoxou: I will be running nearly two seconds quicker than previous PBs, so the first few runs will be an eye-opener. Also with over 900 lb of torque, launches will be a right laugh! There shouldn't really be significantly more work than I am used to during a run. I've never had to pull the chute before, so that will be a new experience for me. Also SPRC have said that I have to make two or three observed runs, as I haven't driven anything very quick for over three years. As mentioned earlier, Pro Mod is a distant aim. Mid to low sixes would be orgasmic.
Eurodragster.com: Who do you have on your team?
Chris Orthodoxou: Wife Angella is Crew Chief. She knows a lot more than she lets on and is the only person I can truly rely on. My mate John Ball helps out too, but is restricted by his work commitments.
I could really do with one more dedicated crewman. It's not really fair to expect Angella to push the car single-handed in the staging lanes whilst I'm strapped in all nice and comfy. Although I have started to make her eat porridge every morning to build her strength up.
Eurodragster.com: Do you have any sponsors?
Chris Orthodoxou: Barclays Bank, although they don't know! I'm constantly on the look-out for some support, this is beginning to get a bit expensive now. I'm currently working for AGIP the Italian oil giant, so I may lean on them for a bit of support. I've been promised sponsorship from two different oil companies in the last couple of years, but they both dipped out when it came to the crunch.
Eurodragster.com: Anyone else you would like to thank?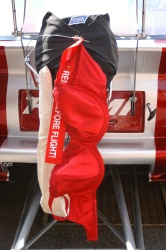 Chris Orthodoxou: My good lady wife Angella for her love, support, and giving me the kick up the arse (encouragement) to get this project off the ground and turn the idea into reality. And for not realising that I would spend double the predicted budget, and not complaining when I did! Also Geof Hauser for the help and advice he has given me over the years.
Eurodragster.com: What's happened to the Reservoir Dodge?
Chris Orthodoxou: I sold the rolling shell to a chap called John Gale in Harlow Essex. He took the old girl straight to B + J Race Cars where they are strut-fronting her and fitting, of all things, a Chevy engine! Absolute sacrilege. The Dart will reject the engine - it's the wrong blood group you see.
Eurodragster.com: How do you see drag racing in 2006?
Chris Orthodoxou: I wish the meeting promoters would have a higher respect for the Sportsman racers who make up seventy five per cent of the racing spectacle. After all, the Pro classes appear to be for filling in between Sportsman rounds - at least that's how it appears to the majority of spectators I speak to.
Eurodragster.com: You obviously feel strongly about Sportsman racing.
Chris Orthodoxou: I'm a firm believer in racing in a class that you can afford to compete in properly, rather than continually wasting track time with oildowns and breakages trying to be part of a class that is obviously way out of your depth, thus making the sport appear amateurish. This ought to be brought home to particular teams.
Eurodragster.com: Thank you very much for your time Chris, congratulations on such a beautiful race car and the very best of luck on its début this weekend.
Chris Orthodoxou: As the logo on the back of the Dart read: REAL RACE CARS HAVE DOORS.
We took a large number of pictures during our visit, which you can view by clicking here.
RACE CAR SPECS


Body
1998 Dodge Viper GTS
Chassis
Pro Mod-legal 25.1E Chromoly twin rail
110" wheelbase
Engine
Ray Barton Race Engines (RBRE) 604 ci all-aluminium Chrysler Hemi V8
Keith Black six-bolt mains block
Stage V Millennium Heads
Five stage Dry Sump System
RBRE Sheet Intake with two 1150 Gary Williams Dominators
Aeromotive Fuel System
Made 1100 hp and 920 ft/lb Torque on the RBRE dyno
Transmission
ATI Ultimate Duty two-speed Powerglide
ATI nine-inch converter
Axle
Tim McAmis Race Cars fully floating fabricated Chromoly unit
9.5-inch Pro gears
All Strange internals
Front struts
Strange UltraStruts
Wheels and tyres
15" x 4" Centreline ConvoPro
Goodyear Frontrunners
15" x 15" Centreline ConvoPro
Goodyear Eagle 33" x 17" x 15" D6 slicks


Feature ©Eurodragster.com. 'Cuda picture courtesy and ©Dave McBride, moparuk.co.uk.



---
Features and Interviews index
Back to News page
---