Clive Skilton with Carl Olson and Mike Kuhl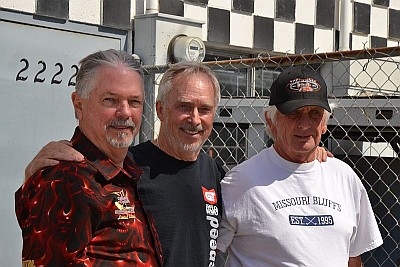 Clive Skilton started drag racing in the UK in 1967 and from 1968 raced Top Fuel Dragsters Revolution, Second Revolution, in which he ran his first 200 mph terminal speed, and the revolutionary rear-engined Revolution III. He entered the 1973 Winternationals at Pomona along with arch-rival Dennis Priddle and bought the proven race-winning Kuhl and Olson dragster. In 1975 Clive built a Funny Car and rekindled his rivalry with Dennis Priddle. After racing a Top Fuel car again in 1976, when he won an eight-car field that included US legend Don Garlits, he then moved to the USA and in 1977 match raced around the country and in the NHRA Championship. After retiring from drag racing at the end of 1977 he settled in the US, ran some of the most successful car dealerships in the country, and became involved in off-road racing with his family including promoting a Jeep racing series.
Carl Olson was a successful NHRA Top Fuel racer based in Los Angeles with Mike Kuhl, and IHRA Top Fuel World Champion in 1972. After retiring from racing in 1976 he became a Vice-President of NHRA and went on to be Vice President for International Relations. This position grew into formation of an FIA Drag Racing Commission that would propose rules for ratification by the World Motor Sport Council, establishing standards for conducting the sport around the world. Carl served as FIA Drag Racing Commission President from 1993 to 2005. He currently serves as Motorsports Manager for the SFI Foundation and is a Board member on the Quarter Mile Foundation.
Mike Kuhl was raised in St Louis, Missouri and raced in the 1950s and 60s. After moving to Long Beach in 1964, he raced Top Fuel Dragsters locally and opened his shop in Santa Ana supplying engines for racing before teaming up with Carl Olson in 1971. Mike became co-owner and Crew Chief on the Kuhl and Olson rear engined Top Fuel Dragster winning many events and becoming, with Carl, a member of the NHRA Five Second Club before selling their racing operation to Clive at the end of 1976. Mike is presently co-owner and Crew Chief of the Kuhl, Olson and Bowman A/Blown Fuel Rear Engine Modified Roadster that can be found competing for land speed records at the Bonneville Salt Flats.
Carl and Clive are members of the British Drag Racing Hall of Fame. Mike and Carl are members of the International Drag Racing Hall of Fame.
The following interview with Simon took place in March 2014 at Mike Kuhl Racing Enterprises in Santa Ana, California. Eurodragster.com thanks Dave Riswick of Eurodragster.com sponsor John Woolfe Racing for helping to arrange the interview and supplying prints of archive photos.
Click on any picture for a large image. Mouseover photos for captions.
Clive Skilton: Who would have thought we would be sitting here all these years later? 1971 was when I first met Mike and Carl.
Eurodragster.com: In 1971 you were running Second Revolution...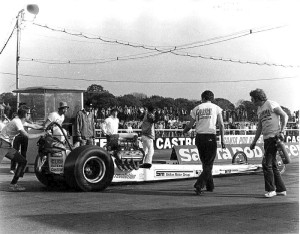 Clive Skilton: And I bought an engine for it from Paul Gommi. Gommi used to work for Keith Black and he broke off and opened up his own shop, and when we built Second Revolution I wanted a good motor for it. We had been building our own motors which were alcohol 354 cu in and I got introduced to Paul Gommi. He later put me in contact with Mike.
The Gommi engine came in a crate complete and we put it in the car but it would never run. The Beadle brothers Don and Tony (Tony sadly passed away in 2012) were at Santa Pod and I had sort of given up. Don said "I can fix this for you". I came back half an hour later and they got this brand new motor all apart in the dirt, they put it back together and fired it up and it ran. I guess that the cam had been 180 degrees out or something crazy like that. It could have been any one thing or any of fifty things!
Later I got to meet Carl because I hadn't been to the States and that was in 1971 when I drove down here.
Carl Olson: Clive met me through Dennis Priddle who was buying parts from me at the time. The first time I met Clive, he brought Don Beadle with him to pick Mike's brain, and at that time Don hadn't been anywhere but was as smart as a whip and a really good mechanic, then afterwards Mike did some engine work and we sold Clive some parts. In 1972 we crashed the car and rebuilt it and sold it to Clive in 1973.
We had the car (that Clive bought) built in 1971 and was one of the first in the rear engine revolution. We saw immediately what was happening and said "We've got to have one of those". So Clive's was our original rear engine car. The car won the NHRA Winternationals, the Orange County International Raceway All-Pro Series and a bunch of other big races.
Clive Skilton: Somehow or other I found out the car was for sale and bought it in 1973. But I had a rear engine car built in the UK before, in 1972.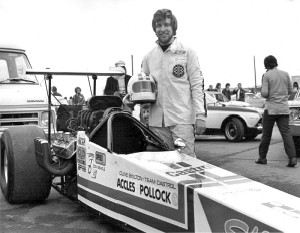 Revolution III was way ahead of its time. If you look at fuel cars today, that's how it was, it was all straight tubes, there wasn't a bent tube in it and you lay down in the car like a F1 car and the frame came up to my shoulders. It was designed by a guy called Ian Fraser and he was an engineer who had contact with the guys at McLaren and they were involved. Behind me, the chassis went up over the top of the engine and you had to take a bar out to get the cylinder heads off, which was a pain so we changed that.
The rear engine car we were building in the UK was the same time as Garlits'. There was an article in Motor magazine when we were building in 1971. That car was a great car, I loved driving it and it won in 1976 when I borrowed it back.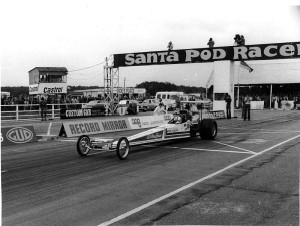 What it had, which no-one had done at that stage, was that you could take the car and split it behind the seat so (although I didn't have the money to do this) if you blew a motor, there were just six bolts and the fuel line to disconnect and like a current Audi Le Mans car you just rolled the back out and rolled a replacement in with everything in it. I don't know how that would have fitted the rules?
Carl Olson: Frakes and Funk here in the USA had a car like that, a complete engine and rear end, everything but the wheels and tyres and that would just unbolt.
These rear engine cars at the start were just a front motored chassis with the motor bolted on at the back. The first rear engine dragsters were influenced by front engine cars. In fact there were a number of cars that were converted from slingshots to rear engine cars.
Mike Kuhl: That first one that I had, one that Carl didn't drive, was later converted. A guy bought it from me and took it to Texas and raced there and got mad because the rear engine cars were taking over so he just welded a back end with motor on it and ran it. He wasn't the only one.
In 1970, three weeks after I had a new slingshot with Billy Tidwell, it got wrecked at Long Beach, it threw the crank out of it and it completely destroyed the car. I built a new slingshot after that one and it had a full body on it. That was the first of my cars that Carl drove and my last slingshot.
Eurodragster.com: Was the rear end revolution in California happening in parallel to Garlits or a result of a result of him bringing his car to Lions?
Carl Olson: A lot of people are under the misconception that Garlits built the first rear engine car, far from that. What Garlits did was build the first successful rear engine car and he brought that car to Lions Drag Strip early in 1971.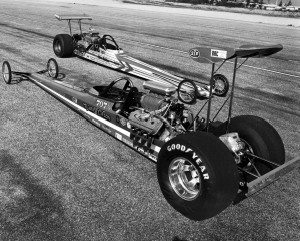 Garlits showed up at Lions but didn't win the race, he made it to the final against Gary Cochran and lost, but everybody could see the writing on the wall. At that time I had my own car which I was running and Mike had his car with different drivers. I ended up crashing my car at Fremont, totalling it and when I got home the phone was ringing. Mike said "I just fired my latest driver", which wasn't uncommon, and wanted to know if I would be interested in driving his slingshot until I got mine back together, and I said "Sure". At our first race together at Orange County International Raceway in Southern California, we won and never looked back. We did very well with the slingshot.
We both agreed that we needed to pool our parts and resources and build a new rear engine car. So the car that Clive ended up with was built in the early summer of 1971. We ran it at the US Nationals in 1971, won Best Appearing Car and reached the semi finals when it was a thirty two car show. Woody Gilmore built the chassis and Tom Hanna built the body. Mike built the engine and we were running cast iron 392 cu in Chrysler engines with 3/8 inch stroker crankshafts.
Clive Skilton: I think that's how I hooked up with these guys because Priddle was going to a 426 and Gommi and you were still running the 392.
Carl Olson: During the winter of 1971-2 was when Donovan Engineering came up with the 417 cu in (cast aluminium block), and we had engine number 003.
Mike Kuhl: John Wiebe had the first one and then when Donovan built the second one he took the first one back and gave number two to Wiebe and we got number three and Herm Petersen got number four. We went to the 1972 NHRA Winternationals and blew everyone out.
Carl Olson: You could run the car so much harder with the 417 because you didn't have to worry about cracking cylinder walls or main webs and throwing crankshafts on the ground. Because we won the Winternationals, we decided to go on tour. I was General Manager of a speed equipment company in Long Beach, Mike had an engine building shop here in Santa Ana, he closed up his shop and I quit my job. We both had families, wives and kids and mortgages and just said "Screw it man, we're going on tour". We did really well.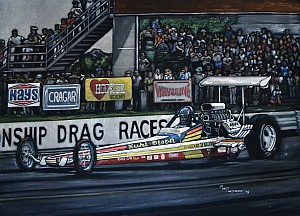 We won a good many races and the IHRA Championship, but at the NHRA US Nationals in Indianapolis, Indiana, we broke a crankshaft in the Donovan and didn't have a chance to get back to California to get another one.
At the final IHRA race of the season, the Nationals in Dallas, Texas, we ran a spare cast iron 392 motor which threw the crankshaft out. We won the race but lost the war and wrecked. We took what was left of the car to Woody Gilmore and said "Is anything salvageable?" and he said "Yes I think the roll cage is good, but the front end is gone and needs welding some tubes on, it needs straightening things in the engine bay" as the rear end had come completely out of the car.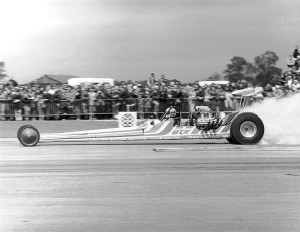 Clive Skilton: That car went through a series didn't it? (Jokingly) I never wrecked that... Oh yes I did! The people who bought it from me wrecked it too. It's funny they talk about at speed things slow up, I remember going through the lights at about 210, and I saw the front tyre part from the rim and the tube between them come out, and then I saw the wheel collapse and that's when then it got hooked on the barrier and you know how they had holes in the barrier, we got right in one, the barrier came up the car and the Santa Pod wood barrier came over my shoulder in the roll cage. You should see the photos.
Mike Kuhl: The same thing happened to Kalitta, he almost got cut in two by it, it was very common in those days.
Clive Skilton: I then sold it to Liz Burn and she crashed at Snetterton. I was late coming to the track and was driving up the road towards it when I saw the car go off the end across a field, hit a bank and take off. It seemed to take forever. I didn't know it was her at the time until I got in.
You talked about Mike firing drivers, we went to Tulsa, Oklahoma and took Carl and Mike with me. We were doing OK, had won the first round, went to the second round and whoever we were racing red-lit. So I just drove up gently to the other end and the boys were then coming up to me yelling a nd screaming and "Why did you lift off?". I said the guy had red-lit and I wanted to save the equipment and they were mad at me because we had screwed up on lane choice. I was worried about oil pressure, got in the car for the next round and found the oil pressure gauge had gone, they had taken it out and said "Just drive the car!'
Eurodragster.com: When you had the car repaired by Woody Gilmore were you looking for someone to buy it?
Carl Olson: Actually the car was sold to somebody else before we crashed it. We had a $2500 cash deposit which we had to give back to the guy so after Woody rebuilt the car and Hanna put a new body on it, somehow we got talking about it with Clive and made a deal.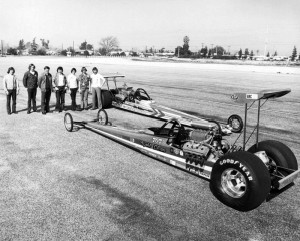 Clive Skilton: The idea was come here and run it at the Winternationals, and it rained and got postponed, and I was stuck in a hotel for three weeks and I had a car show to do back in England at Crystal Palace. In the end I told Wally Parks and NHRA "We've got to go" and that was it. We had got to the point where we couldn't ship it, we had to put it on a plane.
Although he hadn't offered me a penny in the three weeks I was stuck in a motel, Wally Parks called me when we were on our way to the airport offering me all sorts of money and stuff but we never got to race it here.
We took the rear wheels off and put some stock wheels on the back so we could manage to get it in the hold of a 747. It was the weirdest sensation, I flew on the same plane and looked out of the window and saw it go in the hold.
Eurodragster.com: So you took it to the UK and displayed it at Crystal Palace and made the Easter '73 meeting at Santa Pod?
Clive Skilton: We raced it for a couple of years and then sold it to Liz and Ollie and then started on Funny Cars. I bought a Funny Car out of somebody's garden in Fountain Valley, it was an old Ed McCulloch car owned by someone who went on to do Indy Cars. I took the motor that we had, put it in that car and then we built our own body for it as it was just the rolling chassis that I had bought and we put that VX 490 on it.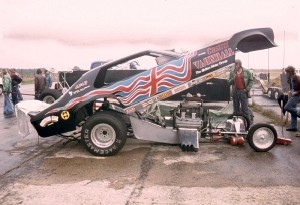 Years later in 1995 I got the Jeep dealership in Placentia and walked into my showroom at 8am and the night watchman says to me I just took a phone call at 5:00 am from a guy who is at Detroit Airport and he'd like to talk to you. So I call this number and get this guy and he said "You probably don't remember but I'm the guy that worked for Vauxhall in the design department when I was twenty years old and did that design with the flowing Union Jack down the side of the car". I said "What are you doing in the States?". He said "I've just had a weekend in Henry Ford". I said "How come?". He said "I am now Chief Designer for Jaguar Cars". It was Geoff Lawson. Ford bought Jaguar and that was the connection with Henry Ford. He said " I'm going to go to England in May" and he designed the XJ220, XK, Mark II XJ, and the S-Type. I was getting ready to go to England to meet this guy and have a tour tour round Jaguar, I picked up automotive news, the trade magazine, and found he had died aged only fifty four years old.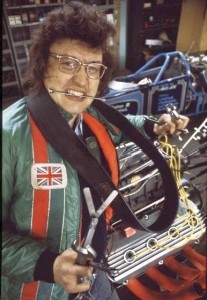 Carl Olson: During that three weeks they were stuck here, Don Beadle was here and Kuhl was putting him through school, building engines and machining parts, and he was a smart guy and a sponge for knowledge about these engines. He wanted to go back and kick everyone's ass in England and he did. While he was here we discovered that he was twenty one years old, not really worldly, pretty sheltered and inexperienced in life, so we showed him how to have some adult fun here in Southern California. He was a fast learner in that department as well.
Don was an Indycar mechanic for many years and he currently lives in Indianapolis with his family. What a great guy, I used to run into him at Indianapolis. Losing his brother was a very sad loss.
Eurodragster.com: You were running Funny Cars in the UK and had a Vauxhall dealership in St Albans and you decided to move over to the US?
Clive Skilton: What happened is I got the second Funny Car from Kosty Ivanov in New England, it was a brand new copy of the Boston Shaker. That was a fantastic car and then I got involved in that big fire in Sweden and lost that car. That's when I came over here and bought the Revell car from Mike and Carl. I had no idea what was going on over here, how difficult it was and put a map of America on the wall in my apartment. I put some pins in the map of the cities with the dates of the NHRA tour then in between those I started calling tracks because in the back of National Dragster there was a track directory, so I looked where I was travelling and called the track to see where I could get booked in for a match race.
That was fine on the West Coast because you knew the travel would take less than a day but when you were in Virginia, say, you couldn't drive those distances so I really screwed up because I thought I could drive them. The other problem was I didn't really have any money so I was robbing Peter to pay Paul.
Eurodragster.com: Who was your team and what car?
Clive Skilton: The first team was Geof Hauser, he did the first third of the year but didn't come on the full tour, then the other guy was from Whitefish Montana, Bernie Lewis, did the rest. We would pull into the drag strip and would pick up help.
The first race I went to in 1977 was Phoenix NHRA. I had never been so fast in my life so what you do is figure out when you're driving you know the difference between six and six and a half seconds. I was driving the car and my mind was set on my normal performance and the next thing I know I'm a long way through the lights, right out the back door, and did 247 mph, that was my first run in that car, the quickest I had ever been. Mike got mad at me because I had driven it like that on a qualifying run and we were no. 1 qualifier but had damaged the crank. We didn't have any spares and put it in the trailer and came home.
Eurodragster.com: Were you racing together as a team?
Mike Kuhl: I was just there helping him. It was our last car and when we quit racing we sold everything to Clive, the car the trailer and the truck.
Clive Skilton: The next race I did was a match race with Garlits in Jackson, Mississippi. In those days there was still unofficial segregation in Jackson and folks were shocked that I went into the wrong toilet. We went there and Bernie Lewis and me and my two boys. It was a best of three with Garlits and beat him in the first round and then we came out for the second round and we beat him again. By the time I got out of the car, Garlits and the track promoter were there and they were about to kill me. They were saying "What the heck's going on?", I said "What happened to you?". He said "These are the rules of the game, if you win the first one, you do not win the second one". The track promoter said "Hey, I'm done, they're all going home now, you cost me beer, you cost me hot dogs, you win one, you lose one and then you race". So we beat Garlits three out of three. He was having a frustrating bad day. Don Garlits was always good to me, he was a great help because we went from there to the Springnationals where we got to the Finals with Shirley and we had that damn race won too until we lost a cylinder in the last hundred feet. Garlits went out first or second round and he came over to our car and stayed with me for the rest of the day and did all the tune-up on the car, took the plugs out, rejetted it and the whole thing and we were doing good. He just wanted us to win, he didn't want Shirley to win.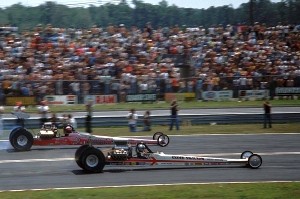 Eurodragster.com: Was it Garlits every time with match racing or were there other racers?
Clive Skilton: There were other cars. I went to Alabama and Clayton Harris was the local hero in the yellow car. They billed it as the Englishman versus Clayton Harris. So we do the first two rounds and win one each and it starts raining. It was 10:00 pm and the promoter said "It's only a shower, wait and you can race". There was plenty of beer being served to the crowd and I was sitting there with Clayton Harris ready to do the final round. And I could hear all the noise, you could hear them getting drunk and you could smell the marijuana from half a mile away. The place was crazy and finally it was finally dry enough to run the final round around midnight. In those days you pushed down the return road to fire the engine. The announcers were whipping the crowd up saying "Who's for Clayton Harris our local hero?", which drew massive cheers, "Who's for the Englishman?" which got loads of boos and "Cut his legs off" and beer cans being thrown at me sitting in the car. I don't even remember who won the race. It was a culture shock.
We encountered that so many times, they used to drink gallons of warm beer out of plastic jugs set on their elbow.
Carl Olson: Clive bought the '74 car - both the '73 and '74 cars were Revell Cars.
Mike Kuhl: The '73 car ended up being the first Revell car. The killer on that car was the original paint job lasted about two months before we had to paint it to the Revell colours and, boy, that was sad because it was our prettiest car. We ran it unpainted at Ontario in the fall of '72 and then won at the last drag race at Lions.
The '74 car won the Bakersfield March Meet in 1974 which was the only time we ran the table. Top Speed, Low ET, number one qualifier and won the race. The closest Clive ever came to winning a National Event in that car was Columbus Spring Nationals.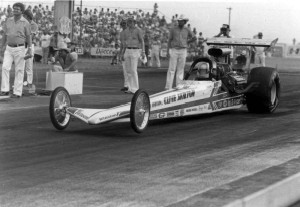 Clive Skilton: We also did good at Indy but Richard Tharp put me out in the quarter finals. That was a thirty two car field and we were number five qualifier for most of it. Bernie Lewis was my team.
ABC put us on Good Morning America and a limousine called at our hotel to collect Shirley Muldowney, Gary Beck and I for a slot on national TV. This was my first ride in a stretched limo and Shirley said "This sure beats working for a living!".
At Indy, Donovan couldn't believe it, we threw a rod in the motor and it went out through the pan, we took the pan off and put another rod in it and didn't hurt the crank or block.
Carl Olson: We broke rods in our Donovan without a problem, we broke one at Sanair in Montreal, Canada, and didn't know. We pushed the car to start it to warm up in the morning, and it just locked up when I let the clutch out, and I thought "Somebody forgot to do something".
Clive Skilton: What Donovan said to me was "Just make sure it's running on all eight cylinders, half these guys don't even know when it's not".
Carl Olson: That car would run on eight cylinders from one end to the other and as a driver you couldn't ask for more than that.
Mike Kuhl: We did finally kill a Donovan block but it wasn't throwing a rod out of it, it was breaking the crankshaft.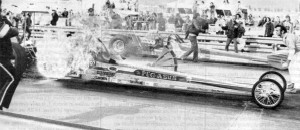 Clive Skilton: Did you see the pictures of that Sid Waterman equipped car that was John Durkee's car with the fire out of it at Ontario Motor Speedway in 1974? The rod came out of the side of the block after it had been pushed back after the burnout. I was staging the car and I didn't know that there was a hole in the side of the block. The motor was running but it wasn't running good, it was on seven cylinders, but I'm ready to go. It was like a big oil pump the fire coming out of the side of the block. I could see the people telling me to get out of the car and it was starting to feel a bit warm and the flames were bubbling the paint on my helmet.
Carl Olson: That Durkee car was trouble from day one. We were here one night and he had a shop in this complex, the Allison brothers sold it to him. He was a nice guy but they couldn't get the motor to run. He came down here and said "Kuhl could we push this down the alley and get it started?". So I jumped in the car and we were down the end of the street (a cul de sac). There was something going on which meant we had to fire it up in the alley, we constantly fired Fuel dragsters up in the street otherwise. We pushed and Kuhl was waiting, I let the clutch out and gave it throttle and it started but it sounded raggety-ass, really bad and I rolled out to where Kuhl was and he was just starting to come over and the idle was a bit low on it and I just squeezed it to bring the idle up on it and it went BANG! I was enveloped in a ball of fire the size of this room, burnt my eyelashes off , burned all the hair off my arms, if I hadn't been wearing a hat it would have burned the hair off my head.
Eurodragster.com: No fire suit, no fire extinguisher near?
Carl Olson: No of course not, why do a silly thing like that. I got out and said "That's it, that's it, that's the last time I want anything to do with that car - or Durkee".
Mike Kuhl: Another time we threw the rods out of it and didn't know was when Rick Ramsey drove it and we went to Orange County one night. They had a points race there, you qualified on Friday night and raced on Saturday night. We went down there right out of the box and that thing set low ET, there was nothing to it.
We came back, were popping open the beer, drinking and having a ball and Darryl came over to me and said "Kuhl, there's something wrong. Go and look at the pan". We saw the pan, there was a ding in it but there was no oil on the ground. I said "Don't say nothing to nobody, we're packing it up and going home". We brought it in here pulled the pan off and there was a rod laying in the pan. So we took the spare motor out of the trailer and put it back in the car and went back there the next day. And nobody knew, the only thing someone saw was that the spare motor wasn't in the trailer. There were some pictures of the race. It was the Revell Fast Guys car.
Carl Olson: That would have been '75 because I retired in '74. Rick Ramsay drove the California Charger and a lot of other stuff. He was fun to have around.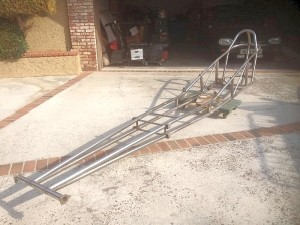 Clive Skilton: I now have the original the second Allard-Chrysler chassis. It originally had a Potvin front-mounted blower on it and then Alan Allard and I were partners in it and when I bought Alan out I put the blower on the top. That was the first Top Fuel car I drove and became Revolution I. Several years ago somebody found the car, it was on the roof of a barn somewhere in England. Someone said "Look at this car chassis, it's stainless steel", and it's the only stainless steel dragster chassis in the world to my knowledge and the reason is you could not buy chrome moly in England in the early sixties so this stainless steel had the closest properties to it. Allard got the drawings from Don Long and had an aircraft engineer weld it up. Mike and I started to look into it a few weeks ago, you can buy Don Long stuff that bolts straight on there so one of these days I will get it together. The guy wouldn't sell it to me a few years back and then he was going to put it on Ebay for something stupid, so I said I would get an old 354 and ship it to you in England and go 50:50 on the car. Then he called me up two years later and said "I'm getting married, I need the money", so I bought it. But I've been so busy with my other projects my kid doing rallying, so I've got to get on with it.

Eurodragster.com: How long did you do match racing for?

Clive Skilton: Just the one year 1977, and I came back and the final race was the very last race at Ontario Motor Speedway and that was the only National Event I didn't qualify at. So I was pretty depressed, had run out of money so I took a job at the MG / Triumph / Jaguar dealership selling cars and that was a temporary job that lasted seven years. I scraped up enough money to go to the Winternationals in '78 and the car shook so bad that the frame broke, so we put it in the trailer, brought it home, welded it up and it went to Reg Hazelton in the UK.

Carl Olson: I saw the car at Santa Pod on more than one occasion. It was an alcohol dragster run by some really nice guys. They ran it for many years. I looked at it in the pits and thought "Wait a minute, that car looks very familiar".

Clive Skilton: I was so depressed after that. I lived near Orange County in Irvine, I could hear the cars from my garden at OCIR and never went to the race track again for five or six years. Then I heard that Garlits was in town and he was testing the Sidewinder which was chain driven at OCIR so I took the day off and saw him there, but after that I never went to a drag strip for years. It was cold turkey to get a break.

Eurodragster.com: What happened next in your motoring career?

Clive Skilton: The MG / Triumph / Jaguar dealership also had a Buick dealership and after a couple of years some guys walked in and said they were looking for the owner. I said "He's not there, what do you need him for?". He said "We've got this Buick NASCAR race car and we're looking for sponsorship. We're looking for enough money to buy a motor". I gave him my card and he said "Are you the drag racer from England? How would you like to drive my NASCAR car?". It was a good way to get sponsorship! So I ended up driving that car for three years in the Winston West Series on the west coast, on road courses like Riverside Raceway and Sonoma, high speed ovals like Phoenix, quarter mile or five eighth ovals at fairgrounds.

Twice a year the Winston Cup guys would come to the west coast and we'd race against them which was great. That was at Riverside Raceway and at Sears Point and I also raced with them at Phoenix. I got lucky, I raced against people like Richard Petty, Allison and all of those guys. They had a radar trap at Riverside, I'm doing 168 in a Buick Regal down the back straight and Richard Petty suddenly came by me so fast he almost blew my doors off. That's how much faster the East Coast guys were. We were in our own little world.

I did that for three years then I took a job with a Dodge dealer Pete Ellis Dodge. After selling Jags in Newport Beach I went to Long Beach Freeway Bellflower selling Dodges but I got lucky there and that's where my life in America turned around. I didn't want to work for the guy but he kept on and on and on. So he made me used car manager, which I had been at the Buick dealer ship. So I said "Don't even pay me a salary, just give me twenty per cent of that department and I'll come and work for you". And it just took off, we sold a lot of cars and made a lot of money. This was around 1983 and from the proceeds of that and help from my new wife Kathy I got my own dealership in 1986.

It was being in the right place at the right time. I got into the Jeep dealership when SUVs were taking off in America. I thought I was smart but really I was just lucky. I managed to sell that business in 1998.

Mike Kuhl: That's how I got these buildings, I didn't plan on getting them, I just got lucky with the whole deal. The guys that owned the buildings came to me and said "Would you like to buy these buildings?". I said, "Yeah, but I've got no money, forget it". They said "What if we lend you the money?". I said "How does that work?". They went to the escrow office came back with the papers and said "Sign here" and the next thing I knew I own a bunch of buildings. They were out to sell that and I was first option. My idea was I didn't want to move. I've been here for forty seven years.

Carl Olson: We were racing when Mike bought it. We made some pretty good money when we were racing for a living. It supported two families and their houses and cars and enabled us to raise kids and put some money in the bank. We had a very interesting economic model. Whatever money the car bought in be it prize money or sponsorship money, fifty per cent of it went back into the operation and we split the other fifty per cent and that was enough to get the best equipment you could possibly acquire.

Clive Skilton: My main racing activity now is with the Jeepspeed Challenge, which I founded in 2001 as an affordable off road race and rally type class after going to the Dakar Rally with my son Darren, who has been racing Dakar and Baja since 1991. We run six Jeepspeed Challenge races a year. My two boys started racing in 1990 when they were about twenty years old. Gavin, my younger son, had to quit eighteen months ago when he was shockingly diagnosed with progressive multiple sclerosis.

We started racing off road in 1989 as we owned that Jeep dealership. When I had the Jeep dealership I also had Kia and was one of the first Kia dealers in America. So I got to know the guys at Kia and the CEO of Kia in America was the ex-CEO of Volvo. We became friends and he ended up getting fired by the Koreans. A couple of years later I get a call from him and he said "What are you doing with this Jeepspeed thing? You're the guy I need, I've got 4,000 Jeep engines". The money he took when they fired him from Kia, he bought a company ATK and it's the second largest remanufacturing company of engines and transmissions in America, Jasper is number one. He ended up sponsoring the Jeepspeed Racing Series and gave me engines, but he's just sold it now. He was in Santa Ana, but now they're in Texas.

I had one dealership in Bellflower Los Angeles County and one in Placentia in Orange County which previously owned Brian Chachua. I bought the first one in 1983 and the next one in 1993 and sold them in 1998. The Wall Street boys got into car dealerships to buy out decent sized dealerships. We were the number one Jeep dealership in America and were top of the list.

Carl Olson: Trust me, Clive didn't end up with the number one Jeep dealership in the US by accident! He worked his butt off building his car businesses.

Clive Skilton: Only in America can you be broke in 1978 and then be the #1 Jeep dealer in 1988... this is still the land of opportunity. I love America.


Feature ©Simon Groves and Eurodragster.com


---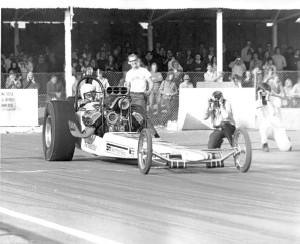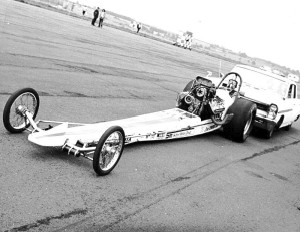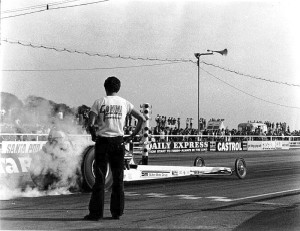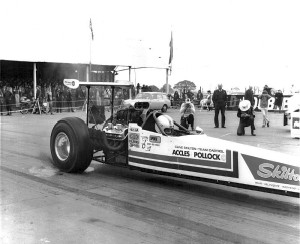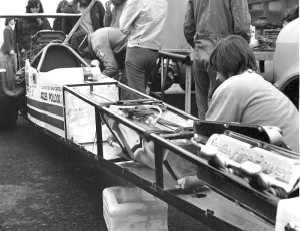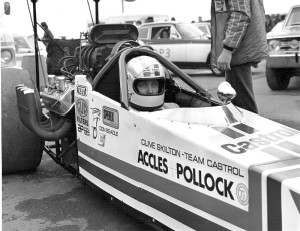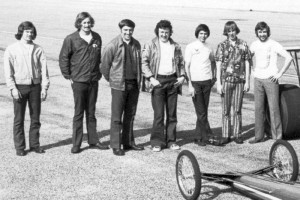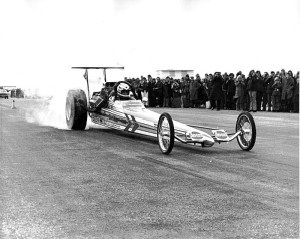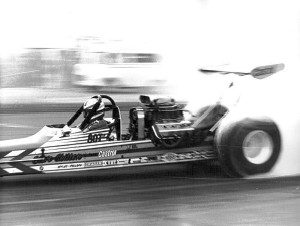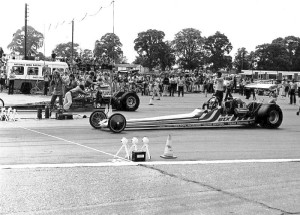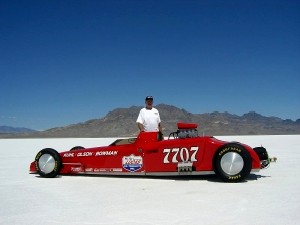 ---
Features and Interviews index
Back to News page
---