Dave Newbery's Top Fuel Bike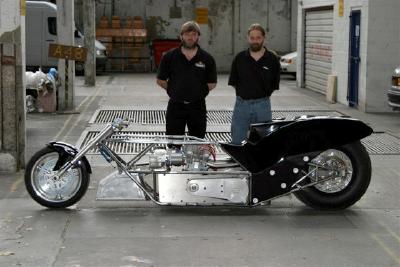 Dave Newbery's interest in drag racing was sparked by visits to Blackbushe with his father in the 1970s, and then reading reading Superbike magazine coverage in the late 1980s. He attended a bike-only drag race at the then-Avon Park in 1990, then in 1993 started running at Run What You Brungs at Santa Pod Raceway on his 1260 cc GPZ 1100 B2. Dave started racing in 10.90 bike and then moved to 9.90 Bike before running in Super Street Bike until 2003. Dave acquired a Top Fuel Bike from Rod Pallant in 2004 and has spent the intervening two years rebuilding the bike to his own requirements. Eurodragster.com caught up with Dave in September 2006 to find out how the bike was coming along.
Eurodragster.com: What started you thinking about Top Fuel Bike, and how long had you been thinking about it before you acquired the bike?
Dave Newbery: At Avon Park in 1990, witnessing the Top Fuel bikes, I came to understand this was the only class I was really interested in. I was always beaten back by the seemingly impossible task of owning and running a Fuel bike, so I continued my half-hearted efforts to run a Street bike. Once again coming to realise that a Top Fuel Bike was out of the question, I started to build what I thought would be a competitive Super Street Bike with a nitrous 1428 Kawasaki, although I spent fourteen years trying to find a way to finance a Fuel bike.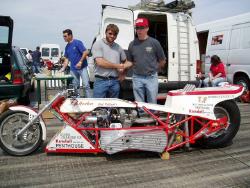 Eurodragster.com: How did you come to acquire this bike?
Dave Newbery: I had seen on Eurodragster and Ian King's web site that Rod Pallant's LA Hooker was for sale. After lengthy consideration, negotiations took place and a deal was agreed for me to purchase the bike at the drag race at London City Airport. Prior to London City Airport I had already realised that I would probably be making a lot of changes.
Eurodragster.com: Did it come turn-key?
Dave Newbery: The bike was sold to me with just a few parts of the fuel system to be added and enough spares to run at least one season.
Eurodragster.com: What have you done to the bike since you acquired it?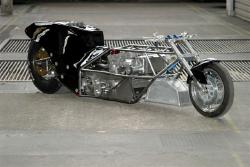 Dave Newbery: The bike now sports the following:
Opcon-autorotor supercharger
MSD 44 amp magneto
Complete Performance Machine back end
Pace oil pump and tank
Enderle 110 fuel pump
Upside down front end
Billet block
Billet two piece manifold
New bodywork
Updated fuel system
You will see by the amount of new parts and modification that this is a new bike. It bares no resemblance to the one I purchased but the original bike did act as a template from which I could build my own ideas. This was a positive because I didn't have the knowledge to build a bike from scratch, but I do now.

Eurodragster.com: Tell us about the engine and transmission.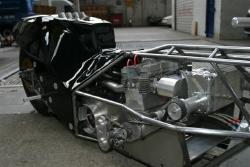 Dave Newbery: The engine is now 1260 cc, still loosely based on an XS 1100 Yamaha. I'm still using cast cylinder heads and the transmission is still early B & J two-speed, refurbished with new sprags and bearings.
Eurodragster.com: Have you had help from anyone or have you done the work yourself?
Dave Newbery: Parts I have manufactured largely myself include:
Billet yolks
Billet block
Billet manifold
Mag, oil and fuel pump drives
Valve guides
Engine plates
Gearbox outrigger
Pneumatic fuel shut off
Fuel tank
I have had great help with the welding from Dave Friend, and an endless stream of useful information from Steve Woollatt, Phil Baimbridge, Steve Carey, Pete Davis and Frank Brachtvogel.

Eurodragster.com: How far off your first outing are you?

Dave Newbery: I still can't actually say for definite, because there is still a fair amount to do to get it how I want it. But hopefully not too far away.

Eurodragster.com: What are your testing and then racing plans?

Dave Newbery: RWYBs are an attractive no pressure prospect in the first instance. My plans are to get the bike to as many race meetings as I can, but finances will dictate this. I am looking forward to experiencing what a Top Fuel Bike will feel like! But there has been other rider interest.

Eurodragster.com: "Other rider interest" - would you care to expand upon that?

Dave Newbery: Yes, I've been approached by The Stig! Seriously though I am afraid I'll have to keep you guessing on that.

Eurodragster.com: How do you view the prospect of running sixes on a bike?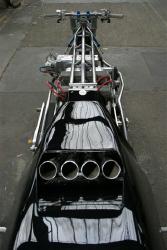 Dave Newbery: Due to the work that has been done on this bike, I have no doubt that sixes will be possible. How long that takes remains to be seen, but a more experienced rider would help to ensure this happens more than an inexperienced rider like me. However, riding the bike myself was never the most important thing: building, learning, understanding and maintaining always was. Although I am sure I will find out sooner or later what the experience is like.
Eurodragster.com: What do your family and friends think about what you are doing?
Dave Newbery: Everyone has been behind me since I announced I had bought this thing and happy that I am achieving a long term ambition. My parents still say "How much is this costing?" but still greatly support me. Since owning the bike I have found friends I never knew I had, but everyone is keen and helpful.
Eurodragster.com: Who do you have for crew?
Dave Newbery: Darren (Slug) Gorey, John Potter and Marie who looks after the food and water department.
Eurodragster.com: Do you have any sponsors or anyone else you wish to thank?
Dave Newbery: I have no official sponsors at this time, but I would like to express my thanks to Earl's for fuel and oil system fittings along with helpful advice; Mike Ross who has given time and resources as a professional photographer in taking these photographs of the bike - his web site is at www.thephotoshop.org; Dave Beck for helping to source some difficult parts; and Ray Debben for taking me seriously.
Eurodragster.com: Thank you for your time Dave, good luck with the bike and and we very much look forward to seeing you at the track.

Feature ©Eurodragster.com. Pictures courtesy and ©Mike Ross.



---
Features and Interviews index
Back to News page
---