Tributes to Dennis Priddle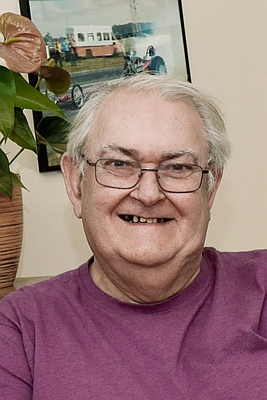 This is so hard to write; having been asked by his long time friend Phil Pead to break the news that the drag racing family has sadly lost one of its truly legendary figures, with the passing of Dennis Priddle. Breathing complications, caused by a fall, resulted in an emergency trip to Yeovil Hospital, where he ultimately lost his final battle peacefully last night. To drag racing fans he will always be remembered as Mister Six, after recording Europe's first 6 second pass back in May, 1972. There were so many highlights for this fascinating character, as he played such a major part in those early years of the sport's history.
A member of both the British Drag Racing Hall of Fame, and also the International Drag Racing Hall of Fame, Dennis was known for his driving, and equally for the standard of the machines he built. An apprenticeship at Westland Helicopters instilled in him an attention to detail, which he applied to everything in life. It was a pleasure to be able to spend so much time with him, while working on the Mister Six book. He had a wicked sense of humour, and a way of telling stories that was not to be missed. He could be a difficult character to get to know, as he was essentially a very private character at heart - but one who enjoyed good company. Those who knew him well will all have tales to tell about this colourful character.
Dennis was someone whose exploits on track were not to be missed during the two decades he raced. With success in Top Fuel and Funny Car, Dennis was a firm favourite with the race fans, and he also inspired many to compete themselves. He was someone who was never afraid to speak his mind, and could be quite intimidating with just his stare, especially if he thought you were talking rubbish! What he respected was engineering excellence, which he always strived for himself - while always taking a keen interest in new technology advances. Away from the track, he produced and fitted screw blowers to road vehicles, which attracted interest from car manufacturers. He also enjoyed working on his own model railway engineering projects in his spare time.
One thing that the Covid situation sadly robbed Dennis of was the opportunity of seeing the finished tribute Monza Funny Car of Paul Harris in action last year, following the cancellation of Dragstalgia. Paul had for some time wanted to run a car in honour of his drag racing hero. Dennis himself was involved in mounting and fitting out the body shell, helping old crew member Brian 'Star' Savidge. Despite his debilitating health conditions, Dennis was so tickled that Paul and his crew were undertaking this project, and wanted to help out where he could. Watching him working in the pits at Santa Pod, when the car was run in Chi-Town Hustler trim, it was like the years were stripped away. Hopefully, a suitable tribute will be paid to honour the legend that is Dennis Priddle, when this stunning car finally hits the track, some 44 years after the original one made it's impressive Santa Pod debut.
Our thoughts and prayers at this sad time go out to Sandra, his wife of 50 years, along with their daughter Nicola, and two grandchildren.
RIP old friend.
Keith Lee
We have received the following tributes to Dennis. To send your own tribute, please E-Mail tributes@eurodragster.com.
The most recently-received tributes are at the top of the page.


---
So sorry and saddened at the passing of Dennis
I knew Dennis before he was famous while he was an apprentice at Westlands and I was an apprentice electrician at the SEB, we were good friends during the early 60s. We be became aquainted when he bought his first motorbike, a Royal Enfield Crusader sports from my school friend, Terry Rose, who also was an apprentice at Westlands. It wasn't too long before Dennis crashed it breaking many bones in his body. We spent many an evening in the garage at his mum's house taking apart and rebuilding bikes including my Goldstar and his Velocete and a RE Mighty Meteor; as a treat, Dennis's mum would pick runner beans from her garden, cook them and then bring them out to us covered in black pepper and butter.
Oh such memories, as well plenty of drinking with friends. I lost contact with Dennis when I moved away from the Yeovil area, I hoped to rekindle our friendship later in life but sadly it is now too late. Rest in peace dear friend.

-- Keith Newman


---
This tribute was sent by the members of the Humberstone Drag Racing Club in recognition of their hero Dennis Priddle.
As a group of youngsters we started attending 'The Pod' in the early 1970's, one of the first racers we encountered was Dennis and we were immediately impressed by his professionalism in all forms of the sport and his superb driving abilities.
We were regular attenders until the late 1970's and followed his exploits regularly.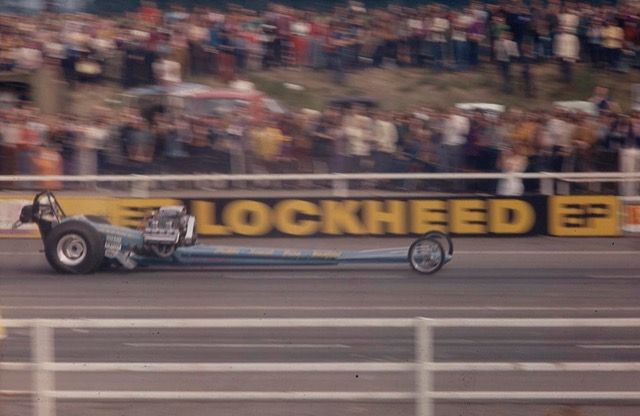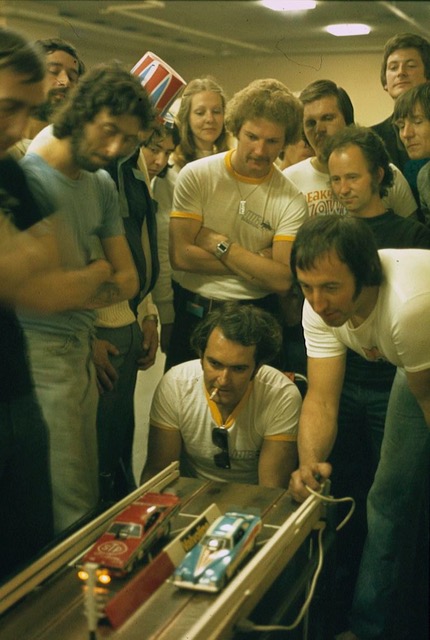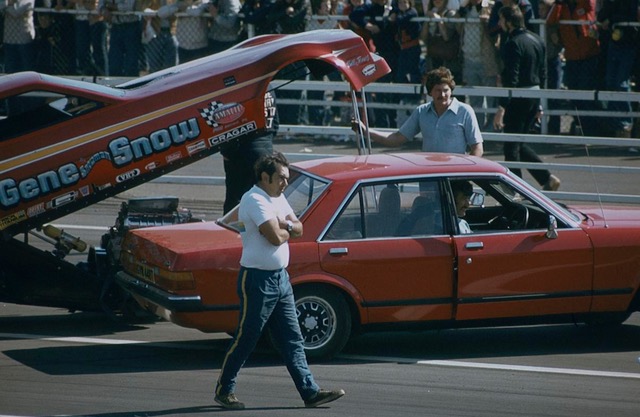 Our interest in the sport prompted us to construct a model drag strip using 1/16 scale Revell dragster kits using slot car principles. The 'strip' made a couple of visits to the Brighton Custom Car show and a highlight for us was getting the racers using our cars which drew large crowds on the balcony where we were situated. For us getting Dennis racing on our track was wonderful along with other racing personalities. A photograph shows the Funny Car final with Dennis driving my model of his STP Avenger against Nobby Hills driving Alan Peck's car. I recall that Dennis was having to use crutches as he had recently suffered the clutch explosion in the Funny Car.
I pleased to say that Dennis was victorious. I can still recall him saying 'Thats my car!' in his strong Somerset accent when he saw the models. I also built (and still have) models of Mr Six, the Revell Tony Nancy rail, and Insurance in Motion. My Mr Six model holds our track record of 1.26 seconds for our (now long gone sadly) track, not bad for 48ft from a standing start.
We have not been to the Pod for many years, although one of group Steve Sharpe raced his 'Sharpshooter' bike until his death last year.

-- Martin Smith & the other members of the HDRC:
Irving Roberts
Vince Carroll
The late Steve Sharpe
Alan Peck (now in Oz)
Bob Sykes
(All from Leicester)
Plus:Tim Roberts & Dave


---
Like everyone else on these pages, I was stunned to hear the news of Dennis Priddle's passing. It is difficult to add anything which has not been said already, but for me he was the ultimate Drag Racer; being a talented engineer & fabricator along with possessing great driving skills. From the first time I witnessed him driving Tudor Rose in the 1960's you knew he was something special and I've been a fan ever since. You will be sadly missed Dennis...RIP.

-- Ian Messenger, Team Pegasus


---
Mike Collins has provided his own unique tribute to Dennis incorporating the themes of reflection and Essence of NitroFire from #8 cylinder with some unpublished pictures (Click image for pdf):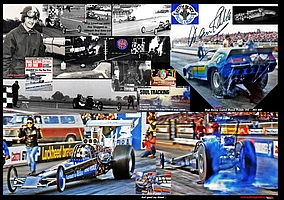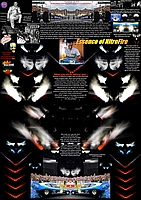 -- Mike Collins


---
My condolences to the entire British drag racing community for the great loss of Dennis Priddle. He was a legend and it must be hitting everyone very hard. My thoughts are with his family, friends and colleagues.

-- Jennifer Faye, President, SFI Foundation


---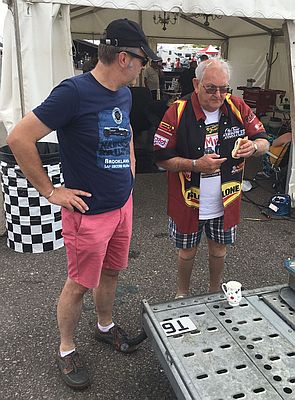 I was greatly saddened to hear of Dennis's passing.
I was well and truly in the Priddle fan camp back in the day and in awe of his building and driving prowess. I remember a demo run at North Weald when he left a pair of die straight tyre marks the full quarter in the blue Avenger (one of the best looking British funnies in my opinion).
I was so pleased to be able to spend a little time with him in the Hustler pit at two Dragstalgia meets.
A legend, thanks and blue skies forever Dennis.

-- Andrew Smith


---
Sad to hear of the loss of Pridd. As many will remember I was once his crew chief and also spent many years working with him building many race cars, I too as with Star had many ups and downs with him, but also had some great times. Wendy and I send our condolences to Sandra, Nicola and the grandchildren. R.I.P.

-- Barry & Wendy Dufty


---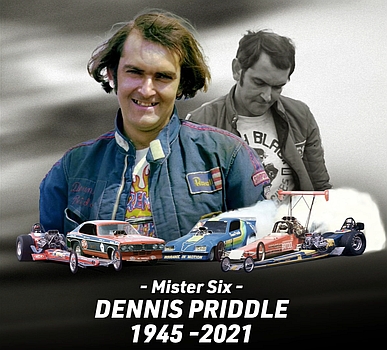 It is with great sadness that on Tuesday we learned of the tragic news of the death of Dennis Priddle.
Dennis was a true legend in every sense of the word, from his commitment to the world of British and European drag racing to his skilled work in design and fabrication. Today, some 36 years after he retired from driving, his name still resonates in drag racing.
He established his nickname, Mister Six, after his greatest triumph at Santa Pod Raceway. The first six second quarter-mile pass outside North America. His success has imprinted itself on drag racing history.
Keith Bartlett (Santa Pod CEO) recalls his earliest memories of Dennis racing his Top Fuel Dragster. "I can remember it like yesterday. Back in the early 1970's, when at Santa Pod, I witnessed Dennis Priddle in 'Mr Six' race Clive Skilton in their regular Top Fuel duels; the experience of that race had a huge impact me to the point where there and then I decided I wanted to go drag racing myself. The dream began that day! Back then, when I first got involved with drag racing in the lower level street classes, not only was I in awe of the racers like Dennis and Clive, but also all the top drivers of the day in both Top Fuel Dragster and Fuel Funny car. Furthermore I recall being terrified of going into Dennis Priddle's pit to ask for his interview in case he refused! My journey in drag racing has been a long one over the past 50 years, but it began all those years ago when I saw Dennis Priddle in Mr Six…he will never be forgotten by the drag racing family."
On behalf of the management and staff of Santa Pod Raceway, present and past, we offer our condolences to Sandra, Dennis's widow and wife of 50 years, his daughter Nicola and his grandchildren. Rest in peace.

-- Santa Pod Raceway


---
I was first taken to Santa Pod by my older brother at Easter 1973 (when I was 12) and was instantly blown away by what I saw. I was completely amazed when I saw two top fuel dragsters run together, one of them being Dennis in Mr Revell. After that, I was totally hooked by Dennis's no-nonsense personality and the incredible engineering of Mr Revell. I have followed the sport ever since, not missing a single year of going to Santa Pod, even managing to go once in 2020 during the pandemic.
My stories are:
Firstly, somewhere in mid 1975, myself and a good friend, decided to catch the train from Bristol to Yeovil and then after a long slog of a walk finally arrived at Forward Garage where Dennis was based. We knocked on the door. Dennis was surprised to see us but when we told him that we had caught the train down just to meet him, he welcomed us into the workshop and showed us round where Mr Revell and the Avenger funny car were. He answered all our questions and was very patient with us seeing that we were young and nervous. After about half an hour, Dennis said he had to get on with his work and he very kindly gave us a memento of a piston each from Mr Six. My mate Nick being a bit pushy, took the piston with the con rod and I had the other one which I still treasure. Dennis then asked us if we would like a lift to the station and we were very excited that the car he took us in was the tow car for the dragster. This was an exciting enough day but made even more memorable by the fact that when we arrived back at Bristol, our tickets were checked and we were taken into the office by the ticket collector for travelling half fare when we were both 15 and my mate had a full moustache!
Secondly, whilst on holiday in 1976 with my parents in Bridport I persuaded them to take a detour to Yeovil to Dennis's house. He wasn't in but his wife Sandra was very kind and asked us in. She showed us some of Dennis's trophies and then some original photographs and gave me a copy of a photo of Mr Six. She said: Whatever you do, don't tell Dennis!
When I bumped into Dennis on a number of occasions at Santa Pod after he had retired,I always asked him if he remembered the time that I came to see him in 1975 and every time he said he didn't remember the occasion!
I am so sad to hear of his passing and wish all my condolences to his family. He was a lifelong inspiration and will be sorely missed. The picture is Dennis looking gloomy after a major engine explosion sometime in the late 1970/80s.

-- Jamie Ferris


---
I am finding it difficult to absorb the passing of Dennis. I only met him on a few occasions. I was with the Black Magic crew of Graham Hawes, a Pro-Comp Funny Car built by Dennis and Co back in the mid seventies, a fantastic car by the way. We often spent Sundays with him during the build at his workshop in Yeovil, and quite a bit of time in the pub, where he had toast and pate and half a bottle of Bells whisky for lunch. I also remember when his crew had a mishap in 1978 in what was affectionately known as the 'play pen'. Dennis was not there. His crew and the Black Magic crew including myself spent the entire night rebuilding the front end of the car, Dennis came later, bought us all Chinese and then welded up a new fuel tank. I met him again at Dragstalgia 2018 but only had a brief chat. But he did tell me where the Black Magic car was. His generosity and kindness held no bounds. So I, as with all the drag racing family, bid you farewell as you master that great drag strip in the sky.
You wil always be remembered Mr Six.

-- Robert Bryant


---
Gutted to hear the news of the passing of Dennis Priddle.
As a young drag fan, I always followed his exploits and finally when I was a guest at Santa Pod I finally got to talk to him one on one in the hospitality suites at the Finals.
Knowing I was Top Fuel Champ, he immediately chatted about ways of tweaking our blower without cheating and was amiable as well as knowledgeable.
Drag racing has lost one of its brightest stars.
Rest well my friend and thanx for all you have done for our beloved sport.
Half revs.

-- Top Fuel Smax and the Ant Hill Mob


---
Dennis Priddle, what can I say that has not all ready been said? Well Dennis was not the easiest man to get to know. He could be cantankerous, awkward, rude, and although I never got it, he could give you, "the death stare". But, and a huge but, he was my hero. As a drag racer in Europe he was second to none. As an engineer, second to none. Oh and one day he had a stab at the fives in an old FED! I was lucky to own one of his old cars, and when I wanted body work done on my Pro Comp car, I went straight to Dennis to fabricate it.
No, he was not everyone's cup of tea, but he was an Earl Grey in a world of PG tips!

-- Tim Claxton


---
It was with great sadness that I learnt of the sudden passing of my dear friend Dennis in hospital last night.
I will so miss our phone chats during this Covid thing when we would jokingly try to outdo each other with our ailments and how we'd become a pair of old miseries who shouted at the TV and whinged about everyone and everything. He usually won as he had a better command of the English language than me where I would just resort to raising my voice or swearing more.
I will miss his acid wit and wicked sense of humour of which I have felt the painful sting of on several occasions, thankfully, I was never on the receiving end of one of the famous Priddle 'Death Stares'. Nor will I forget the stimulating conversations we used to have over a bottle of Scotch at his home in Yeovil back in the day. There were times when I have had no recollection of my drive back home to Glastonbury!
We had a mutual respect for one another, I never told him how to build dragsters and he never told me how to paint them, well, not that I noticed, as he had a subtle way of getting me to do things his way by making it look like it was my idea. Clever.
We enjoyed a strong bond and a rare friendship from the day we met a bit under fifty years ago, and through Dennis I have met and have become close friends with some amazing and colourful people over the years. Thankyou for all the great times you allowed me to share with you Buddy. Much appreciated.
I'll stop now as I seem to have got something in my eyes.
My heart goes out to Sandra and Nichola and Dennis's extended family at this dreadful time. You have mine and Ro's deepest sympathy. Close the throttle and pop the 'chute Prids' RIP.

-- Jeff Glasser


---
Possibly everybody involved in the quarter mile scene since the early seventies will be able to recall at least one of the many earth-shattering runs put down by Dennis. Wikipedia, referring to the history of Brighton Speed Trials, relates that in 1973 Motor Sport magazine reported how Dennis "ran a smoky 7.69-second quarter mile in his front-motored Chrysler dragster, which remains the quickest quarter ever on Brighton seafront. The sheer bravery and courage of the West Country lad as the dragster accelerated along the bumpy, cambered road, brought forth the most incredible round of applause heard at a motoring event for many years."

-- Mike Lintern


---
The Legend R.I.P Mr Six, thank you for starting my 51 years drag racing journey.

-- kimtig66@gmail.com


---
I was so saddened to hear the news this morning that Dennis had passed away, another of our legends lost far too early, I know my dear Stu would have been devastated to hear this too, but he will join him up there in Drag Racing heaven and I'm sure they will have a good old catch up there along with Bootsie. My thoughts and prayers go out to Sandra and their daughter Nicola & all the family. With heartfelt condolences.

-- Bev Bradbury & family


---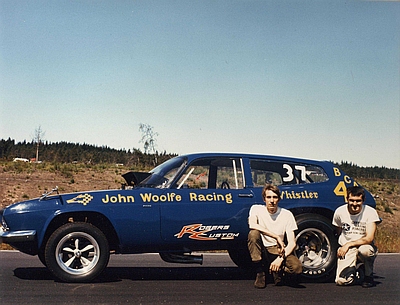 I was saddened to hear of the passing of Dennis.
Dennis's involvement with John Woolfe Racing started back in 1968 when he met the late John Woolfe at RAF Elvington in Yorkshire where they both set new world records with their dragsters.
What happened from that point on is well known history and for many years the JWR/Priddle collaboration made drag racing exciting and memorable.
Dennis set the pace on and off the track, always having many projects on the go as not only was he a natural driver but an engineering genius as well.
Rest your soul West Country cousin, as always, I am not far behind you.

-- Dave Riswick


---
I was saddened to hear the news about Dennis this morning, I first saw him race at both The Pod and Long Marston late '70s and early '80s and it was always great to see him race in ether his dragster or funny car! Fast forward to 2017 at Dragstalgia where for the first time I had the chance to talk him for the first time when he signed the flyer of his new book for me. Then, not long after, we were going on holiday to Weymouth and called into a well known fast food chain in Yeovil, I was just about to sit down and across from me was Dennis and Sandra. So I went and had a quick chat.
Like many (if not hundreds) he was a hero and, to me, second to none! When he got the first six it was well deserved! The country has lost a great man, my condolences go to Sandra and family! Denis RIP

-- Tony Smith


---
Lesley Wright, Honorary Chair of the British Drag Racing Hall of Fame, writes: We are saddened to learn of the death of our distinguished Member, Dennis Priddle. Dennis was one of the inaugural group inducted into Membership in 2006. He was also inducted into the International Drag Racing Hall of Fame in 2016, as one of only four individuals honoured with dual membership (the others being Sydney Allard, Carl Olson and Don Garlits).
An innocuous first competitive appearance at the wheel of Tony Gane's little Rudge-engined dragster at Santa Pod in 1967 hardly hinted that, less than five years later, Dennis would be established as one of the giants of the fledgling straight-line sport. Nitro Top Fuel Dragsters and Funny Cars were his vehicles of choice, and not only did he build, engineer and tune them but drove them with victorious distinction too. Before his retirement from driving in 1985 he had raced at venues across the UK and Europe, while a solitary trip to NHRA's Winternationals in 1973 was stymied by that Southern Californian rarity, rain.
It was on Santa Pod's quarter-mile that he achieved his greatest triumphs. In 1972, the first six-second pass achieved outside North America would earn him a sobriquet, 'Mr. Six', that would follow him for life. His celebrated rivalry with Clive Skilton lasted only until 1976 but became a legend of the sport which has endured ever since. Anyone even slightly familiar with drag racing in the 1970s and 1980s would have known of Dennis Priddle, and those more recently acquainted with the sport can conjure up his name to this day.
On behalf of my fellow Hall of Fame directors and management, and of our Members, I wish to convey our condolences to Sandra, Dennis's widow and wife of 50 years, and to their daughter, Nicola, and grandchildren. Rest in peace.

-- British Drag Racing Hall of Fame


---
The first time I ever went drag racing was at Avon park/Long Marston where Dennis was racing in 1983, I was blown away by it and have been hooked ever since, RIP Dennis a true legend of drag racing

-- Allan Thorpe


---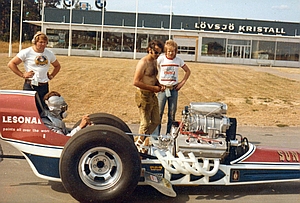 From our debut at Mantorp Park in Sweden in 1975.
Dennis was helping out a inexperienced Sundance Kid team from Norway.
R.I.P my friend

-- Jan O. Jakobsen, Oslo, Norway


---
On behalf of the Nitro Revival brotherhood, we send our kindest respect and condolences to the family and friends of Dennis Priddle. He truly was one of the giants of the sport we all love and share. Well done Dennis...well done.

-- Steve Gibbs


---
I was saddened to hear of Dennis's passing. I have many memories of the times we raced in Top Fuel. RIP Dennis you will be missed by many.

-- Pete Crane


---
We are so sorry to hear the sad news of Dennis. He was a large part of our racing life, so generous with his help and expertise. He will be sorely missed. Our condolences to Sandra and the family, our love and thoughts are with you at this sad time.

-- Roz (nee Prior) and Gerry Andrews


---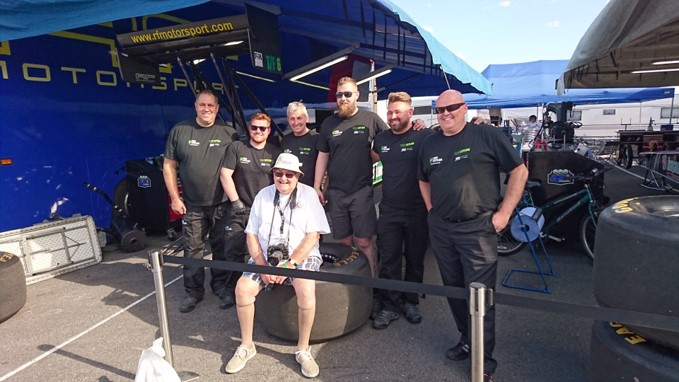 I first met Dennis in the late 60s through Tony Gane. I was working at Westland Helicopters at the time, working on the Gazelle helicopter. We would see each other on the shop floor as he worked in the drawing office and was the liaison between the build lines when we needed a drawing change or repair drawn up.
In 1973 he asked me to meet him at Forward garage one Saturday where Dennis had his workshop and Mr Revell was getting its full body panels made and before I knew it I was on the tools and we're bending ally sheet into swoopy body panels. From then on I and Barry Dufty spent many hours working evenings with Dennis on the cars. It was a great combination, Dennis had the design skills I was the cut, file and bend guy and Barry the machinist.
We spent many hours together in the different tow trucks pulling dragsters and funny cars all over the country and Europe becoming best friends and quite good at running fuel cars.
I am very proud to say that I was involved in many of the cars produced by DPR and learnt a lot along the way.
In 2010 Dennis had Mr 6 at his workshop in East Coker, we had met at a local car show and I asked him if I could lend a hand in the restoration of the car (I love front engine dragsters) which I have to say we made a pretty good job of replacing body panels, new canard wings and various brackets etc.
In 2019 I took on the task of mounting the Monza body for Paul Harris on the Chi Town Hustler chassis and was assisted by Dennis. This was no mean task but with Dennis's technical input we achieved it and it is a fitting tribute to his skills as a race car builder.
I was also very proud to be asked by Dennis to accompany him to Gainesville Florida the trip organised by Phil Pead to see him inducted into the International Drag racing Hall of Fame by Don Garlits, no less. Dennis was not sure if any of the attendees would know who he was, but was overwhelmed that so many of the drivers not only knew who he was but had followed his career in drag racing from across the pond, his acceptance speech was true Dennis Priddle, speaking without notes about tales of his spectacular career in drag racing.
In 2018 We went to Tierp Arena where he was guest of honour at the Swedish 50th anniversary of drag racing and met many drivers and old friends he had competed against during tours of Sweden, an amazing weekend, quite a trip.
It's with a heavy heart I write this tribute, we had our ups and downs and fallouts but we remained close friends to the end. Thanks for taking me along for the ride Dennis, I will miss our regular discussions on all things but mostly drag racing. Your bottom end diver.
Pictured: Dennis with Liam Jones and crew at Tierp

-- Brian (Star) Savidge


---
We feel lost for words however so many pictures appear in our thoughts of the great memories we have of Dennis. His presence at any event in the '70's held you in awe – when Dennis was getting ready to run everything stopped and you just felt compelled to watch the master at his art. Walking by his pits afterwards had you enthralled at his determination to do better and woe betide anyone who distracted him from that focus. He was a tough competitor and respected by all. In later years, talking with him at the Hall of Fame Gala he had mellowed a little but still his intense need to understand the complex intricacies of modern Top Fuel or Funny Car racing was still there. To see him around the Chi Town Hustler car brought back that animated twinkle in his eye that said we're going to do this right and we're going to this well. We have lost our connection between the present and the past, to remind us of the fundamentals that so easily get lost in the passing of time. We and British Drag Racing will never forget you Dennis, a legend in the sport and a friend to us. Our sincerest condolences to Sandra and Nicola and all the family.

-- John and Lesley Wright


---
RIP Dennis...You will never be forgotten, a true legend and gentleman.

-- Nick Curtis


---
I didn't know it was Dennis at the time, but I can remember seeing the JWR Funny Car at the pod. He put in some great runs, in the sixes. Met him at a signing event for the book Mr Six. He didn't mind, that I did not get the book, and signed the print of his dragster for me.
A massive loss to the drag race community.
R.I.P. Dennis.

-- Stephen Billings


---
I was very sad to hear of the death of drag racing legend Dennis Priddle.
He was literally responsible for getting me hooked on the sport nearly 50 years ago when I saw him run a 7.69s at the Brighton Speed Trials on 8th September 1973.
I spoke to him about it many years later at Santa Pod and he said that the local police chief came up to him after the run and said "That was the most amazing thing I've ever seen and there's no way I am going to let you do it again", or words to that effect. The safety measures at that time consisted of straw bales in front of the Victorian cast iron lighting columns.

-- Chris Dawson, Seaford, East Sussex


---
As a young kid I was introduced to drag racing in the early 70s, I had three heroes , Dennis , Don Garlits and Bootsie. All legends and trips to Santa Pod and Blackbushe were always special. As a fan Dennis was always a highlight. He was the ordinary guy who could do extraordinary things both in top fuel and in funny car. Driver, builder and innovator, part of my youth has left, RIP Mr Six.

-- David Jones


---
So sad to hear about Dennis. So many memories of this absolute drag racing legend. I have spoken to him so many times. RIP Mister 6.

-- David Rose, Norfolk


---
I have been a drag racing fan for over 45 years and the news of Dennis Priddle's passing has truly saddened me. He made a massive contribution to the sport in the UK and campaigned many amazing and successful cars. Mr Revell was perhaps my favourite, a true slingshot dragster requiring skill and courage to drive. I met Dennis a few years ago at Dragstalgia and he spared time to chat to me about the good old days of drag racing, I was in awe chatting to a lifelong hero of mine. A sad and massive loss to the sport, god bless Dennis Priddle.

-- Melvyn Holmes


---
Features and Interviews index
Back to News page
---