Eliminator goes to the USA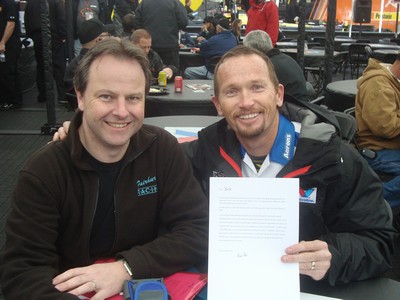 Click on any picture for large version

Ian Hart, who originated the Eliminator drag racing card in the UK, recently gained permission from the NHRA to market a US version of the game with proceeds going to the Drag Race Association of Women. In February 2011 Ian went to the NHRA Kragen O'Reilly Auto Parts Winternationals to talk to drivers and riders about their inclusion in the card deck. Ian kindly kept a diary of his adventures for Eurodragster.com readers.
It is 4:00 am on Thursday 24th February and my alarm is going off. For a minute I can't remember why, but as sleep departs and wakefulness descends, I sit up and remember. "Oh yes, I am going to Pomona!". Last minute check of tickets, passport and money and I am off out the door. Best buddy, Paul Marston Racing crew member and next door neighbour Keith Bick is waiting to take me to Heathrow, disguising his jealousy well.
Flights go by in a rather boring twelve hours, followed by an hour and forty minutes getting through immigration, and I am on a shuttle to San Dimas, driven by a rather manic little Chinese guy who speaks only a couple of words of English and is sitting on three cushions so that he can see over the dash of his bus. Nose to tail all the way from LAX to San Dimas takes three hours, and when we do arrive the shuttle driver insists on dropping me on a petrol station forecourt, pointing and gesticulating at a building in front of me and shouting "Hotel, hotel". Thinking this must be it, I jump out of the bus and grab my bags. The shuttle disappears into the night and I walk off to the building my driver indicated. As I approach it is obvious that this is not my hotel. It is an apartment building. I ask a guy where my hotel is and he points me half a block down on the other side of a busy road with the nearest crossing half a mile away! Thanks Super Shuttle, really helpful there.
Finally at my hotel I contact Beth Hyatt of DRAW. I am here to launch the Eliminator card game in NHRA. Where the profits in Europe go into the benevolent fund, in the USA they will go to DRAW who help out injured racers and their families. DRAW are hosting me for the weekend while I sign up the drivers. We go to dinner on Thursday night, but since I have been travelling for something like twenty four hours I am in no state to take much in. In bed and asleep by 9:00 pm. I wake up at 4:00 am on Friday and, unable to get back to sleep, grab a shower and head out for some breakfast. Ron (from Australia) on reception tells me to go out the front door and turn left and walk two blocks. Half an hour later, lost in San Dimas, I ask an old lady for directions. The accent that comes back is definitely not Californian. She is from Southampton, and walks four blocks with me (back past my hotel) down to IHOP. I thank her and head in for breakfast. Just after the Mexican waitress takes my order, another elderly lady comes over to my table and introduces herself. She is Enid from Wolverhampton. I am starting to think there aren't any Americans here at all. Back at the hotel I challenge Ron about his directions. "Oh yeah, did I say left? I meant right"
At 8:30 am Friday, Vicki Aswege from DRAW picks me up at the hotel and we head to Pomona. We drive straight into the team enclosures, park up and go in. From hotel to pit lane in five minutes. Hey Toto, this isn't Kansas. I take a few minutes to get a grasp of how big this is. For a Santa Pod regular who has not been racing in the US before, it is pretty difficult to take in. The sheer size of the operation is immense. John Force has an area of his own about the size of our Pitside retail filled with trailers, buses and a full catering unit, Tony Schumacher is pitted with Antron Brown, their two trailers are separated by a hospitality unit with seating for perhaps 100 people and full catering. The rest of Don Schumacher Racing, the Lucas Oils/Geico team, the Bernsteins and the Kalitta team all have similar set ups. If you put these four teams side by side, the area would fill our Pro pits on their own, but then they do have 10 cars between them. There are over forty nitro cars here, Pro Stock have a twenty-car field and then there are masses of alcohol funny cars and dragsters. Scale up Santa Pod pits by four and you are getting somewhere close to the size.
The rain starts, and suddenly I recognise this drag racing. I am sitting in a trailer looking at puddles. Just like home.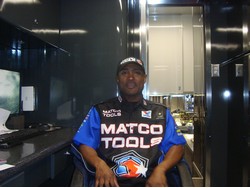 First meeting of the day is with Rodger Brogdon in Pro Stock. Really nice guy, spares the time and is interested in being in the game. Rodger Brogdon is now my favourite US racer. Next I move on to Terry McMillen. Terry is a brilliant guy, a privateer Top Fuel racer with a huge personality and a real genuine manner. Terry signs up for the game and moves into the spot of favourite US racer (that is going to get dull, I'll give that up now, suffice it to say that everyone mentioned here is now my favourite US racer). I go up to see Jack Beckman in his hospitality unit. Jack is exactly the guy you see on the TV, he is funny, engaging and a really helpful guy. Jack signs up to be in the game and then asks me if I need any help getting to see anyone else. Within two minutes we are in Antron Brown's lounge in his trailer. Antron is another decent guy. Really excited about the Eliminator game. Happy to help and genuinely interested in what racing is like at Santa Pod and in Europe generally.
Saturday Morning and it is so cold in SoCal. So cold it is scheduled to snow. We head to the track anyway where we have meetings with retailers which go OK to a greater or lesser extent (MainGate are making my life less than easy). Then the heavens open and the hail starts. The entire crowd are diving into awnings and trailers and under any cover they can get as pea-sized hail comes down hard enough to hurt, and then it is all done. Puddles everywhere, but blue skies on the horizon and this weather blowing through.
Off now to see Matt Hagan. I am standing outside his pit waiting for our meeting. Matt is signing hero cards, a familiar voice behind me makes me turn round, and there is Dave Cherrett of the Dark Revenger. A familiar face in this foreign land. When you are a long way from home, very tired and working your socks off to get through a meeting schedule, you have no idea how comforting the words "Alright Bab" can be. Sorry I didn't catch up with you again Dave, but hope you had a good time.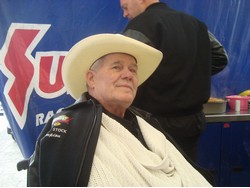 Next I go into Greg Anderson and Jason Line's pit, where I spend about an hour with the legendary Ken Black. Ken is looking better, but still in the wheelchair, stetson still firmly planted on his head. Ken thinks the game is great, and wants to help us as much as he can. Greg and Jason finish prepping cars and come over to sign on. Saturday morning is now over and I am running late, I am spending too much time chatting to these guys (as anyone who knows me could easily have predicted). But they are so interested in what we do, both in European racing and with the Eliminator game, and I am just loving talking to them about their cars and NHRA tour and anything I can get out of them. Must try and be more disciplined.
Ten minutes later and I am sitting in Morgan Lucas' pit with Karen Stoffer and Shawn Langdon. Both these guys sign up for the game, and both fit the established mould of truly decent people, helpful and interested. We are just leaving the pit when one of Suzuki America's people turn up and hand Karen a start line pass for the Pro session. Karen introduces me and I am offered one as well. I explain that I will likely be kicking myself forever, but I have people booked in for meetings and I don't have the time to go to the start line, I appreciate the offer, and I realise I will likely never get another chance like this, but people have been good enough to agree to meet me. The least I can do is turn up (dedication huh?). Karen and the Suzuki guy head off to the start-line, and the Pro session begins, and wouldn't you know it? My next two meetings don't show up. I am really annoyed, I turned down a start line pass and these people let me down. Kicking myself, I walk through and watch the last couple of pairs in the Pro session, grab a sandwich and then head back up the pit lane to meet Jim Head, on the way there I see Karen Stoffer again. She asks how the meetings went, and when I tell her they did not show she gives me a pass for the evening Pro session. Karen is definitely my favourite racer, and I am going on the start line for a Pro session.
Jim Head is a brilliant guy. I spend far too long in his trailer talking racing and aeroplanes and generally shooting the breeze. Jim signs up for the game and also gives me T-Shirts and goodies, then he heads off (see what I did there?) to get ready for the evening Pro session.
It is 4:00 pm and I am on the Pomona start line as the Alcohol cars come in. This is really interesting, the NHRA start-line crew don't pay anywhere near as much attention to cars as our crew do. Watching this, I am so proud of our crew and what they do. I am sure US racers feel safe, but not as safe as our racers must feel. I am always reassured that there are always a couple of our start line crew there, aware of what is going on around them, and constantly vigilant of driver and crew safety. Pomona start-line crew (at least from my vantage point) do not seem to have any interaction with the drivers. Ian Marshall and his team know what a driver can and can't see so they make sure they are able to signal drivers and crews alike. If you watched a car come to the line at Santa Pod, and compared it to Pomona, it is vastly different. For one thing, the starter is behind the car, for another, there are no startline crew in the vicinity of the car, drivers literally come back from burn out with only their crew cheif in vision, and then go on the Tree. I am sure this works fine, but I think our way is better.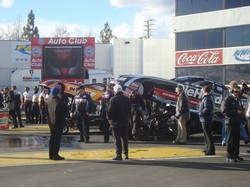 Next up is Fuel Funny Car, and I watch some storming runs from the likes of Neff, Hagan, Hight and Head. John Force and Bob Bode have a real squeeky bum moment when John's car turns hard left after the traps and damn nearly takes the nose off Bode's car. On the vision screen it looks like Force's 'chutes blossom on Bob Bodes hood, that was close, but somehow they missed wrecking. Then as the last few pairs come up, Cruz Pedregon puts in the third fastest Funny Car run ever, a track record 4.015 at 313 mph. Back in the pits, the buzz is all about who will go into the threes and when. Popular opinion is that it will be either Hagan or Neff and it will be this year. Let's all wait and see shall we. Cruz put that one in and it wasn't perfect. I saw the TV replay and from their angles it looks a lot straighter than it looked from directly behind the car.
Off to In 'n' out Burger for dinner, and back to hotel to crash out. It has been a long day.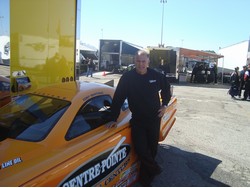 Sunday Morning, and it is bright and sunny and relatively warm. The day starts well with meetings in Top Alcohol Dragster and Funny Car. Alexis De Joria, Jim Whiteley, Megan McKernan and Tony Bartone all agree to appear in the game. On the way back I bump into Angie and Matt Smith, ten minutes later I have them signed up, and in two hours I have closed out Pro Stock Motorcycle and Alcohol. V Gaines gives me all the time he can before the next round and says he will appear.
I am invited into Tony Schumacher's pit to talk to "The Sarge". Tony gives me 100% undivided attention and seems genuinely interested. Then, without warning, he suddenly says "Stop there for five minutes, I will be back", and he is gone, jumping into the car for an engine start. I am standing virtually next to Tony Schumacher's car for an engine warm up. Inside the hospitality unit, fans kick in and make a valiant effort at clearing the fumes, but nothing can do anything about the noise. A couple of kids get a bit upset, and then the engine is cut and Tony is back, smiling and chatting to these kids and signing hero cards to make them smile again, and now he is back with me. Back to 100% attention and interest. Like all the other drivers and team I have met, I am astonished at how he can give this kind of attention level to me, or anyone else, when all around him there are people asking for a piece of him, but he does, and I am grateful. Tony signs up and I have the mighty "Sarge" in the game.
My only meeting left on my schedule is with Morgan Lucas. Every time Morgan comes anywhere near the front of his pit he is swamped, but we get through the melee and Morgan agrees to participate. It is mid day, I have two hours left at Pomona, and I have achieved what I came here to do. Now let's watch some racing. I am so glad I got finished early enough as I stand at the stripe and watch Terry McMillen put Larry Dixon on the trailer. Terry is such a great guy I am really pleased for him, I can just imagine what the McMillen happy dance looked like at the top end.
Round one is over, and I am not suggesting any influence here, but every driver who signed up went through that round, and also every big name who said they were too busy, or didn't show up has gone out in less than glorious style. Maybe it's karma?
All in all, a fantastic, productive, interesting weekend. As and when the NHRA product is produced, it will be on sale in the UK and rest of Europe through our web site (under construction right now). Stay tuned. Only one other thing. If you are thinking about going racing in the States then go for it, it is big, it's brash, it's loud and it's fast. But if your budget won't stretch that far, or you don't have the time, don't worry, the show in Europe might be on a smaller scale, but we've got everything they've got, and some of our stuff is better. Plus our beer is not $8 a pint!
---
Features and Interviews index
Back to News page
---