Exclusive Feature on FB Racing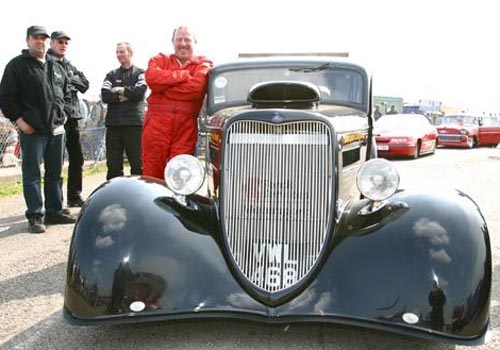 For this team feature we headed to Cheltenham, UK, to catch up with one of the most popular of the Custom Car Street Eliminator teams, FB Racing, or as everyone knows them, the Fat Boys. Led by owner/driver Ian "Fats" Hook the team have campaigned a black '34 Ford Coupe in the street-legal class on and off for six years.

For people not familiar with the class, Custom Car Street Eliminator is heads-up racing for street-legal cars (on treads, through mufflers). To prove that they are street-legal all the competitors have to complete a twenty- to twenty five-mile cruise on public roads at each event. Fail the cruise and you are out of racing.

The team have had their share of lows (such as bouncing off the wall at 140mph when a trans line split) and highs (such as winning this year's Allstar Nationals). Whatever happens though they are always resourceful, coming up with the FB Associates scheme to raise sponsorship for the car and through it all the team always pull together and do their best to have fun. Failing that, they fall back on their third favourite pastime (racing being first, eating and drinking second!) of winding up fellow CCSE racer Andy Frost!

Thanks to Fats for taking the time to complete the questions for us and giving us such an in-depth and entertaining look at the team.

You can stay in touch with FB Racing on their web site at www.fbracing.co.uk


Eurodragster: Tell us a little about yourself away from the track?

Ian Hook: In the real world I am a family man with a wife who, despite having no interest in drag racing, has somehow stuck with me for twenty one years. She's a bloody diamond! I live out my 'nine to five' existence in a factory making landing gear for both commercial and military aircraft. At weekends I get my hands dirty spinning spanners and a welder at my Dad's small garage - this is what pays for most of my racing. In between this and working on the car I do somehow find time for doing some parenting and watching a little football.


Eurodragster: When did you first go to a drag race?

Ian Hook: 1982 at Long Marston Raceway (Shakey to you young 'uns).


Eurodragster: When did you first take part in a drag race?

Ian Hook: My first Run Wot You Brung was in 1984, again at LMR. It was in my daily driver, a 1955 Vauxhall Wyvern street sleeper with a Rover V8. I still remember the first pass ET - 16.31.


Eurodragster: What is your current car?

Ian Hook: It's still a street car but now it's a bit quicker. 1934 Ford Coupe three-window with a 477 ci Ford Big Block.


Eurodragster: When did you acquire your current car?

Ian Hook: I bought it in 1992 as an unfinished street rod. At the time it had a Small Block Ford, four-speed and a Jaguar live rear end. I did intend to finish it as a rod, but after a year with the car in storage the 460 motor sat in the corner of the garage started whispering to me and before 1994 arrived Martin 'The Brain' Kerr and myself had cut it apart, narrowed the rear chassis and dropped in the 460 and a 9" rear.


Eurodragster: Who built the car originally?

Ian Hook: See above


Eurodragster: What is the powerplant and who built it?

Ian Hook: It's a 477 Big Block Ford and was built by Martin and myself with excellent advice from builder/tuner Clive Bond who luckily lives just outside Cheltenham. It features aluminium Cobra Jet heads, a roller cam, tunnel ram with two Dominator carbs and two NOS Fogger systems. We hope to have a 540 motor (Ford, naturally) with TFS heads in place for 2004.


Eurodragster: Approximate BHP?

Ian Hook: Lord knows. 700 perhaps?


Eurodragster: What drivetrain does the car employ?

Ian Hook: The trans is an aftermarket 'Glide supplied by CCSE sponsors (and all-round good-guys) TSR. The converter right now is non-existent (it looks like someone dropped a grenade in there!) but I'm saving hard for a Neal Chance bolt-together.


Eurodragster: What is the car's race weight?

Ian Hook: 2,687 lbs with a Fat Bloke and two bottles on board!


Eurodragster: How the car has developed since you first got it?

Ian Hook: Oh Lord, that's almost a book in itself. Well, I'll do my best. As I said before, I did buy it originally to build a street rod. Then the drag racing gene took over and the engine got bigger whilst the rear axle got narrower:

1993: Bought the car

1994: Stuck in a 460, narrowed the rear end and added a cage - Hot Rod Drags in September and it ran a 13.9 second quarter.

1995: Raced in APIRA Car class - on treads. Killed the 127,000 mile 460 and fitted crewman Andy 'Spud' Cunningham's 429 short motor. Ran a best of 12.5. Won the Championship.

1996: Raced in APIRA Car class again. Added slicks, tunnel ram, hot hydraulic cam. Went 10.89. Won the Championship again. Raced in our first CCSE meeting. Ran 12.2 with tyre smoke to three hundred feet!

1997: Finally painted the car - black of course. Entered CCSE and raced at the Pod for the first time. Fourth UK street car into the Nines. Won a meeting. Went into final round in second place but destroyed the C6. Bugger!

1998: No money. Sat out a year while I sourced all the bits to fit a 'Glide. Also beefed the chassis with some tube.

1999: Went bracket racing. I didn't like it, the crew didn't like it and the car wouldn't slow down despite continuing to run on treads and through the mufflers.

2000: Back in CCSE. Everyone was going so much quicker but sheer consistency (we made every semi-final) secured our best finish of third. Best ET was 9.37.

2001: This was going to be a good year, or so I thought. Ally heads and a 477 for the first meeting were worthless when we found the valves touched. Still, sixteen bent valves and we still made round two of eliminations. We fitted new valves and then ran the first eight-second pass in a street car at Santa Pod. That's another ET I can remember, 8.998/154. Unfortunately a trans failure meant we couldn't back it up. Two meetings later disaster struck when a line from that same trans failed spraying oil under the car. I hit the wall just after the finish line losing the left hand front suspension in the process. The front of the chassis was still the car's original 34 Corner rails and they did bend. Time to park it up and have a think.

2002: By the time 2002 rolled around Martin and I had already laid out the chassis to 'rebuild' the car. I say 'rebuild', but it was really a new car. Only the doors, tub and axle survived untouched from the original. We debuted at the August Bank Holiday meet but again had problems with the 477. Remember that 429 from 1995? Well, that went back in and, almost unbelievably, we ran an eight at the last meeting. Even more incredible was that a fluke timing equipment failure in opponent Jeff Meads' lane meant a re-run, another eight and membership of the ICE Eight Second Club (before Andy Frost)! Also won the Robinson Race Cars Perfect light award.

2003: Another tough year. Total of five engine failures with varying degrees of damage. But we went 8.79, won the Allstars, finished fourth and won the Perfect Light again.

2004: ??????


Eurodragster: Best elapsed time / terminal speed?

Ian Hook: 8.79 ET and 162.4mph


Eurodragster: Who is your current crew?

Ian Hook: Martin 'The Brain' Kerr, Andy 'Spud' Cunningham, John 'JR' Robertson and Paul 'The Whale' Robertson. Part time is Adrian 'Wires' Jones. Steve 'Northern Git' Shelley and Trevor Jones are also due a mention: they have both crewed for me in the past but as I'm sure you know Trev now has the Willys and Steve will be crewing for him in CCSE.


Eurodragster: What plans do you have for the future?

Ian Hook: For 2004 we hope to have a 540 motor in it. Other than that we'll just keep improving it as funds allow.


Eurodragster: What is your favourite story/moment involving the car?

Ian Hook: There are loads I can think of, but my favourite is quite simply getting that eight-second jacket. There will only ever be one Ford in that eight-second club (limited to the first eight CCSE cars to run a backed-up eight-second pass - Ed), it's ours and we did it with a stock bottom end-equipped 429.


Eurodragster: What is your favourite story from the pits?

Ian Hook: The FB crew are fond of the odd practical joke or two. At an October meeting a couple of years ago I'd complained of the cold and having to keep my socks on in bed (as the driver, my luxury sleeping quarters were in the awning!). When I got up in the morning I knew something was going on by the way the crew were looking - i.e. bloody suspicious. One by one they started complaining as to how they couldn't find some of their socks. This went on for a while until I put my hand in my coat pocket. It was stuffed with socks - as were all my other pockets! For the rest of the weekend I suffered pointed fingers and cries of "Sock Thief!!!!". Then there was the cardboard rat, the briefcase full of photocopied fifties, the 'lard' cake, the overflowing portaloo, the Cage O' Shark, the real colostomy bag full of relish (you really don't want to know!) and many more.


Eurodragster: What do like most about the sport?

Ian Hook: The camaraderie, the friendly (and not-so-friendly!) rivalries, the speed, the power but most of all, the people involved in it.


Eurodragster: If you could award a medal to someone in Drag Racing, who would it be and why?

Ian Hook: There are loads of people in drag racing I'd like to give a medal to but if I had to narrow it down to one it would be Tim Baggaley. Whilst not perhaps considered 'in drag racing' any more, it was Tim who kicked off the Street Eliminator championship. His enthusiasm helped get it off the ground and kept it going through the most critical early years. Top bloke. Fortunately he's been followed by a succession of people sharing his enthusiasm - Ian Jackson, Kev Elliot and Lee Child.


Eurodragster: Any people you would like to thank?

Ian Hook: Number one - the wife. My crew, past and present, who are all stars. On the sponsorship side I must say a big thanks to the FB Associates, a group of people who have been very generous over the past four years. Also our other long-term sponsors who have stuck with us since before the crash. Firstly A and E Fire Equipment (cheers Roy), The Everest Balti House, Widdows Motors, Shakespeare County Raceway, John Robertson Motorsport and, new for 2004, Serck Services Motorsport.

Finally, if you're into street and strip action check out our web site at www.fbracing.co.uk. If you want to get really close to the action click on the link for exclusive updates from the workshop, pits and track direct to your desktop.








Feature ©Eurodragster.com
---
Feature index
Back to News page
---
Eurodragster.com aims to bring you links to all the best European Drag Racing web sites. To add your site to Eurodragster's listings, simply email links@eurodragster.com with your URL and a little information about your site and we'll do the rest. When you update your site, drop us a line at news@eurodragster.com and we'll feature your site in our "What's New" section.
Eurodragster.com is a non-profit-making organisation run by a small group of Drag Racing enthusiasts for the sole purpose of promoting European Drag Racing. If you can help us to meet the modest cost of hosting this web site by advertising here, please email webmaster@eurodragster.com. We're sure you'll find our rates extremely competitive.