The new Gold RV Racing team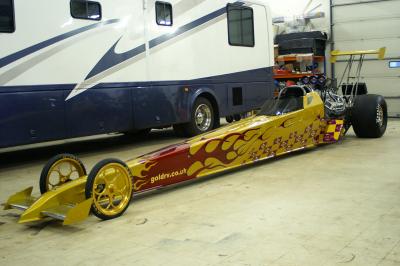 UK Super Pro ET racer Derek Flynn of Eurodragster.com News sponsor Gold RV imported a new blown-alcohol dragster which arrived at the team's Hampshire workshop in October 2006. Derek plans to break out of the 6.30 Super Pro ET limit with the dragster and to contest FIA Top Methanol Dragster at two events in 2007.
Derek promised Eurodragster.com readers the first look at his new car and he kept that promise by inviting us down to Gold RV in November 2006. When we arrived we were delighted to find alongside Derek's new dragster his team-mate Bob Glassup's Xtreme altered in its new colours. Naturally we took the chance to check out Bob's car as well as Derek's and to chat to both racers about their plans. We started by talking to Derek about his new ride.
Click here for extensive photo gallery of both cars, and click on any picture below for large version.

Eurodragster.com: Who sold you the dragster?
Derek Flynn: We bought the car from Chuck Mazza in the USA. It was originally built as a Top Dragster by Mike Boss Chassis for Tim Inman. Tim had the car built specifically to break the Top Dragster record which stood at 6.0. Tim ran a 5.7 with a Hemi in the car but then put a rod out. He replaced it with a Rodeck and ran low sixes with that.
Eurodragster.com: Where did you find the dragster?
Derek Flynn: On Racing Junk - that's three cars in a row I have got from there!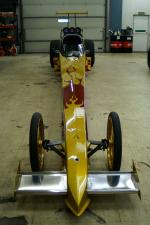 Eurodragster.com: How long have you had it here?
Derek Flynn: The car left the USA at the end of September and arrived here in mid-October. People knew the car was here and kept asking for pictures but I'd promised to let you see it first!
Eurodragster.com: Thank you! Have you had much time to do anything to the dragster since it arrived?
Derek Flynn: We've done nothing since it arrived save fire it up twice. We didn't think it would be that different from the old car but it sounds entirely different. The whole car was shaking. The guys from the TNT depot up the road came running to see what it was!
Eurodragster.com: You've had time to paint it too, I notice.
Derek Flynn: No, the car was already gold! All we've done is to put Gold RV stickers on it! J & W Automotive were painting Bob's altered at the same time and they matched, which was useful because we will be running as a team next year.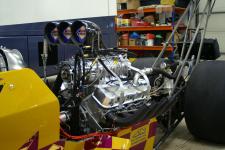 Eurodragster.com: Tell us about the engine.
Derek Flynn: It's a Rodeck 528 ally block, the blower is a Littlefield 14-71...and until we've taken it apart we don't know the rest! It's meant to have some trick rods with a ceramic coating.
Eurodragster.com: And all this is to go below the Super Pro ET 6.30 limit?
Derek Flynn: We do want to break out of Super Pro but I might have to put in a Hemi to do that! There would have been too much to do to my old car to run below 6.3. This car should run low sixes or high fives with the extra horsepower and three-speed box. But we are going to run in Top Methanol Dragster at the FIA events at Santa Pod in 2007.
Eurodragster.com: Presumably you will have to make some changes to the car before you can run in Top Methanol Dragster?
Derek Flynn: We will have to put on a titanium bellhousing, the wing spacing is not right, we'll have to fit a bigger puke tank and an undertray. The car is already booked in to Andy Robinson Race Cars in February to have that work done.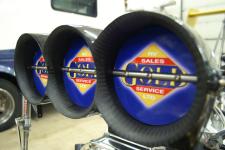 Eurodragster.com: You must be itching to get the car out onto the track.
Derek Flynn: Yes, but as good as the track is pre-season testing can be a waste of time because you can't do anything about the temperature. The plan at the moment is that we will make our first test runs at the Easter Thunderball, which happens to coincide with my birthday! I am hoping that my observed runs in this car will be accepted for my Top Methanol Dragster licence. Santa Pod Racers Club have already produced my upgrade letter.
Eurodragster.com: Assuming you get a TMD licence then it's Top Methanol Dragster at the FIA Main Event and FIA European Finals and Super Pro ET at the other UK rounds?
Derek Flynn: That's right, it's very early but we plan to add Sweden and Norway in 2008. We're looking at going to Drachten again in 2007, Super Pro ET was a real big hit there this year.
Eurodragster.com: Will Gary be driving your old dragster next year?
Derek Flynn: It depends upon whether it is in one piece. The car is for sale and we have had some interest in the car and in the engine. Gary certainly loved driving it!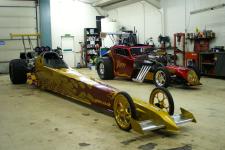 Eurodragster.com: And you now have Bob as a team-mate?
Derek Flynn: Yes, and not just Bob. Peter Walters' Junior Dragster will match the dragster. The Giles family have bought the Gold RV Junior Modified and Dan and Clare Giles will be running our colours next year.
Eurodragster.com: Gold RV have quickly become heavily involved in sponsoring drag racing since you started. Exactly who do you sponsor now?
Derek Flynn: Bob, Peter Walters, Dan and Claire Giles, Jessica Selles, the Turners, Gordon Appleton, Santa Pod Raceway and of course Eurodragster.com!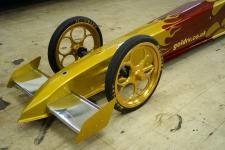 Eurodragster.com: Indeed, thank you! Have you been able to identify a return on your sponsorship?
Derek Flynn: Gold RV have had over five hundred thousand pounds from drag racers since we have been racing. We have had another five hundred thousand from other racers who have been attracted to us since we have been racing. So we should say thank you for that.
Eurodragster.com: Have you anyone else you would like to thank?
Derek Flynn: Our sponsors Dataprint and Buff, Mike Boss who is a very helpful guy, Andy Robinson for loaning equipment and always being on the end of the phone, and to you for coming today! Also my Gold RV partner and Crew Chief Gary Jenkins, my wife Fiona, my Team Manager Dave Woodhams, and my team Vladimir, Mole, Pam, Shane and Guy.
Eurodragster.com: The best of luck with the dragster and we look forward to seeing a 6.299 or quicker in short order next season!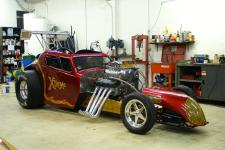 Sitting next to Derek's new dragster in the Gold RV workshop was Bob Glassup's Xtreme Nostalgia Fuel Altered Association altered resplendent in its new colours, including some very subtle flame work, which had been applied just in time for the 7.0-second car's visit to the Essen Motor Show and a Motoring and Leisure show in Stuttgart. We started by asking Bob about the Topolino's facelift.
Bob Glassup: The car has been in black for three years now and we decided that it needed a new look. Andy Willsheer arranged for us to attend the Essen show some time ago and that gave us the chance for a new design between the end of the season and the Essen show.
Eurodragster.com: Who designed the new look?
Bob Glassup: Richard and Peter Walters came up with the design. We wanted to keep the Nostalgia feel with the grille and ribbons and gold leaf. The idea was that you could open a magazine from the 1970s and find cars just like it. Richard applied the paint at J & W Automotive in Somerset and Lee Johnstone did all the shiny bits and fabrication of odds and sods.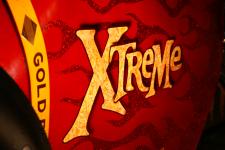 Eurodragster.com: It's quite a privilege to be asked to go to Essen.
Bob Glassup: It's nice to be representing drag racing. Ours is one of a range of exhibition cars from around the world. I enjoy shows where you can put the car in front of the public. It keeps them aware that the sport is out there. From Essen we go on to Stuttgart to appear at a motoring and leisure show.
Eurodragster.com: Back to the track and you have certainly found your niche within the NFAA.
Bob Glassup: Performance-wise the NFAA has been a success for us. We love running in the NFAA and it has aroused a lot of interest. It's great to see the class building up. It's a great inspiration to us all, and hats off to Lawrie Gatehouse for keeping it going and pushing us all along.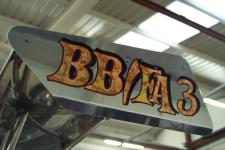 Eurodragster.com: Did you ever imagine that you'd run a 7.0?
Bob Glassup: The original plan was to build a 7.5-second car. Now we've run a 7.0 and maybe we can run a six in in alcohol car. It's all go for a six! I would be interested to dig through the record books to see where we stand...
Eurodragster.com: I'd imagine yours is in the top five quickest alcohol altereds.
Bob Glassup: ...and we've got our eyes on getting amongst the record holders with a small-engined car.
Eurodragster.com: Are the keys still yours next season?
Bob Glassup: My daughter Holley still has her heart set on driving the car. Hopefully she will have a go this year once we've modified a few things so that she is comfortable.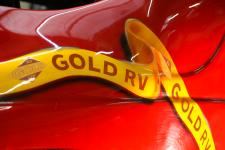 Eurodragster.com: Derek told us that you will be running as a team in 2007.

Bob Glassup: Yes. We have already had help from Gold RV and now the name is on the car. The input and help on the car is going to be very useful, and it is good to be involved with a team in another class. Gold RV is touching a lot of classes now.

Eurodragster.com: Who else has helped?

Bob Glassup: Richard Walters and Lee Johnstone helped to build the car to begin with and they have again worked on the car all year this year. My son Matt and daughter Holley, and of course my wife Cathy - without our wives none of us would be able to do half of what we do. You can talk to Andy Robinson at any time for support and advice, he is always there. Thanks to Lawrie Gatehouse for the NFAA and to Andy Willsheer for arranging for us to be invited to Essen.

Eurodragster.com: Have a safe trip to Germany and we look forward to hearing how the altered goes down in Essen and Stuttgart. And don't get lost on the way home, we want to see that Altered in sunshine!


Feature ©Eurodragster.com.



---
Gold RV Racing web site
Features and Interviews index
Back to News page
---