Grace Roaf joins Shockwave Racing, by Andy Willsheer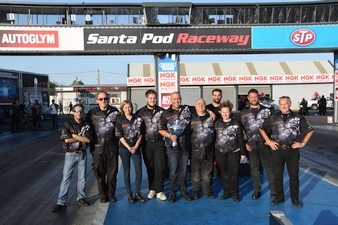 Shockwave Racing team photo at Not The Euro Finals, Sep 2020 (Grace third from left)
Click on any picture for a large image.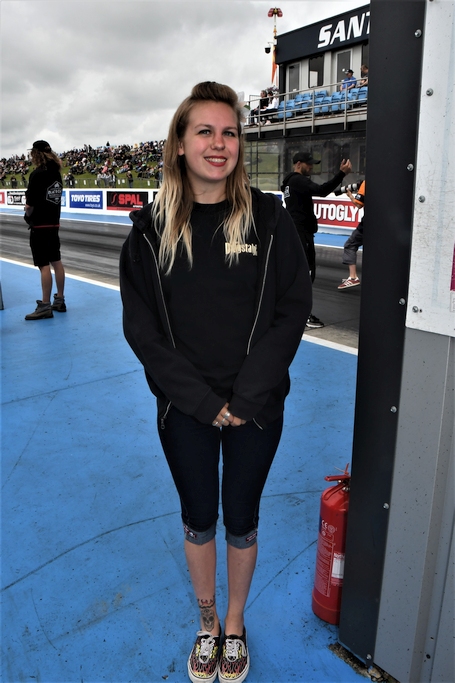 Grace Roaf at Santa Pod Raceway
Grace Roaf has been involved with the straight-line sport since 2005 when she was 10 years old, initially coming along to Santa Pod Raceway with auto electrician father, Colin, to watch a rainy European Finals September meeting. The pluvial factor didn't deter her insofar as the sight and sounds of quarter-mile racing were something with which she was pretty much instantly imbued. Getting along to the Hot Rod Drags at then named Avon Park Raceway on the weekend following was also an entertaining experience, particularly as it was held under welcome scorching climes.
These two events initiated a fervent interest with drag racing that has continued for almost seventeen years, evolving from a mere spectator to active participation following a chance encounter with Greenwich-based Carla Pittau and husband Rick McCann at the 2007 Drag Racing Show held in the London Motor Museum located at RAF Ruislip, where the couple's '70 Camaro Pro ET contender was on display. It would be fair to say the youngster and her dad struck up an immediate friendship with the Heaven & Hell Racing personable duo to the point where they were invited to join the pit crew, an offer that was swiftly accepted and which continued right up to when Carla and Rick opted to emigrate to Sweden in 2016, primarily because there was greater opportunity to race the now two-car Sportsman team in the popular Nordic NHRA Stock/Super Stock series.
Although Grace has enjoyed excursions to Mantorp Park and Tierp Arena (two Swedish tracks where the wheelieing doorslammers attract large numbers of contenders for the NHRA class) as well as Germany's famed Hockenheimring, which hosts the Fatherland's biggest and best drag race, the NitrOlympX, to act as crew chief for the H&H team, the savvy lass has also made her mark in the UK ranks with other Santa Pod Sportsman class entrants, all of whom have benefitted from having input from her welcomed assistance in a variety of duties, ranging from data recording to tuning knowledge, to say nothing of the mechanical expertise gleaned over many years of involvement in the sport; racers such as Peter Lane with the Super Pro ET methanol-fueled, big-block-motivated Earsplittenloudenboomer Tri-Chevy and Don Scott with his Hemi-engined Richard Petty tribute, winged Plymouth Superbird Nostalgia Superstock standout are longstanding competitors with whom the highly-ranked (top of the class with distinction and the sole female student) mechanical manufacturing engineering college graduate has shared her knowhow.
| | | |
| --- | --- | --- |
| Shockwave team in front of Undertaker car at Santa Pod Raceway | Grace with Marie Mills | The pit area fogs up with nitro fumes on a warmup |
As to thoughts of driving a race car herself, suffice to say that the only time Ms. Roaf has taking a trip up the strip has been behind the wheel of a '70 Pontiac Catalina that Rick and Carla bought as a holiday runabout in the USA some years back. They were so imbued with the vehicle purchased from a couple in Simi Valley, CA that it was decided to bring it to England at the end of the trip, and where over the course of time has been fully refurbished and retain to this day. It was at the Pod's Flame & Thunder event in 2014 that the then 17-year-old, along with father and other crew members Dave and Christine Buckland, were each afforded the opportunity to drive the ol' Catalina on the strip as a kind of thank you for their assistance with renovating the Poncho, with Grace taking the third pass and carding a 14.2/104 timing ticket. Describing the track debut experience as "one of the best of my life" it would be fair to say that years at the strip have indeed been fulfilling for the young lady whose day job as a fabricator/welder/day-to-day management coordinator at historic racing car restoration specialist, G&A Fabrications in Walton-on-Thames, has also necessarily meant getting her delicate digits grubby; but hey, that's something that plainly goes with the territory, and more so after her move to becoming an apprentice clutch technician on The Undertaker nitro Funny Car.
| | | |
| --- | --- | --- |
| The team working at pace on between rounds maintenance | Grace shows clutch management is dirty work | Preparing for a warm-up, Crew Chief Dave Bryant to the left, Steve Ashdown in driver's seat, Grace with an eye on the transmission |
"It was in January of 2020 that I received a Facebook message out of the blue from Dave Bryant" (longtime crew chief/co-owner on the flopper formerly campaigned by Gordon Smith under the Shockwave moniker) Grace said. "He was looking for a girl whom he could teach the workings of the clutch pack, assisting his partner, Marie Mills, with the view to later becoming primarily responsible for this (facet) of between rounds maintenance." Dave has had ladies such as Sarah Senderski working on the Shockwave in seasons past, and as Marie is now actively campaigning an Altered in Sportsman ranks, it was with the suggestion of a couple of knowledgeable buddies that he duly contacted Grace to see whether she would be interested in joining the team headed by driver Steve Ashdown, proprietor of Maidstone, Kent's, Banks Nightclub. Needless to say, with an opportunity to add a further skillset to her drag racing curriculum vitae, the answer was a positive 'yes please'. This was followed up the following month by a visit to the team headquarters close by the Pod in Airfield Road where an introduction to the crew was made and the job explained in detail. A quick learner, Grace made copious notes as every aspect was explained and 'twas not long before she began to appreciate the critical role that clutch setup and servicing plays in the operation of a 'Big Show' Funny Car.
| | |
| --- | --- |
| Dave Bryant intently inspecting data from Grace | Dave and Grace reflecting on the work done |
Instruction was brought to a halt for a number of months following the country's first lockdown in March'20 and nothing more was undertaken until August when it was a case of all hands on deck to ready the Dodge Stratus-bodied entry for September's Not the Euro Finals. Thrown in at the deep end, so to speak, Grace was soon up to speed with the task in hand, both her and Marie being equally chuffed that the well-attended race concluded with the Undertaker gang celebrating Steve's victory in the flip-bodied class. What was particularly impressive had to be the fact that the Racepak data recorder had thrown a wobbly before the event had even got underway, resulting in a distinct dearth of any readable data, leaving Dave no option but to return to tuning the twin-plugged, 10000hp Hemi-motored car primarily by reading the spark plugs and making appropriate adjustments like years past before the iconic Racepak became virtually a de rigueur requirement in the blown-nitro headline classes back in the 'Eighties.
So, after that truncated season's debut experience of being smothered in clutch dust ("it's none too easy to get it off your skin, even after several showers" Grace chuckled) the eager pupil again returned to the rarified ranks of Fuel ladies in 2021 where – at least in the States and to the best of my knowledge – there's currently only one woman who is a full-time specialist in the same field of expertise on the NHRA Camping World Drag Racing Series, that being Kaylynn Simmons, who currently undertakes the demanding task on Clay Millican's Parts Plus Top Fueller. The complexities and intricacies of air-over-electric timers, levers and counterweights in the cannon-controlled, centrifugal, five-disc/four-floater clutch pack -- which, incidentally, can reach brutal temperatures of 2000+ degrees Celsius at the end of a 1000ft run -- leave little margin for adjustment inaccuracy where winning or losing can oft times be down to what happens within the titanium bellhousing.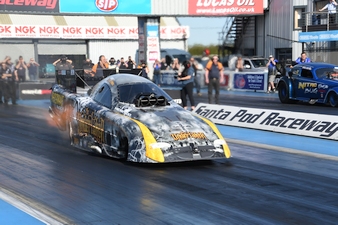 The Undertaker on one, Steve Ashdown driving, butterflies wide open
Being a clutch specialist must surely be one of the dirtiest jobs in Fuel racing, but also one of the most satisfying when all goes right, something that Dave's protégé will undoubtedly appreciate once her comprehensive tutelage is completed. That said, a limiting factor to the learning curve has to be the number of Pod events at which the Funny Car championship series is contested -- four being the current number – something that doesn't truly provide optimum opportunity for practising her proficiencies.
A further point of interest has to be the presentation she gave to a class of more than fifty students at University Technical College in Reading, Berkshire around the time of the 2019 FIA/FIM-E European Finals, which, incidentally, would likely have been one of the best meetings on Santa Pod's calendar were it not for the coronavirus cancellation. Arranged through Eurodragster.com's Simon Groves and UTC engineering teacher Dr Martin Thomas, the talk was well received by the eager audience, covering many facets of her tenure in the sport as well as the specialist tasks undertaken in the course of her Monday to Friday employment with G&A Fabrications.
Do what you love and love what you do is Grace's maxim when it comes to both work and play, and it would be fair to say that this succinctly summarizes her current way of life, for which much credit goes to aforementioned Carla Pittau who has proved to be quite an inspiration for involving the dedicated Miss Roaf in the oh-so-addictive pastime that draws many enthusiasts to the home of British drag racing. And long may that continue to be the case…
---
Shockwave Racing Facebook page
Features and Interviews index
Back to News page
---