Grady Bryant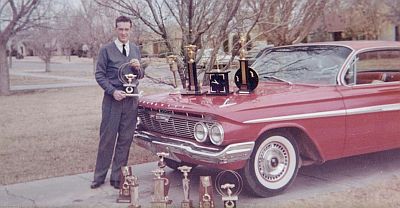 Grady Bryant is famous for his match-racing exploits on the track in the Stock classes which evolved into Funny Cars and then in a series of alcohol floppers through to the 1990s, when his career took a unique path into the literary world. First publishing the classic Match Race Madness, the definitive war stories of the drag racing world of the 1960s, he went on to write a variety of works including Roswell One, The Last Contact, The Devil's Bible, The Lost Tablets, Cause of Action and Drag Race Fever, his just-published novel based on his 1960s memories of the sport, available from Amazon. Eurodragster.com was privileged to have an opportunity to talk to Grady about his experiences.
Click on any picture for large version.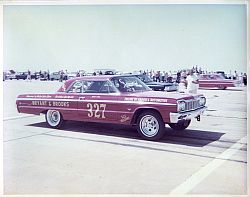 Eurodragster.com: How did you first get into racing?
Grady: Back in ancient history in New Mexico, when kids hung fuzzy dice on their mirrors, I had a friend named Dick Harrell. He had been playing around with hotrods for years and I was a bystander. I wanted to get involved and bought a new 1961 High Performance 396 Chevrolet. Dick bought a 409 Chevy. That way we would not have to run in the same class. After a few modifications of the electrical systems and the carbs, we started attending all the races we could in the region of New Mexico, Oklahoma, Arizona, and Texas. We had no one to travel with us (Carlsbad, New Mexico was in the middle of nowhere), so we decided that if we pulled with a chain instead of a tow bar we could make faster time and eliminate using another car. Plus, it was cheaper if we split the gas. I know it sounds crazy, but we would pull 400 to 500 miles in a week end by using the chain. Dick was always the front car with the 409 and I was the brake car. We would run what they then called Super Stock with the 409 and A/Stock with the 348. We would carry our racing third members in the trunk, and when we got to the race track, up went the car with a bumper jack and we would change the rear end so we could race. When the race was over, we had to change them back to our cruising gears. At one race, Dick broke a transmission and we used mine for him to race and then pulled it out and put it in my car for me to race. This worked pretty good until it was time for us to race each other. Someone loaned us their transmission for the finals. I believed we changed transmissions about a dozen times that Sunday, plus the rear ends for our trip home. It wasn't a sport for weaklings, or for someone who fell asleep easily. Many times we would get home just in time to go to our jobs without any sleep for the weekend. But, if you wanted to race (and we did), this was how it was going to be.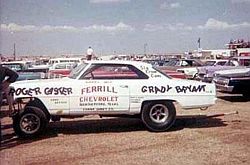 Eurodragster.com: How did you first get to know Roger Caster?
Grady: After Dick and I teamed up with several cars while we lived in New Mexico it was obvious we would have to move to keep up with the travelling. Dick moved to the East Coast and I ended up in the Texas area to run the southern part of the country. Match racing was the big thing at that time, and Chevrolet wanted someone to cover the southern states, Mississippi, Louisiana, Georgia, etc. A promoter named Jim Tibbets hooked me up with Roger Caster, who had just left Hayden Profitt. Roger was one of the best tuners I'd ever worked with and had the Sump'n Else Chevy running with the MoPars, which was a hard thing to do.
Eurodragster.com: Who built Sump'n Else #1 In 1966 and what race cars did you have before that?
Grady: Roger and I built the first Sump'n Else in the back of a Chevy dealership in Weatherford, Texas. It was crude, but did the job until it was crashed in Tulsa. I had the 1961 Chevy we talked about and then Dick and I bought one of the aluminum front end 427s in '63. We won the AHRA Winter Nationals with that one. Chevy offered me a 327 to run with the 289 Fords in '64; I believed that car set about four World Records. In '65 I got one of the first 'Mystery' 396s in a Chevelle.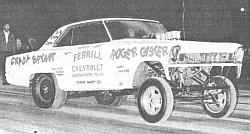 Eurodragster.com: During 1966 you picked up Ferrill Chevrolet as a sponsor and went the nitro route. How different was that to drive compared with alcohol and four speeds?
Grady: Ferrill Chevrolet had been helping me for years, kind of under the table. They were instrumental in my 1964 car, and my 1965 Chevelle. In 1966 they became more involved and that was why I moved to Texas from New Mexico. The driving of the fuel car was a little different than the four speeds. We used a Torqueflite transmission with the fuel cars. I really missed the four speed, it came like a second nature to me but there was no way you could handle one in a fuel car.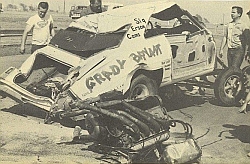 Eurodragster.com: What happened at Tulsa that year?
Grady: I kept complaining about the car feeling funny in high gear. We were all kind of dumb about aerodynamics back then. The car was wanting to lift off the ground in high gear. The wind was lifting it up. We learned the hard way.
Eurodragster.com: How soon did the replacement appear?
Grady: The second car was built at a shop called T-Bar Chassis in Amarillo, Texas. We worked shift work on the car. It as being worked on twenty four hours a day. I believe it was built in about two weeks. By then, the car was the only way I had to make a living, we had to get it back to our races.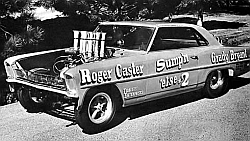 Eurodragster.com: During this period how many dates would you run?
Grady: We would run as many as we could book. Sometimes as many as three a week. Back in those days there were tracks in the South that ran Thursday, Friday, Saturday, and Sunday. Many times we would run Saturday night and have to drive 300 miles to get to the track Sunday. That was the era when every one took the little pink pills to stay awake, we had to.
Eurodragster.com: What type of rig did you have for the car and did you ever have any incidents with it?
Grady: If I remember right it was a 60 Series Chevrolet truck with ramps, courtesy of Ferrill Chevrolet. Large metal boxes were attached to the sides which we carried spare parts. There weren't many spare parts back in those days. Chevrolet was furnishing us parts but it was a long process to get them. One night we were coming through a little town in Mississippi when I turned a corner and the box door on the side came open. It was the side we carried the tools in. The complete tool box and all the tools came out and slid down the road, we picked up tools for hours.
Eurodragster.com: What volume of spare parts did you have for the car and how did you avoid changing a motor every run like they do now?
Grady: Remember, the cars were injected back then and not blown, which was easer on parts. At first we used special cranks and pistons from the well known manufacturers in California. We had to pay for these ourselves. Chevrolet furnished parts but only Chevrolet parts. If we cut down on the percentage of nitro we used we could get by with stock parts, which saved us money in the long run. On some runs, like a final, we would load it up and I would hold on for the pop at the other end. Some times it came and sometimes we got by with it. Our biggest problem was starting the car. If a Chevy did not start immediately we had to take out all the plugs and spin it over to get out all the nitro, if not it would pop right there in the starting lanes and come out through the oil pan. Some of the guys got their feet injured by rods coming out.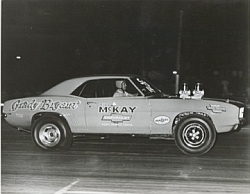 Eurodragster.com: In 1969 you went the Pro Stock route sponsored by McKay Chevrolet, was that a match race deal?
Grady: My old friend Dick Harrell, and Fred Gibbs, were instrumental in getting those cars built by Chevrolet to run pro stock in AHRA. They were aluminum big block 427's. Mine was shipped to Harrell's shop in Kansas City where it was turned into a real race car. It had a clutch hooked up to a turbo transmission. Worked pretty good too. We did match race it a lot because NHRA didn't have a Pro Stock class at that time. The first time NHRA had a Pro Stock race was in Dallas, Texas. There was no rules written for them so we took advantage of it and showed up to run all the factory cars from Chrysler, with no radiator, etc. We just asked for them to show us the rules on Pro Stock, of course they couldn't. It was a very exciting day, fighting with all the Chrysler boys. Needless to say we made a lot of people mad, but Chevrolet loved it.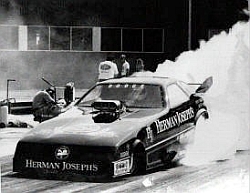 Eurodragster.com: How did you get back into Funny Cars in the mid 1980s with the All American Boys and Herman Joseph's Draft entries?
Grady: When my friend Dick Harrell got killed I lost my desire to race. It just wasn't fun any more. I went back to school and got my law degree, but that didn't work out too good for me, something was missing. A lot of my friends were running Alcohol Funny Cars and there was a circuit which paid pretty good money. I purchased a car and crashed it the first time out at a night race in Louisiana. I rebuilt it and found out real fast this was not going to cut it without a sponsor. I was so used to running with Chevrolet behind me for so many years I felt like half a race team. Chevrolet was not into Funny Car racing so I proceeded to talk to other corporations. I found out companies really don't care if you win all the races they just wanted you to put on a good show and get their name out there. Coors liked the way I presented myself and jumped on board. From there I picked up Chrysler and Dodge.
Eurodragster.com: Did you do as many match races with these alcohol cars?
Grady: At first I did a lot of match racing, but when Coors came on board they wanted me to make a lot more National events. That was where the popularity was. You do what your sponsor tells you to.
Eurodragster.com: After thirty years of competition and driving race cars you hung up the helmet in 1991 and started your writing career. What led to this?
Grady: That's a good question. All my life I had been a little adventurous, from the army to racing cars, practicing criminal law and several things I can't tell you about, I was tired and wanted to slow down. I wrote Match Race Madness to relive all the old times and several people suggested I write a novel. I wrote Roswell One and it was optioned for a movie the first year it was out. Unfortunately that fell through.
Eurodragster.com: How fulfilling is writing for you?
Grady: In all my books I have tried to write about true adventures of my life. The books are fiction, but based on true experiences of myself and friends. It's very satisfying to finish a book and say "Did I really do that?". It would be nice if an old drag racer made it to the New York bestsellers list, but somehow we just don't fit in with that crowd.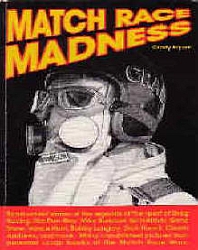 Eurodragster.com: Match Race Madness is one of your most famous books including stories around Don Gay, Mike Burkhart, Bill Hielsher, Gene Snow, Vance Hunt, Bobby Langley, Dick Harrell, Clester Andrews, and more. How was that to write and publish?
Grady: At the time I wrote it I loved doing it. I interviewed all the guys and got them to tell me all those stories, which are all true. It's sad to say most of them are not with us now, so I'm glad I was able to record some of the stories. The book is out of print and I haven't pursued republishing it. I'm at the point in life where I don't feel like asking corporations for help on projects. Racing kind of burned me out on sitting down in board rooms and explaining things to them. The book will sell forever if a publisher wanted to take on the project, but not too many are knocking my door down. Maybe some publisher over there would be interested in a racing book.
Eurodragster.com: I understand you wrote and produced a film called The Legend Of Booger Red which was shot in Amarillo, Texas in 2004 and all the actors were NHRA Pro Dragster and Funny Car drivers. What is the story behind that?
Grady: After working with all the so-called Hollywood people on Roswell One, and seeing how they make their own trouble, it's a wonder any movies ever get made. I decided to make a movie myself just to see if I could do it. With the drag race mentality that all old racers have, I produced and acted in the western The Legend Of Booger Red. Ron Capps, Tommy Johnson Jr and Shelly Howard, also helped and starred in the movie. Shelly was killed shortly after the movie was released. Was the movie any good? That wasn't the point, it was to see if an old drag racer could do it, and we did. By this time I had gotten the need for speed out of my system and enjoyed writing fiction. I wrote The Devil's Bible, The Lost Tablets, and Cause of Action.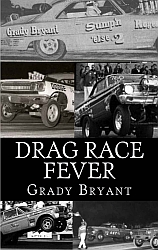 Eurodragster.com: Your latest book Drag Race Fever is about the adventure of a young drag racer following his dream of competing with the factory cars in the early days of the match race wars. How much are the main characters Johnny Rock and Clutch Roberts based on true racers?
Grady: I'll be the first to tell you I could not have made it in racing without the help of some of the guys I've known in the past. I was a number of years younger than most of the guys and was kind of the kid on the block. Several good men took me under their wings and guided me to the success I've had in racing. Racing was like a business, and to be successful in it you have to treat it as such. At first it was a carefree, don't give a damn attitude, but as the cars got faster and faster and cost more and more to run the companies became involved and the fun stopped. It was all business. You ask if my latest book, Drag Racing Fever, was based on true facts? Everything in the book came from my experiences, or friends of mine. The story is fiction, but the events are all true.
Eurodragster.com: Are your other books, Roswell One, The Last Contact, The Devil's Bible, The Lost Tablets and Cause of Action still available?
Grady: I can say, yes, they are. They are all available on Amazon, in E-Book, Kindle, and Barnes and Noble. Soft copies on all but Cause of Action.
Eurodragster.com: Thanks for taking the time to talk to us, and very best of luck with sales of Drag Race Fever.
Grady's home page
Features and Interviews index
Back to News page


---