Graham Ellis' Plymouth Superbird Pro Mod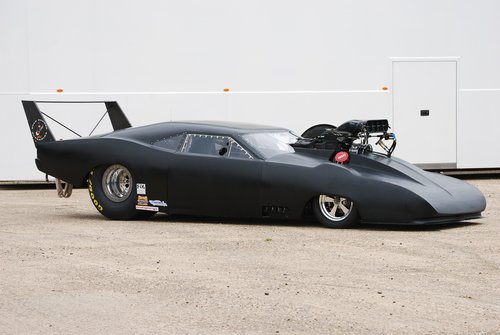 After a highly-successful Super Modified career including a season in which he won every round of eliminations he contested, the UK's Graham Ellis moved to Pro Modified with a blown-alcohol Plymouth Superbird built by Andy Robinson Race Cars which made its début at the 2008 Autotrader Easter Thunderball at Santa Pod Raceway.
Eurodragster.com visited Graham in June 2008 to talk about his racing career and about his stunning new ride which at that point had just given a good account of itself at the FIA Main Event.
Click on any picture for large version or click here for additional gallery.
Eurodragster.com: When did you become interested in drag racing?
Graham Ellis: I became interested in drag racing in the late 1970s. I was into bikes and one morning after an all night party someone who had been before suggested we went to a meeting that was on that weekend so with sleeping bags and little else we rode up to Santa Pod and camped for the weekend. The woods at the rear of the pit side camping ground were a whole lot thinner when we left. In those days it really was fun, the toilets were disgusting and we made them more so, we had great big fires, drank too much and had a great time looking at the many supercharged Triumphs and dreaming. I went home wondering who or what was Ed Pink.
Eurodragster.com: How did you start racing?
Graham Ellis: My first race of any sort was an NDRC meeting at North Weald. By then I had 383 ci 1967 Dodge Dart resplendent in 2K primer which was named Ethiopian Chicken, which I entered in Street. I still have the programme and another name on the Street entry list is Andy Robinson. I thought they would never announce the name of my car but they did. It even had a little drawing of a man chasing a chicken on the C pillar. Oh, the result? Rain off. This car was later sold to Chris Orthodoxou and became his Chaos Brothers car.
At that time I started to crew for John Tebbutt who ran the Moonlight Bandit, in DCA I believe. He used Chrysler engines and I learnt some good stuff from him. Most guys at that time were installing manual valve bodies in their trans and then fitting ratchet shifters and RPM-activated shift solenoids. John realized the folly of this, left his box as a full auto and just put the shifter in D and went for it. It was a low nine-second car and it won the class Championship. I also helped John to construct the chassis for his new car (mostly filing brackets), which something I've read lately leads me to believe is the chassis of Rampage.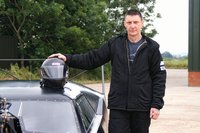 The 383 in the Dart grew to a 452, but then the car was too heavy so I brought the ex-Gray and Blackburn Jigsaw car which was previously Big John Ledster's Pro Stock. About this time a friend of mine had built himself a Sierra with a full tube chassis, I ended up buying this and installing a Koffel-built 500 ci B1 Chrysler which I got via Geoff Hauser, with a clutch turbo from Tim Cook. My intention was to run in the newly-formed Pro Mod class. I then sold the basically home-built Sierra and brought Dave Warne's Mean as Hell Sierra after he graduated to the Trans Am, put the B1 in with a Glide but never got up the track. I blamed the car and sold it - that car is now Paul Brooks' Super Mod Sierra. I then bought a Willys Coupe which Geof Hauser had built for a guy who then changed his mind. I crashed it on its first lap, got it fixed which surprised some people as it was badly damaged, and came out again. It never ran better than 9.0. I sold the engine, which is now in Paul Brooks' Sierra, and basically forgot drag racing for a few years.
A few years later, with the Willys sitting in my workshop, a mate of mine said after too much beer "We should give that thing a roof chop". "Easy", I said. Off with the fibreglass body, out with the wood saw, and somehow we did a pretty decent job. Then it was "Let's stretch the front end", so we did and the whole lot was transported to Andy Robinson Race Cars to make the body fit the chassis again and also fit a Pro Mod-style rear deck. Andy did a great job. I then stuck in an old Hemi I got from John Tebbutt. I thought it would run OK in Super Gas, took it out once and then found myself in possession of a 706 from Gordon Appleton, who was retiring, and a Lenco from Nick Davies. I thought I'd put them in the Willys for a Run What You Brung car as it would fit no formula at the time, the chassis wasn't SFI and that was mandatory by this time.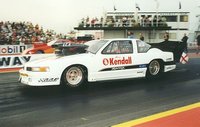 Then Nick Davies' Oldsmobile Cutlass appeared for sale so the Willys was sold and the Olds purchased. It was at this time that Super Modified was first proposed and we were hooked. ICE Automotive de-stroked the 706 to 565 ci and that was it. We were older, had more savvy and more money. The only other change was to a nitrous engine two years later.
Eurodragster.com: What was the secret to your Super Modified titles?
Graham Ellis: Hard work, a great crew, willingness to learn and to experiment, and a good driver (smile). Seriously the crew were the key and I'm happy to say that those guys are still with me. Championships are about consistency. In 2005 we won every single round of eliminations we entered for the entire year and that included a trip to Hockenheim. We were deadly consistent. In 2006 we were a little less so but to be fair I fielded three different drivers that year, and we still were consistent enough to win the Championship.
Eurodragster.com: Did you always intend Super Modified as a stepping stone to Pro Mod, or did you have to go to Pro Mod after Danny Cockerill did?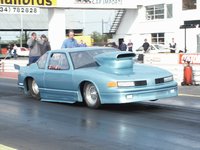 Graham Ellis: I always intended to learn as much as I could, and at the 2002 Doorslammer meet when we cobbled together a 706 and ran 6.9 on our third attempt, much to the surprise of some people, that was the point I actually thought "We can do this". Super Modified was never just a stepping stone. There was a time I thought Pro Mod a pretty pointless class and I was happy in Super Mod. The Scandinavians seemed light years away from any UK cars so just a stepping stone, no.
Danny pissed me off a bit when he went to Pro Mod because I loved to race him. His competitive spirit and his ability behind the wheel are legendary and if I beat him I had reason to feel proud.
Eurodragster.com: As an aside, Danny and yourself seem to wind one another up a lot but I get the idea that beneath it all you actually like and respect one another a lot?
Graham Ellis: Danny is a mate on and off the track. Sure we have our differences of opinion sometimes. He has had some real bad luck with Pro Mod and I'm sure many others having had that luck would have given up. Danny's had a bad year, he lost his mother over the New Year holiday and whoever you are that has an effect. The measure of this guy is that he is still fighting and competing even after serious damage to his primary engine at Easter. Respect? Absolutely.
Eurodragster.com: Where is your Cutlass now?
Graham Ellis: Dave Hughes has the Cutlass with one of Peter Wacker's 706 ci engines. It will never be the same. The motor from the Cutlass is in Tim Mugridge's beautiful Camaro Super Mod, and the clutch and transmission are in Fred Hone's Scorpio Super Mod.
Eurodragster.com: So you decided to go Pro Mod; tell us about the construction of the car.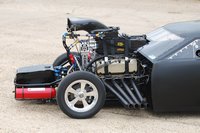 Graham Ellis: Andy Robinson Race Cars built the car in its entirety. It has many innovations, all tried on his own car as Andy won't experiment with customers' money which happens a lot with US builders. The car has an inboard shock absorber/rocker arm rear suspension with adjustable blade type anti-roll bar; front-mounted fire bottles previously only seen on Funny Cars in the UK, a ladder type chassis with no strut top mount bars so that we can remove the heads without removing the headers, and have done.
The car has a full carbon interior and is the first door car in Europe to feature a titanium shield behind the driver to protect the head and back from tyre or other debris that could penetrate the wheel tub which is right behind me. Some will say there has never been an incident of this type in Pro Mod: my answer is that there have been wheel/tyre-related deaths in Top Fuel, Funny Car, and Formula 1 to name a few and I am not prepared to wait until it happens before I protect myself.
Other features are the modular eleven-inch ring gear rear axle which incorporates its own oil pump; four-wheel carbon disc brakes; custom-built Ohlins three-way adjustable rear shocks; double adjustable Strange Ultra Shocks up front; Fuel-spec rear wheels; air-launched chutes; and of course the wing that makes this car what it is.
Eurodragster.com: Take us around the engine from bottom to top and front to back.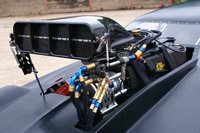 Graham Ellis: The engine is a basic Brad Anderson Stage 5 Fat Head Hemi. It has a billet block, the Stage 5 refers to the heads. The latest design is the Stage 6; I've asked people who have dyno'd these heads and they said that the Stage 6 makes between 30 and 50 bhp more so it didn't seem worth the added investment as not only would we have to change the heads but we would also have to change the spare pair. When 40 bhp makes the difference between winning and losing then we will get them, athough I suspect that it will be a long time coming as racers have run 5.9 seconds with the Stage 5s before the Stage 6s were designed.
The supercharger we have chosen to run is the new DMPE M5. This is based on the K11 but has many special features and provides a lot of boost early on in the rpm range. Along with this we have a fuel system specially flowed to provide fuelling in step with the M5's boost curve. This is topped off with the latest JBR injector hat as the CG hat had an accident and is at present being repaired at Carlo Gandolfi's shop.
Backing this up we have a three-speed Lenco CS2 and a two-disc Crower titanium clutch.
All of this gives me an engine that, on paper, is the equal of anything presently being run in Europe.
Eurodragster.com: Did you want a Plymouth Superbird from the start or did you just want "a Pro Mod" and the body choice came later?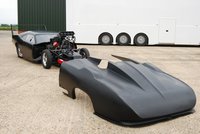 Graham Ellis: This was definitely not a case of "any Pro Mod will do". From my Mopar roots there was only one car for me. When Chip King first brought out the Daytona Charger I wanted one. No ifs, no buts, I wanted one badly. I called Vanishing Point Race Cars, who built Chip King's car, but they told me it wasn't for sale so I forgot about it.
Some years later I was considering having a 2006 GTO built by Andy Robinson Race Cars but I wasn't that motivated as there was only one car I really desired. About that time I had a look at the VPRC web site and the body was advertised. A quick few phone calls, a deal was done, and the money was sent. To be honest if I couldn't have had that body I would probably be running a 2006 GTO in Super Mod.
Eurodragster.com: So the body was not originally a Plymouth Superbird, but has been modified?
Graham Ellis: You have to understand that this car is seriously morphed. Chip's car was a Daytona Charger because the rear light cluster was recognisable as Dodge to any one in the know. In fact these bodies are just loose representations of the Chrysler winged cars - a purist would find many irregularities. What we have done is to remove the Dodge light clusters that were part of the mould, put in flat panels, and to these fitted original 1970 Superbird light bezels which Lee Child found for us after we put an appeal on Eurodragster.com. The car is now recognisable to a Chrysler man as a Superbird rather than a Daytona.
Also worth a mention is that a 426-style Hemi, on which the BAE engines are based, was an option in a 1970 Superbird which it never was in a Chevy Bel Air or Corvette. So it has the correct engine/year combination.
Eurodragster.com: The rear wing looks as much cosmetic as functional, but looking at the shape and rake of body one suspects that there is plenty of downforce there already?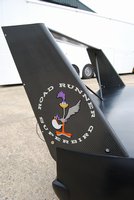 Graham Ellis: The rear wing doesn't have a true wing element as most cars have. It is almost flat with just a slight wing-style cross-section so it looks almost redundant. The reason for this is that the body itself is designed to produce downforce and it could probably run without a wing, but obviously to be a Superbird it needs that style of wing. So Andy Robinson Race Cars reduced the effect of the rear wing.
This body has so much downforce that it actually put the carbon splitter on the deck at 213 mph at the Main Event. This did some damage to the nose which will be addressed with some aluminium under the front of the car and a slight raising of the front end. This body had too much downforce to start with and has been modified to have better visibility and less downforce than the first version.
The reason the car has not been painted up to now was that we wanted to see how the body performed at 200 mph before putting on a paintjob which might have been damaged.
Eurodragster.com: How long did the car take to build?
Graham Ellis: From deposit on the body to finished: around a year. From going on the jig at Andy Robinson Race Cars to finished about five months, turnkey, and that is pretty damn quick.
Eurodragster.com: Describe how you felt when you strapped in ready for your first runs?
Graham Ellis: I was pretty uncomfortable. The crash helmet with the ear pieces for the two way really caused me stress, and the fire suit - due to a wrong decision on my part - was too bulky and made entering the car a real drama, especially since I had to get in the car with the helmet on due to the helmet design.
Once the engine was lit I was much happier. The first-gear squirt at Easter was pretty easy. I was always in control - many guys, when they first get in these things, roll the start line beams. I was conscious of this and to be honest it wasn't an issue once in full stage, there is only one place for your foot regardless of what's in front of the bulkhead and that is flat on the floor, yes we have a two-step. Tree flickers, clutch up and hang on, and we got a decent light for a first try.
I now have changed my firesuit and helmet and everything's great. The FIA Main Event was a great place to get stage fright, if it was going to happen it would be then, but nothing. Business as usual and to get a jump on Urban Johansson and to be in front, if only for a short time, was enough for us to celebrate.
Eurodragster.com: Can you really see out of the car OK?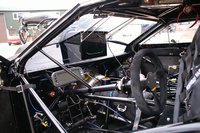 Graham Ellis: Yes. There are no visibility issues. I was as surprised as you will be by my answer, but the Cutlass was harder to see out of in the left lane: you can't see round a scoop which meets the windshield, but you can see round an injector hat that's two feet forward of the screen.
Eurodragster.com: Is your Super Mod tuning experience of any use for a blown-alcohol Pro Mod?
Graham Ellis: For the motor, Super Mod tuning experience is almost redundant. But for the clutch it's perfectly relevant, and as we had a Racepak logger on the Cutlass we can read and decipher the information easily and hopefully make the right changes.
Eurodragster.com: How about your Super Mod driving experience?
Graham Ellis: The driving experience is relevant. It's a clutch car, I'm not fully comfortable with the shift buttons as we always used levers but that will come. The Cutlass was a good car and made driving easy, and I can tell this is also a driver-friendly car. As a driver I want to get in a car and know that when I drop the clutch it will go straight down the track with no dramas unless I cause them. This car does that.
Eurodragster.com: What do you think the car is capable of?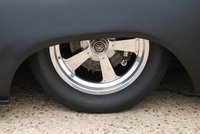 Graham Ellis: The chassis is capable of five-second passes and I would say that the engine also has that potential as do the engines of most of the top teams in Europe. The variable is the team, the knowledge, how hard you want to push it, and how much damage you can afford. We would like to run 6.0s within the next two or three years.
Eurodragster.com: What paintjob is the car going to have?
Graham Ellis: The car should be painted soon-ish. The color scheme will be a factory look with a painted-on black vinyl roof and blacked-out front nose. It will also have sidelight and indicator repeaters as per factory. The main body colour will be either Hemi Orange or more likely Sub Lime. Sorry all you fans of matt black.
Eurodragster.com: Do you plan to race outside the UK?
Graham Ellis: We hope to go to Hockenheim and that's all for this year. We want to learn this car so that we can be a contender when we travel to Europe. Sweden or Finland is a long way to go to learn to drive. If we do well this year we will try to do the full tour next year.
Eurodragster.com: Have you any sponsors?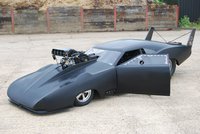 Graham Ellis: No, but I would like some please!

Eurodragster.com: Who is on your crew?

Graham Ellis: Kev Perkins, Rob Millward, Andy Kirk, Lee Kirk, Dave Clarkson, and Gareth Ellis. As I've said many times this is all about crew, without them this Bird is parked. They have families and day jobs, they sacrifice their weekends for me, their wives get pissed off and their bosses get pissed off. So a really big thanks to all of them and their significant others for staying with me.

Eurodragster.com: Anyone else you would like to thank?

Graham Ellis: Everyone at Andy Robinson Race Cars for this bad hot rod and the after-sales service. I can't say enough about those guys. And Nick Davies at ICE Automotive for arranging the fuel system and supercharger from DMPE.

Eurodragster.com: Thank you very much indeed for your time Graham and we look forward to seeing those 6.0s.


Click here for additional gallery



Feature ©Eurodragster.com.


---
Features and Interviews index
Back to News page
---