Interview with 2006 British Drag Racing Hall of Fame inductees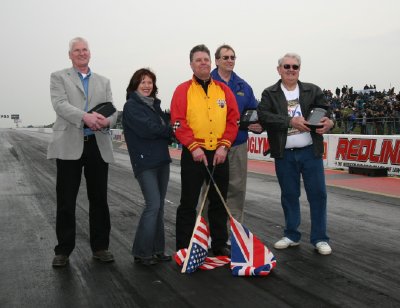 From left: Dave Stone, Roz Prior, Stuart Bradbury, Dave Riswick, Dennis Priddle
On the Saturday of the 2006 Easter Thunderball, presentations were made for the second group of British Drag Racing Hall of Fame inductees: Dennis Stone, Dennis Priddle, John Ledster, Peter Billinton, Tony Densham, Roz Prior and Clive Skilton. They joined Allan Herridge, the Phelps family, and Phil Evans who were inducted at the 2006 UK Championship Dinner Dance and Trophy Presentation.
Eurodragster.com interviewed four of the inductees or their representatives who accepted the Bootsie award, a beautiful engraved glass trophy, with a drawing of inductee 0001 Allan Herridge in an iconic pose. We also spoke to Stu Bradbury, who is leading the Hall of Fame Committee.
Eurodragster.com would like to thank all those interviewed for their contribution to this feature.
We first conducted an in-depth interview with Dave Riswick, Chief Executive Officer of John Woolfe Racing and joint Eurodragster.com Links sponsor through Ampar, who accepted Clive Skilton's award on his behalf as Clive now resides in the USA.
Eurodragster.com: How long have you known Clive and how did he start drag racing?
Dave Riswick: I have known Clive since the inception of Santa Pod. Here is a brief rundown on his achievements over his first ten years in the sport:
Clive had been to some early drag race meetings around the UK as a spectator. When Santa Pod opened in 1966 Clive was there after the first couple of meetings, entering his 1964 E Type Jag Convertible in the Street division. By 1967 the whole Skilton family were enjoying this new sport. His father, the late John Skilton, also entered the fray with a Vauxhall Viva with a Brabham conversion. Clive's first wife Christine also entered and raced a Mini Cooper and a Viva later in 1968. In this same year Clive traded his 1964 E Type and a Vauxhall Viva for a 1963 Corvette fitted with Rochester Fuel Injection.
I don't think Clive realized what he had done but he soon found out when, at the last meet of the season, he came up against John Woolfe in his 427 AC Cobra. The 1963 small block Vette was a good match for the Cobra with Clive only being edged out by a couple of tenths. Clive was beginning to feel what Drag Racing was all about and for that matter so was Woolfe!
In 1968 Clive met up with the Allard family and soon was behind the wheel of their Potvin Blown Chrysler V8 Fuel Dragster. He had become 50-50 partners with Alan Allard and at the end of the season had laid down some respectable low nine second runs and in August of that year he and his team were invited to Sweden's Inaugural Drag Race Meeting at Anderstorp. The next year Clive bought Allard's half of car and changed the blower to a top-mounted version. This was the beginning of the Revolution cars. Harold Bull built a new chassis for the 1969 season and Clive went into the low eights in Revolution. He then went to the states and formed a close relationship with engine builder Paul Gommi.
I believe Clive ran his first 200+ mph quarter in Second Revolution in 1970 and in 1971, at the NDRC Elvington meet in Yorkshire, Clive put down the first sub eight second run outside America. Then he landed backing from Castrol and Clive went into high gear. On 18th July at Elvington, Clive broke Dennis Priddle's World Record for the standing start quarter mile with an aggregate time of 7.60. Clive held onto this record for about fourteen months until Priddle took it back again with a 6.70 ET at the same venue.
In 1972 Revolution III, the very first purpose built rear-engined dragster, was designed and built for Clive by design engineer Ian Frazer while Accles & Pollock, the Midlands steel company, supplied the chromoly tubing. This was truly one of the first-ever purpose built rear-engined dragsters in the world.
When you realize that Don Garlits was the first to run a rear engine configuration, the achievement only comes into focus when you realize that Don's early efforts in rear engine design were as a result of him merely cutting his front engine dragster about, moving the engine to the rear of the car and welding the thing back together again. However Don could always make things work when others would give up or wouldn't even try.
Eurodragster.com: How broad was Clive's input to the sport?
Dave Riswick: As well as racing at Santa Pod, Clive worked tirelessly at promoting drag racing around the country with the old National Drag Racing Club. He was a firm believer in having more than one venue and organization for drag racing in the UK as he believed having only one would cause the sport to stagnate and wind up being a circus. When he raced against others like Priddle, he felt he was making progress in the same manner as they were in America.
He also helped finance other drag racing projects such as the Mark Stratton built Vauxhall VX 4/90 rear engine Funny Car. Only Ed Shaver could drive it. It was evil! Once in the early 1970s when the car was being tested at Silverstone by Ed, Clive was not satisfied with Ed's driving. So he gave it a try, the next thing Clive knew he was upside down at over 140 mph. Clive never questioned Ed again!
In 1973 he went to Pomona and purchased the ex-Kuhl & Olson rear engine Top Fuel car and qualified in the thirty two car field alongside Priddle. He returned to the UK with his new purchase after getting rained off at the NHRA Winternationals.
Clive met some good folks on his US trip resulting in a return for the next couple of seasons (1973/4) to drive the ex-Allison Brothers Top Fuel Car, then owned by John Durkee out of Sid Waterman's shop in Southern California.
Other cars Clive assisted with were Roland Pratt and Mike Derry with the ill-fated Vauxhall Transcontinental. Also he helped Trevor Young get into Top Fuel. The list goes on and on. His team consisted of Don Beadle, Phil Cornish, and a young man named Geof Hauser; there were more outstanding gentlemen of the day but I just can't recall all of them right now. Clive commanded much respect from all who engaged him. He was a true leader.
Eurodragster.com: What did Clive do after he left the UK?
Dave Riswick: Clive emigrated to the US after 1976 and purchased another of the Mike Kuhl's Top Fuel cars. This one was the famous Kuhl & Olson car that won the very last race at Lions Drag Strip in Long Beach California. The car was in the Revell Model yellow and when Clive was finished with it she was much like a Union Jack in livery. Clive was on the road match racing with Don Garlits at various IHRA and NHRA tracks. Sort of like the Yank versus the Limey! After a couple of seasons at this, he settled down in the LA area and went to work for a Jaguar Dealership and soon ended up with his own Jeep Dealership. Clive had to work as he had spent all his hard earned cash Drag Racing!
Eurodragster.com: What is Clive like as a person?
Dave Riswick: Clive has a charismatic presence and is a tremendous salesman. He still looks great, is very focused mentally and his second wife, who I believe is a solicitor, is his constant companion. Over the past twenty five years along with his wife, he has built up a great Jeep dealership in California and sold it a number of years ago. I wouldn't begin to guess how much for, and to me it doesn't matter, all I know is that Clive must have earned every penny of it. He is a workaholic. I spoke to him today and he is thrilled to have been honoured after all these years.
Eurodragster.com: We understand that you are establishing a British Drag Racing Archive. What will it include and who will be able to see it?
Dave Riswick: It will include programmes, media coverage, photos, movies and paperwork from Committee meetings of the British Drag Racing and Hot Rod Association and National Drag Racing Club, as well as all sorts of other memorabilia. We will be making an announcement when the archive is to be opened for public viewing, which it will be in weekdays at John Woolfe Racing's headquarters in Bedford, in a spacious air-conditioned environment. The Archive will be accompanied by a web site with many of the key documentary exhibits included. We are still looking for people to contribute so if anyone has an extensive collection of memorabilia, we would be interested to hear from them on dave@dragracingarchives.com.
Eurodragster.com conducted briefer interviews at Santa Pod with three other inductees to the Hall of Fame or their representatives.
Dennis Priddle was involved at Santa Pod from day one and was one of the first British Top Fuel Dragster pilots, racing in this class and Funny Cars from 1968 to 1985 both in Britain and regularly in Europe. He was the first British driver to record a six second pass in May 1972, and also held the official FIA quarter mile elapsed time record. In May 1982 he became only the second British driver to run a five second pass and at Mantorp Park in 1984 he set a new European record of 5.87/243.
Eurodragster.com: What are your feelings on being inducted into the Hall of Fame?
Dennis Priddle: It's quite an honour to be remembered after such a long time. It is also good that someone has recognised the hard work put in to establish the sport in Britain. We really were finding our own way all those years ago. At the start, we couldn't afford to get help from the US, so we had to build and develop our own cars. It was so different from today, when a lot of US technology underpins the vehicles run in Britain.
Eurodragster.com: The sport took place at many more venues than currently. What were the issues involved?
Dennis Priddle: It was very hard work taking the sport to the different locations we ran at. The organisers had to set up everything from scratch. As well as Santa Pod, we used to run at various RAF bases and even in Crosland Moor near Huddersfield and at Aintree alongside the horse racing track. The track was totally unprepped and the sole safety team was one St John's Ambulance – if we had had a bad fire, we wouldn't have survived.
Eurodragster.com: What is your view of the current racing scene?
Dennis Priddle: The sport has grown up since then and I am impressed with the current organisation of it, particularly the short time between runs – gaps in racing were a serious issue back then, and the organisation of the racing was behind the cars in terms of development.
Roz Prior was Britain's first female Top Fuel pilot and raced a number of front and rear engined Top Fuel cars and the Hellbender Jet dragster in the 1970s and early 1980s, pioneering the involvement of women at the top of the sport in Europe.
Eurodragster.com: What was your reaction to being included in the Hall of Fame?
Roz Prior: I am thrilled to bits. I enjoyed what I did so much, it's really special to get such an award. Whilst I started in Bruce Brown's Age Machine Top Dragster, my favourite car was the front-motored Fast Lady dragster, which we bought from Dennis. It makes me feel nostalgic about getting covered in oil most times when I went through the lights, not being able to see the finish line and peering out of the side of my goggles to see where I was on the track. But I also enjoyed piloting the Jet Car – the acceleration just wanted to keep on building and there was no drop-off in G-forces along the track.
Eurodragster.com: What is your favourite means of transport these days?
Roz Prior: Nine years ago I went on an intensive course to learn to ride motorbikes and I now ride a Yamaha Virago.
Eurodragster.com: How long is it since you last visited Santa Pod?
Roz Prior: Quite a long time – we stopped coming regularly about 1983-4. There are a lot of new people here now and the operation is very professional. Of course I have kept in touch with other racers, including the Stones and my partner Gerry Andrews. There are such a versatile group of people in drag racing and it was all great fun.
Dave Stone, driver of the legendary Tee Rat Fuel Altered and Stardust Funny Cars, was pleased to accept the award on behalf his late father Dennis 'Daddy' Stone.
Eurodragster.com: How do you feel about Dennis being inducted into the Hall of Fame?
Dave Stone: I'm lost for words as I know how proud he would have been. We were saying for years that we should honour the great contributors to our sport. It's one of the only sports that hasn't done so. Dennis would have loved it and I remember how proud he was to receive his twenty five years service stopwatch.
Eurodragster.com: What do you think was his greatest contribution to the sport generally?
Dave Stone: He would help anyone, but all his competitors were also his friends. He worked very hard for unity in the sport, especially with Pro Comp, the class he had the most involvement with over the years. If anyone got on the wrong side of him, he would tell them and known for his straight talking. He ran the Top Alcohol Racers Association for many years and, despite his bad eyesight, would always work through the night typing the results, with me reading them out and him hitting one key at a time. In fact I travelled with him on many occasions to help him in this, and saw him tirelessly arguing for the racers' point of view.
Eurodragster.com: What was his position on the Stones Drag Racing Team?
Dave Stone: In earlier days, he raced Opus One, but stopped driving and handed over to me in 1970 or 1971. When we travelled to mainland Europe, he was brilliant at arranging the logistics of moving three cars, parts, and so on.
Eurodragster.com: How does Dennis's widow view the award ceremony?
Dave Stone: Dennis' wife Mary felt that she would find the presentation too emotional as we always attended as a family, and became friendly with the families of all the other teams.
Stu Bradbury was Santa Pod's Chief Starter from 1967 to 1986 and 1990 and has become a leading light on the Hall of Fame Selection Panel.
Eurodragster.com: How did the Hall of Fame come about?
Stu Bradbury: I had the idea several years previously, but it was Dennis Stone's death which spurred me to move it on to reality. I realised that there was a need to thank those people personally who put so much time and effort into developing the sport in a permanent way. I put the idea to Santa Pod via Ian Marshall, the current Chief Starter and Ian and the Santa Pod Racers Club responded wonderfully.
Eurodragster.com: How did the idea of the Bootsie Trophy form?
Stu Bradbury: We were wondering about the name, because trophies in the NHRA are named "Wallies" after Wally Parks. At the Committee, someone suggested that we called them Bootsies, and we all agreed unanimously. The engraving came about when Ian Marshall showed us a photo of Bootsie sitting on the headers of his car and it seemed exactly the right image, so we had the picture transferred and engraved on each of the trophies, which are also individually named and numbered for each inductee.
Eurodragster.com: What is your involvement currently?
Stu Bradbury: I work for US Automotive, which I joined after twenty three years with John Woolfe Racing. Overall I've been involved with the sport or its industry for 43 years. It's about having a day job that you love to do.


Feature ©Eurodragster.com


---
Features and Interviews index
Back to News page
---