Hauser Racing Open Evening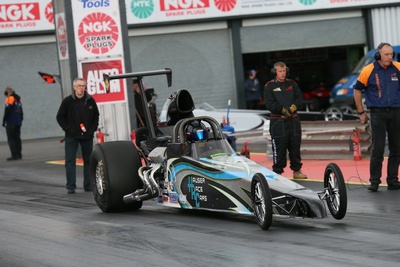 Eurodragster.com sponsor Hauser Racing was founded by Geof Hauser in 1983. Since then bespoke race cars including dragsters, doorslammers, street rods and circuit racing saloons have been constructed at the company's premises based in Finedon, Northants, twenty five minutes' drive from Santa Pod.
On 18th April 2014, Hauser Racing hosted an open evening to show racers and would-be racers the latest UK development in dragster fabrication. Geof has made a jig to enable identical cars to be made more efficiently compared with the traditional bespoke method.
Geof's own drag racing career includes a period crewing for Top Fuel Dragster racer Clive Skilton in both the UK and US and building, tuning and driving a series of quick doorslammers including a Sierra Pro Mod car which was the first into the sevens in the UK. Geof was heavily involved in introducing the Junior Dragster class to the UK and built many of the cars currently competing. Geof's son Scott won the 2013 UK Super Pro ET Championship driving a Hauser Racing-built dragster.
Click on any picture for a large image. Mouseover photos for captions.
Geof said "We are planning to build six cars initially, by making in batches at least six of each part and piece on the car. The aims are to make as much of the car as possible whilst giving the owner choice in adding their own running gear, and to keep the price down to a highly competitive £9,995 plus VAT for a complete chassis. The design is the latest spec, not radical but taken from the latest cars. We identified a gap in the market as not all US chassis providers will supply to Europe and we can supply to both Europe and the Middle East at competitive rates."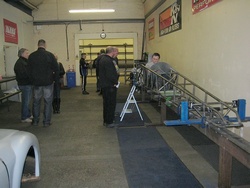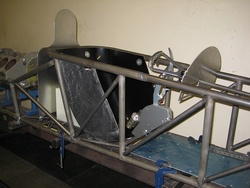 A Stage 1 dragster package (click here for details) includes a great deal of the equipment needed to finish a complete car with four-link suspension. The complete listing of parts is set out below and includes the chassis, body, front spindle, steering rack, pedal assemblies and rear axle housing. Geof said "Making parts in batches is definitely cheaper and we can apply laser cutting techniques to ensure accuracy as well as efficiency". Scott has contributed to the car through his own experience and applying CAD drawing techniques as well as cutting.

All the brackets and mounts required for the car are included. Hauser Racing manufactures cross-linked polyethelene fuel cells which fit behind the cockpit. An optional extra will be a custom design radiator. Also up to the owner in the Stage 1 package will be the engine, gearbox, wheels and headers and wiring.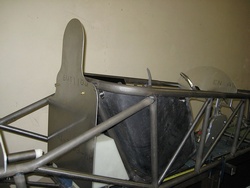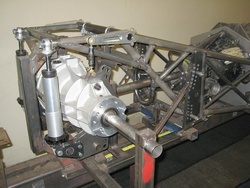 A Stage 2 package (click here for details) includes axle internals, wheels, tyres, brakes and cables, radiator, transcooler and propshaft to make the car nearer to completion. In this form, the buyer needs only to add an engine, gearbox, wiring, gauges and a wing if required. The additional cost is £6,750 plus VAT. Geof said "Everything subsequent to Stage 1 is bolt-on and the more ordered the better the deal."

Ian Pellant, former Top Fuel Dragster mechanic, is Operations Manager at Hauser Racing. He said "Where do Junior Dragster racers go after they leave the class? The Dragster package gives an opportunity for them and other Sportsman racers to have a new dragster which is based on a race-proven design, made to a high standard of construction". The chassis is tagged to 6.00 and Geof said "If customers want to run close to that it would be better to have a 'hard tail' solid suspension. The average mechanic could assemble the dragster as there is no further welding required. All they need to do is to mount what they want into the completed chassis."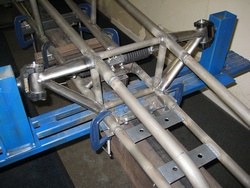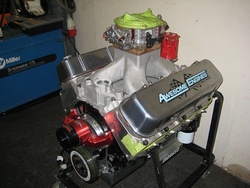 Displayed in the workshop was the type of engine suggested, a 598 ci single carb motor without nitrous which will produce 850 hp and which will be good for consistent runs 7.5s. Ian said "The only planned maintenance during a race will be to change fluids and check the valve lash, so the set-up will be ideal for those wanting a quick car but not wishing to get over-involved in the mechanical side."

Other points are:
The Stage 1 kit includes base body with ally panels and a full roll cage tailored to the driver's size.


All accessory mounts are included.


The car can be made to split into two parts for transportation purposes for approximately £600 plus VAT.


Front and rear motor plates, a transmission plate and handbrake lever are available off the shelf.


The chassis and body panels are ready for powder coating.


The chassis is configured to enable cables to be run through it.
As well as taking customer orders and fabricating more chassis Geof plans to take a sample chassis to display at the NitrOlympX at Hockenheim, where Scott's Championship-winning dragster will also be making runs.


Feature ©Simon Groves and Eurodragster.com


---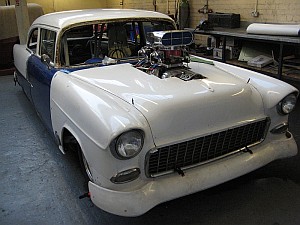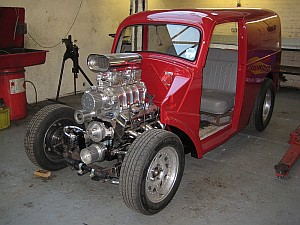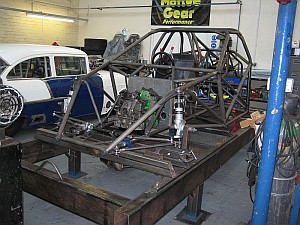 ---
Hauser Racing web site
Features and Interviews index
Back to News page
---