The Isaacs and Tramm Plymouth Duster Pro Mod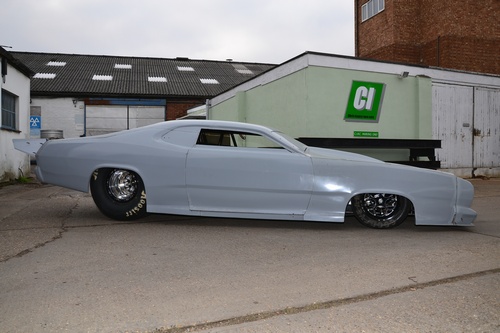 Eurodragster.com sponsor Chris Isaacs and Honorary Eurodragster.com Staff Member Spencer Tramm have enjoyed individual success as racers - their cars forming good advertisements for Chris' company - and have contributed to the sport as race car builder, UK Tech Committee and Santa Pod Racers Club Committee members, race marshal for the Pro Modified class, and crew member for other racers. Chris and Spencer have teamed up to build and campaign a twin-turbo 1970 Plymouth Duster which is due to make its competitive début at the 2013 Easter Thunderball.
Chris and Spencer invited Eurodragster.com to the workshops of Chris Isaacs Race Cars in February 2012 when the project reached the major milestone of standing on its own wheels for the first time.
Click on any picture for large version. Additional pictures below interview
Eurodragster.com: How did the pair of you decide to campaign a car together?
Spencer: Ever since I sold the Corrado I was looking for something else to do. My Pro Mod pit marshalling gave me the idea to build a Pro Mod. I am a technical doofus so I had no chance whatsoever of doing anything like that. I asked Chris if he would be interested in doing something. That was three years ago.
Then I went to drive in Stock Eliminator in the USA and really enjoyed it. Jim Rizzoli was thinking of selling that car and I was thinking of buying it. I mentioned to Chris that I was thinking of buying the Stock Eliminator car and he said "Aren't we going to do this Pro Mod then?". That was late 2009 or early 2010 and that was when Chris said "Let's do it".
It took about a year to discuss things and sort everything out and to start to get the parts here. Keeping it secret was very difficult.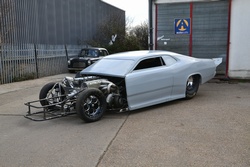 Eurodragster.com: I believe you originally planned to run a Nitrous car?
Spencer: That's right. Chris ran Nitrous on the Standard and so knew about it.
Chris: We went to the 2010 Summernationals and saw Kev Slyfield go 6.5 and Wayne Nicholson go 6.6. We were looking at running in the MSA series and we figured that if you could run 6.7 or 6.8 you were in with a decent chance. But whilst we were planning, Wayne and Kev started to run better to the point where 6.7 wasn't going to be enough. With a 706 motor you can run 6.70 if you have your head screwed on. To run 6.4s you have to push your stuff fairly hard. You could go to a big inch motor but that's a lot of money and a lot of bits which aren't readily available to borrow round the pits.
Spencer: That led to Plan B, and we were only left with two options. What we know about superchargers you could write on the back of a stamp.
Chris: With our weather conditions you need a set-up you can take power out of, which is easier to do with a turbo motor. With a converter set-up you have a much wider tuning range, you can leave the converter alone and change the engine tune which you can't do with a blown car. We haven't gone turbo to make a million horsepower, we have gone turbo because you can suit it to marginal conditions.
Spencer: A turbo set-up may be a bit more expensive to set up initially, but it's less costly when you have the tune.
Chris: When we sat down and worked out the costs, it was not as bad as we first thought.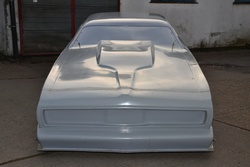 Eurodragster.com: So you'd decided to go turbo, you didn't even need to think about who would build the chassis, how did you decide upon the 1970 Plymouth Duster body?
Spencer: We wanted to have something different. We even considered making our own body to have something different. But a Duster was the first thing we wanted. At the time only Andy McCoy was manufacturing Duster bodies but he was only supplying his own chassis customers. We almost settled on a '69 Camaro even though we didn't really want it. We rang Jerry Bickel because he had built a Duster before and asked him if he would buy a lot of parts and body for us.
When we thought we couldn't get the Duster we went through a million body styles but I would say "No" to every body style to which Chris said "Yes", and vice-versa. I must add that there's not a lot we don't agree on, though.
Eurodragster.com: When did construction start?
Chris: We started to build the car in December 2010. Jed Guy and I have built it...
Spencer: I have done nothing but sit in it a couple of times!
Chris: ...and because we are of course working on customer cars during the day we have worked on this car during evenings and weekends. I try to do a couple of hours each evening, and at weekends when I'm allowed to! The chassis is done, and we're on schedule. We have a year and two months to go: the plan is to début the car at Easter next year.
Spencer: We've had a project plan from the beginning. For the money we've spent so far we've done really well. We're buying the parts in the order we need them. So far as responsibilities are concerned if it's shiny I choose it; if it's technical Chris then chooses it.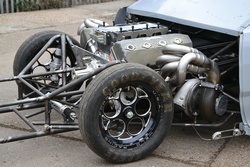 Eurodragster.com: So let's go from front to back. Tell us about the motor.
Spencer: We got the motor from the Lindberg Brothers. It's a 521 ci engine run which they last ran at Hockenheim in 2010. They had a pair of motors for sale. Graham Ellis had bought one of the motors and told us that we ought to get hold of the other. Graham brought it back from Sweden for us. Graham has been very helpful throughout the project, lent us parts for mocking up and so on. This whole thing would have been significantly harder without him.
Eurodragster.com: Have the turbo rules changed since you started to build the car?
Chris: The NHRA rules have changed a couple of times in USA but those changes have not been applied to to the FIA rules; it's not like we have a turbo car kicking everyone's butt over here. You can run 91 millimetre turbos over here at the moment but we purposely bought a pair of Precision Turbo 88 millimetre turbos. We should get the car out on the track before they change the rules, if they change the rules.
Eurodragster.com: What about the transmission?
Chris: It's a Bruno converter drive unit, the same as is used by Bruno Bader. A lot of people in the States are switching to converters for ease of use and lack of maintenance...
Spencer: ...which maximises tea-drinking and cake-eating time...
Chris: ...and we have a three-speed Lenco CS2.
Eurodragster.com: And the rear end?
Chris: The rear axle housing is a CIRC-fabricated moly unit which will run a Toms Differentials ten-inch third member, Strange forty-spline floating shafts and carbon rear brakes.
Eurodragster.com: Who is going to call the tuning shots?
Spencer: Mike Moran of Moran Motorsport, whose car was the first turbo car in the fives. We have got a lot of parts through Mike. He claims he can tune it from his house - we asked him to come to England and he said "I don't need to!". We will start with Mike but the long-term aim is for us to do it.
Eurodragster.com: Looking at your web site it appears that there are some unusual features in the car?
Chris: Yes, but we wouldn't call them innovations because we have not invented them - they have appeared on a few other cars.
We have a swing-away steering column. When you need get out of the car quickly you have to take the steering wheel off, so you only have one hand free to remove the window net and open the door. With the swing-away steering column you have both hands free, and the wheel is out of the way so it's a good safety feature.
We've run the chassis underneath the axle as well as over the top. This allows you to make the tubing at the back a bit lighter. It supports the parachute from below and you can put the Pro Jacks further back which makes maintenance easier. Again this has been done on a few other cars.
The suspension is fairly conventional at the back, but we're using a different style of lateral track locator. It's like a double A-frame which eliminates the conventional sliding joint. We have a front anti-rollbar which has been on a few other cars. There may be some innovative stuff later on.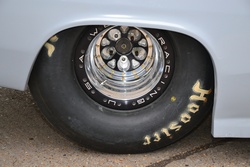 Eurodragster.com: There was something special about the wheels too?
Spencer: We got one of the first sets of Weld Magnum Pro rear wheels with black centres. At the time Weld didn't even have a picture of them! The front wheels are Weld Magnum spindle mounts.
Eurodragster.com: They certainly look the part with the colour scheme you have chosen.
Spencer: We have gone for a subtle paint scheme by Darren West of Power Race Graphics. It was Andy Frost who put us on to Darren. He said, and we agree, that being able to show people what the finished car would look like finished is a big advantage. It has helped us already.
Eurodragster.com: How far down the road are you with building the car?
Spencer: On a scale of one to ten we're at five. The début is planned for Easter 2013. We have a lot to do between now and then. Fabrication, most of the tinwork, pedals, oil and fuel tanks, windows courtesy of Direct Plastics, and a million and one little things.
We have to buy the Lenco, most of the parts for the rear end, all the management system and sensors plus hundreds of little bits and pieces. The fuel pump, the magneto. But it's all do-able.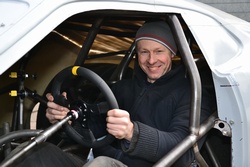 Eurodragster.com: Have you decided who is going to drive when?
Chris: Our original plan was to do a meeting on and a meeting off. Initially we may do a season on and a season off.
Spencer: One question was whether it is best for the car that Chris is on the inside or the outside to see what it is doing. Chris says the outside, so that puts me in the car. The MSA Championship rules allow two-driver teams, so if we decide to alternate events then we can do so.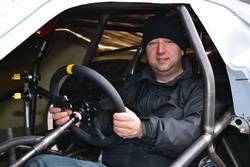 Eurodragster.com: Do you have anyone whom you would like to thank?
Chris: We've already mentioned Graham Ellis. Cotton Wuest from Jerry Bickel Race Cars has been very helpful, he put all the parts from Moran, McCoy and Bickel in a container for us.
Spencer: And the Bank of Mum and Dad, whose interest rates are very low!
Eurodragster.com: Thank you very much for your time. Roll on Easter 2013!
---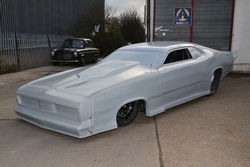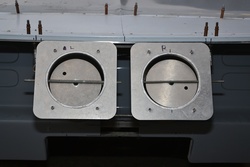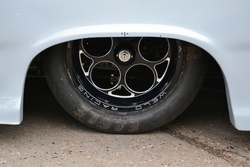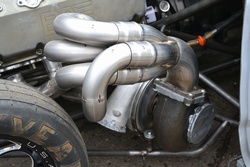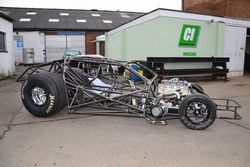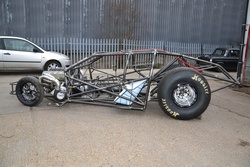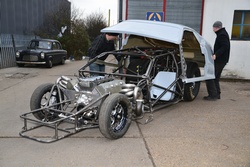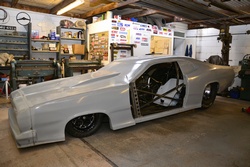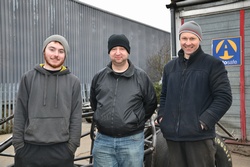 ---

Complete gallery from workshop visit
Chris Isaacs Race Cars web site (includes Duster build diary)
Features and Interviews index
Back to News page


---