John Bennett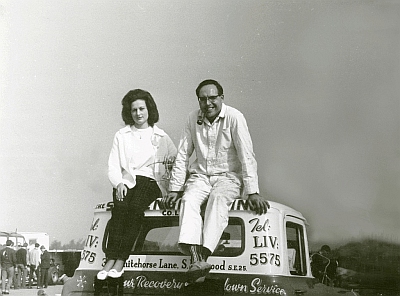 John Bennett joined the first committee of the British Hot Rod Association in 1962 and as Chairman organised the first British Custom Car show at his Spa Engineering workshops in South Norwood in Easter 1963. He was involved in early drag races in the UK with his Pontiac Chieftan usually raced by his soon to be wife Ann Palmer. At the 1965 BHRA AGM he made the historic announcement that five members including himself had been able to obtain a ninety acre site in Bedfordshire suitable for a permanent drag strip.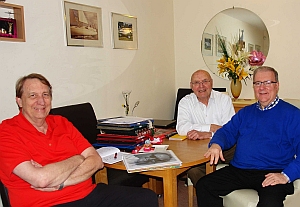 Dave, John and Simon
John had formed a company known as National Dragways to develop the site which in 1966 was to become Santa Pod Raceway. Also in 1966 he took over Drag Racing Magazine, incorporated the BHRA club magazine Kool Kams into it and renamed it Drag Racing and Hot Rod Magazine. In 1969 after seven years as Chairman, John decided it was time to step down from the renamed British Drag Racing & Hot Rod Association committee.
This interview, kindly arranged by Dave Riswick of John Woolfe Racing took place at John's house in March 2015 with Simon asking the questions.
Click on any picture for a large image.
Eurodragster.com: What was your background?
John Bennett: I was born in Camberwell, South London in November 1930. My sister Audrey and I were evacuated to Sussex in 1939. It was the ideal place to be for a nine year old boy to watch the Battle of Britain first hand and overhead. We returned to South London in 1944 to witness the last of the Blitz and the V1 doodlebugs and V2 rockets' damage.
In 1946 I became an apprentice at Philips Electrical factory as a jig and toolmaker draftsman while studying at Croydon Polytechnic for a Mechanical Engineering National Certificate. During these years came my first experience of the internal combustion engine, with the purchase by my parents of a ex- army 125cc James. I soon modified it to a foot gear change with rear suspension plus a change of colour.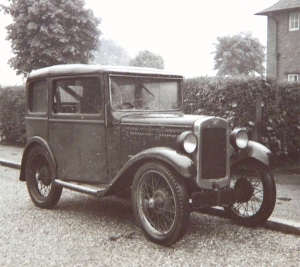 1937 Austin 7
Two wheels soon became three - I had a Morgan three wheeler. Great fun, as the battery being charged by a generator on the engine meant that it had to be driven fast to keep the battery charged. This was my first, very poor, attempt at customising, the fabric body was soon removed and a open wheel two seat body built. It looked good from a distance! In order to carry out these changes I was fortunate to have access to a workshop/shed in the builder's yard of my sister's husband, Ted Peddle, he was later to be my partner in Spa Engineering. As soon as I was old enough for four wheels, a 1937 Austin Seven was acquired.
I completed my apprenticeship, then had to serve my National Service in the army with the REME (Royal Electrical and Mechanical Engineers), training as a gun fitter before I left for my army basic training.
I got married for the first time, at the age then of 21, to Sylvia Newman, who was seven years older than me. I was then posted to in Singapore in 1952 and was there for 6-8 months before Sylvia joined me.
Sylvia came out on the Empire Windrush troop ship, which unfortunately sank in the Mediterranean on the way back to England in 1954. Myself and Sylvia returned to England in 1956 returning to Philips Electrical, this time with Mullards in Mitcham, where I spent time in various departments, in the manufacture of X-ray machines and radio valves. At that time the company was working hard to make transistors. I recall 50 gallon drums of rejected transistors. Who could have forecast what the future held for the transistor?
Following a spell in the Work Study department I was shipped to Philips' new plant in Croydon as production engineer designing manufacturing equipment such as conveyor belts. During this time Sylvia and I lived on a boat at Twickenham where we had some very good times cruising up and down the Thames.
My motoring at that time consisted first of a Tickford bodied MG J2 Midget, followed by a Y type Ford I converted to run on Calor Gas.
I finally left Philips in 1958 and with with my sister's husband Ted Peddle set up Spa Engineering, repairing accident-damaged cars. One day I was stopped at a set of lights when I met Ted Jennings with an insurance assessor that I knew. Ted was training to become an assessor, but he was fed up with the work so I offered to him the job of office manager at Spa. Ted accepted and worked for me right up until he retired. He also put a lot of money and effort into Santa Pod, but always from the outside, He very rarely went to the strip because he was physically not up to it due to his size. During 1958 Sylvia and I were divorced, though we had a son Gary.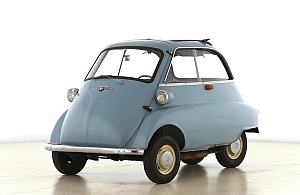 BMW Isetta
Bubble cars were in fashion and we became the number one specialist for BMW Isetta parts, manufacturing body panels and building reconditioned engines, even supplying the importers with parts. The advent of the BMC Mini brought the bubble car era to an end.
Eurodragster.com: How did you get started in motorsport?
John Bennett: Bob Phelps, my mother's brother, who was developing FGR (Fibreglass Repairs), was at that time into repairing Reliant three wheelers and building Go karts in the maintenance shop of the Phelps clothing factory. Together we collectively went on to build five go-karts which we raced until 1964. Our team consisted of my cousin Roy Phelps, Bernard Davey (manager of Spa Engineering), my business partner Ted Peddle and myself.
With our three wheel bubble car business we had a fine selection of two-stroke engines with four-speed gearboxes. Each of the team used a different engine. We put two karts in the back of the Spa Engineering custom Austin A60 pickup to go to meetings all over the south east. I was the first British go kart champion, at Brands Hatch (trophy pictured). We raced along the main straight and around the pit lane rather than the full circuit.
| | |
| --- | --- |
| 1st Kart Championship Trophy 1960 | John proudly exhibits the Trophy 70 years on |
Eurodragster.com: Who else from the early days worked with you at Spa Engineering Ltd?
John Bennett: Maurice Takoor also worked for Spa Engineering and has a lot of information about the early days of drag racing and retains many photos which we took on a Hasselblad camera. Bernard Davey I've already mentioned. Dave Moses lived opposite Spa and joined us at one stage. My uncle, Bob Phelps, was a great help getting Spa Engineering up and running particularly with building work.
Eurodragster.com: At what point did you join the BHRA?
John Bennett: I met the committee first at the Ace Cafe on the A5 in 1962 after seeing an advert they put out. Brian Coole started the association with Allan Herridge and Peter Bartlett. Brian Sparrow got involved, as did Vic Outen and they were all there when I joined.
We used to travel to Middlesex to meet at Peter Bartlett's house in Stoke Poges. Brian Sparrow who wrote for the club magazine in the early days knows most about the era since Vic Outen, Brian Coole, Alan Herrridge, and Peter Bartlett who are no longer with us.
All this history is now held at the biggest UK drag racing archive with the British Drag Racing Heritage Trust, located at the John Woolfe Racing Museum in Bedford.
Eurodragster.com: Was BHRA formed for both hot rods and drag racing?
John Bennett: Yes, Brian Coole had a custom '37 Ford V8 and Allan Herridge had built a Buick straight – eight dragster. The first custom show we had was staged at Spa Engineering in Easter '63, we cleared out the workshop in South Norwood near to the Crystal Palace football ground.
It was a tiny place in Whitehorse Lane at number 38. Ann and I started married life there. We had a mechanical workshop at number 54. We were planning on buying all the houses in that row and making it a big operation - but we got sidetracked with custom cars and drag racing!
Our second show was at London's Hyde Park underground car park in Easter '64.
| | | |
| --- | --- | --- |
| | John and Ann with Pontiac,taken at Duxford 1964 | |
Eurodragster.com: How did you meet your wife Ann?
John Bennett: I met Ann at a local Barclays Bank where she worked in February 1964. She was engaged to someone else when I first saw her. One day I went there to pay the Spa money in and collect the staff wages, and she was there without her engagement ring on. I thought 'let's take a chance and invite her out'. I did and she said yes. I used to wear a big cowboy hat but she said 'I'm not going out with you with that hat on' and I haven't worn a hat since - except when at the track.
At Spa Engineering we had a Studebaker Avanti booked in the workshop for repair, which I took along to Ann's family home and photograph her posing with the car. When you are courting it makes a good impression on the future in laws! I knew of two other Avantis at the time. Author Ian Fleming had one.
Ann and I married on 20th February 1965 at Croydon Registry Office, I remember it was snowing. Ann was ever so photogenic that day and we kept a photo album for every year we were married. Sadly she died in February 2003, and life has been difficult without her.
| | | |
| --- | --- | --- |
| | First model drag race held at Croydon, 1965 | |
Eurodragster.com: What was your involvement in model drag racing?
John Bennett: British Hot Rod Association ran Model Drag Racing with Ecurie Equipe Club at Philip's Sports and Social Club.
The club's first away model drag racing meeting took place in May 1964 at Southend and Ann and I went with another couple. Others involved were Don Kennares, John Greenwood, Peter Bartlett and Sylvia Harding (later to be Greenwood).
Spa Engineering made the track and carried it about while Peter built and operated the timing gear. The strip was made out of hardboard and copper. Racers would bring their own cars. There was a Model Drag Racing Trophy which was sponsored by Ram Lane Ltd a chrome plating company in Kent and awarded to John Stidwell. Model drag racing has continued to this day. Those early meetings sowed the seeds of a tradition which has lasted over 50 years.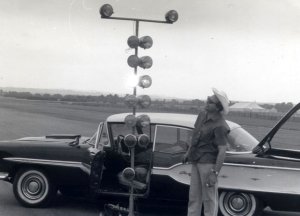 First Christmas tree attempt at Duxford, 1964
Eurodragster.com: Who built the timing equipment for the first Drag Races?
John Bennett: Brian Sparrow, who worked for a large electrical company obtained a set of electronic number display boxes for us to use with our timing equipment but we never actually connected it all together. There was another person we got involved with from the NSA (National Sprint Association) whose timing equipment we used for the drag races at Debden, Graveley and Duxford. It was a bit of a pullava to set it up and getting it to work. We eventually got our lights working at Duxford in May of '64. I think the first Dragfest that year used the same equipment.
Eurodragster.com: What events took place in '63 and '64 leading up to the opening of Santa Pod in 1966?
John Bennett: Silverstone was the start for myself and Roy Phelps. Dean Moon just arrived from America with his driver Dante Duce and the Mooneyes Gas Dragster at the invitation of Sydney Allard, first appearing at The Silverstone Invitational Press Day in September '63 organized by Gerry Belton.
Mickey Thompson, American drag racer extraordinaire, found out about the Allard invitation and got hold of his friend General Curtis LeMay and quickly arranged to have his brand new supercharged Ford AA/FD, "The Harvey Aluminum Special" covertly air lifted into the American Air Base at RAF Mildenhall.
Having missed the Silverstone Press Day, Mickey arranged to have his dragster collected from the main gate at the Suffolk installation then went south and proceeded to gate-crash the Brighton Speed Trials four days after the Silverstone event, upstaging Dante Duce because Thompson had a nitro car. Mickey even had the nitromethane flown in! He also proceeded to appear with Dante Duce at RAF Debden, near Saffron Walden and RAF Church Lawford, West of Rugby in the Midlands. Mickey convinced Dean Moon that it would be better to demonstrate drag racing by having two side by side dragsters smoking their tyres as opposed to one, as in time trials and sprinting.
| | | |
| --- | --- | --- |
| Mickey Thompson's AA/FD at Silverstone, September 1963 | Mickey Thompson's AA/FD at Church Lawford, September 1963 | Ann Bennett with Harvey Aluminium Special on display in Kings Lynn town square, 1964 |
Before Mickey departed back to California he took his dragster back to RAF Mildenhall with the intention of handing it over to USAF personal. But when he arrived at the main gate they said to him: 'You can't come in here, this is America'. There was no one there that knew anything about any arrangement with any General and Mickey was forced to return to London and leave the car behind and sort things out later. His dragster was placed in the care of SPA Engineering where it remained. Nothing was sorted until the spring of 64 when Mickey came to an arrangement with the management. In May 1964 the first Big Go Meeting was held at Duxford, and in promoting the event, "The Harvey Aluminum Special" went on static display at a Kings Lynn car show.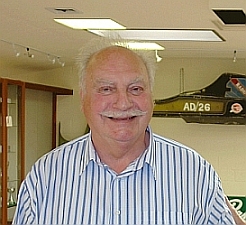 David Owen, pioneer who wrote the first drag racing rule book published by John in 1968, also finding Graveley Airfield.
In the latter part of 1965 the late Tony Densham took the dragster from Spa Engineering to prepare it to run at Santa Pod as it had been stuck in limbo for a couple of years. The idea was for it to be part of promoting the new track. I believe it only ran one time in the inaugural year of Santa Pod under the name of The Golden Hind, so it would not be recognised as the Mickey Thompson car. However it set the pace for what was to come. Tony along with others went on to create a completely new identity for the car by removing the engine and having the chassis lengthened at FGR and refurbishing all the mechanics.
That's when Peter Billinton's involvement with the Mickey Thompson car started. Following on from this Fibreglass Repairs(Bob Phelps) produced a new body to cover the car which was later renamed The Commuter. The Commuter with Densham at the wheel set the British Land Speed Record for wheel-driven cars at 207.4 mph at Elvington in 1968 which still stands at the date of publishing this interview.
7th June 1964 was the inaugural BDRA practice meet held at Graveley Airfield near Papworth, Cambridgeshire. Local resident of the village David Owen organised the event with start line marshals from the DC&TA (Drag Control and Timing Association). He was the head marshal of this local organization that handled the first Drag Racing competitors in these early years. David also wrote the first British Drag Racing Construction & Safety Rule Book published for the 1968 season. He is retired and still resides in village of Graveley.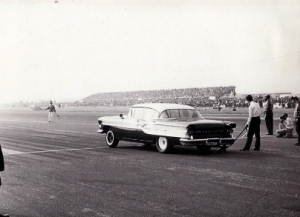 Pontiac on start line at Blackbushe, 1964
Eurodragster.com: And then there were the DragFests of '64 and '65?
John Bennett: It was Gerry Belton that organised the famous DragFests with Sydney Allard, as the BDRA. We didn't want amalgamation with them (into BDR&HRA) but it happened at the end of 1967 because they were much more powerful than we were financially and politically. Ann and I ran our Pontiac Chieftain as the Domino Racing Team car which is why we had a domino displayed on the side. The Sun Tuning equipment logo was painted on the car but we didn't have any of the equipment and they weren't a sponsor. I bought a tri-carb setup and a camshaft from America and it ran 16s. It was a four door with no B-pillar which was rare. It was lovely, I wish I had it now. She was a write off which I rebuilt and had an odd front end.
By the time I raced at the '64 DragFest we carried a few decals. The Mr Horsepower woodpecker decal was one probably left by one of the visiting Americans. The Vegas sticker was after our boat "Las Vegas". The car had a fibreglass bonnet and boot lid made by Fibreglass Repairs. Ann's first competitive drag race was in '64 at Duxford before she passed her driving test!
Eurodragster.com: Did you run the Pontiac at Santa Pod?
John Bennett: Yes, and eventually sold it to another team at Santa Pod, but we never saw it race again.

Ted Peddle, John Bennett, Bob Phelps when they first set foot
on Podington Airfield autumn 1965 (photo by Roy Phelps, inset)


Early morning shot at Santa Pod Raceway in Autumn 1966,
looking West at the track from behind the start line
Eurodragster.com: How was the site at Podington discovered?
John Bennett: We had been to Debden, Graveley, Duxford and Church Lawton - all air force bases. The NSA and BHRA were looking for places to run events and I learnt there was a disused airfield at Podington, near Wellingborough, so I drove up there and met the owner, Ernie Braddock. He agreed that we would rent it for £1,000 for that year and I'm not sure we used solicitors because we didn't do things like that in those days. Mr Braddock agreed to stop digging up the runway. I had to fund the £1,000 a year which was a lot of money in the 60s, but at last we had a permanent place to race at.
Announcing this put BHRA ahead of BDRA, a great step forward. As I knew I couldn't spend too much time away from Spa Engineering, I asked Bob Phelps if he would like to be involved. So we then had a four way partnership as National Dragways with myself, Ted Peddle, Bob Phelps and Bob's son Roy Phelps. I was only really interested in being part owner of a drag strip. I have photos of Ann by the Santa Pod entrance sign made by Spa Engineering.
| | | |
| --- | --- | --- |
| Ernie Braddick in SPR control tower, c.1978 | Ann by SPR sign, 1966 (courtesy Nick Pettitt) | Aerial photo of Santa Pod Raceway, 1966 |
Footage of Santa Pod Raceway's 1966 Championships (no sound), opening shot is the original Hustler built by Mark Stratton in 1965/66
Eurodragster.com: You did a lot of improvements at Santa Pod after the first two seasons?
John Bennett: Yes, we resurfaced the strip and the start line was 300 yards further up from where it is now. The pits were supposed to be behind the start line. Where things are now is better and I think they've got it right with the grandstands close to the track.
Eurodragster.com: Who was the first sponsor to display at SPR?
John Bennett: It was Valvoline Oil Co. because Spa Engineering had painted their Studebaker. Valvoline was a major sponsor of Drag Racing in America at the time and this assisted us in obtaining 16 mm drag racing films of NHRA Championship races which we used to hold film nights around the country, all of which were sponsored by Valvoline in America.
Eurodragster.com: How did you start publishing Drag Racing & Hot Rod Magazine?
John Bennett: Kart Magazine Publisher Alan Burgess started publishing Drag Racing Magazine. The BHRA needed publicity and something to replace Kool Kams, which was more of a club membership periodical. Ted Jennings, and employee Dick Lawrence talked to Alan Burgess and negotiated the purchase of his Drag Racing Magazine. This proved advantageous as we had printers in place, several contributors and a few advertisers. Dick Lawrence and I worked on producing the magazine together with another new arrival, Ian Penberthy as co-editor and Rick Goodale for art. Ann did the distributing. Ian currently lives in Sussex and still sub-editing various books. He was my employee at Spa in the office in the mid 60s. The office switched to being our drag racing HQ about then. Alan Burgess passed away in 2012 but his son is still running Karting Magazine.
| | | |
| --- | --- | --- |
| Kool Kams November 1965 announcement of SPR opening in April 1966 | Three drawings by Rick Goodale, 1967 | Rick Goodale with Swedish wife Ann |
Founding member of the BDRA Rick Goodale was particularly active in the early years supporting events with imaging art, first with the Kool Kams publication and then he contributed his talents with illustrations and created a series of famous drag racing images in the process which led to the development of a London based Graphics Company. Besides being the Art Editor of the Drag Racing & Hot Magazine, Goodale is renowned for creating the instantly recognizable Hard Rock Café and Pizza Express logos. Today Rick runs a posh up market B&B in Hampshire with his wife Ann.
Brian Sparrow, 2014

John, Ann, Lynn Freshwater and Dick Lawrence, 1967

Mike Lintern, Mick & Sarah Collins, John Bennett,
Bernard Davey, April Scarborough (Miss Croydon), Drag Racing '69 show at Fairfield Halls, Croydon in late Jan 1969
Brian Sparrow also worked on Drag Racing & Hot Rod, writing race reports and providing many photos. We became good working partners, he came to our wedding and Ann and I went to his wedding. Also contributing to the magazine were Mike Collins and Mike Lintern who to this day write and scribe.
Dick Lawrence went on to build a shop at Santa Pod called Dick's Place, he was also successful with a mail order T-shirt business, sadly he died in 1999.
The BHRA had a stand at the Racing Car show in 1967 promoting the sport and magazine. This opened up a whole new fraternity of competitors and sparked off a surge in membership and spectator attendance.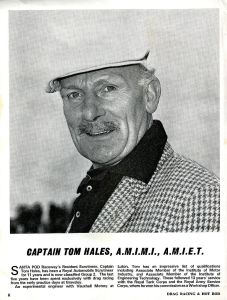 Captain Tom Hales, Drag Racing & Hot Rod Mag, Nov 1969
Eurodragster.com: The scrutineer was Capt Hales - how did he get involved?
John Bennett: Cars had to be scrutineered. The scrutineers at the start came from the National Sprint Association, but the RAC also wanted to scrutineer cars, so they sent Capt Hales and a RAC timekeeper.
Eurodragster.com: With Santa Pod up and running, how was life for you?
John Bennett: We had a good lifestyle and a lot of fun, driving up to Santa Pod Friday night and back to London on Sunday night. But we only had some tatty caravans at Santa Pod to stay in on Friday and Saturday nights while we were working and it was hard work. The lamp posts Ernie Braddock put up are still there, and I remember we had a terrible time erecting the cable. Around that time British Airways were offering 10 days in Bermuda for £100, so off we went in August 1967. Some people thought because of this and a new caravan I was skimming the gate money.
I recall Ann was on the gate and put some £1,500 in a briefcase in the boot of the Pontiac for safety. Unfortunately there was a misunderstanding over why it was there. By 1968 Ann was expecting our first child. Late one Friday night she went into labour at the track so we made good use of the Pontiac, rushing back down to South Norwood. Suzanne was born in 48 Whitehorse Lane.
Eurodragster.com: What other sort of troubles did you have running Santa Pod?
John Bennett: We had a lot of trouble with the timing gear Peter Billinton built. In those days it was hi-tech. Every now and then the timing equipment would stop during a race and we would not get a time. We spent hours in the tower testing it and it worked every time. And then one night while Billinton and I were trying to solve the problem the equipment failed. I had picked up the phone to call someone and it was the phone that was tripping our electrics. We also had a ex-army telephone system so that we could speak to people at the gate. Hard times in the early days.
I had tried to get radios and earpieces for the start crew so they could talk to people at the other end. But Bob didn't really see the need for these things. He built the tower which was a good effort, and at the startline he created a starters' 'shed'. My main concern was getting the track resurfaced. That cost £4,000 which was a lot of money then.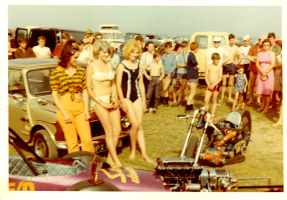 Beach party at Greatstone near Romney Sands, Christine Skilton (centre), 1968
Eurodragster.com: Were you involved in other promotional and social events for Santa Pod?
John Bennett: The BHRA had a beach party at Greatstone near Romney Sands in 1968. I remember Christine Skilton won the bikini competition (pictured in middle of photo). There were also the shows. One I was involved with was the '69 Fairfield Halls show. It was impressive, Fred Whittle's Shutdown altered, Tudor Rose, Stripduster, Invader, and Whistler were there. The Church Bros put the 289ci power train from a Mustang into their Goldrush Anglia. The show was Mike Lintern's idea and its success encouraged him to persuade his Link House Publishing managing director to add his concept Custom Car Magazine to their stable of titles. Custom Car Magazine is still being published today.
Eurodragster.com: How did you come to leave the BHRA?
John Bennett: After one particular race I said there was a racer who should be disqualified and whilst he wasn't disqualified it turned into a dispute with Peter Billinton and Bob Phelps. This culminated in me being stripped of my role at the 1969 AGM at the Randolph Hotel in Oxford. I walked away with Ann.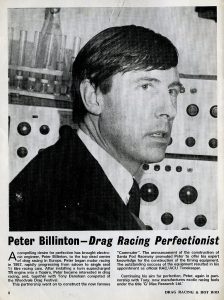 Peter Billinton, Drag Racing & Hot Rod Mag, Nov 1969
Eurodragster.com: How did Peter Billinton get involved?
John Bennett: As G-Max Research, he produced fuel and supplied methanol and nitro in a commercial capacity. He also worked on Commuter as a friend of Tony Densham, in addition to building and maintaining the timing equipment.
Eurodragster.com: How did your business progress after leaving Santa Pod?
John Bennett: The Spa Engineering workshop was rebuilt in a modern style - all glass and aluminium. In the recession of 1982 we were also delivering car repair jigs for a company called Car Bench on a franchise in the South East. We had just purchased the Midlands franchise and opened a depot there, plus we had a fleet of large and small delivery trucks. This was a very lucrative business but when petrol prices suddenly rose from around 75p per gallon to £1.50, Car Bench refused to allow us to increase our charges. At the same time my friendly bank manager retired and the new one stopped our account, forcing us into liquidation. When it was all resolved and the properties, vehicles and equipment sold there was no surplus. So much for high street banking. I must take most of the blame for the failure of Spa Engineering. I had taken my eye off the ball. Sailing, flying and buying my second Jaguar XJS with a SPA1 number plate. As my teacher said at school "Brings too many playthings to school".
Spa Engineering had just purchased one of the very first computers, a Tandy with just 16kb of memory built into the keyboard and a tape recorder for saving programs and data. It was £600 and came with an immediate upgrade to 32kb of memory. Wow!. No disks of any sort of course. Gradually Spa upgraded to a later model computer and we began to get some useful output, a copy of which I kept before the receivers came in!
Out of work for the first time, Ann and I turned our hands to anything going. Ann made dozens of pies for the local farm shop. I needed some transport and used some of my redundancy pay to buy a nice new 650 Honda.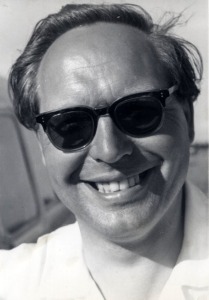 John at Duxford, 1965
One day I noticed an advert in a jobs publication for a salesman at Tandy computers in Croydon. When I was interviewed by the manager it was obvious I already knew more about computing than any of the staff so I was taken on as an instructor, with a free hand to organise computer courses. The store had the most magnificent classroom with all the students' computers linked to the instructor's computer. These computers by now had five inch floppy disk drives and I recall telling one student to insert the disk and close the door. She inserted the disk and got up and closed the classroom door. Not quite as bad as the lady in a large well known company who when I asked her to send me a copy of the data on a disk, she photocopied the disk and sent the photocopy to me.
Eurodragster.com: Who is in your family now?
John Bennett: From my first marriage in 1952 to Sylvia I had a son named Gary who is in his fifties living in Sussex but suffered ill health recently. With my second wife Ann had Suzanne, who was born in 1968 and John born in 1972. John became a legal executive defending criminals for solicitors up to the time when legal aid was cut.
Nine months after Ann died in 2003 I had various relationships which aggravated all my relations. Everyone loved Ann, and I was considered to be out of order. Even now 12 years later, only my son John and sister Audrey and her children speak to me. I eventually met and married Amelia ten years ago, she had been house sitting a villa in Marbella for seven years and comes from the Philppines.
I am now retired and living in Crawley; I am proud to have made a contribution all those years ago.
Eurodragster.com: Thanks for your time John, and all the best to you.
2011 reunion: John Bennett, Ian Penberthy, Maurice Takoor,
Dave Riswick, Tony Beadle, Keith Brown

Tony Beadle, Maurice Takoor,
John Bennett, Dave Riswick in 2012 when we set up the British Drag Racing Archives Trust
Feature ©Eurodragster.com

---
Acknowledgements: Thanks to John Bennett for his time during the interview and reviewing the proof, to Dave Riswick of John Woolfe Racing for arranging the interview and providing copies of archive photos, and to proof readers Roy Phelps, Mike Lintern and Maurice Takoor for taking the time and trouble to provide comments.

Photos courtesy Nick Pettitt
Features and Interviews index
Back to News page


---