Jus'4'Fun Racing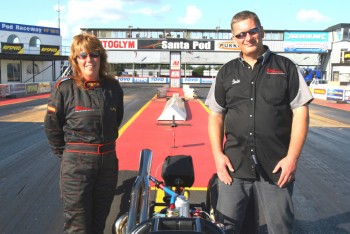 Iain and Liz Malcolm run the Jus' 4'Fun dragster in the Pro ET. Liz drives the car, while Crew Chief Iain's engineering skills are showcased in the attention to detail which visitors to the team's pit can't fail to notice.

Peter Donaldson took the opportunity to speak to the team for Eurodragster.com during a demonstration appearance at the recent Retro Show at Santa Pod Raceway.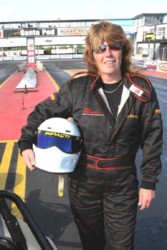 Eurodragster.com: Tell us about yourselves.
Liz: I work in the Radiology department at Hemel Hempstead General Hospital, where I have been for almost five years. My work colleagues are very understanding when it comes to booking time off at each bank holiday. Prior to this I worked with Iain at our garage Apsley Transmissions (01442 259982). We have three children, Angela, Stuart and Natalie; we also have seven wonderful grandchildren who are a great deal of fun.
Eurodragster.com: Iain, what does your business specialise in?
Iain: We specialise in engine and manual gearbox reconditioning, which involves machine work such as crank grinding, reboring, milling and turning. Just lately we have been doing a lot of unleaded conversions on classic cars and engines for Ministox racing. We also do general servicing and repair work on everyday cars.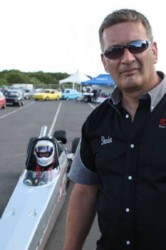 Eurodragster.com: When did you first get involved in drag racing?
Liz and Iain: In 1988, a friend whom we had not seen since the Custom Car days called into the garage to wish us luck in our new venture. He asked if we would like to come to a Run What You Brung at Santa Pod the following weekend, which we did and it was then agreed that we would go to the next big meeting which was the Summernationals. So we borrowed a friend's caravan and kids in tow, we set off for the Pod. This led to our buying our own caravan and attending every big meeting at the Pod and Shakespeare County Raceway until 2003.
During our time as "professional spectators" we saw that Dave Milam was selling a slingshot chassis for £100. Later that night, whilst checking out the Top Fuel pits, we decided that we would buy the chassis, build a dragster and that Liz would drive it. After approaching Norm Wheeldon to do some work on the chassis, it was soon agreed to sell it on and to build a new rear engine dragster.
Eurodragster.com: Tell us about the car, how much is self built?
Liz and Iain: The jig-built chromoly chassis was designed and fabricated by Norm Wheeldon. It has two-inch staggered aero-tubed A-arms with a 197"/199" wheelbase. As you would expect the standard of Norm's workmanship is second to none. He also narrowed and braced the nine inch Ford rear axle and welded all the control mounting points, including Dzus tabs for the bodywork, and also made the Inconel headers.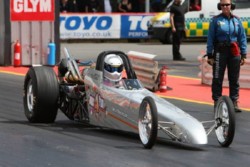 The aluminium panels were made for us by Phil Barton who in his day job restores real Bugattis, D-Types, AC Cobras etc. In fact the nose cone on our dragster is hand-beaten from a flat sheet of aluminium and Phil made it at our workshop, so he could keep trying it on the chassis, to ensure a perfect fit. This was used as a starting point for the upper panels.
Norm also supplied an Indy car wind screen and Phil made the cockpit panel fit it. We loved the look of the finished panels which is why it is finished in Ford Stardust silver, painted by Super Gas racer Dave Townsend as is the chassis.
Gene Benson of Flat-o-Products in Oregon, USA, built us the gearbox which is a shorty C4 with a manual valve body and transbraked.
The rest of the dragster is totally self-built by Iain and myself. We had no plans to work from or directions to follow, but we soon learned as we went along. Luckily Iain has the machines at the workshop in order to make every bracket, mounting, and blanking plate that was needed. Nothing was available of the shelf. It's amazing how many metres of wire went in to wiring the electrical components and how many extra orders were placed for more nuts and bolts.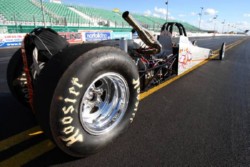 Eurodragster.com: Tell us about the engine and why you chose a four-cylinder?
Liz and Iain: We chose a four-cylinder engine as it represents the type of engine we frequently work on (Britain's most common configuration). We picked the Pinto because we knew it could be tuned and people could identify with it. Well, who hasn't owned a Cortina?
The engine is a fully blueprinted long rod motor, using custom Ross pistons, Crower billet 4340 SBC rods, Total Seal rings, YB Cosworth crank, O-ringed block, big valve head, roller followers, custom billet Newman cam. It runs on methanol, injected by Kinsler, ignited by MSD.
Eurodragster.com: What is your best ET and speed?
Liz: Our best performance is 10.87/123.
Eurodragster.com: You run in Pro ET, what do you think makes the class so popular?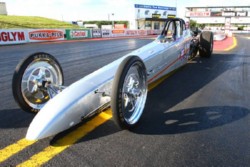 Liz and Iain: We came into Pro ET because our dragster fitted into the 9.00 to 11.99 time bracket...well, truthfully, not at first but not for the want of trying! Whilst testing the dragster at a Test and Tune at Shakespeare County Raceway, we met Pro ET racer Ian Brown who of his own doing showed us the ropes, so to speak, which made us feel very welcome!
Pro ET is a friendly and well-organised class where everyone is supportive of each other, that is until the green light comes on! An easy class it isn't, but win or lose we love it.
Eurodragster.com: Do you have any sponsors?
Liz and Iain: Not really but Apsley Transmissions helped a lot! However it must be said that Carl Burton of English Rose Racing team has organised a fantastic sponsorship package for Pro ET from Motorshack, Metamorphosis Finance, Inkwell Printers, Penn Autos, A1 Motor Stores, Hauser Race Cars, Wisbech American Street and Performance (WASP), Toxico Clothing, Black Bear Harley Davidson, Alley Jax, Real Steal and Sandy Scooters.
Eurodragster.com: How does drag racing fit into your lives?
Liz and Iain: Now that the children have homes and families of their own we have much more time to spend working on the car,which we love doing, especially the weeks before and after a meeting. Most of our weekends are taken up making improvements on the dragster – or so we hope!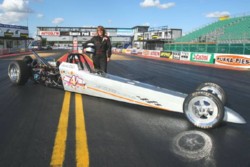 Eurodragster.com: Liz, what do your hospital colleagues and relatives think about your driving a dragster?
Liz: Most of them think I'm crazy but admire me for what I have achieved, my close family think it's great and are really proud of what we do.
Eurodragster.com: What single thing, apart from the weather, would you like to improve in UK drag racing?
Liz and Iain: More Sportsman meetings.
Eurodragster.com: What are your plans for the future?
Liz and Iain: Many more years of drag racing. Oh and to go faster!!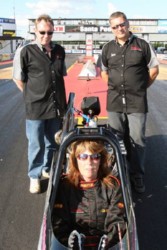 Eurodragster.com: Is there anybody you would like to thank?

Liz and Iain: Our children for tolerating us whilst building the dragster; our good friend Tim Peacock who built us the garage in which to build the dragster; Norm Wheeldon for fabricating a first-class chassis; Phil Barton for the tin work; Darren West of Power Race Graphics for the design and expert application of the vinyl; Super Gas racer Dave Townsend of D K Autos for the painting of the chassis, body panels and for extending his oven in which to paint our trailer; Gene Benson of Flat-O-Products for the transmission and much help in shipping us parts. And all of the Pro ET racers for making it one of the best classes to race in!

Eurodragster.com: Thank you Iain and Liz, we look forward to seeing you at the Open Sport Nationals in August.


Feature ©Peter Donaldson for Eurodragster.com.


---
Features and Interviews index
Back to News page
---