Kenny Youngblood attends the 2011 FIA Main Event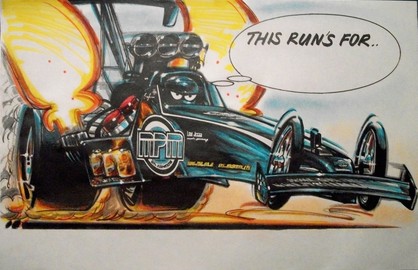 The 2011 FIA Main Event at Santa Pod Raceway will host a very special guest as legendary US automotive artist Kenny Youngblood will be making his first trip across the Atlantic to attend the race. Kenny will be based in the MPM Village and is looking forward to meeting and greeting European fans for whom he will be colouring Youngblood original cartoons.
Shortly before the race Santa Pod Raceway interviewed Kenny Youngblood and kindly passed the interview on to Eurodragster.com to publish.
Click on any picture for large version

Santa Pod Raceway: Kenny, tell us why you are so keen on visiting Santa Pod.
Kenny Youngblood: I've always wanted to visit England and I'm a drag racer as well, so combining the two will make this trip the highlight of our "Blood Did It 45th Anniversary World Tour".
Santa Pod Raceway: Who will be coming with you?
Kenny Youngblood: My wife Terri and our daughter Michelle will be joining me, and of course the amazing "Trackside Tina" will be front and center.
Santa Pod Raceway: Is this everyone's first trip overseas?
Kenny Youngblood: Yes, we've never been across the Pond and are really excited about coming.
Santa Pod Raceway: How did this trip come about?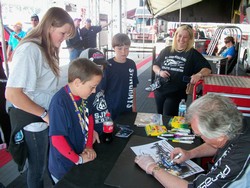 Kenny Youngblood: Although we didn't know it at the time, it actually started coming together at the NHRA Finals last year, in Pomona, California, where Tina and I were making an appearance for Toyota Racing. My wife and I like "sharing the love" with our racing family, and making new friends too. So, one evening we grabbed Tina, and took the golf cart out for a "pit cruise".
Santa Pod Raceway: How did that get you over here?
Kenny Youngblood: Well, it didn't, but that's how we met Lex Joon and his team. The European racers we've met (like Urs Erbacher the previous season), get my respect for being dedicated enough to not only bring their rigs to the US, which is a tremendous undertaking both logistically and economically, but also for wanting to compete with the top US teams. Anyway, we hit it off with Lex and the crew, and had a great time!
Santa Pod Raceway: So the trip came about through Lex?
Kenny Youngblood: No, not exactly; I had met Caroline Day of Santa Pod, at the SEMA Show here in Las Vegas, just prior to the Pomona event. You see, when I'm working and someone comes up who speaks with an accent, I usually ask if they can "get me over there" (figuring that if I ask enough people, one might actually get it done!). After a few E-Mail communications, Caroline got it done!
Santa Pod Raceway: So how did meeting Lex play into it?
Kenny Youngblood: Caroline Day had me contact James Forster at the track, who in turn let Richard Stevens of Lex's team know we were coming. Richard and MPM Oil have been fantastic, we couldn't be making this trip without them and can't thank them enough!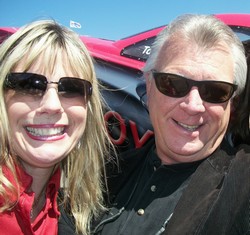 Santa Pod Raceway: What will you be doing at the Main Event?
Kenny Youngblood: We'll be set up in the MPM Village, where Trackside Tina and I will be able to meet the Santa Pod fans; that's our number one priority. I've also created several drawings specifically for the event, including those of four of the MPM team members (like the one shown of Lex Joon's Top Fueller). Fans will be able to pick the design they like, and then I'll take a couple of minutes to color it in and personalise it for them; they're complimentary, courtesy of Santa Pod and MPM Oil.
Santa Pod Raceway: Will you be bringing any other Youngblood collectibles with you?
Kenny Youngblood: Yes, I'll have some of the posters I made depicting American racer Tony Schumacher and his US ARMY Top Fuel Dragster; they'll be available too.
Santa Pod Raceway: Will you be available to do any drawings of UK racers?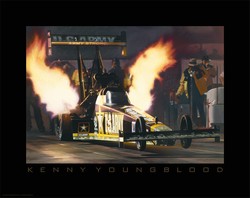 Kenny Youngblood: Sure, I'd love to; I can do custom "CARtoon" style drawings, or even full blown paintings for anyone who would like one; of course the paintings would have to be done back here at my studio and shipped over. If anyone is interested, they should contact Richard Stevens at MPM Oil; his mobile number is +44 (0) 7912 380 607, or richard@mpmoil.co.uk.
Santa Pod Raceway: What will be of most interest to you at the Main Event?
Kenny Youngblood: One thing for sure will be having the opportunity to see the big drag bikes. Unfortunately they don't run Fuel motorcycles anymore at National events in the US; they are one of my favorites and an awesome breed. I can't wait to check out all the UK machinery, and am expecting to see some that's a bit different from over here. Of course it will be a wonderful thing to hear the "cack", and smell the UK nitro, but above all, it's about the people; about the fans we'll meet and the friends we'll make.
Santa Pod Raceway: Thanks Kenny, we'll see you on the 27th of May, at the Main Event!


---
Kenny Youngblood's web site
Santa Pod Raceway web site
MPM Oil UK web site
Features and Interviews index
Back to News page
---