Exclusive Feature on LA Racing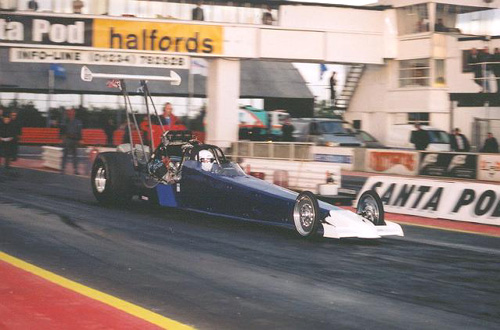 For the fourth of Eurodragster's Team features we spoke to UK independent Top Methanol Racer Lindsay Deuchar and his team LA Racing. Lindsay has been campaigning Top Methanol dragsters over the last 10 years, all funded from his own pocket. With the teams current combination they have proved that they can run with and beat the very best and have proved a lot of people (not least me - Features ED) wrong along the way. To stay in touch with LA Racing check out their website at http://www.laracing.co.uk/.

Thanks to Lindsay for taking the time to take part in this feature and for being one step ahead of us by having already written the teams history before he even received the questions!


Eurodragster: Tell us a little about yourself away from the track?

Lindsay: Well, I work as a Civil Engineer/Asset Manager with the regional water company. Although I now live in Barnsley, I am originally from Perth in Scotland and therefore a passionate St Johnstone supporter which is I believe is more socially acceptable than being a Port Vale supporter *grin*. All the peripheral work of campaigning a TM car takes up almost all of my spare time year round away from the track.


Eurodragster: When did you first go to a drag race?

Lindsay: I have always been interested in "over the top" powerful machines (possibly a consequence of growing up in the Space Race 1960's). It was motorcycles that first grabbed my attention - my first recollection of drag racing was Alf Hagon appearing on Blue Peter (If memory serves me correctly) in the late 60's. By my late teens I had moved on (?) to sports cars and joined the local Custom Car club the "Yorkshire Street Freaks" (what a name!) - within this club there were some hard-core drag racers, the late Dave Grady being one. In 1976 I was bundled into the back of a 440 Dodge Challenger and taken to the Pod with my Hot Car discount ticket and I was hooked.


Eurodragster: When did you first take part in a drag race?

Lindsay: Around 1982 I bought an injected small block altered - while trying to get it ready for my first race and trying to sort out the injection system I had a big time fire, very serious - almost burnt the house down. Undeterred I then raced my Jensen Healey street car in the brackets at York (1984) - this is when I realised (as everyone does) how something that seems quick on the street is embarrassingly slow on the strip! After another stillborn small block Pop project - in 1987 I bought a 1970 Dodge Challenger rolling shell (the 1976 experience obviously had an effect). After building an engine and auto box literally from boxes of bits I had a good reliable 12 sec. street/strip car (the LA Raider) which was fun until I beat the local guy who usually won everything at Long Marston, who decided that losing to an unknown was not in the script, he complained bitterly and eventually got a re-run because his slicks were cold! - I never turned up for the re-run and will never race in brackets again (for those who don't know me - I will cut off my nose to spite my face!)

I then decided the thing to do was go "Heads Up" racing and was on the lookout for a 7second(ish) supercharged Altered/FC. In 1990 on tracking down the car I wanted in the States, I went to see the car at the racetrack, only to be told by the guy selling it that I could not afford it (I had the money in my pocket) - what a jerk! - undaunted, I was introduced through a mutual friend to Gary Christensen who I visited to talk to about blown big block Chevys - Oh dear! It just so happened that he had his Rodeck TAD for sale for what I had in my pocket - I can remember sitting in an LA Diner that night thinking what a big step it was, moving from a 12 sec street car to a 6 sec TAD! I came home consulted with a friend (Clive Gregory) who had crewed on Top Alcohol cars and the deal was done. Unfortunately after one disastrous outing Clive and myself parted company - I decided to go to the drag racing school in Florida in an effort to speed up the learning curve - this for me was the worst move of my life - I came back very disillusioned, regrouped with some old friends Andy Mapes and Tony Preston and decided we would throw out everybody's advice and do what we thought was right - so in 1992 we went to a "Run What You Brung" at Long Marston and on our 3rd run, ran a 6.7 - mission accomplished!

We then continued as funds would allow, to run at Long Marston and Santa Pod although we never won anything we did ok running mid to high 6s, but at the Summer Nationals in 1994 the Lenco lost pressure at half track and zinged the motor kicking out the rods and totally destroying the block (we won the race though). We had lost a lot of ground to the Chrysler Hemis by that time due to weight breaks and we did not have a Hi-Helix blower, which most of our competitors now had and screw blowers were now becoming popular in the States - we could see the writing on the wall and I could not fund the switch to a Hemi so retirement was the only option.

By 1997 I could stand it no longer - it's amazing how much money you can save when you don't race for a few years (but it is never enough). So I put out a few feelers and although I nearly bought Barry Sheavill's old car (the one Doug Bond now has), I went for a little known US car that seemed to have all the right elements - buying this car is a story in itself! After a rather inauspicious debut (the flaming picture) at Santa Pod in 1997 due to the usual story of being given duff information and incorrect parts I like to think we have now acquitted ourselves reasonably well with what we have.


Eurodragster: What is your current car?

Lindsay: Top Methanol Dragster - "LA Racer"


Eurodragster: When did you acquire your current car?

Lindsay: 1997


Eurodragster: Who built the car originally?

Lindsay: Bob Meyer for Roger Primm


Eurodragster: What is the powerplant and who built it?

Lindsay: 461 cubic inch KB Hemi - built by myself


Eurodragster: Approximate BHP?

Lindsay: Its never been Dyno'd, but at a guess around 2500bhp


Eurodragster: What drivetrain does the car employ?

Lindsay: Lenco transmission - Lenco/Meyer axle


Eurodragster: What is the car's race weight?

Lindsay: Around 2050lb - depends how many pies I've had!


Eurodragster: How the car has developed since you first got it?

Lindsay: It was the usual imported US car story - and although I stripped the car completely on its arrival into the UK and replaced lots of things that were suspect, I foolishly took the engine combination to be correct - this resulted in the "Great Fire" captured by TonyB and featured on our Home Page. Needless to say I sorted that one out and after some more trials and tribulations usually as a result of poor quality parts, I consider that I developed a relatively "safe combination" in 2001 but that will have to change again for 2002 if we want to go quicker (which we do!).


Eurodragster: Best elapsed time / terminal speed?

Lindsay: 5.904 and 230mph (370 kph)


Eurodragster: Who is your current crew?

Lindsay: Angie Bentley, Tony Preston, Richard Harker, Roy Wilding and Chris Round


Eurodragster: What plans do you have for the future?

Lindsay: We will be trying to develop a new fuel system in an effort to try and get a bit closer to the 5.7s needed to win in TM. Apart from that our plans are a bit up in the air at the moment and will be greatly influenced by the Whipple debacle. If we (the TM racers) can make the organising bodies see sense I will try and acquire a greater parts inventory for the future, so hopefully we can make every UK TM race.


Eurodragster: What is your favourite story/moment involving the car?

Lindsay: My greatest moment as a racer was running my first 6 (6.7 at Avon Park 1992) in the Rodeck which I and a crew with no previous TM experience (Tony Preston / Andy Mapes) prepared - it just felt so good because we had done it our way.

With the current car it has to be my first 5 (Santa Pod 2000) for similar reasons.


Eurodragster: What is your favourite story from the pits?

Lindsay: When I raced my 440 Challenger back in 1988/9 - I found out that I really needed to run higher rear-end gears than the 3:55 set I used normally (150 miles to the track) to break into the 12s. I built a set of "race gears" into a spare centre section and changed everything over (and back again) at the track when racing. The problem was keeping this speed secret from my other Halifax Mopar mates as we all raced together - I managed to perfect the changeover (15 minutes) so I could do it whilst they were in the bar after the last race and before we all set off home together - did it for a complete season - until today they never knew!


Eurodragster: What do like most about the sport?

Lindsay: The sense of achievement for the crew and myself if we run well.


Eurodragster: If you could award a medal to someone in Drag Racing, who would it be and why?

Lindsay: It would have to go to my long suffering crew man Tony Preston - for reliability/availability and putting up with me for as long as he has (nobody else has come close!)


Eurodragster: Any people you would like to thank?

Lindsay: As I think everyone knows we have no sponsors in any shape or form so, apart from thanking all my crew members past and present especially Angie, I would like to thank Kenny Coleman (EDA) for always being open and letting me use his facilities. Also Bob Meyer and Roger McMartin for trying to sort "the wheat from the chaff" for me in the US.








Feature ©Eurodragster.com
---
Feature index
Back to News page
---
Eurodragster.com aims to bring you links to all the best European Drag Racing web sites. To add your site to Eurodragster's listings, simply email links@eurodragster.com with your URL and a little information about your site and we'll do the rest. When you update your site, drop us a line at news@eurodragster.com and we'll feature your site in our "What's New" section.
Eurodragster.com is a non-profit-making organisation run by a small group of Drag Racing enthusiasts for the sole purpose of promoting European Drag Racing. If you can help us to meet the modest cost of hosting this web site by advertising here, please email webmaster@eurodragster.com. We're sure you'll find our rates extremely competitive.