Exclusive Feature on Larsson Racing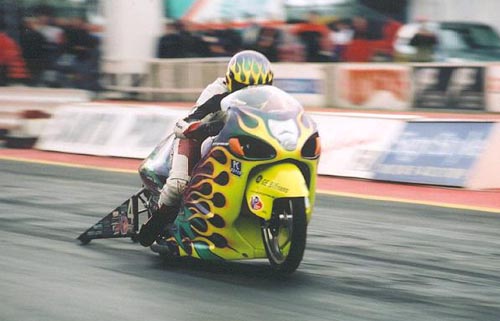 For this feature the spotlight falls on Sweden's Pro Stock Bike rider Anders Larsson. Anders played top level Ice Hockey before moving to the Drag Racing ranks back in 1997. He started in Superstreet Bike before moving onto the Pro Stocker. 2001 saw a new chassis and stunning new paint for the team. Anders finished the 2001 season with a bang (literally!) as he exploded a motor about 35 feet before the finish line in the final round of the UEM finals at Santa Pod but had enough momentum to hold on for the win, which secured him 3rd spot in the UEM Championship.

Thanks to Anders for taking the time and effort to complete this feature and supplying some of the photo's, particularly the one of his exploded motor!


Eurodragster: Tell us a little about yourself away from the track?

Anders: I'm 31 years old, single for the moment. I live in the capital Stockholm and I'm Marketing Manager for a "Internet/Mail order" computer company. Before I started with Drag Racing I played ice-hockey to age of 26, I played on in highest league to the age of 20 then I dropped down and played in lower leagues.


Eurodragster: When did you first go to a drag race?

Anders: I believe it was in the early 90's


Eurodragster: When did you first take part in a drag race?

Anders: My first appearance at a race was in 1997 in the Superstreet Bike Class. The meeting was at Feringe in Sweden. You could say it was very exciting! I managed to make an 8.90 pass which was not to bad for a first timer. Later that season we set a new the Swedish record for normally aspirated engine in SSB, 8.25 / 171.5mph (276 kph)


Eurodragster: What is your current bike?

Anders: Kosman/Hayabusa Suzuki Pro Stock bike. The engine is a Suzuki 1500 4-valve


Eurodragster: When did you acquire your current bike?

Anders: We bought the chassis in the winter of 2000/2001 and the first time on the track with the new bike was at the Main Event 2001.


Eurodragster: Who built the bike originally?

Anders: Well, the chassis was originally made by Sandy Kosman for a guy here in Sweden, so we are the second owner. The bike was totally rebuild by myself and my good friend Lennart Karlsson from up north. We spend almost 4 month on building it, just the body work took over 1 month to fit in the right place and the paintwork took a very loooooooooong time as well!


Eurodragster: What is the powerplant and who built it?

Anders: The engines are Suzuki engines with a 1500cc displacement. As of now I am building all my engines by myself.


Eurodragster: Approximate BHP?

Anders: Somewhere around 285-290 BHP.


Eurodragster: What drivetrain does the bike employ?

Anders: As with almost all Pro Stockers we use a MTC multi-cluth system to get the power down to the track. As opposed to the SuperTwins and Fuelers who use a heavy chain, we use a rather small chain, it's a super light 530HD chain which in best case lasts for just 3 meetings!


Eurodragster: What is the bike's race weight?

Anders: 605 Lbs (274 kilo's) with myself on it.


Eurodragster: How the bike has developed since you first got it?

Anders: Our personal best before 2001 was 7.56 set at Santa Pod in 1999 and after that meeting we were stuck in the 7.60's. The old bike could not handle the power in the same way as the new one can. We were always struggling on the 60 foot times, but with the new bike that disappeared so we could stay focused on working on the power/ clutch setup instead.... and it paid off. We ran 7.5's almost the whole of the 2001 season.


Eurodragster: Best elapsed time / terminal speed?

Anders: 7.51 / 179mph (288kph)


Eurodragster: Who is your current crew?

Anders: My good friend Lennart Karlsson - Helps me with almost everything. And from time to time Mikael "Pickel" Andersson.
Besides these two people I have one personal mentor who helps me to twist my mind when it comes clutch setups and reading the output from the monitoring computer.... a secret guy!


Eurodragster: What plans do you have for the future?

Anders: Since we are out of engines for 2002 (The Raptor blew up on us in the final at Santa Pod last September) we are building at least one new motor which hopefully will be ready for the "private testing session" in May. We are quite satisfied with the chassis setup so we will focus on the powerplants for 2002.


Eurodragster: What is your favourite story/moment involving the bike?

Anders: Definitely the FIM/UEM finals in 2001 when the "Raptor" blew up 10 meters before the finish line and we still managed to take the win.


Eurodragster: What is your favourite story from the pits?

Anders: Well... There are so many, but one in particular that comes to my mind is guy who was trying to ride through a fence on a Honda "monkey bike" and actually made it through!! Straight through the fence and still on the monkey bike! I believe it was at Mantorp, 2000.


Eurodragster: What do like most about the sport?

Anders: How many people in the world get to ride a Pro Stocker? that says a lot I think, at least for me!
Compared to other motor sports you don't have to spend hours to figure it out. You race from point A to B and the first guy who crosses the finish line gets the win, simple and easy to monitor.


Eurodragster: If you could award a medal to someone in Drag Racing, who would it be and why?

Anders: A hard one because I have not been in the game for that long......
Anyway, there is one guy, a biker named Bo Thorselius. He was racing at the European Finals last season. He runs a 2-stroke Pro Stock bike, going up against all the 4 strokes. He is not afraid to be different and do things his own way. This is a guy who has been in the business for a long time and my award goes to him, for daring to be different and trying to be competitive with his very different bike.


Eurodragster: Any people you would like to thank?

Anders: Well, a special thanks to Lennart Karlsson who spends a lot of time with me. And another guy who needs to be mentioned is John "turbojohn" Ivarsson (The guy who owned the blue turbo bullet). And of course my the sponsors. I would not be where I'm today without these guys and it would be almost impossible to keep it at this level without their support.








Feature ©Eurodragster.com
---
Feature index
Back to News page
---
Eurodragster.com aims to bring you links to all the best European Drag Racing web sites. To add your site to Eurodragster's listings, simply email links@eurodragster.com with your URL and a little information about your site and we'll do the rest. When you update your site, drop us a line at news@eurodragster.com and we'll feature your site in our "What's New" section.
Eurodragster.com is a non-profit-making organisation run by a small group of Drag Racing enthusiasts for the sole purpose of promoting European Drag Racing. If you can help us to meet the modest cost of hosting this web site by advertising here, please email webmaster@eurodragster.com. We're sure you'll find our rates extremely competitive.