Track prep Q&A with Lee Child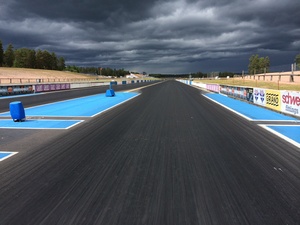 Eurodragster.com: Tell us how you got into track preparation.
Lee: My track prep career shouldn't have happened really but situations made it happen. It all started when Anthony Hodges gave me the opportunity to work with him at Shakespeare County Raceway back in 2002. We wanted a level of consistency with the track prep of National Championship rounds so we hired Darren Prentice. There was one event which Darren couldn't, cover so I had to do the prep. To say that it was daunting was an understatement but it all worked out. When Keith Bartlett offered Darren a nice position at Santa Pod Raceway it was then all on me to carry out the track prep at Shakespeare County Raceway which I did until 2006. The journey has been something else. I have worked in Sweden, Finland, Belgium, Malta and the United Arab Emirates. With so many records being broken, it's a great job to be in.  
Eurodragster.com: Imagine I got permission to use a runway for a RWYB such as those you hold in the West Country. When I called you up to book your services to prepare the surface what questions would you ask me?
Lee: The first thing would be to confirm apart from RWYB what other activities take place on the runway. If the runway is used for aircraft or driver education etc, then a prepped surface could cause issues after the event when wet. The surface assessment is very important, is it rough with high and low points or smooth? The nature of the surface having low and high points will make it harder to get the rubber in the low points hence a reduced contact patch for the tyre on the vehicles. This same situation will be the same for the traction compound not able to make contact with the tyre with this type of event.          
Eurodragster.com: That RWYB is on the Saturday, on which day would you need to turn up to start work and what would you do?
Lee: To turn the surface into a fully prepped surface you would need two weeks. A shorter time for less aggressive prep.   
Eurodragster.com: The full-time drag strip hasn't been used since the autumn, the winter has been very wet. The first race event is the second weekend in April. When would you want to start work on the track and what would you have to do?
Lee: The weather is key here leading up to the event. I would start the beginning of March, if water has got under the rubber it would need a scrape for sure. Depending on how much of the track needs to be scraped this will give you plenty of time to rubber up the track. For example when I prepped for FHRA FIA event, I had two weeks to prep the track. I did a small scrape but it could have done with more of a scrape. So you have to think outside of the box plenty of times with the prep but there was plenty of track records and Europe's quickest Pro Mod run on a asphalt track at this event but the key is working with what you got e.g. weather, equipment and budget.        
Eurodragster.com: It's the start of race day, my Pro ET car is in the lanes and I have come to look at the start line before eliminations commence. What should I be looking for?
Lee: Before you get to the start line, check out the cars in the pairing lanes first and the order they are in. My reasons for pointing this out is, if a small tyre heavy car is one of the first pairs it will chew up the start line on a track that has been freshly sprayed with traction compound. So the track will change from you viewing the track and getting strapped in ready for a run. What you should be looking for is rubber content on the track. Using your foot is a good way to check the track, the traction compound can feel very sticky but if you can turn your foot while on the front ball of your foot then the track is not as tight as it could be and could increase the wheel speed, which can help on a lower horsepower car but not a vehicle with more power.             
Eurodragster.com: What would you say is the most common mistaken belief about track prep?
Lee: Any race team is in hands of the person prepping the track. So the prep person needs to be able to explain everything and why, if they are asked any question for a better understanding for race teams to get a tune-up. The most common view is the track bleeds when it is hot and makes it tricky. A track doesn't bleed , its got too much traction compound on it which makes it go soft in really hot condtions. When I prep a track in the heat I spend about four hours thinking about the weather before the first spray, because to make a tight track in the heat you have to get it right on the percentage and timing.
Eurodragster.com: Is it possible to over-prep a race track? If so, what are the symptoms and what would I expect to see happen?
Lee: Totally, I have witnessed some get into a state paranoia with over spraying, the results are the vehicles spin the tyre and move around down track if they haven't got off the power. To add insult to injury, when a track gets repeatedly sprayed but not swept, all the dust, bits of rubber etc get stuck to the track, making it even more loose.   
Eurodragster.com: If anyone would like you to prep a track or if any racer would like your consultancy then how should they get in touch?
Lee: You can contact me through the Lee Child International Track Prep Services Facebook page.


Feature ©Eurodragster.com


---
Features and Interviews index
Back to News page
---