Martyn Jones
The name of Martyn Jones is synonymous with Super Pro ET. Martyn aka Syd was one of the originators of the class in Europe and has won four UK National Championships with Crew Chief Dave Crunkhorn, aka Crunch, one of UK drag racing's longest-serving team members. Eurodragster.com spoke to Syd in April 2009 as he prepared to race his new blown-alcohol dragster Small Fortune for the first time.
Click on any picture for large version
Eurodragster.com: When did you discover drag racing?
Martyn Jones: As a fourteen year old, I started buying Custom Car magazine from Issue 1, for the same reason that most fourteen year olds did in those days: because the cars allowed me to get the girlie pics past my mother. CC covered drag racing very heavily in those days. When I saw in CC that there was a race meeting being held in nearby Lee-on-Solent - BDRA On Tour, April 1971 at HMAS Daedalus - I had to go. A school friend and I persuaded his dad to take us there. We were hooked.
Lack of reliable transport restricted our ability to get to race meetings so the next race we all went to was the second event at Daedalus in July 1973 (Paula Murphy/Bootsie in Stardust etc). On the August Bank Holiday, we set off for Santa Pod. After blowing the head gasket of my mate's Norton Dominator, we eventually got there. Despite sleeping in the pile of gravel by the barn, we were even more hooked.
Eurodragster.com: Your name is pretty recognisable within the drag racing community. When did you begin your racing career and what was your first race vehicle?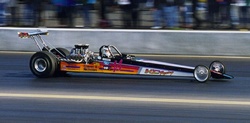 Martyn Jones: After university, not for too long in my case, three of us started seriously going to Santa Pod and decided that we'd like to have a go. So, instead of being sensible and saving enough to get a running car, we jumped in with all six feet and bought from Ray Feltell what used to be the Gerry Cookson's Joker at the end of 1978, minus head, manifold, blower and carb. We were out for the first time in 1979.
We should have bought a running car, but at least we got to meet some of the racers we had watched for years. We spent at least one season having the mickey taken out of us by Steve Johnson, Steve Young and others and deservedly so.
Eurodragster.com: How many race vehicles have you owned?
Martyn Jones: After I parked the FED, I tried partnering up with a guy from Bournemouth who had a Small Block Chevy rail, the ex-Shaw & Gibbons Alkymist / Bill and Marion James Instigator. After taking the car to a very wet Fireworks meet and trying to get it running, my partner decided that he'd had enough and put the car up for sale. It went to Ivan Birch as Snapdragon and then Chris Worsell's Lo Buck Special.
The next car was Rick Fielding's Imagination rear-engined dragster. Whilst building it I crewed for Steve Young, who had bought the old Joker from me (not sure he remembered to pay me though) which he ran as Autocat. I put a 1275 MG motor in the dragster and got Dave Wilson to build me an intake/exhaust manifold. The motor certainly sounded the business. However, whatever we did, the blower pulley would not stay on the crank over the gearshifts. I think the 200% overdrive may have been responsible.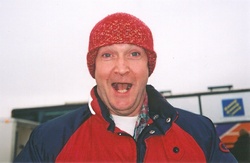 Incidentally, that car was responsible for my meeting Crunch. He wandered past as we were swearing at a slider clutch which wouldn't, and he stayed to help. I often wonder if he wishes he'd wandered in a different direction.
I finally had enough, and did what I should have done years before: bought a complete car in from the States, the late Shelly Howard's 7.90 car. I started racing in Super Pro ET at Easter 1991, actually match racing Robin Read. Steve Johnson was my Crew Chief until he bought his own car in the Summer. Crunch wandered past again when Steve and I had the transmission out at the Easter meeting...and he's still here eighteen years later.
Eurodragster.com: Any memorable races which stick with you?
Martyn Jones: Any win against Steve Johnson (and, sadly, all the losses against Barry Giles).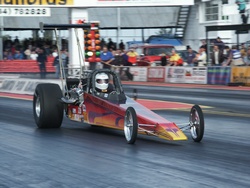 Eurodragster.com: You were runner-up (with Crunch sharing the driving too!) in the Santa Pod Super Pro ET Championship in 2008. Can you tell us the other achievements you've accumulated over the years?
Martyn Jones: Crunch deserves the credit for that. I drove like a donkey last year, starting with a 0.01 breakout in the snow at Easter. He picked up the trophy at the Dinner Dance and deserves it. We have also won the (current) UK National Championship in Super Pro ET in 2002 and 2006 and the previous IHRA UK National Championship twice.
Eurodragster.com: Who built the new car?
Martyn Jones: It is all the beautiful work of Kevin Cerusale of Race Car Chassis Services in Watford. Kev is a perfectionist and that can be seen in the car he has produced. I think it is the nicest race car I have ever seen.
Eurodragster.com: How long did it take to build?
Martyn Jones: The car was built on a 'spare time' basis by Kev: when he had no other work to do, he worked on the dragster. As he is kept very busy building and modifying cars, building race transmissions and rebuilding rear ends, for circuit racers as well as straight-liners, it has taken two years to complete.
Eurodragster.com: Where did you source the engine?
Martyn Jones: The motor came from Tom Conway in the USA. I've known Tom ever since I bought the 7.90 car from Shelly Howard, when he was tuning her TAD. After Shelly was tragically killed testing a new car at Tulsa, Tom bought her spare short motor from her husband Paul. When I started thinking about building a new car, I rang Tom to ask if he could find me a blower motor. We built it up from that short motor. The heads were bought off Racing Junk and the PSI blower was Ken Perry's spare.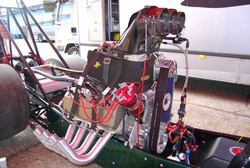 It's a TFX block, not sure about the crank, GRP rods, CRE pistons, Brad 5 heads, BAE manifold, BAE red rocker stands, with Stage 5 intake rockers, unknown (but nice) exhaust rockers, and PSI springs. The cam is from Crane but is downrated from the TAD version in the hope that less RPMs will make it all live longer. A PSI Model D blower is topped with a hat from Carlo Gandalfi at CG Composites in Rushden. Injection, except the Gorr barrel valve, is from Tom as is the MSD ProMag.
Transmission is a Lencodrive from Snyder Motorsport and the convertor came from Marty Chance. The rear axle is a Strange L6000.
Eurodragster.com: It's a large step up from the old engine to a new blown combination. How do you and Crunch feel about this new set up?
Martyn Jones: Speaking for myself, there's occasionally an unpleasant smell. You'd have to ask Crunch what he thinks but we will have our hands full, and frequent puzzled looks on our faces for a while.
Eurodragster.com: What's it capable of mister?
Martyn Jones: Costing a small fortune! And hopefully (very) low sixes.
Eurodragster.com: Do you see the turn around time as an obstacle? Is there a lot of work/maintenance to be done between each round?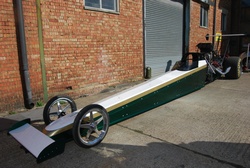 Martyn Jones: We're currently finding that out. A lot will depend on how well we run it. If we get everything right, it should be able to go a few rounds. We don't know if we'll be able to match the twenty minute turnaround we sometimes get at the FIA meetings, though.
Eurodragster.com: What are your plans for this year?
Martyn Jones: As many rounds as we can make, in Super Pro ET.
Eurodragster.com: Is Top Methanol Dragster a possibility in the future?
Martyn Jones: No. We don't have the time, or the money, to have a proper go at Top Alcohol Dragster (I can't say Top Methanol Dragster). So, although the chassis has been build to the right spec for the class, we've purposely made a few choices to put temptation behind us - aluminium bellhousing, no roll cage shield and the cam.
Eurodragster.com: Do you have any sponsors?
Martyn Jones: None. I'm always open to offers, but it would be difficult to fit in any commitments for sponsors as I work outside the UK and Crunch, Scott and Dom already sacrifice more than enough of their time for racing and preparation.
Eurodragster.com: Who are your crew, and do you have anyone else to thank?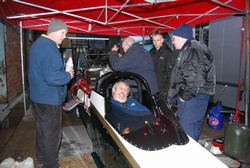 Martyn Jones: Without Crunch (David Edward Crunkhorn), none of this would have happened. My equal first proudest moment was seeing him collect the James Edgar Trophy - meant more than any of the Championships. The other moment was seeing the fire-up road full of Super Pro. And without Scott Barnes and Dominic Romney we wouldn't be close to ready yet either, or able to race.
Thanks are also due to Kevin Cerusale of RCCS who has built me a great new car which feels perfect from the inside, and looks perfect from the outside.
Thanks also to Tom Conway for the motor, the advice, and putting up with me when we built the motor, Joe Monden for the tube, Mick Snyder for the transmission, Dave Townsend for the paint, Pete Walters for realising the design (it's not finished yet), Carlo Gandolfi for the hat, Kev Cerusale's dad for fielding the phone calls and receiving the packages, Kev's partner Carol for letting him spend so much time in the shop, and Dave and David Wilson for the advice, and the use of their workshop for the initial fire up.
Eurodragster.com: Many thanks Syd. Here's to the low six.
You can see a gallery of the first fire-up of Small Fortune together with some pictures from the Silverline Tools Top Methanol Dragster workshop, at which the fire-up took place, by clicking here

Feature ©Eurodragster.com.


---
Features and Interviews index
Back to News page
---