Exclusive interview with Mats Eriksson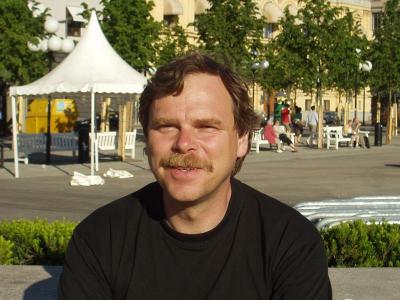 Sweden's Mats Eriksson is well-known for his exploits in one of the most photographed Pro Modifieds on the planet, the Green Goblin 1956 Ford Crown Victoria, which he has been racing since 2001. But his history in racing goes back much further to the late 1970s and he runs his race car alongside a highly-successful sheet metal and race car chassis building business. Eurodragster.com interviewed Mats in his spacious and well-appointed race car trailer at the 2006 FIA Main Event.


Eurodragster.com: When did you first get interested in the sport and when did you build your first car?

Mats Eriksson : I was first interested in drag racing when I was eight years old and a couple of years later saw the February 1968 issue of Hot Rod, which really got me keen. When I was sixteen, I started to build my first car, a Ford Falcon. I have always been a Ford man. It took me some time and I raced it for the first time when I was twenty years old, this being 1978.

The car did not perform well at my first race, so I took it apart and built a tube chassis which took two years, learning MIG welding techniques in the process. My first season with the tube chassis Falcon was 1984. This car was also too slow, so I built a Ford 513 cu in engine in 1985, the biggest motor in Sweden at the time. With this motor the car was starting to go fast and I ran an 8.90 in 1985.

In 1986 I put a friend's Hemi in the Falcon and ran it on carbs with gas, and qualified #1 at Santa Pod at the World Finals with an ET of 8.45. In 1987, I put a Ford motor in it and recorded a class record of 8.55 at a time when Pro Stock cars were running 8.20s.

Eurodragster.com: At what point did you start your own business?

Mats Eriksson : At the end of the 1980s, I formed a company, ME Sheet Metal (or ME Platkonstruktioner AB). The starting point was buying a machine that could manufacture industrial parts from sheet metal. I then formed ME Racing Services in 1990 to build dragster chassis using chromoly tubing and TIG welding.

Eurodragster.com: How did the Crown Victoria come about, and why did you choose this type of body?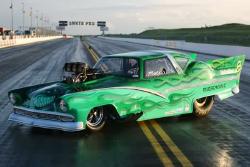 Mats Eriksson : The Crown Victoria is my favourite model and when I saw a photo of Carl Ruth's Funny Car, I saw a opportunity to build a Pro Modified car, or as it was then called, a Shoebox. So in 1991 I bought a body from Carl and started my project, but, as I had the company, I had to look after my customers, so it got a bit delayed....

Eurodragster.com: How has the car performed over the years?

Mats Eriksson : We tested the Green Goblin in 2001 and 2002 and at our first race in Mantorp Park in 2001 the engine literally broke in two pieces and had to rebuild it. We ran a 6.73 on our first full pass, and were really pleased that we ran well immediately. In 2003 we planned to run the whole NDRS Pro Modified series but missed the first round at the Main Event. In Sweden, we were the #1 qualifier and runner-up at a marginal track, and then ran Finland, Mantorp Park, Norway and the European Finals. We ended up as #6 in the Championship. In 2004 we were #3 and in 2005 we fell to #8 as I had a lot of tyre shake and gearbox problems in that year. In the end, after a lot of work, we found that the problem causing this was a faulty driveshaft.

We have a fast car and ran a 6.34 and 227 at this year's Easter Thunderball the fastest speed recorded in Europe. In fact, I was the first in Europe to run faster than 225 mph, in Norway in 2004.

Eurodragster.com: What are your objectives for racing this year?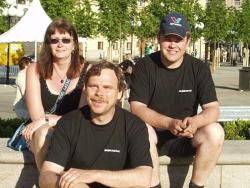 Mats Eriksson : We want to go fast this year and will try to win; we need consistency to do this with the current level of competition we have. We have a good chance of qualifying at every race, whereas last year, we didn't qualify at two races due to driveshaft problems.

Eurodragster.com: How did you bring the team together?

Mats Eriksson : When we started running in Pro Modified, we didn't hire any guys from other teams and no-one had worked on Pro Mod before, so we learned together. Friends told us things we needed to learn to avoid breaking parts and I think we made a good job to run the car consistently. In 2005, we missed only one qualifying run all year.

Eurodragster.com: What are your personal best ET and speed?

Mats Eriksson : 6.339 at 227.23mph.

Eurodragster.com: Who are in your team?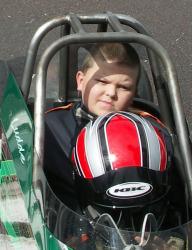 Mats Eriksson : I'm proud of my team - my son Lars-Göran Eriksson (on clutch), John Thidé on motor, Joakim Ericson as welder, my old pal since the 1980s Lars-Åke Hill on cylinder heads, my wife Lena Perés and youngest son Ludvig Perés, who drives a Junior Dragster. I would also like to thank Ray Hill, who made such a wonderful job painting the Green Goblin and who also set up our web site www.meracing.com.

Eurodragster.com: What does the race car company make?

Mats Eriksson : ME Racing Service AB undertakes tubing and welding. We don't carry out engine work but can supply rolling chassis and roll cages for a large variety of race cars, rally cars as well as drag racing vehicles. We can also supply sheet metal parts, A-arms and rear ends in tube and carry out a wide range of sheet metal welding. A recent order has been two new Top Fuel cars for Knut Söderquist.

Eurodragster.com: Who are your sponsors?

Mats Eriksson : We thank our sponsors Valvoline, Migatronic Welding Machines, Bridgestone Tyres and Dalecarlia Chocolates (which are made in the image of a local horse, dressed in fancy colours and are sold in IKEA).

Eurodragster.com: How pleased are you with your current set-up?

Mats Eriksson : The business and race car are fantastic operations and we are very satisfied. We only dreamed of the race car operation five years ago and we are working very hard to get to the top of the pack.

Eurodragster.com: Mats, thanks for your time and we look forward to seeing you when we come to the Veidec Festival in July.

Feature ©Eurodragster.com


---
Visit the ME Racing Service AB web site
Features and Interviews index
Back to News page
---