Matthew Wright's Chevy C10 pick-up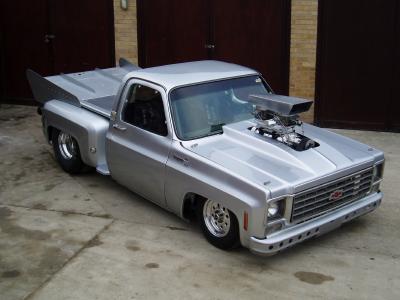 Matthew Wright was introduced to drag racing in the early 1990s and very quickly became a participant in a Pontiac-powered Jaguar XJS. After racing street cars Matt acquired a Mark 1 Escort which he ran in Super Street, before buying what has become his trademark Chevy C10.

As well as running his own truck, Matthew together with friend and business partner Gary Gleeson sponsors Super Modified racer Andy Hone and Super Pro ET racer Ashley Bell through their company Gleeson Wright Security, as well as sponsoring Eurodragster.com and other causes outside drag racing.

After changes of engine and chassis work to make the street truck more like a race car, Matt decided to go the whole hog and ordered a full tube chassis from B+J Race Cars. Eurodragster.com spoke to Matt in January 2006 as the truck was ready to roll out of the Crow Lane Skunk Works.

Click here for extensive photo gallery


Eurodragster.com: How did you get into drag racing?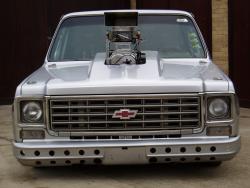 Matthew Wright: My actual introduction to the track was by Mike Ellis. He used to run a raffle in the concession stand area selling rides in his Pink Panther Capri. He got an awful lot of people interested in the sport from more than a spectator point of view. After a chat with Mike my licence application was in the post. In the early 1990s I got a Jaguar XJS with a 428 ci Pontiac motor TH350 box and Jag rear end which I built with Fred Hone. It ran in the low thirteens in treads. Mike gave me a lot of help at my rookie event. I was knocked out in the first round of the then Street ET class. But fun was had by all and I carried on with the Jag as and when finances allowed.

I have fond memories of Mike Ellis who sadly died on the way back from the start line, he collapsed with a heart attack in the return road and passed away. Rest in peace old friend, if it was not for you I would never have made the step from enthusiastic fan and spectator of our great sport to actually doing it.

My next car, which I call my first real race car after a series of fast street cars and a few years on the RWYB circuit, was the blue Mark 1 Escort which shared the same Gleeson Wright Security decals as Fred's Granada. I ran the car for a season in 2001 and finished sixth in Super Street. I was originally going to run in Custom Car Street Eliminator so the car was rebuilt with that in mind, but unfortunately mid-tens don't cut it in Street Eliminator so Super Street it was, and what a great bunch they are. Then came The Black Truck...

Eurodragster.com: When did you get the truck and what state was it in at that point - pure street, or already fit to race?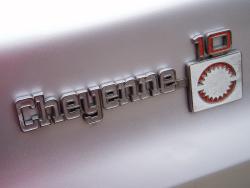 Matthew Wright: When I bought the Chevy Cheyenne C10 stepside pick-up in October 2001 it was in mint street condition. I bought it from big Steve Dowler who used to crew for Pro Mod racer John Ellis.

Eurodragster.com: What changes did you have made to the truck over the years before you decided to go with the full-tube chassis?

Matthew Wright: The truck was always going to be a street car. I had this mad idea that I could build a blown, four-lined street truck, tow a caravan to the track, race all day and come home again. No chance! In 2002 the truck was running a 468 ci Big Block with a mega blower, Art Carr TH400 box and a twelve-bolt rear end done by Andy Robinson. We ran 11.50/122 with this set-up.

At 4425 lbs the truck was a real lardarse. After an introduction to John Sleath through Moose Hollingworth, the truck was on its way up the M1 to John's place for some lightning work. When I got the truck back it was 400 lbs lighter and ran down 10.42/128 mph, good stuff eh?

To those reading this, take some good advice: buy a car already built, it will save you a lot of time and money!

Eurodragster.com: What engines has the truck had since you acquired it?

Matthew Wright: My first race motor was built by C & S and was a blown 468 ci chevy, which made 728 bhp when dyno'd at Knight Racing Services. The next generation of the same engine was built by Andy 'Fred' Hone. It had alloy heads, bigger cam and bigger carbs, and dyno'd at 848 bhp.

Eurodragster.com: What is the best ET and speed you have run with the truck so far?

Matthew Wright: 10.14/132.

Eurodragster.com: What made you decide to have a tube chassis built?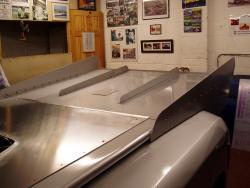 Matthew Wright: After we went with current engine and bigger blower the truck started to pull some monster wheelstands, and I always thought that the truck was neither a race nor a road car and I really wanted a road-legal race car. Bill Felstead and Johnny Hall offered to do the work after the big wheelstands started. They wanted a door car to promote their company B+J Race Cars so a deal was done. I went with B+J Race Cars because their work is excellent. They have built the truck for less than cost, really they have sponsored me and the truck will run their decals and will be an advertising tool.

Eurodragster.com: So what is now left of the original truck now?

Matthew Wright: The front wings and cab - but half the bulkhead and floor have gone from that too, so not much is left really!

Eurodragster.com: Take us front-to-back through the new engine and transmission?

Matthew Wright: The engine is an all-new 572 ci tall deck Chevy with Eagle rods, Scat crank, Ross pistons, Dart CNC alloy heads, and Milodon sump. The blower is an 8-71 Kuhl, teflon stripped. A Super Chill intercooler is topped off with a pair of 1350 Gary Williams carbs fed via a Barry Grant BG400 fuel pump, and there's a big Power Shot nitrous cheater kit for that bit of extra power. The ignition is MSD 7 digital and there's an RPM race computer. The trans is a TSR TH400, Neal Chance Pro Mod converter, custom prop, Ford nine-inch rear end fitted with 35 spline Strange shafts and spool with 4.11 gears, The wheels are Weld Drag Lites 4x15 and 14x15 running Mickey Thompson Frontrunners and Goodyear slicks.

Eurodragster.com: What performance are you expecting from the truck?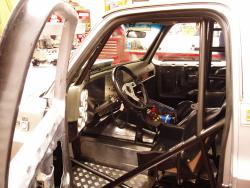 Matthew Wright: With perfomance over 1000 bhp before nitrous, who knows? We will have wait and see.

Eurodragster.com: What are your testing plans?

Matthew Wright: I hope to out testing as soon as the weather breaks - maybe in February.

Eurodragster.com: Which class are you headed for?

Matthew Wright: Super Pro ET and maybe Street Eliminator.

Eurodragster.com: Have you any further racing plans?

Matthew Wright: I do have one little dream...I'd like to run a Nostalgia nitro Funny Car. Exhibition stuff, just for fun.

Eurodragster.com: Who have you got helping you to run the truck?

Matthew Wright: Racer Chick and long-suffering fiancée Cheryl, Shane, Jo Knight, Crew Chief Ashley 'Dinger' Bell, Snappy - and anyone who wants to come and help.

Eurodragster.com: Is there anyone else you would like to thank?


Matthew Wright: Firstly Bill, John and Mark at B+J Race Cars who took on a mammoth task and have come through, the result is an awesome piece of machinery; Andy 'Fast Fred' Hone for the engine build; Peter Knight for dyno work and always getting what I want when I want it; everyone else at Knight Racing; Nigel Jenkins at UK Blowers for a real good price on the blower and Cool Charger; John Sleath for the work he has done for me in the past; Andy Robinson and Geof Hauser, who have had input along the way; Gary Gleeson my best friend and business partner for alway supporting me; my good mate Ashley Bell; and last but not least my fiancée Cheryl. Thank you one and all. And of course thanks to you guys at Eurodragster.

Eurodragster.com: Thank you very much, Matt. Good luck with the truck, we look forward to seeing you out on the track.

We took a large number of photographs of Matt's truck at the B+J Race Cars workshop, which you can view by clicking here.


Feature ©Eurodragster.com


---
B+J Race Cars web site
Features and interviews index
Back to News page
---
Eurodragster.com aims to bring you links to all the best European Drag Racing web sites. To add your site to Eurodragster's listings, simply email links@eurodragster.com with your URL and a little information about your site and we'll do the rest. When you update your site, drop us a line at news@eurodragster.com and we'll feature your site in our "What's New" section.
Eurodragster.com is a non-profit-making organisation run by a small group of Drag Racing enthusiasts for the sole purpose of promoting European Drag Racing. If you can help us to meet the modest cost of hosting this web site by advertising here, please email webmaster@eurodragster.com. We're sure you'll find our rates extremely competitive.